Antonio Brown's agent conditionally terminates relationship
Agent Drew Rosenhaus conditionally terminated his relationship with Antonio Brown on Thursday until the free-agent wide receiver seeks counseling, an NFL Players Association source told ESPN's Adam Schefter.
Rosenhaus wrote in the letter that the NFLPA received Thursday that he would like to work with Brown, but not until he first gets help.
Additionally, attorney Darren Heitner has removed himself as counsel for Brown in the lawsuit filed in 2018 against the wide receiver that alleges he caused damages to his condominium, per an order granting motion to withdraw filed in Miami-Dade County. The court allowed Heitner to withdraw as counsel on the landlord/tenant case that he handled until this week.
Earlier this week, the Hollywood (Florida) Police Department announced that its athletic league has severed ties with the wide receiver and returned a donation given by Brown following an obscene outburst toward the police and the mother of his children on Monday.
Brown posted a live feed of the encounter, which also included his children, on Instagram, and it was later picked up by TMZ. In it, he can be heard using explicit language and calling the police officers explicit names.
The police responded to a domestic disturbance at Brown's Hollywood residence on Monday, and Hollywood Police public information officer Christian Lata wrote in the department's statement that Brown used "very degrading language in front of his young children."
Brown, 31, wasn't on an active roster for most of the 2019 season. He was released from the Oakland Raiders after the preseason following public demands. He was active for one game with the New England Patriots but was released shortly after amid sexual assault allegations. The former Pittsburgh Steelers star recently had a workout with the New Orleans Saints, which he later called a publicity stunt on social media.
Brown has continued to take shots at the NFL and various teams and players via social media this season, including jabs last month at former Pittsburgh Steelers teammate JuJu Smith-Schuster and Oakland Raiders quarterback Derek Carr.
He is being investigated by the NFL after a lawsuit was filed by his former trainer, Britney Taylor, that alleges she was sexually assaulted by Brown on multiple occasions. Brown also was accused of sexual misconduct at his home by an artist who was working there in 2017.
The NFL has not concluded that investigation.
Jimmy Garoppolo says Tom Brady wished him luck ahead of Super Bowl LIV
San Francisco 49ers quarterback Jimmy Garoppolo said he got an encouraging text from former teammate Tom Brady ahead of the biggest game of his career.
"Yeah he shot me a text, just good luck and everything like that," Garoppolo told NFL Network during Opening Night at the Super Bowl on Monday. "And you know just go handle business, you know, wasn't anything too complicated, just 'go win.'"
The 49ers quarterback won two Super Bowls (XLIX and LI) with the Patriots, but did so as Brady's backup.
Garoppolo also made reference to how much different it was being front and center on the main podium as opposed to being "out in the jungle" when he was a backup with New England.
The 28-year-old also said he heard from Patriots coach Bill Belichick, who offered him congratulations.
"Coach, we had a great relationship. He is a great guy, very honest, very straightforward," Garoppolo said. "I always appreciate him for that."
Super Bowl LIV Opening Night: Best of Chiefs, 49ers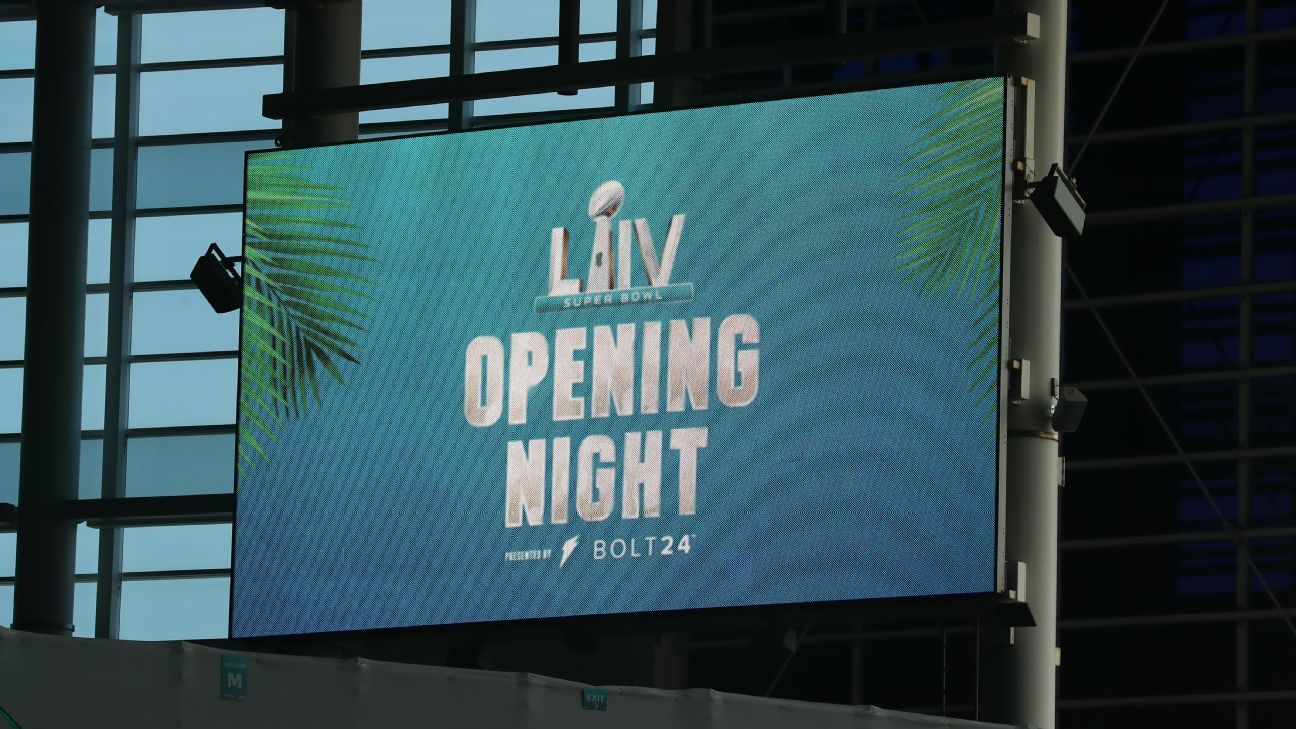 The festivities for Super Bowl LIV begin tonight when the 49ers and Chiefs meet the media. Here are the best sights and sounds:

Source link
Who is new Browns GM Andrew Berry? – Cleveland Browns Blog
The Cleveland Browns are hiring Philadelphia Eagles vice president of football operations Andrew Berry to be their general manager and executive vice president of football operations.
Here's what you need to know about the Browns' new GM:
Why Berry?
Owner Jimmy Haslam wanted to hire a general manager who was on the same page with chief strategy officer Paul DePodesta and had the blessing of new head coach Kevin Stefanski. Vikings assistant general manager George Paton, who worked with Stefanski in Minnesota, fit that bill. But when Paton pulled out of the running late last week, Berry was the only other serious candidate that seemed to make sense. Berry, 32, is the youngest general manager in the league, but is regarded as a rising front office star.
What history does Berry have with the Browns?
Before departing for the Eagles, Berry was in Cleveland for three seasons as the Browns' vice president of personnel from 2016-18, coming over from the Indianapolis Colts after six years as a scout there. Berry initially worked under the analytically-inclined Sashi Brown in Cleveland and was part of the regime that tore down the Browns to acquire draft picks, going 1-31 over two seasons in the process.
How did he do?
With Berry working in the front office under Brown, Cleveland drafted defensive end Myles Garrett with the No. 1 overall pick in 2017, passing on quarterbacks Patrick Mahomes and Deshaun Watson, even though the Browns were in search of a franchise QB at the time.
With the 15th overall pick in 2016, the Browns drafted wide receiver Corey Coleman, who only played two seasons in Cleveland. Even after Brown was replaced with John Dorsey, Berry remained a part of a front office that in the 2018 draft selected starting quarterback Baker Mayfield and cornerback Denzel Ward in the top five in the first round, then Pro Bowl running back Nick Chubb in the second. The Browns also traded for Pro Bowl wide receiver Jarvis Landry.
Berry left for Philadelphia before the 2019 draft and before Cleveland traded for All-Pro wideout Odell Beckham Jr.
What connection does he have to the current regime?
Berry was still with the Browns when they interviewed Stefanski last year before Dorsey hired Freddie Kitchens instead. Berry also worked with DePodesta, with whom he has a similar background. Berry and DePodesta played football at Harvard. Berry started all four years at cornerback for the Crimson and was All-Ivy League three times. Berry, DePodesta and Stefanski (Penn) are all Ivy League graduates.
• Gets five-year deal from Browns
• What Browns are getting in Stefanski
• 'Sky is the limit' for Mayfield
• Can Stefanski turn Browns around?
What does this mean for the Browns?
Two days after firing Dorsey on Dec. 31, Haslam lamented how the Browns had suffered with "arranged marriages" through the years since he bought the team in 2012, with GMs, front office executives and coaches that all didn't see eye to eye. Most recently, that included DePodesta, who has run Cleveland's analytics wing, and Dorsey, who came up as a scout. Haslam vowed to seek "alignment" this time around, and that the Browns would hire a GM and a coach who would collaborate well alongside DePodesta and ownership.
The Browns have that alignment in Stefanski, DePodesta and now Berry, who all embrace analytics and seem to be on the same page with the direction the Browns should take the next five years — the lengths of the contracts both Stefanski and Berry will have signed. All three will report to Haslam as equals, too, giving Haslam the setup he's so desired.
There should be no excuses going forward for a franchise that has talent, but hasn't been to the playoffs since 2002.