Ravens QB Lamar Jackson favored by Las Vegas to win MVP
Baltimore Ravens quarterback Lamar Jackson began the season as a long shot to win NFL MVP. He's now the favorite.
For the first time this season, Jackson sits atop the odds to win NFL MVP. He is 7-5 at Caesars Sportsbook, after entering the season — his second in the NFL and first as a full-time starter — at 50-1. He has taken off from there, dazzling with his arm and legs and turning the Ravens into one of the Super Bowl favorites.
On Sunday, Jackson threw four touchdown passes in a 41-7 rout of the Houston Texans, the Ravens' sixth win in a row. He is the first Ravens quarterback in team history to have two games with four or more passing touchdowns in a season. He added 86 yards on the ground against the Texans and has 788 rushing yards on the season, the most by a quarterback through 10 games in the Super Bowl era.
Before Jackson took the podium for his postgame presser Sunday, running back Mark Ingram II introduced him by saying, "Now I would just like to introduce y'all to the man, the myth, the legend, the MVP front-runner … if anybody else got something different to say about that, then come see me."
Asked how he can downplay the MVP talk after that, Jackson said, "Like I said before, I'm all about winning. It is what it is. I'm glad he feels that way, but I'm trying to get something even more, so we all can talk about it."
The betting interest in Jackson has increased throughout the season and could prove costly for some sportsbooks. Since Oct. 20, he's been the most popular pick by bettors at Caesars Sportsbook. Over the last two weeks, 54% of the money bet on DraftKings' MVP odds has been on Jackson, and, of the legitimate MVP candidates, the SuperBook at Westgate Las Vegas would only suffer a net loss on two players: Jackson and Texans quarterback Deshaun Watson.
Seahawks quarterback Russell Wilson is the second-favorite at 2-1 at Caesars Sportsbook, followed by Packers quarterback Aaron Rodgers (9-1) and Chiefs quarterback Patrick Mahomes (10-1), the preseason favorite. Cowboys quarterback Dak Prescott also is 10-1, with Vikings quarterback Kirk Cousins 15-1. Watson and Panthers running back Christian McCaffrey are each 20-1.
Jackson is the front-runner now, though, and his team is soaring up the odds boards with him. The Ravens' Super Bowl odds have improved to 5-1 at Caesars Sportsbook, behind only the Patriots (11-4) and Saints (4-1).
ESPN staff writer Jamison Hensley contributed reporting for this article.
Dolphins WRs DeVante Parker, Albert Wilson clear concussion protocol
Miami Dolphins top receiver DeVante Parker has been cleared from the concussion protocol and he's expected to play Sunday vs. the New York Giants.
Parker suffered a concussion in the second quarter of Sunday's 22-21 loss to the New York Jets. He did not return after hitting his head on the ground following a difficult catch along the sideline.
Albert Wilson was cleared from the concussion protocol as well, meaning the Dolphins will have their two starting receivers back Sunday.
Parker's return comes after he agreed to a four-year contract extension on Friday evening that is set to keep him in a Dolphins uniform through 2023. The extension is worth up to $40 million with an $8 million signing bonus and more than $20 million guaranteed, according to a source.
Parker and Wilson practiced throughout the week, donning red noncontact jerseys as limited participants Wednesday and Thursday before being upgraded to working the full session with those restrictions Friday.
The Dolphins' offense has centered around Parker since Preston Williams went on injured reserve in early November.
Parker has a career-high 882 receiving yards and six touchdowns this season, and maybe most importantly he hasn't missed a game yet for the first time in his NFL career.
Wilson has 26 catches for 154 yards and one touchdown in a season that has been slowed by multiple injuries.
Sources — Terrell Suggs angling to be claimed by Ravens only
Terrell Suggs, released by the Cardinals on Friday and eligible to be claimed on waivers Monday at 4 p.m. ET, will strongly consider not reporting if a team other than the Baltimore Ravens claims him, league sources say.
Any team that claims Suggs will owe him just over $350,000 for the final two weeks of the regular season. But Suggs doesn't care about that money; he cares about returning to Baltimore, which is his overwhelming preference.
With a 12-2 record, the Ravens have the NFL's lowest waiver claim, meaning every team will have the chance to claim Suggs before Baltimore. Knowing this, Suggs has told some people that he is unlikely to report anywhere other than Baltimore, wanting to finish his NFL career in the same city in which he started it.
The question is whether any contending teams that could use pass-rushing help — and many do — disregard the wishes of Suggs, who started 13 games for the Cardinals this season. The answer will come sometime Monday afternoon.
Ravens' Marcus Peters fined $14K for celebratory beer with fans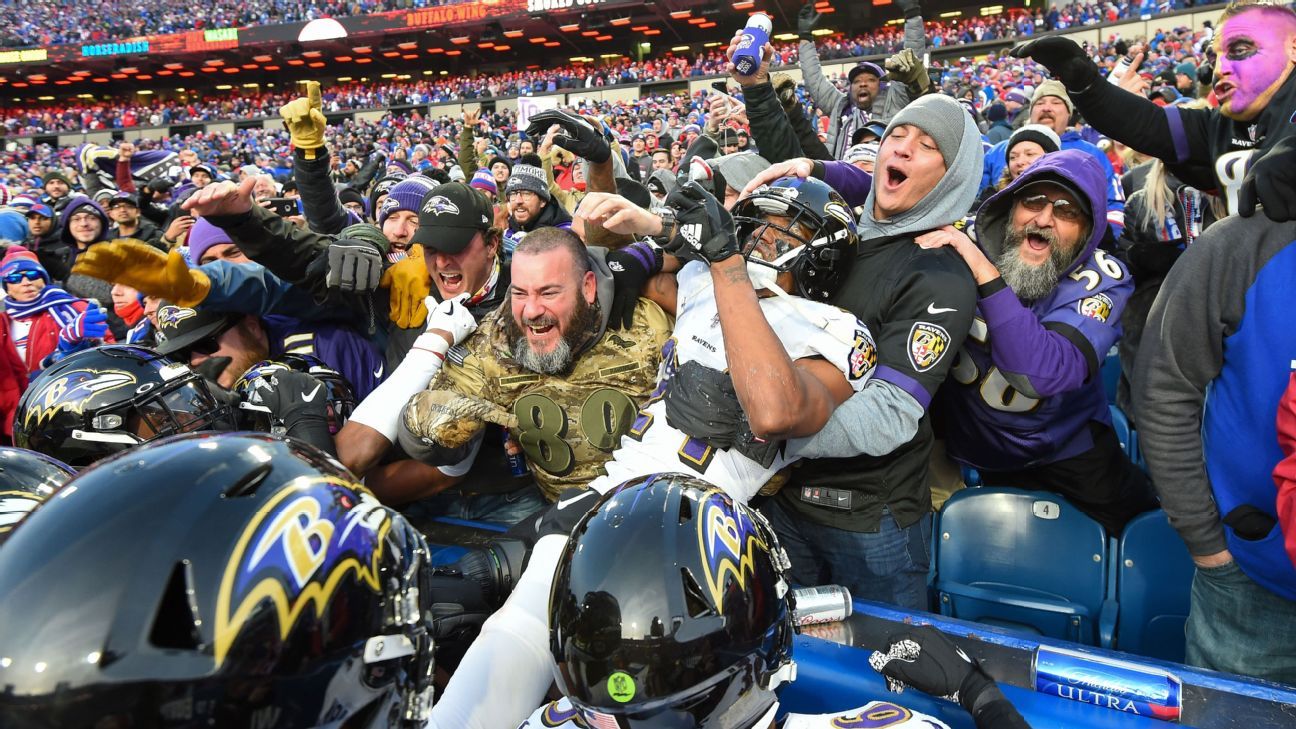 For Baltimore Ravens cornerback Marcus Peters, a celebratory drink cost him five figures.
Peters was fined $14,037 for drinking a beer after his pass breakup at the end of the game sealed the Ravens' 24-17 win over at the Buffalo Bills last Sunday.
After knocking down Josh Allen's fourth-down pass at the Baltimore 1-yard line with 1:03 remaining, Peters jumped into a section filled with Ravens fans at Buffalo's New Era Field and shotgunned a can of beer while laying back in their arms.
The NFL fined Peters for unsportsmanlike conduct.
Baltimore clinched a playoff berth with Peters' heroics. It was the latest big play by Peters, whom was acquired from the Los Angeles Rams in October. He has returned two interceptions for touchdowns since joining the Ravens.