Raiders ink Preston Brown to 1-year deal
ALAMEDA, Calif. — The Oakland Raiders have been searching for a prototypical middle linebacker for their 4-3 base defense since the NFL suspended Vontaze Burfict for the remainder of the season after Week 4.
They believe they have found one in Preston Brown, unemployed since last Tuesday after the Cincinnati Bengals cut him nine games into the three-year, $16.5 million contract ($4.8M guaranteed) he signed there this offseason.
The Raiders, who are 6-4 and riding a three-game winning streak into playoff contention, signed Brown to a one-year deal Monday and reportedly will be on the hook for the remainder of his base salary, estimated to be about $400,000.
"He's 27 years old," Raiders coach Jon Gruden said of Brown. "We really liked him coming out of Louisville. He had [four] straight 100-tackle seasons as a Buffalo Bill, went to Cincinnati and, obviously, things didn't work out.
"But he has the intangibles, first of all, that you look for in a middle linebacker. He's charismatic, he's intelligent, a physical guy, football junkie and he's been productive in the league. We'll put him in the room with [linebackers coach David] Lippincot and [defensive coordinator Paul] Guenther and see if he can get caught up quickly and we'll try to fast-track him."
The Bills selected Brown in the third round (No. 73 overall) of the 2014 draft. He led the NFL with 144 tackles in 2017. And he had 54 tackles with a forced fumble and a fumble recovery in nine games (eight starts) for the Bengals this season.
With so many injuries, the Raiders have added defensive pieces over the past few weeks in linebacker Will Compton, safety D.J. Swearinger and edge rusher Dion Jordan. All three played key roles on Oakland's 17-10 defeat of the Bengals on Sunday.
Oakland visits the New York Jets (3-7) on Sunday and then the Kansas City Chiefs on Dec. 1.
In the corresponding roster move, the Raiders placed return specialist/receiver Dwayne Harris on season-ending injured reserve. He has been limited to only three games with ankle and foot issues.
Dolphins WRs DeVante Parker, Albert Wilson clear concussion protocol
Miami Dolphins top receiver DeVante Parker has been cleared from the concussion protocol and he's expected to play Sunday vs. the New York Giants.
Parker suffered a concussion in the second quarter of Sunday's 22-21 loss to the New York Jets. He did not return after hitting his head on the ground following a difficult catch along the sideline.
Albert Wilson was cleared from the concussion protocol as well, meaning the Dolphins will have their two starting receivers back Sunday.
Parker's return comes after he agreed to a four-year contract extension on Friday evening that is set to keep him in a Dolphins uniform through 2023. The extension is worth up to $40 million with an $8 million signing bonus and more than $20 million guaranteed, according to a source.
Parker and Wilson practiced throughout the week, donning red noncontact jerseys as limited participants Wednesday and Thursday before being upgraded to working the full session with those restrictions Friday.
The Dolphins' offense has centered around Parker since Preston Williams went on injured reserve in early November.
Parker has a career-high 882 receiving yards and six touchdowns this season, and maybe most importantly he hasn't missed a game yet for the first time in his NFL career.
Wilson has 26 catches for 154 yards and one touchdown in a season that has been slowed by multiple injuries.
Sources — Terrell Suggs angling to be claimed by Ravens only
Terrell Suggs, released by the Cardinals on Friday and eligible to be claimed on waivers Monday at 4 p.m. ET, will strongly consider not reporting if a team other than the Baltimore Ravens claims him, league sources say.
Any team that claims Suggs will owe him just over $350,000 for the final two weeks of the regular season. But Suggs doesn't care about that money; he cares about returning to Baltimore, which is his overwhelming preference.
With a 12-2 record, the Ravens have the NFL's lowest waiver claim, meaning every team will have the chance to claim Suggs before Baltimore. Knowing this, Suggs has told some people that he is unlikely to report anywhere other than Baltimore, wanting to finish his NFL career in the same city in which he started it.
The question is whether any contending teams that could use pass-rushing help — and many do — disregard the wishes of Suggs, who started 13 games for the Cardinals this season. The answer will come sometime Monday afternoon.
Ravens' Marcus Peters fined $14K for celebratory beer with fans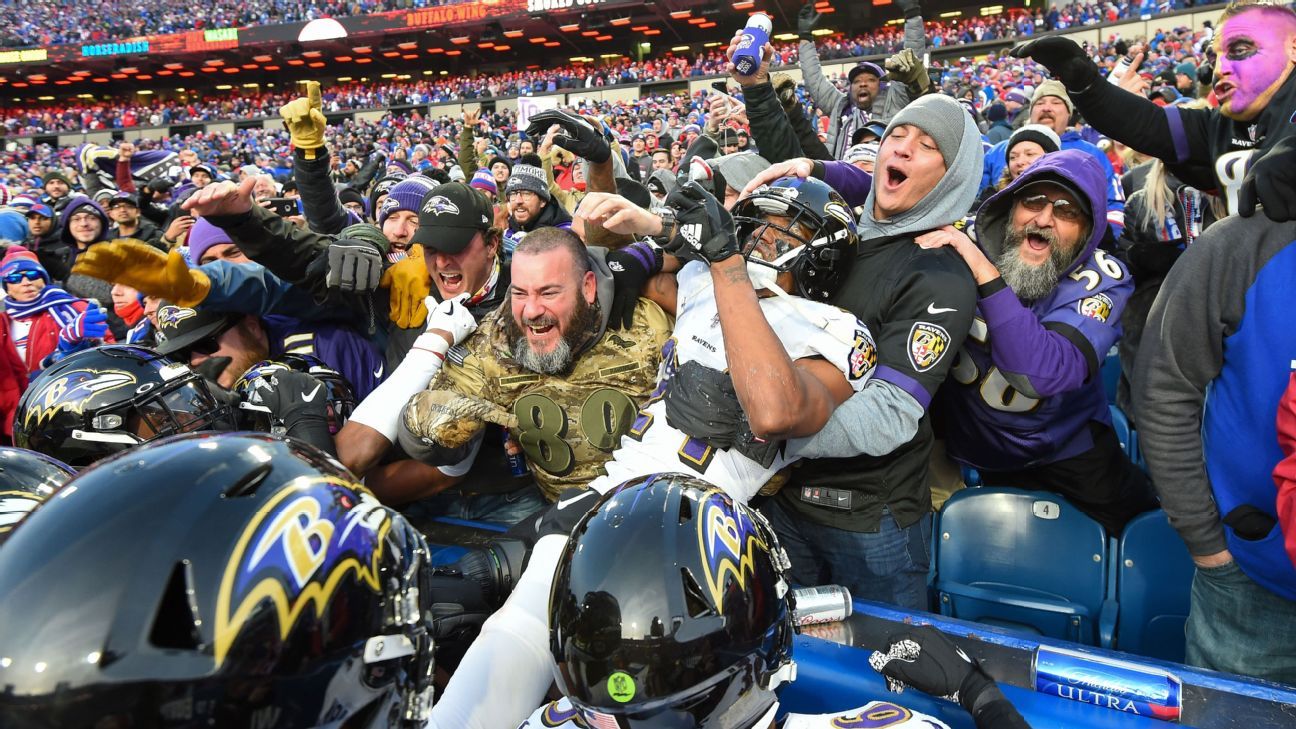 For Baltimore Ravens cornerback Marcus Peters, a celebratory drink cost him five figures.
Peters was fined $14,037 for drinking a beer after his pass breakup at the end of the game sealed the Ravens' 24-17 win over at the Buffalo Bills last Sunday.
After knocking down Josh Allen's fourth-down pass at the Baltimore 1-yard line with 1:03 remaining, Peters jumped into a section filled with Ravens fans at Buffalo's New Era Field and shotgunned a can of beer while laying back in their arms.
The NFL fined Peters for unsportsmanlike conduct.
Baltimore clinched a playoff berth with Peters' heroics. It was the latest big play by Peters, whom was acquired from the Los Angeles Rams in October. He has returned two interceptions for touchdowns since joining the Ravens.