Astros exec suggested using cameras to spy in '17, sources say
A high-ranking Houston Astros official asked scouts to spy on opponents' dugouts leading up to the 2017 postseason, hoping to steal signs and suggesting the potential use of cameras to do so, sources familiar with the request told ESPN.
The reaction among those who received an email from Kevin Goldstein, a special assistant to Houston Astros general manager Jeff Luhnow, was mixed, sources told ESPN. Some were intrigued by the idea, sources who received the email said, while others were bothered with the thoughts of pointing cameras from the stands toward opposing teams' dugouts, a plan that could have earned them scorn within the scouting community if caught.
The email, which was first reported by The Athletic and confirmed by recipients to ESPN, is the first indication of Astros front-office involvement in potential cheating and further reveals the scope of Houston's attempts to gain advantages through intercepted signs. Major League Baseball is investigating the organization's methods of sign stealing after pitcher Mike Fiers told The Athletic that during its World Series-winning 2017 season the team used a live video feed to steal catchers' signs and transmit them to hitters by banging on a trash can.
Goldstein, who did not return a message seeking comment, wrote in the email: "One thing in specific we are looking for is picking up signs coming out of the dugout. What we are looking for is how much we can see, how we would log things, if we need cameras/binoculars, etc. So go to game, see what you can [or can't] do and report back your findings."
MLB's investigation ramped up this week as interviewers spoke with on-field and front-office staff from the Astros and other teams. As the investigators attempt to confirm the allegations by Fiers, they continue to lay groundwork for other tentacles of alleged cheating, which people around baseball fear has grown into an epidemic in recent years.
"Technology and stealing info is going to be the black eye of this generation," one longtime Astros employee said. "It's really the last frontier that isn't banned. It's a way to get a competitive advantage without altering the actual players."
The Pandora's box of technology use, even with new rules put into place before the 2019 season, continues to vex a sport that encourages teams to meander into gray areas. Sign-stealing long has been a part of baseball, supported by players and scouts alike, particularly runners on second base eyeing the catchers' signals and relaying them to the batter.
The use of cameras to do so is regarded as unethical by many and due to recent rule changes is now codified as illegal by MLB. The level of punishment for those involved in the Astros' alleged 2017 sign stealing might depend on commissioner Rob Manfred's interpretation of a rule against using technology for "stealing signs or conveying information." In 2017, the league fined the Boston Red Sox for using an Apple Watch in their dugout.
The breadth of the Astros' willingness to use technology for on-field advantages continues to come into focus. During the 2018 postseason, Kyle McLaughlin, an Astros baseball operations staffer, was removed from the camera wells next to the dugouts of the Cleveland Indians and Red Sox during the postseason after pointing a cell phone into the dugout. Luhnow said the Astros simply were running a counterintelligence operation against the teams to ensure they were not cheating.
The 2017 plans relayed by Goldstein involved a pro scouting department that since has been gutted, with the Astros' analytics-scouting balance since then tilting wildly to the side of analytics — "99 to 1," according to a person familiar with the team's resources. Much of the Astros' scouting work today, sources said, involves cameras and video.
On-field personnel that has drawn the interest of the league includes Red Sox manager and former Astros bench coach Alex Cora, New York Mets manager and former Astros DH Carlos Beltran, Astros manager A.J. Hinch and Red Sox bullpen coach Craig Bjornson, who had the same job with Houston in 2017.
MLB's probe follows years of cheating allegations by teams regularly reported to the league office because of suspicious actions or anomalous results. The league has looked into past allegations against the Astros by Oakland last August and the McLaughlin incidents in October and cleared Houston of wrongdoing. The scope of the investigation is expected to include other Astros teams, including the 2019 version that lost the World Series in seven games.
Ted Simmons, Marvin Miller finally get their due with Hall of Fame election
SAN DIEGO — Momentous events often take place in ordinary settings. That's what it felt like Sunday night when the Baseball Hall of Fame announced that legendary MLB Players Association head Marvin Miller and St. Louis Cardinals catching great Ted Simmons would be immortalized in Cooperstown, N.Y.
Union executive Marvin Miller, catcher Ted Simmons elected to Baseball Hall of Fame
SAN DIEGO — Marvin Miller, the union leader who revolutionized baseball by empowering players to negotiate multimillion-dollar contracts and to play for teams of their own choosing, was elected to baseball's Hall of Fame on Sunday along with former St. Louis Cardinals catcher Ted Simmons.
After falling short in his first seven times on veterans committee ballots, Miller received 12 of 16 votes from this year's 16-man modern committee, exactly the 75% required. Simmons was on 13 ballots. Former Boston outfielder Dwight Evans was third with eight,
Miller, who died at age 95 in 2012, led the Major League Baseball Players Association from 1966-82, a time when players gained the right to free agency after six seasons of big league service, to salary arbitration and to grievance arbitration. He led the union through five work stoppages and was an adviser during three more after he retired.
"The Hall of Fame is called the Hall of Fame and Museum. Imagine a museum of baseball without Marvin Miller in it," former union chief operating officer Gene Orza said. "It's like having a museum of modern art without Picasso in it. I guess I'm happy for all the people who are happy. But I don't think Marvin would lose any sleep one way or the other over this."
Simmons, an eight-time All-Star during a 21-year big league career, was a switch-hitter who batted .285 with 248 homers and 1,389 RBI for St. Louis (1968-80), Milwaukee (1981-85) and Atlanta (1986-88).
Despite his accomplishments, Simmons was up for election by voters from the Baseball Writers' Association of America just once. He drew only 3.7 percent support in 1994 and was removed from future BBWAA ballots.
Miller and Simmons will be inducted into Cooperstown during ceremonies on July 26 along with any players chosen next month by the BBWAA from a ballot headed by former New York Yankees shortstop Derek Jeter.
Miller will be inducted 12 years after Bowie Kuhn, the baseball commissioner Bowie Kuhn whom Miller routinely defeated in labor negotiations, and three years after Bud Selig, the commissioner who in 1994(equals)95 presided over the longest work stoppage in baseball's history.
In 2008, four years before he died, Miller sent a letter to the Baseball Writers' Association of America saying he didn't want to be considered anymore.
"These changes resulted in a vastly more competitive game, fan interest, and increased wealth for all, including the owners of baseball clubs," his son, Peter Miller, said in 2013. "Although he enjoyed the recognition, my father did what he did not for fame and glory, but for justice and for equitable labor-management relations. To treat that as something of lesser value than personal fame, is really to dishonor him and the players."
Miller received 44% of the votes in 2003 and 63% in 2007 when all Hall of Famers could participate on a veterans panel. After the Hall downsized the veterans committees, he got three of 12 votes later in 2007 from a committee considering executives that elected former Commissioner Bowie Kuhn, whom Miller routinely defeated in labor negotiations.
Miller got seven of 12 votes in 2009 and then, when the format was changed again, he got 11 of 16 from an expansion era committee in 2010 — falling one vote short. He received six votes or fewer of 16 in 2013 and seven of 16 from the new modern era committee in 2017.
"Players are pleased that Marvin will now take his rightful and long overdue place in the Hall of Fame in recognition of the monumental and positive impact he had on our game and our industry,." current union head Tony Clark said in a statement.
Nicknamed Simba for his shoulder-length hair, Simmons was an outspoken opponent of President Richard Nixon and the Vietnam War. In the days before free agency, he played much of the 1972 season without a contract because of a pay dispute, finally agreeing to a two-year deal in late July.
Now 70, Simmons received 17 of 456 votes in 1994, falling shy of the 5% threshold to remain on the ballot. Simmons was on 11 of 16 ballots when the modern era committee met in 2017 and elected Jack Morris with 14 votes and Alan Trammell with 13.
Simmons has benefited from modern metrics such as a Baseball Reference WAR of 50.3. Eight other players who were primarily catchers topped 50, and they are all in the Hall: Johnny Bench, Yogi Berra, Gary Carter, Bill Dickey, Carlton Fisk, Gabby Hartnett, Mike Piazza and Ivan Rodriguez.
Simmons hit .300 or higher seven times and finished with 2,472 hits. Among players who were primarily catchers, his RBI are second to Berra's 1,430 and his hits are second to Rodriguez's 2,844.
Dave Parker received seven votes, and Steve Garvey and Lou Whitaker six each. Tommy John, Don Mattingly, Thurman Munson and Dale Murphy all got three or fewer.
David Ortiz makes first Dominican Republic appearance since shooting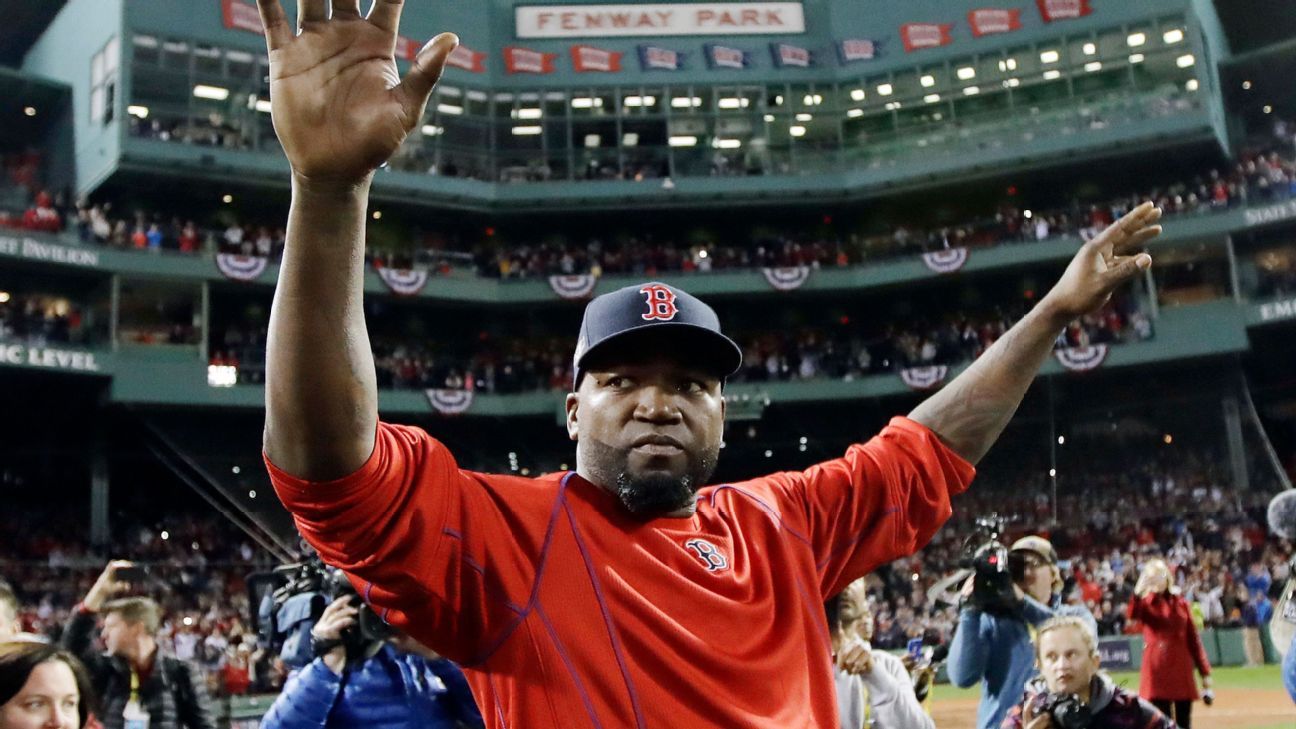 SANTO DOMINGO — Former Red Sox slugger David Ortiz made his first public appearance in the Dominican Republic on Sunday nearly six months after he was shot in what authorities called a case of mistaken identity.
The Dominican-born superstar was greeted by a standing ovation and raucous cheers when he entered the Quisqueya Stadium Juan Marichal for the Game of Legends, a charity exhibition and home run derby featuring Dominican major league players and retired stars.
"Praise God and long live the Dominican Republic," Ortiz said to the thousands of fans in the country's most important stadium.
He thanked his fans, fellow players and the press for its support after the shooting.
"I'm happy to be here with my people," he told The Associated Press before the game. He did not play.
Also present were Dominican stars such as Hall of Famers Pedro Martinez and Juan Marichal, Mets second baseman Robinson Cano and Nationals outfielder Juan Soto.
A 10-time All-Star and three-time World Series champion, Ortiz helped the Red Sox end their 86-year championship drought in 2004 and batted .688 against the St. Louis Cardinals in 2013 to win the Series MVP.
Ortiz retired after the 2016 season with 541 home runs, and the team retired his uniform No. 34.
He maintained a home in the Boston area and had been living part of the year in the Dominican Republic, where he was often seen getting his cars washed and hanging out with friends, including other baseball players, artists and entertainers.
He was seriously wounded June 9 when a hit man allegedly hired by a drug trafficker mistakenly shot him as he sat with friends in a Santo Domingo bar, authorities have said. They said the target was meant to be Sixto David Fernandez, a cousin of the man alleged to have arranged the attack.
Authorities said the hit men confused Ortiz with Fernandez. The two men are friends and were sharing a table.
Officials said the killing was contracted by Victor Hugo Gomez, described as an associate of Mexico's Gulf Cartel. Authorities said Gomez wanted Fernandez killed because he believed his cousin turned him into Dominican drug investigators in 2011. They said Gomez then spent time in prison in the Dominican Republic with one of at least 11 suspects arrested in the shooting.
Gomez later resurfaced in the U.S. as one of dozens of suspects sought by federal authorities following a March 2019 drug trafficking sting in Houston.
Doctors in the Dominican Republic removed Ortiz's gallbladder and part of his intestine after the shooting and he underwent further surgery in the U.S.
"I thought he was never going to come back here," said Filvia Nunez, a fan who said she was surprised and delighted to see Ortiz Sunday.