Ex-Seahawk Malik McDowell sentenced 11 months in jail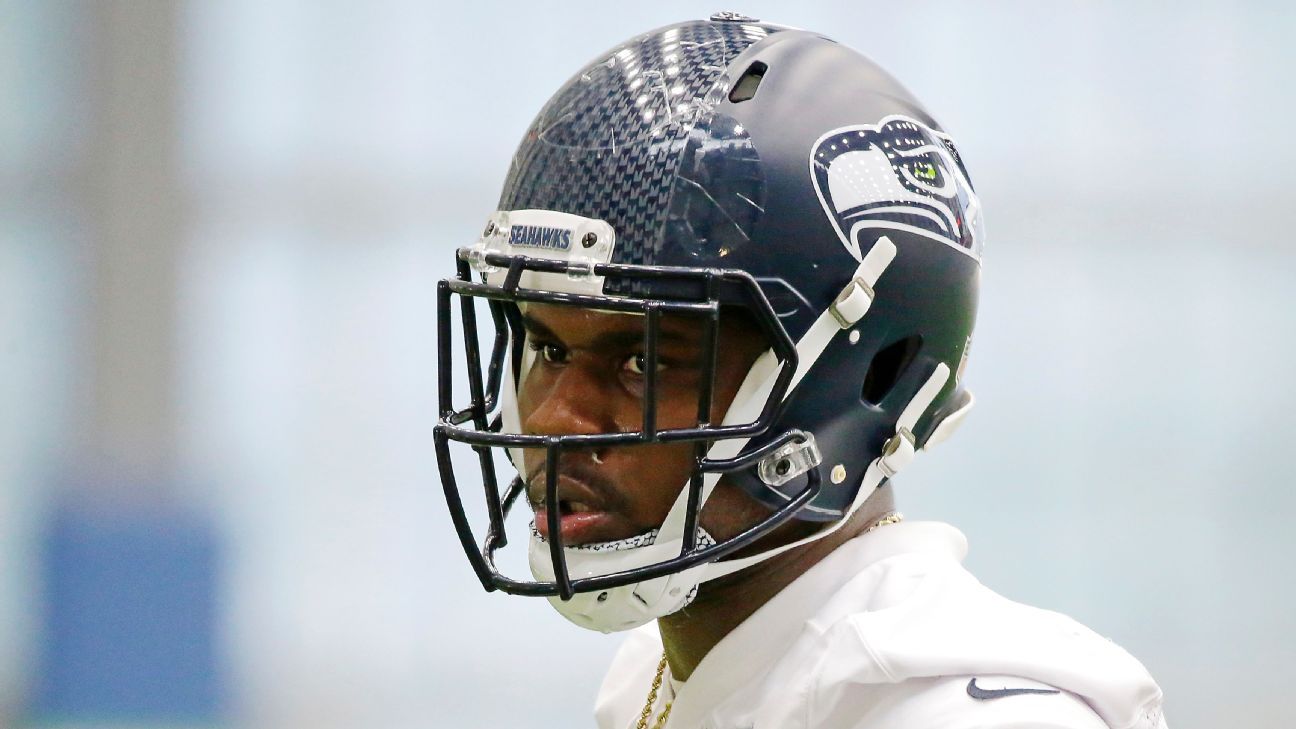 Former Seattle Seahawks defensive lineman Malik McDowell has been sentenced to 11 months in jail and three years of probation after pleading guilty last month to a series of crimes earlier this year in Michigan, court records show.
As part of McDowell's sentencing Wednesday in Oakland County (Michigan) Circuit Court, a judge also ordered him to write four essays within the next 90 days.
The 23-year-old McDowell never played a down for Seattle after injuring his head in an ATV accident in July of 2017, three months after the Seahawks drafted him 35th overall out of Michigan State. He was arrested in February and charged with assault, resisting arrest and operating a vehicle while intoxicated after an incident in which he fought with two officers after a DUI stop. In April he was found in possession of a stolen Ford F-150 Raptor, leading to a charge of receiving and concealing stolen property.
McDowell was sentenced to 153 days in jail over the incident with police and his second drunken driving offense, with credit for 66 days served, and another 244 days in jail for the stolen property offense.
According to the Oakland Press, McDowell apologized to his victims and others on Wednesday while vowing to abide by the law going forward.
"I'm doing everything I need to do, seeing all the doctors I need to, working out … doing everything I can to get back to where I was, back to the NFL," McDowell said, according to the newspaper, and added that he's "very remorseful."
Judge Michael Warren ordered McDowell to write essays ranging from 750 to 1000 words on: finding meaning in life other than committing crimes, the importance of respecting the rule of law, the principles of the Declaration of Independence and how your behavior undermines them, and the importance of respecting property rights.
McDowell was previously sentenced to 12 months of probation from a 2017 drunken driving incident in Royal Oak, Mich. He was also arrested in December of that year on a disorderly conduct charge stemming from an incident at an Atlanta-area nightclub.
McDowell spent two seasons on the Seahawks' non-football injury list before being waived with an injury designation in March. The team filed a lawsuit against McDowell in May, seeking the repayment of nearly $800,000 in forfeited signing-bonus money.
Sources — Steelers RB James Conner (shoulder) expected back vs. Bills
Pittsburgh Steelers running back James Conner, who has been sidelined by an injury to the AC joint in his right shoulder, is expected to play Sunday night against the visiting Buffalo Bills, sources told ESPN's Adam Schefter on Saturday.
Listed as questionable on the team's injury report, Conner hasn't played since a brief appearance against the Cleveland Browns on Nov. 14.
Conner injured the AC joint during the final two minutes of a win against the Miami Dolphins on Oct. 28. He was wrapping up his best game of the season: 145 yards and a touchdown on 23 carries.
Conner missed the next two games against the Indianapolis Colts and Los Angeles Rams before trying to play against the Browns, but Conner realized after a quarter that his body wasn't ready. He left the game after just five carries for 10 yards.
"I just wasn't ready to come back," he said at the time. "I just tried to fight through it, but I wasn't able to."
Conner has missed the past three games, wins against the Cincinnati Bengals, Browns and Arizona Cardinals, with rookie Benny Snell Jr. taking over in Conner's absence. Snell rushed for 98 yards against the Bengals, 63 yards against the Browns and just 41 yards last Sunday against the Cardinals.
Information from ESPN's Brooke Pryor was used in this report.
Dolphins WRs DeVante Parker, Albert Wilson clear concussion protocol
Miami Dolphins top receiver DeVante Parker has been cleared from the concussion protocol and he's expected to play Sunday vs. the New York Giants.
Parker suffered a concussion in the second quarter of Sunday's 22-21 loss to the New York Jets. He did not return after hitting his head on the ground following a difficult catch along the sideline.
Albert Wilson was cleared from the concussion protocol as well, meaning the Dolphins will have their two starting receivers back Sunday.
Parker's return comes after he agreed to a four-year contract extension on Friday evening that is set to keep him in a Dolphins uniform through 2023. The extension is worth up to $40 million with an $8 million signing bonus and more than $20 million guaranteed, according to a source.
Parker and Wilson practiced throughout the week, donning red noncontact jerseys as limited participants Wednesday and Thursday before being upgraded to working the full session with those restrictions Friday.
The Dolphins' offense has centered around Parker since Preston Williams went on injured reserve in early November.
Parker has a career-high 882 receiving yards and six touchdowns this season, and maybe most importantly he hasn't missed a game yet for the first time in his NFL career.
Wilson has 26 catches for 154 yards and one touchdown in a season that has been slowed by multiple injuries.
Sources — Terrell Suggs angling to be claimed by Ravens only
Terrell Suggs, released by the Cardinals on Friday and eligible to be claimed on waivers Monday at 4 p.m. ET, will strongly consider not reporting if a team other than the Baltimore Ravens claims him, league sources say.
Any team that claims Suggs will owe him just over $350,000 for the final two weeks of the regular season. But Suggs doesn't care about that money; he cares about returning to Baltimore, which is his overwhelming preference.
With a 12-2 record, the Ravens have the NFL's lowest waiver claim, meaning every team will have the chance to claim Suggs before Baltimore. Knowing this, Suggs has told some people that he is unlikely to report anywhere other than Baltimore, wanting to finish his NFL career in the same city in which he started it.
The question is whether any contending teams that could use pass-rushing help — and many do — disregard the wishes of Suggs, who started 13 games for the Cardinals this season. The answer will come sometime Monday afternoon.