Taylor Lewan of Tennessee Titans — My penalties 'screwing team'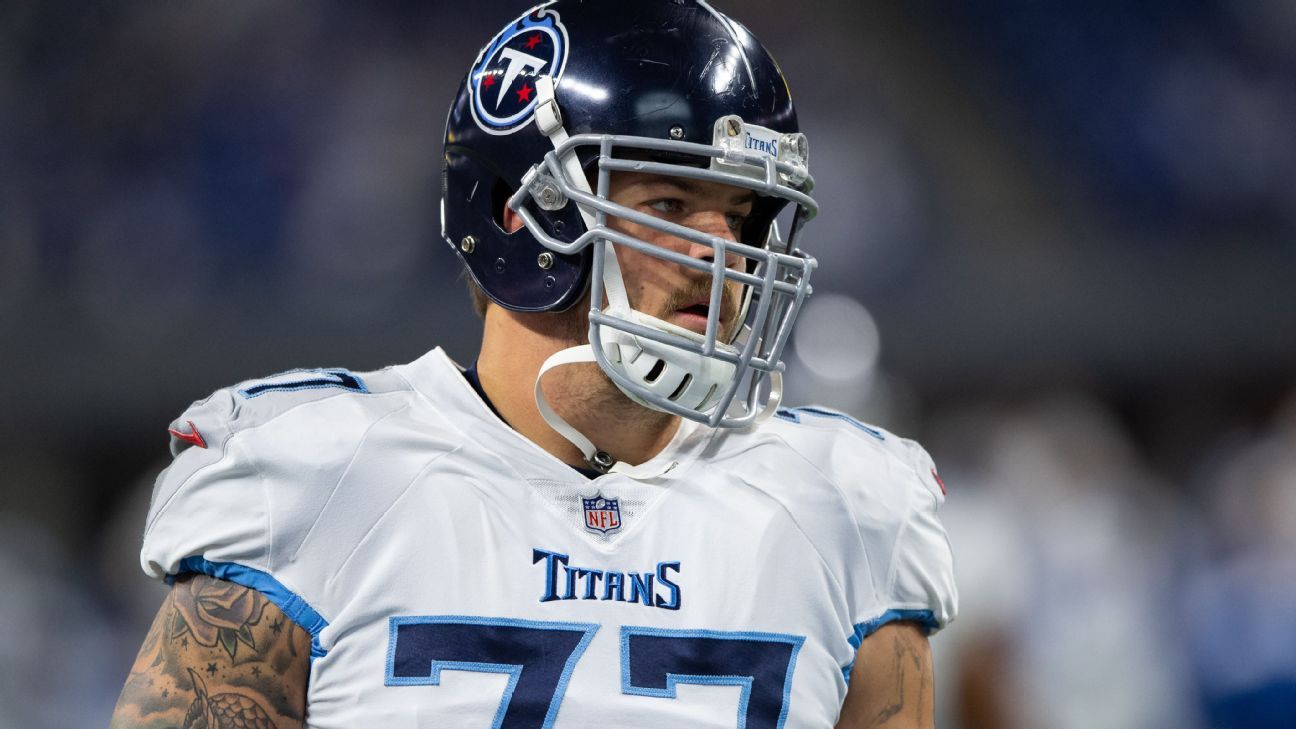 NASHVILLE, Tenn. — Taylor Lewan was penalized three times costing the Tennessee Titans to lose 24 yards Sunday. Lewan's rough game was lost in an improbable come-from-behind, 35-32 win over the Kansas City Chiefs.
He was happy about the win. But after the game, the veteran offensive tackle was critical of his performance during a postgame rant in the locker room.
"Before we even start this whole thing, my penalties are (expletive) awful," Lewan said. "I am 100 percent an issue with that. It is not intentional. I do not mean to do it. My intentions are good, I am just trying to finish and it is killing the team. … I am screwing the team with the amount of penalties I have had, what these last six games.
"It's crazy, it's horrible. I cannot get penalties. I am sorry. There is no need to ask me about it, because I know I am an absolute liability when it comes to penalties," Lewan said.
All three of Lewan's penalties came in the second half. Lewan was flagged for unnecessary roughness and holding on back to back plays. The penalties put the Titans in a third down and 13, eventually leading to a punt.
The Chiefs scored a touchdown on their next drive. Lewan's other penalty came in the fourth quarter with just over three minutes left in the game. The false start turned a third and 5 into third and 10. Ryan Tannehill was sacked on the next play.
Although he's only played in six games, Lewan's team-high nine penalties have resulted in more lost yards (69) than any other player on the Titans.
"I take full responsibility for this. I will work on it. I might even go practice not doing penalties in this bye week," Lewan said. "I will do my absolute best to work on it. I won't even hold my wife's hand this whole entire bye week because I don't want to get called for holding. These damn penalties are absolutely kicking me in the [expletive]."
Colts' T.Y. Hilton struggles in return, says loss 'totally on me'
HOUSTON — Indianapolis Colts receiver T.Y. Hilton couldn't call NRG Stadium in Houston his second home after the way he played Thursday night against the Texans.
Hilton, instead, said the Colts' 20-17 loss was "100 percent" on him after he struggled in his return following a three-game absence because of a calf injury.
"I let the team down," said Hilton, who finished with three catches, none in the second half, for 18 yards in arguably his worst performance in eight career games in Houston. "Totally on me."
Hilton went into Thursday averaging 133.3 receiving yards a game against the Texans in his career in games played in Houston. He joked in the past that NRG Stadium was a second home for him.
"When someone says this is their home, they're insulting me," said Texans receiver DeAndre Hopkins, who had six catches for 94 yards and two scores. "T.Y. is a great player. That's my boy. But I take things like that personally. I didn't know that until you just said that, because I'm not really in the media. But he's played some amazing games here. [Thursday] wasn't their day."
That Hilton even played Thursday could be considered surprising. Since injuring his calf in practice Oct. 30, he practiced just once, on Wednesday, and even then the Colts only held a walk-through because that's what they routinely do the day before games.
Colts coach Frank Reich said the plan was to play Hilton no more than 30 snaps because it was his first game since Oct. 27 against Denver. Hilton ended up playing 25.
"I give him credit for wanting to be on the field," Reich said. "We knew even if we could get him on the field for 20, 30 plays, some of it was just as a decoy so hopefully [the Texans] would roll the coverage to him or do something like that and give us a chance to run it a little bit better. So that was part of the plan."
Hilton spent most of the game being a decoy and then failed to come through when the Colts needed him. He dropped a pass along the Houston's sideline on third-and-4 late in the third quarter when the Colts were trying to hold on to a 17-13 lead. On the Colts' next possession, Hilton dropped another third-down pass deep along the sideline in the fourth quarter after the Texans went up 20-17.
"I have to make that," said Hilton, who admitted he was sore. "That's what I get paid for. I have to make them. One hundred percent on me."
DeAndre Hopkins' monster game gives Texans' huge playoff boost – Houston Texans Blog
HOUSTON — Houston Texans quarterback Deshaun Watson has two home run-hitting wide receivers in Will Fuller and Kenny Stills, so star DeAndre Hopkins' role has been a little different this season. But it was a throwback night in the Houston Texans' 20-17 victory over the Indianapolis Colts on Thursday.
Entering the game, Hopkins was averaging 9.9 yards per reception this season, well below his 14.1 average over his first six NFL seasons. But against the Colts, Hopkins had two huge plays that put the Texans into first place in the AFC South.
Earlier in the week, Hopkins called this a "must-win" game for Houston, given the Colts' position in the standings. The teams had the same 6-4 record coming into the game, but Indianapolis held the tiebreaker because the Colts beat the Texans in Week 7. With Thursday's victory, the Texans have a 74% chance to win the division, per ESPN's Football Power Index; that number would have fallen to 20% with a loss.
Hopkins finished with six catches for 94 yards and two touchdowns; he had two touchdown catches in his previous nine games entering Thursday. He and Watson have combined for 24 touchdowns since Watson's rookie season of 2017, which trails only Ben Roethlisberger and Antonio Brown (26) for the most in that span.
Hopkins has caught a touchdown in his past five games against the Colts. He didn't have any in his first eight career games against Indianapolis.
Buy a breakout performance: Fuller had seven catches for 140 yards, and it wasn't even his best game of the season — he had three touchdowns and 217 receiving yards against the Falcons — but it was his first game back since he injured his hamstring in Week 7 in Indianapolis, and his return was a huge factor. It was the most receiving yards by any player against the Colts this season. If Fuller can stay healthy — something he has struggled with during his NFL career — he will continue to play an important part in this offense, particularly deep down the field.
QB breakdown: Watson completed 19 of 30 passes for 298 yards with two touchdowns and an interception. He earned most of those yards downfield Thursday, completing all four of his passes on throws of 30-plus yards. Both of his touchdown passes came on those plays. According to ESPN Stats & Information research, that's the most deep-ball attempts without an incompletion in a game since 2006, when the data became available.
Eye-popping NextGen Stat: According to NFL Next Gen Stats data, there was 5.2 yards of separation on Hopkins' second-quarter touchdown catch, which is the most separation for a Texans wide receiver on a touchdown reception this season. The pass had an air distance of 49.5 yards. That was the second-longest scoring pass to a wide-open receiver (five-plus yards of separation) in the NFL this season behind a Tom Brady touchdown pass (50.9 yards) to Phillip Dorsett.
Troubling trend: A game after the Texans allowed 256 rushing yards at Baltimore, they gave up 175 yards on 39 carries to the Colts. Indianapolis had two rushing touchdowns Thursday, its first game against Houston with multiple rushing touchdowns since Week 16 of the 2007 season, according to ESPN Stats & Information research. On the Colts' first touchdown drive, they ran on all seven plays for 42 yards. On their second touchdown drive, Indianapolis ran on 10 of the 11 plays for 59 yards. The Colts did this without starting running back Marlon Mack, who suffered a broken hand in Week 11.
Jonathan Williams turns short run into big play for first TD since 2016
HOUSTON — Indianapolis Colts running back Jonathan Williams, starting Thursday in place of the injured Marlon Mack (hand), capped a 11-play, 66-yard drive that featured 10 rushing plays with the best run of the drive.
Williams started up the middle, where he was met by Houston Texans linebackers Zach Cunningham and Benardrick McKinney after what should have been a short gain. Williams broke free from both players and bounced to the outside. Texans cornerback Johnathan Joseph thought he had a clear shot at Williams, but the running back delivered a left-handed stiff-arm to the cornerback before running into the end zone for the touchdown.
Well ok then, @Jwillpart2. 😳 #INDvsHOU pic.twitter.com/Ea4do2LQNN

— Indianapolis Colts (@Colts) November 22, 2019
It was Williams' first touchdown with the Colts and his first in three seasons. Paired with a Jacoby Brissett scoring run in the first half, it's the first time the Colts have had multiple rushing touchdowns against the Texans since Week 16 of 2007, according to ESPN Stats & Information research.