Is Mike Shildt managing his Cardinals out of the NLCS?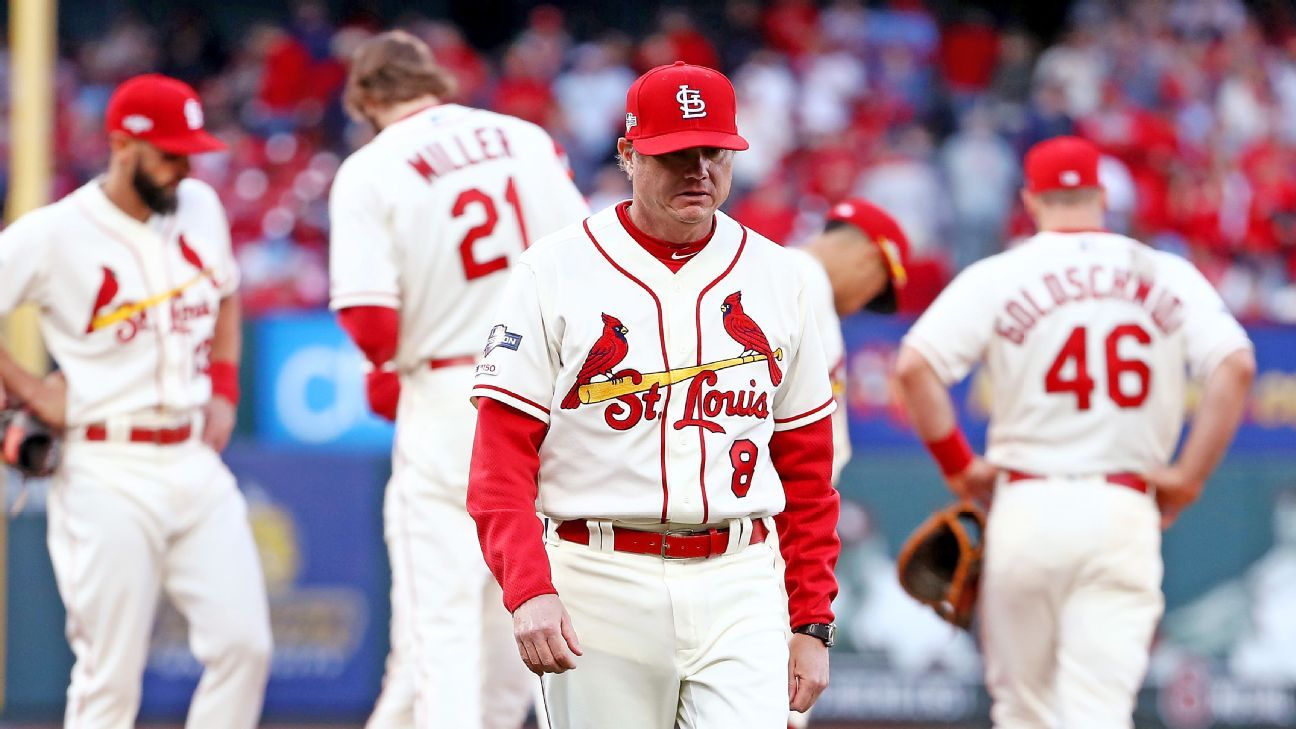 ST. LOUIS — First off, let's get this out of the way. Mike Shildt didn't bat when the Cardinals scored 10 runs in the first inning of their division-clinching victory over the Braves. He didn't have any at-bats in the first two games of the NLCS as the Cardinals totaled just four hits and one run in losing both games at home — with that lone run coming off a defensive miscue.
So despite a well-pitched game from Miles Mikolas in Game 1 and an almost-brilliant effort from Adam Wainwright in Game 2, the Cardinals are in a hole big enough it might take the Arch to span across its breadth: Teams that lost the first two games of a best-of-seven series at home are 3-22 in those series in postseason history.
There was a sense of quiet frustration in the Cardinals clubhouse after Saturday's 3-1 loss when Max Scherzer struck out 11 in seven innings, a game that was 1-0 in favor of the Nationals until they scratched across two late runs off Wainwright in the eighth inning. There was also the sense that, hey, that is what a pitcher like Scherzer can do when he's on.
"They're really attacking you," second baseman Kolten Wong said of Scherzer and Anibal Sanchez, "not really giving you anything to hit and (they) stay off the middle of the plate. You're going to tend to chase because you understand you're going to be put in a hole right away. You end up swinging at pitches you might not in the regular season."
Wong's analysis holds to an extent. The Cardinals had a chase rate — swinging on pitches outside of the strike zone — of 28.4 percent in the regular season and 31.7 percent in these two games. On pitches early in the count — 0-0, 0-1 or 1-0 — their chasing is up from 19.5 percent to 21.6 percent. Still, that's only a few pitches over the course of the game, although given the nature of baseball, a few pitches can turn a game around.
So it's mostly about great pitching so far from the Nationals and the inconsistency of the St. Louis offense. "We're working on it, we're just getting beat," Matt Carpenter said. "They're going out there and executing what they throw, but something like that can change in an inning. You saw what we able to do in Game 5 in Atlanta."
The beauty of the postseason lies in the intensity of the each game, that urgency that doesn't exist over 162 games in the regular season. That's also what makes watching the games so enjoyable from our perch in Second-Guessing Land. Every manager's every decision gets analyzed and broken down. Which gets us back to Shildt, the second-year Cardinals skipper.
There are three big picture questions to bring up.
1. Did Shildt leave Wainwright in too long?
In his start against the Braves in the NLDS, Wainwright took a three-hit shutout into the eighth inning. But he tired and the Braves loaded the bases with a base hit and two walks before Shildt finally removed him after a season-high 120 pitches. Andrew Miller managed to escape the bases-loaded jam (although the Cardinals would lose the 1-0 lead in the ninth).
On Saturday, Wainwright was once again terrific heading into the eighth, allowing only a Michael Taylor home run and sitting at just 83 pitches. With one out, pinch-hitter Matt Adams lined a base hit off the base of the wall in right-center. The top of the order was now up for the fourth time. Also, the shadows that had played ticks on batters all day had now grown past the pitcher's mound.
Wainwright had some bad luck. Trea Turner blooped a hit into center field, a ball with an expected batting average of .090. Still, there were now two runners on and just one out. "I wasn't tired at all, wasn't losing command or anything," Wainwright said.
He stayed in the game to face Adam Eaton. "My last at-bat was the first time I actually saw the ball the whole way," Eaton said. "The shadows were extremely difficult. You saw Kolten Wong have two check swings and barreled both of them up. You just saw some really bad swings and bad counts."
Maybe a different pitcher would have made a difference. Who knows. Eaton battled for seven pitches and hit a 3-2 curveball past a diving Paul Goldschmidt and down the right-field line for a two-run double. It was a two-hopper, but Eaton struck it well — 102.7 mph with a hit probability of .730. "I got a ground ball, he just got good wood on it and put it in the right place," Wainwright said. "That's what I'm down about right now. Wish I could have put a zero up there in the eighth."
Shildt could have brought in a lefty to face Eaton. "I understand that," Shildt said afterwards. "What goes into it, [Wainwright's] got 11 strikeouts, is still hitting his spots. I think he probably made two mistakes, the one to Taylor, cutter, got the ball up the patch, put a swing on it. But then you looked at the Turner at-bat and he bloops one in. Then you look at the Eaton at-bat, I thought he was going to be able to execute."
There's no doubt Wainwright was throwing well. These aren't easy decisions. I'm not even saying Shildt made the wrong move. But facing a lineup a fourth time through the order is a tough ask of any pitcher. Shildt has done it twice now with Wainwright and both times had to end up pulling his starter with runners on base.
2. The lineup
Look, the Cardinals would have needed Stan Musial and Mark McGwire in there and that still may not have been enough. Maybe it was just two rough games against two good starters.
"That's kind of been the story of our season. The offense at times has been hit or miss for this group," Carpenter said. "We've had stretches where we've struggled to score and stretches where we just pour it on. Hopefully, we have one we pour it on the next couple of days."
Indeed, after posting a .797 OPS in April, the Cardinals struggled for much of May and June (hitting .232 in May and .223 in June). The offense was more consistent in the second half, but other than that 10-run outburst against the Braves has struggled in their seven playoff games, getting shut out twice and scoring one run two other times.
Yadier Molina is batting fifth and he came up with a runner on first and one out in the seventh against Scherzer and grounded into a double play. He had the two clutch RBIs in Game 4 of the NLDS, but he's hitting .115 without an extra-base hit in the seven playoff games and that two-RBI game is the only postseason game he's registered an RBI in his past 19. He's not a power threat and he grounds into a lot of double plays. I get that there's the feeling if anybody will rescue the Cardinals, it's Yadi, but maybe he should move down in the order.
Of course, it's not easy sitting in Shildt's chair. Do you stick with what got you here? Do you overreact to a small sample size? Do you play Jose Martinez in right field in Game 3 because he had a couple good at-bats the past two games? Shildt said he hasn't had time to think about lineup changes, but didn't rule out the possibility. "There would be some contemplation about how we move forward and how we look to compete," he said.
"I wouldn't be shocked if we did something different," Carpenter said, adding that he doesn't write out the lineup cards. "I don't know. We'll see."
3. The intentional walks
Shildt issued another, to Anthony Rendon after the Eaton double (and bringing in Miller to face Juan Soto). Miller got out of the eighth, so no harm, no foul. Sabermetricians generally frown on the intentional walk — it's worth noting that A.J. Hinch of the Astros didn't issue one all season — but Shildt has now issued seven of them in the postseason. One of those, to Brian McCann in the ninth inning of Game 3 against the Braves, came back to bite the Cardinals big-time.
The free passes are something to keep in mind as the series move back east. They can easily blow up and lead to a crooked number on the scoreboard.
Anyway, that's where we stand. The Cardinals need to hit and keep on pitching well. Jack Flaherty will be ready to go in Game 3. No worries, Wong says. "We're right at home. Right at home. We're not going to worry about it. We've been in this situation this whole year, people counting us out, getting booed. We've been constantly coming back, fighting and ready to go."
A man was taken to the hospital after being injured by a foul ball in the Astros' dugout
HOUSTON — A man in the Houston Astros dugout who was not in uniform was hit by a foul ball off the bat of Houston's Michael Brantley during Game 2 of the AL Championship Series and exited with a towel over his head.
The Astros released a statement late in Sunday night's game on behalf of Harris County Emergency Corps, which said one of its employees was hit and taken to a hospital, where he was evaluated and in stable condition. The company, which provides paramedic services, provided no other details.
"My thoughts and prayers are with his family and him, and I hope I can talk to him soon," Brantley said after the Astros beat the New York Yankees 3-2 in 11 innings.
Play was briefly halted after the accident in the fifth inning, and Houston manager AJ Hinch came on the field to console a shaken-up Brantley.
Several Astros players were shown in the dugout looking distraught, as were Yankees players who had a view into Houston's dugout. Houston stars Carlos Correa and George Springer both could be seen putting their hands on their heads and then looking away seconds after the ball entered the dugout.
Play resumed after a couple of minutes and Brantley struck out but reached first on a wild pitch by Adam Ottavino.
The Astros extended the protective netting at Minute Maid Park to cover more of the seating area earlier this year, but there is no such protection for the dugouts. The move came after a 2-year-old girl sustained a skull fracture when she struck by a foul ball during a May game in Houston.
For Aaron Boone and Yankees, it's go bold or go home in ALCS
HOUSTON — If it wasn't abundantly clear already, Game 2 of the American League Championship Series crystallized the ethos of the New York Yankees: They are not going to sit back idly and watch the Houston Astros wrest a World Series berth from their lifeless hands. They are going to be aggressive, and that aggressiveness may at times verge on recklessness. So be it. Wallflowers cannot, and will not, beat these Astros.
The Yankees' 3-2 extra-innings loss Sunday night in Game 2 featured a rightfully assertive posture from the earliest moments of the game. They were facing Justin Verlander in the first of four games he and co-ace Gerrit Cole will start should the series extend to seven games, and Boone knows the Yankees must pick off at least one of those to beat Houston. So with a 1-0 series lead in hand already and the opportunity to land a liver shot on the Astros, Boone leadfooted the gas pedal.
Runners on second and third, facing a one-run deficit in the second inning? Boone brought the infield in. Only seven outs from his starter, James Paxton? Boone yanked him. Reliever Chad Green cruising through two innings? Boone pulled him, too, because Adam Ottavino presented a superior matchup opportunity.
This is what constitutes managing in 2019. It's not purely analytics, and it's not some sort of abandonment of gut feeling, and it's certainly not overmanaging, which is a catch-all phrase used by those who think aggressive bullpen maneuvering and seeking out marginal advantages is a bad thing. Here's what it is: pragmatism.
Because — at least based on his decision-making in the first two games of the ALCS — Boone understands what the Yankees are and what they aren't, where they lag behind and where they excel. New York is a team with limited starting pitching and five relief pitchers it deeply trusts. That is a flawed pitching staff, but not so flawed that it can't beat the Astros.
To do so will simply take a deftness similar to what the Tampa Bay Rays showcased in their division-series matchup against Houston. Rays manager Kevin Cash deployed his bullpen with a brilliant touch. He understood the talent advantage the Astros possess would force his team to steal advantages wherever it could. The same goes for the Yankees, and while the overpowering and dominant version of Verlander did not pitch Sunday, the one that did show up was good enough to install a deep sense of urgency in New York.
"Certainly Verlander being on the hill, runs are going to be tough to come by," Boone said. "More often than not I'm going to play that really aggressively."
Play aggressively he did, much to the consternation of armchair managers and Monday morning quarterbacks who believe past success portends future success. Consider Boone's choice in the fifth inning to remove Green for Ottavino. Green had retired all six hitters he faced. Ottavino replaced him, hung a first-pitch slider and watched George Springer punish it for a game-tying home run.
This is a classic case of process not equaling outcome. Ottavino threw a bad pitch. That happens, and when it happens in the postseason it is exponentially magnified. That bad pitch, though, does not take the sound process of Boone's decision — Springer destroys Green's bread-and-butter four-seam fastball; Ottavino is death on right-handed hitters — and invalidate it. It means the right play didn't work. Which, in a seven-game series, admittedly can mean the difference between winning and losing.
Focusing solely on Green's performance also places Game 2 in a vacuum instead of as one slice of a seven-piece pie. The balance between now and whatever games remain is admittedly difficult to strike, but the Yankees, with Game 3 starter Luis Severino not stretched out enough to pitch deep into games — especially against a lineup as patient as Houston's — and Game 4 looking like a bullpen affair, needed to weigh Green's usage accordingly.
Boone is juggling what the front office gave him — and it's a roster that includes five left-handed relievers, which plays awfully well into the hands of the Astros, who were the best-hitting team against lefties in baseball this season. Boone knows this, and he knows it's the sort of thing that will haunt the Yankees at some point in the series, which only exacerbated his exigency in Game 2.
"You're playing it to win the game," Boone said. "You're not playing it to — what if we go 13, you know? You're playing it to what gives us the best chance to win here. And the bottom line is we end up giving up a third run in the 11th inning."
So it went. The possibility of stealing both games at Minute Maid Park — one of them started by Verlander — was exciting enough that Boone emptied his handful of power relievers, going from Green to Ottavino to Tommy Kahnle to Zack Britton to Aroldis Chapman. They covered 20 outs and, Springer's home run off Ottavino excepted, did so with aplomb.
They'll also be ready for Game 3 on Tuesday at Yankee Stadium, when Cole gets his first start of the series. Boone will be suitably pushy in that game, too, if offered the opportunity to steal a win — and even though it's at home, beating Cole in the postseason would constitute grand larceny.
Whatever the outcome in Game 3, Boone may well pray for rain, which is expected to come down in sheets Wednesday. That would allow him to bring back Masahiro Tanaka for Game 4 on full rest, go back to Paxton on full rest in Game 5 and push back the necessary bullpen game as long as possible.
It's not an easy road. The Yankees knew that going into the ALCS. As great a lineup as the Yankees have, as many talented arms as they can offer, the Astros are more talented and managed by AJ Hinch, one of the game's finest tacticians. Boone showed Sunday he's learning himself. He saw an opening. He went full bore. The offense didn't cooperate with any support beyond Aaron Judge's two-run home run, and come extra innings, it left Boone exposed, with CC Sabathia and Jonathan Loaisiga and J.A. Happ in to get the most important outs.
That's not a mistake. It's a solid plan that didn't work. The Yankees will take that. They're certainly not going to beat the Astros sitting back and waiting for the series to come to them.
Astros' Carlos Correa, struggling recently, comes up big with walk-off HR vs. Yankees
HOUSTON — The 2019 season has been a trying one for the Astros' Carlos Correa. Injuries have limited his availability and production, and even when he returned to the active list for the postseason, he struggled to find the timing at the plate that had made him one of the game's brightest young stars. That timing returned Sunday, and it was just in time for Houston.
Correa homered to the opposite field off Yankees lefty J.A. Happ on the first pitch of the bottom of the 11th inning, giving the Astros a desperately needed 3-2 win over New York on Sunday. As the series shifts to Yankee Stadium for Game 3 on Tuesday, both teams head east with one win on the board.
"Going into that last inning, I thought, 'I got this,'" Correa said. "I felt like I got this. And I had the right approach against [Happ]. I've been successful against him going the other way. And that's what I tried to do. I saw a good pitch down the middle, and I drove the other way."
The Astros might not have been in position for Correa's heroics if not for a great defensive play he made to prevent a run in the bottom of the sixth.
With two outs and runners on first and second, Brett Gardner struck a hard-hit liner at Houston second baseman Jose Altuve, and the ball took an in-between hop. Recognizing the difficulty of the play, Correa ranged over from his position at shortstop and corralled the errant ball. DJ LeMahieu raced around third toward the plate with what would have been the lead run. But the strong-armed Correa gunned him down at the plate.
"The second I saw him come over and make a clean catch of the ball and come up and ready to throw, honestly, I thought he was out," said Astros starter Justin Verlander, whose solid 6 2/3 innings got lost in the glare of Correa's night. "It went from 'Crap!' to 'We got this guy. We got an extra out!' It was just incredible."
According to Statcast, Correa covered 58 feet to retrieve the ball on the play and then unleashed an 87 mph throw to catcher Robinson Chirinos to get LeMahieu.
"As an infielder, I know how tough it is to catch a ball that's a line drive right at you in between," Correa said. "So as soon as I knew that it was going to crash in between, I was creeping over. When it hit him, and I saw the ball go my way, I just went after it. And I grabbed it, and when I looked up and I saw he was sending the runner, I thought, 'Oh, I got this guy.' So I threw him out. I don't know why he sent him, but thank you."
As the innings advanced, a Houston lineup that has struggled to score consistently in the face of elite pitching this October grew increasingly frustrated. Before Correa's winner, the Astros hit 19 balls with an exit velocity of at least 95 mph in the first two games of the series, but they had just five hits to show for them. The Yankees, on the other hand, had 14 hits on their 23 hard-hit balls.
At one point in the eighth, Astros slugger Yordan Alvarez, the favorite to win this season's AL Rookie of the Year award, struck out against lefty Zack Britton and snapped his bat by pounding it into the ground near home plate. When Correa's homer left the ballpark, it wasn't quite a catharsis because the ever-confident Astros felt it was due to happen anyway.
"We're just going to keep getting to the next at-bat, keep letting the next hitter do his job [against] the pitching that comes in," Astros manager AJ Hinch said. "It's all about winning today's game. And our guys are responding perfectly to the difficulty in beating those guys."
Correa hit .279 with 21 homers during the season but played in only 75 games, suffering fractured ribs in May and injuring his back in August. He wasn't cleared to rejoin the club for the playoffs until shortly before Houston started its ALDS series against the Rays. Correa played in only three big league games in September.
Although his defense has been sharp throughout October, the rust was apparent when he was at the plate. Entering Sunday, Correa was hitting .136 with a .318 OPS and one RBI in six postseason games. However, he felt so good in batting practice before Game 2 that his teammates in the dugout were telling him he would be the hero.
They were right, and, it turns out, Correa believed them.
"I mean, he knew he was gonna end it when the pitching change came in," Astros third baseman Alex Bregman said. "He told us. Then he did it."
Correa doubled in the second and in the sixth drove Yankees center fielder Brett Gardner to the fence with a deep drive to left-center. But the final proof that his swing might — at last — be coming around didn't manifest until the 11th, when he jumped on a Happ fastball and sent 43,359 orange-clad fans home happy. But no one was happier than Correa.
"It's huge. It's huge," he said. "We came to the ballpark knowing we had to win this game, no matter how we had to win this game. JV on the mound, and I knew our lineup was going to do what we do throughout the whole year, and that's put great at-bats together as a team. And we were able to do that today, and we got the win."
As young as the 24-year-old Correa still is, he has already joined a select group of hitters with multiple game-ending hits in postseason play. Correa has two of them now, with the other coming against the Yankees in Game 2 of the 2017 ALCS. Only David Ortiz (three) had more. Alfonso Soriano, Edgar Renteria, Bernie Williams, Paul Blair and Goose Goslin also had two.
"Moments like this, like tonight make everything worth it," Correa said. "Nights of hard work, doing my rehab, not missing anything, it's all worth it when you look at moments like this."
Any win in October is big, but this one not only saved the Astros from falling into an 0-2 hole with three games looming in the Bronx but also set up Houston to grab the edge in the showdown with red-hot ace Gerrit Cole taking the mound Tuesday. That is a very different perspective than the one the Astros might have had on their flight to New York had Correa not come through on both sides of the ball.
But he did, and suddenly the Astros have their superstar shortstop back in fully functional form.
"We've always said he's a big part of our offense, big part of our defense, big part of our team," Hinch said. "He's usually hitting third, fourth or fifth, but on this team, we've pushed him down a little bit, coming back from injury.
"You can see the impact that we love so much about him. And you look at his RBI totals in the postseason, you look at his walk-offs, you look at the big moments. He's a pretty special man."