Yelich talks injury — 'Had my pity party that night'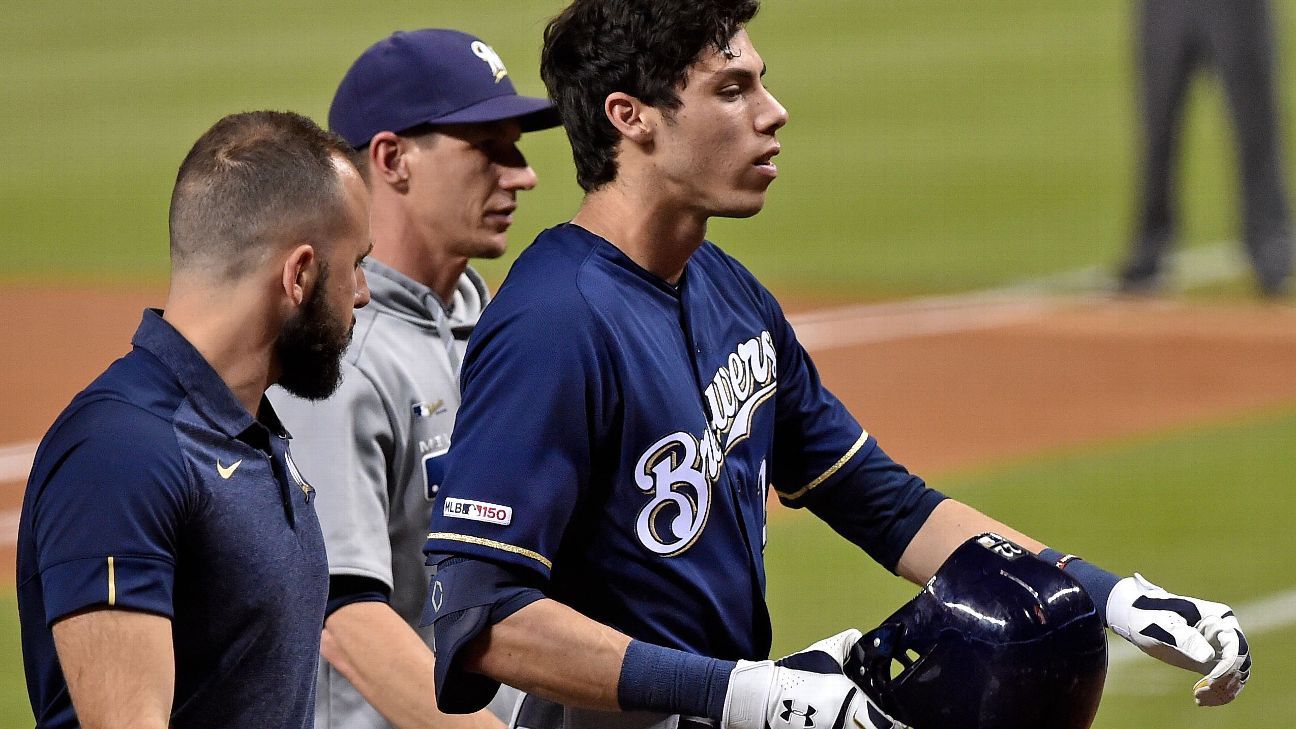 MILWAUKEE — Christian Yelich said he had a "pity party" for himself after fracturing his right kneecap.
Hurt when he fouled off a pitch last week, the reigning NL MVP will miss the rest of the season as the Milwaukee Brewers try to make the playoffs. The projected recovery time for the two-time All-Star outfielder is eight to 10 weeks, and doctors say surgery is not necessary.
"I think the hardest part of the whole thing was the unknown for about 24 hours," Yelich said Monday in his first public comments since the injury. "It was a broad spectrum of outcomes and recovery times, depending on what the MRI showed. We got the good news of no surgery. Once I knew that, it was just about getting better and trying to make a full recovery."
Yelich said it will be difficult to miss playing in the postseason.
"It's the first time I've broken anything in my life or had a real injury," Yelich said. "It seems to be one of those things that's not fair at the moment. Trust me, I had my pity party that night at the stadium and I felt terrible. … Trust me, I wish I could have an impact on this race, or if we make the playoffs, participate in that. But it's not going to happen. So there's no point in dwelling on it or letting it get you down."
Yelich hit .329 with 44 homers, 97 RBIs and 30 stolen bases for the Brewers, who reached Game 7 of last year's National League Championship Series before losing to the Los Angeles Dodgers.
"For whatever reason, we seem to pull it together in September, and when everything is on the line, we find a way to win," he said.
Dave Roberts will have to own this Dodgers disaster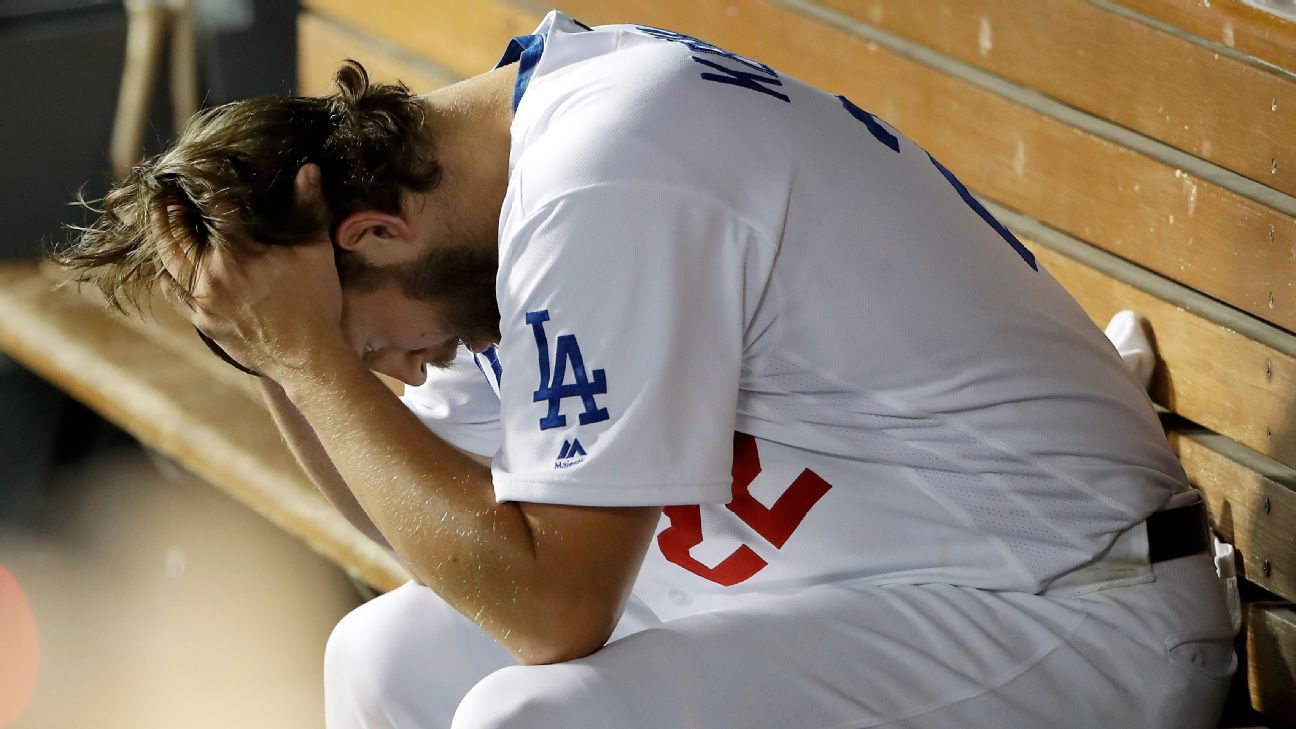 LOS ANGELES — The slow-moving disaster that ruined the Los Angeles Dodgers' season began at 8:31 p.m. local time Wednesday and concluded 52 minutes later. A future Hall of Fame pitcher whose postseason shortcomings had come to define him lived down to his reputation. A manager who had shepherded the team to 106 wins forgot how to manage. A year replete with success, swollen with promise, conflagrated in spectacular fashion. The Dodgers, the best team in the National League, the organization that does so much right, failed at the most inopportune time.
The fallout of their 7-3 loss to the Washington Nationals in a 10-inning, winner-take-all Game 5 of the National League Division Series bordered on difficult to watch. Clayton Kershaw, the future Hall of Fame pitcher, blamed himself and said: "Everything people say is true right now about the postseason." Dave Roberts, the manager, defended his shoddy decision-making but said: "If the blame falls on me, I've got no problem with it."
As the Nationals reveled in Howie Kendrick's go-ahead grand slam and their first postseason series victory since the franchise moved to Washington from Montreal, the Dodgers were left to ruminate on what-ifs and live with second-guessing. Which, in many cases, was actually first-guessing, because Roberts' string-pulling, even in the moment, resembled a marionette flailing about at the hands of an amateur puppeteer. On a night of stunning turnabouts, Roberts — typically a savvy strategist — turning in this sort of performance was the shock of shocks.
Kershaw played to type. After inheriting a jam in the seventh inning and escaping with a strikeout of Adam Eaton, the left-hander emerged in the eighth to face Anthony Rendon, the Nationals' MVP candidate, with left-hander Juan Soto looming on deck. The Dodgers led 3-1. They were six outs from a fourth consecutive NL Championship Series appearance.
Armed with a fastball and slider that register similarly on the radar gun, no longer the Kershaw of three Cy Young Awards and seven consecutive top-5 finishes, he succeeded this season on guile. Rendon and Soto scoff at guile. Rendon jumped on a low 89 mph pitch and lofted it over the left-center-field fence. Soto attacked the next pitch, also 89 mph, fat and in the strike zone, and ambushed it 449 feet into the right-center-field bleachers.
Never in the regular season had Kershaw given up home runs on back-to-back pitches, according to the Elias Sports Bureau. This was the second time he had done it in the postseason. Kershaw was yanked from the game and sat alone on the bench, confounded, befogged, stupefied — saddened above all. The crowd of 54,159 at Dodger Stadium, so alive as the bottom of the hour hit, was stunned silent.
"I had one job to do: just get three outs. I got one out," Kershaw said. "Didn't get the other two and they went over the fence and it cost us the game right there. It's a terrible feeling. No excuses. Just didn't make pitches, and a guy hit it over the fence, twice."
Kershaw was in the game because his name was Clayton Kershaw. Roberts appreciates who he is as a person and what he has been as a pitcher. In this situation, though — six outs separating the Dodgers from Game 1 against the St. Louis Cardinals, a bullpen full of superior matchups at his behest — urgency needed to trump loyalty and trust and history. If the back of his jersey did not read KERSHAW, Roberts would have had an awfully difficult time making the case to use him.
Clayton Kershaw feels terrible that he let his teammates down, giving up back-to-back home runs in the 8th inning and a 3-1 lead in Game 5 of the NLDS.
The path to a victory had plenty of other routes. Roberts could have summoned Kenta Maeda, his high-leverage bullpen stopper, to navigate the heart of the Nationals' order. He could have called upon Pedro Baez, against whom right-handers hit .172 this season, to face Rendon, then mobilize left-hander Adam Kolarek, whose lone job all series was specifically to get Soto out. In a do-or-die game, if you don't do, you die.
Here was Roberts' explanation: "I felt good about Clayton right there. Eaton, and when you got Rendon and Soto, so I felt that I liked Clayton. He threw, I don't know what it was, a couple pitches, and we had Clayton ready for whatever today. So for Maeda to go through Soto, Kenta in this role, we really liked him against the right-hander. And the success that Clayton's had against Soto with the two-run lead, I'll take Clayton any day in that situation. I just think it's one of those where it was easy for me to get Clayton, with the low pitches to get Rendon and to go out there and get Soto. And to have Kenta behind him. That was my thought, and not have Kenta go through Soto."
This is a lot to digest. Much of it doesn't make sense. Kershaw's home run rate spiked to a career worst this year. Rendon, both this year and historically, hits left-handed pitchers better than right-handers. The idea of liking Kershaw against Soto with a two-run lead is fine. The Dodgers did not have a two-run lead by the time Soto batted. They had a one-run lead — and a left-hander in Kolarek who had struck out Soto twice in the series and induced a ground ball in their other matchup.
The bungling did not end there. After Maeda replaced Kershaw and cruised through the eighth, Roberts brought in Joe Kelly, who worked a quick and easy ninth inning. Then he returned for the 10th. As recently as last week, Kelly was dealing with an unidentified injury. He had not pitched more than one inning since Aug. 24.
Closer Kenley Jansen was available. So was Baez. And Kolarek. And Dustin May. They were available when Kelly walked Eaton to lead off the inning. They were available when Rendon yanked a double to put runners on second and third. They were available when Roberts intentionally walked Soto to load the bases. They were available, and still Roberts hung with Kelly against Kendrick.
Dave Roberts says he felt good going with Clayton Kershaw in the eighth inning, which resulted in back-to-back Nationals' homers.
Here was Roberts' explanation: "Kelly goes in there, throws 10 pitches, and he's throwing the baseball really well. He's arguably our most rested reliever, and the way he was throwing the baseball, so I felt it was pretty easy. Don't have a lot of guys as far as behind Kenley. I liked Joe right there in that spot, I really did. After 10 pitches there was no stress. Ball coming out well. So for him to go out there and take down that inning and to have Kenley take down the other part of the order, I felt really good about it. And as far as that second and third, nobody out, you're in a tie ballgame, yeah, you could go to Kolarek, infield is going to be in, hope for a punch, but I just felt that Joe had a good chance to put Howie on the ground and potentially then get Kenley on Zimmerman. And so my thought was to try to get a ground ball right there. So now you're looking at potential effectiveness. And so I don't think anybody could have been more effective than Joe in that ninth inning. And so it was 10 pitches, the velocity, the command, the curveball. And so to go out there and send him out there again, I felt really good about it."
OK. Kelly was rested because in his last outing he walked three, gave up a hit and two runs and didn't record an out. Coming off that, Roberts was asking him to do something he hadn't done in more than six weeks. Even if Kelly's ground ball tendencies — and they're exceedingly strong — match up well with Kendrick's predilection to hit the ball on the ground, sticking with him after a walk and a double, with Jansen ready to go, shows a fidelity to the numbers that does not match the moment.
Sometimes a bad result can be stomached if the process was sound. The process here was not sound, and when Kendrick hammered a ball over the center-field fence at 9:23 p.m., the deed was done. Then Roberts didn't even go to Jansen with Ryan Zimmerman at the plate, as he suggested he would have done, only calling upon his closer after Yan Gomes singled to right field.
It's impossible to say this entire debacle was preventable. Other pitchers might have blown the lead the same way Kershaw and Kelly did. But the Dodgers are where they are, with a roster built for now and the future, because of rigorous decision-making. The only rigor in Roberts' decisions was of the mortis variety, because it turned the Dodgers' season into a corpse.
What comes next is every bit as interesting as what befell the Dodgers on Wednesday. This is the sort of loss that could complicate Roberts' future with the Dodgers. He did sign a four-year contract extension in December, and in many ways — from how the players feel about him to how well he represents the organization and brand — he is an ideal manager for this team and market. No matter how well the Dodgers are set up going forward, though, the notion that a game of this magnitude can be mismanaged in such fashion invites scrutiny.
Further, team president Andrew Friedman, who built the 106-win team and turned the farm system into a player-development machine, has a contract that expires at the end of October. There has been mutual interest in him remaining with the Dodgers, and it is the likeliest outcome, but it's another box to check in an offseason rife with intrigue.
Do the Dodgers, for example, buck their trend of avoiding high-priced free agents and chase Rendon or Gerrit Cole? Can they use May and Tony Gonsolin, two high-ceiling rookies, to replace free agents Hyun-Jin Ryu and Rich Hill in the rotation? Even if Jansen doesn't opt out of his contract — a possibility but by no means a certainty — how do they improve their bullpen?
It was clear Roberts felt he didn't have the sorts of options other teams have, though neither did the Nationals, and Dave Martinez, their manager, made due. Coming into the series, Roberts was seen as the clearly superior tactician. It's not so much that he got outmanaged as he backed himself into a corner with self-owns.
And so went the Dodgers' season, spiraling from glory to gutter in less than an hour. Some Dodgers players were on the verge of tears afterward, and understandably so. They thought this was the year. They believed this was the team that was going to snap the 30-year championship-free streak. They knew they were special. Instead, they get to wonder what could have been — what should have been. They'll never know. That's the hardest part.
Washington Nationals say they're not finished after KO'ing Dodgers
LOS ANGELES — It was the mother of all hump days.
For the first time since their move to D.C. in 2005, the Washington Nationals have won a playoff series. Even better, they did it on a Wednesday.
"I don't even know what day it is right now," said Davey Martinez, the second-year manager who smuggled live camels into spring training last year in a light-hearted effort to acknowledge the elephant in the locker room.
Eighteen months later, after whiffing on the playoffs in 2018, his Nationals are finally over the hump, thanks to a stunning comeback against the Los Angeles Dodgers that left the sellout crowd at Dodger Stadium shell-shocked.
When reliever Clayton Kershaw — that's right, reliever — struck out Adam Eaton to end the top of the seventh inning with Los Angeles leading 3-1, the Dodgers had a 90% probability of winning. But in the top of the eighth, with the score unchanged, Kershaw surrendered a leadoff homer to MVP candidate Anthony Rendon, who sent a 1-0 offering from the three-time Cy Young Award winner sailing over the wall in left-center field. On Kershaw's next pitch, a slider, 20-year-old Juan Soto crushed a 449-foot bomb to straightaway center to tie the game.
It stayed tied until the top of the 10th, when veteran Howie Kendrick connected for a grand slam off Joe Kelly. Just like that, it was Hump Day to the Hump Day power.
"It's obviously huge," said first baseman Ryan Zimmerman, who was the Nationals' first-ever draft pick in 2005 and has been around for all four of Washington's previous playoff fails. "We've never done it before. A lot's been made out of that. I think I'm really proud of what we've done, even though we haven't gotten out of the first round before. But to do it, to beat a team like that, a really good team over there, it really did take everyone."
It took Stephen Strasburg settling down after allowing a pair of homers within the first seven batters that staked the Dodgers to a 3-0 lead that seemed insurmountable with stud righty Walker Buehler on the mound for L.A.
It took four innings of shutout relief from the infamous Washington bullpen, highlighted by Patrick Corbin, who was shelled out of the pen in Game 3, but tossed 1⅓ perfect innings on Wednesday to prove that relievers — even converted ones — have short memories.
It took those back-to-back jacks from Rendon and Soto, which marked the second time in Kershaw's Jekyll-and Hyde career that he's allowed homers on consecutive pitches in the postseason (he's never done it during the regular season).
Last but not least, it took Kendrick's monster slam, which instantly flipped the script on what had been a forgettable four and nine-tenths games for him, both at the dish and in the field.
"I try not to let those mistakes effect me a whole lot," said Kendrick, who committed three errors and was hitting .217 in the series prior to his big blow. In his first four at-bats on Hump Day, the 36-year-old infielder had gone 0-for-4 with two whiffs and one rally-killing GIDP. But his huge hit in the 10th more than made up for all his transgressions. "As a team, mistakes are going to happen. Guys pick me up. As a team you have to pick each other up. It's good to return the favor."
Anthony Rendon couldn't be happier for Howie Kendrick coming back from an error to send the Nationals to the NLCS with a grand slam.
"He's the epitome of a professional hitter," Rendon said of Kendrick, whose .344 average in a part-time role this season was the highest in the majors among players with at least 300 at-bats. "He's what, he's like 45 years old and still doing this. But, man, I mean we're all going to make mistakes, we're all going to make errors, we're human, we're not perfect people, that's a part of the game. He's not going to give up, he's just going to continue to keep on trucking and that man can hit. So he did what he needed to do."
Kendrick also did what only one person in the history of the game has ever done. With his 10th inning salami, he became just the second player to hit a slam in extra innings of a playoff game, joining Nelson Cruz, who did it in walk-off style for the Rangers against the Tigers in 2011. Although Kendrick's blast didn't end the game — at least not officially — it essentially did. And in doing so, it ended Washington's string of postseason heartbreak. The fact that this particular edition of the Nats achieved what no other before it could comes as no surprise to GM Mike Rizzo.
"We've been playing playoff-caliber baseball since May 24 because we dug ourselves a hole," said Rizzo, whose team went 19-31 over its first 50 games and had to win eight straight to close the season just to make the wild-card game. It's a stark contrast from each of the previous four times Washington made the playoffs as a division winner, coasting into October with little if any battle-testing. "We've been playing that type of baseball, with that mindset, for such a long time. I think that aided us in trying win this game in this park."
Depending on how much you believe in karma, maybe the day of the week helped a little too. Here's a peek at how the calendar intersected with the finale of each of the Nationals' early exits:
2012: Lost 9-7 to the Cardinals on a Friday
2014: Lost 3-2 to the Giants on a Tuesday
2016: Lost 4-3 to the Dodgers on a Thursday
2017: Lost 9-8 to the Cubs on a Thursday
In other words, this was the first time an NLDS involving the Nationals ended on a Wednesday. Not that anyone in the winning clubhouse seemed to be aware of that.
"I did not think about that. That's crazy," said Rizzo, moments after relievers Hunter Strickland and Tanner Rainey poured cold beer over his bald head. The double-fisting GM, who was holding a green bottle of Cava Campo Viejo champagne in each hand, didn't mind one bit. "It's the best brain freeze you'll ever have."
As frozen as Rizzo's cranium was, it didn't prevent him from being able to think ahead to Friday's series opener in St. Louis.
"We haven't reached out goals yet," said Rizzo, implying that the dromedaries that Martinez imported into camp last year — the camels that had one hump — were anatomically inaccurate and that perhaps the two-humped Bactrian variety would've been more appropriate. He's not the only one who feels that way.
"It's just the start," said Soto, his feet immersed in the half-inch puddle of cold beverage that had collected in the middle of the cramped visitors clubhouse, when asked what it feels like to taste postseason success. "We're just starting right now. We're gonna get more."
If Soto turns out to be prophetic and the Nationals can topple the Cardinals in the best-of-seven NLCS, they might want to consider not letting it go to a sixth game. And they might want to avoid sweeping too.
After all, Game 5 is on a Wednesday.
Inside the record 10-run first inning that sent the Cardinals to the NLCS
ATLANTA — Shocked. That was the feeling in both dugouts during the moments that produced one of October's biggest surprises ever, especially in an elimination game.
The St. Louis Cardinals scored 10 runs in the first inning against pitchers Mike Foltynewicz, Max Fried and a stunned Atlanta Braves team to essentially win the deciding Game 5 of the National League Division Series over the course of 26 minutes Wednesday.
Inside the winning clubhouse after the game, as champagne was popped and beer was poured, the victors relived an inning they will not soon forget.
Here is how they recalled the key moments:
Dexter Fowler leads off with a walk
The third-year Cardinals outfielder nearly struck out to begin the game, barely fouling off a 1-2 pitch.
"Did I?" Fowler said with a smile while pulling down his champagne goggles. "That was so long ago, I don't even remember."
Cardinals fans will undoubtedly remember the seven pitch at-bat, which ended with three straight balls, beginning the historic inning against Foltynewicz.
"Dex just fouled it off," Braves manager Brian Snitker said. "He had a heck of an at-bat to open the game."
Kolten Wong sacrifice bunts on his own
Out of respect to Foltynewicz, Wong and the Cardinals began thinking about scratching across a single run — something they couldn't do against him across seven innings in their Game 2 loss.
"I just wanted to get a guy in scoring position," the second baseman said. "After a good at-bat by Dex, I told myself, 'Just get him scoring position.'"
Surprise in the Cardinals dugout, and at first base, turned into applause when Wong got the bunt down easily, moving Fowler to second base.
"I was on first and saw him square around and was like, 'OK, that's fine,'" Fowler said. "We knew we had to put some runs up to get the crowd out of it early."
St. Louis manager Mike Shildt was as surprised as anyone. "That's not a called play," the Cardinals manager said. "He has a chance to get him over and maybe get a hit. … You play the game right, good things happen."
Said pitcher Adam Wainwright: "We were thinking, all right now, he's in scoring position. We got 3, 4 [hitters] coming up, a couple guys who have been swinging the bat well. Let's get that run across for Jack [Flaherty]. That might for be enough for him."
Flaherty, the Cardinals' 23-year-old ace, would end up getting more than enough. The out Wong made on the sacrifice bunt would be the only one Foltynewicz would get, and the last one St. Louis made for quite some time. The floodgates were not quite open yet — but the Braves had begun taking on water.
After first baseman Paul Goldschmidt reached on an infield single, the Cardinals had men on first and third with one out. It was still a scoreless game.
"We know what kind of a pitcher Foltynewicz is and what he did to us last time and the way this series has been," Goldschmidt said. "We wanted to get on the board early."
Marcell Ozuna hits an 0-2 pitch at his ankles into right field, scoring Fowler (1-0 Cardinals)
"That was an unbelievable hit," teammate Jose Martinez said.
Next, catcher Yadier Molina hit a hard ground ball to Freddie Freeman at first base. Freeman booted it for just his seventh error in his 163rd game played this season.
"I hit the ball hard," Molina said. "I got lucky that Freeman missed it."
With the bases loaded, Matt Carpenter works a six-pitch walk (2-0 Cardinals)
"I knew we might have him on the ropes," Carpenter said. "I'm just trying to take a good AB and extend the inning. It felt like we blinked and it was 10. It happened so fast."
The runs would come fast and furious after that walk, thanks to three extra-base hits to come, as the inning really began to get away from Foltynewicz and the Braves.
Tommy Edman delivers a two-run double (4-0 Cardinals)
"I was just trying to get him over the plate," Edman said. "I didn't want to chase him."
Foltynewicz would end his season by intentionally walking the No. 8 hitter, Paul DeJong, before Snitker came out to get him. The Braves' skipper called upon Fried to end the onslaught, but it was far from over.
"I think it was more just shocked than anything," Braves third baseman Josh Donaldson said. "You don't expect something like that to happen, especially with how well we've been playing all season."
Flaherty walks with the bases loaded (5-0 Cardinals)
Jack Flaherty explains what it was like to wait and stay in the zone while the Cardinals hung 10 runs in the top of the first inning.
Fried had been so key for the Braves in the first three games, but he started his outing off on the wrong foot by walking his former high school teammate, and St. Louis' starting pitcher.
"I'm laughing because Max is up there," Flaherty recalls of walking to the plate. "I'm trying to keep a straight face. I looked up into the stands and saw my mom, which was great. She was smiling and all excited. I didn't expect [to face] Max.
"I saw our buddy was talking about it on Twitter. It'll be brought up in the offseason for sure."
Fowler and Wong hit back-to-back two-run doubles (9-0 Cardinals)
"One out, bases loaded, I'm just trying to put something into the outfield," Fowler said.
You often hear people in the game talk about how it all slows down on the field but in the opposing dugout, it was now feeling as if things were going way too fast.
"I don't know that I've seen that many guys hit in the first inning that quick in my entire life," Snitker said. "I don't know. It wasn't how we drew it up. I know that. I don't know. That thing just kept rolling and we couldn't stop it."
A wild pitch on strike three to Ozuna scores Wong (10-0 Cardinals)
After Goldschmidt lined out, this last run was just for good measure, perhaps to underscore how awful an inning it was for Atlanta. Molina then mercifully grounded out to third to end the frame.
The Cardinals — ready for a close game and willing to play small ball — were left just as stunned as the Braves.
"I've never seen anything like that," Wainwright said. "Have you seen anything like that? We just kept the pedal to the metal. … I was just trying to stay in the moment, but after that inning I came in to the guys [in the clubhouse] and said, 'I've never seen anything like that.'"
Said Goldschmidt: "That's not something you expect, but you're trying to stay in the moment to get more. Keep going, keep going."
And that's what the Cardinals did, silencing a sellout crowd with a historic inning and sending home the second seed in the National League before the sun could set for the night — or Flaherty could even take the mound. It was the first 10-run first inning in postseason history, tied for the most runs ever in any postseason inning.
"I had to come inside and get a cup of coffee because I said this is going to be a long night for them," Martinez said. "They played a good series. We had a great inning."
The next 8½ innings were simply about getting ready for that champagne celebration.
The Cardinals earned one almost as soon as the national anthem had ended.