Steelers' move for Minkah Fitzpatrick bold, calculated — and a bit desperate – Pittsburgh Steelers Blog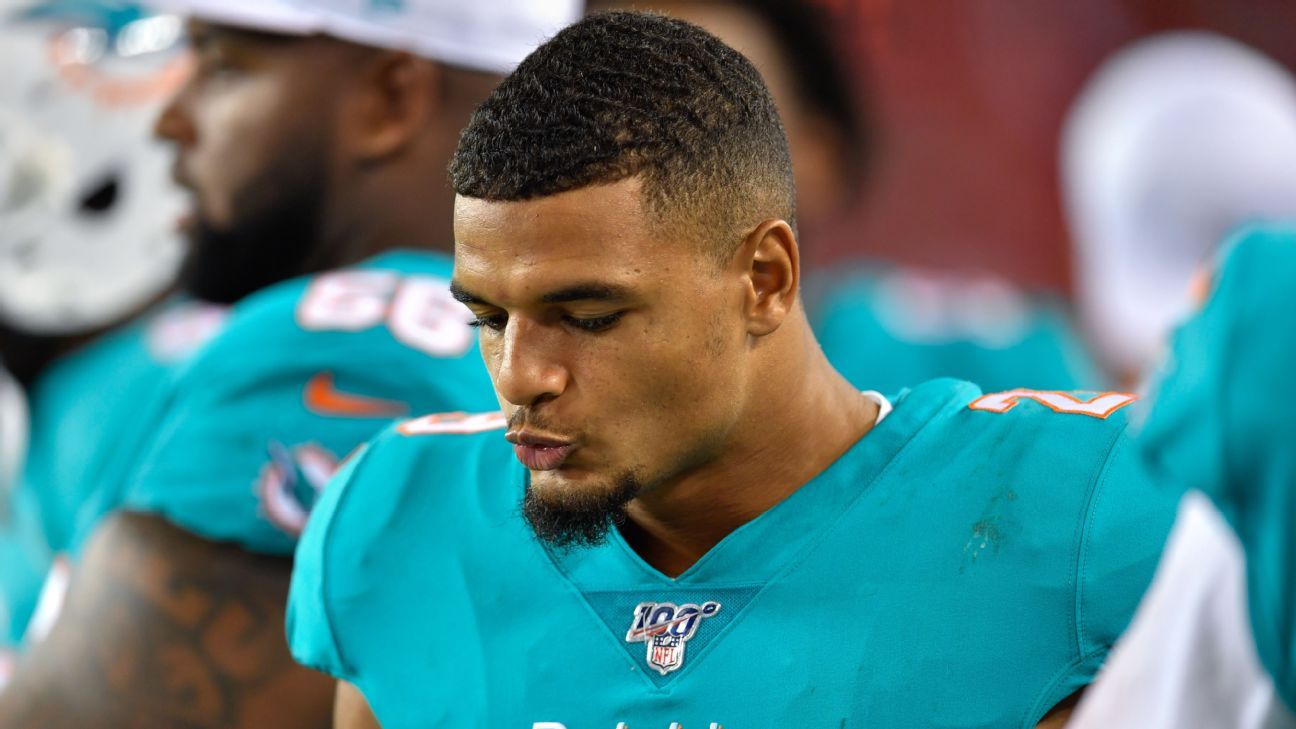 On the surface, the Pittsburgh Steelers' decision to deal a first-round pick to the Miami Dolphins for safety Minkah Fitzpatrick reeks of desperation. They are 0-2, just lost their franchise quarterback for the year and see the Super Bowl window closing fast. The stage was set for Pittsburgh to get a high pick in 2020.
But the Steelers have never done business with draft positioning in mind. Win now is always the culture. The Steelers feel strongly enough about Fitzpatrick's talent — and affordable rookie contract with an average base salary of $2.1 million for the next three seasons — to justify any pick the team could muster in April's draft.
The move says a lot about where the Steelers are, and where they will be:
Roethlisberger isn't retiring
Despite an elbow injury that could take the better part of 12 months from which to recover, quarterback Ben Roethlisberger is likely back for next season. He's not a lock to start Week 1, but Roethlisberger said in his statement Monday he's honoring all three years of his deal.
Roethlisberger will be 38 in March, which is a reasonable number thanks to the blueprint set by Drew Brees and Tom Brady. Surrounding him with high-level pedigree is crucial.
The defense needs the help
As news broke midweek that the Dolphins were willing to deal Fitzpatrick, the 11th overall pick in 2018, I was told the Steelers wouldn't be involved in the preliminary wave for him. Giving up a first was too steep for a franchise that values such capital.
But giving up 61 points through the first two weeks with what should be an improved defense must have pressed Pittsburgh to negotiate harder. They are tired of watching their safeties almost make plays. Terrell Edmunds' athletic gifts should turn into consistent performance eventually, but they haven't yet.
Fitzpatrick gives the Steelers a versatile safety who can help cover the slot and erase mistakes on the back end. He also can serve as a potential replacement for Sean Davis, who's a free agent in March. A three-man safety lineup of Fitzpatrick, Edmunds and Davis is much better than what the Steelers rolled out in a 33-3 loss to New England in Week 1.
The defense now has eight former first-round picks in its starting lineup. If Mike Tomlin can't make that work …
This speaks loudly about Rudolph
The Steelers had no intentions of selecting a quarterback in the top 10 next year despite Roethlisberger's injury. General manager Kevin Colbert believes Mason Rudolph is a first-round talent, and the team is clinging to that belief with this move.
Teammates say they believe in Rudolph and their words don't feel empty. He prepares hard, and that has earned their respect.
They also probably looked at the draft class of quarterbacks and figured they would win enough games to have no shot at Alabama's Tua Tagovailoa or Oregon's Justin Herbert.
But that outside chance makes this move incredibly risky. If the season tanks and the rebuild is on, the Steelers just traded away a potential replacement quarterback.
But the Steelers will sell this: We have two good quarterbacks already. That promotes bold ideas.
Tom Brady, Patriots bailed out by D on way to 6-0 start – New England Patriots Blog
FOXBOROUGH, Mass. — The New England Patriots' offense, led by quarterback Tom Brady, still isn't clicking. Thankfully for the unit, the defense and special teams make game-changing plays that continue to buy them more time.
That's what it took in Thursday night's 35-14 victory over the New York Giants at Gillette Stadium. A blocked punt returned for a touchdown and a fumble recovery brought back for a score supplemented an offense that was hurt by two of Brady's mistakes (interception, strip sack returned for touchdown).
It marked the third straight game Brady has turned the ball over. His turnovers in the previous two games had been in the red zone, which he called unacceptable, and he acknowledged that the offense has to raise its level to where the defense finds itself.
With a road trip to the Jets next on the schedule, there's still time to work through the issues, but some stiffer competition awaits down the line.
Describe the game in two words: Personnel attrition. Tight end Matt LaCosse (knee), safety Patrick Chung (chest), wide receiver Josh Gordon (knee), linebacker Dont'a Hightower (shoulder) and fullback Jakob Johnson (shoulder) all left the game because of injuries.
Buying a breakout performance: This might be the best defense in Bill Belichick's 20 years as head coach. The defense and special teams units have scored 35 points from five touchdowns.
Troubling trend: Another missed field goal, this time from 40 yards for Mike Nugent. The Patriots also passed up a 49-yard field goal with the wind in the fourth quarter, instead going for it on fourth-and-5. Would they have made the same decision if Stephen Gostkowski was not on injured reserve? Nugent did make five extra points.
Eye-popping NextGen Stat: The 64-yard touchdown pass from Giants quarterback Daniel Jones to receiver Golden Tate came against tight coverage from cornerback Jonathan Jones. The pass had an air distance of 35.5 yards and a target separation of 0.62 yards. It was the second-longest tight-window completion against the Patriots this season (Bills quarterback Josh Allen's 37.9 air distance to tight end Dawson Knox came in Week 4).
Giants vs. Patriots – Game Summary – October 10, 2019
first Quarter
NYG
NE
TD
1:41
Blocked Kick Recovered by Chase Winovich (NE) Mike Nugent Made Ex. Pt
3 plays, 1 yard, 1:50
0
7
second Quarter
NYG
NE
TD
7:11
Brandon Bolden 1 Yard Rush, M.Nugent extra point is GOOD, Center-J.Cardona, Holder-J.Bailey.
5 plays, 20 yards, 2:15
0
14
TD
6:05
Golden Tate Pass From Daniel Jones for 64 Yrds, A.Rosas extra point is GOOD, Center-Z.DeOssie, Holder-R.Dixon.
3 plays, 75 yards, 1:06
7
14
TD
4:38
Markus Golden 42 Yrd Fumble Recovery Aldrick Rosas Made Ex. Pt
3 plays, 17 yards, 1:27
14
14
TD
0:36
Tom Brady 1 Yard Rush, M.Nugent extra point is GOOD, Center-J.Cardona, Holder-J.Bailey.
11 plays, 75 yards, 4:02
14
21
Patriots strike first, block punt for TD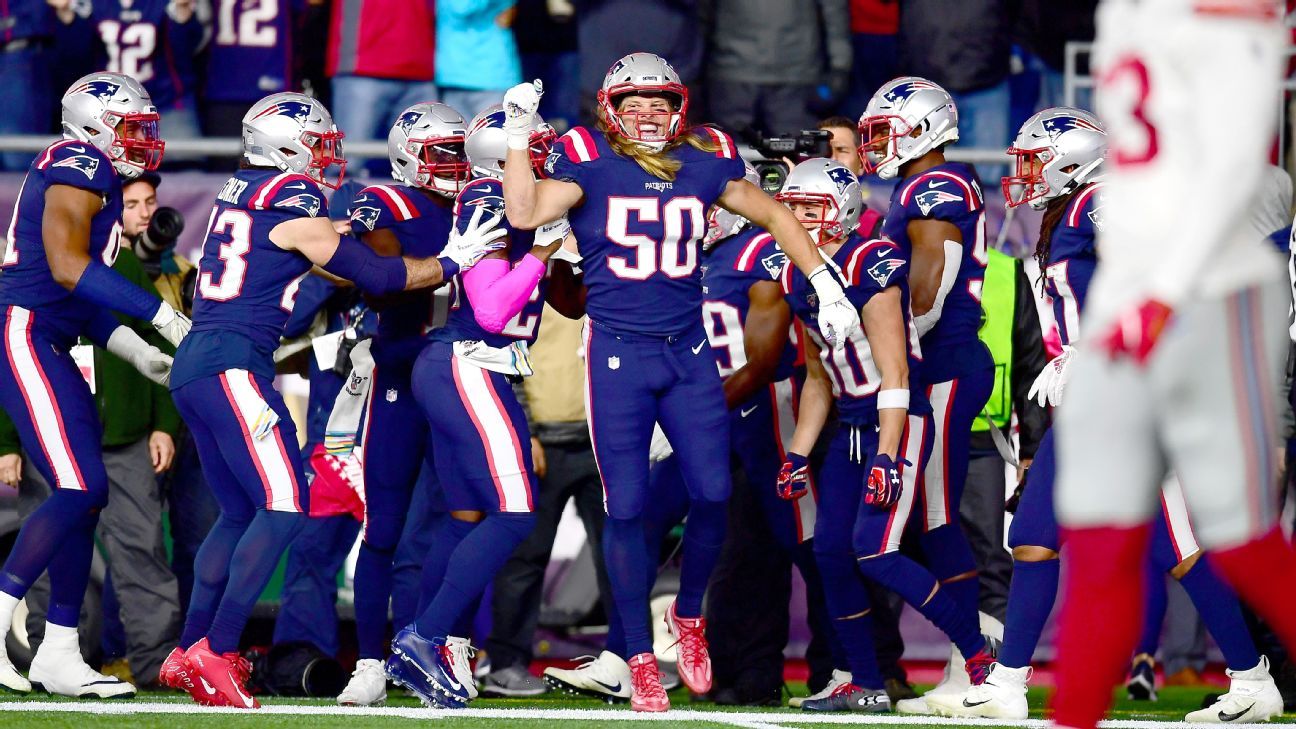 FOXBOROUGH, Mass. — Veteran New England Patriots running back Brandon Bolden, whose primary role is to contribute on special teams, used a powerful rush up the middle that knocked linebacker Nate Stupar back into the pocket that punter Riley Dixon wanted to step into.
Hulk & Thor for the score.@BB_HulkSmash | @wino pic.twitter.com/CPmebLEksk

— New England Patriots (@Patriots) October 11, 2019
While Bolden raised his left arm, Dixon's punt came off his foot low and hit Stupar in the back of the helmet, with Bolden's hand also seemingly making contact with the ball and popping it up into the air. Rookie linebacker Chase Winovich fielded the popup at the 6-yard line and raced into the end zone, before excitedly racing to the corner of the end zone and firing the football into the stands.
The wind is a factor in the game, and the punt was heading into the strong gusts.