For Jaguars, headache might outweigh Jalen Ramsey's talent – Jacksonville Jaguars Blog
JACKSONVILLE, Fla. — There's no doubting Jacksonville Jaguars cornerback Jalen Ramsey's immense talent.
He's a lock-down defender with a rare combination of size, length and speed. In his first three seasons, he has been to the Pro Bowl twice and was first-team All-Pro once.
There's also no doubting Ramsey can be an immense headache.
• Jones is right QB for Giants — right now
• Ramsey's talent not worth headache for Jags
• Patriots' D could match '37 Bears vs. Jets
• Bears rally around Eddy 'Dinero' Pineiro
• The Smiths are igniting Packers' defense
• Inside Derrick Henry's historic 99-yard TD run
He has questioned coaching schemes and decisions. As a rookie, he advocated for the entire defensive staff to be fired. He ripped most of the league's quarterbacks in a magazine article. And, as everyone saw last Sunday, he publicly confronted his head coach during the game on the sideline.
At some point, the headache outweighs the talent. It's no different than any high-maintenance relationship. There's only so much selfishness and so many demands one side is willing to put up with until there's no benefit to continuing the relationship.
That's where the Jaguars seem to be with Ramsey. And if that's the case, it's time for that relationship to end.
Granting Ramsey's trade request would not be not a good precedent, but it might be the best thing for the organization. Ramsey has his supporters in the locker room — including running back Leonard Fournette — and sending him away might not be well received, but the alternative is keeping someone who is unhappy and doesn't want to be here. That doesn't work in any relationship.
It's not a matter of choosing coach Doug Marrone over Ramsey, either. Based on Ramsey's history and his actions last Sunday, would Ramsey really change his behavior if the Jaguars fired Marrone and gave Ramsey the mega-contract he wants (and deserves, based on his production and talent)?
It seems unlikely.
And, to be honest: Does a team need an elite corner — and Ramsey might very well be the best in the league today, a generational talent — to win a Super Bowl? Elite quarterback, yes. Elite pass-rushers, certainly. It obviously helps to have as much talent as possible, but teams have won Super Bowls without elite cornerbacks.
As good as Ramsey has been, the Jaguars have won 18 games in his three-plus seasons — and that includes 10 victories in 2017. The franchise has had many personnel issues in the past few seasons, especially at quarterback and along the offensive line, and Ramsey's talent and work ethic haven't been able to help team overcome it.
Another thing to note: High-maintenance players generally don't spend their careers in one spot. Some do: Michael Irvin, for example. But Deion Sanders didn't. Neither did Terrell Owens, Randy Moss or Darrelle Revis. In fact, Sanders and Revis played for a combined nine teams.
By all accounts, Ramsey is one of the team's hardest workers. He studies opposing receivers and has notebooks full of information on each. He is always in great shape and treats his craft seriously. He's also not a bad guy. He adores his family. None of that is an issue for the Jaguars. In that respect, he's the perfect player.
It's everything else that's the problem. Saying defensive coordinator Todd Wash should be fired in 2016. Questioning Wash's defensive calls in the fourth quarter of the AFC Championship Game against New England. Ripping most of the league's quarterbacks in a GQ article. Going on a profane tirade toward the media after a fight between Dante Fowler and Yannick Ngakoue was recorded during an open portion of training camp practice.
That, along with threatening a reporter on Twitter, earned him a week's suspension in 2018.
Screaming at Marrone on Sunday for not challenging a completion to DeAndre Hopkins and having to be separated from his head coach was an over-the-top reaction that should have — but didn't — result in any discipline. It was the last straw and caused Ramsey to have his agent ask for a trade.
The Jaguars reportedly would like a first-round pick in return, and that's what the Steelers are sending to the Dolphins for second-year defensive back Minkah Fitzpatrick. There will definitely be interested teams. The Raiders, Eagles, Cowboys and Jets could be potential suitors.
Creating drama to get out of town is an approach that worked for Antonio Brown — twice. He became such a giant headache that Pittsburgh gave him his wish and traded him to Oakland. He caused more problems for the Raiders, who eventually cut him, and now Brown is playing with the Patriots.
The Steelers and Raiders are obviously worse on the field without Brown's talent, but they might be better off in the locker room with him gone. A functional team can't have someone around who doesn't want to be there. That's asking for distraction and division.
That might be where the Jaguars stand with Ramsey right now: He has ridiculous talent, but the relationship has become too high maintenance. The only solution might be divorce.
Cameron Jordan's two sacks set pace as Saints D dominates again – New Orleans Saints Blog
JACKSONVILLE, Fla. — Drew Brees' absence has led to some inspired football by the New Orleans Saints' defense.
They silenced Minshew Mania and shut down Leonard Fournette, who had been one of the hottest running backs in football over the past two weeks, with a 13-6 victory at Jacksonville.
It was the second time in three weeks that the Saints' defense carried the team to a slugfest win with a dominant performance. And it was absolutely necessary on a hot afternoon in Jacksonville, where the Saints' offense was ice-cold for much of the game.
The Saints (5-1) are now improbably 4-0 since Brees suffered a thumb injury — even though quarterback Teddy Bridgewater didn't have his best day Sunday. They'll probably need more of the same from their defense next week against another top defense at Chicago.
"I told our defense if we would've played eight quarters today I don't think they would have scored a touchdown, honestly," Saints coach Sean Payton said.
Defensive end Cameron Jordan had two sacks, taking advantage of his matchup with rookie right tackle Jawaan Taylor. In the process, he tied Dome Patrol legend Pat Swilling for third place on the Saints' all-time list with 76.5 career sacks. Jordan has five of them in the first six games this year.
Cornerback Marshon Lattimore also intercepted a pass for the only turnover of the game while winning his third straight high-profile matchup against dynamic young receiver DJ Chark.
And Fournette finished with 72 yards on 20 carries, meaning the Saints have now gone 32 straight games without allowing a 100-yard rusher, including the playoffs — the longest active streak in the NFL.
Pivotal play: Bridgewater's 4-yard touchdown pass to tight end Jared Cook in the back of the end zone early in the fourth quarter was obviously huge because it was the only TD of the game. But it was also Cook's biggest moment to date with the Saints. It was a gotta-have-it score on third-and-goal, and Cook went up high to snag it behind safety Jarrod Wilson. Cook caught three balls for 37 yards Sunday – all to convert third downs.
QB breakdown: Bridgewater wasn't great outside of that throw in a disappointing dropoff from his breakout four-touchdown performance in Week 5. He completed 24 of 36 passes for 240 yards, one touchdown and zero turnovers. But he was more off-target than usual, missing receivers Michael Thomas and Ted Ginn Jr. a handful of times. The inaccuracy was uncharacteristic for Bridgewater, who had completed 75 percent of his throws in the previous three weeks.
Still, there won't be any QB controversy heading into next week at Chicago, even though dual-threat backup Taysom Hill did provide one of the game's biggest moments with a 19-yard run on third down late in the game. Bridgewater is still doing enough to win, and he is a remarkable 4-0 in Brees' absence.
Promising trend: Saints punter Thomas Morstead, who was already named the NFC's Special Teams Player of the Month for September, continued to pin the Jaguars back in a battle of field position. Five of his six punts were downed inside the 15-yard line.
Kicker Wil Lutz also continued to deliver. He tied Rian Lindell's NFL record by making 34 consecutive field goals on the road, per the Elias Sports Bureau.
After rough time, all smiles for Kirk Cousins, Stefon Diggs
MINNEAPOLIS — Two weeks after frustrations between Stefon Diggs and the Vikings' offense headlined the NFL news cycle, the receiver was in perfect harmony with quarterback Kirk Cousins in Minnesota's 38-20 win over the Philadelphia Eagles.
Cousins and Diggs connected on three touchdowns, which set a new career-high for the 25-year-old wideout, and they did so by igniting the deep-ball. Cousins routinely picked apart the Eagles' porous pass defense, connecting with Diggs on back-to-back drives in the second quarter which resulted in 62-yard and 51-yard touchdown plays, respectively. On both plays, Diggs burned Eagles cornerback Rasul Douglas, whom he was matched up with on the outside.
Cousins was 2-of-4 passing with two passing touchdowns on throws that traveled 30-plus air yards down the field on Sunday. He was 1-of-5 with a touchdown on such throws in the Vikings' first five games of the season. Diggs became the first Vikings player to haul in two TD passes of 50-plus yards in a single game since Randy Moss achieved that feat against Detroit in Week 5 of the 2000 season.
After a quiet start to the season fueled speculation over Diggs' contentment with his role and rumors — which he did not fully dispel — over wanting out of Minnesota, the receiver credits staying patient and prepared for being able to capitalize when more targets came his way.
"I just look at it as [you] control what you can control, move forward that way," Diggs said.
"The more comfortable you are out there getting into a rhythm, especially at the quarterback position, completing those passes and getting into a rhythm is huge. As a receiver, you want the same thing as far as catching a couple passes, getting a couple ones out of the way and then you can start feeling more comfortable and feeling the game. I feel like the more opportunities you make, you start feeling the game more."
Diggs' seven catches for 167 yards and three TDs sparked Minnesota's passing attack in ways that hadn't been seen in the Vikings' five previous games. Vikings coach Mike Zimmer credits "pretty darned good" protection from the offensive line (Cousins was sacked just once Sunday) and an aggressive mindset as the catalyst on offense.
"[Diggs] got the ball a few more times," Vikings coach Mike Zimmer said. "They left him singled a few times — the safety came out of the middle a few times and gave us some opportunities. Kirk made a great throw on it, too."
Cousins completed 22 of 29 passes for 333 yards, four touchdowns, one interception and a 138.4 passer rating. Late last week, the quarterback was called out for his struggles by former teammate and current Eagles linebacker Zach Brown.
"Cousins, I think every defense is going to want that guy to throw the ball," said Brown, who was teammates with the QB in Washington in 2017. "For me, that's probably the weakest part of their offense, is him. Everything else is good. They've got a good running game, probably one of the best in the league. They have real good receivers."
The Eagles, down to their second and third-string corners, don't leave U.S. Bank Stadium echoing the same sentiments about Cousins, who helped the Vikings earn their second-straight win against a team considered among the favorites in the NFC.
After the game, Brown was asked to comment on Cousins.
"I'm here to talk about the game. Not about that," he said.
Pressed further, he said: "Any other questions besides about Kirk Cousins?" before finally relenting and saying: "He did a good job. He played good. Hat's off to him."
While Zimmer suggested that Brown's comments may have "ticked off" Cousins, the quarterback said he wasn't aware of the criticisms until he was asked for his reaction in an on-field postgame interview.
"I didn't even know what he said," Cousins said. "I really do stay ignorant, not read anything, and that's for my best interest. But Zach was a teammate in Washington. He's one of the better linebackers I've played with or against. Have a lot of respect for him, and if you're trying to write a story about how it was a motivator this week, it wasn't, because I didn't know about it. Again, I say ignorance is bliss. I just put my head down and work and prepare the same every week and not try to ride the roller coaster."
Sunday marked the third time in Cousins career where he threw three touchdown passes in the first half of a game. The quarterback opened the first quarter by connecting with Adam Thielen for a 6-yard touchdown to cap off Minnesota's first drive. In the first five weeks of the season, Cousins threw three touchdowns total in the first half of games.
"He's been the same quarterback," Diggs said. "I guess Kirk answered all your questions. He went out there, he played his balls off and did everything he did. Putting that behind you, because every game is a statement game if that's the case. You're going to have to check the boxes every week, and that's what we're trying to do."
Terry McLaurin's huge day fuels Redskins' first win under Bill Callahan – Washington Redskins Blog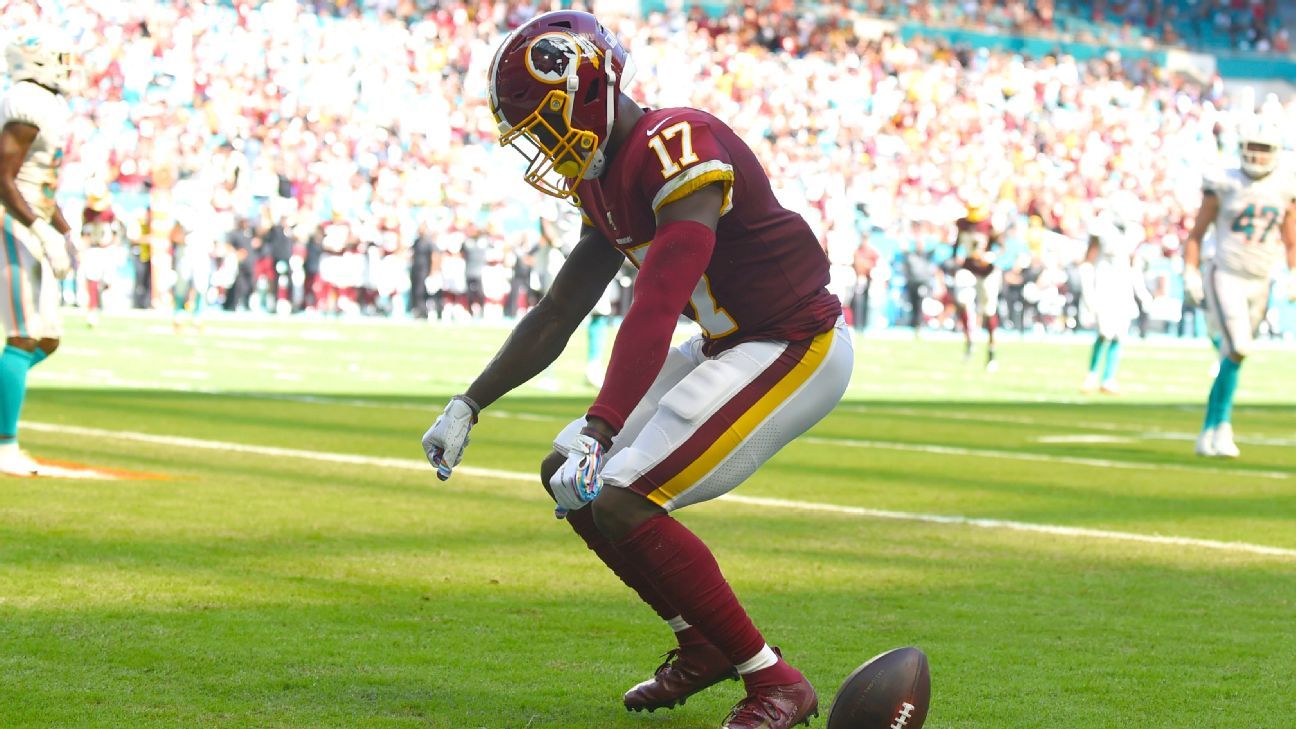 MIAMI — When the Washington Redskins needed a big play in seeking their first win, they kept looking for one target: Terry McLaurin. And from their own 1-yard line late in the game, they found the guy they trust the most.
McLaurin's 32-yard catch gave Washington breathing room when it needed a lot en route to a 17-16 victory against winless Miami — and its first game under interim coach Bill Callahan. It was McLaurin who kept coming up big. He ran a perfect route to score on a 25-yard catch in the second quarter; he added a 33-yard touchdown pass. McLaurin finished with four catches for 100 yards, his second triple-digit-yardage game. With his excellent route-running and speed he could have had one or two more already. Regardless, he leads rookie receivers with five touchdown catches and has 408 yards receiving in five games. McLaurin did have one drop, but he's the top bright spot in a dismal Washington season. By far.
Not sold on running game yet: The Redskins were absolutely committed to the run Sunday, and they needed to be; they should also continue this trend. Adrian Peterson rushed 23 times for 118 yards and the team finished with 145 yards on the ground. However, it's one thing to do it against the Miami Dolphins and another to do it against the next couple of teams on their schedule: San Francisco and Minnesota. The Dolphins could not put any pressure on Washington offensively, allowing the Redskins to stay committed. It'll take another week against a good team before convincing anyone it's a good idea to buy on this run game.
Promising trend: There were two, starting with the fact that Washington committed no offensive penalties for the first time this season. The Redskins entered the game having had the third-most accepted penalties in the league, and they did finish with five Sunday. But a bad offense wasn't set back because of self-inflicted wounds. It's a start. Also, the Redskins' defensive front won more of its one-on-one battles up front, leading to five sacks. Four players recorded sacks, with two by Jonathan Allen. The Redskins even blitzed safety Landon Collins for one sack. They lined up Montez Sweat and Ryan Kerrigan next to each other on another pressure and sent inside linebacker Cole Holcomb off the edge once.
QB breakdown: Case Keenum completed the three passes he truly needed to, all to McLaurin. But he wasn't always sharp in his first game back as the starter after missing one week with a sprained right foot. Keenum was off-target on a handful of other throws, notably to Chris Thompson that should have resulted in another touchdown. There were others as well; some were incompletions and others resulted in fewer yards after the catch. But a big key for Keenum was not turning the ball over. He threw only 25 passes, and if the Redskins want to have improved play in the final 11 weeks, the passing game will have to be sharper.
Pivotal play: The game shockingly came down to a two-point conversion after the Redskins blew a 14-point lead. Any thought that this game could serve as a turnaround should be out the window. They had a chance to cruise against a winless team and failed to do so. Miami drew within one point with six seconds left on a touchdown pass from Ryan Fitzpatrick to DeVante Parker. But Miami's Fitzmagic ran out after his pass to Kenyan Drake on the conversion attempt — behind the line of scrimmage — was dropped, allowing the Redskins to escape with a win. Even if Drake had caught it, it did not appear he would have scored anyway.