Cubs' Rizzo turns ankle, helped off field
Chicago Cubs first baseman Anthony Rizzo had to be helped off the field after turning his ankle while fielding a sacrifice bunt.
Rizzo, who is known for charging hard on bunt attempts, broke toward the plate in the top of third inning when Pirates pitcher Trevor Williams squared to bunt. As he neared the ball, Rizzo's foot appeared to dig into the turf and his right ankle turned. He still made the play for the out but then collapsed.
After being tended to by a Cubs trainer and manager Joe Maddon, Rizzo was helped to the dugout, not putting much weight on the right foot. He was replaced at first base by Ian Happ.
The Cubs had been ahead 3-0 after the first inning but promptly gave up the lead after Rizzo went down. Batting leadoff, Rizzo walked in the first inning and came around to score on Kris Bryant's three-run homer.
In other moves, the Cubs put shortstop Addison Russell on the seven-day concussion list. He had been hit in the head by a pitch last week and was in the concussion protocol.
10 players from these MLB playoffs who could change teams this winter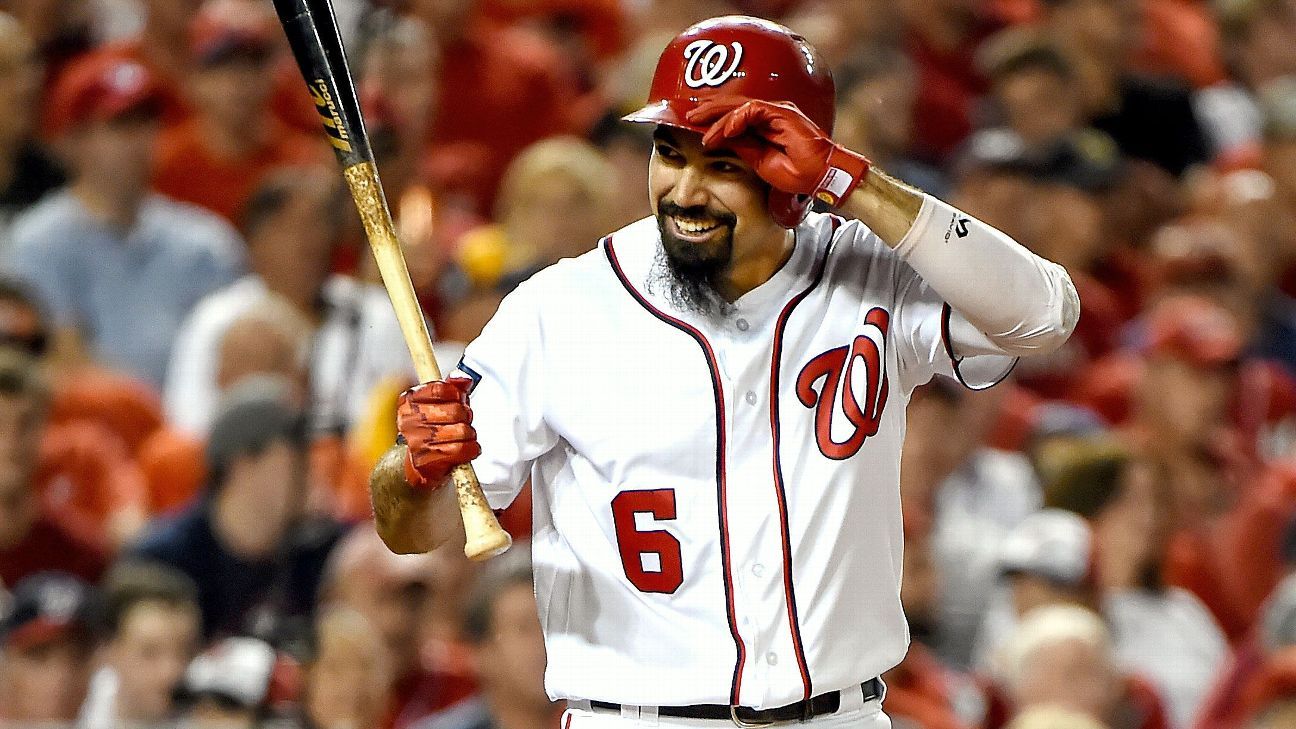 Does postseason performance matter for impending free agents? It might, at least a little, although modern-day front offices are less prone to emotional buying based on small sample size performances. Does Joe Kelly get a three-year, $25 million contract with the Dodgers coming off a 4.39 ERA if not for his dominant run in October for the Red Sox? Probably not. Do the Red Sox re-sign Nathan Eovaldi to a four-year, $68 million if not for his clutch postseason pitching? He probably doesn't get $68 million.
Here are the top 10 notable free agents among the eight teams who participated in the division series this year.

The lowdown: After an absolute monster of a season in which he led the American League in ERA, strikeouts and FIP, Cole will head into free agency for his age-29 season poised to receive the largest contract ever for a pitcher. Right now, that belongs to David Price for the seven-year, $216 million deal he signed with the Red Sox in 2016. Compare Cole's two seasons before free agency to Price's:
Cole: 2.68 ERA, 412.2 IP, 285 H, 602 SO, 164 ERA+, 12.1 WAR
Price: 2.88 ERA, 468.2 IP, 420 H, 496 SO, 135 ERA+, 10.5 WAR
Price carried the bigger workload, but was also a year older. Cole trumps him in dominance and WAR. He's going to get a megadeal.
Most obvious fit: Cole grew up in Los Angeles, attended Orange Lutheran High School in Orange and then UCLA after declining to sign as a first-round pick out of high school. Every team can use Cole, of course, but if he wants to go back home, the Angels are desperate for staff ace. Even the Dodgers could finally pursue the big free agent they haven't signed in the Andrew Friedman regime. And don't rule out the Astros — although they are paying Justin Verlander $33 million the next two seasons and Zack Greinke $35 million the next two and should get Lance McCullers Jr. back from Tommy John surgery.

The lowdown: Rendon should finish in the top three of the NL MVP voting after hitting .319/.412/.598 and leading the league in doubles and RBIs. He's hit .300 the past three seasons, walked nearly as often as he struck out and plays a good third base. He's also entering his age-30 season and we know teams have been reluctant to give the huge deals to players in their 30s. Still, compare Rendon's past two seasons to the final two for Bryce Harper and Manny Machado, last winter's big free agents:
Rendon: .314/.393/.567, 58 HR, 145 OPS+, 10.5 WAR (age 30)
Harper: .279/.401/.539, 63 HR, 143 OPS+, 5.9 WAR (age 26)
Machado: .278/.339/.505, 70 HR, 126 OPS+, 9.2 WAR (age 26)
The big difference isn't production and value, but age: Rendon is four years older. He won't get a 10-year, $300 million contract and did have some injury issues in college and early in his career, but a six-year deal running through his age-35 season sounds reasonable.
Most obvious fit: Aside from a return to the Nationals, how about a return to his home state of Texas? He's from Houston, but the Astros seem pretty set at third base. The Rangers, however, received a meager .699 OPS from their third basemen and could use a big star as they move into their new park.

The lowdown: After an injury-plagued 52-game season in 2018, Donaldson signed quickly with the Braves as a free agent, taking a one-year, $23 million contract and betting on himself to have a productive season and test free agency for the second straight offseason. He bet right. After a slugging start, he turned it on in June and finished at .259/.379/.521 and his WAR ranked higher than teammates Ronald Acuna Jr. and Freddie Freeman at 6.1, close to his 2013 to 2017 average of 7.3 per season. That total is boosted by his best fielding metrics since 2014, however, as his offense — after adjusting for a hitter-friendly environment in 2019 and his home park — was down a notch from his MVP peak. A late bloomer, he'll be entering his age-34 season.
Most obvious fit: The Braves have a potential replacement in Austin Riley, who was forced into left field as a rookie but came up as a third baseman. Riley also struggled after a blazing start, with poor plate discipline that exposed some holes in his swing. Other than the Braves: How about division rival Philadelphia? With Maikel Franco getting most of the playing time, the Phillies ranked 24th in the majors with a .725 OPS at third base. Their lineup wasn't quite as imposing as hoped, and Donaldson's age means they could probably get him on a shorter-term deal.

The lowdown: Ryu was a free agent last offseason and accepted the Dodgers' qualifying offer to return Los Angeles. He then had his best season, leading the majors with a 2.32 ERA and allowing no runs in 10 of his 29 starts. He averaged just 1.2 walks per nine innings. Under the rules of free agency, the Dodgers can't extend a qualifying offer again (although they can attempt to re-sign him). He'll be 33 and missed 2015 with shoulder surgery and all but one game in 2016 with an elbow injury.
Most obvious fit: It's not often that a team will let the majors' ERA leader walk without much of an effort to re-sign him, but consider the Dodgers' rotation options for 2020 (Rich Hill is also a free agent):
3. Kenta Maeda
4. Julio Urias
6. Tony Gonsolin
7. Dustin May
8. GERRIT COLE?
Maybe they can find a way to keep him on a shorter deal or maybe Ryu heads across town to the Angels or south to the Padres (assuming he wants to stay in California).

The lowdown: Ozuna hit .263/.327/.452 in his two seasons with St. Louis — solid production, but nothing like the huge season he had with the Marlins in 2017. He played through some injuries both seasons and hit just .219 in the second half of 2019, so that 2017 season now stands out as a fluke year. He's a solid defender in left (he won a Gold Glove as a left fielder), although shoulder issues have zapped his arm strength the past couple of year. He'll be entering his age-29 season.
Most obvious fit: White Sox outfielders hit a pathetic .252/.303/.385. Ozuna would provide a nice fit in a corner and could DH some to help prevent of the injury issues. The Cardinals have top outfield prospect Dylan Carlson, who reached Triple-A in 2019, plus super-sub Tommy Edman can play the outfield, so they probably let Ozuna walk.

The lowdown: After averaging 24 home runs and hitting .277 from 2015 to 2017 with the Yankees, Gregorius missed the first half of 2019 after needing Tommy John surgery at the end of 2018. He returned to hit .238/.276/.441 in 82 games, although with 16 home runs. His fielding metrics have always been average at best, but fell to minus-6 defensive runs saved in his half-season. His arm strength seemed fine, but as he's become bigger and stronger, he may be losing range in the field. He'll be entering his age-30 season.
Most obvious fit: The Yankees can slide Gleyber Torres over to shortstop and install DJ LeMahieu as the full-time second baseman, so any money they spend in free agency is more likely to be directed at the rotation. There isn't an obvious fit here. Most of the teams that need a shortstop (Royals, Orioles, Marlins) are bad and rebuilding and teams may be concerned about his ability to stick at shortstop for more than a season or two.

The lowdown: The 2015 Cy Young winner was looking for a big deal as a free agent last offseason and didn't get one, finally signing a one-year deal with the Braves in June and going 8-8 with a 3.75 ERA over 19 starts. He's a bulldog on the mound and the kind of leader you want in the clubhouse, but he doesn't have the velocity that teams covet these days, and he's had injuries in the past that limited him to 26 starts in 2016 and 23 in 2017. At 32, and with a career-worst 4.72 FIP, it's not like demand for him is suddenly going to increase (at least at his demands last offseason).
Most obvious fit: The Angels had a 5.64 rotation ERA, second-worst in the majors. Are they going to continue wasting Mike Trout's best years? The Padres could also use a veteran presence and mentor for their young starters.

The lowdown: Odorizzi went 15-7 with a 3.51 ERA in his second season in Minnesota, making 30 starts but pitching just 159 innings as the Twins kept him a tight workload (he pitched more than six innings just twice). Odorizzi has averaged 30 starts a season since 2014 and is coming off a career-high strikeout rate and his first All-Star appearance. He'll be 30 years old and is a fly ball heavy pitcher, so park factors are an important consideration here.
Most obvious fit: The Twins. Fellow starters Kyle Gibson and Michael Pineda (who missed the postseason after being suspended late in the season after a positive test for a banned diuretic) are also free agents, so the Twins front office has some work to do.

The lowdown: Encarnacion had a busy year, getting traded from Cleveland to Seattle in the offseason and then from Seattle to the Yankees in June. He missed most of the final two months with an oblique injury, but bashed 34 home runs in 418 at-bats. He's hit just .246 and .244 the past two seasons, but draws enough walks that he posted a .344 OBP. He has a $20 million team option, but the Yankees will probably exercise a $5 million buyout, making him a free agent. He'll be 37 and did start 57 games at first base, but he's best suited for a designated hitter role.
Most obvious fit: As bad as the White Sox outfielders were, their DHs were even worse, hitting .208/.285/.362. Yuck. Given the limited interest in DHs these days on the free-agent market, Encarnacion won't cost must and give the White Sox a nice upgrade.

The lowdown: Non-tendered by the White Sox after a 0.3-WAR season in 2018, the Rays signed him to a one-year deal as a platoon option in the outfield, but injuries opened up some playing time, and he produced a 2.0-WAR season. He hit .282/.332/.464. He doesn't walk much and doesn't lift the ball in the air enough to take advantage of his raw power, so his offense his heavily predicated on BABIP (very high in 2017, when he hit .330; low in 2018 as he hit .236; and a high .340 in 2019).
Most obvious fit: The five teams with worst production from their corner outfielders: Marlins, White Sox, Giants, Diamondbacks, A's.
Other free agents:
Astros: Wade Miley, Will Harris, Joe Smith, Hector Rondon, Collin McHugh, Martin Maldonado
Yankees: Brett Gardner, Dellin Betances, Cameron Maybin, Austin Romine
Rays: Travis d'Arnaud, Eric Sogard
Twins: Kyle Gibson, Michael Pineda, Jonathan Schoop, Jason Castro, Sergio Romo (Nelson Cruz has a $12 million team option)
Braves: Julio Teheran ($12 million team option/$1 million buyout), Nick Markakis ($6M/$2M), Tyler Flowers ($6M/$2M), Billy Hamilton ($1M buyout), Francisco Cervelli, Darren O'Day, Chris Martin, Brian McCann, Adeiny Hechavarria, Josh Tomlin, Matt Joyce, Jerry Blevins
Cardinals: Adam Wainwright, Michael Wacha, Matt Wieters
Nationals: Adam Eaton ($9.5 and $10.5 million team options for 2020 and 20201), Ryan Zimmerman ($18M/$2M Yan Gomes ($9/$1), Sean Doolittle ($6.5 club option), Howie Kendrick, Brian Dozier, Fernando Rodney, Asdrubal Cabrera, Gerardo Parra, Daniel Hudson, Jeremy Hellickson
Dodgers: Rich Hill, Russell Martin, David Freese, Jedd Gyorko ($1M buyout)
'They challenge each other' — Walker Buehler and Clayton Kershaw look to pitch Dodgers into NLCS
LOS ANGELES — Walker Buehler's bravado is as discernible as it is distinguished — but his first two encounters with Clayton Kershaw made him uncommonly uneasy.
The first took place in the summer of 2015, shortly after the Los Angeles Dodgers selected him in the first round, when Buehler paid his first visit to Dodger Stadium. It just so happened to coincide with Kershaw's start day. Buehler already knew about Kershaw's uncompromising routine. He made it a point to distance himself, but he still felt consumed by it.
"I remember not wanting to be in the way," Buehler said, "and feeling like I was in the way, even though I was on the other end of the dugout."
The second occurred late in the 2017 season, during Buehler's first day as a major leaguer. Buehler, then only 23, formally introduced himself to Kershaw and instantly felt self-conscious. He later overanalyzed every aspect of their short interaction.
"You don't even feel yourself speaking," Buehler said. "He's so well-known and so respected that you just don't want him not to like you."
Buehler and Kershaw will probably both pitch in the fifth and final game of this National League Division Series on Wednesday, a make-or-break affair that begins with the first pitch at 8:37 p.m. ET on TBS. Buehler will start — opposing Washington Nationals dynamo Stephen Strasburg — and Kershaw is expected to follow him out of the bullpen, symbolizing what has been a gradual-yet-obvious changing of the guard atop the Dodgers' rotation.
Over the past couple of years, while Buehler established himself among the game's most electrifying pitchers and Kershaw transitioned into the back half of his career, the two forged a mutually beneficial relationship.
Kershaw, 31, and Buehler, 25, are separated by six years, a relatively small gap that can at times feel like a lifetime in this era. Kershaw came up in an age that suddenly feels antiquated, when terms such as "small ball" and "feel" were still pillars of the sport's vernacular. Buehler, the product of a progressive pitching program at Vanderbilt University, is rising at a time when advanced analytics are dominating the industry. Buehler's embrace of information has piqued Kershaw's interest; Kershaw's old-school values have influenced Buehler.
"A lot of times, they challenge each other," Dodgers manager Dave Roberts said. "It's forced them both to grow."
Buehler is effusive in his praise of Kershaw, both of his continued success and of his unwavering process. But he is also resolute in carving out his own identity. Buehler can be brash and assertive, but he is surprisingly self-aware and pragmatic. He sat in the dugout as the 2019 regular season was winding down and talked about how he isn't necessarily in awe of Kershaw, but he is driven by the prospect of someday residing on equal footing. Buehler sees Kershaw as his peer, perhaps not unlike the way Kobe Bryant used to view Michael Jordan.
"I think people can be critical of somebody saying that, obviously. I'm in my second full year in the major leagues, and that guy's won more Cy Youngs than I have seasons," Buehler said. "But at the same time, he was 25 years old once, too. I think that's what younger guys have a tough time with. Michael Jordan was a 21-year-old, too, you know? I just think about it that way and try to progress at the level I can and do what I can. And if you can help me move forward, that's fantastic. But I'm not just going to emulate everything someone else did and expect to become who they are. I don't think that's how the world works. You can't just copy everything Apple does, right, and expect to be Apple."
The Dodgers instantly saw the makings of a potential star in Buehler. They made him a September call-up only 14 months after he returned from his post-draft Tommy John surgery, then arranged for him to spend some offseason time in Dallas working out with Kershaw. Watching Kershaw, the Dodgers believed, would set a new bar for Buehler's regimen.
Buehler was impressed, but he quickly learned that emulating the sheer volume of Kershaw's weightlifting sessions would not work for him. Instead, he came to view the experience as an opportunity to interact with the three-time Cy Young Award winner on a more personal level. Buehler didn't incorporate any new methods into his routine, but in Kershaw, he saw a model for consistency and intensity with the mundane tasks that are often taken for granted.
"I just think being around a guy like that does nothing but help you," Buehler said. "If you're not a baseball player — if you're just an average, normal person, working a job — being around Clayton Kershaw makes you a better person. Just learning to be a professional baseball player from him is the next step in that process."
Buehler and Kershaw slowly got to know each other throughout the 2018 season, as Buehler's ascendance made him worthy of starting the divisional tiebreaker and Game 7 of the NL Championship Series. Over the course of the year, amid a season that saw them combine for a 30-9 record and a 3.14 ERA in 360 2/3 innings, they grew closer.
Kershaw has admitted to going a little more out of his way to mentor young players in recent years, and Roberts has noticed him spending more one-on-one time with teammates. But it isn't specific to Buehler. They aren't constantly grabbing dinner on the road or sharing trade secrets to which others aren't privy. It's a casual friendship that has developed organically, one of several within a Dodgers clubhouse that has seamlessly blended older players with younger ones.
"This forced heir, forced mentee thing — I think it's all silly," Buehler said. "I'm 25 years old. I'm not 16 looking for, like, a second father figure. I enjoy being around Clayton. I feel very lucky to be a Los Angeles Dodger and have him as a teammate. But he's not, like, a dad to me. It's just not how it's gonna happen. We're teammates."
Kershaw bought Buehler a suit for the All-Star Game's red-carpet ceremony this past summer. When the entire team dressed in elaborate costume near the end of the regular season, Kershaw and Buehler collaborated on a "Zoolander" theme. Most of their dialogue, however, has taken place in the dugout while others are pitching. Kershaw has helped Buehler become more intent about scouting opponents, which helped Buehler pitch with more conviction this season. Through Buehler, Kershaw has become more fluent in analytics, which accelerated his evolution.
"Walker doesn't need a lot of help, you know," Kershaw said. "He probably knows more about pitching than I do, just in terms of the mechanics part of it and the process of how to create velocity or how to create spin, all this stuff. He's probably, I guess you could say, a little more new-age than I am. I like listening to him. I like learning from him."
Buehler is a 25-year-old, unmarried right-hander with an explosive fastball. Kershaw is a 31-year-old, married father of two who now relies heavily on breaking pitches. Kershaw has long been considered the second coming of Sandy Koufax, whereas Buehler seems to more closely resemble the next Justin Verlander. It's a connection that wouldn't exist without the forced relationships of team sports but one that has nonetheless become fruitful.
Kershaw has been among several Dodgers veterans who have been disarmed by Buehler's candidness and arrogance.
He has come to find him endearing.
"He grows on you," Kershaw said. "He kind of wears you down."
They're each tasked with ensuring that this dream season — of 106 regular-season victories, 12 walk-offs and 279 home runs — continues into the next round. It'll be up to Buehler and Kershaw to outduel Strasburg — and potentially Patrick Corbin — and tame the potent bats of Anthony Rendon and Juan Soto.
Buehler will start, but Kershaw will be waiting, eager to help if needed.
It has become a theme.
"He's there to kind of be an ear," Buehler said, "and at the same time just tell you you're being an idiot."
How the Rays forced the favored Astros into a do-or-die Game 5
ST. PETERSBURG, Fla. — Whatever metaphor, analogy or parable you might look up, isn't it always the giant who falls? Does this have anything to do with what transpired the past two days at Tropicana Field? Or are we seeing the tech-infused Tampa Bay Rays crowd-sourcing their way around the considerable problem of dispatching the star-laden Houston Astros?
After the Rays' 4-1 win in Game 4 of their American League Division Series on Tuesday, a game that began with 2019 Cy Young favorite Justin Verlander on the mound for Houston and ended with 2018 Cy Young winner Blake Snell polishing off his first-ever save, everything feels like it is on the table.
"We made it this far," Rays outfielder Kevin Kiermaier said. "It's pretty safe to say, but we're not content with this. We want to win one more and keep this thing going. We plan on doing just that."
The ogre in this baseball parable, at least on Tuesday, would be Verlander, who may not be the biggest pitcher in baseball in terms of stature, though at 6 foot 5, 225 pounds, he's a load. More so, he's a giant by reputation and by accomplishment. In a few weeks when the pending retirement of New York's CC Sabathia becomes official, Verlander will become baseball's active leader in wins and strikeouts. He is Gulliver to the Rays' Lilliputians. He is Goliath to the Rays' David. He is South Bend Central to the Rays' Hickory High.
You get the idea.
With Verlander on the hill, the Rays countered with … no one. OK, that's not precisely true. They had Diego Castillo on the mound and he fired thunderbolts with even more ferocity than Verlander, but just not for as many innings. Castillo is an opener, that Rays innovation, one they believe in so deeply that they trotted it out in a game they had to win to extend their season. Castillo electrified a rocking, hanky-waving crowd at the Trop by striking out Michael Brantley, Jose Altuve and Alex Bregman in order in the first inning.
"Castillo, thank God he was an opener and not a regular starter," Astros manager A.J. Hinch said. "Having him out there for four, five, six innings would be devastating for anybody."
Well, Castillo was only out there for seven batters because he's an opener and that's how this thing works. From there, Rays skipper Kevin Cash summoned lefty Ryan Yarbrough, who soft-tossed his way to two scoreless innings after Castillo. The last batter he faced was rookie Yordan Alvarez. Yarbrough threw him three straight curves that topped out at 72 mph, and followed that with a change-up — at 78. Alvarez then cracked a double off the wall violently, perhaps angered by the audacity of it all.
Then it fell to Nick Anderson, the out-of-nowhere reliever who began the season on the other side of Florida with the Marlins but has emerged as a lock-down reliever who throws a vicious curve of his own, along with upper-90s heat. He, like Castillo and Yarbrough also got seven batters. Colin Poche got six hitters; Emilio Pagan got four, taking it into the ninth inning but leaving runners on the corners with the dangerous Alvarez at the plate.
So the Rays being the Rays, in came Snell for his 100th career appearance, including the postseason. The first 99 were as a starting pitcher. As good and different as the curveballs of Yarbrough and Anderson are, Snell's hook may be baseball's best. And he used one to strike out Alvarez before getting Yuli Gurriel on a well-struck grounder to end it. Snell, in his first-ever relief appearance, had his first-ever save.
"We didn't draw it up that way," Cash said. "As soon as Alvarez came up with a chance to tie the game, we felt that that was our best matchup. We were fairly confident that Blake was going to be pretty amped up. He was."
That, too, is the Rays. It doesn't just take a village, it takes a village in which everyone does more than one job and may be asked to do just about anything at any time. Everyone knows this, especially Hinch.
"It's October, I'm not surprised by anything," Hinch said. "There's no real hidden tricks when you're faced with elimination. They used a lot of resources. We knew they would."
Of course. The Rays always use a lot of resources. They used 57 batters during the regular season; Houston used 45. The Rays deployed 33 pitchers; Houston used 26. The Rays had only four players compile as many as three wins above replacement during the regular season. Houston had that many studs surpass six WAR. Somehow or another though, it all seems to be coming out even.
"People mentioned David and Goliath to me and some of the other guys before this series and I just had to cut 'em off before they even went on with that," an indignant Kiermaier said. "Because I don't want to hear that. I know Houston is probably better on paper and all that, but anything can happen when you step on the field at the same time."
Here's something Kiermaier might approve of: While Verlander and Gerrit Cole were dominant in their initial starts, the Rays have dominated the series beyond the Verlander/Cole innings in Houston. With those two on the mound, the Astros outscored the Rays 8-0, enough to take the first two games of the series. But beyond that, in all the other innings of series including Game 4, the Rays have outscored Houston 17-5.
The numbers all swing the Rays' way. Tampa Bay has a 10-4 edge in homers in the series. They have that 17-13 edge in scoring. They have more walks, a better on-base percentage, a better slugging percentage. The Astros have been outplayed.
Tommy Pham describes what it was like to start the Rays' scoring in Game 4 of the ALDS and how that helps Tampa Bay's pitchers.
"Hey, I hate to say it, [but] about time, you know," said Tommy Pham, who got the Rays started with a solo homer off Verlander in the first. "Because we have a really good team over here. And to win 96 games in this division with New York and Boston is an impressive feat. And all year, we've been getting talked down. And now, with the last two games, the way we played, the whole world has seen how good of a team we are and how well-rounded we are."
They've seen how good the Rays are, but they still might not know who they are. There are just so many of them. Avisail Garcia and Ji-Man Choi both reached base four times in Game 4. Willy Adames homered, swung a hot bat in both games the Rays won, and threw a laser bolt on a relay throw in the fourth to gun down Altuve at the plate.
Everybody contributed it seemed. Even the Rays' bullpen was a hive of activity, with relievers constantly warming up, sitting down or, often, entering the game. Every pitcher on the roster either pitched or warmed up at some point Tuesday except for Game 3 starter Charlie Morton — who may well be called on for a couple of innings in Game 5 — and the scheduled starter for Thursday's contest, Tyler Glasnow.
"Their pitching is exceptional," Hinch said. "What they did on the mound tonight was incredible. They're not just throwing different arms at you. You talk about the opener, they'll throw a lot of different arms and get platoon advantages. That's not neglected. Their stuff is really good. They're throwing elite guys."
The baseball world is seeing this but, come on, this is the Astros, who won 107 games during the season with a plus-280 run differential that ranks as the 10th best in history. Surely the star power that fuels Houston will manifest itself, right? It better, and fast.
To borrow a football saying, the Astros are now off schedule. They didn't really want to use Verlander on short rest, something he'd never done in back-to-back starts. But the fourth rotation slot has been problematic because of Wade Miley's late-season slide. Rookie Jose Urquidy was an option, but he's a rookie. (He pitched in relief in Game 4.)
"We would have gone with Urquidy and if he would have [struggled], it would have been, 'Should you have put a rookie in that situation?'" Hinch said. "I understand with the results, it's tough. It was my decision to put [Verlander] out there. I felt it was the best chance to win the series — JV today and Gerrit in Game 5 if we needed it. We're going to test the latter part of that in Game 5."
On Thursday, the Rays once again will be battling a giant. Cole has not lost a start since May 22. He struck out 326 batters this season. But just as the Rays had some familiarity with seeing Verlander a few days ago, they will have that with Cole too.
"That [was] the second time we faced him this year, so now everyone has multiple at-bats against him to kind of see what he likes to do to us," Rays catcher Travis d'Arnaud said. "But the guy is a great pitcher. He's under 2.50 ERA, over 300 strikeouts, so it's gonna be a battle for sure."
As Hinch said, the Rays used a lot of resources in Game 4 but Wednesday is a travel day, so Cash should have everyone available on Thursday. Familiarity with his hurlers isn't much of an issue — on Tuesday, no Astros hitter saw the same Rays pitcher twice. The Astros have witnessed that the Rays are not going to be overwhelmed by the status of their All-Star roster. And while that might be a revelation to many, Houston knew what they were encountering, confident as they were and as they remain.
"This team, these guys, even after going up two games against this ballclub, I don't think we took anything for granted," Verlander said. "I know I didn't. I can't speak for everybody, but that was the mentality. We know how talented these guys are and we knew it would be a battle. Obviously we were hoping to win yesterday, hoping to win today. We've had our backs against the wall before and come out victorious. Hopefully this is an opportunity to go prove ourselves."
And for a proof of the concept to which Verlander refers — that has the Astros as a championship team — having Cole going at home in front of fans just as raucous, waving orange hankies instead of yellow, is not a bad fail-safe option.
"He's been on one of the most incredible runs I've ever seen," Verlander said of Cole. "That the baseball world has ever seen. If you could name a starting pitcher in all of major league baseball, you'd want him on the mound."
For the Astros, it is about him. For the Rays, it'll be about them. After two sultry days under the white roof of the Trop, it's hard to say which pronoun will prevail. We only know with the Rays, expect the unexpected.
"I'm not going to be surprised if Charlie Morton is available in Game 5," Hinch said. "I'm not going to be surprised if Blake Snell is available in Game 5. I wouldn't expect anything less out of this type of game."
Neither does Snell.
"That's what we do," Snell said. "We make every game tough. We got two wins now, but now we've got to see what we really can do in going to Houston and taking it from them."
ESPN's Jenna Laine contributed to this report.