Jaylon Smith, Cowboys both cash in on draft-night gamble – Dallas Cowboys Blog
FRISCO, Texas — On April 29, 2016, Jaylon Smith was at a bowling alley in Indiana when he took a phone call from Jerry Jones.
"It's great to be talking to a Dallas Cowboy," the team owner and general manager said moments after drafting the linebacker with the No. 34 overall pick in the second round.
On Tuesday, three years later, Jones hurriedly flew back from NFL collective bargaining talks in Chicago to be by Smith's side in announcing a five-year extension that is worth $64 million and includes $35.5 million guaranteed.
3 and a half years ago on Jan 1st, 2016,
Tears in my eyes,
My life changed forever.
I embraced each moment.
I had a focused vision, determined belief and now I have earned one of my dreams!  #ClearEyeView | #DallasCowboys pic.twitter.com/xqNDGFNSFS

— Jaylon Smith (@thejaylonsmith) August 20, 2019
When the Cowboys drafted Smith, they did not know if he would be able to play because of two torn ligaments and nerve damage in his left knee. More than a year into his time with the team, he could not lift his foot on his own.
The Cowboys' draft-night gamble was an all-important backdrop to Tuesday's announcement.
"Going into the draft night back in 2016, not knowing if I would be drafted at all, not knowing if I would ever play the game of football again, a lot of people didn't know," Smith said. "But I knew. And the Cowboys knew."
Dr. Daniel Cooper, the Cowboys team physician, performed Smith's surgery and gave positive reviews. Director of rehabilitation Britt Brown, who helped Dan Marino recover from a torn Achilles tendon many years ago, worked endlessly with Smith.
Smith has played in every game over the past two seasons. He started every contest last season, finishing with 150 tackles, according to the Cowboys coaches' count. He filled every major statistical category except an interception. There were only two NFL players last season who registered 120 tackles, at least four sacks and multiple forced fumbles: Smith and Indianapolis Colts linebacker Darius Leonard, who was named the NFL Defensive Rookie of the Year.
Smith said the emotions he felt in signing the extension were similar to that of draft night in 2016.
"Understanding what I've been through and a lot has transpired since the injury. I couldn't lift my foot for a year and two months, and that entire time these guys didn't have to pay me full salary my first year," Smith said. "They were able to show their true belief in me. I was in every meeting. Every home game. Stayed after while they were practicing I was with [Brown], who's like my second father, getting right and rehabbing the knee. The thing about nerves regenerating — the doctors say it's supposed to grow a millimeter a day. But really, it's on God's time. It comes back when He wants it to. So all of us knowing that, it was just a matter of time."
As Jones spoke about Smith on Tuesday, his chin quivered with emotion. He knows the work Smith put in just simply to play. At the Pro Football Hall of Fame ceremony in Canton, Ohio, earlier this month, Jones spoke with Hall of Fame linebacker Ray Lewis.
"What I said was, 'You know about him [Smith]. You know what he can do on the field. You know what he can do there, but what I will tell you is that there's internal brightness,'" Jones said. "He glows. I said, 'You've got that, Ray, and it lifts your team. Michael Irvin has it. He's got it."
The Cowboys knew Smith wouldn't play as a rookie, but they were willing to take the chance. Without the knee injury, Smith would have been a top-five player on their draft board.
Dallas executive vice president Stephen Jones said "everything has played out to plan."
"It will go down as one of the great picks that this organization has ever made," he added.
The injury will always be part of Smith's story.
"If I could go back, I would do it all over," Smith said. "I mean, it's just a true testament to my clear-eye view, which I've always talked about having. A focused vision, determined belief, earned dreams. I mean it really fuels my fire. My injury was televised publicly throughout the country. Everyone knew about it … God was able to work through me and for people to really be able to see that you can persevere."
The lasting effects of the injury played a part in Smith signing the extension now, when he was under contract for two more years.
"Understanding business and that cash is king," Smith said.
But he also yearned to be a Cowboy for life.
"I wanted to be part of the most prestigious brand in the world. I recognized that," Smith said. "And I'm a team guy, as well. I'm a leader. Eventually, I'm going to be a captain for the Dallas Cowboys. I know it and I feel it and really be able to exemplify greatness on and off the field.
"And in order to win, you need guys, and I view myself as one of those guys."
'Blessed' OBJ torches Jets in return to MetLife
EAST RUTHERFORD, N.J. — When asked his feelings about New York Jets defensive coordinator Gregg Williams, Odell Beckham Jr. responded, "Who?" Then, the Cleveland Browns wide receiver let out a smile.
OBJ made his point both during — and after — Cleveland's 23-3 win on Monday night, highlighted by a pair of spectacular plays.
On the game's opening drive, Beckham hauled in a one-handed grab near the same pylon of his famous one-handed stab at MetLife Stadium with the New York Giants five years ago. Then in the third quarter, Beckham hauled in a quick slant off a run-pass option play from quarterback Baker Mayfield and raced a career-best 89 yards to the end zone.
Earlier in the week, Beckham accused Williams of teaching "cheap shots" and "dirty hits," and he said that led to an ankle injury that nearly derailed his career two years ago. The next day, Williams responded to the charge with a joke, saying, "Odell who?" He then went on downplay the notion that Beckham was a "dynamic" player.
"Everybody has a right to their own opinion," Beckham said after the game. "He's a phenomenal coach and he's got a great defense. I'm done talking about it."
Beckham let his play do his talking.
He finished with six receptions for 161 receiving yards, outproducing the entire Jets pass-catching corps, which collectively had only 125 yards receiving.
"Pretty dynamic," deadpanned Mayfield, who seemed stunned to find out that Williams had suggested otherwise. "He's a special guy."
On his touchdown, Beckham actually reached a maximum speed of 21.7 miles per hour, the fastest any player has run while scoring this year, according to NFL NextGen Stats.
Beckham had battled a hip injury throughout the preseason, which landed him on the injury report. He also noted he had to work through cramps in his calves and tightness in his hamstrings Monday. But Beckham said that he's now feeling great in every way after two games with his new team.
"I think I'm in a better physical, mental space than I've ever been in my life," said Beckham, who celebrated his maiden score with the Browns by pantomiming opening a front door with a key, as if to signify, "I'm home" in MetLife. "I was joking with my trainers, I'm trying to hit 24, 23 [miles per hour]. Not saying it'll happen, but I'm working for it.
"It didn't feel like [that was] fastest I could run. I was just trying to get to the end zone."
Officials took away Beckham's other opportunity to reach the end zone on the opening drive. Two plays after his one-handed catch, officials removed Beckham from the field on third-and-goal, saying his visor was too reflective. Without Beckham in the game, Mayfield threw an incompletion and Cleveland had to settle for a field goal.
"It's just frustrating. I feel like I've grown a lot, to be better, do better and it's always something," said Beckham, who admitted he doesn't know what visor he'll be wearing going forward. "I don't want to break any rules. I just want to play football."
Beckham also complained last week about being singled out by the league for wearing a $189,500 Richard Mille watch during the season opener. The NFL said the watch violated a league rule against players wearing "hard objects." Beckham didn't wear a watch in Monday's game, though he did warm up with a different designer watch beforehand. When asked about it after the game, and whether it actually cost $2 million, as some had speculated over social media, Beckham played it coy.
"I'm off of it," he said of the watch. "I don't really have any comment about it.
"I'm just blessed."
Fires! Floods! Bees! On-field fire at Colts-Titans is the latest stadium mishap
It's all fun and games until one of the pyrotechnics machines malfunctions, and suddenly you've got a fire erupting on your football field.
That's exactly what happened at Nissan Stadium ahead of the Colts-Titans game on Sunday. Fortunately, the staff acted swiftly to extinguish the flames and no one was injured — but it didn't make the blazing in-stadium fire any less alarming for those in attendance.
While it might be the first of the NFL season, the pyrotechnics incident of 2019 is far from the first bizarre mishap in sports. Whether it be a weird flex by Mother Nature or untimely field irrigation, here are some of the moments that have left us in a collective state of confusion over the years:
---
Giants-Reds swarmed by bees, 2019
So the @Reds game is in a delay because of….a swarm of bees. pic.twitter.com/G6JW16OmfK

— FOX Sports Ohio (@FOXSportsOH) May 6, 2019
When bees attack! You really can't make this stuff up. A swarm of bees set up shop by home plate at Great American Ball Park and eventually ventured into the stands, forcing an 18-minute delay to the start of the game.
Oddly enough, it's not even the first time the Giants have been involved in a bee delay in Cincinnati, as a swarm went into the Giants' dugout at Riverfront Stadium in 1976, forcing a 35-minute delay.
Un-bee-lievable. (I'm sorry, I'll see myself out.)
---
IUP basketball team wears opponent's jerseys, 2019
File it away under: Opponent stole my look. The visiting Indiana University of Pennsylvania Crimson Hawks showed up for their game against Edinboro without uniforms.
When questioned about the unique situation, a spokesperson for the school explained that one of the team managers simply "forgot to bring them." So being the gracious hosts that they were, the Fighting Scots offered up their old road uniforms.
IUP went on to win the game 87-59 to capture the Pennsylvania State Athletic Conference West Division crown — we're going to go out on a limb here and say that losing to a team rocking your own unis probably hits a little differently.
---
Celtics-Sixers premature confetti, 2018
Well, this was awkward. Tying up a playoff game in the final seconds of regulation only to eventually lose in OT is painful to begin with — add a premature confetti release to the mix and it's downright brutal.
It was the final 10 seconds of Game 3 of the second-round matchup between the Celtics and the Sixers when chaos ensued. The game was tied 87-87, but Philly turned it over and gave Boston an easy layup with only 1.7 seconds left on the clock. Marco Belinelli then nailed an absurd jumper and this thing was headed to OT.
Cue the celebratory confetti.
… Oops. Classic case of peaking too soon.
The start of OT was delayed slightly so they could sweep up the aforementioned confetti. The Celts would go on to win the series 4-1.
---
Super Bowl XLVII power outage, 2013
Perhaps the most infamous of all stadium-related mishaps in sports: The time the lights went out during the Super Bowl.
It feels like just yesterday that Mercedes-Benz Superdome fell to darkness early in the third quarter, suspending play between the San Francisco 49ers and the Baltimore Ravens for about 34 minutes. Officials from Entergy, the utility company supplying power to the Superdome, said the outage could be attributed to an "abnormality."
Ah, yes, an abnormality — an explanation not even remotely satisfactory to Ravens fans who were convinced the incident was an attempt to halt Baltimore's momentum.
San Francisco would go on to score 17 points in the span of 4 minutes, 10 seconds once play resumed, but the Niners' comeback eventually came up short.
---
Diamondbacks-Mets sprinkler system interruption, 2005
Rain delays are common, sure. But how about sprinkler-induced infield flooding delays? Yeah, those are a little more rare, and a different animal entirely.
Pedro Martinez was on the mound at Shea Stadium as the sprinklers went off for an untimely field irrigation. Despite getting absolutely drenched, Pedro remained unbothered. The Hall of Famer even took a drink from the sprinkler, which is probably the most underrated part of this video.
The Mets would go on to win the game 6-1 and Pedro was quoted as saying, "Water is blessing to me, and I got wet." It's all about perspective, people.
---
Sharks mascot gets stuck, 1999
Somebody come get your man … er, shark.
In an NHL first, S.J. Sharkie — the San Jose Sharks mascot — got stuck while attempting to rappel down from the ceiling during pregame introductions.
Despite dangling helplessly 25 feet above the ice for quite some time, Sharkie's spirits remained high as he continued to fire up the crowd. The San Jose staff brought over safety mats just in case the beloved mascot should fall as they attempted to rescue him from the precarious position.
Eventually they were able to pull him back up to the ceiling and to safety, but the dangling Sharkie situation would go on to live in NHL infamy.
---
Steelers' move for Minkah Fitzpatrick bold, calculated — and a bit desperate – Pittsburgh Steelers Blog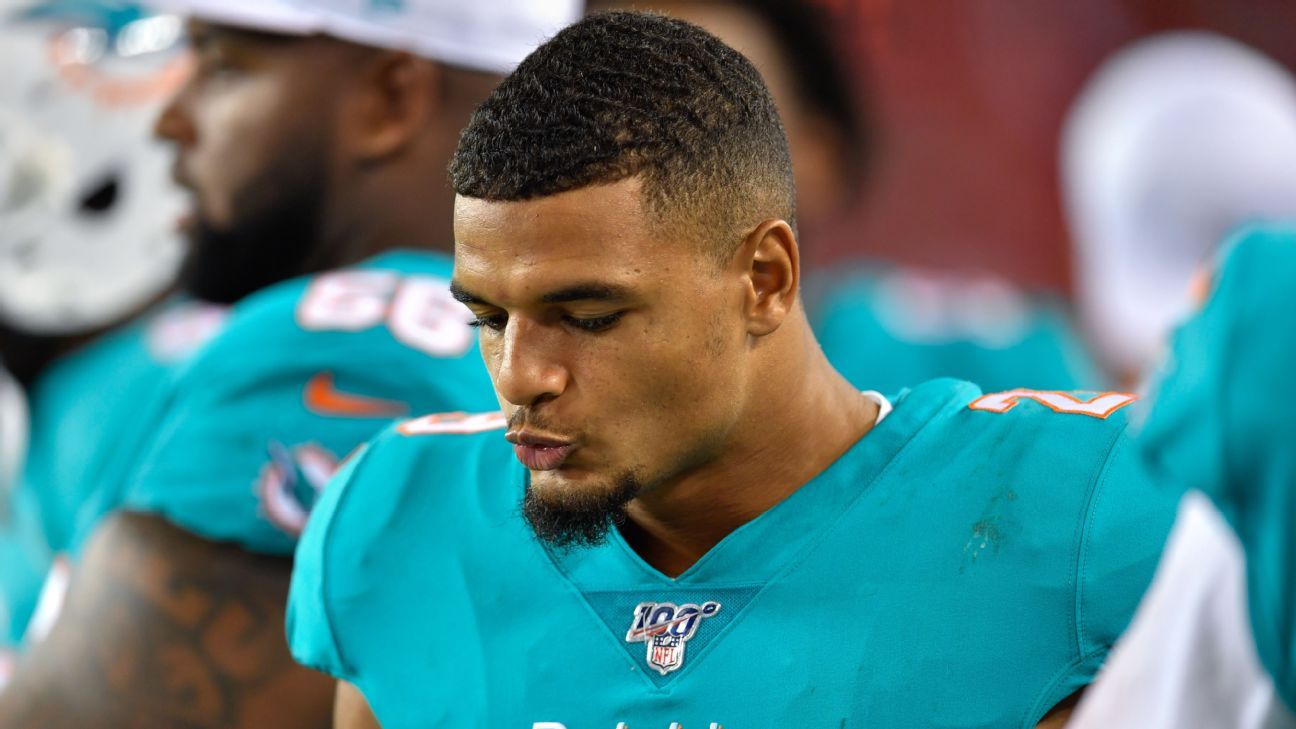 On the surface, the Pittsburgh Steelers' decision to deal a first-round pick to the Miami Dolphins for safety Minkah Fitzpatrick reeks of desperation. They are 0-2, just lost their franchise quarterback for the year and see the Super Bowl window closing fast. The stage was set for Pittsburgh to get a high pick in 2020.
But the Steelers have never done business with draft positioning in mind. Win now is always the culture. The Steelers feel strongly enough about Fitzpatrick's talent — and affordable rookie contract with an average base salary of $2.1 million for the next three seasons — to justify any pick the team could muster in April's draft.
The move says a lot about where the Steelers are, and where they will be:
Roethlisberger isn't retiring
Despite an elbow injury that could take the better part of 12 months from which to recover, quarterback Ben Roethlisberger is likely back for next season. He's not a lock to start Week 1, but Roethlisberger said in his statement Monday he's honoring all three years of his deal.
Roethlisberger will be 38 in March, which is a reasonable number thanks to the blueprint set by Drew Brees and Tom Brady. Surrounding him with high-level pedigree is crucial.
The defense needs the help
As news broke midweek that the Dolphins were willing to deal Fitzpatrick, the 11th overall pick in 2018, I was told the Steelers wouldn't be involved in the preliminary wave for him. Giving up a first was too steep for a franchise that values such capital.
But giving up 61 points through the first two weeks with what should be an improved defense must have pressed Pittsburgh to negotiate harder. They are tired of watching their safeties almost make plays. Terrell Edmunds' athletic gifts should turn into consistent performance eventually, but they haven't yet.
Fitzpatrick gives the Steelers a versatile safety who can help cover the slot and erase mistakes on the back end. He also can serve as a potential replacement for Sean Davis, who's a free agent in March. A three-man safety lineup of Fitzpatrick, Edmunds and Davis is much better than what the Steelers rolled out in a 33-3 loss to New England in Week 1.
The defense now has eight former first-round picks in its starting lineup. If Mike Tomlin can't make that work …
This speaks loudly about Rudolph
The Steelers had no intentions of selecting a quarterback in the top 10 next year despite Roethlisberger's injury. General manager Kevin Colbert believes Mason Rudolph is a first-round talent, and the team is clinging to that belief with this move.
Teammates say they believe in Rudolph and their words don't feel empty. He prepares hard, and that has earned their respect.
They also probably looked at the draft class of quarterbacks and figured they would win enough games to have no shot at Alabama's Tua Tagovailoa or Oregon's Justin Herbert.
But that outside chance makes this move incredibly risky. If the season tanks and the rebuild is on, the Steelers just traded away a potential replacement quarterback.
But the Steelers will sell this: We have two good quarterbacks already. That promotes bold ideas.