'Hard Knocks' teaser? Jon Gruden (hearts) Antonio Brown – Oakland Raiders Blog
ALAMEDA, Calif. — Yes, Jon Gruden supports Antonio Brown. The Oakland Raiders coach has said as much in recent days.
But it goes deeper than that. A lot deeper.
Episode 3 of "Hard Knocks" showed just how much Gruden likes and backs his mercurial receiver, who has battled issues from his head (his well-documented non-certified helmet issues) to his toes (frostbitten feet thanks to a cryotherapy mishap in France last month), with Gruden going deeper in personal conversations with Brown than anything he has said publicly.
"I give the guy credit for standing up for what he believes in," Gruden says early in the show. "Everybody else does in this country."
Later, after Brown returned to the team following a two-week sojourn and participated in a walkthrough, Gruden told Brown: "Kinda like having you here. I think it's going to be all right for us."
A later conversation caught the two on the practice field, with Gruden asking Brown how his feet felt.
To celebrate 100 years of pro football, Peyton Manning travels the country to see the people and places that made the NFL the NFL.
Watch on ESPN+ » More »
"Once they get real hot, then they get a little burning, but for the most part, I feel good," Brown said. "Just when it's really hot, the s— starts to burn. I gotta take my shoes off."
Gruden laughed, "Why don't you go to a cryochamber and get …"
"F— that, coach," Brown shot back. "Not again. Never again."
Later, Brown told Gruden, "Thanks for supporting me, coach. My f—ing head, the feet, people after me. You've been a constant supporter. Thank you."
"I've been there," Gruden said. "But if you've got any problems, anything bothering you …"
"We're all in this together," Brown said.
"I know you've got a lot of people in your ear because you're like a corporation that's kind of gone global," Gruden said. "But at the end of the day, let's keep this s— simple, you know what I mean? Football comes first. Everything else is f—ing way behind, you know what I'm saying?"
"Absolutely," said Brown.
"Because you," Gruden continued, "you handled all that seamlessly, beautifully."
Brown was impressed with his coach's vocabulary, saying, "Seamlessly. I like that word."
"I was trying to go with a multi-syllable word," Gruden joked.
"That's a great word — seamlessly," Brown laughed.
"Yeah," Gruden grinned, "three syllables."
"I gotta look that up," Brown said.
"They don't have those at Dayton or Central Michigan," Gruden joked, referring to the colleges the two attended.
---
Other show highlights …
Master impressionist Frank Caliendo, at the invitation of quarterback Derek Carr, doing his version of Gruden, to a non-plussed coach. "Why don't you do something funny here tonight, Frank," a smiling Gruden shot at him. Caliendo also broke out his Charles Barkley and John Madden.
Rookie safety Johnathan Abram was none too pleased with his "Madden" rating and let the video game adjustors on site know about it.

"Derek Carr is like an 82. [He should be] like a 90!"

The guys had a chance to confront the ratings adjustors of #Madden20. Things got a little tense 😂 pic.twitter.com/sqHOFQcXVl

— Oakland Raiders (@Raiders) August 16, 2019

"Man, why y'all got my rating so low," he said. "Why y'all playing like that?"

Told it was because he was young and did not have anything on NFL tape yet, Abram wondered what that meant.

"You got all of us, like, sorry," he said. "Erik Harris, Karl Joseph … Lamarcus Joyner should be a 90-plus. A.B. should be 100. Derek Carr is like, 82 …(he should be) like, 90s."

Abram went on to say that his own strength and tackling ratings were too low, while adding he would be better in man-to-man coverage.
Tight end Darren Waller, meanwhile, had no issues with his low rating of 68, saying he had not played enough in the NFL to warrant a higher number.

He also talked of being "clean" for one day shy of two years.

"When I was in Baltimore, I was just like a vegetable," he said. "I was, like, getting high, literally every day. Whatever I could get my hands on. It was like opiates first, Oxy, pills, stuff like that, Xanax, cocaine, not caring about anything, like any kind of consequences or anything like that … I was super burnt out … I was just like plotting to sabotage myself, my way out of the league so I didn't look like a quitter, like the league would put me out of my misery and I could go about my business."

Failed drug tests have limited Waller to a combined 16 games since the start of the 2016 season. He credited Borden Cottage rehab center with transforming him.
Still picture of the show: A shirtless Hunter Renfrow from the combine, which elicited howls from the team after Gruden said the goal was for the Raiders to be "Bigger, faster, better conditioned" athletes.

"You're at least 37," Carr told the elder-looking Renfrow, who is 23.

"He plays just like Julian Edelman," Abram said.
Tight end Luke Willson, who grew up in Windsor, Canada, went sailing off Sausalito with his dad Mike, who once thought an NHL career might be in his son's future.

"With this hair, man, I think it still is," the long-coiffed Luke chirped.

"He always wanted to be one of the Hanson Brothers," replied Mike, referring to the 1977 movie "Slap Shot."

And while he was not a fan of his self-described skinny calves, Luke was impressed with the Golden Gate Bridge. "Pretty cool f—ing bridge, man."

---

"I'm not saying that we handled it the right way, but he'll kick ass for you. He's going to help you win a lot of football games."

Agent Drew Rosenhaus to Jon Gruden about his client, Antonio Brown

Quote of the show: "I'm not saying that we handled it the right way, but he'll kick ass for you. He's going to help you win a lot of football games." – Brown's agent, Drew Rosenhaus, to Gruden.

Gruden's response: "Yes he will."

Quote of the show 2: "This lid is ugly as f—, bro." — Brown, to receiver Keon Hatcher, referring to the helmet he wore in warmups in Arizona.

Quote of the show 3: Brown gets philosophical: "I'm just a young, black skinny kid, working really hard. And it's starting to pay off."

Quote of the show 4: "Men lie and women lie, but the analytics don't." — Brown, when shown numbers that show how far (958 yards) and fast (12 mph) he ran in a game last season, which he topped in the past two weeks.
Sources — Dolphins ship DB Fitzpatrick to Steelers
The Miami Dolphins are trading DB Minkah Fitzpatrick to the Pittsburgh Steelers for a 2020 first-round pick, league sources told ESPN's Adam Schefter.
Both teams will also swap late-round picks in the deal, a source told ESPN.
ESPN's Chris Mortensen reported last week that the Dolphins granted permission to Fitzpatrick's agent, Joel Segal, to discuss a trade with other teams.
Fitzpatrick, the 11th overall pick in the 2018 draft out of Alabama, was unhappy about playing multiple positions and has been for several weeks, sources told Mortensen.
The 22-year-old declined to discuss the trade talks with reporters Friday, saying he wanted to focus on his role in Miami's Week 2 game against the New England Patriots. Fitzpatrick had six total tackles in the 43-0 loss.
Last season, Fitzpatrick had 80 total tackles and two interceptions in 16 games. In two games this year, he has a forced fumble and 12 total tackles.
ESPN's Cameron Wolfe contributed to this report.
Big Ben out for season but RB Conner is OK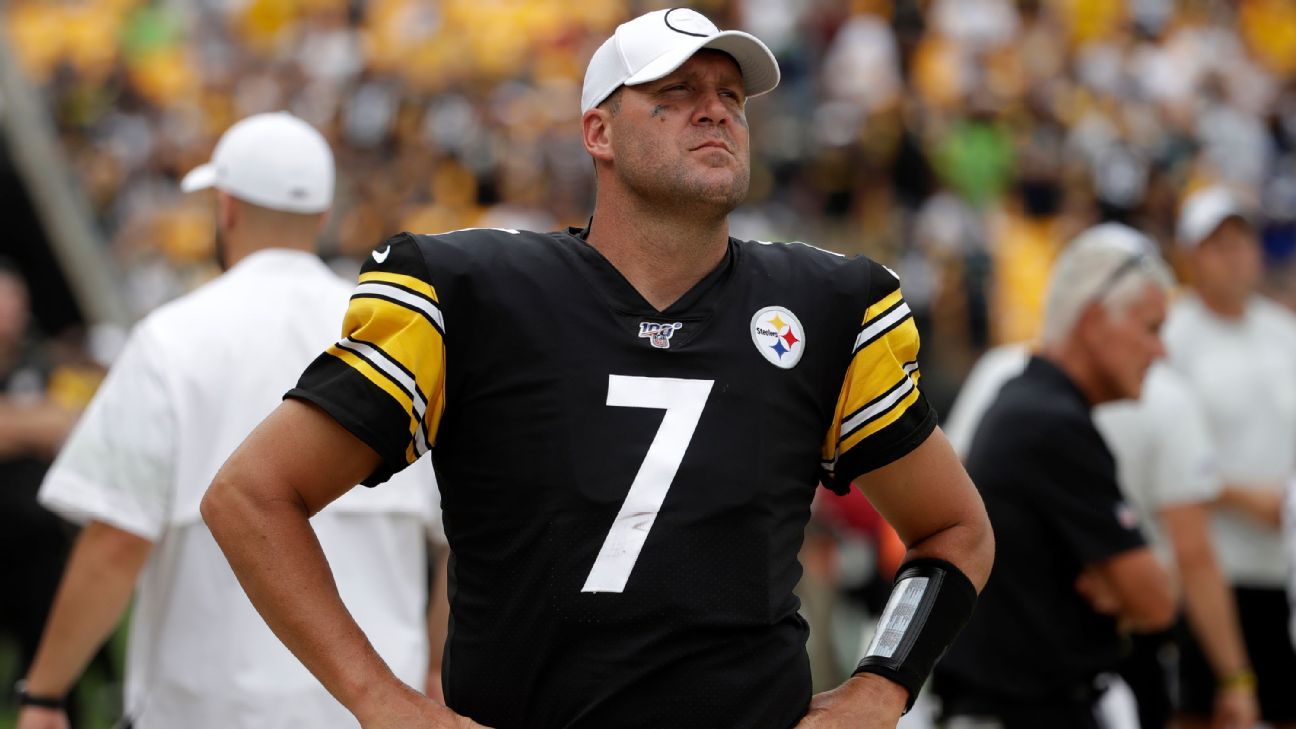 PITTSBURGH — Steelers star quarterback Ben Roethlisberger will have surgery on his right elbow and miss the remainder of the season, coach Mike Tomlin announced Monday.
In a statement released by the team, Tomlin said Roethlisberger will undergo the surgery at some point this week after having an MRI on Sunday night.
Later Monday, Roethlisberger said in a statement that the news was "shocking and heartbreaking" and that he feels "like I am letting down so many people." The quarterback said he plans to return to play next season.
"The Steelers committed three years to me this offseason and I fully intend to honor my contract and reward them with championship-level play," Roethlisberger said. "I will do all I can to support Mason [Rudolph] and the team this season to help win games. I love this game, my teammates, the Steelers organization and fans, and I feel in my heart I have a lot left to give."
The injury news wasn't all bad for the Steelers on Monday. Running back James Conner said on 93.7 The Fan that tests showed no tears or any significant damage to his knee and he is confident he will be able to play Sunday against the San Francisco 49ers. Conner, along with Roethlisberger, was hurt during Sunday's 28-26 loss to the Seattle Seahawks.
The Steelers, who placed Roethlisberger on injured reserve Monday, have not yet provided details about the injury, and there is no timetable for when the six-time Pro Bowler will be able to play again.
Roethlisberger was hurt late in the second quarter of Sunday's loss, grabbing his elbow after attempting a pass on the team's final drive of the half.
Roethlisberger had complained of arm soreness coming off the Week 1 loss at New England, multiple teammates said Monday. One Steeler told ESPN that he texted Roethlisberger on Sunday night and the quarterback responded that the injury outlook was "not good."
Monday's locker room scene was unsettled. This is the first time in Roethlisberger's 16-year career that he is set to miss more than four games in a row.
"It's super weird. Really surreal," guard David DeCastro said. "You've got to have the football mentality that the next guy's up and move on, but obviously with a guy like that it's a little different. Easier said than done."
Mason Rudolph says that while it hurts to lose Ben Roethlisberger, he is ready to step up and play for the Steelers.
Added wide receiver Ryan Switzer: "It sucks because he's the unquestioned leader on our offense. … We've got 14 games left. We owe it to ourselves and this organization and this fan base to pull it together."
In Roethlisberger's absence, second-year quarterback Rudolph nearly led the Steelers to a fourth-quarter comeback Sunday in his first career appearance, completing 12 of 19 attempts for 112 yards and two touchdowns with an interception.
Now the Steelers will have to rely on Rudolph, a third-round draft pick in 2018, to help them overcome an 0-2 start.
As reporters addressed Rudolph at his locker, slot corner Mike Hilton blurted out, "Tell them you're built for this s—, Mase." The Steelers were impressed with Rudolph's poise and preparation in his first game action, and Rudolph expects to build off that momentum Sunday in San Francisco.
"I worked for this," Rudolph said. "I wanted to be in this position. That was the plan."
Rudolph added that he'll try to learn as much as possible from Roethlisberger, who is expected to be around the team for guidance. Roethlisberger arrived at the team facility around 2 p.m. ET on Monday.
"I'm not going to be someone I'm not," Rudolph said. "I'm a big prep guy. I'm not a guy who goes out and wings it."
Rudolph is the only healthy quarterback on the Steelers' 53-man roster, so the team will likely look to outside help. The Steelers can't sign Landry Jones, who spent five years with the franchise, because he's contractually committed to the XFL. Devlin Hodges was elevated from the practice squad on Monday.
Roethlisberger, 37, is the Steelers' franchise leader in passing yards and touchdown passes and has led Pittsburgh to two Super Bowl titles. He led the NFL with 5,129 passing yards last season and signed a contract extension this past March that runs through 2021.
The news had an immediate impact on the Steelers' odds at Caesars Sportsbook, where they went from 40-1 to 100-1 to win the Super Bowl and 18-1 to 40-1 to win the AFC.
The Roethlisberger injury also affected the team's odds to win the AFC North at Caesars, which dropped Pittsburgh to +1600 for the division title — well behind the Baltimore Ravens (-200) and Cleveland Browns (+170).
Saints starting MLB Anzalone placed on IR
METAIRIE, La. — The hits just keep on coming for the New Orleans Saints.
They placed starting middle linebacker Alex Anzalone on injured reserve Monday with an unspecified injury. It's unclear if there is a chance he could return to the lineup this year, but he will have to miss a minimum of eight weeks.
The good news for the Saints is that they just traded for an experienced veteran inside linebacker in Kiko Alonso earlier this month. Veteran backup Craig Robertson also has starting experience as a middle linebacker — as do starting weakside linebacker Demario Davis and starting strongside linebacker A.J. Klein.
But the news is still very disappointing for Anzalone, who was also limited to four games as a rookie in 2017 because of a shoulder injury after being plagued by shoulder injuries in college.
The 6-foot-3, 241-pounder from Florida finally played a full 16-game season last year, recording 59 tackles, two sacks, an interception and three forced fumbles while helping the Saints finish with the NFL's No. 2-ranked run defense.
To fill Anzalone's roster spot, the Saints added undrafted rookie defensive end Carl Granderson to their active roster — less than a month after he spent more than 40 days in jail because of a sexual battery case.
The Saints were granted a roster exemption with Granderson over the past two weeks since he missed all of training camp.
Granderson, who was accused of inappropriately touching two women while they slept at his apartment during his final year at Wyoming in 2018, was not expecting to face any jail time when he reached a plea agreement and pleaded no contest to lesser charges of sexual battery and unlawful contact in July. But a district judge rejected his plea agreement and sentenced him to jail before another district judge later suspended the sentence and placed him on supervised probation instead.