Eric Reid's activism might overshadow excellent play for Panthers – Carolina Panthers Blog
CHARLOTTE, N.C. — Reporters began surrounding Eric Reid inside the Carolina Panthers locker room after Friday's preseason game against the Buffalo Bills. Most weren't there to ask the 27-year-old strong safety about what happened on the field.
They were there to get Reid's thoughts on the NFL's partnership with rapper mogul Jay-Z, hired last week to manage some of the league's entertainment and social justice issues.
Wearing a black Colin Kaepernick jersey with #IMWITHKAP on the front, Reid spent the better part of the next 10 minutes blasting Jay-Z for what he considers selling out to the league.
While Reid will continue to use his platform to speak out on issues he cares about, it's sometimes forgotten that he is a top-notch football player.
As a rookie with the San Francisco 49ers in 2013, Reid made the Pro Bowl, and he has been playing at a high level ever since. A three-year, $22 million deal signed in February is further evidence he is considered among the better safeties in the NFL.
But Reid the football player might get overlooked because he kneels during the national anthem to protest social injustice and takes strong stances on social media.
"He's a good man, a good father, a good husband, a good teammate," Panthers coach Ron Rivera said. "Again, he's civic-minded. Right now, we've all just got to take a nice deep breath and we'll be fine."
Shortly after the Panthers concluded their Aug. 2 Fan Fest, an event highlighted by a long touchdown pass from Cam Newton to Curtis Samuel that on the surface made cornerback James Bradberry look bad, Reid took to Twitter.
"My bad," he wrote, taking responsibility for Samuel being so open because Reid overcommitted to covering tight end Greg Olsen.
My bad @Brad_B21! I won't vacate the post and leave you hanging again. #WhyWePractice https://t.co/NLc6tVbDzg

— Eric Reid (@E_Reid35) August 3, 2019
Rivera loved this. It was a reminder Reid doesn't use social media just to promote a cause.
"It tells everybody to take responsibility," Rivera said. "It tells everybody you have to be accountable to your teammates. For all the young players to see that, that speaks volumes about the type of young man he is, and those are the type of players we need on this football team."
Reid has blended right in since signing as a free agent this past September.
"He's been a great addition to us," Olsen said. "He brings an edge. He's a professional guy. He's smart. He's been really good for that young D-backs group. He can play."
That Reid finds himself in the spotlight outside of football doesn't bother Olsen.
"If he didn't think he could do both well, I don't think he would do it," he said. "Each guy handles things their own way. He has the awareness of what he can handle, what he can't, what things get in the way and what things don't. He's done a good job separating the two, and when it's time to play, he plays."
Saints suffer another officiating error vs. Rams
LOS ANGELES — Believe it or not, the New Orleans Saints were victims of yet another officiating error in their Week 2 rematch against the Los Angeles Rams. Saints defensive end Cameron Jordan appeared to return a fumble 87 yards for a touchdown late in the second quarter Sunday. But officials initially ruled the play as an incomplete pass by Jared Goff, so they whistled the play dead.
The Saints challenged the call, and replay showed that Goff indeed fumbled the ball when it was stripped from behind by defensive end Trey Hendrickson. But the Saints had to take over at their own 13-yard line and did not score on the ensuing drive.
It was unclear if any Rams players would have been in position to chase Jordan down if the whistle had not been blown, but he had a clear path to the end zone after scooping up the loose ball in stride.
Al Riveron explains the reversal of the on-field ruling of an incomplete pass in #NOvsLAR: pic.twitter.com/eXr8fMxTFt

— NFL Officiating (@NFLOfficiating) September 15, 2019
Sunday's call pales in comparison to the infamous missed pass interference call that helped the Rams beat the Saints in January's NFC Championship Game — which led to groundbreaking replay rule changes in the offseason. But this remains a disturbing pattern for the Saints, who also were the victims on an embarrassing gaffe by the officials in their season-opening 30-28 victory over the Houston Texans on Monday Night Football.
In that game, the NFL's senior vice president of officiating, Al Riveron, admitted that officials incorrectly forgot to reset the play clock in the final minute of the first half after a replay review — which cost the Saints 15 precious seconds and led to a missed 56-yard field goal attempt.
Brees sidelined with hand injury; Bridgewater in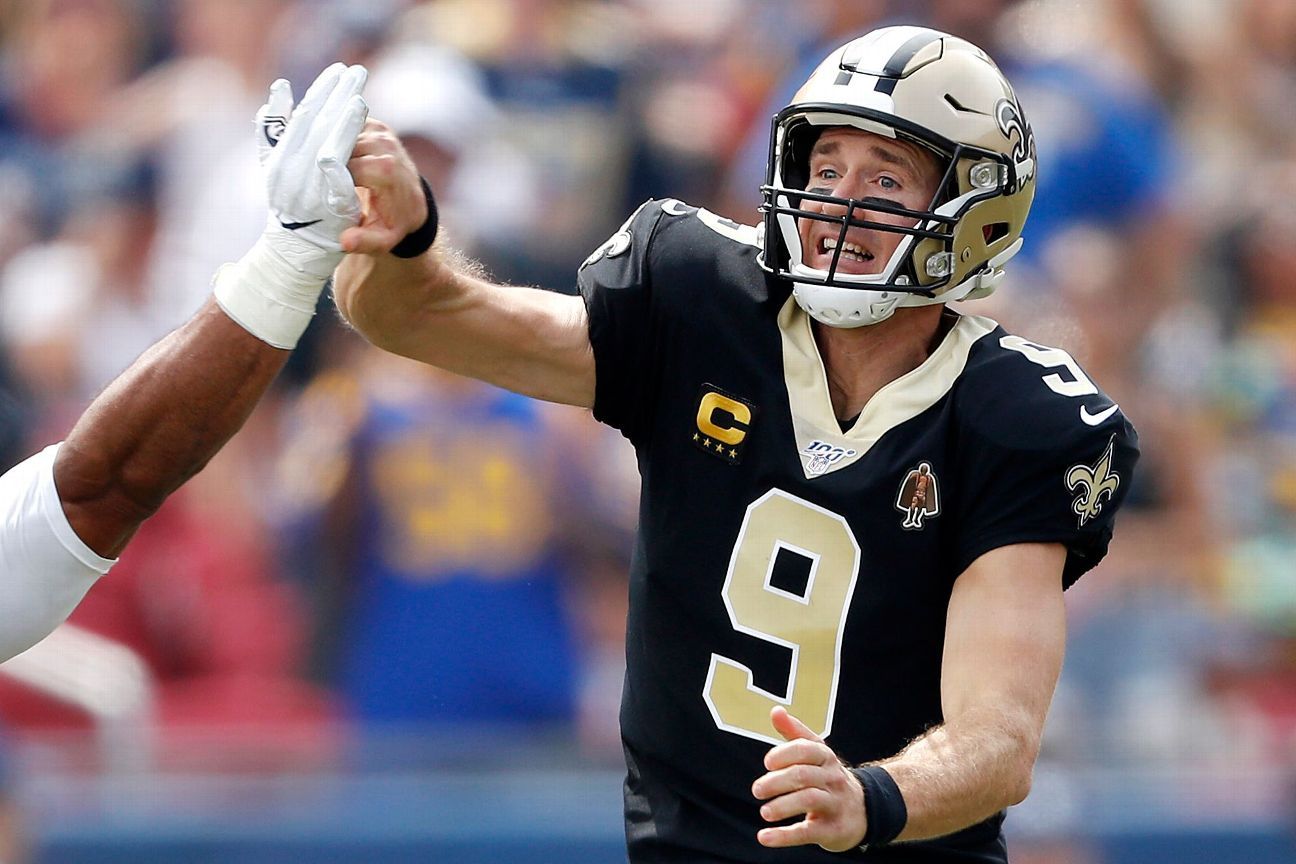 LOS ANGELES — Drew Brees has been sidelined by an injury for just the second time in his 14 years as the New Orleans Saints' quarterback.
Brees was replaced by Teddy Bridgewater late in the first quarter after his right throwing hand hit Los Angeles Rams defensive tackle Aaron Donald's hand at the end of an incomplete pass. Brees had his right thumb and lower hand/wrist area taped up by a trainer on the bench. He has remained on the sideline in uniform, and he was officially announced as questionable to return with a hand injury.
Bridgewater remained in the lineup to start the second half.
Brees, 40, has missed only one start due to injury since high school — when he missed a Week 3 game at the Carolina Panthers in 2015 with a shoulder injury. He also suffered a major shoulder injury in the final game of the 2005 season with the San Diego Chargers, but he returned in time for Week 1 with the Saints the following year.
Brees completed three of his first five passes before leaving the game Sunday — including an interception that was knocked out of tight end Jared Cook's hands on the opening drive.
The Saints have one of the league's best insurance policies in Bridgewater, who is the NFL's highest-paid backup quarterback at $7.25 million this season. The Saints traded a third-round draft pick to acquire Bridgewater from the New York Jets following the 2018 preseason and re-signed him to a one-year deal in March.
Colts beat Titans, but they have major problem with Adam Vinatieri – Indianapolis Colts Blog
NASHVILLE, Tenn. — Quarterback Jacoby Brissett led the Indianapolis Colts to his first victory over the Tennessee Titans in three tries with a fourth-quarter touchdown pass in a 19-17 victory. But the Colts have a bigger problem with Adam Vinatieri — an issue that almost cost them another win.
QB breakdown: It looked like the Titans had Brissett frustrated, bottled up and on his way to his third straight loss to them. But the Colts, as they did against the Chargers in Week 1, refused to give up on their running game (167 yards) despite being down. Running back Jordan Wilkins broke free for a 55-yard run to get the ball to Tennessee's 4-yard line on the go-ahead drive. And that's when Brissett shook off his interception and fumble earlier in the game to throw his third touchdown pass of the game Brissett wasn't done; the Colts had the ball at fourth-and-1 in their own territory with less than three minutes left in the game when they called a timeout after a failed attempt to try to draw the Titans offside. Punt? No chance. Reich, as he did against Houston last season, brought the offense back on the field and Brissett did just enough to get the first down on a QB sneak. It's moments like this that are needed for Brissett as he tries to prove he can be the Colts' franchise quarterback in the post-Andrew Luck era. Those moments also helped make up for what was inconsistent play from Brissett in the first three-plus quarters. He was indecisive, holding the ball too long in the pocket, earlier in the game. His interception in the first half ended a string of 167 straight pass attempts without throwing a pick. Brissett also fumbled while trying to bring the ball back down in the pocket after a pass attempt wasn't there. He finished 17-of-28 for 146 yards with three touchdowns and an interception.
Troubling trend: The Colts tried to downplay Vinatieri's kicking problems in the days leading up to Sunday's game. They have to rethink that now. Vinatieri, the NFL's all-time leading scorer, extended his kicking woes when he missed extra points in the second and fourth quarter. Vinatieri has missed an extra point in three straight regular-season games going back to last season. That's the longest streak of his 24-year NFL career. He's also missed an extra point in four of the last five games overall, which includes the playoffs, and he's missed a total of seven kicks in the past three games.
Buy the Colts defensive front seven: The Colts, despite being without pass-rushers Jabaal Sheard and Kemoko Turay, consistently kept pressure on Titans quarterback Marcus Mariota throughout the game. They sacked Mariota four times, limiting him to just 154 yards passing. That was a drastic change from Week 1 for Mariota, when he threw for 248 yards and three touchdowns against the Browns. A lot is said about the Colts linebackers, led by All-Pro Darius Leonard, and the secondary. But the front that features Justin Houston and Denico Autry accounted for three of the four sacks, including two by Autry.