Searching the NFL rulebook for the next confusing call: Five to know – NFL Nation
An NFL player catches a pass. He fumbles. And then no one recovers because officials erroneously ruled the play incomplete.
What happens next?
Well, as we learned Sunday at Soldier Field in Chicago, the NFL's 201-page rulebook covers that specific scenario. Case number 15.109 mandated that the incompletion call must stand, even though Chicago Bears receiver Anthony Miller's "catch" was clear and obvious, because there was no clear recovery.
That's not the only quirky twist in a rulebook that contains 82 pages of rules and then devotes another 119 pages to explaining how to apply them in specific situations. Some are more likely to occur than others. But as we prepare for the divisional round of the playoffs, let's explore five of the most interesting that could pop up at any time, not unlike what we just witnessed in Chicago.
We'll plug in hypothetical team names and players to make it easier for everyone to understand.
---
1. No intentional grounding even if there is intentional grounding
Scenario: The ball is at the New York Jets' 37-yard line. New England Patriots quarterback Tom Brady, under pressure in the pocket at the 44, throws toward the sideline. The line judge marks the ball at the 45, making it a backward pass and a loss of 8 yards. But replays show that the ball actually went out of bounds at the 43, and there was no eligible receiver in the area. The Patriots challenge the spot, hoping it would be ruled a forward pass to reverse the yard loss and keep them in field goal range — knowing there was no downside for an intentional grounding call.
Result: The call is changed to an incomplete pass, returning the line of scrimmage to the Jets' 37.
Explanation: The Jets get jobbed. Although the replay showed an incomplete pass, it also made clear that intentional grounding should have been called. But NFL rules prohibit replay from creating a foul for intentional grounding in this scenario, which in this case the Patriots knew before challenging (you know Bill Belichick knows that rule!). Replay can examine all reviewable aspects of a play, even if it isn't the designated reason for the challenge, but intentional grounding isn't reviewable. It could be called in this situation only if, according to A.R. 15.137 in the NFL rulebook, "officials had thrown a flag initially for intentional grounding and then picked it up because of the line judge's ruling … or if the referee had made an announcement regarding grounding before the review."
---
2. Why a clear recovery is so important
Scenario: Officials rule that Los Angeles Chargers tailback Melvin Gordon has scored on a 9-yard touchdown run against the Kansas City Chiefs. All scoring plays are reviewed, and replay shows Gordon fumbled just before he reached the goal line.
Result: The Chiefs would be awarded the ball if they made a clear recovery. But if there were no clear recovery — a likely scenario given the officials' immediate touchdown signal — the ball would be returned to the Chargers at the spot of the fumble, per A.R. 15.164. (Unless it was fourth down and the ball was fumbled short of the line to gain, in which case the Chiefs would take over at the spot of the fumble.)
Explanation: This is a fundamentally different outcome from what we saw at Soldier Field, where the lack of a clear recovery required the ruling on the field (an incomplete pass) to stand. Had the same standard applied here, Gordon and the Chargers would have been credited with a touchdown. Instead, the Chargers retain possession of the ball, spotted where Gordon lost it, to account for a fumble that wasn't recovered.
---
3. Two legs don't equal one hand
Scenario: Green Bay Packers tailback Aaron Jones fumbles at the Minnesota Vikings' 30-yard line. During the scramble for the ball, Vikings cornerback Xavier Rhodes ends up on the ground. With players piling on top of him, Rhodes can't grab the ball with his hands. Instead, it is squeezed between his knees. Packers receiver Davante Adams approaches. While still standing, Adams snatches the ball from Rhodes' knees and runs into the end zone.
Ruling: The Packers are awarded a touchdown.
Explanation: Possession requires control with the hands or arms, according to A.R. 3.5 in the rulebook. Rhodes thus didn't have possession, and Adams wasn't down by contact when he ripped the ball away.
---
4. Manipulating the start of sudden death
Scenario: On the opening possession of overtime, Pittsburgh Steelers quarterback Ben Roethlisberger throws an interception to Baltimore Ravens cornerback Jimmy Smith. But then Smith fumbles during the return, and Steelers receiver Antonio Brown recovers. Meanwhile, Ravens linebacker Terrell Suggs is called for roughing the passer.
Result: The Steelers decline the penalty and the game moves into sudden death.
Explanation: NFL overtime requires both teams to have a possession before sudden death begins, unless a touchdown is scored on the first possession. Smith's interception, and subsequent fumble, would actually count for the Ravens' possession. That would allow the Steelers to win on a field goal during the continuation of their first possession. The roughing penalty would have added 15 yards and put the Steelers close to field goal range, but it also would officially negate the play. So accepting the penalty would allow the Ravens a possession if the Steelers settled for a field goal. According to A.R. 16.20 in the rulebook, the Steelers' best decision would be to decline the penalty, take possession where Brown recovered and put themselves in position to win with a field goal before the Ravens' offense ever even got on the field.
---
5. Winning with an illegal tackle
Scenario: Another overtime possession manipulation! The Steelers kick a field goal on the first possession of overtime. On the first play of the next possession, Ravens quarterback Lamar Jackson throws an interception to Steelers cornerback Joe Haden. During the return, Haden fumbles. Ravens tight end Maxx Williams recovers and begins running toward the end zone. He gets to the 5-yard line before Steelers safety Morgan Burnett tackles him by the collar, drawing a horse-collar penalty.
Result: Per A.R. 16.25, the game is over and the Steelers win, despite taking a penalty.
Explanation: Technically, both teams have had possessions by this point. The Ravens failed to score on their first possession, which ended with the Haden interception. If Williams scored, the Ravens would have won. (That ruling was inserted into the rulebook in 2018.) But because he did not, and the Ravens had their fair opportunity, the rules require officials to disregard the horse-collar penalty and end the game. In that situation, players can make illegal tackles — by the face mask and/or collar, and also by being tripped — with impunity to make a game-winning play.
Gary Kubiak won't be on Vic Fangio's coaching staff for Denver Broncos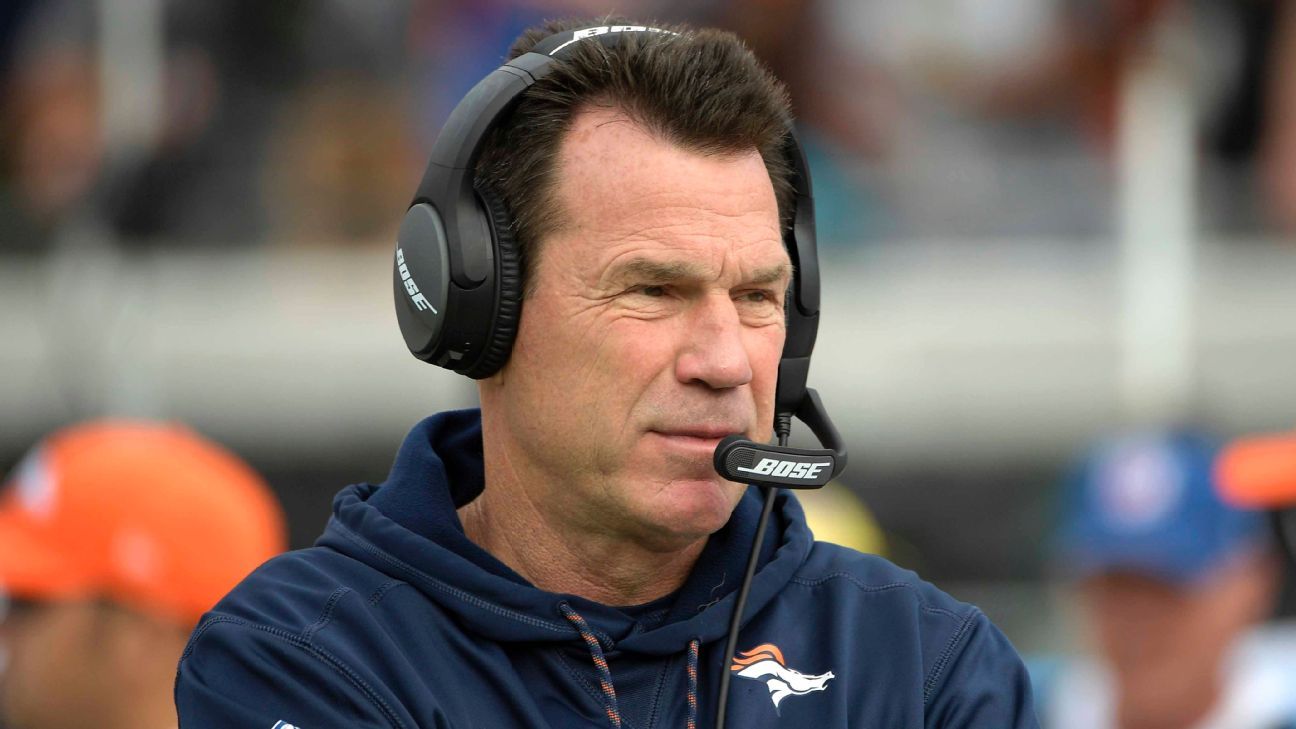 ENGLEWOOD, Colo. — In a decision that will certainly stun many of the Denver Broncos' faithful, Gary Kubiak will not be a part of Vic Fangio's coaching staff after all, sources told ESPN on Friday.
Kubiak's potential return to the Broncos coaching staff — something team president of football operations/general manager John Elway said was a possibility the day after the Broncos closed out their 6-10 season — had been one of the most talked about items in the team's coaching search. Vance Joseph was fired Dec. 31 after two seasons on the job.
While Kubiak will not be on Fangio's staff because of differing ideas on the team's potential offensive philosophy as well as some of the other assistant coaches on offense that would be hired, sources said, the possibility remained Friday Kubiak could remain as part of the Broncos personnel department.
However, it was unclear what would happen if another team pursued Kubiak with a coaching opportunity.
The Broncos were also, sources said, talking Mike Munchak about a spot on Fangio's coaching staff and a deal could be finalized there as soon as the weekend. Munchak, whose contract as offensive line coach for the Pittsburgh Steelers is set to expire, was one of the five candidates the Broncos interviewed for the head coaching job and the Broncos' decision-makers had narrowed the choices to Munchak and Fangio before Fangio was offered, and accepted, the job.
Kubiak, who won Super Bowl 50 as the team's head coach – the franchise's third title — stepped away from coaching after the 2016 season due to health concerns. He has been in the Broncos' personnel department for much of the last two years and was given an expanded role in personnel this past season.
Overall, Kubiak has spent almost a quarter century with the Broncos, including nine years as a player, 11 years on Mike Shanahan's coaching staff and his two years as the team's head coach.
Just before Fangio was formally introduced as the team's 17th head coach Thursday, he had an extended sit-down with Kubiak and Elway said he planned to meet with Kubiak later that day.
When Fangio was asked about the possibility of Kubiak joining the coaching staff he said: "None of the assistant coaching positions have been determined yet, and until things are ironed out and iron-clad, I prefer not to comment on that. But Gary is a hell of a coach. He's a guy that I have respected throughout my career in the NFL, having competed against him at several stops. If Gary is interested, then I'm interested."
And Thursday afternoon, Elway had added: "I know Vic met with Gary (Thursday). I haven't had a chance to a sense of that meeting. I have talk to Vic. I think Gary would like to go on the offensive side, but none of that has been settled."
The Broncos, who have used four different starting quarterbacks in the last two seasons, finished 19th in offense this past season and 24th in scoring. The team finished 26th in scoring in 2017 and 22nd in scoring in 2016.
Just after season's end Elway talked about the important of finding some "continuity." The 2019 season will mark the fourth different offensive coordinator the team has had in a four-season span.
"We definitely have to get better on the offensive side," Elway said the day after the season ended. "That starts with some continuity. It's going to be very important for us to get some continuity on the offensive side. This will be our fourth system in four years. That is something that we're really going to concentrate on, getting some continuity. That's what comes with the same system and finding the right guys. That's going to be a big part of it."
When asked what he wanted in an offense, Fangio said Thursday:
"We talked about an offensive philosophy and I believe in balance, but, balance immediately comes to your mind is run and pass. There are other things that need to be balanced in offensive play. Do you throw it short, intermediate or deep? Do you run in inside, outside or have deceptives? Do you run gap schemes and zone schemes? Are you play-action, movement passing game? When I say balance, I'm not necessarily talking about how many runs and how many passes. You need to have balance within your passing game and in your running game. I know that from having to defend it. That's what we're looking to do."
ESPN's Adam Schefter contributed to this report.
Rams QB Jared Goff is really funny … if you're paying attention – Los Angeles Rams Blog
THOUSAND OAKS, Calif. — Take a look at Los Angeles Rams quarterback Jared Goff.
On the surface, he appears to be a tall, blonde, super-cool California kid. And when he talks, he sounds about the same. He's casual, but to the point.
An initial glance likely won't reveal someone who is "sneaky" funny, or even has much personality, let alone someone who can be outright "silly."
But look — and listen — a little closer.
There are Jay-Z sightings, Halle Berry shout outs and Ric Flair. The Rams aren't quite LeBron and the Lakers, but a Super Bowl could change that. Story
• Learn your lessons in McVayisms
• Robert Woods reaches potential in homecoming
• Playoffs schedule, Super Bowl LIII coverage
There's sometimes a smirk or raised eyebrow. And it's often coupled with a sly, dry barb launched at a reporter or aimed at a teammate.
Take Week 14, when a reporter asked, innocuously enough, how would the Rams quarterback prepare to play a defense that had intercepted a league-high 21 passes?
"Try to throw it to our guys," Goff deadpanned.
The response drew a chuckle from the small media contingent, and that smirk appeared on Goff's face. It was another unexpected zinger from Goff, who is routinely dull in his delivery but chooses his spots wisely.
Goff's humor is dry and nonchalant. He'll deliver a one-liner, then continue like it never happened. If you're not paying attention, or simply aren't around Goff frequently, his jokes might go undetected.
"He's really good at poking the bear," Rams receiver Cooper Kupp said. "If he can find something that kind of can get you, he'll sit there as innocently as possible and just little pokes here and there, just to see how much of a rise he can get out of you."
It's also part of a budding, and almost unexpected, boldness off the field, where the Northern California native has shown more of a willingness to engage his personality as he adapts to shouldering the responsibilities of leading the NFC's No. 2 seed against the Dallas Cowboys in the divisional round Saturday (8:15 p.m. ET, Fox).
"As time goes on you become more comfortable in your role and I think that's no different with [being a leader]," said Goff, who received an $18.5 million signing bonus as a rookie. "Just being able to be the leader I want to be, the teammate I want to be, the person I want to be, and just continue to mature and grow and be the best I can be every day."
In his third season as a pro, and his second under coach Sean McVay, Goff has improved his timing, accuracy and decision-making. The proof is in his results. Goff has passed for 4,688 yards and 32 touchdowns, with 12 interceptions, while completing 64.9 percent of his throws. He also has rushed for a touchdown.
The Rams are 13-3, and two wins away from their first Super Bowl appearance since 2001.
Darren Woodson says the Cowboys will take away the Rams' running game to win, but Tedy Bruschi sees L.A. getting off to a fast start.
Through 11 games, and a 10-1 start, Goff played his way into the MVP conversation alongside Drew Brees, Patrick Mahomes and Todd Gurley, before a post-bye-week slump knocked him from contention.
After the bye, Goff appeared lackluster and out of sync against the Detroit Lions. He completely unraveled when he threw a career-high four interceptions in a loss to the Chicago Bears. And a loss the following week to the Philadelphia Eagles produced the first back-to-back regular-season losses in McVay's two seasons as coach.
Despite the late-season issues, Goff stayed true to his reputation. "Even-keeled, wasn't flustered at all," McVay said. "But he knows that he can play better."
Goff did play better in the final two games of the regular season, as he helped produce lopsided victories over the Arizona Cardinals and San Francisco 49ers, considered tune-up games before the playoffs.
Neither Goff's coach nor teammates have been surprised by his distinct ability to handle whatever comes his way.
"He's a bona fide Cali kid," right tackle Rob Havenstein said. "Nothing fazes him, but it's like — it's never only the bad stuff that doesn't faze him. The good stuff, he's excited, he's pumped, but he's still even-keeled the whole way, no matter what happens, and that's just with anything."
Goff displayed rare emotion in a Week 5 victory over the Seattle Seahawks, when McVay relied on the offense to convert on fourth-and-1 and run out the clock to secure a two-point win. Goff snuck under the pile for a 2-yard gain, then screamed as he jumped to his feet and exuberantly pumped his fist.
But typically, after a long completion or touchdown pass, Goff exchanges a quick round of high-fives and moves on. And if he throws an interception? No head hanging. Picks happen. Just move on.
"He's got a nice way about himself where he doesn't take himself too seriously," McVay said. "What you love about him is, he's so refreshingly secure in himself that he's unaffected by good or bad kind of outside noise."
Behind Dak Prescott and Ezekiel Elliott, the Cowboys' offense has found its rhythm. Aaron Donald and the Rams' defense might not be able to disrupt that rhythm.
In a Week 4 victory over the Minnesota Vikings, Goff passed for 465 yards and five touchdowns, and posted a perfect pass rating of 158.3 to become only the third quarterback in the Super Bowl era with at least 30 attempts to do so.
The congratulatory messages flooded his phone. "I got a bunch of texts," Goff said. "People saying good game and whatnot."
Then he deadpanned: "They tend to do that when you play well. Not so much when you don't."
As Goff has settled into his role, teammates have grown accustomed to his leadership style, which comes with his humor and quirks. He's addicted to his phone, like many 20-somethings are, and he seems to put it down only when work beckons. "Every now and then you've got to throw a football," Havenstein chuckled.
Through either accumulating accolades — Goff was voted to his second consecutive Pro Bowl — or criticism, namely the bust talk from his rookie season, Goff continues to handle himself in a calm fashion.
"At this position, it's natural to try to be that way," Goff said. "I may seem that way sometimes externally, it's not always the case internally. But, you try to portray that externally, and most of the time I do feel that way. Just try to stay that steady, constant personality and person that can be there in any situation."
Jerry Goff, Jared's father, played major league baseball when Jared was young. Jerry said he ingrained in his son the importance of hard work if he wanted to make it as a pro, in any sport. And he also has had plenty of conversations with Jared about the importance of knowing his place in any given environment.
Jerry and his wife, Nancy, have noticed their son's growing comfort in his current role, and said they haven't been surprised to see some of his personality, including his humor, come out in his third season.
"It's just a maturation," Jerry said.
And as far the humor, "It's dry and it's sneaky," Jerry said, while being sure to note that it is, indeed, in good taste and respectful. "I have recognized that a little bit and enjoy it — I enjoy his humor. He'll do it at home, too, from time to time."
Rams teammates say he often tries to stir things up with his jokes, but when they try to describe Goff's unassuming personality, they say, "He's just Jared."
"He's still young Jared," said receiver Robert Woods, whom Goff has connected with for 1,219 receiving yards this season. "He's still young man, young locker room Jared. J.G., J-Slim, all of the above."
"He's just silly," Gurley said. "He's a funny dude. … He says little jokes."
McVay, though, isn't too proud to admit that he's often a target of a Goff zinger.
"He's gotten me a lot," McVay said. "There's always little things here and there. I'm sure there's a lot of good one-liners when I'm not around, too."
And Goff, as he attempts to win the first playoff game of his career after the Rams were one-and-done last season in a lackluster loss to the Atlanta Falcons in a wild-card game, says he doesn't try to be funny.
When asked where his sense of humor originated, Goff raised his eyebrows. "What sense of humor?" he said.
Perhaps it just comes naturally.
Arizona Cardinals make Vance Joseph defensive coordinator
The Arizona Cardinals have named former Denver Broncos coach Vance Joseph as their defensive coordinator, the team announced Friday.
Denver fired Joseph last month after a 6-10 season. He was 11-21 in two seasons with the Broncos.
Before coaching the Broncos, Joseph spent 11 years coaching defensive backs with the 49ers, Texans and Bengals before becoming the Dolphins' defensive coordinator in 2016.
The Cardinals hired Kliff Kingsbury as their head coach on Tuesday. Kingsbury replaced Steve Wilks, who was fired after one season (3-13).
Arizona also announced that Bill Davis had been hired as linebackers coach and that Jeff Rodgers had been retained as special-teams coordinator.
Davis, who previously served as Cardinals defensive coordinator in 2009 and 2010, spent the past two seasons as the linebackers coach at Ohio State.