Cincinnati Bengals hope to hire Rams' Zac Taylor as head coach
Los Angeles Rams quarterbacks coach Zac Taylor is the Cincinnati Bengals' top choice to be their next head coach, league sources told ESPN's Adam Schefter and Chris Mortensen.
The Bengals would like to hire Taylor, 35, after Los Angeles' season ends, sources said. Because the Rams are still in playoffs, they can't negotiate a contract.
Taylor was the offensive coordinator for the University of Cincinnati in 2016, and sources said he would like to return to the city.
Taylor would replace Marvin Lewis, who parted ways with the Bengals after the season, ending a 16-year tenure.
A former star quarterback at Nebraska, Taylor began his NFL coaching career with the Miami Dolphins as a quarterbacks coach in 2012, helping to develop Ryan Tannehill, and took over offensive-coordinator duties during the 2015 season.
After spending a year with the Bearcats, Taylor returned to the NFL with the Rams under Sean McVay, for whom he served as assistant wide-receivers coach in 2017 before shifting to quarterbacks this season.
With Taylor overseeing Jared Goff, the Rams went 13-3 and ranked fifth in the NFL this season with 282 passing yards per game.
Tampa Bay Buccaneers hire former USC Trojans running backs coach Todd McNair who sued NCAA
TAMPA, Fla. — Former USC running-backs coach Todd McNair, who spent the past seven years fighting the NCAA over the Reggie Bush scandal and lost, will return to coaching in 2018 as the running backs coach of the Tampa Bay Buccaneers, a source confirmed to ESPN on Friday.
McNair's hiring was first reported by Pewter Report.
In a high-profile defamation lawsuit, McNair accused the NCAA's Committee on Infractions of destroying his coaching career when it found him guilty of unethical conduct when Bush accepted improper benefits at USC, where McNair coached for six seasons and helped guide Bush to a Heisman Trophy in 2005.
McNair has not coached at the college or NFL level since 2010, but has been coaching high school football in Sun Valley, California.
A four-year NCAA investigation concluded that McNair knew or should have known that Bush had accepted $280,000 worth of improper benefits. McNair claimed he had no knowledge of Bush or his family accepting those benefits.
McNair's attorneys argued that the NCAA tried to make an example out of him. He testified that after he lost his job at USC, his wife, Lynette, took a job as a parking-lot attendant. He said he was also forced to use his retirement funds and had to live off of food stamps.
In May, the jury ruled in favor of the NCAA. McNair's attorneys filed a motion for a new trial in December, with a hearing scheduled for January.
This isn't the first time that Bucs new head coach Bruce Arians has hired a staff member who struggled to find work after being subjected to harsh and controversial punishment from the NCAA. Arians offered an internship with the Arizona Cardinals in 2015 to David Kelly, a former University of Central Florida assistant who was forced to resign from the school in 2011, despite the fact that the school appealed its sanctions and won. Kelly has since landed on his feet as Florida State's wide receivers/recruiting coordinator.
McNair played for Arians at Temple University and with the Kansas City Chiefs in 1989-1993, before coaching with him on the Cleveland Browns staff from 2001 to 2003.
Steve Wilks firing 'hurt a little bit' amid lack of black hires
TAMPA, Fla. — Tampa Bay Buccaneers new assistant head coach and run game coordinator Harold Goodwin didn't mince words Friday when asked about his disappointment over the firing of Steve Wilks by the Arizona Cardinals after one season and the lack of minority hires.
"That hurt a little bit," Goodwin said. "He's a friend of mine. We worked together back in the day with the Bears. It's hard to build something from the ground up with one year. It's like, 'Hey, I want you to start this Fortune 500 company, but you've got one year. That's impossible. And that's what he was tasked with. But God will look after him. He'll be OK in the long run and hopefully he'll get another opportunity."
This offseason was particularly difficult for minority coaches. Five of the eight coaches fired either during or after the 2018 season — Wilks, Hue Jackson of the Cleveland Browns, Todd Bowles of the New York Jets, Marvin Lewis of the Cincinnati Bengals and Vance Joseph of the Denver Broncos — are black. That has left just Anthony Lynn of the Los Angeles Chargers and Mike Tomlin of the Pittsburgh Steelers as the only black head coaches in the NFL.
Meanwhile, of the eight head coaching vacancies this year, not a single minority has been among the six hires made, though sources told ESPN's Jeff Darlington on Friday evening that upon concluding their interviews, the Miami Dolphins are "hoping" to hire New England Patriots Brian Flores, who is black and the son of Honduran immigrants.
Goodwin, who served as the offensive coordinator for the Cardinals from 2013 to 2017, has interviewed for several head-coaching positions over the years, including the Bucs in 2016, but encountered several roadblocks.
"Every time I went in to interview, 'You don't call plays.' Well I did call plays in the preseason," Goodwin said. Arians was the playcaller in the regular season. "Are we looking for playcallers or are we looking for leaders? Leaders of men, who can help build an organization from the ground up on the football side.
"The next excuse was, 'Well, we don't like your staff.' A lot of my staff is still coaching. Some guys are coordinators in the NFL now that have had a lot of success that were on my list."
Goodwin then alluded to teams not taking the Rooney Rule seriously. Under the rule, which was adopted in 2002, every NFL team is required to interview at least one minority candidate for head-coaching and general-manager positions.
The rule has been scrutinized in recent years, though, as some believe teams have made a mockery of it by bringing in candidates who aren't deemed to have a legitimate chance at earning the job.
"I will give credit to two owners — the [Buffalo Bills' Terry] Pegula and [Jacksonville Jaguars'] Shad Khan — they were actually in the interview," Goodwin said. "I can't say that about the others. So those were real interviews. I appreciated that opportunity."
Goodwin said one roadblock he's faced has to do with being an offensive line coach; he said teams want a coach who can develop quarterbacks and has called plays.
That is something Bowles, the Bucs' new defensive coordinator, also said is an issue.
"You can say there's a trend," Bowles said. "Everybody wants the up-and-coming signal-caller. I think it's more of an offensive mentality right now as far as the league, as far as the rules are going, what's going against the defense as far as the plays that can be run, so everybody's rushing to get the next offensive genius, so to speak.
"I don't know if it's a slap in the face, one way or the other. That's just the way the league goes. It'll switch back and we'll see who's standing when those things switch back."
Miami Dolphins zeroing in on Brian Flores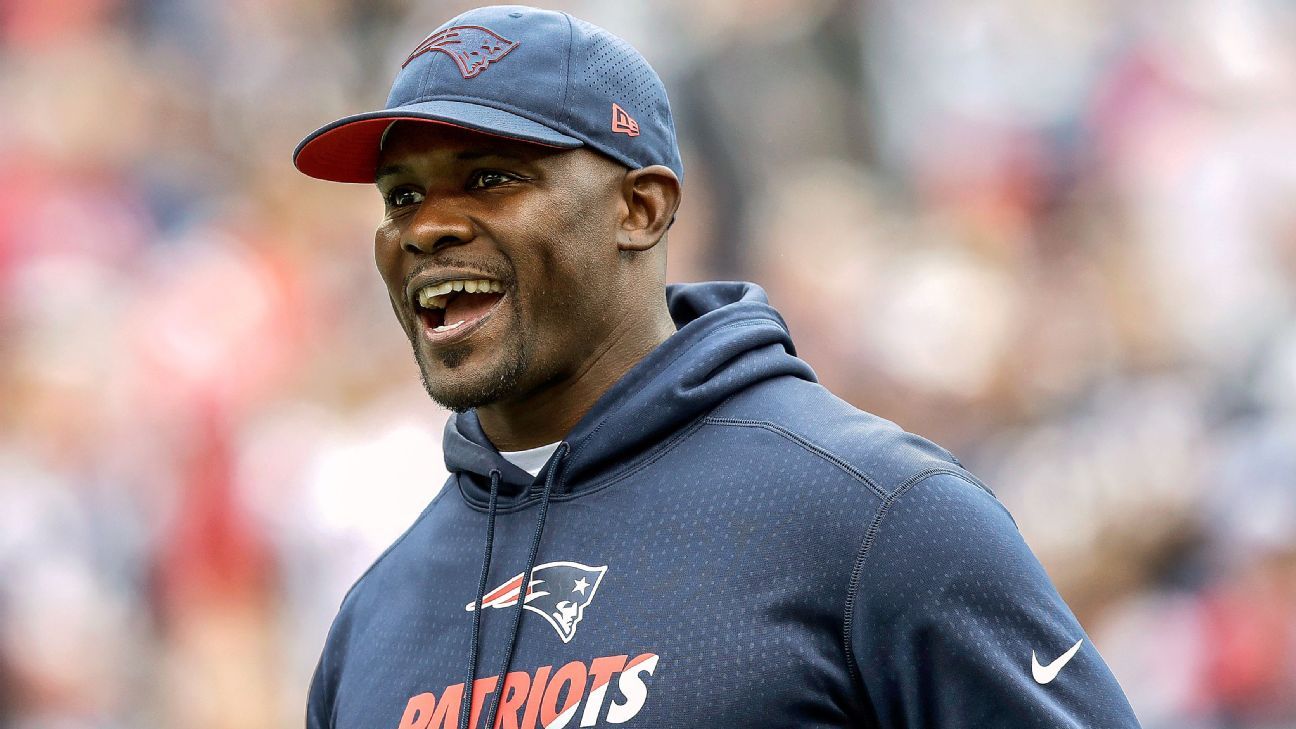 The Miami Dolphins concluded their interview process for a new head coach Friday — and the candidate they intend and hope to hire is Brian Flores, ESPN's Jeff Darlington reports.
Flores, currently linebackers coach of the New England Patriots, was the first person Miami interviewed (on Jan. 4) in the wake of its Dec. 31 firing of Adam Gase.
The Dolphins chose Flores, most notably, for his impressive leadership skills. They did not look for somebody who was specific to offense or defense — but rather someone who would serve as the best head coach they could find.
Flores' long-standing relationship with general manager Chris Grier made him a favorable candidate from the start, and his interview solidified their early impressions.
No deal has been agreed upon, and no negotiations on a contract have taken place, Darlington reports. The Patriots host the Los Angeles Chargers in the AFC divisional round Sunday.
The Dolphins stayed in-house and interviewed special teams coordinator Darren Rizzi and offensive coordinator Dowell Loggains on Friday. They've interviewed six candidates total, with Kansas City Chiefs offensive coordinator Eric Bieniemy, New Orleans Saints defensive coordinator Dennis Allen and Dallas Cowboys defensive play-caller Kris Richard the others.
Flores, the 37-year-old Patriots de facto defensive coordinator, started his career the same way as Grier — as a New England scout.
Flores has coached offense, defense and special teams along with the stint as a scout in New England. He has spent his entire coaching career – since 2004 – with the Patriots.
If hired, Flores would be the first African-American coach in Dolphins history and their 10th head coach (including interims) overall since 2004.
Miami has finished between 6-10 and 10-6 in each of the last 10 seasons, the only team in the NFL to do that. It went 7-9 in 2018, losing its last three games by a score of 100-41.
The Dolphins allowed 6,257 yards this past season, 29th in the NFL and the most in franchise history. The offense, which finished 31st, wasn't much better.
Information from ESPN's Cameron Wolfe was used in this report.