Jed Lowrie agrees to two-year, $20M deal with New York Mets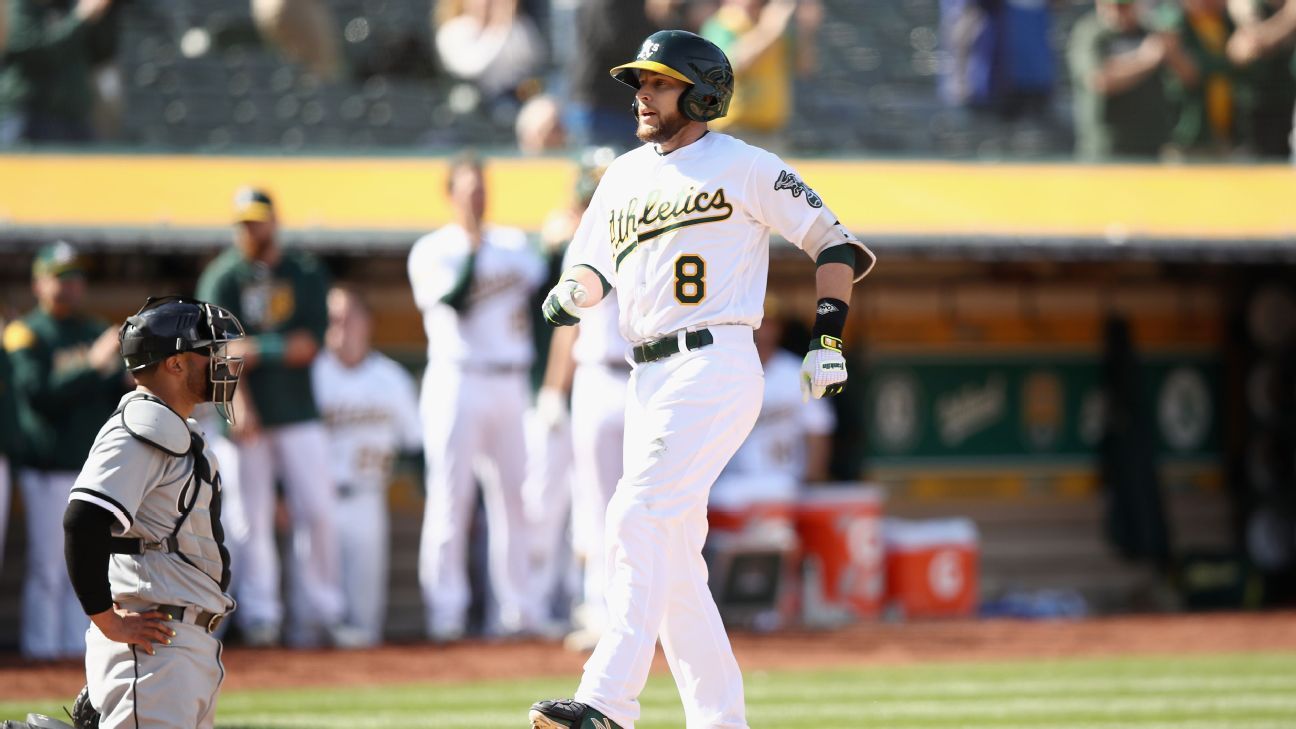 The New York Mets have reached a two-year, $20 million deal with free-agent infielder Jed Lowrie, league sources told ESPN on Thursday, adding a versatile veteran to an overhauled team that hopes to compete in the loaded National League East this season.
The 34-year-old Lowrie is coming off the best year of his career, setting highs with 23 home runs, 99 RBIs and 78 walks as the surprising Oakland A's made the postseason.
He'll join an infield that already includes the newly acquired Robinson Cano at second base, Todd Frazier at third base and Jeff McNeil in a utility role — the same sort of move-around-the-diamond spot Lowrie will likewise fill, according to sources.
The deal reconnects Lowrie with Brodie Van Wagenen, his former agent who was hired this winter as Mets general manager and has made a number of splashes in hopes of reinvigorating the moribund Mets. The trade for Cano and closer Edwin Diaz, which cost the Mets prospects Jarred Kelenic and Justin Dunn, was the biggest.
New York also has signed reliever Jeurys Familia, catcher Wilson Ramos and traded for center fielder Keon Broxton and utilityman J.D. Davis.
Before he played 157 games last season, Lowrie reached 100-plus games just twice — in 2013 and 2014 with the A's — in his 10-year career. In 2018, Lowrie, who has settled in as a second baseman the past three years, again went into spring training free of any injuries after coming off one of his best seasons in 2017, and he delivered in having a durable, consistent campaign.
How the Mets fit in Lowrie and spread plate appearances with a crowded infield will be part of the challenge manager Mickey Callaway faces following a 77-85 season. Lowrie's patient approach and ability to switch hit make him a likely part of the Mets' everyday lineup.
Lowrie helped the A's make the playoffs three times in his tenure, hitting .271/.341/.413 with 60 homers and 320 RBIs in 687 games. His career line is .262/.335/.414 with 104 homers and 509 RBIs in 1,109 games.
Proposal to extend Los Angeles Angels stadium lease through 2020 up for vote Tuesday
The Los Angeles Angels and the City of Anaheim are hoping to finalize a one-year extension to the Angels' stadium lease, allowing the team to remain at its current facility through the 2020 season.
The proposal, announced in a press release Thursday, will be voted on at a City Council meeting on Tuesday.
The extension would provide both sides more time to potentially come up with a long-term solution.
In the middle of October, the Angels took advantage of their one-year opt-out provision so they wouldn't be locked into their lease through 2029, a move that meant this upcoming season might be their last at Angel Stadium.
New Anaheim Mayor Harry Sidhu, sworn in last month, met with Angels owner Arte Moreno last week, and both sides decided that more time would be beneficial.
"We realized a one-year extension will give us adequate time to work collaboratively on a long-term relationship," Moreno said in a statement.
"From that meeting, it is clear the team's priority is to stay in Anaheim, if we can work out a deal that benefits our residents, the city and the team," Sindhu said in his statement. "We need a plan to make that happen, and we need time to make that happen."
Angel Stadium opened in 1966 and is the fourth-oldest ballpark in the majors, behind only Fenway Park, Wrigley Field and Dodger Stadium. The Angels are expected to continue exploring other potential new homes throughout Southern California, but renovating the current stadium or building a new stadium in Anaheim are also on the table.
Since Moreno took over in 2003, the Angels and the New York Yankees are the only teams to sell 3 million tickets each season. But the Angels and the City of Anaheim haven't really engaged in dialogue about a long-term plan since 2016.
Former Mayor Tom Tait, who completed his final term in December, nixed a proposed deal in 2013 that involved Moreno paying the $150 million in renovations while being able to lease the surrounding land, and profit off future infrastructure, for only $1 per year.
Sindhu has stated from the onset that his goal is to keep the Angels in Anaheim.
The city's release stated that doing so is "central" to the expansion taking place at the nearby Platinum-Triangle, an 820-acre mixed-use development site that surrounds Angel Stadium and the nearby Honda Center, home to the NHL's Anaheim Ducks.
"There are only 30 Major League Baseball teams in the nation," Sindhu said in a statement, "and being home to one is a huge asset to any city."
Major League Baseball win totals for 2019
Caesars Entertainment released win total lines for all 30 major league baseball teams. The Houston Astros had the highest projected win total at launch at 97.5 games, followed by the New York Yankees (96.5) and the defending World Series champion Boston Red Sox (95.5). The Baltimore Orioles are projected at just 59 wins. Bets on over or under these totals were capped at $1,000 at Caesars on launch date.
Tim Tebow gets engaged to former Miss Universe
A month before minor leaguer Tim Tebow heads to spring training with hopes of making it to New York with the Mets in 2019, the outfielder/former quarterback/SEC Network host popped the question to Miss Universe 2017, Demi-Leigh Nel-Peters.
.@TimTebow is officially off the market 💍 pic.twitter.com/XuJd8xr5m1

— espnW (@espnW) January 10, 2019
After his fiancée announced the couple's engagement on Instagram, the former Florida Gators football star took to his own feed to say "Thank you for saying YES and making me the happiest man in the world. You're the love of my life, and I can't wait to spend the rest of my life with you."