Dustin Ackley returning to Seattle Mariners with minor league deal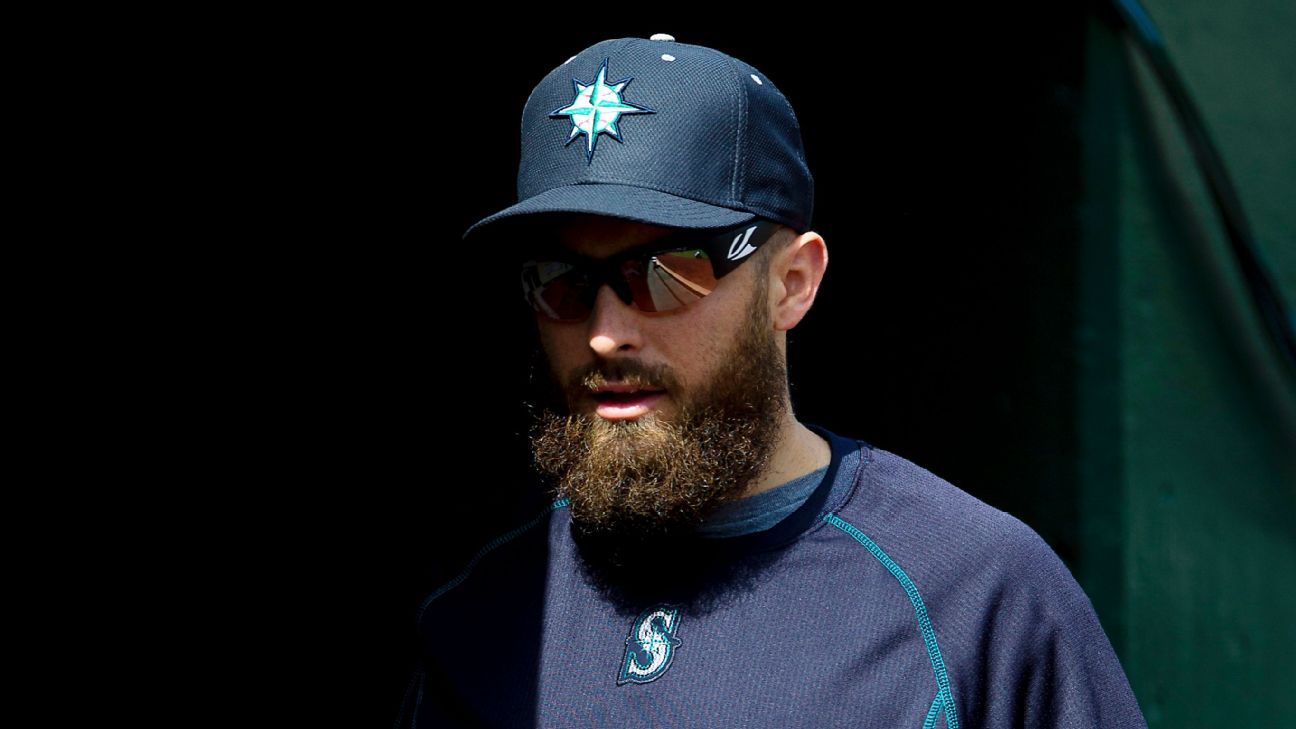 SEATTLE — Former No. 2 overall pick Dustin Ackley is returning to the Seattle Mariners on a minor-league deal after spending the past two seasons in the minors with the Los Angeles Angels, according to a person familiar with the deal.
The person spoke to The Associated Press on Wednesday on the condition of anonymity because the deal had not been announced. It reunites Ackley with the team that took him second in the 2009 draft.
Ackley had a rocky career with the Mariners after being touted as one of the top college hitters. He made a promising debut in 2011, but his production decreased from there. Ackley hit .243 in parts of five seasons with the Mariners, but never came close to matching the .273 average of his first season.
Ackley was traded to the New York Yankees in July 2015 and appeared in 51 games over two seasons with the Yankees. He spent the past two seasons with Triple-A Salt Lake in the Angels organization.
New York Yankees' DJ LeMahieu bringing many gloves to spring training
NEW YORK — DJ LeMahieu is putting away his mittens and packing more mitts.
A star second baseman for Colorado, LeMahieu is set to join a crowded New York Yankees infield.
"I was told to bring a lot of gloves," he said Wednesday on a conference call.
That's fine with LeMahieu, who became a free agent after the season and got a $24 million, two-year contract with the Yankees.
LeMahieu was a three-time Gold Glover at second base for the Rockies and hasn't played anywhere else the last four seasons. He has made 24 starts at third base in past years and also dabbled at first base and shortstop.
LeMahieu said he's "pretty comfortable playing multiple positions."
New York has plenty of infielders — and, the Yankees being the Yankees, no one is willing to completely rule them out of making a late play for All-Star free agent Manny Machado.
Second baseman Gleyber Torres and third baseman Miguel Andujar were among the top rookies in the majors last year. Shortstop Didi Gregorius could return this summer after offseason Tommy John surgery.
Plus, the Yankees recently added longtime star shortstop Troy Tulowitzki. He didn't play last season while recovering from surgery on both heels — LeMahieu recently talked to his former Rockies double-play partner and said "he's ready to roll."
Greg Bird and Luke Voit mostly split first base for the Yankees last season. LeMahieu is aware he could see time there, too.
"Kind of see how it unfolds," he said.
The 30-year-old LeMahieu was a two-time All-Star during seven seasons with Colorado and led the majors with a .348 batting average in 2016. He hit .310 in 2017 and dipped to .276 last season.
LeMahieu had a career-high 15 home runs last year but is considered more of a high-contact, low-strikeout hitter. His move is certain to bring up debate about the Coors Field effect — he is a lifetime .329 hitter at that park and .266 elsewhere.
"It would've been nice" to stay in Colorado, he said. Once the Rockies said they were going in a different direction for the future, LeMahieu said the Yankees were at the top of his list.
LeMahieu recalled, with enthusiasm, the only two games he played in the Bronx, in 2016.
"To play at Yankee Stadium was pretty cool," he said.
LeMahieu hasn't gotten to the playoffs very often. In his postseason debut, the Rockies lost the 2017 NL wild-card game. Last season, they beat the Cubs in the wild-card game, then lost to Milwaukee in the NL Division Series.
LeMahieu joins a Yankees club that won 100 games last season in earning an AL wild-card berth and has won a record 27 World Series championships.
"You look at this team on paper, it's stacked," he said.
LeMahieu's deal raises the Yankees' projected luxury tax payroll to about $213 million. The threshold is $206 million, and the team still could trade pitcher Sonny Gray and his $6.5 million salary.
Notes
The Yankees acquired LHP Ronald Roman and $50,000 from Arizona for OF Tim Locastro. Roman, 17, was signed by the Diamondbacks last July as a nondrafted free agent and will make his pro debut this season. Locastro, 26, went 2-for-12 in 21 games for the Los Angeles Dodgers the last two seasons and was traded to the Yankees in November for a minor leaguer and cash.
Kansas City Royals pitcher Eric Skoglund 80-game drug suspension
NEW YORK — Kansas City Royals pitcher Eric Skoglund was suspended Wednesday for the season's first 80 games after testing positive for two performance-enhancing substances.
The MLB commissioner's office said the positive tests were for selective androgen receptor modulators S-22 (Ostarine) and LGD-4033 (Ligandrol).
Royals general manager Dayton Moore said in a statement Skoglund "unknowingly made a mistake" and "we remain proud of who Eric is as a person and will support him as an organization."
Skoglund was 1-6 with a 5.14 ERA last season. The 26-year-old lefty was in the rotation in April and May, missed the next three months because of an elbow sprain and pitched well in September.
The 6-foot-7 Skoglund made his big league debut in 2017, going 1-2 with a 9.50 ERA in seven games. He was a candidate to begin this season in the rotation, a year after the Royals went 58-104 and finished last in the AL Central.
Skoglund is the first player to be suspended this year under the major league drug program. Ten players were suspended under the program last year, including Robinson Cano, Jorge Polanco and Welington Castillo.
"Unfortunately, when something like this occurs, I immediately think about how much work and dedication our medical staff does communicating to the players about the importance of being careful about what they put in their bodies," Moore said.
"Eric is a tremendous young man, and he unknowingly made a mistake, and he will have to accept his suspension, work hard and be ready to go after the suspension is served," Moore said.
Jed Lowrie of New York Mets ready to play all over the diamond
NEW YORK — Jed Lowrie would rather talk about wine than whine.
The infielder visited Citi Field on Wednesday after finalizing a $20 million, two-year contract with the New York Mets, likely less money and a shorter term than he would have gotten before the free-agent market for solid-but-less-than-stellar veterans buckled a year ago.
"I think that argument could be made," he said. "But you deal in reality, and so I'm excited to be a Met."
A switch-hitter who turns 35 in April, Lowrie and is coming off his first All-Star appearance. In his 11th major league season, Lowrie set career highs last year for Oakland with 23 homers, 99 RBI, 78 walks and 128 strikeouts, hitting .267.
"He's a big wine connoisseur. He gets better with age like many of the wines that he collects," said new Mets general manager Brodie Van Wagenen, Lowrie's former agent.
Lowrie, wife Milessa, daughter Saige and son Miles likely will live in New York City, possibly in Brooklyn. They have homes in Houston and his hometown of Salem, Oregon, where he keeps his wine collection of several hundred bottles.
"Mostly reds. I've got California. I've got a lot of good Oregon pinot noir," he said. "Got some whites for my wife. Not a lot — some French."
Lowrie spent the last three years as a second baseman but played all around the infield before that. Van Wagenen plans for him to back up 36-year-old second baseman Robinson Cano, 23-year-old shortstop Amed Rosario and third baseman Todd Frazier, who turns 33 next month. Rookie Peter Alonso, Frazier, J.D. Davis and Dominic Smith are possibilities at first.
"We have a veteran club and we want to make sure that we're not overtaxing the players that we have," Van Wagenen said. "We don't want to feel like anybody has the need to play 162 games, but if we can manage the workload to get the maximum performance out of each guy, there's more than enough playing to play time to go around."
Lowrie likely will hit second in the order behind right fielder Brandon Nimmo and ahead of Cano.
"He's going to be in our lineup virtually every day," Van Wagenen said. "We've talked a lot about this offseason of making sure that we are covered in the event that the inevitable adversity happens to our club."
Lowrie will wear No. 4 with the Mets — he was No. 8 on the Athletics, but the Mets have not given out that number since 2001 and seem likely to retire it in honor of Gary Carter.
In signing with New York, Lowrie said he is willing to move around the infield.
"If you look at look at a lot of teams that have had recent success, they're very deep, and I think that's what it takes to win at the major league level at this point," he said.
Van Wagenen has been reshaping the Mets roster, acquiring Cano, closer Edwin Diaz and catcher Wilson Ramos and reacquiring reliever Jeurys Familia. Jeff McNeil will see time in the outfield, and Keon Broxton was obtained to back up Juan Lagares in center.
While making these moves, Van Wagenen reads his Twitter feed "every day throughout the day" and is aware Mets fans are clamoring for a big-name acquisition such as Bryce Harper or Manny Machado.
"I'm really happy that this fan base is not apathetic, and some of their ideas make more sense than others," Van Wagenen said. "But they're all interesting content, for sure."
He thinks the Mets are in position to win the NL East and return to the playoffs for the first time since 2016.
"I think that we're a good team. I think that we're a complete team. I think that we're a balanced team," Van Wagenen said. "We've got veterans. We've got youth. We've got a hunger and a desire to win. And I look forward to showing people that that we're a team to be reckoned with."