Doug Baldwin of Seattle Seahawks expects to face San Francisco 49ers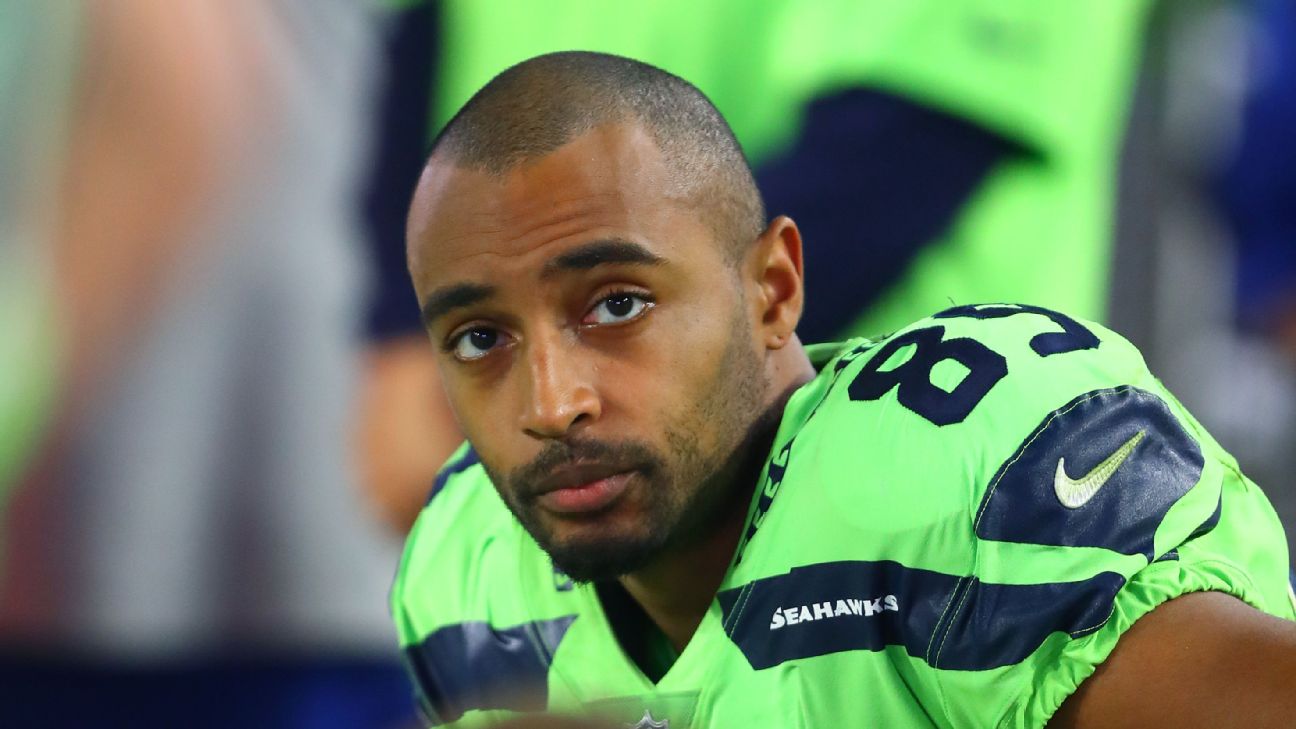 RENTON, Wash. — Seattle Seahawks receiver Doug Baldwin expects to play Sunday against the San Francisco 49ers despite his latest injury in a season that has been filled with them.
While it has been frustrating for Baldwin, he said it hasn't been surprising. Given how healthy he stayed for the previous five years, he said he figured something like this was inevitable.
"Yeah, of course," Baldwin said Friday. "It's 100 percent injury rate in this league, and I was talking to some friends the other day about it in the league. It feels like every player who's fortunate enough to play a long time in the NFL has a year like this where they just, they cannot knock the injury bug. It's just part of the game, part of the lifestyle."
Asked if this season has him feeling as though he's on the downside of his career, Baldwin quickly answered in the affirmative.
"Oh, I am on the downside," he said. "I'm 30 years old. I would not be able to play at the caliber I'm now at 38, so I'm definitely on the downside."
Baldwin didn't play in Seattle's victory over the Minnesota Vikings on Monday night because of what the team calls a hip injury. It limited him the past two days in practice, but coach Pete Carroll said Baldwin progressed well and that "he looks like he's playing."
Baldwin missed a month of training camp because of a patellar injury in one knee, then injured his MCL in the season opener, which sidelined him for the second half of that game and the next two. That snapped his streak of 89 consecutive games played.
Baldwin has been playing through an elbow injury since Week 6 and more recently a groin injury that nearly kept him out in Week 12 against Carolina. The groin injury occurred on the same day that Carroll declared Baldwin to be the healthiest he has been this season. The hip injury, Baldwin said, surfaced two weeks ago, on the Friday before Seattle's first game against San Francisco.
Baldwin said his knees are doing "much better" but that they still need to be managed.
His numbers have predictably dipped. After leading the team in receiving in five of his first seven seasons, Baldwin's 388 yards are third behind Tyler Lockett and David Moore. He has 37 receptions and two touchdowns.
"It's been pretty difficult," he said. "Really difficult."
In addition to Baldwin, the Seahawks (8-5) expect to have strong safety Bradley McDougald and defensive tackle Jarran Reed available for Sunday despite questionable listings for all three. Running back Rashaad Penny has been ruled out with a knee injury along with linebacker K.J. Wright (knee) and backup safety Maurice Alexander (concussion). Right guard D.J. Fluker (hamstring) is doubtful, which means another start for Jordan Simmons.
Penny, who has been playing behind starter Chris Carson, came out of the Vikings game with a sore knee, according to Carroll. He said Penny had an MRI, and that it didn't reveal any damage that needed to be surgically repaired "right now."
"He's just going to have some stuff done," Carroll said of Penny, who was Seattle's first-round pick in April. "He's going to work over the weekend and see if the rehab is effective. He feels pretty good but he just couldn't get going this week. The rest over the weekend and the stuff that they're doing will show us something probably by Tuesday. By the time we get to practice Wednesday, we'll have a better feel."
The Seahawks have won four straight and eight of their past 11 following their 0-2 start. A victory Sunday at Levi's Stadium would secure a wild-card berth and their sixth playoff appearance in seven seasons. While noting that the Seahawks still need to get there first, Baldwin said they'll be a tough out come the postseason.
"With this team, with the young mindset, with the underdog mentality and attitude and with the true ability that we have, I think that we genuinely have a shot," he said. "Once we get in the tournament, it's going to be very hard to beat us. I think that a lot of us are getting healthy at the right time. We're kind of coming into our own at the right time. So I'm really looking forward to obviously securing our playoff berth first but then getting into the tournament and actually being able to show what we're really capable of against playoff-level talent.
"I'm really excited about our chances."
Marcus Peters, Sean Payton talk gumbo before Los Angeles Rams, New Orleans Saints
THOUSAND OAKS, Calif. — Sean McVay couldn't help himself. Marcus Peters was addressing what had become the dominant storyline heading into the NFC Championship Game, and the Los Angeles Rams' young, exuberant head coach tried to play along.
"Let me get some of that soup!" McVay shouted from a hallway that resides roughly 50 feet from the lectern behind which Peters stood Wednesday afternoon, drawing a chuckle from the All-Pro cornerback.
McVay's quip aside, Peters and New Orleans Saints coach Sean Payton both downplayed their rematch and potential "bowl of gumbo" heading into Sunday's highly anticipated contest at the Mercedes-Benz Superdome. Peters chided the media for "trying to make it something that it's not" and praised Payton's competitiveness. Payton noted that the Saints wanted to draft Peters with one of their first-round picks less than four years ago, adding that he has "great respect for him."
That did not appear to be the case in early November. The Saints handed the Rams their first loss in that Week 9 game, and the decisive score occurred when Michael Thomas zipped past Peters for a 72-yard touchdown in the final minutes of the fourth quarter, part of a 211-yard game for the Saints' All-Pro wide receiver. Afterward, Payton said the following: "They were going to travel Marcus to [Thomas], and that was fine by us. We thought we liked that matchup — a lot."
Four days later, Peters shot back.
"Tell Sean Payton to keep talking that s—," he said. "We're going to see him soon, you feel me? Because I like what he was saying on the sidelines, too. So tell him to keep talking that s—, and I hope you see me soon. We're going to have a nice little bowl of gumbo together."
In recognition of this turn of events, Peters tweeted, then deleted, a post proclaiming this "gumbo week."
He then tried to downplay it all.
"I see y'all trying to make it something that it's not, man," Peters said. "Just all respect to Sean Payton and what he does. During the game, things was happening. But I just love the fact that he's a competitor. When I was coming out of the draft, it was the same way — fiery, energy — when I was meeting with him and things like that. It wasn't nothing to be disrespectful. Shoot, I was pissed off. I didn't have the game that I wanted to have."
Despite the loss that afternoon, the Rams went on to win the NFC West with relative ease, then earned a bye and physically dominated the Dallas Cowboys in the divisional round. The Saints finished with the same 13-3 record as the Rams, but earned the No. 1 seed by virtue of that victory and put themselves one win away from the Super Bowl by sneaking past the defending-champion Philadelphia Eagles last weekend.
Now, Peters and Payton will match up once more.
Saints reporters approached Payton about the subject by asking whether he preferred chicken and andouille over seafood gumbo.
"Next question," Payton said, smiling. "I don't like seafood. I know where you're going."
Asked a follow-up on Peters, Payton identified him as "someone that we grew real close to" in the evaluation process heading into the 2015 draft, which saw Peters go to the Kansas City Chiefs with the No. 18 overall pick. Payton used to recruit the Bay Area, where Peters attended high school. And the Saints' plan heading into that year's draft was to select both Peters and offensive lineman Andrus Peat.
"That's the truth," said Payton, who ultimately drafted Peat and missed out on Peters. "I have great respect for him, and it's all good."
Peters can now benefit from the emergence of another All-Pro cornerback in Aqib Talib, who was still recovering from ankle surgery during the Rams' first game against the Saints. Talib's presence means neither he nor Peters will travel and instead stick to one side of the field, allowing them to potentially alternate against Thomas.
"You got two dawgs," Peters said when asked about the significance of Talib joining him in the backfield.
"It gives you some flexibility," McVay added, citing Talib's "command" and "ability to communicate."
Peters experienced what appeared to be a down season in his first year in L.A., coming up with only three interceptions while being graded 100th among 119 qualified corners by Pro Football Focus. His response, when asked about how 2018 played out: "We ain't done yet."
Peters has a chance to ensure that by redeeming himself.
"You look forward to those rematches and stuff like that," Peters said, "but s—, I didn't know it was going to turn out like this. Y'all didn't know it was going to turn out like this. It just happened. Y'all have fun spinning the gumbo thing all week."
Marquise Goodwin, Morgan Goodwin-Snow discuss loss of unborn twin boys
SANTA CLARA, Calif. — Wide receiver Marquise Goodwin hadn't discussed why he stepped away from the San Francisco 49ers for two games during the season to tend to a personal matter. As it turned out, that personal matter was another devastating loss for him and his family.
On Wednesday, Goodwin and his wife, former University of Texas track star Morgan Goodwin-Snow, released a video on their YouTube channel explaining that they again had gone through the anguish of losing unborn children.
This time, Goodwin-Snow explained, more pregnancy complications led to the loss of the twin baby boys they had been expecting.
"November obviously would be tough since we lost our kid last year during the season the week of the Giants," Goodwin said in the video. "So it was tough for us this November just dealing with that but had a lot of strength and we made it through that week and another thing happened. This November, I had to miss two games. We experienced another traumatic event in our life that we had to overcome and it was tough at that point in the season, but I'll let Morgan go into detail on that."
According to Goodwin-Snow, she was about 19 weeks pregnant when she went into pre-term labor in November. She began having contractions, had been in and out of the hospital and was placed on bed rest in the days before the 49ers headed to Tampa Bay for a Nov. 25 game against the Buccaneers. She ended up back in the hospital again after waking up at 3 a.m. with painful contractions.
At the hospital, Goodwin-Snow's water broke and complications led to her losing both of the babies.
"We knew that this was a possibility, obviously, because they're sticking me with stuff in my stomach underneath anesthesia," Goodwin-Snow said in the video. "So that happened in November, which is why [Goodwin] missed two games and we're trying to make it, praying and going through that. But we're just taking it day by day."
Before losing their twins, the Goodwins had just hit the one-year anniversary of the loss of their previous child, whom they planned to name Marquise Jr., on Nov. 12, 2017. Goodwin-Snow was nearly halfway through that pregnancy when the baby was delivered stillborn. At the time, Goodwin-Snow encouraged her husband to play against the New York Giants later that day.
Goodwin not only played but scored an 83-yard touchdown that ended with him blowing a kiss to the sky, dropping to his knees and saying a prayer in the end zone.
After that loss, the Goodwins said they wanted to share their story in hopes it could help someone else going through something similar. They continued to spread their message of hope and faith in public settings and to those who reached out for help. For this year's "My Cause, My Cleats" initiative, which allows players to show support for the cause of their choice, Goodwin chose the March of Dimes, a nonprofit that works to improve the health of mothers and babies to prevent birth defects, premature birth and infant mortality.
The outpouring of support the Goodwins received last time as well as the stories they heard from others going through their own struggles spurred the release of Wednesday's video and another heart-wrenching story of loss.
"It helped last time just move past it and kind of finding our way," Goodwin said. "A lot of people reached out, and that was cool. A lot of people sent us things last time, and it just helped to know how much we were loved by the people we've come in contact with and even the people that we haven't physically met. Just to see how much you guys love and support us, we definitely appreciate that."
After explaining their family trauma, the Goodwins added video of the private gender reveal video they had shot in which they found out both babies were boys. Because of their previous experience, the Goodwins intended to keep the pregnancy a secret until they felt comfortable with the health of all involved.
"I was afraid of another loss, so I was gonna hold out until I reached a certain point to where I really couldn't hide it anymore," Goodwin-Snow said.
At the end of the nearly 14-minute video, the Goodwins teased another forthcoming video documenting the travels they have planned this offseason. Last year, they ventured to the Maldives and Thailand, using travel as an escape. They did not reveal where they plan to head next but made it clear that, with all they have been through in the past couple of years, they can still lean on each other to get through some of life's most crushing blows.
"[We're] taking it day to day and just comforting each other and doing different things to keep our minds busy and each other busy," Goodwin said. "The dogs definitely keep our hands full. Traveling, we've got a lot of news to tell you all about that and just showing each other love any time that we can. We appreciate y'all for supporting us so much through this time."
New England Patriots embracing rare role as underdog heading into AFC Championship game
FOXBOROUGH, Mass. — Bet Against Us. Most weeks, that slogan would be appropriate for the New England Patriots' opponents. This week, however, it's what wide receiver Julian Edelman is rolling with as the Patriots enter the AFC Championship Game as underdogs against the Kansas City Chiefs.
Edelman and the Patriots are consensus 3-point underdogs against the top-seeded Chiefs — the first time that New England, with quarterback Tom Brady, has been an underdog since Week 2 of the 2015 season against the Buffalo Bills.
The last time the Patriots were underdogs entering a playoff game was January 2014, when they went to Denver and lost to Peyton Manning and the Broncos.
The Patriots have apparently noticed the anomaly. And they're jumping on the opportunity to use it to their advantage.
Edelman posted a hype video Wednesday on his Twitter account with the accompanying hashtag #BETAGAINSTUS. He followed with a link selling T-shirts that say "Bet Against Us" in a silhouette of the Patriots logo.
Edelman was unavailable for comment Wednesday during an open locker room.
Calling the Patriots underdogs almost seems like an oxymoron considering the team's overwhelming success in recent years. This is their eighth straight AFC Championship Game appearance, and they are looking to reach their third straight Super Bowl and fourth in five years.
Brady was asked Wednesday about what it feels like to be underdogs several days after saying "everybody thinks we suck and can't win any games" following a 41-28 divisional-round demolition of the Los Angeles Chargers.
He began with a shoulder shrug and a smile.
"Doesn't change much for us," Brady said. "It shows you, kind of, what people would think of what our chances are. That is about it.
"No more added comments," he added with a big smile.
Does it at least provide added motivation for a team so used to being the hunted?
"If you're not motivated this week, you've got major problems," Brady said. "This is the week where you shouldn't have to put everything extra in. This is what it's all about. You sign up any chance you get to play in an AFC Championship Game. I don't care where, when, time, cold, weather, rain, blood. Don't matter."
The latter part of the response mirrored the message of coach Bill Belichick earlier in the day.
Chiefs edge rusher Justin Houston laughed at the notion of the Patriots sucking or being looked at as underdogs.
"Yes, I think [Brady's] just trying to get himself and everybody else over there fired up," Houston told reporters Wednesday. "Everybody knows it's the Patriots. It's their eighth year of winning, making it to the AFC Championship. I think it's for himself and the Patriots."
Regardless, it's not going to earn them any extra points Sunday or special treatment this week. It's business as usual in Foxborough.
"Bill doesn't treat us any different if we're underdogs or favorites or any of that," Patriots safety Devin McCourty said. "It's all about just being ready to go out there and win a football game."
Only this time if they win it can be viewed as an upset. But as Edelman's T-shirts note, doubt them at your own peril.