Chicago White Sox, free-agent catcher James McCann reach deal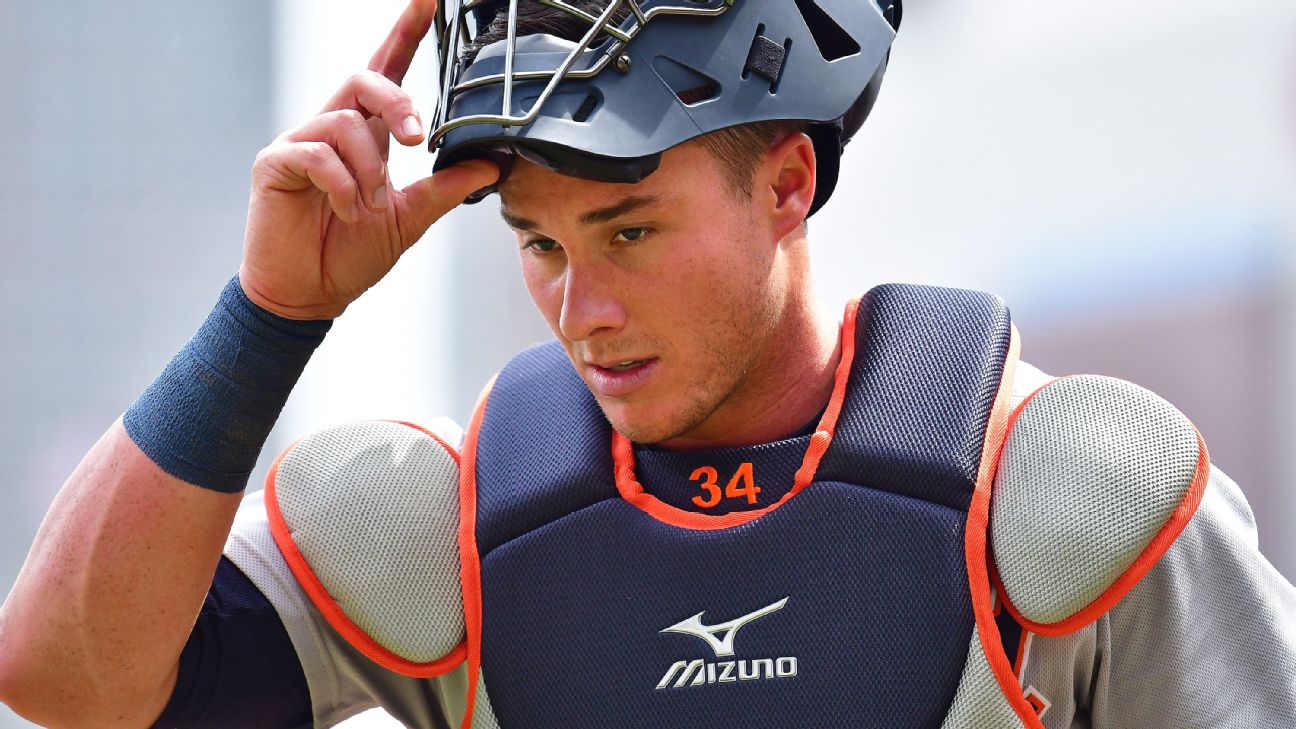 The White Sox answered one of their offseason questions Friday, agreeing to a $2.5 million, one-year contract with catcher James McCann, according to multiple reports.
Yahoo Sports first reported the agreement.
The White Sox had an opening at the position after trading Omar Narvaez to Seattle on Nov. 30 for reliever Alex Colome. They also lost Kevan Smith when he was claimed off waivers by the Los Angeles Angels in October.
Zack Collins and Seby Zavala are coming up through the minors, but the addition of McCann allows the White Sox to move slowly with the catching prospects. They also have Welington Castillo on their major league roster.
The 28-year-old McCann hit .220 with eight homers and 39 RBIs in 118 games last season with Detroit. The rebuilding Tigers didn't offer him a contract for the 2019 season, making him a free agent.
McCann was selected by the White Sox in the 31st round of the 2008 draft, but he decided to go to the University of Arkansas instead. He then was drafted by the Tigers in the second round in 2011.
McCann made his major league debut in September 2014 and spent his first five seasons with Detroit, batting .240 with 40 homers and 177 RBIs in 452 games. He set career highs with 13 homers and 49 RBIs in 2017.
The Associated Press contributed to this report.
Arbitrator rules for Atlanta Braves in Carter Stewart grievance
NEW YORK — An arbitrator has denied a grievance filed by the Major League Baseball Players Association on behalf of Carter Stewart, who failed to sign with the Atlanta Braves last summer and will be eligible for this year's amateur draft.
Stewart, a right-handed pitcher from Eau Gallie High School in Florida, was selected by the Braves with the eighth overall pick in last year's draft, and negotiations were complicated by a wrist injury. Because he didn't sign, the Braves get an extra selection in the first round this June, the ninth pick overall.
The eighth pick had a slot value of $4,980,700 for its signing bonus, and the union claimed the Braves failed to make Stewart an offer of at least 40 percent of the slot value. Major league rules specify that if a club fails to make such an offer to a drafted player who is not part of Major League Baseball's pre-draft MRI program and who later fails a club-administered physical, the player would become a free agent and the team would not get the extra draft pick.
Arbitrator Mark Irvings held the Braves made a 40 percent offer to Stewart, which meant he did not have to rule on any of the other issues presented by the case. The union declined to comment.
Stewart is enrolled at Eastern Florida State College.
MLB — Milwaukee Brewers Yasmani Grandal at their price
Agents have nice things to say about working with David Stearns, the Milwaukee Brewers' general manager, with many mentioning his affability. "Good guy," one agent said recently, relating some of the pleasant conversations he's shared with Stearns.
"He's never been condescending to me," reported another. "I like talking with him. I look forward to that phone call."
But as some agents do their lobbying — making the case for their clients — they believe there's little to no chance that they will dent Stearns' imagination. Some agents think he cements a price in his mind about what he's willing to pay for any player, either in a contract or in trade, and Stearns won't deviate from his own mental math.
MLB — 2019's most interesting player already hit home run of the year
Check out the home run above. Courtesy of the amazing Willians Astudillo, we already have the best home run highlight of 2019. It came in Venezuela, and it defies description. I think the only way it could be topped is if Yasiel Puig hits a walk-off home run in Game 7 of the World Series, but that would mean the Reds getting to the World Series, which seems unlikely.
Astudillo made his big league debut last season with the Minnesota Twins and in 29 games hit .355 with two home runs. But if you remember anything about Astudillo, it's probably this highlight of him running the bases:
Size doesn't measure speed. pic.twitter.com/r13jphlD9j

— MLB (@MLB) September 13, 2018
With his nontraditional physique and hair flying behind him like he's poking his head out of a 747, Astudillo became an immediate cult hero. There's even a five-minute highlight video of his 2018 exploits on YouTube. For example:
Here he is picking Shane Robinson off first base in a spring training game with a no-look throw:
Here he is pulling off the hidden ball trick while playing for Rochester:
Here he's petting a fake horse. Yes, a fake horse. Just watch the video and pay close attention:
There was also this face-plant that led to teammate Jose Berrios throwing sunflower seeds at him:
As mentioned, however, he's not just a freak-show novelty. Here he is belting a walk-off home run to beat the Royals in September:
As you can see from the videos, Astudillo isn't without some athleticism despite his girth, and he can play multiple positions. With the Twins, he started 14 games at catcher, five at third base, one at second and even played a few innings in the outfield — including an inning in center field, making him, according to Ben Lindbergh, the first player in major league history listed at 5-foot-9 or shorter and 215 pounds or heavier to play center field. In winter ball, he has spent most of his time in left field. At 27, he's too old to rank high on prospect lists, but he can play and has a chance to stick with the Twins as a utility player.
All of this has helped make Astudillo one of the most fascinating players to watch in 2019. Here's the thing, though: I haven't mentioned the most interesting thing about him. The dude never strikes out. Like … almost never. With the Twins, he struck out just three times in 97 plate appearances, a strikeout rate of 3.1 percent. The second-lowest rate belonged to Mets infielder Luis Guillorme, who fanned just three times in 74 PAs, a 4.1 percent rate (although Guillorme was above 10 percent in Triple-A). That's an outlier total as well: The third-lowest rate was Andrelton Simmons at 7.3 percent, and only six other players were below 10 percent.
Not striking out is Astudillo's game. At Triple-A Rochester, he fanned just 14 times in 307 PAs. In winter ball, he has four strikeouts in 236 PAs. In his minor league career, he has just 81 strikeouts in 638 games. Joey Gallo struck out 80 times in May and June. Yes, the minor leagues aren't the majors, and we have to note that Astudillo also never walks — he walked just twice with the Twins and just 84 times in his minor league career. He had those 14 K's with Rochester, but just 10 walks, giving him a triple-slash line of .276/.314/.469. Basically, when he swings, he puts the ball in play.
He's an iconoclast in the era of swing and miss.
The greatest contact hitter in the sport's history is arguably Hall of Famer Joe Sewell. In 1925, he played 155 games, batted 699 times — and struck out four times. In his 14-year career, he batted 8,333 times and fanned just 114 times. Yoan Moncada calls that the All-Star break. Sewell's career strikeout rate was a minuscule 1.4 percent. Baseball-Reference has game data for Sewell from 1925 to 1933. He had one two-strikeout game, on May 26, 1930, when a pitcher named Pat Carraway of the White Sox got him in the first and third innings. Sewell, who choked up on a 40-ounce bat, didn't strike out again the rest of the season.
Of course, that was a different era. In 1925, the overall major league strikeout rate was a lowly 6.9 percent. In 2018, it was 22.3 percent. Astudillo rarely whiffs in an era of 100 mph fastballs, nasty cutters and sliders diving off cliffs. Sewell faced Lefty Grove … and a whole bunch of guys throwing 85 mph. (By the way, Sewell faced Grove — the preeminent strikeout pitcher in the American League in his time — 129 times and fanned just one time.)
Let's compare Astudillo to other low-strikeout hitters by looking at the qualified batters who had the lowest strikeout rate each decade:
There are a couple of ways you can examine this. Astudillo, in his short time with the Twins, fanned 19.2 percent less often than the average hitter. Sewell, in 1925, fanned just 6.3 percent less often, although obviously had less room to "improve." If we compare the player's rate to the league rate, Sewell's 1932 season stands as the best, while Astudillo's rate compares to Boudreau, Fox and Dave Cash's 1976 season with the Phillies. (I wonder if Cash made a concerted effort not to strike out that season. He had 47 extra-base hits in 1975 and 49 in 1977, but just 27 in 1976, batting more than 700 times each season.)
What kind of role will Astudillo have with the Twins in 2019? His Baseball-Reference projection has him at .279/.335/.438 (with 42 strikeouts in 249 PAs, which seems like way too many). He's third on the catching depth chart behind Jason Castro and Mitch Garver, although Baseball Prospectus' minor league framing metrics rated him as a solid pitch framer. The third baseman is Ehire Adrianza — or Miguel Sano, if the Twins try to put him back there — so maybe there's an opportunity there. The outfield appears pretty set with Eddie Rosario, Byron Buxton and Max Kepler, and Jake Cave as the backup. Nelson Cruz will soak up all the DH at-bats. Still, there's playing time to be had, and I think Astudillo hits his way into 300 or so plate appearances.
Which means plenty of highlight videos to keep everyone happy all summer.