Brandon Hyde hired Baltimore Orioles new manager from Chicago Cubs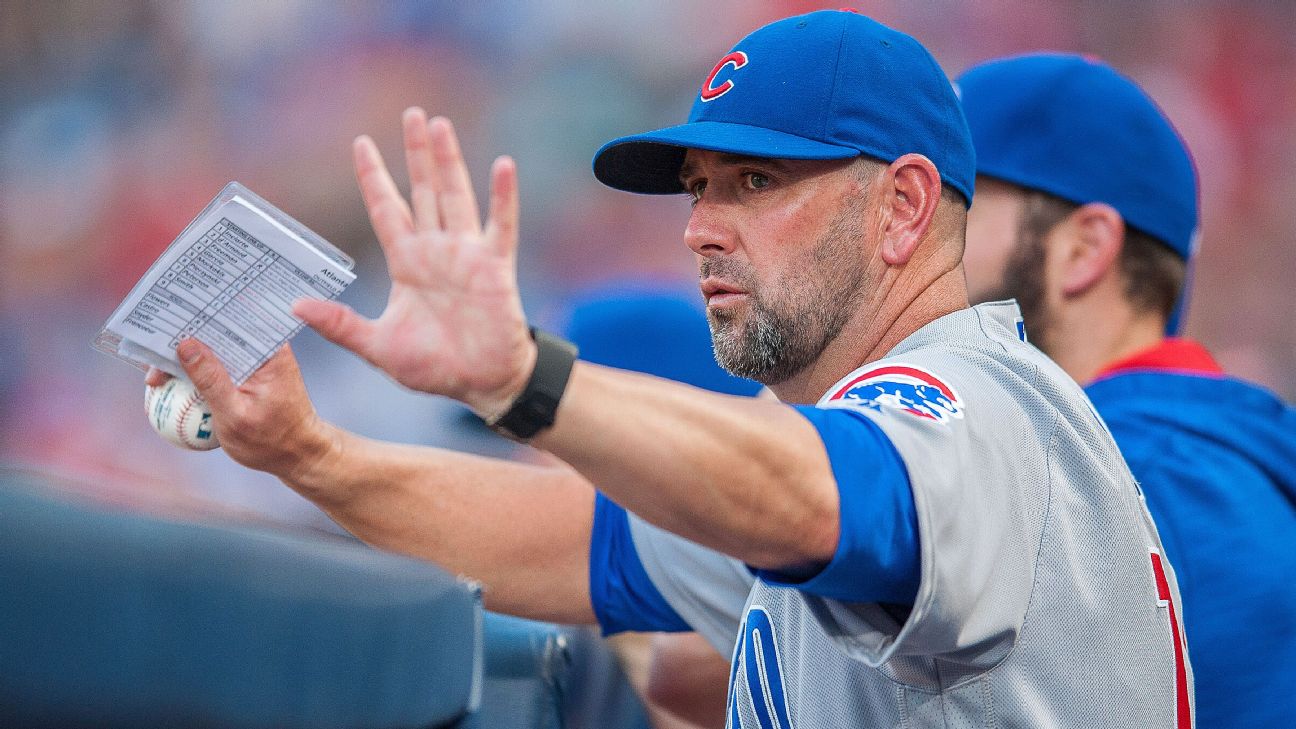 BALTIMORE — The Baltimore Orioles hired Brandon Hyde to be their new manager Friday, hoping his experience as Cubs bench coach will help the team move forward while in rebuilding mode.
Hyde takes over for Buck Showalter, who was fired after Baltimore finished 47-115 — the worst record in the majors. This will be Hyde's first stint as a major league manager.
Hyde, 45, was selected by general manager Mike Elias, who began an extensive search for Showalter's replacement after being hired last month to replace Dan Duquette.
"I believe that we have found the ideal leader for the next era of Orioles baseball," Elias said of Hyde.
Hyde worked as Chicago's bench coach this year under manager Joe Maddon. He was in the second of three seasons as Cubs first-base coach when the team won the World Series in 2016.
Before that, Hyde served as Rick Renteria's bench coach in Chicago in 2014. He previously served as Chicago's director of player development from August 2012 through 2013 after joining the Cubs in December 2011 as their minor league field coordinator.
Prior to joining the Cubs, Hyde spent nine seasons in the Miami Marlins organization. He was Miami's bench coach from June 2010 through the end of the 2011 season.
"Brandon's deep background in player development and major league coaching — most recently helping to shape the Cubs into a world champion — has thoroughly prepared him for this job and distinguished him throughout our interview process," Elias said.
Elias and Hyde will seek to develop a team that shifted into rebuild mode last July under Duquette, who traded away many of the team's stars — most notably Manny Machado, Zach Britton, Jonathan Schoop and Kevin Gausman — for 15 prospects and international bonus pool money in moves that cut payroll from $151 million to $136 million.
On the day he was introduced by Baltimore, Elias spoke about the significance of landing the right manager to shape the Orioles into a team that can be competitive in the AL East.
"This is an important hire," Elias said on Nov. 19. "… It's not something you rush. We want to get the right person for this time."
Hyde will be formally introduced as the 20th manager in Orioles history on Monday.
Philadelphia Phillies reach agreements with five players, not Aaron Nola
PHILADELPHIA — The Philadelphia Phillies have avoided arbitration with five players, including second baseman Cesar Hernandez and third baseman Maikel Franco.
All-Star right-hander Aaron Nola didn't reach an agreement with the team. The Phillies offered $4.5 million, and Nola is seeking $6.75 million. He finished third in National League Cy Young Award voting last year after going 17-6 with a 2.37 ERA. The 25-year-old earned $573,000 in 2018.
Hernandez gets $7.75 million under Friday's deal, up from $5.1 million. Franco gets $5.2 million, an increase from $2.95 million.
Hernandez had career highs in homers (15) and RBIs (60) last year but his average dropped from .294 in 2016 and 2017 to a career-low .253.
Franco had a team-high .270 average with 22 homers and 68 RBIs last year.
Right-hander Vince Velasquez, outfielder Aaron Altherr, and left-handers Adam Morgan and Jose Alvarez also agreed to deals on Friday. Former closer Hector Neris and righty Jerad Eickhoff agreed to deals Thursday.
Velasquez gets $2,249,000. He was 9-12 with a 4.85 ERA in 30 starts last year. He had 161 strikeouts in 146 2/3 innings. The 26-year-old earned $559,000 in 2018.
Altherr gets $1.35 million. He batted .181 with eight homers and 38 RBIs last year after hitting 272 with 19 homers and 65 RBIs in 2017. Altherr, who turns 28 Monday, made $565,000 in 2018.
Morgan gets $1.1 million. He led the team with 67 appearances, going 0-2 with a 3.83 ERA and one save. The 28-year-old made $559,000 in 2018.
Alvarez gets $1.925 million. He was 6-4 with a 2.71 ERA in 76 relief appearances for the Angels last year. The 29-year-old made $1.05 million in 2018 and was acquired in a trade last month.
Colorado Rockies, Nolan Arenado likely to reach post-deadline settlement
The Colorado Rockies and third baseman Nolan Arenado did not reach a settlement on a one-year deal for the 2019 season on Friday, but league sources told ESPN there is a strong sense that the two sides will reach an agreement before an arbitration hearing.
Arenado, a four-time All-Star selection who is seen as the gem of the 2019-20 free-agent class, requested $30 million. The Rockies, meanwhile, offered $24 million. Sources told ESPN that it's likely that they will settle in the $27 million range.
Wherever he does settle, it'll be a single-season arbitration record, breaking the mark of $23 million set by Josh Donaldson with the Toronto Blue Jays last year.
Arenado, a slick-fielding, slugging 27-year-old, is coming off a season in which he hit .297 an led the National League with 38 home runs and was second with 110 RBIs and a .935 OPS.
Meanwhile, his teammate with the Rockies, shortstop Trevor Story, was one of the many players to reach a post-deadline settlement. After originally appearing like he was headed to an arbitration hearing, Story, who made $555,000 last season, settled on a $5 million salary for 2019.
The 26-year-old Story hit .291 with 37 home runs, 108 RBIs and 27 stolen bases for the Rockies last season.
Philadelphia Phillies ace Aaron Nola, New York Yankees pitcher Luis Severino and Houston Astros teammates Gerrit Cole and Carlos Correa were among those who did not reach settlements on one-year deals for the 2019 season and are expected to head to arbitration hearings to determine their salaries, league sources told ESPN on Friday.
Nola (17-6, 2.37 ERA, 224 strikeouts) and Severino (19-8, 3.39 ERA, 220 strikeouts) are both first-time-eligible starting pitchers, a market that has been notoriously difficult for players.
While first-time-eligible closers regularly exceed $6 million salaries, the only starting pitcher to do so was Dallas Keuchel coming off his Cy Young season with the Houston Astros in 2015.
Also not reaching deals Friday are Trevor Bauer, T.J. McFarland, Kyle Barraclough, Ryan Tepera, Tommy Pham, Alex Wood, Michael Fulmer, Chris Devenski and Michael Taylor.
The non-settlements capped a wild morning in which more than 100 eligible players negotiated their contracts.
There were, however, some record settlements reached Friday.
• American League MVP Mookie Betts set a new standard for players with four or more years of service by settling with the Boston Red Sox for $20 million — a raise of $9.5 million over 2017, when he beat the Red Sox in an arbitration hearing.
• National League Cy Young Award winner Jacob deGrom more than doubled his salary with the New York Mets, jumping from $7.4 million to $17 million to set a record for the highest raise in arbitration, which had been set just hours earlier by Betts.
• Khris Davis, who led the majors with 48 home runs and was second with 123 RBIs last season, settled with the Oakland Athletics for $16.5 million — a raise of $6 million.
Nearly 200 players are in the arbitration system, which covers every player who has spent three, four or five full seasons in the major leagues and a small percentage of those with the most service days in the class of two-year players. Once a player reaches six full seasons of service time, he can become a free agent the following winter.
Leonys Martin of Cleveland Indians feels blessed to be alive after health scare
CLEVELAND — Leonys Martin feels blessed to be alive after recovering from a life-threatening bacterial infection last summer.
The Cleveland Indians outfielder spoke to the media Friday for the first time since the health scare. He thanked the doctors and staff at Cleveland Clinic, where he spent nearly two weeks after being rushed to the hospital following an Aug. 7 game.
"They saved my life," he said.
The 30-year-old Martin said various thoughts have passed through his mind over the past several months.
"The most important thing is I'm able to see my family, my kids and play baseball again," he said.
Martin said he might have blacked out and can't recall details of what happened the night he became ill after returning home from a game at Progressive Field.
"I still have no idea," he said. "The only thing I remember is feeling pain. I don't know where. I don't remember anything else."
Martin isn't sure how got to the hospital and said he didn't fully understand what happened until he talked to the doctors after he got out of intensive care a couple of days later.
Doctors determined that a bacterial infection had entered his bloodstream and released toxins that damaged his internal organs and compromised their functions. Martin said doctors have been unable to pinpoint what caused the infection.
Martin's family came to Cleveland and spent time with him. His teammates printed the Cuban-born player's initials and number ("LM13") on their hats the rest of the season.
"That was really emotional for me to watch the game and see the support from my teammates and the fans," he said. "I'll never forget that."
Martin was given clearance to resume baseball activities in November. He has no restrictions on strength and conditioning as spring training begins next month.
"It's been a long recovery," he said. "The doctors, we've been through everything like baby steps, taking it slow. I'm in good shape right now. I feel 100 percent."
Martin was acquired from Detroit for minor league infielder Willi Castro on July 31 to give the Indians help in their outfield, but he appeared in only six games, going 5 for 15.
Martin is the Indians' most experienced outfielder with camp about to begin. All-Star Michael Brantley signed with Houston and it's unclear what the opening day outfield will look like in Minnesota on March 28.
Martin realizes it will be an emotional experience when he gets back on the field and isn't sure how he'll react.
"I don't know," he said. "I will do my best to be under control. I'm going to enjoy every time I'm in a Cleveland Indians uniform."
Game notes
The Indians claimed RHP A.J. Cole from the New York Yankees. The 27-year-old Cole began last season in the Washington rotation, was hit hard in his first start and sent to the Yankees in late April for cash. He finished 4-2 with a 6.14 ERA last year, including 3-1 with a 4.26 ERA in 28 relief appearances for New York.