Will Kyler Murray still give up football for the Oakland A's?
The plan seemed so clear in June, when Kyler Murray, his family and his agent arrived in Oakland, California, to celebrate the signing of an unprecedented contract with the Athletics.
As part of the agreement, Murray would play football for only one more season at Oklahoma, if only to exhaust his desire for the game and clear his mind in order to embark on a promising baseball career. After languishing at Texas A&M, then sitting behind Heisman Trophy winner Baker Mayfield at Oklahoma, Murray also wanted to prove he was still a big-time football player, capable of fulfilling the vast potential on display during a spectacular high school career in Allen, Texas.
Still, baseball would be Murray's future.
"In January," A's executive vice president Billy Beane said then of his surprise ninth overall draft pick, before handing him a $4.66 million signing bonus, "we're going to be so excited this kid is playing for the Oakland A's."
Six months later, after a historic season that has put him on the brink of becoming Oklahoma's seventh Heisman Trophy winner, Murray's plan doesn't seem so clear.
Murray staged a season for the ages, and he is on the cusp of shattering Mayfield's FBS passing efficiency rating. He also is the first player in FBS history to average both 300 yards passing and 60 yards rushing. He also quarterbacked Oklahoma to a fourth consecutive Big 12 championship and a spot in the College Football Playoff against No. 1 Alabama in the semifinal at the Capital One Orange Bowl on Dec. 29.
That has some NFL scouts salivating over Murray's pro football potential. This week, ESPN draft gurus Mel Kiper Jr. and Todd McShay both suggested Murray would be a first-round pick in the NFL draft, if he pursued football.
Murray has said that, "as of now," the plan is still to move on with baseball next month. But he has hinted recently that he'll consider NFL overtures, as well.
Below, we explore the factors Murray will have to weigh. And the questions he'll have to answer.
What is Murray's agent saying about his future?
Even broaching this question to Murray's agent, Scott Boras, is rather futile. In an interview with ESPN, Boras was steadfast that Murray will be playing baseball once Oklahoma's football season ends.
"In good faith that organization did something very unique. Never done before," Boras said of the A's. "So, [Murray] is going to reward the Oakland A's and their owners, fans, by executing the agreement to its truest intent and now continue his baseball career."
That Boras, once named the "Most Powerful Sports Agent in the World" by Fortune, has been so adamant about Murray playing baseball isn't insignificant, according to one top executive with a MLB franchise.
"I will say this about Scott: Once a contract is signed, he's an extreme believer that you signed the contract and you should honor it," the executive said. "But he believes [that Murray will report to the A's] and at the time Kyler probably believed it."
What is Murray saying about his own future?
Murray has been interestingly coy, sure to mention his obligation to the A's, while also indicating his intrigue in the NFL's interest in him.
"I feel like I could play in the NFL, but as far as giving it up, as of now, yeah, that's the plan," Murray said Monday, when asked about his future. Pressed if anything could change his mind, he wavered. "I can't … I don't have any words for you," he said.
Yet later that day, in an interview ESPN's Tim Tebow for a feature on "College GameDay," Murray had a slightly different answer.
"I think that's something me and my family will talk about at the end of the season and weigh out the options of what the NFL thinks of me," Murray told Tebow, himself a Heisman winner and a former first-round NFL pick now in the New York Mets' minor league system. "Right now, my future is already kind of planned out."
That sort of on-the-record ambiguity is why his uncle, Calvin Murray, a former major leaguer and player representative for Boras' agency, has been displeased with all of the focus on Murray's future.
"It's the elephant in the room," he said. "But what do we gain out of talking about that? That's the question that I avoid, and we don't even talk about that. Let's not cheat what the kid has done and played his whole life to accomplish."
What is the NFL saying about his future?
If Murray were willing to snub baseball and enter the NFL draft exclusively as a football player, he probably would find a team ready to roll the dice on him with a first-round pick, despite his 5-foot-10, 190-pound frame, which would be an unprecedented stature for a starting NFL quarterback.
"We've never had that type of quarterback go in the first round before," Kiper said. "If he was three inches taller, he'd be the No. 1 pick in the draft. It wouldn't even be a debate."
Kiper, however, still thinks Murray, with only 16 career starts, could crack the first round.
"He is a unique, spectacular talent," Kiper said. "You can't find quarterbacks who can throw and run like he can."
That's why Murray could still get drafted, even if he reports to the A's in January, and skips the NFL scouting combine, at least according to one NFL scout.
"They're going to do their due diligence, but would someone take a pick or a flier on him late? That's really tough, but I would say someone would just do it just in case.
"If a team didn't really think the kid was going to show up, you're kind of wasting a draft pick," the scout said, noting that if Murray didn't report, he would be eligible again for the following NFL draft, unlike in the NBA or MLB where teams can hold your rights for multiple years. "If you're a team that is confident and maybe thinks the kid will show up, yeah, you could. But you would have to be in a very rare situation to pull off something like that."
Is it possible Murray could play both sports?
Bo Jackson and Deion Sanders both did. But that was a different time. In an interview with MLB Network during the baseball draft, Jackson suggested that Murray would be better off focusing on one sport.
"The sporting world's a little different now than it was when I played," Jackson said. "They have more talent, way more talent. The talent pool is deep. I can't tell the young man what to do, but whatever sport he chooses, concentrate on it."
To this point, though, Murray has found a way to balance both.
He hit cleanup and played center field for the Sooners in the spring while practicing with the football team. On one long day, Murray actually played in Oklahoma's spring game, then drove over to the baseball field and started the Sooners' game against Texas.
"The biggest thing is there was a plan in the beginning, and it started, honestly, when we brought him here," said Oklahoma football coach Lincoln Riley. "It was tough on him. But we got together a good schedule for him and worked together with our baseball crew to get him to where he could do both, but also try not to wear him down and give him rest where we could. And then he did a good job just handling it all."
Of course, handling both sports as a pro would be far more challenging than it was in college. Still, Riley doesn't rule out Murray being able to make it work.
"It'll be an interesting question. … I don't want to put it past him," Riley said. "A lot of people would say he can't do what he's done right now. How well he performed for our baseball group here this spring and how well he's played here for us. He athletically is so gifted and can transition between the two. Conventional wisdom would think, like in the spring, that he would have a hard time going from throwing a baseball to throwing a football. And he's not throwing it any better now than he did in the spring during the middle of baseball. He can athletically transition between the two.
"So then it comes down to physically holding up, and then the mental side of it."
What happens with Murray's baseball contract if he plays football?
Neither Boras nor the A's have commented specifically on the details of Murray's contract with the club. But if here were to choose football, an MLB executive said the A's have almost certainly protected themselves from having to pay out the full amount of Murray's signing bonus.
"My understanding is he's not guaranteed his whole $4.6 million — it wasn't like a lump sum," the executive said. "It's completely normal, just some contract language to protect you. And even if after two years he walks away and wants to go play football, you're responsible for only the prorated signing bonus."
In effect, this is business as usual for baseball teams. A number of former MLB draft picks ultimately chose to pursue football full time, including Russell Wilson, Jameis Winston and Ricky Williams.
Baseball teams, however, know the guaranteed money and potential for higher earning power in their sport can ultimately prove irresistible.
"I would probably just try to educate him on the amount of money you can make being in baseball," the executive said.
What level of baseball player is he projected to be?
During that introductory press conference in Oakland, neither Murray nor the A's shied away from comparisons to Baseball Hall of Famer Rickey Henderson.
"I think that what they're talking about is the power and certainly the speed," A's manager Bob Melvin said then. "If that's the comp people are putting on him, we're OK with that."
Murray has in talent and potential what he lacks in experience on the diamond. His speed and athleticism are uncommon even for college football, which would place him in elite company in baseball.
"He's that type of freak athlete, where the fact that he had a stunted development and didn't play for a couple of years might not matter," the MLB executive said, invoking the name of a two-time American League MVP: "That's like Mike Trout-type athletic."
That said, there are still questions about how easily Murray can make the transition to baseball after splitting time between both sports for most of his life. Murray also is still learning a new position. After Murray played infield throughout high school, Oklahoma switched him to center field, where he is projected to remain with the A's.
"I do think it is challenging for guys when they don't have enough of the reps of doing it," said Chad Hutchinson, who was a pitcher in the St. Louis Cardinals' organization before leaving baseball to play quarterback for the Dallas Cowboys and Chicago Bears from 2002 to 2004. "For anyone who tries to do baseball on a full-time level, you can't waver on that. It takes so much time and dedication and perseverance."
There's also a matter of the difficulty in advancing through a baseball organization's minor league system, starting with a path that includes stops in the rookie league in Phoenix, Class A ball in Beloit, Wisconsin, Class AA in Midland, Texas, and then Class AAA in Las Vegas. This is a grueling process of small-town bus rides, cheap motels and modest per diems that weeds out most players, including those who were once top draft picks.
Compare that to the NFL, where early-round draft picks are given warm welcomes to their new cities, start making hundreds of thousands of dollars and immediately have a chance to play in the league.
"For a quarterback, it's not as obvious a choice as it would be for a wide receiver or a cornerback," said the MLB club executive. "For someone who's going to win a Heisman and be a first- or second-round draft pick, that's a different calculation. The rules have changed and you can't even really beat up a quarterback like you could 20 years ago."
But Boras, who was the first baseball agent to negotiate contracts of more than $50 million (Greg Maddux), $100 million (Kevin Brown) and $200 million (Alex Rodriguez), said a player with Murray's skill set has the potential to join his collection of multimillionaire clients.
"How many quarterbacks in the NFL make $100 million? If a center fielder can steal 60 bases and hit 20 home runs consistently, his earning potential will exceed what most quarterbacks make," Boras said. "You can't find athletes that can do that. His star — as great as he is in football — is brighter in baseball."
So if baseball doesn't work out, can Murray return to football?
In late 2001, and down in the minor leagues again, Hutchinson — a former star quarterback at Stanford — called and told his agent that he wanted to give football another try.
Boras was firmly against it.
"Scott said, 'You're crazy if you want to go back and play football,'" Hutchinson said. "He's like, 'It's guaranteed money. You don't have the injury factor.' And, hey, it's a valid argument.
"He didn't believe me until I organized a [football] workout and he saw it on the ESPN ticker."
Indeed, once Hutchinson made it clear he was serious about playing in the NFL, Boras changed his tune and agreed to represent him in football. They ultimately negotiated a $5 million contract with the Cowboys, including a $3.1 million signing bonus. The contract included a no-baseball clause.
"At the end of the day, Scott was there for me," Hutchinson said. "He was an advocate."
Will Murray have a similar desire and resolve?
His own father, Kevin Murray, has shown previously that a baseball contract doesn't have to be an obstacle to football. He was drafted in the 11th round by the Milwaukee Brewers in 1982, agreeing to a $35,000 signing bonus. But after early struggles in rookie ball, he left the organization and signed with Texas A&M to play football. He and the Brewers actually ended up in federal court, with a judge ultimately ruling that he could break his contract and play for the Aggies.
Kevin Murray, however, later suffered an ankle injury at Texas A&M that damaged his NFL prospects. That disappointment has lingered over the family since, a reminder that nothing is guaranteed in a contact sport like football.
"You look at the finances of the issue — the baseball money is guaranteed," said Calvin Murray, who also alluded to the evidence of head trauma that is overwhelmingly more common in football. "Baseball guys don't deal with CTE."
For those reasons — including the money, the A's contract and the influence of Boras — the odds favor Kyler Murray's baseball future with the A's, beginning whenever his football season with the Sooners ends. No matter how tantalizing of a football player he has proved to be.
Ultimately, Murray and his family will decide, as he told Tebow. But then again, at the end of that same interview, Murray was vague when discussing the NFL and whether his future is locked in.
"We'll see what happens," he said.
Yonder Alonso of Cleveland Indians traded to Chicago White Sox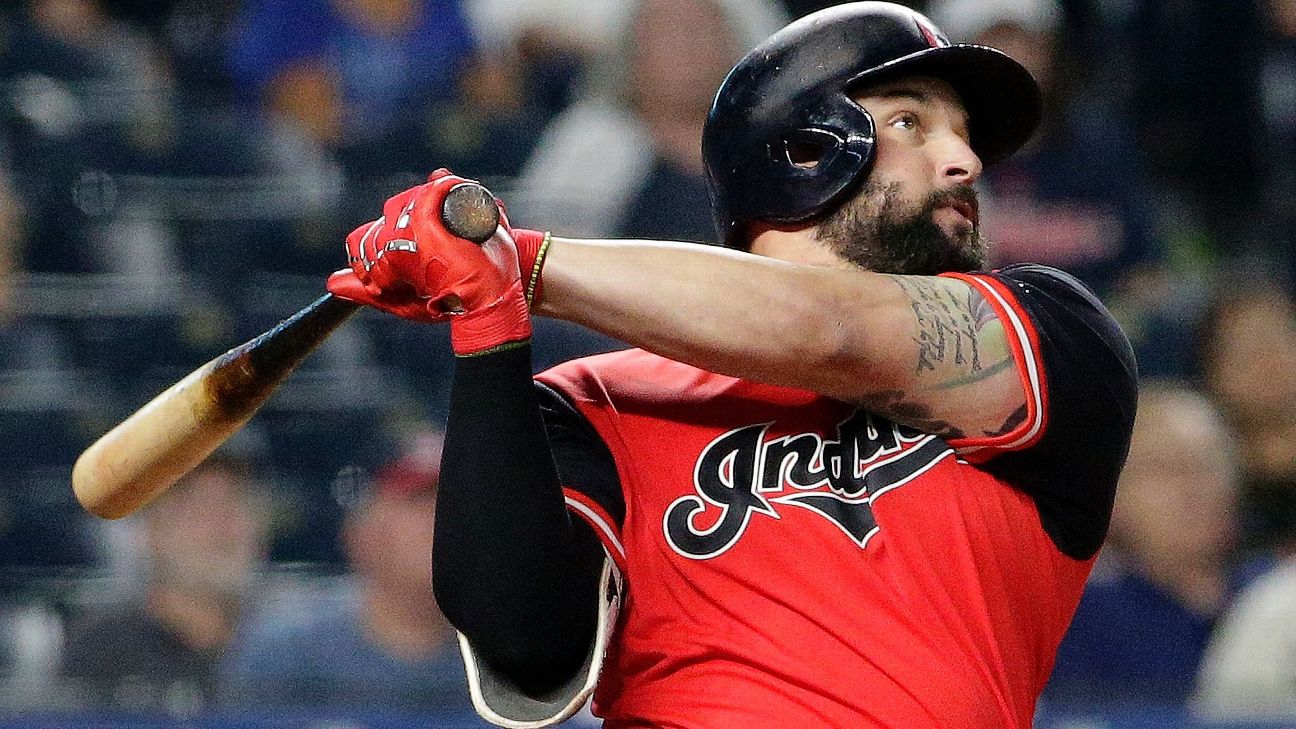 The Chicago White Sox have acquired first baseman Yonder Alonso in a trade with the Cleveland Indians, according to multiple reports.
It wasn't immediately known whom the Indians would receive in the trade.
Alonso, 31, hit .250 with 23 home runs and 83 RBIs last season for the Indians. A nine-year veteran, Alonso was an All-Star in 2017, when he hit 28 home runs and 67 RBIs for the Oakland A's and Seattle Mariners.
The White Sox have also expressed interest this offseason in slugger Manny Machado. Alonso is the brother-in-law of Machado.
News of Alonso's trade was first reported by Stadium.
Matt Chapman of Oakland A's has left shoulder surgery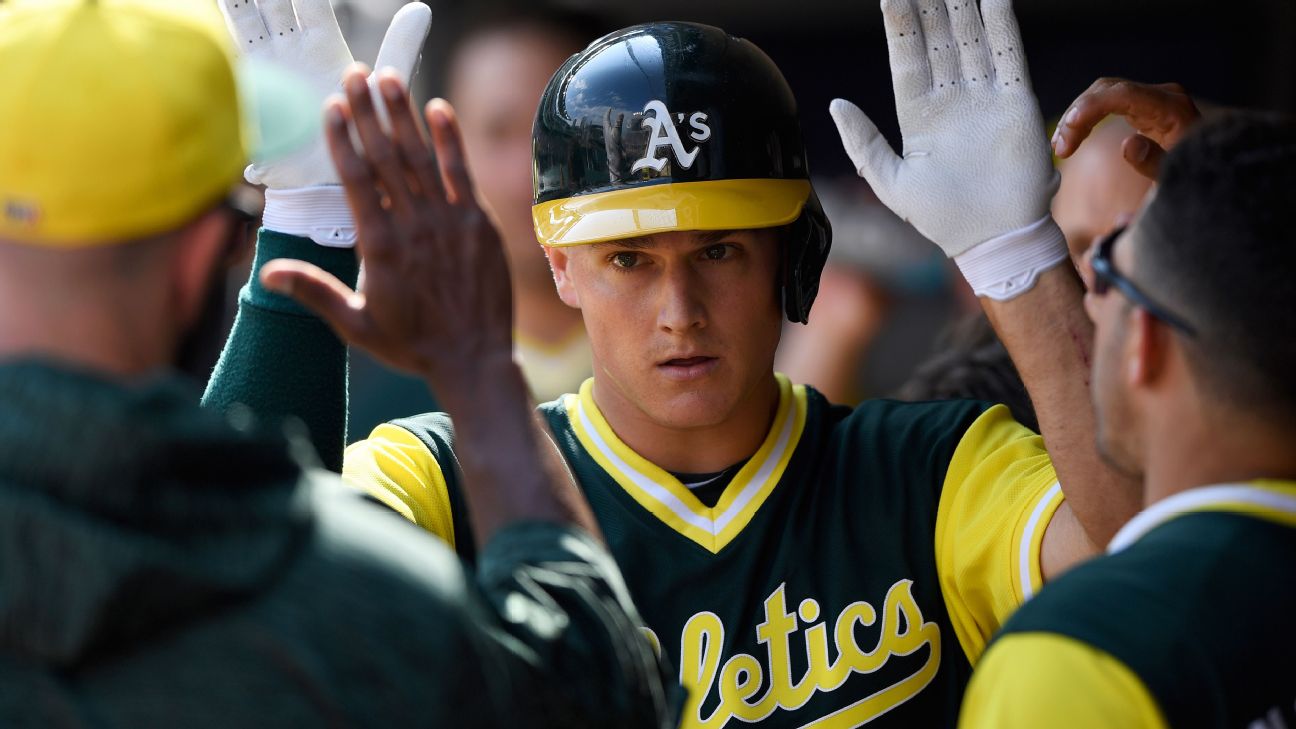 OAKLAND, Calif. — Athletics third baseman Matt Chapman had surgery Friday on his left shoulder, his second operation this offseason.
Dr. William Workman performed a distal clavicle resection procedure on Chapman's shoulder, the team said Friday. Chapman is expected to begin swinging a bat in six weeks.
The team said Chapman felt discomfort in the shoulder during offseason workouts. Chapman also had surgery on his right thumb Oct. 16 and was expected to recover fully from that operation by spring training.
Chapman batted .278 with 24 home runs in a breakout season. He won his first Gold Glove and finished seventh in American League MVP voting.
Brandon Hyde hired Baltimore Orioles new manager from Chicago Cubs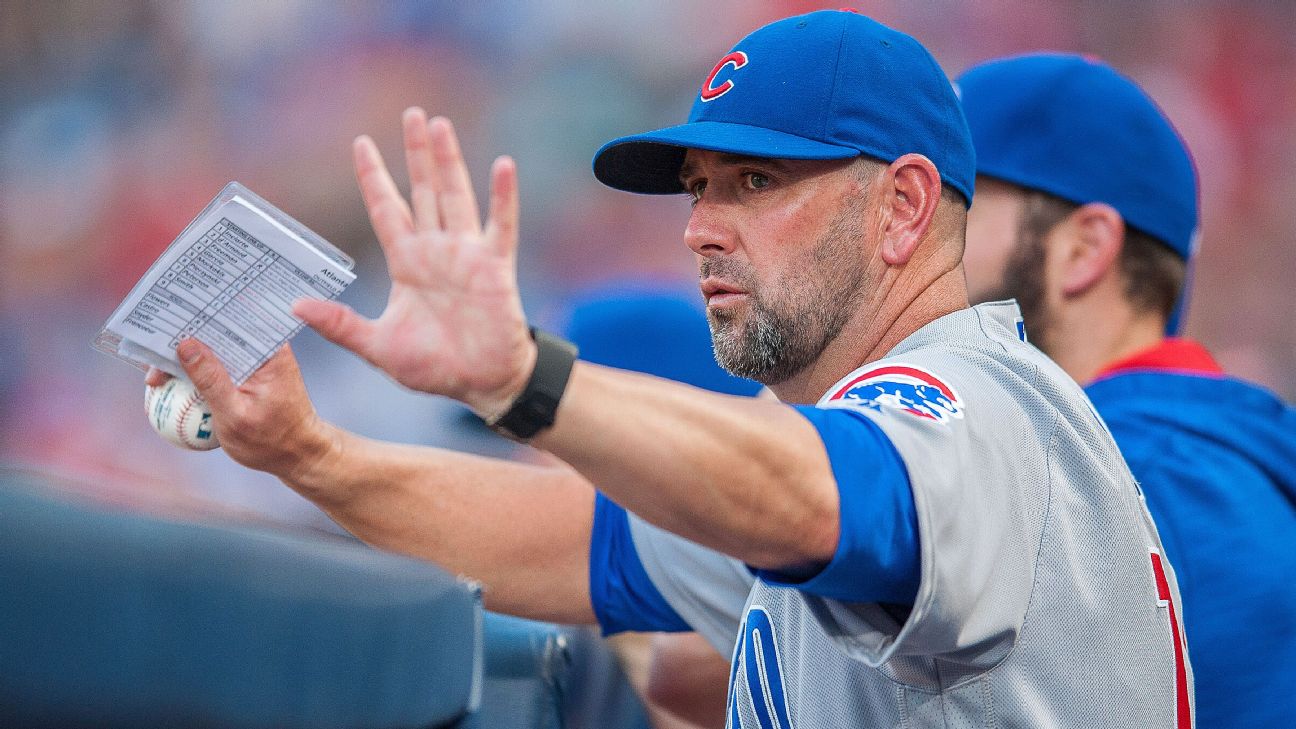 BALTIMORE — The Baltimore Orioles hired Brandon Hyde to be their new manager Friday, hoping his experience as Cubs bench coach will help the team move forward while in rebuilding mode.
Hyde takes over for Buck Showalter, who was fired after Baltimore finished 47-115 — the worst record in the majors. This will be Hyde's first stint as a major league manager.
Hyde, 45, was selected by general manager Mike Elias, who began an extensive search for Showalter's replacement after being hired last month to replace Dan Duquette.
"I believe that we have found the ideal leader for the next era of Orioles baseball," Elias said of Hyde.
Hyde worked as Chicago's bench coach this year under manager Joe Maddon. He was in the second of three seasons as Cubs first-base coach when the team won the World Series in 2016.
Before that, Hyde served as Rick Renteria's bench coach in Chicago in 2014. He previously served as Chicago's director of player development from August 2012 through 2013 after joining the Cubs in December 2011 as their minor league field coordinator.
Prior to joining the Cubs, Hyde spent nine seasons in the Miami Marlins organization. He was Miami's bench coach from June 2010 through the end of the 2011 season.
"Brandon's deep background in player development and major league coaching — most recently helping to shape the Cubs into a world champion — has thoroughly prepared him for this job and distinguished him throughout our interview process," Elias said.
Elias and Hyde will seek to develop a team that shifted into rebuild mode last July under Duquette, who traded away many of the team's stars — most notably Manny Machado, Zach Britton, Jonathan Schoop and Kevin Gausman — for 15 prospects and international bonus pool money in moves that cut payroll from $151 million to $136 million.
On the day he was introduced by Baltimore, Elias spoke about the significance of landing the right manager to shape the Orioles into a team that can be competitive in the AL East.
"This is an important hire," Elias said on Nov. 19. "… It's not something you rush. We want to get the right person for this time."
Hyde will be formally introduced as the 20th manager in Orioles history on Monday.