Week 14 NFL score predictions – Guide to best games, fantasy outlook, more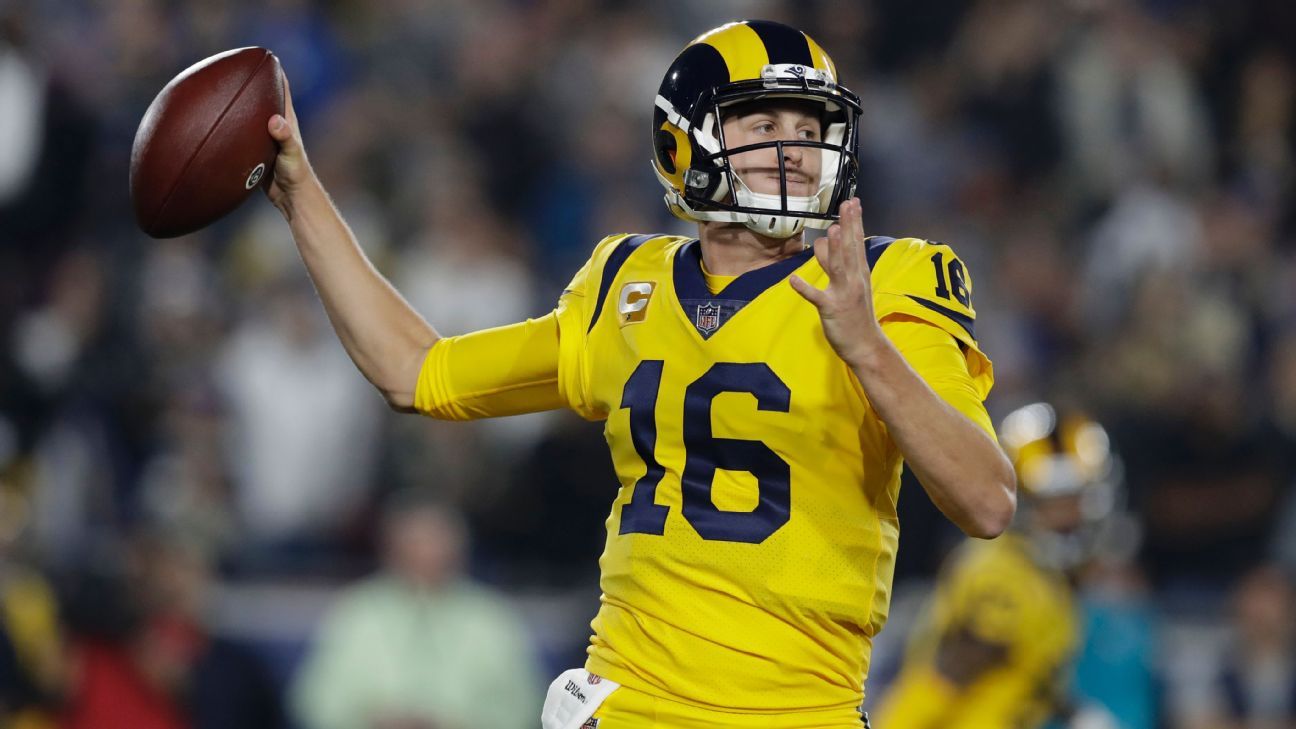 We're previewing the Week 14 NFL slate with score predictions for each game from our Nation reporters, what to watch for in fantasy, Football Power Index projections from ESPN Stats & Information and much more.
Thursday Night Football: Jaguars at Titans
Jump to a matchup:
NO-TB | BAL-KC | IND-HOU | ATL-GB
NE-MIA | CAR-CLE | NYG-WSH | NYJ-BUF
CIN-LAC | DEN-SF | PHI-DAL | PIT-OAK
DET-ARI | LAR-CHI | MIN-SEA
---
SUNDAY'S GAMES
Point spread: NO -8 | Matchup quality: 76.4 (of 100)
Mike Triplett's pick: The Bucs are hoping to beat the Saints three consecutive times for the first time. The Saints, meanwhile, are hoping to bounce back from a stunning offensive flop last Thursday night at Dallas. That shouldn't be hard to do against a Buccaneers defense that allows 29.6 points per game (third-worst in the NFL), but New Orleans will likely have to contend with some rain and wind. The Saints also need to do two things they couldn't in their 48-40 loss to Tampa Bay in Week 1: win the turnover battle and stop the Bucs' passing offense, which remains their best asset even after switching to Jameis Winston under center. New Orleans can clinch the NFC South with a win and a loss by the Panthers. Saints 27, Buccaneers 20
Jenna Laine's pick: Tampa Bay's front seven has registered 24 sacks since Mark Duffner took over the defense in Week 7, the second-most of any team in that span. But knowing Drew Brees rarely takes a sack (13 are the fewest in the league) will put an enormous strain on a young secondary that didn't have a single starter finish the game last week. The Bucs also haven't been able to sustain a ground game all season, and the Saints feature the NFL's No. 1 rushing defense (75.4 yards per game). They won't be able to keep Brees & Co. off the field. Saints 28, Buccaneers 24
Darren Woodson and Tedy Bruschi believe the Saints are eager to beat the Buccaneers after losing to them earlier this season.
FPI win projection: NO, 74.2 percent. This one is pretty straightforward. Brees ranks second in the NFL in Total QBR (84.2) and leads the third-ranked Saints in terms of offensive efficiency, per FPI. The Saints face a Buccaneers defense that has allowed the highest Total QBR in the league this season (66.9) and ranks fourth-worst in defensive efficiency.
What to watch for in fantasy: Alvin Kamara has had three consecutive games with fewer than 18 PPR points, but another Buccaneers matchup could change things. Kamara scored 43.1 PPR points versus the Bucs in Week 1. Read more.

In case you missed it: After Week 1 thriller, Saints and Bucs took different paths … Bucs S Adams goes from unknown to hero with three INTs … DE Jordan doubling down after career-best season
---

Point spread: KC -6.5 | Matchup quality: 69.5 (of 100)
Jamison Hensley's pick: The Chiefs have scored 109 points in the first quarter this season, 34 more than any team in the NFL. The Ravens are simply not built to play catch-up, with Lamar Jackson at QB and a run-heavy offense. Baltimore's three-game winning streak will end at Arrowhead Stadium, where Kansas City hasn't lost since Nov. 26, 2017. Chiefs 27, Ravens 17
Adam Teicher's pick: The advantage is almost always with the offense in these matchups between the highest scoring team and the No. 1 scoring defense. The No. 1 offense is 4-1 in such matchups since 2006. Not only that, but the high-scoring team has reached at least 27 point in all of these games. The Chiefs haven't been held under 26 points this season, and it won't happen against the Ravens. The Chiefs can clinch a playoff berth with a win. Chiefs 30, Ravens 24
FPI win projection: KC, 75.2 percent. The Ravens had allowed the lowest Total QBR in the league through eight weeks of the season (46.8), but since then have allowed the eighth-highest in the league (64.3). It could get worse against the Chiefs and Patrick Mahomes, who leads the NFL with an 84.3 Total QBR this season.
What to watch for in fantasy: Over the past three weeks, Jackson ranks No. 5 in the NFL in rushing attempts. The list of players with 70-plus rushing yards and a rushing score in both of the past two weeks consists of just Phillip Lindsay and Jackson. Read more.

In case you missed it: RB Ware's return path to Chiefs' starting lineup was not easy … An ex-truck driver, DC Martindale steers NFL's No. 1 defense … In facing Chiefs, QB Jackson is No. 1 defense's best friend … John Harbaugh still carries two-word message from Andy Reid … DL Jones is no joke as Chiefs' pass-rusher
---

Point spread: HOU -4.5 | Matchup quality: 62.7 (of 100)
Mike Wells' pick: Andrew Luck is coming off being shut out for the first time in his seven-year NFL career, and now the Colts are about to face the hottest team in the league in the Texans, who started their nine-game winning streak with a Week 4 overtime victory over Indianapolis. The Texans have the league's 10th-best defense and are 4-2 in their last six games against Indianapolis. The Colts' playoff aspirations suffer another blow with a second straight loss. Texans 35, Colts 24
Sarah Barshop's pick: The game will be another high-scoring affair, similar to the shootout that Houston won in Indianapolis in Week 4. The Texans will continue their streak, becoming just the fifth team in the Super Bowl era to have a 10-game winning streak and three-game losing streak in the same season. Texans 30, Colts 27
FPI win projection: HOU, 64.0 percent. With a three-game lead over the Colts, the Texans are comfortably in playoff position and would still have a 98 percent chance to make the playoffs even with a loss, according to FPI. The Colts really need a win to stay in the hunt; they'd have a 31 percent chance to make the postseason with a win and just a 3 percent chance with a loss.
Steve Young explains how the Texans have been able to maintain success on their nine-game winning streak thanks to Deshaun Watson.
What to watch for in fantasy: The Colts have absolutely shut down opposing wide receivers of late. Expect the tide to turn in Week 14 with Houston on the docket. Read more.

In case you missed it: Reich's 'aggressive' fourth-down style is part of analytical approach … Luck has to rebound after hot streak ends in Jacksonville … Texans say season's turning point came in Week 4 against Colts … Texans activate RB Foreman from PUP list after Achilles injury
---
Point spread: GB -6 | Matchup quality: 57.7 (of 100)
Vaughn McClure's pick: The Falcons really don't have much going for them right now and have been dominated up front on both sides of the ball. Surely the Packers will try to steal what the Ravens did last week in terms of pressuring Matt Ryan. Although Aaron Rodgers has lost three in a row to the Falcons, his craftiness will be tough to defend, especially at home. Packers 28, Falcons 21
Rob Demovsky's pick: Who knows how the Packers players will react this week after coach Mike McCarthy was fired. One school of thought: The players will want to show they weren't the problem, so they'll come out and play extra hard. Whatever the case, these are uncharted waters in Green Bay. Packers 24, Falcons 23
FPI win projection: GB, 64.1 percent. These two teams have combined for one win over the last four weeks. Atlanta has had problems on both sides of the ball during its four-game losing streak, ranking second-worst in offensive efficiency (23.7) and eighth-worst in defensive efficiency (27.7) in that span.
What to watch for in fantasy: Rodgers has been struggling of late with three games of fewer than 16 fantasy points since Week 8, but this type of blocking edge should get him back to the 20-plus-points range. Read more.

In case you missed it: Philbin focused on interim coaching job, not permanent one … Beasley Jr. vows to keep pushing through 'frustrating' season … Most recent book on Philbin's playcalling: Northeastern, 1996
---
Point spread: NE -7.5 | Matchup quality: 40.6 (of 100)
Mike Reiss' pick: Tom Brady is 2-6 against the Dolphins in December and January regular-season games, and one of the notable themes around the team this week has been how players are tired of coming back from late-season trips to Miami with a losing feeling. Here's one major reason why this year has a chance to be different: Dolphins CB Xavien Howard, arguably the team's best defensive player, might not play (knee). And if Howard does play, it's hard to imagine he'll be 100 percent. That's a huge development that favors the Patriots, who can clinch the division with a win. Patriots 31, Dolphins 17
Darren Woodson and Tedy Bruschi discuss why the Patriots will come out on top over the Dolphins.
Cameron Wolfe's pick: It's expected to be in the low-80s with plenty of humidity in Miami for Sunday's game. Multiple Patriots, including Brady, have noted how the heat and humidity have played a factor in their recent struggles (1-4) in South Florida vs. the Dolphins. But this Dolphins team is banged up, has struggled to consistently move the ball on offense and is expected to be without Howard. The Patriots are likely tired of hearing about their struggles in Miami. Patriots 38, Dolphins 13
FPI win projection: NE, 75.7 percent. The Patriots have now been favored 17 straight times against the Dolphins by FPI dating back to 2010, their longest streak against any opponent in FPI's dataset (since 2008). The Patriots' chances at a first round bye could swing by 35 percent this week (84 percent with a win, 49 percent with a loss), the most of any team.
What to watch for in fantasy: Stephon Gilmore is playing at a high level this season, and New England has allowed the sixth-fewest fantasy points to perimeter receivers during the past month. DeVante Parker was already a desperation flex, so this matchup should lock him onto either your bench or waivers. Read more.

In case you missed it: OT Brown answers Patriots' top offseason question mark … How Miami has been a danger zone for Patriots … Gronk not peaking, but Patriots 'better when he's on the field'
---
Point spread: CAR -2 | Matchup quality: 29.1 (of 100)
David Newton's pick: The Panthers have their backs against the playoff wall. Quarterback Cam Newton said, "Is Santa listening?" when asked what beating Cleveland to end a four-game losing streak would mean. The Panthers have had their problems on the road, winning once in six games, but they'll find a way to get it done in Cleveland with coach Ron Rivera and his more aggressive style taking over the defensive playcalling. Panthers 28, Browns 13
Pat McManamon's pick: The Browns rank third in the league with 14 interceptions and fourth with a plus-10 turnover ratio. They forced no turnovers in Houston, the same day that Newton threw four interceptions against Tampa Bay. Turnovers make the difference in this game, at home. Browns 28, Panthers 20
FPI win projection: CAR, 59.8 percent. The Panthers are favorites in this game, according to FPI, but will need to reverse recent trends to get the win. Over the last four weeks, the Panthers are 0-4 with the second-worst defensive efficiency (19.4) in the league, while the Browns have the second-best offensive efficiency (82.3) in that same span.
What to watch for in fantasy: Four of the past five starting quarterbacks to face the Panthers have scored at least 22 fantasy points. Baker Mayfield should have several paths to success through the air on Sunday. Read more.

In case you missed it: Newton says repaired shoulder bothering him … Picks no cause for concern for Mayfield, Browns … Rivera, Panthers will have to look over their shoulders rest of season … Panthers, Browns exemplify importance of quarterback stability
---

Point spread: NYG -3.5 | Matchup quality: 26.4 (of 100)
Jordan Raanan's pick: The Giants have won three of four out of the bye week, and Odell Beckham Jr. thinks they are playing "very, very well." In comparison to the first time these teams met in late October, he's probably right. The Giants allowed seven sacks in that loss to the Redskins, and their improved offensive line has allowed just 10 in the four games since. With the Redskins also decimated by injuries, this will hardly resemble that first meeting. Giants 23, Redskins 16
John Keim's pick: The Redskins are two games ahead of the Giants and still have a shot at the playoffs, but they don't look like a legit playoff contender. There's a chance that Sunday they will be without six of their projected starters for the season, with their third quarterback in Mark Sanchez signed less than three weeks ago, and their third set of starting guards. The Redskins are crawling to the finish line. Giants 24, Redskins 14
Tedy Bruschi and Darren Woodson both side with the Giants over the injury-riddled Redskins in Week 14.
FPI win projection: WSH, 53.3 percent. The Redskins had a 53 percent chance to make the playoffs prior to their current three-game losing streak, but they'll really need to beat the Giants this week in order to keep their slim hopes alive. Washington is not favored in any of their final three games after this one by FPI and would have just a 7 percent chance to make the playoffs with a loss (31 percent with a win).
What to watch for in fantasy: The Giants' defense is showing some signs of life lately, with the league's fifth-highest turnover rate on a per-drive basis, and now it faces Sanchez. Read more.
In case you missed it: Will QB Lauletta's 'progress' eventually lead to playing in a game? … From start, Redskins' offense never had lineup they envisioned … RB Barkley's rookie season compares with the all-time greats … Smith's injury should make Redskins think about drafting QB
---


Point spread: BUF -3.5 | Matchup quality: 14.4 (of 100)
Rich Cimini's pick: This is a bad matchup for the Jets. Sam Darnold is coming off a one-month layoff, which means he'll be rusty in the first cold-weather game of his life. Buffalo's zone-based defense will cause problems for the Jets, who have only three offensive touchdowns in the last five games. Bills 23, Jets 12
Mike Rodak's pick: The Bills are favored by Vegas for the first time this season, and for good reason: They walloped the Jets 41-10 with fill-in quarterback Matt Barkley last month at MetLife Stadium. I would expect some regression by Josh Allen, whose 83.6 Total QBR in his two games since returning from an elbow injury have exceeded his 53.0 mark for the season. But the opportunity still exists for Allen to have another big game against a Jets defense that has given up an NFL-worst 450.7 yards per game since (and including) its loss to Buffalo. Bills 26, Jets 20
FPI win projection: BUF, 71.5 percent. After being favored just once in their first 12 games of the season, the Bills are favored in three of their final four games by FPI, with a 71.5 percent chance to win against the Jets on Sunday. That is the largest favorite the Bills have been since Week 1 of last season, when they were 75 percent favorites, also against the Jets.
What to watch for in fantasy: The Jets' blitz-happy defense should create some lanes for Allen to exploit via scrambling, while a blend of vertical passing and designed running plays helps support a fun ceiling, if unstable fantasy floor, for Allen. Read more.
In case you missed it: S Adams has old-school work ethic with 'new-school swag' … Ex-Bills QB Peterman no failure to 1970s counterpart … Slumping Jets want payback against Bills: 'It's personal'
---

Point spread: LAC -14 | Matchup quality: 50.2 (of 100)
Katherine Terrell's pick: No Andy Dalton, no A.J. Green and the league's worst defense going up against one of the top offenses in the NFL. None of that bodes well for the Bengals, whose season spiraled downward after the bye. The Bengals fared badly when facing other top offenses such as the Saints and Chiefs. It's hard to imagine this one will go any better on the road. Chargers 34, Bengals 21
Eric D. Williams' pick: The Bengals face a tough task competing short-handed on the road with Jeff Driskel making his second career start at quarterback. Look for the Chargers to lean on Austin Ekeler, Justin Jackson and the running game, with the Bengals giving up a league-worst 153 rushing yards per game. Chargers 27, Bengals 10
FPI win projection: LAC, 90.3 percent. Philip Rivers is third in the NFL with a 75.6 Total QBR this season, just shy of his career best 77.2 in 2009. He has actually performed better on the road (84.9 Total QBR) than at home (66.2 QBR) this season, but that gap could close this week against a Bengals team allowing the second-highest Total QBR in the league (66.3).
Darren Woodson and Tedy Bruschi expect the Chargers to win easily over the Bengals.
What to watch for in fantasy: Ekeler could be in line for a big week with a great matchup against the Bengals' run defense. Read more.

In case you missed it: With RB Gordon out, Justin Jackson rescues Chargers' run game … Not concerned about touches, TE Gates focused on Super Bowl chase … Lewis not expecting assurances from Bengals about future … QB Driskel's first NFL start a mixed bag
---


Point spread: DEN -5.5 | Matchup quality: 27.1 (of 100)
Jeff Legwold's pick: The Broncos have their work cut out for them after injuries to wide receiver Emmanuel Sanders and cornerback Chris Harris Jr. Still, Denver has won three in a row to climb back to 6-6, and linebacker Von Miller said, "We're tried and tested … we're a humble team." But it's really all about the rookie class now, especially on offense, where running back Phillip Lindsay as well as wide receivers Courtland Sutton and DaeSean Hamilton will have a big say in whether or not the Broncos make the playoffs. Broncos 27, 49ers 20
Nick Wagoner's pick: The Broncos are banged up, and this could be the Niners' best chance at another victory this season. But San Francisco lacks the playmakers the Broncos have on defense. Denver is tied for seventh in the league in takeaways (21), and the Niners are on a record-setting pace for futility in that category with only five. The Niners will see Miller and Bradley Chubb up close in this one, the latest reminder of their greatest need. Broncos 23, 49ers 17
FPI win projection: DEN, 59.5 percent. The Broncos enter this game at 6-6 but still have an outside shot at the playoffs, as they are favored in three of their final four games by FPI and have a 12 percent chance to win out (best among the seven 6-6 teams). Denver will need to win this one to keep its chances alive though; the Broncos would have a 26 percent chance to make the playoffs with a win and just a 7 percent chance with a loss.
What to watch for in fantasy: Denver is a bottom-seven defense in terms of both running back rushing yards and yards-per-carry surrendered. Jeff Wilson Jr. will be filling in for Matt Breida this week and is a massive value. Read more.

In case you missed it: RB Lindsay powering Broncos' playoff run … Without CB Harris, Broncos will again turn to a rookie … Your move, Raiders: 49ers jump to lead in race for top draft pick … TE Kittle an emerging star regardless of who is at quarterback … Without CB Harris and WR Sanders, Broncos must lean on youth
---
Point spread: DAL -3.5 | Matchup quality: 58.5 (of 100)
Tim McManus' pick: The Eagles are starting to win more in the trenches, which has helped fuel back-to-back victories. Coach Doug Pederson is trusting his ground game more now that the offensive line is getting healthy, allowing Carson Wentz to do what he does best — execute out of play-action. Wentz set career highs in attempts and yards off play-action last week against Washington and looked like his old self running bootlegs attached to those type of plays. Defensive end Brandon Graham, meanwhile, is starting to round into form. The defensive front has taken a step forward as a result, and should be able to put some heat on Dak Prescott. Eagles 26, Cowboys 23
Todd Archer's pick: Prescott will never be defined by statistics, but he will be defined by wins. When Prescott doesn't throw an interception, the Cowboys are 26-5. In their four-game winning streak, he has four touchdown passes and no picks. The Eagles' secondary has been beset with injuries and has just six interceptions all season. Only three teams have fewer. If Prescott continues his mistake-free ways, the Cowboys will effectively knock out the defending Super Bowl champions from repeating as division winners. Cowboys 24, Eagles 20
Steve Young says the Redskins stand no chance winning the division with Mark Sanchez at this point, the winner of Eagles vs. Cowboys will win the NFC East.
FPI win projection: DAL, 67.2 percent. The two teams with the biggest potential playoff swings in Week 14 face off in this game. FPI sees this as a must-win game for the Eagles, as they would have a 53 percent chance to make the playoffs with a win and a 5 percent chance with a loss. The Cowboys would see their chances shoot up to 98 percent with a win and drop to 57 percent with a loss.
What to watch for in fantasy: Upgrade Amari Cooper and Michael Gallup against the defense allowing the second-most fantasy points to perimeter receivers this season. Read more.

In case you missed it: Randy Gregory: 'I was just in a real bad place' … As Ertz chases Witten's record, a friendship comes into focus … Philly's Kamu Grugier-Hill offers first jab in Eagles-Cowboys trash-talk fest … C Frederick: Unlikely to return in 2018 but think I'll play in '19
---

Point spread: PIT -11 | Matchup quality: 40.8 (of 100)
Jeremy Fowler's pick: The Steelers are 0-3 in Oakland during the Ben Roethlisberger era, missing the playoffs all three of those years. But these Raiders are too outclassed to make it a fourth. Roethlisberger will have ample time in the pocket against a defense that has 10 sacks, and facing Oakland's 31st-ranked rushing defense will ease the transition for fill-in tailbacks Jaylen Samuels and Stevan Ridley. With the Patriots and Saints awaiting, the Steelers know they can't lose this one. Steelers 34, Raiders 20
Paul Gutierrez's pick: Oakland is the only place Roethlisberger has yet to win a road game in the AFC. The Steelers are scuffling, with two straight losses, and the Raiders offense is starting to hum. Something has to give, right? Steelers 33, Raiders 31
FPI win projection: PIT, 73.5 percent. Big swings are in play for both teams in this game, according to FPI, but for very different things. The Steelers would have an 85 percent chance to win the AFC North with a win and 58 percent chance with a loss. The Raiders would have a 38 percent chance at the top pick in the draft with a loss and just a 5 percent chance with a win.
What to watch for in fantasy: If you want to play the old "fade Big Ben on the road" narrative, go ahead. However, this season, there hasn't been much difference between his results at home and on the road. Read more.

In case you missed it: RB Conner still has time to finish storybook season … RB Samuels ready for Steelers close-up with James Conner out … Has RB Martin earned a contract with the Raiders for 2019?
---

Point spread: DET -2.5 | Matchup quality: 2.8 (of 100)
Michael Rothstein's pick: The Lions haven't won in Arizona since 1993 — the last time Detroit won a divisional title. No NFC North crown is in the picture for the Lions this season, but Detroit has a chance in what should be a low-scoring game. Josh Rosen has struggled (although the Lions had major issues with the last rookie quarterback they faced, Sam Darnold), and as bad as the Lions have looked at times, the Cardinals have been worse. This game won't be pretty, but Detroit is the better team, has the better quarterback and largely has been better than Arizona. Lions 17, Cardinals 13
Josh Weinfuss' pick: The Cardinals are coming off a win in Green Bay, and that high might just carry over Sunday against the Lions, who have lost five of their last six games. Arizona can secure its fourth win by exploiting Detroit's run defense, which has allowed 119.8 yards per game. The Cardinals ran for 182 against the Packers. Cardinals 21, Lions 17
Darren Woodson and Tedy Bruschi call the Lions-Cardinals matchup a toss-up.
FPI win projection: DET, 55.9 percent. Rosen enters this game with the lowest Total QBR (30.7) among qualified QBs this season. He'll have a chance to improve upon that against a Lions defense that ranks fourth-worst in Total QBR allowed (62.5) and second-worst in defensive efficiency this season, according to FPI.
What to watch for in fantasy: Patrick Peterson has shadowed Davante Adams, Keenan Allen and Tyreek Hill on their perimeter routes during the past four weeks. Kenny Golladay will escape to the slot on 30 percent of his routes, which is some much-needed good news, as Arizona is allowing the sixth-most fantasy points to the slot this season. Downgrade him to fringe WR2 territory. Read more.

In case you missed it: Ten seasons in, what to make of Matthew Stafford and his future … How free-agency failures put the Cardinals in a deep hole
---
Point spread: LAR -3 | Matchup quality: 84.4 (of 100)
Lindsey Thiry's pick: The Rams have clinched the NFC West, but travel to Chicago motivated to earn a first-round bye. The Bears' defense will provide the high-scoring Rams their greatest test yet: Chicago ranks fourth, allowing an average of 20.1 points per game, and it leads the league in interceptions with 21. But after a sluggish offensive performance against the Lions, look for the Rams' offense to bounce back and for Aaron Donald to prove why he reset the market for defensive players, even though Khalil Mack is now the highest-paid defender in the league. Rams 24, Bears 17
Jeff Dickerson's pick: The Bears will benefit from quarterback Mitchell Trubisky's return from a right shoulder injury, but the Rams' offense is downright scary. Los Angeles is averaging almost 35 points per game. The Bears score an average of 28.7 points per game, still good enough for fifth best in the league, but the Bears simply don't have as much firepower as the Rams. Expect the Bears to stay within striking distance on Sunday night, but in the end, the Rams just have a few more playmakers on both sides of the ball. Rams 30, Bears 24
FPI win projection: LAR, 56.4 percent. This is the top game of the week based on FPI's matchup quality metric. It features the Rams' second-ranked offense in terms of efficiency (85.5 on a 0-to-100 scale) against the Bears' top-ranked defensive unit (75.3). Jared Goff ranks fifth in the NFL in Total QBR this season, while the Bears have allowed the lowest opponent Total QBR in the league.
What to watch for in fantasy: Perimeter corners Kyle Fuller and Prince Amukamara are good players, but offenses have been forced to attack them often, which has led to Chicago allowing the most fantasy points to outside receivers over the past month. The door is open for Brandin Cooks and Josh Reynolds to fill the box score. Read more.

In case you missed it: It's time to start talking about Donald for MVP … Donald and Mack: $177M and worth every (guaranteed) penny … DE Fowler Jr. proving to be the edge presence Rams needed
---
MONDAY NIGHT FOOTBALL
Point spread: SEA -3 | Matchup quality: 63.9 (of 100)
Courtney Cronin's pick: Six wins in 12 games isn't what many projected for this team, but the hardest part of Minnesota's season is almost over. If the Vikings can steal a game in Seattle, where they're underdogs, they're back in the playoff hunt. The Vikings will need to pound the ball with Dalvin Cook and have defensive discipline against Russell Wilson, who is having a career season. Kirk Cousins recently halted his prime-time woes with a win over Green Bay, and he'll look to do the same on Monday Night Football, in which he's 0-6 in his career. Seahawks 27, Vikings 23
Brady Henderson's pick: Minnesota ranks fifth in yards allowed per rush (3.7) and seventh in rushing yards allowed per game (99.2), which makes this a matchup of strengths. As much as the Seahawks are committed to running the ball, they showed two weeks ago in Charlotte that they can switch gears and win a game by throwing it when they have to, even when their defense has an off day. All six of the Vikings' wins (and their tie) came against teams currently .500 or worse. Sure, the Seahawks have beaten up on their share of bad opponents, but they're playing at home, where they're 15-2 in prime time games under Pete Carroll. Seahawks 31, Vikings 24
Darren Woodson and Tedy Bruschi agree that the Vikings will have their hands full with the Seahawks in Week 14 on Monday Night Football.
FPI win projection: SEA, 65.5 percent. As is the case with all teams on the edge of the playoff race, a lot is riding on this game for the Vikings. A win on the road would see Minnesota's playoff chances jump all the way to 90 percent according to FPI, while a loss would put them at 57 percent.
What to watch for in fantasy: This is Wilson's toughest matchup yet, against a Vikings defense that has been extraordinarily stingy against the passing game of late. Read more.

In case you missed it: Zimmer's biggest coaching challenge with Vikings lies ahead … 'Exquisite' QB Wilson making most of his opportunities … LB Wagner's reminder: Seahawks' defense still has star power
As season's end nears, no surprise by league's top rookie – NFL Nation
We're almost to the end of the regular season, with multiple teams jockeying for playoff position. Many of those teams will rely on rookies in major roles. That includes the Los Angeles Chargers and top rookie Derwin James.
From game analysis and discussions with personnel evaluators, here's a look at the top 10 rookies so far this season.
Top 10 (stats are Weeks 1-15 combined)
Stats: 93 tackles, 3.5 sacks, 3 INTs
Previous ranking: 1
As the Chargers make a push for home-field advantage in the AFC — the team has won 10 of its past 11 games — James continues to be the most versatile option defensive coordinator Gus Bradley can move anywhere in the formation. Some opposing offensive coaches have tracked him at five different positions as they prepared to play the Chargers.

Stats: 146 tackles, 7 sacks, 1 INT
Previous ranking: 2
He was credited with 11 tackles, including one for loss, and knocked down passes in the Colts' 23-0 win over the Dallas Cowboys — the first time the Cowboys had been shut out since 2003. The guy has sacked the quarterback once in every four times he has rushed, and he added a recovery of a blocked field goal to his résumé in the win over the Cowboys.

Stats: 51 tackles, 12 sacks, 2 FF
Previous ranking: 3
The Broncos have asked Chubb to hold the edge in the run game, and he has dropped into coverage from time to time as well. He has usually been assignment-sound in all he has been told to do, and he continues to impact things in the rush. He needs 2.5 sacks in the last two games to tie Jevon Kearse's rookie record set in 1999.
4. QB Baker Mayfield, Cleveland Browns

Stats: 3,065 yards passing, 21 TDs, 11 INTs
Previous ranking: 4
The Browns are clinging to wafer-thin playoff chances with four wins in the past five games, including Saturday night, when the Broncos held Mayfield to 18-of-31 passing. But Mayfield went 4-of-4 for 39 yards and a touchdown on what turned out to be the game-winning drive early in the fourth quarter.

Stats: 1,155 yards rushing, 13 total TDs
Previous ranking: 5
Barkley was held to 31 yards rushing by the Titans this past Sunday — his second-lowest rushing total of the season — but his 170 yards rushing on just 14 carries in Week 14 were a season best.

Stats: 108 tackles, 4 sacks, 1 INT
Previous ranking: 9
Rare athleticism and savvy have been consistently on display in a Bears defense that locked down the Rams in Week 14 and is now among the league's top four in scoring defense, total defense, sacks, forced fumbles and interceptions. Khalil Mack gets much of the attention, but Smith has had a huge role in Chicago's run to the divisional title.
• Updated rookie rankings
• Sizing up Antonio Brown's odd season
• Searching for answers to protect Watson
• Peterson wonders about Cardinals future
• Colombo brings energy back to Cowboys OL
• Playoff picture: Who's in, out, on bubble

Stats: 117 tackles, 7 PD, 2 INTs
Previous ranking: 7
Vander Esch has already set the team's record for tackles by a rookie, and the Cowboys will now try to work Sean Lee back into the lineup (Lee's hamstring injury forced Vander Esch into a starting role). Lee played seven snaps against the Colts on Sunday — his first game since Nov. 5 — but Vander Esch has been key in the Cowboys' push to win the NFC East.

Stats: 991 yards rushing, 10 total TDs
Previous ranking: 6
In back-to-back Broncos losses, Lindsay was held to 30 and 24 yards rushing, but the body of work remains top-shelf this season. He's fifth in the league in rushing, and his 5.4 yards per carry average is second in the league among qualifying backs.

Stats: No sacks allowed in six games
Previous ranking: 10
Nelson continues to draw raves from personnel executives around the league for his ability to finish. He has had some flags — nine penalties this season — but his awareness in and out of double-teams to go with his power at the point of attack is a rare combination.
10. CB Denzel Ward, Cleveland Browns

Stats: 48 tackles, 4 TFL, 3 INTs
Previous ranking: 8
Ward missed the past two games and most of a third with a concussion. Browns interim coach Gregg Williams said Monday that Ward remains in the league's concussion protocol.
Close but not quite (totals are for 15 weeks)
49ers RT Mike McGlinchey (no holding penalties in 14 starts); Bengals S Jessie Bates (98 tackles, 3 INTs); Browns RB Nick Chubb (860 yards rushing, 5.2 yards per carry, 10 total TDs); Panthers CB Donte Jackson (62 tackles, 4 INTs, 1 sack); Texans S Justin Reid (75 tackles, 3 INTs, 1 TD); Packers CB Jaire Alexander (62 tackles, 1 INT, 11 PD); Bills LB Tremaine Edmunds (98 tackles, 4 TFL, 2 FF); 49ers LB Fred Warner (105 tackles, 1 FF); Falcons WR Calvin Ridley (56 catches, 699 yards, 8 TDs); Steelers S Terrell Edmunds (68 tackles, 4 PD); Giants DT B.J. Hill (45 tackles, 5 sacks); Titans LB Rashaan Evans (44 tackles, 2 TFL); Dolphins S Minkah Fitzpatrick (73 tackles, 2 INTs, 1 TD); Ravens T Orlando Brown Jr. (just three penalties); Titans LB Harold Landry (37 tackles, 3 TFL, 2.5 sacks).
Kickers need love, too
Raiders kicker Daniel Carlson, who was waived by the Vikings after missing three kicks in Week 2, continues to make the most of his second act. Carlson missed his second field goal attempt with the Raiders — a 45-yard attempt that hit the right upright in a Week 9 loss to the San Francisco 49ers — but he hasn't missed since. He was 3-of-3 this past Sunday.
Devin Bush of Michigan Wolverines to miss Chick-fil-A Peach Bowl, enter NFL draft
Michigan linebacker Devin Bush announced Wednesday that he will miss the Chick-fil-A Peach Bowl because of a hip injury and is forgoing his senior season to enter April's NFL draft.
Bush is ranked as the No. 8 prospect available for the draft by ESPN's Mel Kiper Jr. and the No. 10 prospect by Todd McShay.
Bush, a finalist for the Butkus Award as the country's top linebacker and a junior co-captain, injured his hip in the third quarter of the Wolverines' 62-39 loss to Ohio State on Nov. 24.
"Despite getting treatment every day, I have not been cleared to play in the Peach Bowl due to the hip injury I suffered in the last game," Bush wrote in a statement on Twitter. "Due to this injury, I have thought hard about my future in football. Having been injured, I realize how fleeting this sport can be. It's always been a dream of mine to follow in my father's footsteps and play in the NFL.
"This injury has made me realize how important this goal is to me and my family. Therefore I have decided to forgo my senior season and enter the 2019 NFL draft."
His father, Devin Bush Sr., was a safety on Florida State's 1993 national championship team and a first-round pick of the Atlanta Falcons in the 1995 NFL draft. He played eight seasons with the Falcons, Rams and Browns.
Bush had 79 tackles, nine tackles for loss and five sacks for the Wolverines this past season.
The No. 7 Wolverines will be without two of their defensive stars when they play No. 10 Florida in the Chick-fil-A Bowl at Mercedes-Benz Stadium in Atlanta on Dec. 29 (noon ET on ESPN). Junior defensive end Rashan Gary, another projected first-round pick, announced last month that he's skipping the bowl game to prepare for the draft.
Philadelphia Eagles quarterback Carson Wentz had separate stress fracture in back found his freshman year
PHILADELPHIA – Eagles quarterback Carson Wentz had a separate stress fracture in his back that was discovered his freshman year at North Dakota State, according to a league source.
The injury was from his adolescence and was completely healed by the time he was in college, and is unrelated to Wentz's current injury, the source said.
Wentz's medical report, given to teams at the NFL Scouting Combine prior to the 2016 NFL Draft, referred to a healed stress fracture in his back, the Philadelphia Daily News first reported. While it was discovered in college, a league source clarified that the stress fracture had occurred prior to his playing days at North Dakota State. Wentz was a redshirt freshman when the fracture was discovered and it did not impact him on the collegiate level.
It also did not affect his draft stock, as he was selected No. 2 overall by the Eagles.
The current stress fracture was discovered following a CT scan last Tuesday, according to Eagles coach Doug Pederson. Wentz sat out last week's game at the Los Angeles Rams and it appears he'll be sidelined again Sunday, as Pederson has named Nick Foles the starter for the Eagles' upcoming game against the Houston Texans.
"He'll be listed as week-to-week. We will not put him on [injured reserve]," Pederson said of Wentz. "Obviously when he's healthy, he's our quarterback and we'll go from there."
Wentz was first listed on the injury report with a back issue in late October. He was feeling better symptom-wise as the season progressed, evidence of a healing process already underway, a source said.
Pederson noted the recovery period could be about three months, though that is not set in stone. Optimism remains that Wentz, who is coming off multiligament knee surgery, will not be hampered by the back issue long-term.
"The fact that he doesn't need surgery on this, I mean, is the best news that you could possibly have on anybody that has a stress fracture or a stress injury in this case," Pederson said last week. "As long as we take the proper steps to make sure that all our players are 100 percent, then [there is no long-term concern]."