Ten seasons in, what to make of Matthew Stafford and his future – Detroit Lions Blog
ALLEN PARK, Mich. — The question has come up often this season, posed to Detroit Lions coach Matt Patricia, to offensive coordinator Jim Bob Cooter, to other players and even to Matthew Stafford himself.
• What to make of Matthew Stafford, future
• James Conner can finish storybook season
• QB stability varies for Panthers, Browns
• Redskins should think about drafting a QB
• Miami a danger zone for Patriots, Brady
What has been going on with the franchise quarterback this year? Why has he played at a level that hasn't been commensurate with what he has done in the past? And what, as he finishes his 10th season in Detroit — another season without a winning record, a division title or, likely, a playoff berth — does it all mean for the present and the future of Stafford with the Lions?
The immediate present is that Stafford is going nowhere, at least not for the 2019 season. The contract extension he signed, which would incur almost a $30 million cap hit if the team were to trade him this offseason, is too limiting. He'll have at least next season, perhaps with a new offensive coordinator, to show that this season was an aberration instead of a regression.
But is he a quarterback with whom the Lions can win?
"Certainly, [he] is a leader of our team from a standpoint of his work ethic, his toughness, his energy, the way he pushes, the way that he drives to go out and compete every single day," Patricia said. "As a coach, you want players that are going to go out there and try to work hard to get better, and that's what he does every single day. So again, he's the guy that leads our team, leads our offense. And he's put in some really tough situations, and he sticks them out and pushes through and just does a great job of continually going after it.
"For us, that's what we're banking on, and that's what he gives us, and we're pushing forward with that."
For 10 years, the Lions have banked on it, from taking Stafford with the No. 1 overall pick in 2009 to giving him a then-NFL record $135 million contract before the start of the 2017 season to keep him with the Lions, in theory, through at least 2022.
He's also one of the few quarterbacks in the Super Bowl era who has played 10 years with one team. That is somewhat even more surprising because of the relative lack of success he has had in that time period. Yet Detroit has stuck with Stafford no matter what.
In the Super Bowl era, only 44 quarterbacks including Stafford have played 10 seasons with one team — some didn't do so consecutively — and started at least one game in each of those seasons. Some quarterbacks, such as Brett Favre, went to other teams as well. Of those 44, only nine had losing records — something Stafford will have even if the Lions win their four remaining games — in their tenures with the team. Stafford, with a 64-73 record, has the fourth-worst win percentage among quarterbacks who have played 10 seasons for one team. Only Archie Manning (35-91-3 with New Orleans), Mike Livingston (31-44-1 with Kansas City) and Steve Bartkowski (56-69 with Atlanta) have done worse.
None of those quarterbacks lasted more than 11 seasons with his club.
Of the 44, only nine either never made the Pro Bowl or appeared just once, including Stafford (and former Lions quarterback Greg Landry). Just seven — Manning, Livingston, Landry, Brian Sipe, Jim Hart, Steve Grogan and Stafford — have never won a playoff game. Stafford and Grogan are the 10-year guys with the most playoff losses without a win, with three.
In this pass-happy era of the NFL, nine active quarterbacks have been with their teams for 10 seasons or more. Stafford is the only one with a win percentage under .500 and the only one not to win a playoff game. Actually, all of the other active quarterbacks have a minimum of four playoff wins — Matt Ryan and Philip Rivers — and they are the only other quarterbacks with under-.500 playoff records with 10 years with their teams. Other than Stafford and Joe Flacco, all have been to at least four Pro Bowls as well.
Stafford's career statistics are undeniably good: 37,835 yards, 234 touchdowns and 129 interceptions, and he is one of a handful of players to have thrown for 5,000 yards in a season. His career is a tough one to judge, too. He came in taking over the first 0-16 team in NFL history, so his first two years in Detroit were awful. The Lions had a combined 3-10 record that, if it were stricken from his ledger, Stafford would still be under .500 in his career but at a more palatable 61-63.
Stafford is also on his third head coach, third offensive coordinator and second general manager. Some, such as Jim Caldwell, have made better progress with Stafford than others. None, though, seemingly has made the most of the talent he has, with the closest coming in 2016 and 2017 with Caldwell, Cooter and an offense that took chances downfield while trying to control clock.
This season hasn't been kind. Stafford is on pace for his fewest yards since 2010, a career high in sacks and his most interceptions since 2013, when he was in an offense that took more chances and went deep far more often under Scott Linehan.
It all leads to the same question in a tough season: Is Stafford a quarterback you can win big with? That's the answer Lions management needs to figure out over the next season-plus.
If he is, they need to work on supporting that. If he isn't, the Lions need to start putting together an exit strategy — either via trade or by drafting his potential replacement — for the long-term future of the franchise.
Information from ESPN Sports & Information was used in this story. Follow Sports & Information on Twitter @ESPNStatsInfo.
Denver Broncos coach Vance Joseph defends kicking field goal on fourth-and-1 vs. Cleveland Browns — 'I wanted points there'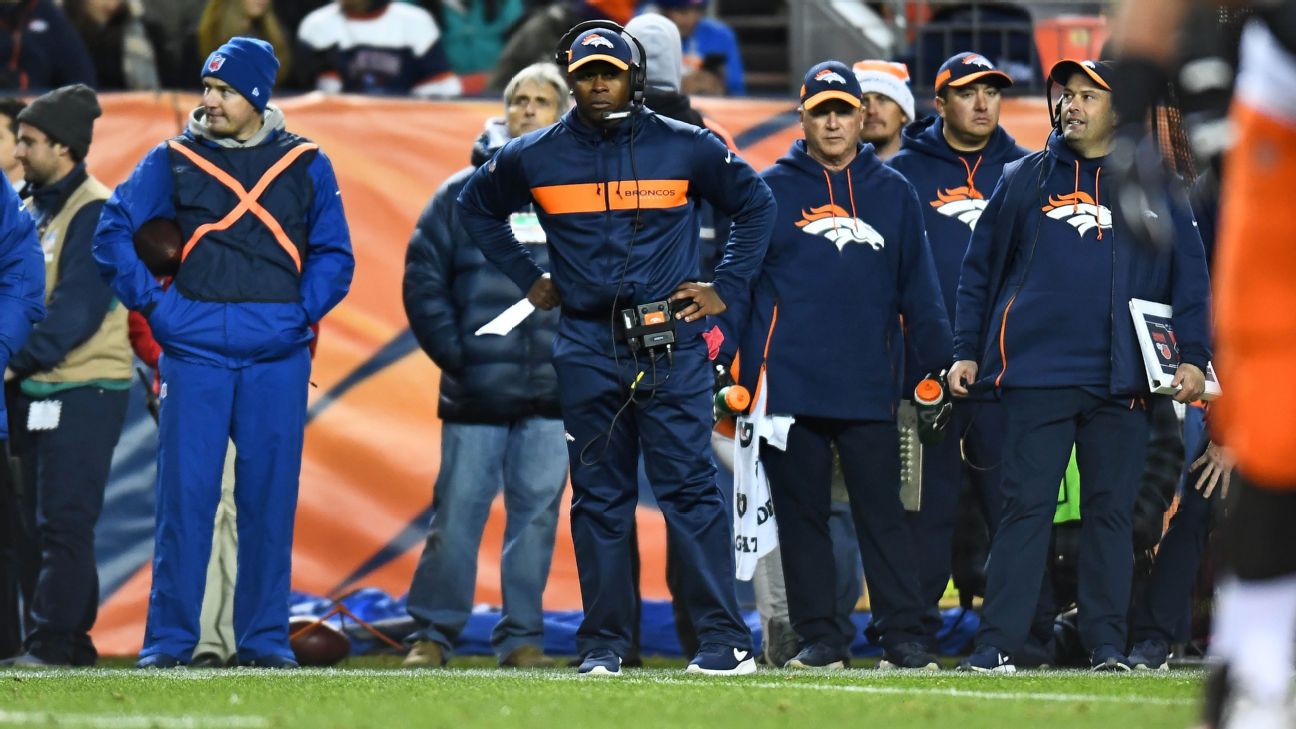 DENVER — The Denver Broncos went with math over a gut feel Saturday night, and many of their faithful left the 17-16 loss to the Cleveland Browns talking about a fourth-and-1 on which the team didn't go for it in the closing minutes as the Broncos dropped to 6-8 and the brink of postseason elimination.
With 4 minutes, 39 seconds remaining, trailing 17-13 and with a fourth-and-1 on the Cleveland 6-yard line, Broncos coach Vance Joseph sent kicker Brandon McManus out for a field goal as boos cascaded down from the stands.
"I wanted points there," Joseph said. "Had about 4:35 to go in the game. We had one timeout and the two-minute warning. I trust our defense to get a stop there, OK. If we don't get points there, a touchdown has to win it. It was my decision — take points."
McManus made the 29-yard field goal — after a delay of game penalty — and the Broncos did get the ball back after their defense stopped the Browns deep in Denver territory, but the Broncos couldn't move the ball past the 50-yard line to kick a game winner.
Broncos quarterback Case Keenum said he was confident that the Broncos could have converted the fourth-and-1, but he added that he was angry he didn't get the offense in position for the game winner after the team got the ball back.
"Yes, I felt confident [we would have converted the fourth down]," Keenum said. "I wanted to convert third down. That's what I wanted to do. [Joseph] felt like the defense would get a stop, and [we would] get the ball back, and they did. They got a stop, and we got the ball back. I can't complain. I had the ball in my hands with a chance to win the game. That's all you can ask for."
Joseph said "absolutely" the Broncos' back-to-back runs for just 2 yards and no gain on the two plays before the field goal influenced the decision.
"Absolutely, the third-down play didn't look great, and we had points," Joseph said. "Again, I trust our defense to get a stop the next drive, and we did … hoping we get a stop there and get the ball back."
While the Broncos' defense held on a Browns fourth-down play on the next Cleveland possession, that stand came at Denver's 13-yard line after Browns running back Nick Chubb gained 53 yards on six carries on the drive. That included a 40-yard run on the first play of Cleveland's drive.
"That last drive, what was it: 75 yards rushing?" Broncos linebacker Von Miller said. "We can't allow that."
In five plays, the Broncos were able to go from their own 13-yard line to earn a first-and-10 at the 50-yard line with 52 seconds to play. Joseph said he believed the Broncos needed to get to the Cleveland 42-yard line, at minimum, for McManus to have a chance at a game winner.
Keenum spiked the ball on first down and threw two incompletions to give the Broncos a fourth-and-10 from the 50. Keenum took a low snap in the shotgun and was swarmed under by the Browns' rush for a sack to end the Broncos' chances.
"I'm still pretty emotional about it," Keenum said. "Man, that's what I dream about. Man, that's what I want. I want the ball in my hands with a chance to win the game … to get that close, it pisses me off … Lot of anger at myself. There's some plays I could make that I didn't."
It wasn't pretty, but for at least one more night, the Browns are still in the playoff hunt – Cleveland Browns Blog
DENVER – The Cleveland Browns don't care how it happened, they just care that it did.
When Jabrill Peppers sacked Case Keenum on fourth down with the Broncos at midfield and down one, the visiting sideline erupted.
The Browns somehow had slogged through for a 17-16 win, their fourth in five games.
And they had somehow kept their flickering playoff hopes alive.
It was a struggle — for both teams, but the Browns now hope for help on Sunday and point to Cincinnati in a home game on Dec. 23. The team is 4-2 with Gregg Williams as interim coach and Freddie Kitchens as offensive coordinator.
The Browns got a fourth quarter touchdown pass from Baker Mayfield and some big runs from Nick Chubb as they beat the Broncos for the first time since 1990.
Mayfield was nowhere near as effective as he had been the previous four games, but when it mattered most he came through. After a T.J. Carrie fourth quarter interception, Mayfield hit Jarvis Landry for 12, Rashard Higgins for 16, Landry for six and then found Antonio Callaway for the touchdown that provided the winning points.
Denver would get a field goal to cut the lead to one, but Chubb broke a 40-yard run and the Browns were able to keep the ball until 1:49 remained.
Keenum got the Broncos to the 50, but a spike and two incomplete passes led to the fourth-and-10, when the Browns called blitz and Peppers came through up the middle to end the game.
Mayfield started strong, throwing a 31-yard touchdown pass to Breshad Perriman on the Browns first possession. He finished 18-for-31 for 188 yards, with two touchdowns, one interception and a lost fumble.
It wasn't a spectacular effort.
But it was a winning effort, and a Browns team that had won four games in the 2015, 2016 and 2017 seasons combined has won four of five to keep the postseason in view. At 6-7-1, the Browns trail five seven-win teams in the standings. If the Pittsburgh Steelers, Indianapolis Colts and Tennessee Titans all win Sunday, Cleveland would be eliminated from the race. But, still, at least for Saturday night, the Browns are still alive.
That's not a prediction many would have made when the Browns fell to 2-6-1 after Williams' first game, or even before the season.
But that's where the Browns are.
Believe it or not.
Von Miller eclipses Simon Fletcher as Broncos' all-time sacks leader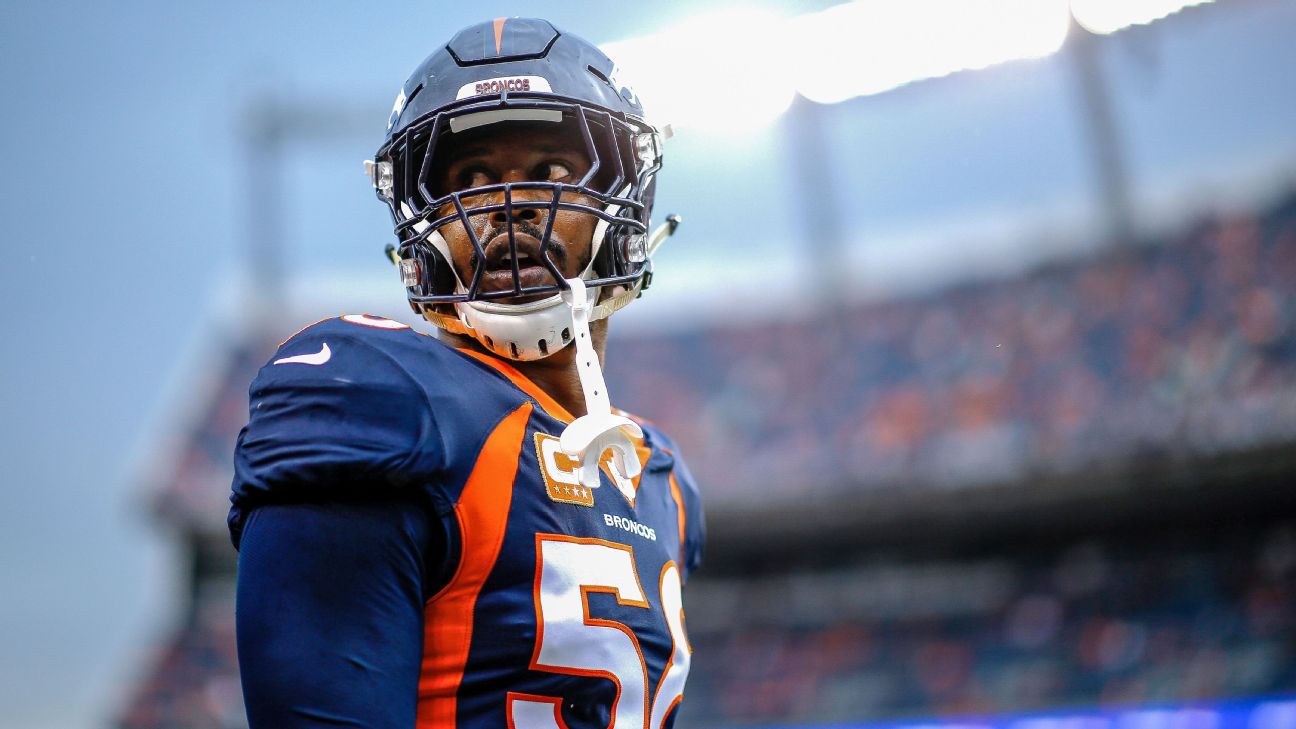 DENVER — Denver Broncos linebacker Von Miller has always said he considers the most important part of his job is "getting sacks and making game-changing plays," and he has now done that more than any other player in franchise history.
When Miller launched himself through the Cleveland Browns' offensive line on the last play of the third quarter Saturday night and pulled quarterback Baker Mayfield to the ground, he had his 98th career sack.
Miller passed Broncos Ring of Famer Simon Fletcher, who finished his career with 97.5 sacks.
The play came at an opportune time for the Broncos, as the Browns had driven into Denver territory against a Broncos defense depleted at cornerback by injury and Jamar Taylor's ejection. The sack also gave Miller 14.5 for the season, the second-highest single-season total of his career.
His career high is 18.5 in 2012.
Miller was asked this past week if he thinks about awards and records down the road.
"I don't really," he said. "Honestly, I don't. The thing about getting sacks, the sack race is so close right now. I'm three sacks away from [Rams defensive tackle] Aaron Donald, and the next guy behind me is just a sack away. So, it's a tight race and every sack could mean the difference. That's where my mindset is at right now."
The Browns beat the Broncos 17-16.