Steelers' James Conner still has time to finish storybook season – Pittsburgh Steelers Blog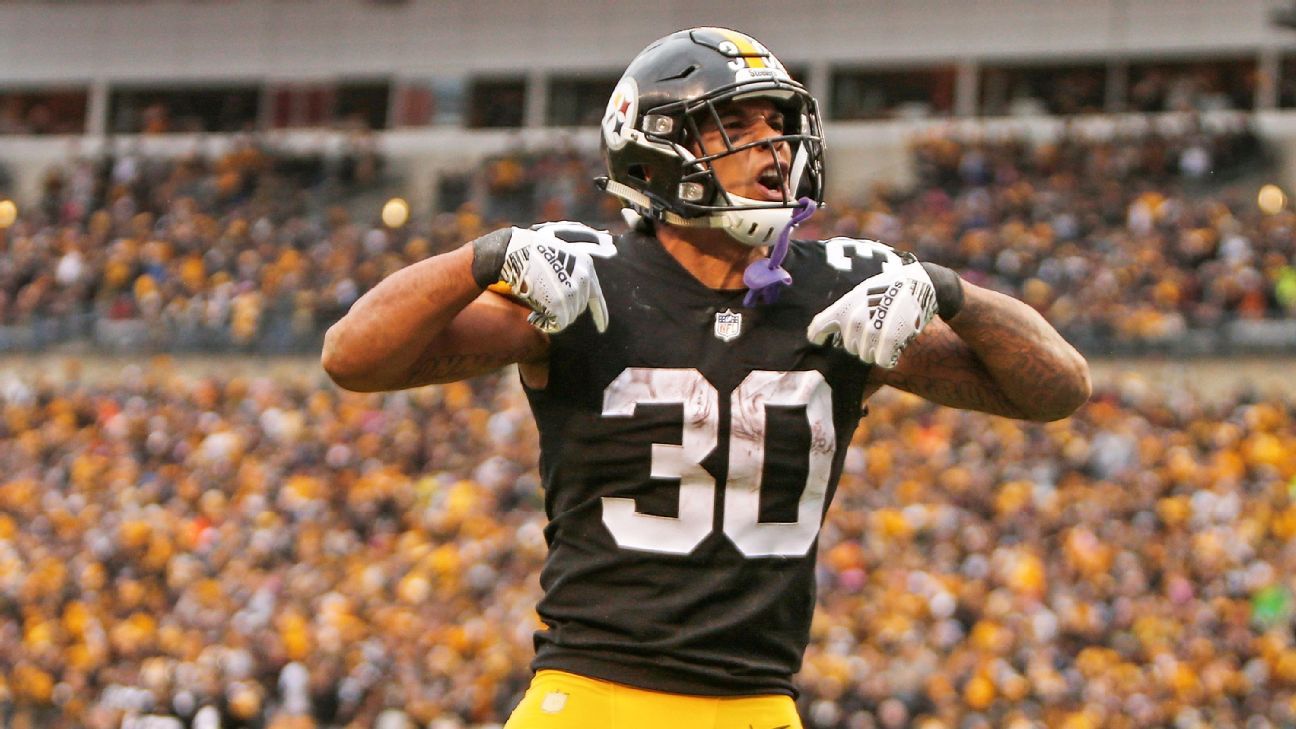 PITTSBURGH — Pittsburgh Steelers players knew little about James Conner's sprained ankle other than he was rehabbing vigorously somewhere inside the team facility Wednesday. Conner wasn't visible during practice or the open locker room, offering up nothing more than prayer and half-smile emojis on twitter.
The one certainty is Conner will not play Sunday at Oakland, where Pittsburgh has lost three straight.
But Conner's teammates want to see the running back finish the job as early as Week 15 in a hotly anticipated clash with the New England Patriots. They've appreciated the way Conner navigated the spotlight in Le'Veon Bell's absence on the way to 909 rushing yards (fifth in the NFL) and 12 rushing touchdowns (tied for second).
As of midweek, Conner was fifth in overall Pro Bowl voting.
"Who wouldn't love this story? Who wouldn't want him to succeed?" guard Ramon Foster said.
Foster was glad the offense could focus on Conner once it became clear Bell would not report by the Week 11 deadline. Since then, though, Conner, the AFC Offensive Player of the Month in October, has dealt with his share of adversity on the field. He dropped two key late-game passes in Jacksonville, followed by a fumble in a loss to Denver that left him visibly frustrated in the postgame locker room.
The miscues haven't affected the Steelers' faith in Conner, who teammate Ben Roethlisberger says hasn't shown any signs of slowing down after 253 touches.
"He stayed quiet, he let his play speak for itself," Foster said. "More than anything, it just showed his confidence is everything he felt that he was. He showed what kind of player he was. It was like, 'Oh, you don't believe me? I'm going to do it again.' You saw it in his face, in his actions."
At least for this week, Conner's running back mates plan to hold him down. Rookie Jaylen Samuels and eight-year veteran Stevan Ridley are expected to share carries, with Samuels getting the start.
"Three-0 is down, so everybody has to do their part so we can carry this load," Ridley said.
The Steelers pass the ball 67.31 percent of the time, tops in the NFL, which means tailbacks must be ready to hit the hole and catch passes.
Conner plays that versatile role well, ripping off nine rushes of 20-plus yards (tied for fourth in the league) along with 52 receptions. He has improved as a pass-blocker. The Steelers will need it for back-to-back matchups with the Patriots and New Orleans Saints in an effort to clinch a home playoff game.
Adequately replacing Bell was never the objective for Pittsburgh. Bell is arguably the game's best running back. More pointedly, Pittsburgh wanted to see whether Conner could become the feature back of their future, and that job is nearly complete.
A few more big-performance reminders might help, but left tackle Alejandro Villanueva never judged Conner by his stats.
"For players, it's always [about] to be able to give 100 percent in what we do and try to fight for our teammates — and that's what he's done," Villanueva said.
From streak to slump: What has happened to Adam Thielen? – Minnesota Vikings Blog
EAGAN, Minn. — The Monday Night Football audience didn't just sense Adam Thielen's frustrations, they heard them. Loud and clear.
After a 35-yard catch-and-run ahead of the two-minute warning in the second half of the Minnesota Vikings' 21-7 loss at the Seattle Seahawks, ESPN's field mics picked up a colorful outburst when the Pro Bowl wide receiver voiced his concern with what was transpiring on offense.
• Inside Steelers' 'play that never happened'
• Lamar Jackson learning risks of running
• Rams need Goff to return to MVP level
• 'Nutcracker' gives Josh Norman mental break
• Cowboys have good problem at linebacker
• NFL playoff picture: Who's in, who's out
Thielen leads the NFL in receptions, with 103, but his production has decreased considerably since he posted 100 yards receiving for eight straight weeks to open the season. In Seattle, Thielen wasn't targeted and didn't catch his first pass until 6:12 left in the third quarter. For the first time in the past two seasons, he didn't catch a pass in a half.
"A little bit frustration of not moving the ball," Thielen said of his outburst. "When you're an athlete and a competitor, you feel like you can win. So, you want the ball in your hand, you want opportunities. So that's probably where that came from."
It's not like he wasn't getting open. On Minnesota's second drive of the game, Thielen was free of defenders 20 yards downfield. Sensing pressure, quarterback Kirk Cousins dumped off a pass behind him to running back Latavius Murray that went for 2 yards. Instead of finding Thielen on fourth down from Seattle's 1-yard line with more than nine minutes to play in the game, Cousins targeted tight end Kyle Rudolph in double coverage in the back of the end zone. The pass was broken up, and the Vikings failed to score.
Thielen's production dip has been noticeable since Week 9, when his 100-yard streak was snapped by the Detroit Lions. With Stefon Diggs sidelined due to an injury to his ribs, the Lions zeroed in on Thielen, limiting him to four catches for 22 yards.
After averaging 115.6 yards receiving in the first eight games of the season while catching 76 percent of his targets, Thielen has caught 64 percent of his targets over the past five weeks while averaging 62.2 yards per game. Amid a rough stretch for Minnesota's offense, Thielen was back to his ways against the Green Bay Packers in Week 12 (eight catches for 125 yards and a touchdown), but he has been quiet outside of that.
Thielen isn't the only one whose numbers have decreased after a hot start. Diggs has gone three straight games without eclipsing 100 yards receiving, and he was visibly frustrated during a defeat at the New England Patriots as cameras caught him ripping off his helmet and screaming after being left wide open.
So what's happening?
"I think a lot of discussion, even talking to my own family after the game, that they noticed watching on TV of Adam and Stefon are being doubled and taken away," Cousins said following the tilt in Seattle. "That was true probably the first two third downs of the game, and then really the rest of the game I didn't notice it showing up. So, while that is happening — that happened against the Lions, that happened against the Patriots and it's going to happen. But it's not play in and play out all game long. So I don't want to overstate that. Certainly, from time to time they'll be doubled."
Teams typically utilize bracket coverage when putting two defenders on one player, but the way the Patriots and Seahawks chose to routinely double Thielen and Diggs with defenders playing man coverage is less common. But it's far from surprising that teams have begun to deploy this strategy to contain the prolific receiving duo.
"I didn't ever think I'd get triple-teamed," Diggs said. "That's something that I've never experienced in my life. For me, I can beat double-teams. I feel like I can still win. And if it's three guys, I've got to beat three guys. It don't really matter how it comes up. But more importantly, we've got guys on the outside that can win, and if I'm occupying three people, I know we've got some guys out there that can get involved."
Interim offensive coordinator Kevin Stefanski hopes to reignite Thielen and Diggs on Sunday at home against the Miami Dolphins in a game that could establish the tone offensively for what the Vikings aim to do the rest of the season.
"I think it's our job and we're charged with getting those guys the football in space," Stefanski said. "It changes, and it varies by game, because certain teams have a certain plan to take those two guys away. The nice part is we have a very unselfish group, so if it's going to be a big Stefon Diggs game, Adam's great about it. If there is going to be a big Kyle Rudolph game, those guys are great about it.
"So, I think the ball goes where the ball goes; but we as coaches, need to try to design plays to get the ball, obviously, to our playmakers."
Another way Stefanski could do that is by getting running back Dalvin Cook more involved in the passing game.
Cook has 50 yards receiving on just 13 catches over the past two games, and opportunities to get him involved in the passing game could help him evolve into the Vikings' No. 3 receiver. The two touchdowns he has scored this season have come as a pass-catcher.
The influences Stefanski pulls from the previous offensive coordinators he has worked under will start to become evident on Sunday. But judging by the success former Vikings offensive coordinator Pat Shurmur had utilizing running backs in the passing game, particularly with screens, Cook could get more involved.
Kobe Bryant gives Cleveland Browns pep talk before playing Denver Broncos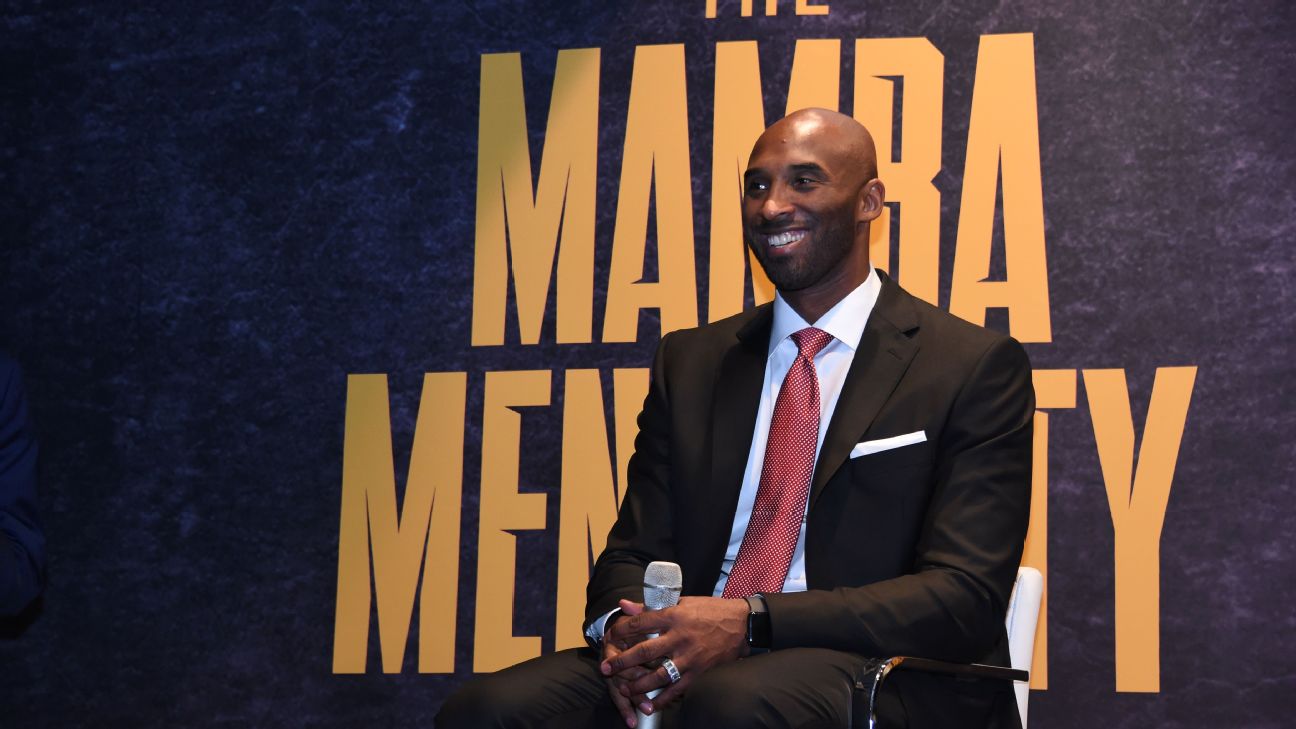 The Cleveland Browns, getting ready for a prime-time game in Denver, had a special guest at their team meeting Friday — one who knows a little bit about Showtime.
Former Lakers superstar Kobe Bryant spoke to the team for about an hour at its hotel, then took questions from the players.
S/O to @kobebryant for stopping by our team meeting today to talk about the #MambaMentality! pic.twitter.com/PMD7DmDbOW

— Cleveland Browns (@Browns) December 15, 2018
Bryant, whose relentlessness and competitive drive were hallmarks of his career, talked about the "Mamba Mentality," and what motivates him.
The Browns (5-7-1), have won three of their past four games and are coming off a 26-20 victory over the Carolina Panthers. They play the Broncos at 8:20 p.m. ET Saturday.
'Nutcracker' and helping homeless give Josh Norman a mental break – Washington Redskins Blog
ASHBURN, Va. — He won't be dancing with any stars, but he will continue to dance. Washington Redskins cornerback Josh Norman will make a cameo appearance in a local production of "The Nutcracker" on Friday night.
It's a way for Norman to raise a little money for his foundation; it's also a way for him to stay mentally fresh during a turbulent time for the Redskins, losers of four games in a row.
That's also why he spent Wednesday night handing out clothing items at several homeless shelters in Washington. He called that an early birthday gift. Norman said he decided to do this the previous night while sitting at home on his couch. Norman, who turns 31 Saturday, said he wanted to do this in lieu of doing something else for his birthday.
"What else is there for me to get?" he said.
• Inside Steelers' 'play that never happened'
• Lamar Jackson learning risks of running
• Rams need Goff to return to MVP level
• 'Nutcracker' gives Josh Norman mental break
• Cowboys have good problem at linebacker
• NFL playoff picture: Who's in, who's out
The past several weeks have been filled with stories about devastating injuries and the waiver claim of linebacker Reuben Foster and players upset with one thing or another — their role, the coaches, teammates, fans. Wednesday provided perspective and respite.
"You always have to think positive," Norman said. "I deal with it by helping other people out. It's pretty cool when you can do that, give back to other people. Helps out a lot."
Norman said the people he was handing out items to did not recognize him.
"They finally found out," he said. "They were like, 'Oh, shoot, you come down to see us?' I was like, 'Yeah, man, I came down to chop it up with you guys.' Took a couple pictures, signed some autographs. It was just really cool and refreshing and rejuvenating. You ask why I come in and keep high spirits. It's because I can do things such as that. It's much bigger than football. It's just cool."
And "The Nutcracker" helps him out, too. The Loudoun Ballet Performing Arts Co. approached him earlier this year about performing as a special guest. His one and only appearance as the Arabian Prince is Friday night. Half the proceeds will go to his Starz24 Foundation. Norman was on "Dancing with the Stars" earlier this year. While training for the show, he met some of the dancers at the LBPA.
When he was on the ABC show, Norman flew across the country and would return in time for Redskins spring practices. For the ballet, he has practiced once a week (on his off day) for a little more than a month at a local high school, he said.
"It's cool; it's something to do," he said. "I've got to be doing something."
He also knows some fans will be upset that he has spent part of his off time in a non-football activity at a time when the Redskins are losing.
"How are we held to a higher standard than a doctor or a physician?" he said. "I do what I do anyway."