Going into Detail: Peyton Manning dissects Texans QB Deshaun Watson – Houston Texans Blog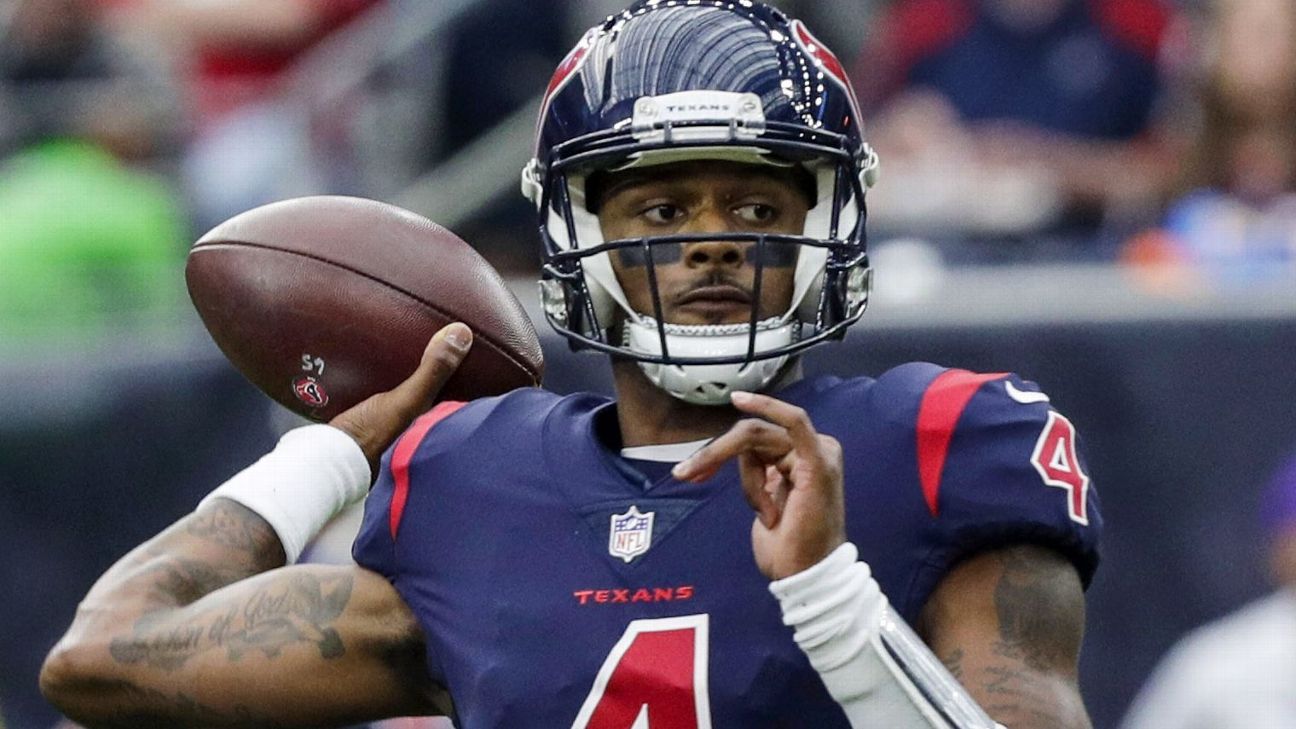 After a historic seven-game rookie season, Houston Texans quarterback Deshaun Watson came into the year with high expectations even though he was returning from a knee injury.
In the latest edition of Detail, available exclusively on ESPN+, Peyton Manning analyzes Texans quarterback Deshaun Watson. Watch now

More Details episodes:
Although the Texans started 0-3, Watson's play has improved as the season progressed, and on Sunday against the Cleveland Browns, Watson completed 22 of 31 passes for 224 yards with a touchdown and no interceptions. He also ran for 30 yards on seven carries.
The Texans never trailed, leading 23-0 at halftime and winning their ninth game in a row.
That victory against the Browns is the focus of the newest episode of the ESPN+ show Detail with Peyton Manning. Here's a recap of Manning's breakdown of Watson's film against Cleveland:
Take pride in your fakes
Manning noted that Watson does a good job disguising his handoffs, saying, if a quarterback can do that well, "that can freeze a defense." Manning said he used to watch film of himself to make sure his handoffs and play fakes looked the same, even making sure he was taking the same number of steps on each play so he was not giving anything away.
"Take pride in your fakes, quarterbacks," Manning said. "Study yourself. Put a camera where that middle linebacker is playing and film yourself in practice handing it off, faking it to the running back. See if it looks the exact same. Get that perspective and angle from the defense."
Watson's free hand
Manning pointed out two plays that had to do with Watson's free hand: making his play-action fake and his handoff to the running back look the same. On the first play he showed, Manning pointed out that Watson left his free hand off to the side, so the defender knew the quarterback had handed off the ball.
"See how that right hand is kind of loose," Manning said. "That blitzer on the backside, he knows that Deshaun doesn't have the ball because his right hand is loose. Put that right hand right there on that [No.] 4 on your jersey. Tuck it right there into your stomach. That way, that defender doesn't know who has the ball, and it may freeze him."
On the second play Manning showed, he pointed out how Watson had his free hand closer to his chest, confusing the defender and forcing him to run at Watson.
Favorite throw of the game
Manning praised a route by DeAndre Hopkins in the first quarter, during which Hopkins caught a 24-yard pass over Browns cornerback T.J. Carrie. Carrie took Hopkins' helmet off while trying to defend the play.
"The corner is underneath Hopkins, so what does Deshaun do? He throws with a little more air at more of an angle downfield over the defender's head for a beautiful completion, a great route and catch by Hopkins," Manning said. "That is big time stuff. You can tell the two of these guys spend a lot of time together, obviously both Clemson Tigers. There's a bond there. There's a connection. You see that on the field."
Throwing into double coverage
Manning cautioned Watson to make sure he's looking for his receivers in single coverage when his star receiver is being doubled. On the first play he showed, Watson couldn't find Hopkins for the first down because the receiver had two defenders on him.
"They're doubling Hopkins here," Manning said. "He's a great receiver. He's earned that double team. We've got to recognize that, quarterbacks. Find your singles. … Go to that guy."
Two plays later, Watson saw that Hopkins had two defenders on him and instead found DeAndre Carter for eight yards.
Unnecessary sacks
In the fourth quarter on third-and-4, Watson was sacked for a loss of 13 yards. Manning cautioned the young quarterback to just "throw it away" and "take the incompletion" instead of taking an unnecessary sack.
"You have the lead, you want to be careful with the ball. I get it," Manning said. "Stay there in the pocket while it's nice and protected. Don't bail unnecessarily. And if you do get out there, just throw it away and let's avoid the sack. Let's take the incompletion."
As season's end nears, no surprise by league's top rookie – NFL Nation
We're almost to the end of the regular season, with multiple teams jockeying for playoff position. Many of those teams will rely on rookies in major roles. That includes the Los Angeles Chargers and top rookie Derwin James.
From game analysis and discussions with personnel evaluators, here's a look at the top 10 rookies so far this season.
Top 10 (stats are Weeks 1-15 combined)
Stats: 93 tackles, 3.5 sacks, 3 INTs
Previous ranking: 1
As the Chargers make a push for home-field advantage in the AFC — the team has won 10 of its past 11 games — James continues to be the most versatile option defensive coordinator Gus Bradley can move anywhere in the formation. Some opposing offensive coaches have tracked him at five different positions as they prepared to play the Chargers.

Stats: 146 tackles, 7 sacks, 1 INT
Previous ranking: 2
He was credited with 11 tackles, including one for loss, and knocked down passes in the Colts' 23-0 win over the Dallas Cowboys — the first time the Cowboys had been shut out since 2003. The guy has sacked the quarterback once in every four times he has rushed, and he added a recovery of a blocked field goal to his résumé in the win over the Cowboys.

Stats: 51 tackles, 12 sacks, 2 FF
Previous ranking: 3
The Broncos have asked Chubb to hold the edge in the run game, and he has dropped into coverage from time to time as well. He has usually been assignment-sound in all he has been told to do, and he continues to impact things in the rush. He needs 2.5 sacks in the last two games to tie Jevon Kearse's rookie record set in 1999.
4. QB Baker Mayfield, Cleveland Browns

Stats: 3,065 yards passing, 21 TDs, 11 INTs
Previous ranking: 4
The Browns are clinging to wafer-thin playoff chances with four wins in the past five games, including Saturday night, when the Broncos held Mayfield to 18-of-31 passing. But Mayfield went 4-of-4 for 39 yards and a touchdown on what turned out to be the game-winning drive early in the fourth quarter.

Stats: 1,155 yards rushing, 13 total TDs
Previous ranking: 5
Barkley was held to 31 yards rushing by the Titans this past Sunday — his second-lowest rushing total of the season — but his 170 yards rushing on just 14 carries in Week 14 were a season best.

Stats: 108 tackles, 4 sacks, 1 INT
Previous ranking: 9
Rare athleticism and savvy have been consistently on display in a Bears defense that locked down the Rams in Week 14 and is now among the league's top four in scoring defense, total defense, sacks, forced fumbles and interceptions. Khalil Mack gets much of the attention, but Smith has had a huge role in Chicago's run to the divisional title.
• Updated rookie rankings
• Sizing up Antonio Brown's odd season
• Searching for answers to protect Watson
• Peterson wonders about Cardinals future
• Colombo brings energy back to Cowboys OL
• Playoff picture: Who's in, out, on bubble

Stats: 117 tackles, 7 PD, 2 INTs
Previous ranking: 7
Vander Esch has already set the team's record for tackles by a rookie, and the Cowboys will now try to work Sean Lee back into the lineup (Lee's hamstring injury forced Vander Esch into a starting role). Lee played seven snaps against the Colts on Sunday — his first game since Nov. 5 — but Vander Esch has been key in the Cowboys' push to win the NFC East.

Stats: 991 yards rushing, 10 total TDs
Previous ranking: 6
In back-to-back Broncos losses, Lindsay was held to 30 and 24 yards rushing, but the body of work remains top-shelf this season. He's fifth in the league in rushing, and his 5.4 yards per carry average is second in the league among qualifying backs.

Stats: No sacks allowed in six games
Previous ranking: 10
Nelson continues to draw raves from personnel executives around the league for his ability to finish. He has had some flags — nine penalties this season — but his awareness in and out of double-teams to go with his power at the point of attack is a rare combination.
10. CB Denzel Ward, Cleveland Browns

Stats: 48 tackles, 4 TFL, 3 INTs
Previous ranking: 8
Ward missed the past two games and most of a third with a concussion. Browns interim coach Gregg Williams said Monday that Ward remains in the league's concussion protocol.
Close but not quite (totals are for 15 weeks)
49ers RT Mike McGlinchey (no holding penalties in 14 starts); Bengals S Jessie Bates (98 tackles, 3 INTs); Browns RB Nick Chubb (860 yards rushing, 5.2 yards per carry, 10 total TDs); Panthers CB Donte Jackson (62 tackles, 4 INTs, 1 sack); Texans S Justin Reid (75 tackles, 3 INTs, 1 TD); Packers CB Jaire Alexander (62 tackles, 1 INT, 11 PD); Bills LB Tremaine Edmunds (98 tackles, 4 TFL, 2 FF); 49ers LB Fred Warner (105 tackles, 1 FF); Falcons WR Calvin Ridley (56 catches, 699 yards, 8 TDs); Steelers S Terrell Edmunds (68 tackles, 4 PD); Giants DT B.J. Hill (45 tackles, 5 sacks); Titans LB Rashaan Evans (44 tackles, 2 TFL); Dolphins S Minkah Fitzpatrick (73 tackles, 2 INTs, 1 TD); Ravens T Orlando Brown Jr. (just three penalties); Titans LB Harold Landry (37 tackles, 3 TFL, 2.5 sacks).
Kickers need love, too
Raiders kicker Daniel Carlson, who was waived by the Vikings after missing three kicks in Week 2, continues to make the most of his second act. Carlson missed his second field goal attempt with the Raiders — a 45-yard attempt that hit the right upright in a Week 9 loss to the San Francisco 49ers — but he hasn't missed since. He was 3-of-3 this past Sunday.
Devin Bush of Michigan Wolverines to miss Chick-fil-A Peach Bowl, enter NFL draft
Michigan linebacker Devin Bush announced Wednesday that he will miss the Chick-fil-A Peach Bowl because of a hip injury and is forgoing his senior season to enter April's NFL draft.
Bush is ranked as the No. 8 prospect available for the draft by ESPN's Mel Kiper Jr. and the No. 10 prospect by Todd McShay.
Bush, a finalist for the Butkus Award as the country's top linebacker and a junior co-captain, injured his hip in the third quarter of the Wolverines' 62-39 loss to Ohio State on Nov. 24.
"Despite getting treatment every day, I have not been cleared to play in the Peach Bowl due to the hip injury I suffered in the last game," Bush wrote in a statement on Twitter. "Due to this injury, I have thought hard about my future in football. Having been injured, I realize how fleeting this sport can be. It's always been a dream of mine to follow in my father's footsteps and play in the NFL.
"This injury has made me realize how important this goal is to me and my family. Therefore I have decided to forgo my senior season and enter the 2019 NFL draft."
His father, Devin Bush Sr., was a safety on Florida State's 1993 national championship team and a first-round pick of the Atlanta Falcons in the 1995 NFL draft. He played eight seasons with the Falcons, Rams and Browns.
Bush had 79 tackles, nine tackles for loss and five sacks for the Wolverines this past season.
The No. 7 Wolverines will be without two of their defensive stars when they play No. 10 Florida in the Chick-fil-A Bowl at Mercedes-Benz Stadium in Atlanta on Dec. 29 (noon ET on ESPN). Junior defensive end Rashan Gary, another projected first-round pick, announced last month that he's skipping the bowl game to prepare for the draft.
Philadelphia Eagles quarterback Carson Wentz had separate stress fracture in back found his freshman year
PHILADELPHIA – Eagles quarterback Carson Wentz had a separate stress fracture in his back that was discovered his freshman year at North Dakota State, according to a league source.
The injury was from his adolescence and was completely healed by the time he was in college, and is unrelated to Wentz's current injury, the source said.
Wentz's medical report, given to teams at the NFL Scouting Combine prior to the 2016 NFL Draft, referred to a healed stress fracture in his back, the Philadelphia Daily News first reported. While it was discovered in college, a league source clarified that the stress fracture had occurred prior to his playing days at North Dakota State. Wentz was a redshirt freshman when the fracture was discovered and it did not impact him on the collegiate level.
It also did not affect his draft stock, as he was selected No. 2 overall by the Eagles.
The current stress fracture was discovered following a CT scan last Tuesday, according to Eagles coach Doug Pederson. Wentz sat out last week's game at the Los Angeles Rams and it appears he'll be sidelined again Sunday, as Pederson has named Nick Foles the starter for the Eagles' upcoming game against the Houston Texans.
"He'll be listed as week-to-week. We will not put him on [injured reserve]," Pederson said of Wentz. "Obviously when he's healthy, he's our quarterback and we'll go from there."
Wentz was first listed on the injury report with a back issue in late October. He was feeling better symptom-wise as the season progressed, evidence of a healing process already underway, a source said.
Pederson noted the recovery period could be about three months, though that is not set in stone. Optimism remains that Wentz, who is coming off multiligament knee surgery, will not be hampered by the back issue long-term.
"The fact that he doesn't need surgery on this, I mean, is the best news that you could possibly have on anybody that has a stress fracture or a stress injury in this case," Pederson said last week. "As long as we take the proper steps to make sure that all our players are 100 percent, then [there is no long-term concern]."