NFL rookie first-round QBs: The good, bad and what's next – NFL Nation
The five quarterbacks selected in the first round of the 2018 draft — Josh Allen, Sam Darnold, Baker Mayfield, Lamar Jackson and Josh Rosen — might all start in Week 14.
Here's a closer look at how they are doing this season:
---

Josh Allen, Buffalo Bills
Stat line: 101-of-191 (52.9 percent), 1,223 yards, 5 TDs, 7 INTs; 57 rushes, 389 yards, 4 TDs; passer rating: 66.3; Total QBR: 53.0
Positives: Allen is 3-4 as the Bills' starter, but his exciting playing style has injected energy into a team out of the playoff race and optimism into a fan base eager to see what he can do in 2019. The No. 7 overall pick has lived up to his billing as a fearless passer with rare arm talent, but his athleticism in escaping pressure and scrambling seems to have caught defenses off guard. Allen has 234 rushing yards in the two games since his return from an elbow injury, the most rushing yards for a quarterback over a two-game span since Green Bay's Tobin Rote had 281 in 1951.
Negatives: The Bills had one of the NFL's most risk-averse quarterbacks in Tyrod Taylor, whose 1.3 interception-per-attempt rate from 2015 to 2017 ranked second only to Tom Brady among qualifying quarterbacks. Allen has been intercepted on 3.7 percent of his passes this season, the sixth-highest rate in the NFL. He must learn to make smarter decisions when faced with low-percentage throws and also fine-tune his arm strength to be more accurate on high-percentage throws. His 52.9 percent completion rate would rank 324th among 330 qualifying quarterbacks over the past 10 seasons, according to ESPN Stats & Information research.
What's ahead: Allen's 53.0 Total QBR this season would rank 15th among 62 rookie quarterbacks with at least 50 pass attempts since ESPN began tracking Total QBR in 2006. Ranking that high would be an impressive feat for Allen, who was in the statistical gutter when he was injured in Week 6. The four games on the sideline seemed to help Allen's growth, but he must protect his body over the final four games and stay on the field. The only quarterback to attempt more rushes per game than Allen (7.1) this season is Cam Newton (7.6). If Allen does not slide or go out of bounds when running, the hits will add up. — Mike Rodak

Sam Darnold, New York Jets
Stat line: 159-of-289 (55 percent), 1,934 yards, 11 TDs, league-leading 14 interceptions; passer rating: 68.3; Total QBR: 31.5
Positives: He has arm strength and athleticism. He can avoid the rush and throw accurately on the move, essential traits in today's NFL. He displays next-level thinking in certain situations, especially when the play veers off script. He played very well in the Jets' three victories, looking very much like a franchise quarterback. His demeanor is remarkably even-keeled for a 21-year-old, which will serve him well.
Negatives: He led the nation in turnovers last season at USC, and the trend has continued with the Jets. Darnold has cut down on his fumbling, a major issue in college, but the interceptions have to stop. Specifically, he struggles against zone defenses — 10 interceptions and only one touchdown pass, according to Pro Football Focus. Like many young quarterbacks, he sometimes won't see a safety lurking in coverage.
What's ahead: After missing three games with a foot strain, Darnold should be able to start Sunday against the Bills — the first of four new opponents for him. The more opponents he sees, the better off he'll be in the long run. Problem is, he's returning to a bad situation. The Jets' offense is in such a funk (only three touchdowns in the past five games) that it will be difficult for him to rise above the ineptitude around him. — Rich Cimini

Lamar Jackson, Baltimore Ravens
Stat line: 46-of-77 (59.7 percent), 540 yards, 2 TDs, 3 INTs; 82 rushes, 404 yards; passer rating: 73.5; Total QBR: 38.5
Positives: Jackson has provided a much-needed dose of excitement and a run-first offensive identity. Since Jackson took over for the injured Joe Flacco, he ended a three-game losing streak and has won all three of his NFL starts, making the Ravens a favorite for the final playoff spot in the AFC. How elusive has Jackson been? His 265 yards rushing are the most by a quarterback in his first three starts in the Super Bowl era.
• Wagner proving Seahawks' D still has stars
• Ertz chases Witten's records while making friends
• Meet the ex-trucker running the NFL's top defense
• How Barkley stacks up with all-time greats
• Texans' turning point came in first Colts game
Negatives: There are major questions about whether he can win a game with his arm. Jackson has struggled with his accuracy and has missed open receivers for big plays downfield. On throws of 15 yards or longer, Jackson has completed 5 of 10 attempts as a starter. He also has been prone to turnovers with one lost fumble and three interceptions in three games.
What's ahead: Ravens coach John Harbaugh wouldn't commit to Jackson as the starter for the remainder of the season, but it will be difficult to take the job away from Jackson if he continues to win. Jackson isn't close to being as polished as Flacco. He is the better fit in Baltimore's run-heavy offensive game plan. He adds an explosiveness and unpredictability that is tough for teams to prepare for in a week. How much the Ravens can overcome his growing pains will dictate whether they can reach the playoffs and make an unexpected championship run. — Jamison Hensley
Baker Mayfield, Cleveland Browns
Stat line: 224-of-345 (63.3 percent), 2,638 yards, 18 TDs, 10 INTs; passer rating: 91.1; Total QBR: 50.6
Positives: At long last, the Browns have their quarterback. Mayfield has played with confidence and chutzpah since he took over in the fourth game of the season. He does not let much faze him. After throwing for 46 yards with three interceptions in the first half Sunday, he came back to throw for more than 350 in the second half. The only thing that would prevent the Browns from going into 2019 with Mayfield as their starting quarterback is a bad injury.
Negatives: The league adjusted a bit to Mayfield on Sunday, as veteran coordinator Romeo Crennel undercut some of the routes Mayfield and the Browns like to throw. That helped contribute to the turnovers. But with a rookie like Mayfield, every game is a growing experience. If he takes the loss in Houston that way, he will be better for it. Mayfield also got into a social media spat after the Cincinnati game with former coach Hue Jackson, in part because he says he is not a "cookie-cutter quarterback." He might not be, but less off-field drama benefits the entire team.
What's ahead: At 4-7-1, the Browns are the longest of long shots to make the playoffs, so it's about reps and growth for the young quarterback — and as many wins as the Browns can find. Mayfield will get a second crack at the Bengals' woeful defense in Cleveland, but he faces three other teams still in the playoff hunt: Carolina, at Denver and at Baltimore. Even with the tough half in Houston, Mayfield has improved steadily as the season has gone on. Continuing that trend bodes well for 2019. — Pat McManamon

Josh Rosen, Arizona Cardinals
Stat line: 148-of-273 (54.2), 1,670 yards, 10 TDs, 11 INTs; passer rating: 68.2; Total QBR: 30.7
Positives: Rosen's best attribute is his mental fortitude. He has an ability to forget about bad plays — and there have been plenty of them this season — and move on to the next play. That's part of the reason he has thrown for 656 yards in the fourth quarter, which accounts for more than 39.2 percent of his passing yards, while leading Arizona to two fourth-quarter comebacks in his three wins.
Negatives: Rosen has shown week after week that it takes him too long to get in the rhythm of the game — usually two or three quarters. By that time, he already has thrown a few high passes that were makeable throws or an interception or two, with the Cardinals playing from behind. He also has struggled in throwing the touch pass, sometimes rifling a short pass that, with a little finesse, could've been made.
What's ahead: Nine games into his NFL career, Rosen continues to figure out how to be an NFL quarterback behind a patchwork offensive line and with limited offensive resources. But he'll have a chance to win a few more games and build confidence as Arizona has the Lions, Falcons, Rams and Seahawks to finish the season. — Josh Weinfuss
Miami Dolphins RB Frank Gore not expected to return this season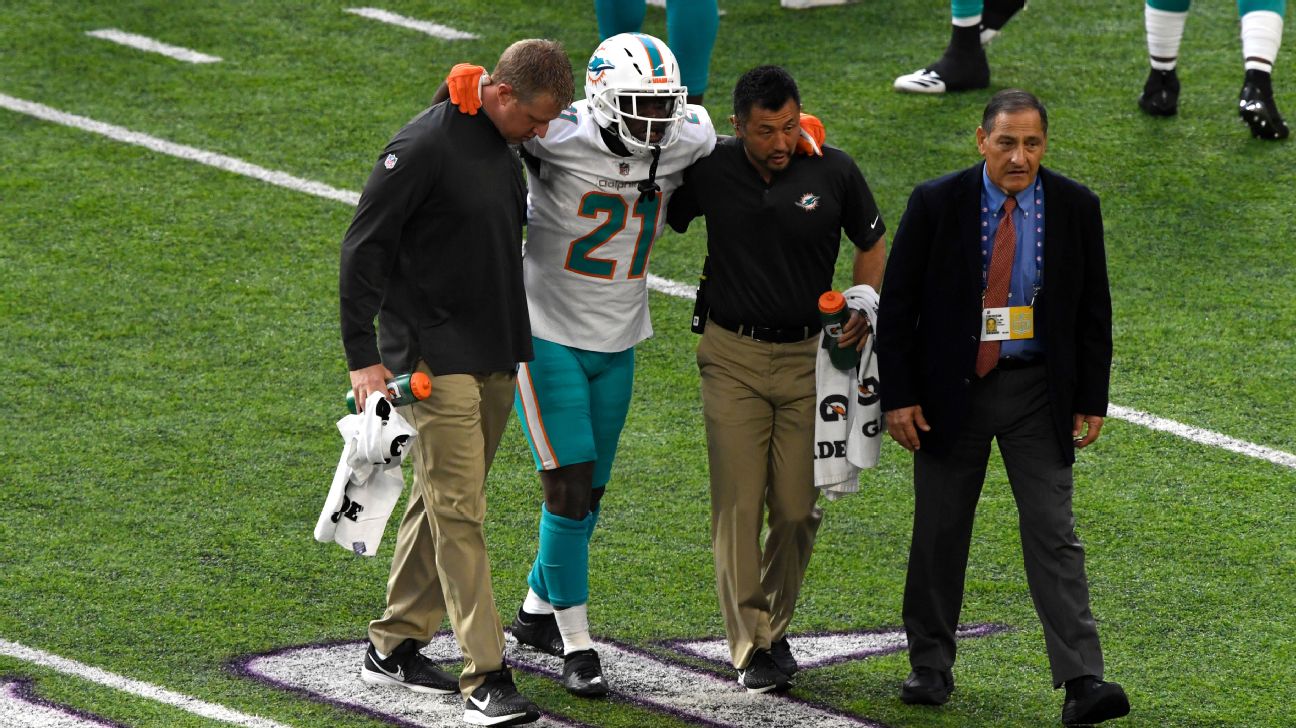 Miami Dolphins running back Frank Gore is not expected to play again this season, a league source told ESPN's Adam Schefter, perhaps ending the potential Hall of Famer's NFL career.
Gore had tests on his sprained foot Monday after leaving the Dolphins' 41-17 loss to the Minnesota Vikings with the injury Sunday.
The 35-year-old five-time Pro Bowl selection is in his first season with the Dolphins after signing a one-year contract to play in the city where he starred for the University of Miami in college football.
He is No. 1 among active players with 14,748 career rushing yards and No. 4 on the all-time list, trailing only Barry Sanders, Walter Payton and Emmitt Smith, who are all in the Pro Football Hall of Fame.
In 14 games this season, he has 722 rushing yards and 12 receptions for 124 yards and a touchdown.
Rookie running back Kalen Ballage is expected to pick up a heavy portion of Gore's workload. He gained 123 yards on 12 carries in Sunday's loss and scored on a 75-yard touchdown run.
Philadelphia Eagles to start Nick Foles at quarterback in Week 16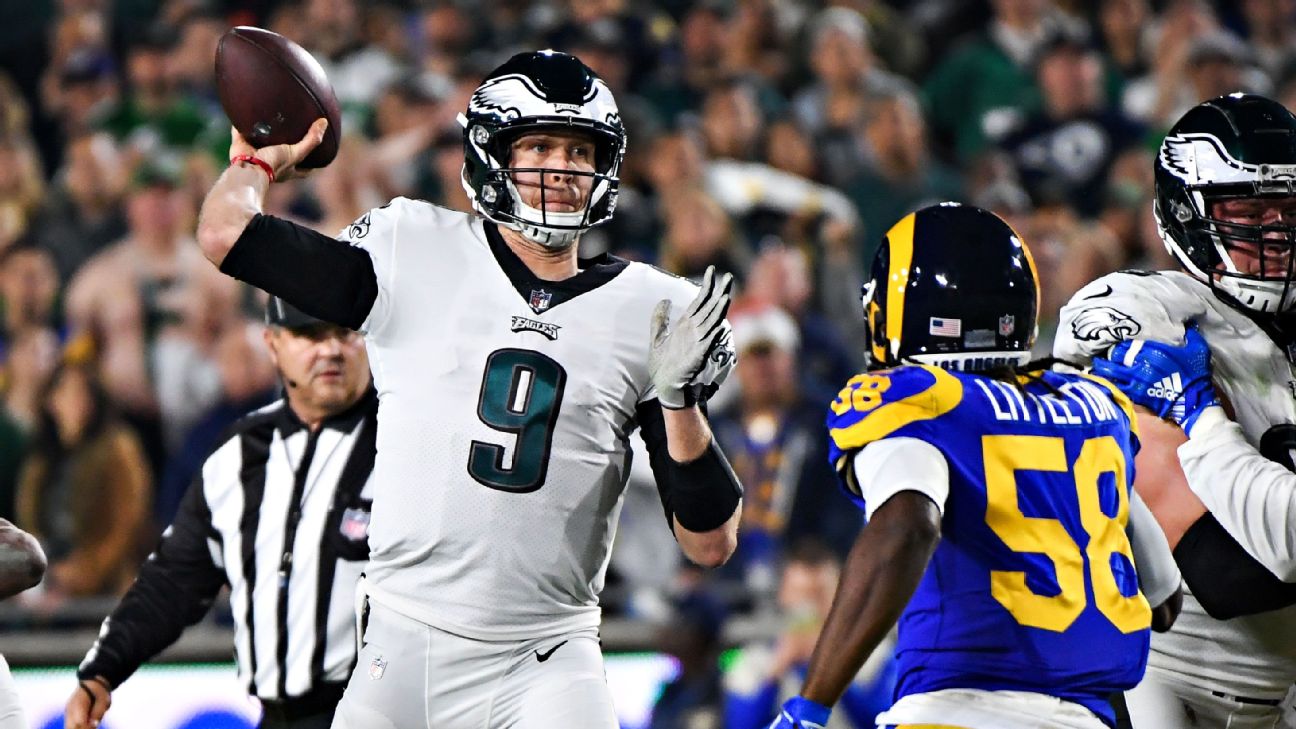 Philadelphia Eagles coach Doug Pederson said Monday that Nick Foles will remain the team's starting quarterback in Week 16 against the Houston Texans.
Pederson told reporters that the Eagles want to give the injured Carson Wentz another week to recover from his back injury, and that they will not put Wentz on IR yet.
Foles, last season's Super Bowl MVP, led Philadelphia to an unlikely win over the visiting Los Angeles Rams on Sunday night.
He finished 24-of-31 for 270 yards and an interception, guiding the Eagles to the 30-point mark for just the second time all season. Though Foles didn't find the end zone, he hit wide receiver Alshon Jeffery for eight passes and 160 yards.
The defending champs still have life at 7-7. Their chances of making the playoffs jumped to 29 percent, according to ESPN's Football Power Index projections. A loss would have dropped those odds to 5 percent.
Wentz has a stress fracture in his back that could take three months to recover from, according to Pederson, but hasn't been ruled out for the season.
ESPN's Tim McManus contributed to this report.
NFL Week 15 – Bettor loses $569,000 on Seattle Seahawks moneyline bets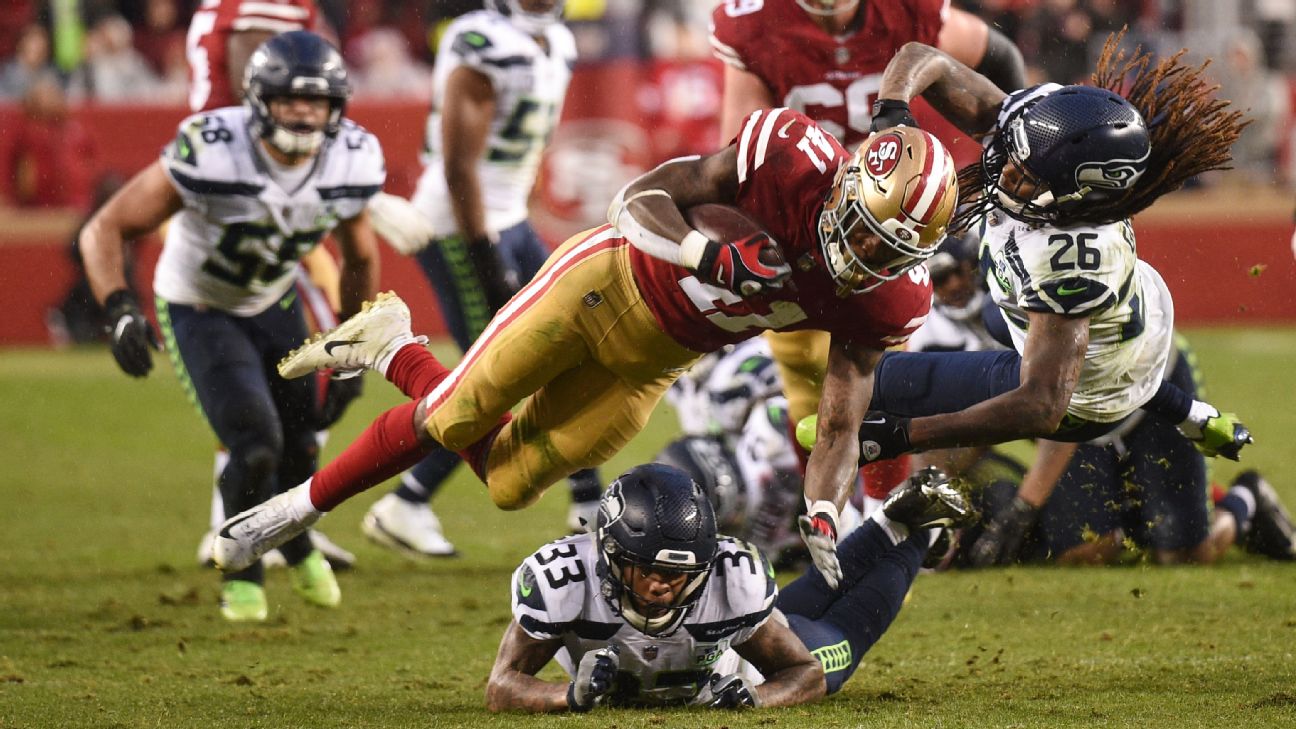 Notable bets is a regular Monday roundup of wagers — some sharper than others — made recently at sportsbooks across the nation.
On the first Sunday with legal sportsbooks in Philadelphia and Pittsburgh, the hometown Eagles and Steelers pulled off upsets.
Welcome to the bookmaking business.
At Sugarhouse Casino in Philadelphia, 91 percent of the money-line bets were on the Eagles against the heavily favored Los Angeles Rams. At Rivers Casino in Pittsburgh, 83 percent of the money-line bets were on the Steelers. The Eagles upset the Los Angeles Rams, and the Steelers knocked off the New England Patriots.
In addition to the hometown bias, the other lesson learned from new sportsbooks in Pennsylvania were straightforward: "We're going to have to build bigger," Sugarhouse general manager Cheryl Duhon said.
Added Rivers Casino general manager Bill Keena, "My text to my CEO was, 'We need to think bigger.'"
Sugarhouse and Rivers are operating out of temporary sportsbooks setups. Sugarhouse has six betting windows at the counter in addition to six kiosks. Duhon said they have already ordered six more kiosks to help serve the demand. Both casinos are planning to build larger permanent sportsbooks. For now, though, they'll work with the space they have and figure out the best way to handle the heavy volume on the home teams.
"We still have people betting on the Eagles to win the Super Bowl," Duhon said.
Here are the notable bets from the week:
---
NFL
• MGM reported taking an $180,000 money-line bet on the Rams to beat the underdog Eagles at -900 odds. The bettor would have won a net $20,000, but Philadelphia pulled the upset, knocking off the Rams 30-23. The bet was first-reported by the Action Network — and it wasn't even the largest money-line bet MGM took last week.
• A bettor at MGM placed two money-line bets totaling $569,000 on the Seattle Seahawks to beat the San Francisco 49ers. According to MGM sportsbook supervisor, the first bet was for $235,000 at -230 odds. The book bumped the up the price to -250 and then took another $334,000 on the Seahawks from the bettor. The 49ers won 26-23 in overtime.
• Shortly before the Thursday night game between the Los Angeles Chargers and Kansas City Chiefs, a bettor placed a $200,000 money-line bet on the favored Chiefs at -200 odds. The bet would have paid $100,000, but the Chargers rallied from a 14-point deficit in the final four minutes and won 29-28 on a two-point conversion with four seconds to play.
• The 49ers' upset of the Seahawks produced the largest win on a single game of the season for MGM.
• The SuperBook at Westgate Las Vegas took a $130,000 money-line bet on the Houston Texans to beat the New York Jets on Saturday. The bettor won $50,000 when the Texans came from behind in the final five minutes to beat the Jets 29-22.
• The Cleveland Browns eclipsed their season-win total at most sportsbooks with Saturday's win over the Denver Broncos. The Browns improved to 6-7-1 with the win over the Broncos. "Over the summer we had a guy bet $70,000 to win $50,000 on the Browns over 5.5 wins," John Murray, director of sports for the SuperBook, told ESPN. "We took a ton of money on under six [wins] to get off his bet, because we really like the Browns. We need one more win. If they get to seven [wins], that will be a big winner for the book."
• The Browns opened as 7-point favorites over the Cincinnati Bengals in Week 16. Cleveland hasn't been favored by at least this much since a 2013 home game against the Jacksonville Jaguars, when it was favored by 7.5 points.
• The biggest decision in the early games for the SuperBook was in the Tennessee Titans–New York Giants game. The Giants opened as 2.5-point favorites, before early action moved Tennessee into the role as favorite. "On Saturday night, we had a guy bet $55,000 to win $50,000 on the Titans -1," Murray said. The Titans won 17-0.
• A bettor at the SuperBook on Saturday placed a $500 wager on the Green Bay Packers to win the Super Bowl at 300-1 odds. The Packers were eliminated from the playoffs with Sunday's loss to the Chicago Bears.
College football
• A bettor at MGM placed a series of five-figure bets on some early bowl games. The bettor put $55,000 on Louisiana Tech +1.5, $44,000 on Eastern Michigan +2 (vs. Georgia Southern), $55,000 on Middle Tennessee +7 (vs. Appalachian State) and $44,000 on North Texas +8.5 (vs. Utah State). Georgia Southern won 23-21; Appalachia State won 45-13, and Utah State won 52-13. Louisiana Tech will face Hawaii on Saturday.
• At Caesars' sportsbooks in Nevada, the Las Vegas Bowl between Fresno State and Arizona State generated 1.5 times more handle than of the other five FBS bowl games Saturday.
• There was some notable line movement in some marquee bowl games last week:
– Georgia went from an 11-point favorite to a 13-point favorite over Texas in the Sugar Bowl.
– Clemson went from an 11.5-point favorite to a 13-point favorite over Notre Dame in the Cotton Bowl, a College Football Playoff semifinal.
---
Odds and ends
• The SuperBook posted odds last week on the winners of the two Major League Baseball wild-card Games in 2019. The St. Louis Cardinals (+450) and Washington Nationals (+500) are the favorites in the National League. The Houston Astros, Boston Red Sox and New York Yankees are co-favorites at +280 in the American League.
• NBA: The SuperBook took a $2,500 wager on New Orleans star Anthony Davis to win MVP last week at 4-1 odds.
• PGA: A bettor at the SuperBook placed a $600 bet on Thomas Pieters to win the Masters at 100-1. Tiger Woods and Jordan Spieth are the current co-favorites to win the Masters, each listed at 12-1.