MLB players concerned about rebuilding teams, attendance drop
NEW YORK — Baseball players are concerned the Seattle Mariners have become yet another rebuilding team and might be joined by others following a season of steep attendance drops among clubs that faded early and never contended for the playoffs.
Union head Tony Clark and new collective bargaining director Bruce Meyer said Wednesday their members also are concerned about rapid change in the way games are played, such as the increased use of relief pitchers, and are willing to speak with management this offseason about whether counteracting changes are needed.
Altering the amateur draft to include an NBA-style lottery for the top picks, the 10-day disabled list and the 10-day minimum for the recall of players optioned to the minors are among the topics the union is prepared to talk about as part of a wider discussion. So are possible rules to counter offense-suffocating defensive shifts.
And the union maintains its agreement is necessary for any changes in anti-gambling rules in the wake of the Supreme Court's decision that allows more widespread legal betting.
But Seattle's decision to trade Robinson Cano, James Paxton, Jean Segura and Edwin Diaz raised concern among players already angered by Baltimore, the Chicago White Sox, Cincinnati, Detroit, Kansas City, Miami and Pittsburgh jettisoning veterans.
"We have seen some things that are eerily similar to last offseason," Clark said. "One of the concerns in general has to do with the level of competition or interest in competition across the teams in general. … When you have teams who are as we've seen already moving considerable amounts of their roster and/or other teams who are talking about doing so, it raises concerns about how that's going to affect the market."
Hours after Clark spoke, Arizona dealt All-Star first baseman Paul Goldschmidt to St. Louis for prospects, perhaps signaling an exodus of veterans from the desert.
Players have taken to calling the process tanking, while management calls it the type of normal rebuilding that has been going on throughout Major League Baseball's history. There were three 100-loss teams this year for the second time since 1985 and eight 95-loss teams for the first time in big league history.
"There are teams that are effectively announcing at the beginning of the year that they're not going to be competitive that year, and in some cases that they're not going to field the best players that they have," said Meyer, who spent two years in a similar role for the NHL Players Association before switching to baseball in September.
MLB points to data showing 27 percent of teams had 90 or more losses in each of the last three years, a figured that has fluctuated between 20 percent and 33 percent since 2000.
"Last offseason, the union filed a grievance against four clubs that it claimed were not trying to win," said MLB Deputy Commissioner Dan Halem, citing a case against Miami, Oakland, Pittsburgh and Tampa Bay. "One of those clubs made the playoffs, another club won 90 games and a third club was in contention through the trade deadline. I don't think the players' association has any credibility on opining on how clubs will perform."
Attendance has gotten the attention of both sides. Toronto and Miami each had attendance drops of more than 800,000, Kansas City by over 500,000, and Baltimore, Detroit, Pittsburgh and Texas in excess of 400,000.
Baseball Commissioner Rob Manfred attributes part of the drop to unusual weather that led to 54 postponements, the most since 1989, and many more games played in cold. Players see lack of competitiveness as a bigger factor.
"We have teams … talking about a three-, four-, five-, six-year plans," Clark said. "We saw how that manifested itself last year and have concerns about how it's going to manifest itself this year."
The union refused last offseason to agree to management's proposal to install pitch clocks but did not block a new rule limiting mound visits that contributed to a 4 1/2-minute drop in the average time of a nine-inning game to 3 hours, 44 seconds. A wider discussion appears likely to take place this offseason.
A lottery for the top draft picks could discourage some teams from rebuilding, which leads to losses, high selections that add top amateurs at relatively low prices and a path to success years later.
"There are a lot of pieces to the conversation. I think the draft is one of them," Clark said.
Altering the disabled list or option recall rules could decrease the supply of fresh arms available to managers each game, which could start to reverse the increased use of relief pitchers. But players have benefited from the 10-day DL, which began in 2017; disabled players accrue major league service time along with their replacements, and that service time is needed to be eligible for salary arbitration and free agency.
"There's an acknowledgment that it may be a part of the conversation based on what we've seen certain teams do over the last couple of years," Clark said. "It has lent itself to more players getting more major league service as a result of that movement."
Players also want to be part of the discussion of betting prohibitions. MGM Resorts International became MLB's official gambling partner last week. MLB and club employees, including players, are prohibited from betting on baseball. MLB is considering updated policies that would prohibit them from causing bets to be made and from distributing confidential information that could impact betting, a person familiar with the discussions told The Associated Press last week. The person spoke on condition of anonymity because the policies were not final.
The union insists change to major league rules need its assent.
"There's a number of conversations that are going to need to be had," Clark said.
The Associated Press contributed to this report.
The shift, 100 mph heat, near impossible odds — How hitters are fighting back
LAS VEGAS — From within, the conversation is less about evening the playing field and more about overcoming the odds. It isn't about taking things back to the way they used to be; it's about uncovering something new. While most of the baseball community has debated the merits of eliminating the shift — a possibility brought to light in a recent article by The Athletic — teams have become proactive about ways to neutralize it.
Creative thinking has become paramount.
"Since I can remember being around advanced process in the major leagues, and player development at the major league level, the advancements on the run-prevention side have dwarfed what's going on in the run-scoring side," Los Angeles Dodgers president of baseball operations Andrew Friedman said. "If we're setting records for strikeouts as an industry, let's think about this differently — let's ask different questions, let's be open-minded to ways we can possibly combat that."
The Dodgers put themselves at the forefront by going unconventional with their hitting coach, taking a chance on a 32-year-old specialist named Robert Van Scoyoc, who barely even played in high school.
Van Scoyoc helped turn J.D. Martinez into a power-hitting dynamo and was influenced by Craig Wallenbrock, the popular private hitting instructor who was among the early advocates of launch angle. Van Scoyoc is the third Wallenbrock pupil to become the main hitting coach this offseason, along with Johnny Washington (San Diego Padres) and Tim Laker (Seattle Mariners). A fourth, Brant Brown, was recently installed as the Dodgers' hitting strategist.
Van Scoyoc, Brown and Aaron Bates are the three hitting coaches for a Dodgers organization that will scrap the traditional hierarchy and implement what Friedman calls "a collaborative environment." The only other team with three hitting coaches on its major league staff is the crosstown Los Angeles Angels, who have Jeremy Reed as hitting coach, Paul Sorrento as hitting instructor and Shawn Wooten as assistant hitting coach.
The amount of information available and the amount of cage time required necessitated three men for essentially one job, a concept that is sure to catch on throughout the industry. Angels first-year manager Brad Ausmus called hitting coach "the most time-intensive coaching job on the staff."
The reason: Hitting is damn near impossible these days.
Major league players combined to strike out 41,207 times in 2018, making it the 11th consecutive season to set a new record. Pitchers are throwing harder, with more movement, than ever before, and defenses have become increasingly more adept at situating themselves in the right places.
Chris Woodward, the new Texas Rangers manager who was previously the Dodgers' third-base coach, is among those now instructing their hitters to go against the shift.
One of Woodward's biggest run producers, Joey Gallo, faced a shift on 84.2 percent of his plate appearance last season, second in the majors only to Baltimore Orioles slugger Chris Davis. Gallo's strength, like that of most left-handed power hitters, is to pull pitches in the inner third of the strike zone. Woodward doesn't want Gallo to stray from that. But if it's a two-strike count with two outs and a runner in scoring position, a ground ball to a vacant left side might not be such a bad idea.
"But he's got to have a physical way of doing it," Woodward said. "It's something that he actually has to practice."
The Rangers will get to work on that this spring.
The Dodgers will too.
"Since I can remember being around advanced process in the major leagues, and player development at the major league level, the advancements on the run-prevention side have dwarfed what's going on in the run-scoring side. If we're setting records for strikeouts as an industry, let's think about this differently — let's ask different questions, let's be open-minded to ways we can possibly combat that."

Dodgers president of baseball operations Andrew Friedman
Last year, 133 left-handed hitters saw at least 100 pitches with a shift. Only 27 of those hitters bunted more than once to try beating it, and only seven bunted more than three times. (The leader, Rangers second baseman Rougned Odor, executed 14 bunts against the shift, getting a hit on six of them.) The Dodgers didn't record a single bunt for a hit against the shift in 2018.
"It should be important enough to get on base to be able to manipulate the bat and hit the ball the other way or to lay a bunt down," Dodgers manager Dave Roberts said. "We're going to get better at that. When you see one player on the left side of the infield and you're down a run — we're going to challenge our guys to find a way to hit it over there. But you've got to do that by practicing. It's going to be a priority for us to get better at that."
There were 2,350 shifts on balls in play in 2011, according to Sports Info Solutions. By 2018, that number rose all the way to 34,671. The percentage of plate appearances with a shift went from 12.1 in 2017 to 17.4 in 2018. During that two-year stretch, there were eight instances of a qualified left-handed hitter finishing a season batting .215 or lower. In the 96 years prior, there were a total of 14, according to research by ESPN Stats & Information.
But it isn't just how the defense is situated — it's what the pitchers are throwing.
The average fastball velocity was 91.8 mph as recently as 2008 and sat at 93.6 mph in 2018, according to FanGraphs. The average spin rate — the number of revolutions per minute that a baseball travels after leaving the pitcher's hand, as measured by Doppler radar — increased every year from 2015 to 2018, from 2,127 RPMs to 2,226, per Statcast.
The information on all of this is exhaustive, which makes simplifying it so crucial.
"I think there's more in terms of how you prepare for a game," Friedman said. "It's always been the exact same, and it's the same in 30 clubhouses. 'This guy throws 91 to 94, his slider is 85, he throws the slider 37 percent of the time; when he's ahead in the count, he throws it 52 percent of the time. Go get him.' Like, I think there's more potentially in there on how to prepare hitters to compete for that night's game. What that means, exactly, I'm not sure yet."
For the Dodgers, it'll start with Van Scoyoc, who received 10 at-bats as a high school senior in Southern California and hardly played at a nearby community college called Cuesta. Shortly after a playing career he called "very mediocre," Van Scoyoc began working with Wallenbrock out of a warehouse in Santa Clarita, California, located about 30 miles northwest of Dodger Stadium.
They preached the importance of launch angle before it became vogue throughout the sport, teaching hitters to keep their swing paths through the strike zone as long as possible and to lift pitches into the air.
Van Scoyoc helped utilityman Chris Taylor and middle-infield prospect Gavin Lux make big statistical leaps during his time as a Dodgers consultant in 2016 and 2017. He parlayed that into a job as hitting strategist with the Arizona Diamondbacks in 2018, a role he called "very broad." Now Van Scoyoc will help a Dodgers offense that led the National League in runs but went through maddening highs and lows, while serving as one of only three hitting coaches without so much as a minor league at-bat on his résumé.
"I know that it can be notable when a coach gets hired to look at their playing résumé and things like that, but if you take a step back, don't a lot of the hitters and pitchers go see specialists in the wintertime?" Angels general manager Billy Eppler asked. "So aren't you just doing the same thing if you're hiring them to your organization? So it must not be that important to the player, right? So who is it important to?"
"I think players will listen to people that they think can help them, and pretty quickly they judge your intellect, what your base of knowledge is," Van Scoyoc said. "I had a lot of confidence in the things I believed from all the time I spent studying it and the information I had. I believed when I spoke to people I could convey that. And I think they had confidence to listen to me."
Jason Ochart — the director of hitting at Driveline Baseball, an innovative, data-driven development program located about 20 miles south of Seattle — has noticed an acceleration in innovative thinking from teams this offseason.
He sees a need for more of it.
Ochart believes that traditional batting practice, which consists of soft tosses from 40 feet away, is basically useless for hitters. He thinks teams should instead utilize high-velocity pitching machines, some of which can now be programmed to replicate major league pitches.
He sees room for growth with regards to game-planning, perhaps by cross-referencing hitter heat maps with pitcher tendencies to carve out specific attack plans for each plate appearance. He called vision training, a form of perceptual learning intended to improve the ability to process what is seen, "the next frontier" in run creation.
Ochart also predicts that more value will once again be placed on hitters who don't strike out and can't be shifted on, citing Michael Brantley, who recently signed a two-year, $32 million contract with the Houston Astros.
The modern-day approach, of selling out with two strikes and lifting every pitch, might be fading.
"Hitting shifted and guys started to do that, and they started to swing up and try to hit the ball high and far and got rid of two-strike approaches and lengthened their swings and stuff like that, and then pitching combated by throwing harder, throwing higher fastballs, and getting more swing and misses," said Ochart, who recently accepted a job as a consultant for a major league team.
"I think maybe the pendulum swung a little too far, and it might swing back in the other direction."
Is it really that crazy to think the Mets can win the NL East?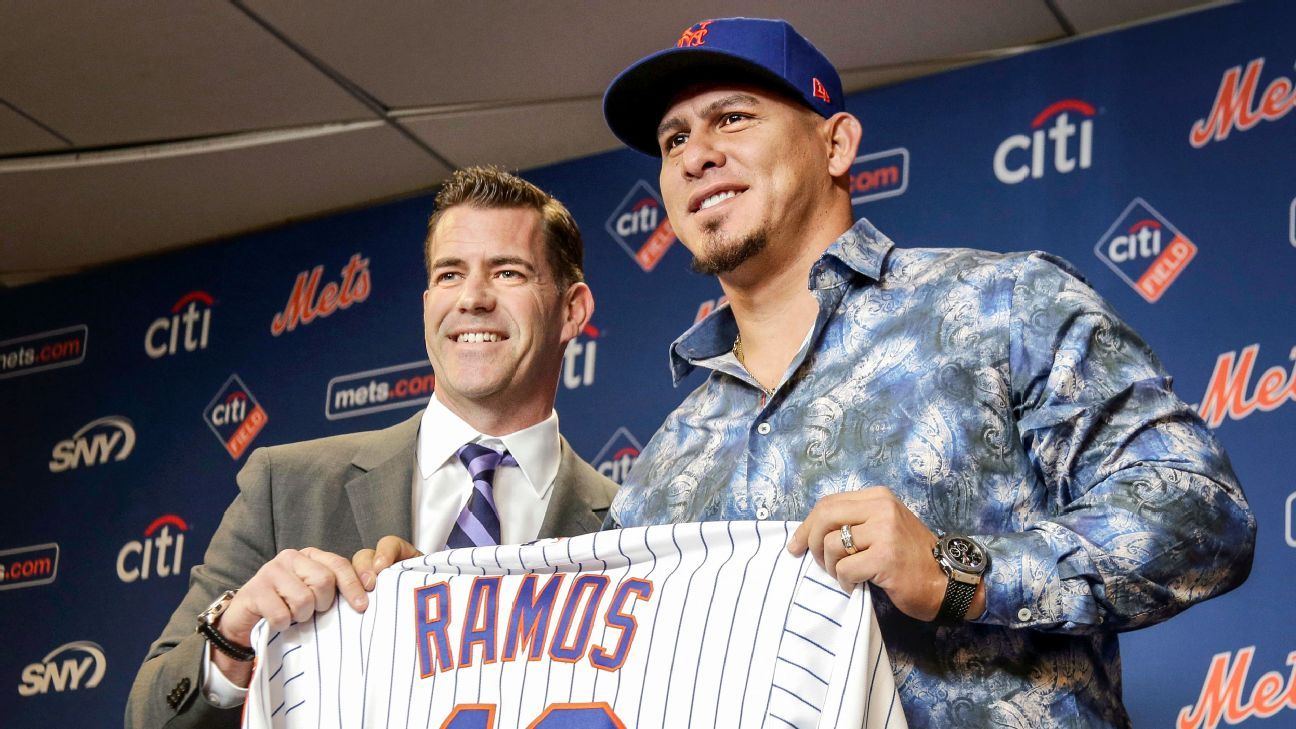 Hey, the New York Mets didn't hire Brodie Van Wagenen to be just another conventional general manager. They could have gone with the latest 30-something prodigy from Harvard or Yale if they wanted to do that.
(OK, Van Wagenen went to Stanford, the "Harvard of the West" except with a prettier campus.)
The longtime player agent was an out-of-the-box hire by Jeff Wilpon, the much-criticized COO of the Mets (dad Fred is the majority owner), and the new 44-year-old general manager has proved in less than two months on the job that he's not afraid of the big move and not afraid to act quickly. In one sense, that already separates him from most of his peers.
Van Wagenen engineered the blockbuster deal with the Mariners that brought in Robinson Cano and Edwin Diaz, he signed free-agent reliever Jeurys Familia, he may or may not have discussed a trade or trades involving Noah Syndergaard for J.T. Realmuto, and after ditching that idea, signed free-agent catcher Wilson Ramos. The Mets have shored up three of their biggest holes from 2018: the bullpen, catcher and infield depth.
Now throw in a little smack talk.
"Internally, we would argue that we're the favorites in the division right now," Van Wagenen told SNY network.
Get the tabloid headlines ready!
I love it.
I mean, the New York media is going to have a field day with this. That's OK. Stealing some attention away from the Yankees is always a good thing. Yes, "internally" is a little vague. Did Van Wagenen mean This is just our collective feeling right now in the front office? Did he mean No, seriously, we've run the analysis through 10,000 simulations on our propriety projection system and it says we're the best team in the NL East? Or did he mean Jeff Wilpon told me to say this? Or maybe he just accidentally spoke out loud in his quiet voice.
Here's the thing: It's not that crazy of a thing to say. He didn't predict a division title. He didn't refer to any of the Mets' rivals as an Evil Empire or refer to the Red Sox as the Golden State Warriors of baseball as Brian Cashman did during the 2017 offseason when Boston got Chris Sale. In the annals of ridiculous things people in a front office might say, this isn't so outrageous.
Like I said, it's not even that silly. According to the latest projections at FanGraphs, the Mets are the second-best team in the division:
Nationals: 91-71
Mets: 85-77
Braves: 82-80
Phillies: 79-83
Marlins: 68-94
Of course, it's early in the offseason. The Phillies are certainly not done and the Braves may have a couple of moves on the margins (or maybe they'll surprise us and trade for Realmuto or Corey Kluber) and maybe that projection is a little soft. The Nationals have signed Patrick Corbin and upgraded their bullpen and catcher, but may still sign a second baseman and you never know what will happen with Bryce Harper. In other words, the rosters are far from set, so let's not print any playoff tickets just yet.
I also like what Van Wagenen has done. Yes, the Cano/Diaz trade has a chance to backfire if Jarred Kelenic, the team's first-round pick in 2018, develops into a star and Diaz blows out his elbow and Cano gets old overnight. Everyone trashed the Cano part of the trade, ignoring the fact that he's actually still a good player and hit very well (.317/.363/.497) after he returned from his 80-game suspension for taking a banned substance. Even playing just half the season, he was worth 3.2 WAR and while he's 36, he has those quick hands and baseball instincts that suggest he should remain productive for at least two or three more seasons. Yes, the last couple of years of the contract may not look good, but in dumping Jay Bruce and Anthony Swarzak, the Mets' payroll wasn't adversely affected for the first couple of years.
Plus, roster flexibility is so important these days and now the Mets can slide Jeff McNeil into a utility role or maybe he takes over at third base if Todd Frazier continues to decline. Or maybe Cano slides over to first base if Peter Alonso isn't ready. The Mets were 28th in the majors in bullpen ERA and now should have one of the best combos in the game in Familia and Diaz. (On the strength of those two additions, FanGraphs currently rates the Mets' bullpen third best in the majors.) Ramos has been one of the best-hitting catchers and provides a significant upgrade over what the Mets received in 2018 (.208/.297/.355).
All this is to say that Van Wagenen hasn't acted irrationally or tried to do too much too soon, like A.J. Preller did a few years ago in his first year with the Padres, when he foolishly traded for Matt Kemp, traded away Trea Turner and overpaid for James Shields. The Padres went from 77 wins to 74 wins.
While most GMs worry about trading away the wrong prospect, or giving one year too many for a free agent, or are hamstrung by restrictive payroll constraints, they are often paralyzed into non-action. Van Wagenen's boldness has been a welcome change of pace.
Still: 85 wins isn't going to win the division. What's your next move, Brodie?
Brewers, Rays, Twins know how to play the winter waiting game
The Tampa Bay Rays don't know where they will play in a decade. The Milwaukee Brewers spent about $150 million less in payroll than the champion Red Sox. The Minnesota Twins just announced they will retire the number of their most prominent 2018 star, Joe Mauer, who is headed into retirement.
These three franchises face perpetual challenges in payroll and resource management, working with the knowledge that one big personnel mistake — paying too much money to the wrong guy — could devastate their franchise, a concern the Red Sox, Yankees, Dodgers and other superpowers don't bear. For the Rays, Brewers and Twins, two significant mistakes could require a recovery period of five to eight years, and (probably) front office turnover.
Because of that ledge the Rays, Brewers and Twins must carefully creep along, they will never be the envy of other franchises. But they seem to be some of the best current examples of how teams are carefully sorting through their choices, and aggressively working to avoid risk and extract the full power of dollars spent.