Is Marcus Mariota turning corner in time to save Titans' season? – Tennessee Titans Blog
NASHVILLE, Tenn. — With four games left in the season, the Tennessee Titans find themselves in contention for the final playoff spot in the AFC. The Titans probably have to win out, starting with their matchup against the Jacksonville Jaguars on Thursday night, to punch their postseason ticket.
To beat the Jaguars (4-8), the Titans (6-6) will have to stretch the field to open up the rest of the offense. The bulk of that responsibility falls on quarterback Marcus Mariota, and he is starting to complete passes down the field.
His completion percentage this season (68.6) would be by far the best of his career thanks to a steady diet of short throws, but over the past couple of weeks, he has started to connect with his pass-catchers for more explosive plays. Through 12 games, Mariota has completed 30 passes of 20 yards or more. Five of those plays were good for 40 yards or more (tied for 14th in the NFL), and four of those five have come over the past two games.
Receiver Taywan Taylor exploded for 104 yards on three catches in the fourth quarter against the New York Jets on Sunday, when Tennessee rallied for a 26-22 win. Taylor and Mariota connected for plays of 44 yards and 55 yards, respectively, that fueled the comeback.
• Wagner proving Seahawks' D still has stars
• Ertz chases Witten's records while making friends
• Meet the ex-trucker running the NFL's top defense
• How Barkley stacks up with all-time greats
• Texans' turning point came in first Colts game
The big plays brought the fans at Nissan Stadium to their feet and lit a fire under an offense that was struggling until that point.
Those explosive plays are back-breakers for a defense because they flip the field quickly, and more importantly, they force opposing teams to play the Titans differently. The dink-and-dunk passing by the Titans that was prevalent for most of the season allowed teams to condense the field because they didn't respect the deep passing game. Defensive backs would squat on routes by Tennessee receivers because they weren't worried about getting beat deep.
Head coach Mike Vrabel wants to make sure that doesn't happen going forward.
"We have to do more of that, just to keep teams from sitting on you and bodying up at the top of the route," he said. "It was good to see Taywan be able to stretch the defense and go make a play. To be able to hit two of those to change field position and momentum. Certainly, we would like to have as many of those every week as we could."
The vertical threat Taylor presents will help open things up underneath for players such as wide receiver Tajae Sharpe to work the middle of the field. Running back Dion Lewis also will have more space to run choice routes out of the backfield. The tight ends can have a more significant impact with more space as well.
"It definitely helps," Mariota said. "When you're able to have that threat, I think defenses have to keep on us, and not really just hang on everything and play tight on all of our routes underneath."
These are the areas that Tennessee tends to attack in third-down situations. Mariota likes to make the high-percentage throws between the hashes where Sharpe can create separation.
Stretching the field also will help the running game. When Tennessee wasn't hitting deep throws, opposing safeties played closer to the line, making it tougher to run. Finding balance on offense by establishing the run makes offensive coordinator Matt LaFleur's scheme go, and fewer defenders close to the line of scrimmage is important in LaFleur's zone scheme. Running backs will have a more open cutback lane leading to big plays on the ground.
Success on the ground makes play-action work, and that produces big plays because it provides max protection so the receivers can run longer-developing routes. Those explosive plays make defenses back up, which makes it easier to run the ball effectively.
A stout Jaguars defense, fresh off pitching a shutout against the explosive Colts, will make it difficult for Tennessee to keep up its recent trend of hitting big pass plays. The highlight reels have been focusing on Mariota and his receivers, but the quarterback says the big plays can't happen without protection.
"They're huge," Mariota said about the offensive line. "To give us the time to be able to do that is so important. Those guys, they don't get a whole lot of credit for what they do, but they are definitely the focal point of this offense."
Carolina Panthers, Houston Texans to play in London for 1st time
The Carolina Panthers and Houston Texans will play games in London during the 2019 season, leaving the Green Bay Packers as the only NFL team not to play in the United Kingdom.
The Panthers will face a NFC South rival, the Tampa Bay Buccaneers, and the Texans will play an AFC South matchup, against the Jacksonville Jaguars.
In the other London games, the Chicago Bears will play the Oakland Raiders and the Cincinnati Bengals will face the Los Angeles Rams.
The Kansas City Chiefs will face the Los Angeles Chargers in Mexico City as a part of the league's International Series that began in 2007.
The dates and venues will be announced at a later time.
"I've had the chance to play and coach in London before and those were unbelievable experiences," Carolina head coach Ron Rivera, who played in London with the Bears in the 1986 preseason and coached in London with the Chargers in the 2008 regular season, said in a statement.
It also will be a chance for Carolina defensive end Efe Obada, who joined the Panthers in 2017 as part of the NFL's International Player Pathway Program and this past season became the first player from that program to make the 53-man roster, to play in the city where he grew up.
The Nigerian-born Obada shared last season how he and his sister were victims of human trafficking and were abandoned on the streets of London.
"It's amazing the Panthers are going to play in London," Obada said. "One of my goals, beyond making the roster, has been to play in London, be in front of the English fans and get a sack. It would be coming full circle to be on that field. Now I have to make the team again. It's added motivation."
This will be a home game for Tampa Bay, so the Panthers still will play eight home games at Bank of America Stadium.
Two of the UK games will be played at Tottenham Hotspur's new stadium, and the other two at Wembley Stadium.
Jared Goff, with help from some helmet tape, sends Rams to Super Bowl – Los Angeles Rams Blog
NEW ORLEANS — Jared Goff is typically poised under pressure and rarely displays emotion.
But even the Los Angeles Rams quarterback let loose Sunday, even if just for a few moments, after an improbable come-from-behind overtime victory against Drew Brees and the New Orleans Saints to win the NFC Championship Game and advance to the Super Bowl.
"Very excited, man," Goff said, shortly after he took part in a quick dance party with teammates inside the visitor's locker room. "Get to play in the Super Bowl and we earned it."
The Rams will play the New England Patriots in the Super Bowl on Feb. 3 in Atlanta.
Goff, 24, is the fourth-youngest quarterback to win in the conference championship round, according to ESPN Stats & Information. And as the top overall pick in 2016, Goff will become the only quarterback taken first overall to start a Super Bowl by his third season, according to the Elias Sports Bureau.
"He's the commander in chief, other than Coach McVay," Todd Gurley said. "He did his thing, man, and we really appreciate him."
Todd Gurley II tears up after the Rams beat the Saints to earn a spot in Super Bowl LIII.
Said coach Sean McVay: "Jared's mental toughness was a big part of us being able to win that today."
Throughout the season, Goff displayed an even-keeled demeanor as the Rams got off to an 11-1 start, and his behavior did not change amid back-to-back losses and a personal three-game slump.
So it came as little surprise Sunday that the third-year pro maintained composure despite a shaky start.
Before taking the field inside the raucous Superdome, Goff said his helmet speaker quit functioning, and he was forced to use backup quarterback Sean Mannion's helmet in the first series, which lasted three plays and ended with an intercepted pass. Even after the equipment staff repaired the helmet, Goff said he was unable to hear and communicate because of the crowd noise. It was evident as the Rams stumbled through the first quarter and the Saints scored 13-unanswered points.
Eventually, the Rams put tape over the holes in Goff's helmet to eliminate as much noise as possible, and Goff found a way to get the offense in sync.
"Trying to communicate, it was difficult," Goff said. "But I think once we got into a rhythm, outside those first two or three drives, felt pretty good. I think once I was able to kind of settle in and really understand what was coming in the helmet and kind of anticipate some stuff and try to be very direct with where I needed to say it to."
Goff orchestrated a seven-play, 81-yard touchdown drive at the end of the first half to pull the Rams within 13-10. In the second half, Goff delivered a 1-yard touchdown pass to tight end Tyler Higbee and later — trailing by three points late in the fourth quarter — delivered a 19-yard pass to Josh Reynolds and a 16-yard pass to Robert Woods to move the Rams into field goal territory, where Greg Zuerlein would kick a field goal to force overtime.
"No matter what was going on, we looked to his face, and he was so calm and relaxed," receiver Brandin Cooks said of Goff. "That's a special player."
Goff completed 25 of 40 passes for 297 yards with a touchdown and an interception in the 26-23 overtime victory. And, according to ESPN Stats & Information research, Goff made some of his best plays in the toughest situations. He completed a career-best seven passes from outside the pocket, including 4-of-4 for 71 yards and a touchdown in the second half and overtime.
Sunday, Feb. 3 | 6:30 p.m. ET | CBS
• Guide to Patriots-Rams: Predictions, more »
• O'Connor: This is Belichick's masterpiece »
• Graziano: Rams' turnaround is on McVay »
• Rams went all-in, and look at them now »
• Underdogs? Patriots show pedigree in win »
More NFL coverage »
Even though Goff started the game 2-of-6 with an interception while under duress, he completed his last four attempts for 90 yards in the fourth quarter and overtime.
"Jared was Jared," center John Sullivan said. "He's calm, cool, collected. He's an incredibly poised guy."
The Rams traded up from the 15th pick to No. 1 overall in 2016 to select Goff, who started three seasons at California. As a rookie, Goff made seven winless starts as the Rams stumbled to a 4-12 season, and coach Jeff Fisher was fired.
But in his second season, and in McVay's first as coach, Goff led the Rams to 11 wins and an NFC West title.
His upward trend continued this season as Goff helped the Rams secure back-to-back division titles for the first time since 1979, and he has led the organization to its first Super Bowl appearance since the 2001 season.
"We're sure glad he's our quarterback, have a lot of belief in him," McVay said. "I think when you just look at the trajectory of his career, what he's done over the last two years, since our coaching staff has had a chance to work with him, we feel like he certainly has been one of the best quarterbacks in this league, and I wouldn't want anyone else leading this football team."
Super Bowl LIII guide – Predictions, big questions for New England Patriots-Los Angeles Rams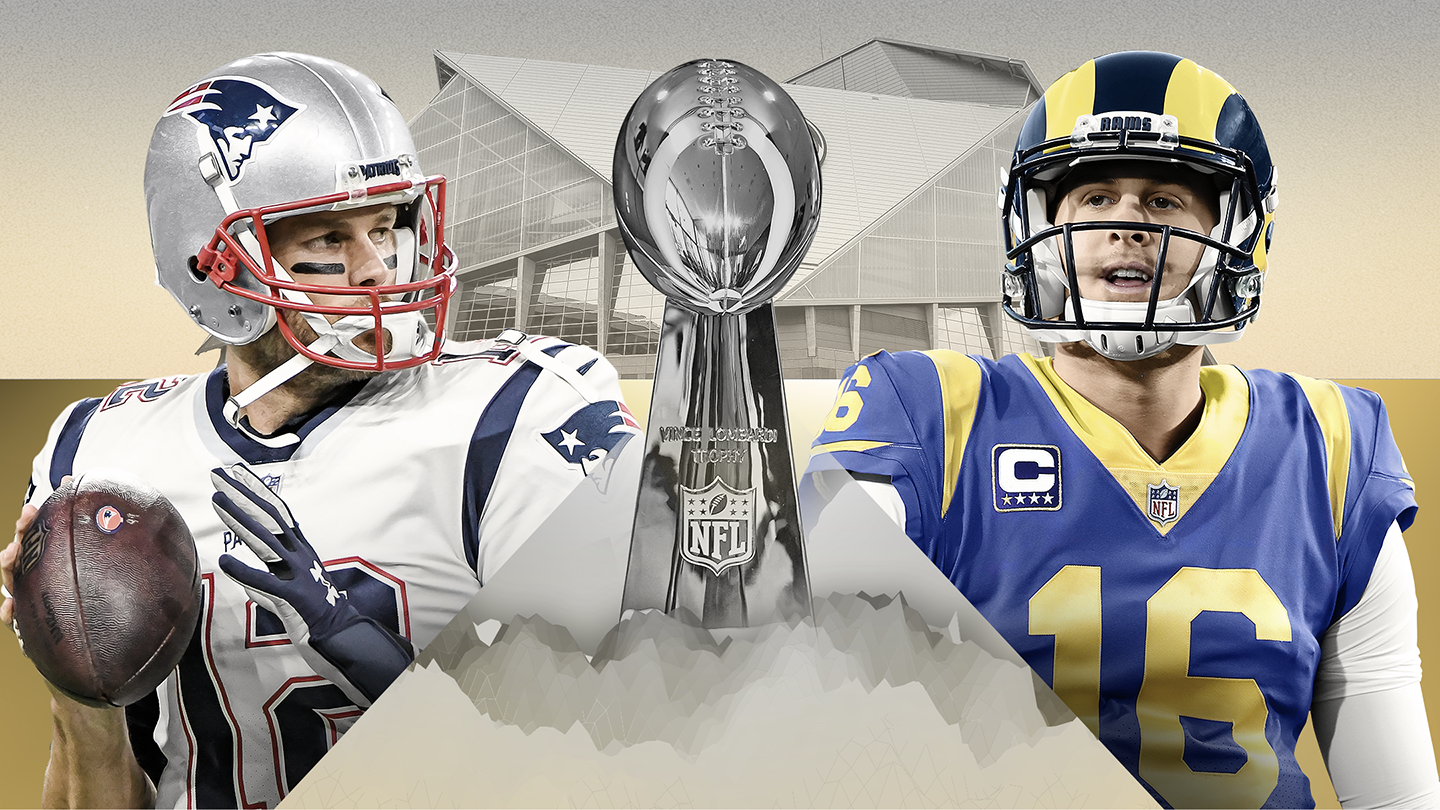 The Los Angeles Rams needed overtime to get by the New Orleans Saints, but they are headed to the Super Bowl. They will meet the New England Patriots in Atlanta in two weeks. The Pats also needed overtime in a shootout against the Kansas City Chiefs at Arrowhead Stadium in the AFC title game.
Here's an early look at their matchup, complete with team breakdowns, X factors and big questions for the final game of the season. Plus, we have early predictions from our experts and ESPN's Football Power Index.
What to know | NE | LAR
Big questions | Early picks
---
What to know for Super Bowl LIII
When: Sunday, Feb. 3 at 6:30 p.m. ET on CBS
Where: Mercedes-Benz Stadium, Atlanta
Vegas line: Patriots -1.5 (O/U 58.5)
FPI prediction: Rams, 51 percent
Super Bowl LIII will bring together the NFL's oldest of the old, and the newest of the new. The New England Patriots are led by the NFL's most-tenured coach (Bill Belichick) and oldest starting quarterback (Tom Brady). When Belichick and Brady won the first Super Bowl together at the end of the 2001 season, Los Angeles Rams coach Sean McVay was 16 years old. Their quarterback, Jared Goff, was 7. McVay has sparked a revolution in the way NFL teams think about offense and team building. But no one has done it better than Belichick and Brady. — Kevin Seifert
---

Reason to be excited: Simply put, the Patriots have Brady and Belichick leading the way. This is their ninth appearance in the Super Bowl together, so they know the drill more than any quarterback-coach combination in NFL history. That alone makes the Patriots a dangerous team in the highest-stakes game. — Mike Reiss
Reason to be concerned: Aaron Donald. The Rams' defensive tackle is the best in the NFL at the position, and he could make life difficult for Brady. The Patriots are strong on the interior of their offensive line with left guard Joe Thuney, center David Andrews and right guard Shaq Mason, so it will be interesting to see how much attention the Patriots devote to Donald, who led the league with 20.5 sacks. And then there's Ndamukong Suh to deal with as well. — Reiss
Patriots will win if …: they have a player rush for more than 100 yards. Since the Belichick-Brady era began in 2000, they are 11-0 in the postseason when a player rushes for 100 yards, and 51-1 in the regular season. The revived running game led by Sony Michel and James White has helped settle things for the offense down the stretch, making life easier for Brady. — Reiss
X factor: White, who is going to get carries in the Super Bowl out of the Patriots' one- and two-back personnel groupings. His impact as a receiver changes the game for defenses. White caught 87 passes during the regular season, added a whopping 15 receptions in the divisional playoff win over the Chargers, then tacked on another four grabs in the AFC Championship Game win. His ability to work the flat, produce in the screen game and create matchups underneath against linebackers is crucial to the Patriots' passing attack, especially on third downs. — Matt Bowen
Rex Burkhead plunges in for his second touchdown, as the Patriots sit atop the AFC throne for a third straight season.
Stat to know: The Patriots ran man coverage 59.8 percent of the time in the regular season, the highest rate in NFL, according to ESPN's coverage classifier powered by NFL Next Gen Stats. Their corners will have to deal with the speed and talent of Brandin Cooks and Robert Woods on the outside of the Rams' high-octane offense in Atlanta. — ESPN Stats & Information
---

Reason to be excited: Sean McVay. The second-year coach never has coached on a stage of this magnitude, but over two seasons, the offensive wunderkind has proved his innate leadership ability and willingness to evolve as a playcaller. McVay's offense is full of weapons, including a much-improved quarterback in Goff, a dynamic duo in Todd Gurley and C.J. Anderson, and two 1,000-plus-yard receivers in Cooks and Woods. And recently, he has found a way to keep defenses on edge in utilizing every single one of them. Goff was 7-of-7 for 107 yards when targeting Cooks in the NFC Championship Game. — Lindsey Thiry
Reason to be concerned: Experience. There's no telling how a team of young playmakers will react when they take the field for the biggest game of their careers. They showed their poise in a divisional-round win and in the NFC Championship Game, but Cooks and cornerback Aqib Talib are the only offensive and defensive starters with Super Bowl experience. — Thiry
Rams will win if …: they avoid turnovers. A common denominator in all three of the Rams' regular-season losses were turnovers by Goff; he threw an interception against the Saints, threw four against the Bears and was responsible for two turnovers in a loss to the Eagles. If Goff can take care of the football, the Rams can win the Super Bowl. — Thiry
X factor: Woods caught 86 passes for 1,219 yards during the regular season. He also added six scores in a system that fits his skill set. Look for Woods to show up running intermediate cuts off the Rams' early-down play-action concepts, while also creating separation on deep crossing routes. And when Goff can throw in rhythm, Woods will find the open voids in the coverage to move the sticks. He's a slick route runner with the toughness to make plays inside the numbers versus both zone and man coverage. — Bowen
The Rams get two huge field goals late from Greg Zuerlein and benefit from a missed pass interference call to beat the Saints 26-23 in overtime.
Stat to know: Goff entered Sunday's NFC title game with the most play-action pass attempts this season. He went 10-of-12 for 108 yards and a touchdown off play-action in the win over the Saints. — ESPN Stats & Information
---
Big questions
Who will the Patriots take away?
Belichick is known for identifying the thing about the opposing team's offense that worries him and figuring out a way to take it away. But at this point, what is that for the Rams? You'd have said Gurley at almost any point in the past two seasons, but he's not himself right now and it has been hard to affix an offensive identity to this Rams team so far in the postseason. Certainly, the Patriots will be aware of Cooks, who helped their team get to last year's Super Bowl.
But the Rams can beat you in a lot of different ways, and Goff is playing with a great deal of confidence right now. Belichick's challenge the next two weeks will be to figure out how McVay plans to come after him, then design a defense that addresses that. — Dan Graziano
Will Gurley be OK for the Super Bowl?
Gurley missed the past couple of games of the regular season because of a knee injury but came back and played well in the divisional-round victory over Dallas. But he was barely a factor Sunday in New Orleans. He scored a touchdown, sure, but he had only 10 rushing yards on four carries and one 3-yard catch on three targets (the other two of which were drops). Anderson, signed off the street in December to fill in while Gurley missed games, had 16 carries for 44 yards and was in the game in many key moments while Gurley held his helmet and watched from the sideline.
The Rams have insisted that Gurley is healthy. McVay said after Sunday's game that the reason for the running back rotation was "flow of the game," and that he expected Gurley to play a major role in the Super Bowl. But his performance Sunday, on the heels of a late-season injury, raises fair questions about whether the Rams can count on their best offensive player in the biggest game of the year. — Graziano
---
Gut-reaction predictions
Our experts lean with New England in early predictions, 5-3.
Mike Clay, NFL writer: Rams. Boston vs. Los Angeles. Brady vs. Goff. Belichick vs. McVay. Michel vs. … Anderson?! This is going to be fun. I expect a nail-biter of a shootout in the dome in Atlanta, but the Rams win it.
Matt Bowen, NFL writer: Patriots. The Pats will continue to use that old-school approach on offense: power football, play-action and the quick passing game. But don't forget about Belichick's defense in this one. It will challenge routes outside vs. the Rams' wide receivers.
Dan Graziano, NFL national writer: Rams. I think Los Angeles has the better defense, and while New England obviously has a massive experience advantage, the Rams have shown the ability to overcome a lot of things — most recently, a 13-0 deficit against the Saints in the deafening Superdome.
Mina Kimes, NFL writer: Patriots. While Donald is an absolute terror, the Patriots' offensive line has been spectacular. And the pass-rush, which has been brilliant throughout the postseason, should apply enough pressure to contain Goff.
Jason Reid, The Undefeated senior writer: Rams. They have more playmakers on offense, and Donald will help provide the necessary pass pressure against Brady.
Mike Sando, senior NFL writer: Patriots. Brady and a balanced Pats offense will make the difference for New England.
Kevin Seifert, NFL national writer: Patriots. If the Pats figured out how to stymie the Chiefs' offense in one week, they can be reasonably counted on to figure out the Rams' in two.
Field Yates, NFL analyst: Patriots. Brady will show that his age (41) is just a storyline. He helps lead the Patriots to a sixth Super Bowl win and does so in MVP form.