George Kittle an emerging star regardless of who is at quarterback – San Francisco 49ers Blog
SANTA CLARA, Calif. — Far from a fashionista, San Francisco 49ers tight end George Kittle isn't much into using clothes to make a statement. Given his druthers, Kittle would arrive to and leave every game in a pair of sweatpants and a cutoff sweatshirt.
To this point in a career that's a season and three-quarters deep, Kittle hasn't gone that far. Yet.
Instead, Kittle uses his pregame outfits as a way to get himself in the right frame of mind. An unabashed fan of professional wrestling — he has a Stone Cold Steve Austin action figure prominently displayed in his locker — Kittle's idea of keeping up with fashion is changing which wrestling T-shirt he's going to wear from week to week.
"For me, it's always kind of a mindset," Kittle said. "Like, I wear the Stone Cold Steve Austin shirt, which he's just kind of like 'Screw everything, I'm going to do whatever I want to do and I'm going to win.' It just kind of gets me in the mindset for it."
Despite early season success in his basic jeans and a T-shirt look, Kittle said his fiancée began pushing him to have more style, suggesting other options like a button-up shirt with a nice pair of jeans and a bomber jacket. He tried it before the Week 2 game against Detroit but that seemed a little too far for Kittle, who recently began compromising by opting for something a little dressier while also seeking a theme.
For instance, on the day of the Week 12 loss in Tampa, he wore a button up Hawaiian shirt adorned with toucans.
"I won't wear a suit to every game because I sweat too much," Kittle said. "I really like to be able to wear just a pair of jeans and a nice T-shirt. That's fun for me."
In this, Kittle's breakout season as one of the league's best tight ends, his outfits bear a striking resemblance to his quarterbacks, which is to say that no matter what he wears or who is throwing him the ball, Kittle is getting the job done on the field.
Through 12 games, Kittle ranks third among tight ends in receptions (62) and receiving yards (893), first in yards after the catch (563) and yards after the catch per reception (9.08) and fourth in yards per catch (14.4). Among all pass-catchers, Kittle is 17th in receiving yards and fourth in yards after the catch, trailing only running backs Christian McCaffrey, Saquon Barkley and James White. He also has been the picture of consistency, posting at least 57 receiving yards in nine of 12 games and at least 70 yards in eight of those 12 contests.
With four games left, Kittle is on pace to put up the best statistical season by a tight end in 49ers history. If Kittle can muster 73 receiving yards Sunday against the Denver Broncos, he will pass Vernon Davis' 965 receiving yards as the most by a Niners tight end. If Kittle can post 107 receiving yards, he'll become the first 49ers tight end to reach 1,000 receiving yards in a season.
Although Kittle entered the year far from a household name after entering the league as a fifth-round pick in 2017, those paying attention were already aware of what could be coming, especially considering Kittle was supposed to get a full season with starting quarterback Jimmy Garoppolo. Garoppolo and Kittle had quick and easy chemistry at the end of last season, opening eyes to the potential of the pairing.
But Garoppolo suffered a season-ending ACL injury in Week 3, turning the reins over to C.J. Beathard, Kittle's close friend and teammate dating to college at Iowa. Beathard handled the job for the next five games before a wrist injury forced Nick Mullens into action for the past four contests.
Regardless of who has been under center, Kittle has continued to produce.
"Obviously, it hasn't mattered what quarterback is in there," Mullens said. "He's been making plays since day one. You can credit him to that chemistry because it doesn't matter who is in there. He's going to catch it and step up and make plays."
• What to make of Matthew Stafford, future
• James Conner can finish storybook season
• QB stability varies for Panthers, Browns
• Redskins should think about drafting a QB
• Miami a danger zone for Patriots, Brady
Indeed, Kittle has been unfazed by the game of musical quarterbacks the Niners have been forced to play this year. In three games with Garoppolo delivering the passes, Kittle averaged 63.7 receiving yards, four catches and 16 yards per reception. In five games with Beathard, Kittle averaged 78.6 yards, five catches and 15.8 yards per reception. In four games with Mullens, Kittle is averaging 77.3 yards, 6.3 catches and 12.2 yards per reception.
One might think the rotating quarterbacks would make life difficult for Kittle, but he says the only differences he sees are in the amount of touch each quarterback has on his throws, how that quarterback might read things and the individual preferences each signal-caller might have for throwing certain routes. Most of that can be refined in practice, though Kittle acknowledged that when a change is made it's fairly common to spend a little extra time after practice to run some extra routes.
The overriding takeaway: Kittle is becoming the star tight end the team envisioned when it drafted him last year. Although some nagging injuries have slowed him this year, they haven't accumulated as they did in 2017. And though Kittle still has some issues with the occasional drop, those have been reduced this season as well.
"Kittle has been very similar since the day he got here," coach Kyle Shanahan said. "His production has gone up and down to me based off of health, based off of situations, how good we're doing around him. But I think Kittle has been very good since he got here. He's gradually gotten better because he works the right way and I think that'll continue throughout his career."
No matter what he wears or who is throwing him the ball.
Veteran safety Morgan Burnett wants release from Pittsburgh Steelers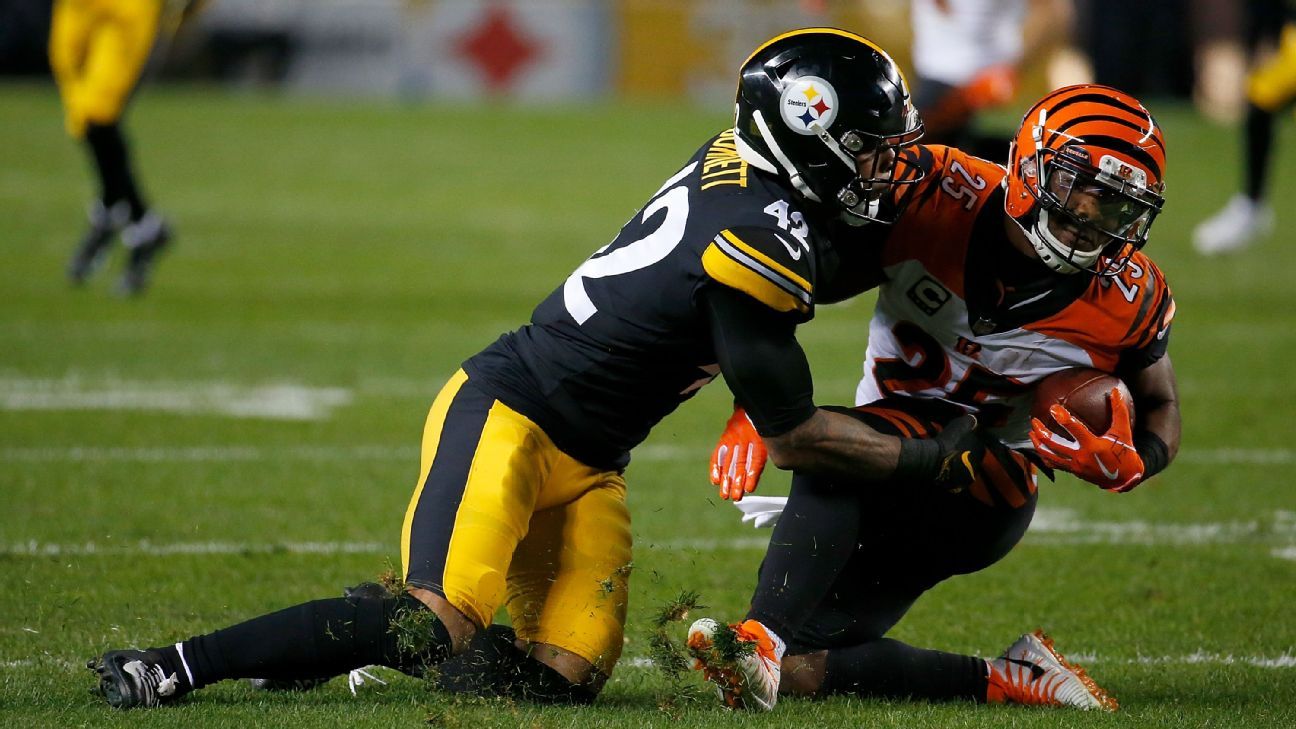 PITTSBURGH — The Pittsburgh Steelers' big free agent signing of 2018 says one year in Pittsburgh is enough as veteran safety Morgan Burnett would like to be released from his contract.
Burnett told NFL Network that a release would help him return to his natural position of safety instead of as a dime linebacker with the Steelers. Burnett missed four of the first six games of the season, and the Steelers continued to start rookie Terrell Edmunds in his absence.
Burnett recorded 30 tackles and six pass deflections in a subpackage role over 11 games. Edmunds and third-year player Sean Davis occupied both starting safety spots for the season.
A source told ESPN that Burnett hasn't officially requested a release and isn't sure whether the team will honor the request.
The Steelers signed Burnett, 30, to a three-year, $14.25-million contract in March, including a $4.25-million signing bonus. Releasing Burnett would save $2.16 million on the salary cap. Burnett played eight seasons for the Green Bay Packers before hitting free agency.
Cleveland Browns QB Baker Mayfield has fine for gesture significantly reduced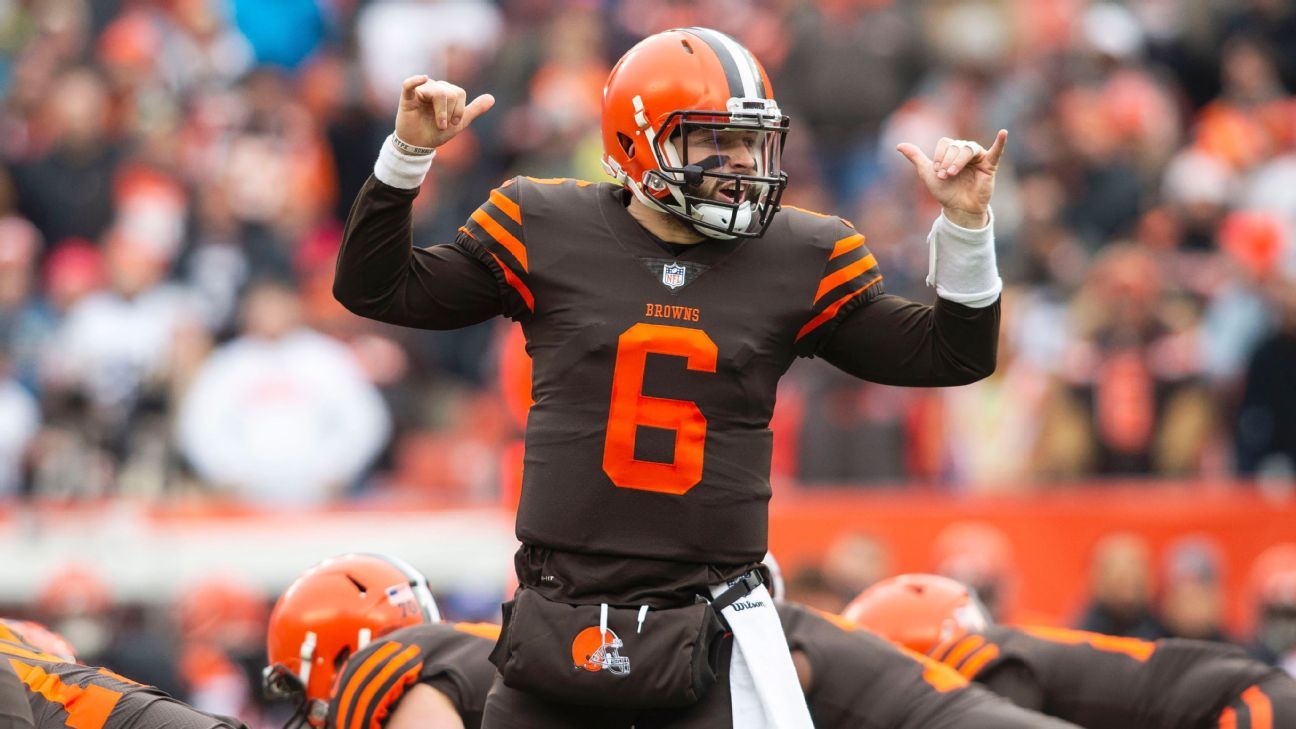 The NFL significantly reduced the fine Cleveland Browns quarterback Baker Mayfield received for a gesture he made on the sidelines during a December win over Cincinnati, according to a source.
Following an appeal, the league reduced the fine from $10,026 to just less than $1,700, a source close to the proceedings said.
The fine was originally assessed Dec. 29 for what the league determined was a suggestive gesture. But the source said the facts presented in the hearing did not support the fine.
The Browns stood by Mayfield, with now head coach Freddie Kitchens saying the gesture was an "inside deal" within the team and was "not a big deal."
Extending John Harbaugh is one coaching decision that makes sense – Baltimore Ravens Blog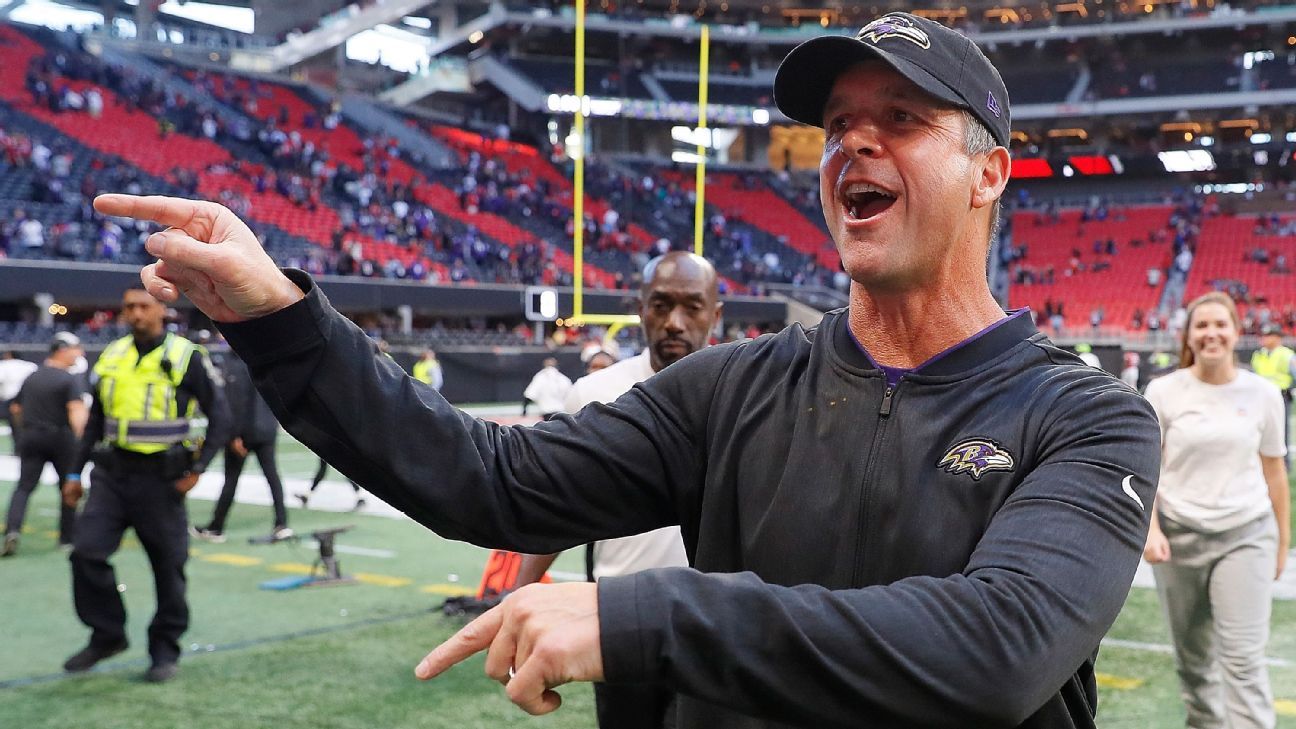 OWINGS MILLS, Md. — The Baltimore Ravens and coach John Harbaugh have an agreement in principle on a long-term extension, which is the one coaching decision this offseason that makes the most sense.
This is a reward for turning a spiraling Ravens team into AFC North champions and giving a vision for what to expect from new franchise quarterback Lamar Jackson. This is a strong vote of confidence for the best coach in team history and for a leader who has the NFL's best postseason track record over the past 11 years outside of Bill Belichick.
The biggest reason why this was a no-brainer resolution comes in the form of a question: Who would the Ravens replace him with?
Kliff Kingsbury? He went 35-40 in six years at Texas Tech — which included two seasons with Patrick Mahomes as his starter — before being dismissed in November.
Matt LaFleur? He was the playcaller for the NFL's No. 25 offense and got shut out by the Ravens in October.
Bruce Arians? The 66-year-old has health issues in his past and retired a year ago, saying, "I wasn't enjoying the game as much as I had in the past."
While no one knows how any of these surprising hires will pan out, Harbaugh has proven to be as sure of a bet as there is in today's coaching landscape. His 10 playoff wins since 2008 rank second only to Belichick. Harbaugh has led Baltimore to the playoffs seven times in the past 11 seasons and has had one losing record over that span. The other coaches who can boast that are Belichick, Mike Tomlin and Pete Carroll.
Harbaugh is at a different level than these other candidates, which is why he presumably would have been at the top of the list for any team looking for a new head coach. He has a Super Bowl ring, 114 victories (including playoffs) and a reputation for getting the most out of his team despite injuries, the lack of game-changing playmakers and uneven quarterback play.
If a team had offered draft picks in a trade for Harbaugh, that would have been an intriguing proposition for Baltimore. But an argument can be made that Harbaugh has kept the Ravens in the playoff race at the end of the season nearly every year despite some disappointing drafts.
• Chiefs' Williams: Afterthought to feature back
• Can Saints replace Ingram in free agency?
• Eagles Foles' options: Tag and trade?
• Shanahan knew he had special assistants
• Packers' plan: Run ball, let Rodgers 'go play'
• Playoffs schedule, Super Bowl LIII coverage
Under Harbaugh, Baltimore has repeatedly overcome missing on some high draft picks. Since 2009, the Ravens have drafted two players (linebacker C.J. Mosley and fullback Kyle Juszczyk) who made the Pro Bowl during their time in Baltimore. Over that time, Harbaugh led the Ravens to the playoffs six times, including winning the Super Bowl in 2012.
Harbaugh is coming off what arguably was his best season. He helped turn around the Ravens from wallowing at 4-5 at the bye to playing host to a postseason game, and he did so with a rookie quarterback. Jackson went 6-1 as a starter in the regular season because of an offensive system constructed by Harbaugh and his staff.
With Harbaugh, there is a confidence level that Jackson can develop because of how the past two months played out. With a new coach, there's more uncertainty as to whether Jackson's unique skill set will be maximized.
NFL history has shown an extended run of success comes when teams have cornerstones in place at head coach and quarterback. The Ravens are hoping they have their franchise quarterback in Jackson. But Baltimore already knows the commodity it has in Harbaugh, which is why a recommitment to him will represent the best move the Ravens will make this offseason.