Fantasy football – Matthew Berry's Love/Hate for Week 14
I've always thought that Jeremy Schaap is one of the best interviewers in the industry. Then I recently did a podcast with him. I have to tell you, I've done a ton of interviews in my life, and the one I did with Jeremy was among my favorites.
So, as a result, last week I sent him an email:
Jeremy, wanted to see if you'd be willing to interview me again, but this time it'll be the intro for my column? Serious, nonsense and all in between. Ask me whatever you want and I'll answer.
I'd just need between 7-10 questions depending on how long or short the answers would be. Two questions I'll even give you. Here's a version of this column I did a few years ago with Michelle Beadle. … You game?
His response:
Dear Matthew, I am flattered that you have asked me to participate in this exercise. Of course, since we are communicating by epistolary means, I cannot follow up if any of your answers are unsatisfactory or evasive. Be that as it may, I have every confidence that you will answer truthfully and expansively. There is no reason to be afraid. This is a conversation of sorts, not an interrogation, not even a cross-examination, nor a deposition. This is fun. So let's proceed.
Question 1: Let's start with something light and inconsequential. Fantasy sports are contributing to the decline of not only Western but also Eastern civilization. True or false?
True. Totally true, obviously. Years from now, history will remark on how the carefully pieced-together infrastructure of civilization was destroyed by the simple question of whether or not Jaylen Samuels should qualify as a tight end.
In all seriousness, you're joking, but it has seriously been part of my life's work to fight against this thought process. I've seen studies that say it costs billions in workers' productivity, that it has hurt marriages and relationships, that it has ruined how we watch football. It's so ridiculous. How is there a "right way" to enjoy the NFL? Any marriage that breaks up because one person is paying too much attention to fantasy football was not a good relationship to begin with, and there are many other studies that show workplace fantasy football leagues actually create bonds and an enthusiasm that leads to higher employee retention and higher workplace satisfaction. I've been doing this for close to three decades now and there has yet to be a day where someone, somewhere, wasn't trying to fight against fantasy football — a game, for Gurley's sake, a silly game. Fantasy gets no respect — even sometimes here at ESPN, even today — and yet, all it does is bring people together, create bonds and bring people joy. I will fight for fantasy football until the day I die. And sadly, I feel I'll have to.
Question 2: In 1986, in high school, I participated in a rotisserie league. Old-school. Only National League. A full auction. Each team could spend up to $15.00 to complete its roster. My team featured Gary Carter ($2.62) and Eric Davis (80 cents). Are auctions better than drafts?
Um, obviously. Make no mistake, I enjoy drafts a great deal, but it's checkers compared to chess. In an auction, everyone has a shot at every player. It just depends on how much you want to spend. So it's not just about player evaluation, it's also about evaluating your league mates, it's a truer test of roster construction skills and it adds an element of working within a budget, so it's closer to the "real" game. Once you do an auction, you'll never want to do anything else.
Question 3: The only time we've really spent together was three years ago at the Super Bowl, when it was in San Francisco. I recognized you, of course, but it was clear to me that you thought I was someone else, possibly Adam Schefter. True or false?
FALSE! I definitely have a bad memory for faces and names, but of course I knew who you were. OK, I'll try to tell this quickly. At the Super Bowl in San Francisco, ESPN decided to take a bunch of muckety-mucks on a tour of wine country, stopping at various vineyards in Sonoma. As part of this experience, they asked some ESPN personalities to come along, so these muckety-mucks could take pictures, schmooze with us, whatever. I was asked to do this, as were you. There were two buses. I was told you would be on one bus, I'd be on the other. And then, at the first stop, I see you. And I'm like, "Either I got on the wrong bus or you did." So I'm all panicked as you're shaking my hand. So, no, I knew exactly who you were and I was totally freaked out about it, making our initial encounter awkward, I am sure. Please know that it's not you, it's me. I'm super-awkward around everyone. I do remember, after a few vineyard stops, we had a GREAT time hanging out.
Question 4: Who's better-looking, me or Adam Schefter?
Depends. At the moment, because you helped me with my column open, you. But when I need inside info on who is going to play on Sunday, it's Schefty. I compete against Adam in a fantasy football league and a fantasy basketball league, and he's super-annoying because he's really good at both sports, so, at the moment, I'll say you.
Question 5: What's going on with your Vampire leagues?
Thank you for that planted question. I ended up making the playoffs in both Vampire leagues. You can read about what they are here in detail. But in short, it's two 10-team leagues where nine other teams drafted and I didn't. I made my team up of free agents after everyone drafted. BUT, no one else could pick anyone up during the season. Only I could. And if I (the Vampire) beat a team, I could steal a player from that opponent's starting lineup by trading a starter of a similar position to the team I beat.
In the first league, I finished third with an 8-5 record. Here's my current lineup and how I got the player:
QB: Jameis Winston (free agent)
RB: Nick Chubb (FA)
RB: Ezekiel Elliott (Vampire)
WR: Davante Adams (Vampire)
WR: DeAndre Hopkins (Vampire)
TE: Eric Ebron (FA)
Flex: Phillip Lindsay (FA)
This team won last week's matchup, so I am going to "Vampire" Christian McCaffrey from my opponent for either Chubb or Lindsay.
Meanwhile, in the other league, I finished fourth with a record of 7-6. Here's that current team:
QB: Patrick Mahomes (Vampire)
RB: Alvin Kamara (Vampire)
RB: Nick Chubb (FA)
WR: Julio Jones (Vampire)
WR: Kenny Golladay (FA)
TE: Eric Ebron (FA)
Flex: Phillip Lindsay (FA)
Both Vampire teams also have Jaylen Samuels and others. It's been a fun and very interesting year, especially seeing other teams strategize against the Vampire. It wasn't easy at first, but I'm proud of how I fought my way into the playoffs in each league. I won four straight to leapfrog a lot of teams. I'm definitely doing this again next year and will let folks know how it all turns out.
Question 6: You moved around a lot when you were young, from Colorado to Virginia to Texas. If you're a sports fan, which is the best time zone to live in?
I did. And after I graduated from college, I lived in Los Angeles, which is still my favorite time zone. You can see all the games and not be up until all hours. Football starts earlier on Sunday. I miss it.
Question 7: In Week 1, you wrote about Travis Anderson, the 33-year-old fantasy commish and father of three who has brain cancer. How is he doing?
Thank you again for allowing me to plant a question, Jeremy. Here's what Travis wanted to share when I asked him for an update:
"Hi Matthew, thanks for the email. Ups and downs. Last Thursday, I had my first MRI since mid-September. Doc said it looked great, with really good healing and minimal "angriness" from radiation. Next one scheduled for the end of February.
Started my high-dose chemo on Monday this week. No nausea or sickness, but just a general fatigue, kinda blah feeling that has limited what I'm able to do. Not sure if it's the chemo or the antidepressants, though, since I started those last Friday and had similar symptoms Saturday.
Benefit on Sunday was amazing. So many people. Overwhelming is an understatement. One estimate was maybe 1,500 people through the doors altogether, maybe more. There were 200-plus silent auction, live auction and raffle items. And a huge shoutout to my dad, sisters and their husbands, and 'Ando's Army,' who got the whole thing put together and managed it. Massive undertaking.
Thanks for the care package by the way. Love me some bearer of bad news.
Other than that, I tweeted out my disappointing finish to my season last night, feeling overly confident I had a solid cushion going into SNF. Considering eggs laid by Brees, Cooper, A-Rob, and with Fournette suspended, Hunt released, I almost made it work with my ramshackle team. But the non-playoff teams play in a consolation tourney for top four picks next year, so still some motivation to win in these last couple weeks. Plus, I'm in the playoffs in the other league in which I participate.
Thanks again for reaching out and everything else you've done to spread my story."
If you'd like to send a note of encouragement to Travis, you can reach him on Twitter at @tma2112.
Question 8: Like most everyone else in the sports media, you went to Syracuse. Most Syracuse grads of a certain age wanted to be Bob Costas. Did you ever want to be Bob Costas?
I never did, actually. Costas is as smooth a broadcaster as I have ever seen or heard in my life. He came and spoke at the college when I was there and, well, I knew I would never be that polished. When I was in college, I never really considered a career in sports, Back then, who knew you'd ever be able to make a living at fantasy football? If I am being honest, when I was in college I actually wanted to be David Letterman. His show at the time was revolutionary, goofy, hilarious, not afraid to fail and different than anything else I had seen. I admired all those traits tremendously, and still do.
Question 9: How will the widespread legalization of sports wagering affect the fantasy world?
Not very much. I got asked this question a ton when the Supreme Court made its ruling, and my answer has always been the same. Questions like this suppose that no one was gambling before. Sports wagering has been, and continues to be, a massive business that until recently was mostly done illegally. Now, in some states (and more coming soon), people can do what they were already doing, just legally. And while all these millions of people have been wagering on sports, fantasy sports have continued to grow in tremendous popularity.
The act of getting together with friends, family or co-workers, drafting teams, talking trash, making trades and pickups all season long is a very different experience than "I'll take the Ravens and the points" or whatever, you know? Not better, not worse, just a very different experience enjoyed for different reasons. I am a fan of sports wagering and look forward to the day it is legal everywhere, but I'm not worried at all about what happens to fantasy sports when that day comes.
Question 10: You spent a lot of time in Hollywood writing comedy for TV and movies. Who is the funniest person you encountered?
Wow. Tough one, as I met a ton of very funny people. I've written about it before, but my first job in Hollywood was working for George Carlin. So, you know … tough to beat that one. I will say, however, George was rarely "on" when he wasn't performing. He was actually a very sweet and gentle soul. He'd say funny things, of course, but he wasn't the amazing Carlin you'd see on TV or stage. But my answer here is the first guy I thought of when I saw this question. I worked with a comedy writer named Les Firestein. He's had a long comedy writing career ("In Living Color," "The Drew Carey Show," lots of film work, etc.) and I wrote on a few different shows with him. I could not print one joke of his on a website owned by Disney — he is, ahem, NSFW — but man, he is just gut-wrenchingly funny. He also played a key role in helping me get to ESPN. While we were working together is when my TalentedMrRoto site was starting to take off, and he introduced me to one of his closest friends from college, a man named John Kosner, who ran all of digital media for ESPN. So I'll always be indebted to Les (and John, of course), but if you ever get a chance to take a meeting with Les, I highly recommend it.
Question 11: What's harder, fantasy or comedy?
Let me see how the picks go this week first.
Thank you, Jeremy, for indulging me. A reminder: this is not a "start or sit" column, but rather a column based on ESPN's projections for PPR leagues. "Love" means I expect the players to exceed their projections, "hate" means I expect them to fall short. Unless otherwise stated, all stats are for the past four weeks. Thanks to "Thirsty" Kyle Soppe from the 06010 podcast and The Stat-a-pillar, Damian Dabrowski, from The Fantasy Show on ESPN+.
Here we go.
Quarterbacks I love in Week 14
Philip Rivers vs. Bengals (Projection: 21.2 points): Rivers has multiple TD passes in all 12 games this season. What are we talking about here? Since 2001, we haven't had a player throw multiple TD passes in more than 13 games in a season. Peyton Manning (2004) and Aaron Rodgers (2011) each had 13, but Rivers could beat their marks in the next two weeks with games to spare. Who are the only players with at least 10 games of 17 points or more this season? Patrick Mahomes, Todd Gurley II, Saquon Barkley, Davante Adams and …. Philip Rivers. I just wanted to highlight how terrific he has been this season. Gimme the over at home against the Bengals' pass defense that ranks last in the NFL.
Drew Brees at Buccaneers (Projection: 21.1 points): I know, last week was tough. But since the start of 2016, the week after a sub-15-point performance, Brees averages more than 22 points per game. Off an embarrassing Thursday night beatdown, expect Brees to come out swinging against a Tampa squad that has allowed the third-most fantasy points to opposing QBs, the second-most TD passes and the second-highest yards per pass attempt this season (8.55).
Aaron Rodgers vs. Falcons (Projection: 20.9 points): If you're in the playoffs, it's not because of Rodgers, it's in spite of him. But I believe there is a relief for Rodgers with Mike McCarthy gone. Even though it has been less than a week, it's worth noting that in 2011 (interim head coach Joe Philbin's last season as offensive coordinator in Green Bay before this most recent stint), the Packers were a top-three offense in red zone drives, red zone efficiency, yards per play and pass percentage. It also was Rodgers' best statistical season. At home against a Falcons team allowing the seventh-most touchdown passes per game, I'm taking the over.
Andrew Luck at Texans (Projection: 18.4 points): Look, I get it. He was brutal last week and the Texans are as hot a team as there is in the league. But I think the Colts struggle to run the ball in this one (the Texans are sixth against the run) and have to rely on the pass. Remember, when Luck faced these Texans back in Week 4, he attempted 62 passes and threw for 464 yards. Houston also has the sixth-worst red zone defense this season and the Colts pass at the seventh-highest rate when they reach that area of the field. Ignore last week and the matchup, and bank on the talent and volume. Gimme the over on 18.4.
Others receiving votes: It's not always pretty, but since Freddie Kitchens took over the Browns' offense, Baker Mayfield is a top-10 QB on a per-game basis (20.1 PPG, more than Cam Newton and Luck, among others). Against a Panthers team that has allowed multiple touchdown passes in 10 of the past 11 games and has given up the third-most points per game to opposing QBs in that time frame, he's a viable QB2 this week. … For those playing DFS and/or those who are desperate in deep leagues, the best QB in fantasy the past two weeks is … wait for it … Josh Allen. In fact, only Christian McCaffrey and Keenan Allen have more points among all players in that span. Josh Allen has the third-most rushing yards by any player the past two weeks and against a Jets team that is bottom 12 in rushing defense, passing defense and scoring defense, I like Allen to beat his projection of 15.7.
Quarterbacks I hate in Week 14
Jared Goff at Bears (Projection: 18.8 points): Death, taxes and the Bears' defense at home against QBs. At home this season, the Bears' defense is allowing a league-low 2.5 red zone drives per game, the third-fewest yards per pass attempt, the lowest opposing QBR and is the only unit with as many interceptions as touchdown passes allowed this season. They've given up 18.8 points at home to a QB once this season and that was to Tom Brady. I'm as big a Sean McVay fan as there is, so if anyone can do it, it's Goff. But Vegas projects the Rams to score 27 or 28 points in this one and in games this year where the Rams fail to score 35 points, Goff is averaging just 15.3 points. I'll take the under on 18.8.
Kirk Cousins at Seahawks (Projection: 17.8 points): With losses against the Patriots, Bears and Saints in their past five games, the Vikings seem to fall short when facing really good teams. That's what I think they see on Monday night in the Seahawks, a team that owns the fourth-highest interception rate this season (Cousins is top 10 in highest interception rate since Week 9) and is a top-10 red zone defense (the Vikings are a bottom-10 red zone offense). In previous years, Cousins has added sneaky value with his legs, but that hasn't manifested itself recently. (He has no more than five rushing yards in five of the past six). On the road, against a hyped defense in front of a prime-time crowd, this one doesn't feel great to me. I'm taking the under.
Carson Wentz at Cowboys (Projection: 15.6 points): Traveling on a short week to face a Cowboys team that has been resting since last Thursday, Wentz has to face a Dallas defense that has allowed the third-fewest TD passes this season. The Cowboys are the third-best red zone defense this season and are the only team in the NFL yet to allow three TD passes in a game, so the upside is likely limited here. Wentz was better against the Redskins, but in fairness it's easy to look good against a team that doesn't actually tackle. I may or may not be over that game. One of the lowest over/unders on the board, it's already a low projection for Wentz, but I don't care. Taking the under.
Running backs I love in Week 14
Christian McCaffrey at Browns (Projection: 24.3 points): Is 24.3 points a big number? Yes. Yes, it is. Is it big enough? Not sure. Melvin Gordon, Kareem Hunt and James Conner (twice) all went over 33 points against the Browns. CMC has gone over 31 points in four of his past five games. This guy isn't just the RB1 in that stretch, he's 28.4 points ahead of RB2 and a silly 60.7 points ahead of RB3. And if you're reading this, there's a very good chance you're aware of that. Meanwhile, the Browns are giving up the fifth-most running back rushing yards per game this season (113.4) and the most 10-plus-yard rushes this season (on pace for the most such carries in a single season since the 2013 Bears). Fortune favors the bold — give me the over on 24.3.
Aaron Jones vs. Falcons (Projection: 18.0 points): I said on the Fantasy Focus podcast earlier this season that although I was not trying to be "hot take-y," I truly believed Mike McCarthy's puzzling lack of usage for Jones would ultimately be one of the leading causes of his dismissal. I take no joy in anyone losing his job, but the point remains: This coaching change is highly unlikely to hurt Jones. When he gets at least 10 touches, Jones averages 19.0 PPG this season. The Falcons rank 30th against the run and give up the most catches per game to opposing running backs. That's helpful to know since Jones has 15 catches in his past four games, and I expect more playing time under Joe Philbin.
Leonard Fournette at Titans (Projection: 16.0 points): Fresh and rested after Fournette's suspension, what do you think the Jags want to do here? Let Cody Kessler throw it? Exactly. Since Week 10, only two teams have run the ball more often than Jacksonville. In his three games since returning from injury, Fournette is averaging more than 26 touches per game. He also has scored five times and has more than 100 receiving yards in that stretch. And yes, though the Titans' defense has played well for most of this season, during the past three weeks it is giving up more than 175 rushing yards per game. Give me the over on Fournette's projection of 16 points.
Phillip Lindsay at 49ers (Projection: 16.6 points): One of the best stories of the year, in both real football and fantasy football, Lindsay is the first player this season with a run of 30-plus yards in three straight games. The big plays have helped fuel great fantasy production. In those three games, he has 44 carries for 346 yards (7.86 YPC) and five rushing TDs (72.5 fantasy points). On the road, against a San Francisco 49ers team that, since its bye in Week 11, has given up 25.9 fantasy points per game to opposing running backs, I'm taking the over here.
Others receiving votes: LeSean McCoy is quietly averaging 21 touches per game over the past four weeks (sixth most in the NFL), and his volume should pay dividends against a Jets team that gives up the second-most red zone drives per game this season. Remember, the last time McCoy faced the Jets, he had 118 yards and two scores. … Assuming Kerryon Johnson plays, I like him (and would consider Theo Riddick as a flex in PPR) against a Cardinals team that is one of the most run-on in the NFL (31.4 rushing attempts against per game). Both backs are also involved in the pass game, and with Patrick Peterson probably all over Kenny Golladay, I could see more dump-offs than usual here. The Cards allow opponents to complete 85.1 percent of passes when targeting running backs this season, the second-highest rate in the NFL. … Despite last Sunday night, I'm back in on both Austin Ekeler and Justin Jackson being useful against a Bengals team that coughs up the second-most running back rushing yards per game and the fourth-most running back yards per carry this season. Cincinnati has given up the most receiving scores to opposing running backs this season, as well, and the 9.7 yards per running back reception is the fifth highest in the league. …We don't know how the Steelers' run game will shake out, and hey, it's the fantasy playoffs, so it's no time to get cute. But if you're feeling adventurous, I personally like Jaylen Samuels to get enough work against the Raiders and their 29th-ranked run defense (and 26th-ranked scoring defense) to be worthy of a start this week.
Running backs I hate in Week 14
Spencer Ware vs. Ravens (Projection: 13.8 points): I actually still like Ware for the rest of this season and I think he gets more work moving forward than he did this past Sunday (remember, the Kareem Hunt news broke on Friday, so not a lot of time to change a game plan to highlight what Ware does well or get him more reps). But the matchup with Baltimore this week is absolutely brutal. Since their week 10 bye, the Ravens are holding opposing RBs below 40 rushing yards per game. And Baltimore is giving up just 2.6 yards per carry to RBs in that stretch. Since the beginning of 2016, Ware has scored seven times on his 298 touches. There's a world in which he scores and still doesn't get to this number (like last week, for example), but I don't like his odds of getting into the end zone and that really would make this a tough total to reach. James Conner and Christian McCaffrey are the only backs to go over 16.2 points against the Ravens this season, so as much I like Andy Reid, this offense and believe that Ware will be the guy going forward, I'm still taking the under on Ware's projection of 13.8 points this week.
Chris Carson vs. Vikings (Projection: 13.0 points): Two. That is how many times a running back has eclipsed 12 points against the Vikings this season without at least five points as a pass-catcher. And one of those instances was James Develin last week — I'm not sure he should even count as a "running back." But whatever. The point remains: To have any success against this stingy defense, you have to be versatile, and with only 13 catches in 10 games this season (and a banged-up finger currently) I'm not convinced Carson will be in the game in passing situations. Since Week 5, no defense is giving up fewer yards per carry than the Vikings (3.67).
Marlon Mack at Texans (Projection: 12.2 points): Mack is a little big-play dependent, as during the course of his career, 33.4 percent of Mack's value on the ground has come via the 15-plus-yard rush (well above the league running back average of 26 percent during that stretch). And that's fine. It's certainly within his skill set to break off big plays, but the Texans have given up a league-low six such runs this season. During their nine-game win streak, the Texans are giving up a league-low 3.23 yards per carry to opposing running backs, and with Nyheim Hines around, it's unlikely you're getting bailed out with Mack's involvement in the pass game (he has yet to have more than two catches in a game this season). This projection strikes me as about right, but it's already low, so yeah, give me the under here.
Josh Adams at Cowboys (Projection: 10.6 points): The usage is certainly nice, but with zero catches (and only one target) the past two games, plus the return of Darren Sproles, Adams is not involved in the passing game. So he's a bit one-dimensional and probably will to have to earn his fantasy points just by rushing. For the season, the Cowboys are a top-five defense in rushing yards allowed (91.3 per game) and yards per carry (3.67). One reason for their success is they give up a league-low 2.10 yards per carry before first contact. Since Week 6, the Eagles have been among the worst teams at creating space before first contact (2.38, third fewest). It's already a low number, but I'm taking the under, as he'll need a touchdown to get to 10.6. How lucky do you feel?
Pass-catchers I love in Week 14
JuJu Smith-Schuster at Raiders (Projection: 17.7 points): You'll likely win a bar bet with this one: JuJu leads all receivers with 20 red zone targets this season. Even with Antonio Brown there and flirting with a career-high touchdown total, Smith-Schuster's red zone target share (34.5 percent) ranks fifth in all of football. As we've discussed, #RoadBen is a thing of the past, as Roethlisberger is averaging a league-high 350.5 passing yards per game away from Heinz Field this season. Only DeAndre Hopkins and Brandin Cooks have seen more deep targets and are catching them at a higher rate than Smith-Schuster. Meanwhile, the Raiders are allowing opponents to complete 52.6 percent of deep passes this season (fourth highest). It's a big number, but I'm still taking the over here on 17.7.
Amari Cooper vs. Eagles (Projection: 14.2 points): Since joining the Cowboys, Cooper has a 25.8 percent target share, ninth highest among all qualified wide receivers in that span. He has at least eight targets in four of his five games with Dallas and saw 10 targets when he faced the Eagles in Week 10, the most he has seen in a game as a Cowboy. In fact, since joining Dallas in Week 9, Cooper is a top-10 player in terms of total receptions, and he ranks ahead of players such as Smith-Schuster, Julian Edelman and Julio Jones in terms of percentage of team's receptions. You can't ask for a better matchup. The Eagles are traveling on a short week with a defense that allows the second-most receiver points per game this season (43.2) and, over the past four weeks, has given up the fifth-most yards to opposing wide receivers (741). I'm taking the over on 14.2. Remember, nine receivers have gone over 18 points against the Eagles this season.
Adam Humphries vs. Saints (Projection: 10.1 points): In a crazy season, it stands to reason that since Week 9, no player in the NFL has more receiving TDs than Humphries. Because of course he does. Since Week 8, he's tied for the most red zone targets among wide receivers, and he has cashed in, scoring in three straight with five touchdowns in the past five. But it isn't just touchdowns. He also leads the Bucs with 26 catches in that span. This week, Humphries faces a Saints defense that has already allowed eight TDs to the slot this season. That is where Humphries plays the majority of his snaps. Give me the over on his projection of 10.1 points this week.
Chris Godwin vs. Saints (Projection: 9.7 points): DeSean Jackson has missed three games since joining the Bucs. In those three games, Godwin has caught 15 passes for 310 yards and a pair of touchdowns. In those three games, Godwin has seen 22.2 percent of the Buccaneers' targets (for reference, that is Mike Evans' exact target share this season) and averaged 19.3 PPG (for comparison, Odell Beckham Jr. has gotten you 19.2 PPG this season). I don't think Jackson plays in this one, so Godwin, who is catching 73.1 percent of his targets this season, should easily get more than 9.7 points in a game in which I expect Tampa will need to throw to keep up.
Eric Ebron at Texans (Projection: 14 points): You know I like Andrew Luck in this one, as he ranks top three in red zone completions, red zone attempts and red zone touchdowns this season. It stands to reason that I'm also on Ebron, as he ranks third among tight ends in red zone targets (16) and is tied for the lead in the NFL (all positions) in end zone targets this season (16, with Beckham Jr.). He's actually on pace for 21 end zone targets this season (the most end zone targets for a tight end in a season since 2001 is 20 for Greg Olsen in 2009). Meanwhile, the Texans rank as the sixth-worst red zone defense this season (71 percent) and are allowing opponents to complete 74.7 percent of passes when the tight end position is targeted (fifth highest).
David Njoku vs. Panthers (Projection: 8.2 points): It has been a roller-coaster season for Njoku, but you can't ask for a better matchup as the playoffs start. Carolina has given up nine TE touchdowns (most in the NFL, tied with the Raiders), the fourth-highest completion percentage against when targeting the TE and the third-most fantasy points per game to opposing tight ends, allowing 16.68 fantasy points per game. He has at least five targets in nine games this season (only Kelce, Kittle, Reed and Ertz have more), so I'm expecting Baker Mayfield to look for Njoku early and often in this one.
Others receiving votes: The Packers are allowing a league-high 30.6 yards per deep completion this season, and more than 30 percent of Calvin Ridley's fantasy points this season have come via the deep pass (30.5 percent). He is very risk/reward, so I'd be more comfortable using him in a DFS tournament than a season-long playoff game, but if you are in a deeper league and need to swing for the fences, the matchup is certainly right for Ridley. … Since Week 8, when the Lions acquired Damon "Snacks" Harrison, their run defense has significantly improved, but their pass defense suffered the consequences. Since then, they are allowing 39.5 fantasy points per game to opposing wide receivers, ninth most in the NFL. Detroit allows the fourth-highest completion percentage to the slot this season, so this sets up as a nice game for Larry Fitzgerald. … Nearly 12 percent of deep targets against the 49ers this season have resulted in a touchdown (third-highest rate in the NFL), putting Courtland Sutton on the flex radar. Sutton ranks top 15 in air yards per target this season (13.7) and is leading qualified players in yards per catch this season (19.9). He hasn't received a ton of volume, and he has Case Keenum throwing it to him, but he's likely to get more looks in light of the injury to Emmanuel Sanders. He might need just one big play, but the Broncos will certainly take a few shots to him. … Going into last week, the Rams had allowed a tight end to score in three straight games and in four of their past five. OK, so they shut out Lions tight ends from the end zone, congratulations. But they did allow Levine Toilolo to rack up 90 yards. With Mitchell Trubisky expected back under center for the Bears (as of this writing), I like Trey Burton to have a nice game. … Among pass-catchers (WR/TE) with at least 30 catches this season, Vance McDonald ranks fifth in yards per catch after the reception (7.4 yards). That'll work against a Raiders defense that is allowing a league-high 7.0 yards per catch after the reception.
Pass-catchers I hate in Week 14
Kenny Golladay at Cardinals (Projection: 13.8 points): While "Babytron's" target share without Marvin Jones Jr. is ridiculous, I'm nervous here. Partially it's his QB, who has not played well. Golladay has caught just 50 percent of his targets in his past four games. Arizona is a top-10 defense in terms of deep touchdown pass percentage against this season, and they allow the seventh-fewest yards per deep completion this season. Because of how willing teams are to run on Arizona (you already know I like Detroit to keep that trend going based on my "loves"), no team has been thrown on less than the Cardinals this season. Add expected shadow coverage from Patrick Peterson, and this strikes me as a quiet week for Kenny G. I want the under here.
Tyler Boyd at Chargers (Projection: 13.1 points): Since Week 4, the Chargers have allowed the third-fewest WR points. No A.J. Green this week, and the casual fan might assume that means big-time production for Boyd, but … this season, Boyd is averaging 15 percent fewer fantasy points per target when Green is sidelined. His targets per game have actually dropped by nearly 5 percent without Green on the field this season. Add a backup QB, the facts that this game is on the road and that the Chargers are a top-five defense against the slot in terms of completion percentage and touchdowns, and, well, that's a problem. More than 70 percent of Boyd's production this season has come when lined up in the slot. He'll see a lot of the very talented Desmond King in this one, which means I want the under.
Alshon Jeffery at Cowboys (Projection: 10.9 points): Jeffery has no more than five targets in each of his past three games, and he has had fewer than 50 yards and no TDs in every game since Golden Tate joined the team. Before Tate showed up, Jeffery had a 23.5 percent target share and averaged 17.4 points per game. Since? Just a 14.8 percent target share and averaging just 7.3 PPG. Jeffery is very touchdown-dependent for his fantasy value, and he's way too risky for me to start in a playoff week, especially against a Cowboys defense that gives up a league-low 28.7 WR points per game this season.
Tyler Lockett vs. Vikings (Projection: 10.8 points): Look, I know Lockett just keeps scoring touchdowns, but it's hard to ignore the fact that he's still averaging just 4.6 targets per game. His matchup with Minnesota this week is a major concern. Since Week 6, the Vikings are a top-seven defense in terms of deep completions, yards per deep completion and deep touchdowns allowed, which is how Lockett scores the majority of his fantasy points. Add some potential shadow coverage from Xavier Rhodes, and I'm taking the under on Lockett's projection of 10.8 points this week.
Cameron Brate vs. Saints (Projection: 9.3 points): Once O.J. Howard was lost for the season, the expectation was that Brate would take a big step up. At least that was my expectation. So far, I've been wrong. Brate has just a 10 percent target share with Jameis Winston this season (there are 18 tight ends with a target share north of 10 percent this season), and dropping a touchdown last week didn't help matters. The Saints force the sixth-lowest completion percentage to tight ends this season and have allowed just one TE touchdown. Gimme the under.
Matthew Berry — The Talented Mr. Roto — congratulates you on having something to play for in Week 14. He is the 2017 FSTA Fantasy Football Analyst of the Year and the creator of RotoPass.com and RotoPassDaily.com. He is also one of the owners of the Fantasy Life app and FantasyLife.com.
From streak to slump: What has happened to Adam Thielen? – Minnesota Vikings Blog
EAGAN, Minn. — The Monday Night Football audience didn't just sense Adam Thielen's frustrations, they heard them. Loud and clear.
After a 35-yard catch-and-run ahead of the two-minute warning in the second half of the Minnesota Vikings' 21-7 loss at the Seattle Seahawks, ESPN's field mics picked up a colorful outburst when the Pro Bowl wide receiver voiced his concern with what was transpiring on offense.
• Inside Steelers' 'play that never happened'
• Lamar Jackson learning risks of running
• Rams need Goff to return to MVP level
• 'Nutcracker' gives Josh Norman mental break
• Cowboys have good problem at linebacker
• NFL playoff picture: Who's in, who's out
Thielen leads the NFL in receptions, with 103, but his production has decreased considerably since he posted 100 yards receiving for eight straight weeks to open the season. In Seattle, Thielen wasn't targeted and didn't catch his first pass until 6:12 left in the third quarter. For the first time in the past two seasons, he didn't catch a pass in a half.
"A little bit frustration of not moving the ball," Thielen said of his outburst. "When you're an athlete and a competitor, you feel like you can win. So, you want the ball in your hand, you want opportunities. So that's probably where that came from."
It's not like he wasn't getting open. On Minnesota's second drive of the game, Thielen was free of defenders 20 yards downfield. Sensing pressure, quarterback Kirk Cousins dumped off a pass behind him to running back Latavius Murray that went for 2 yards. Instead of finding Thielen on fourth down from Seattle's 1-yard line with more than nine minutes to play in the game, Cousins targeted tight end Kyle Rudolph in double coverage in the back of the end zone. The pass was broken up, and the Vikings failed to score.
Thielen's production dip has been noticeable since Week 9, when his 100-yard streak was snapped by the Detroit Lions. With Stefon Diggs sidelined due to an injury to his ribs, the Lions zeroed in on Thielen, limiting him to four catches for 22 yards.
After averaging 115.6 yards receiving in the first eight games of the season while catching 76 percent of his targets, Thielen has caught 64 percent of his targets over the past five weeks while averaging 62.2 yards per game. Amid a rough stretch for Minnesota's offense, Thielen was back to his ways against the Green Bay Packers in Week 12 (eight catches for 125 yards and a touchdown), but he has been quiet outside of that.
Thielen isn't the only one whose numbers have decreased after a hot start. Diggs has gone three straight games without eclipsing 100 yards receiving, and he was visibly frustrated during a defeat at the New England Patriots as cameras caught him ripping off his helmet and screaming after being left wide open.
So what's happening?
"I think a lot of discussion, even talking to my own family after the game, that they noticed watching on TV of Adam and Stefon are being doubled and taken away," Cousins said following the tilt in Seattle. "That was true probably the first two third downs of the game, and then really the rest of the game I didn't notice it showing up. So, while that is happening — that happened against the Lions, that happened against the Patriots and it's going to happen. But it's not play in and play out all game long. So I don't want to overstate that. Certainly, from time to time they'll be doubled."
Teams typically utilize bracket coverage when putting two defenders on one player, but the way the Patriots and Seahawks chose to routinely double Thielen and Diggs with defenders playing man coverage is less common. But it's far from surprising that teams have begun to deploy this strategy to contain the prolific receiving duo.
"I didn't ever think I'd get triple-teamed," Diggs said. "That's something that I've never experienced in my life. For me, I can beat double-teams. I feel like I can still win. And if it's three guys, I've got to beat three guys. It don't really matter how it comes up. But more importantly, we've got guys on the outside that can win, and if I'm occupying three people, I know we've got some guys out there that can get involved."
Interim offensive coordinator Kevin Stefanski hopes to reignite Thielen and Diggs on Sunday at home against the Miami Dolphins in a game that could establish the tone offensively for what the Vikings aim to do the rest of the season.
"I think it's our job and we're charged with getting those guys the football in space," Stefanski said. "It changes, and it varies by game, because certain teams have a certain plan to take those two guys away. The nice part is we have a very unselfish group, so if it's going to be a big Stefon Diggs game, Adam's great about it. If there is going to be a big Kyle Rudolph game, those guys are great about it.
"So, I think the ball goes where the ball goes; but we as coaches, need to try to design plays to get the ball, obviously, to our playmakers."
Another way Stefanski could do that is by getting running back Dalvin Cook more involved in the passing game.
Cook has 50 yards receiving on just 13 catches over the past two games, and opportunities to get him involved in the passing game could help him evolve into the Vikings' No. 3 receiver. The two touchdowns he has scored this season have come as a pass-catcher.
The influences Stefanski pulls from the previous offensive coordinators he has worked under will start to become evident on Sunday. But judging by the success former Vikings offensive coordinator Pat Shurmur had utilizing running backs in the passing game, particularly with screens, Cook could get more involved.
Kobe Bryant gives Cleveland Browns pep talk before playing Denver Broncos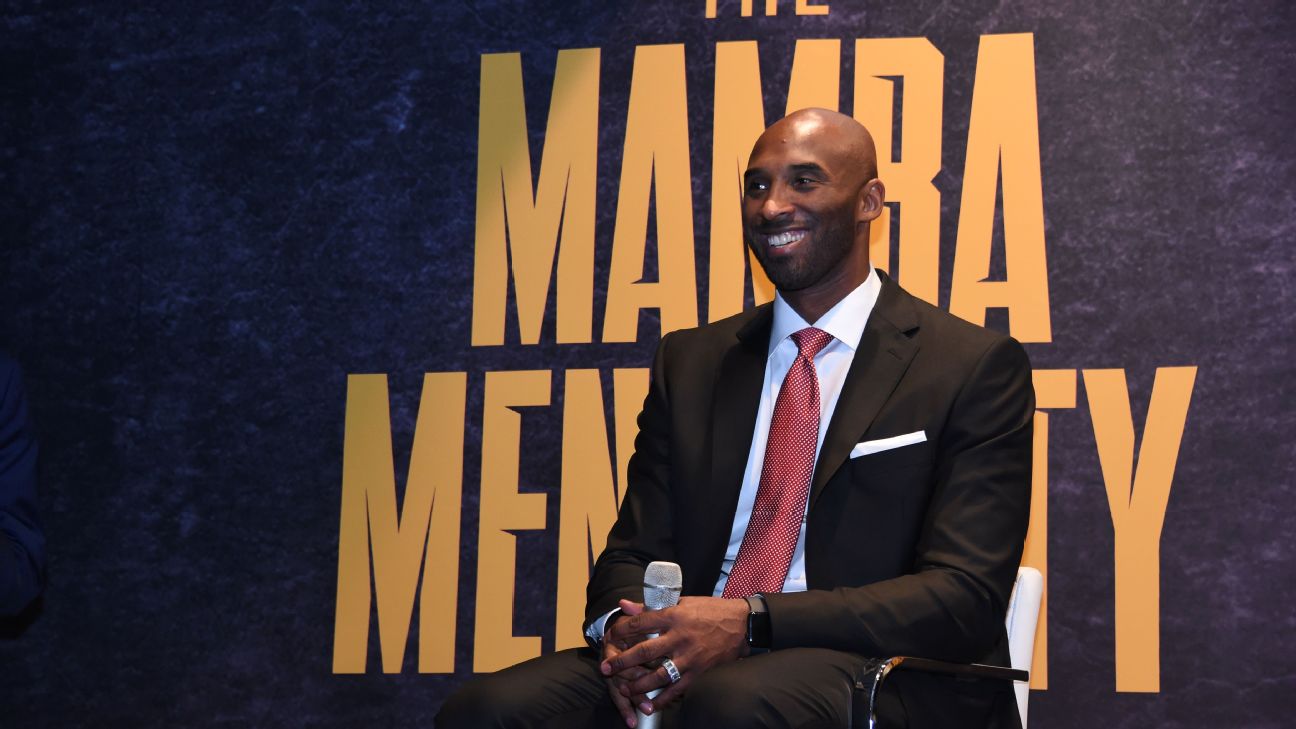 The Cleveland Browns, getting ready for a prime-time game in Denver, had a special guest at their team meeting Friday — one who knows a little bit about Showtime.
Former Lakers superstar Kobe Bryant spoke to the team for about an hour at its hotel, then took questions from the players.
S/O to @kobebryant for stopping by our team meeting today to talk about the #MambaMentality! pic.twitter.com/PMD7DmDbOW

— Cleveland Browns (@Browns) December 15, 2018
Bryant, whose relentlessness and competitive drive were hallmarks of his career, talked about the "Mamba Mentality," and what motivates him.
The Browns (5-7-1), have won three of their past four games and are coming off a 26-20 victory over the Carolina Panthers. They play the Broncos at 8:20 p.m. ET Saturday.
'Nutcracker' and helping homeless give Josh Norman a mental break – Washington Redskins Blog
ASHBURN, Va. — He won't be dancing with any stars, but he will continue to dance. Washington Redskins cornerback Josh Norman will make a cameo appearance in a local production of "The Nutcracker" on Friday night.
It's a way for Norman to raise a little money for his foundation; it's also a way for him to stay mentally fresh during a turbulent time for the Redskins, losers of four games in a row.
That's also why he spent Wednesday night handing out clothing items at several homeless shelters in Washington. He called that an early birthday gift. Norman said he decided to do this the previous night while sitting at home on his couch. Norman, who turns 31 Saturday, said he wanted to do this in lieu of doing something else for his birthday.
"What else is there for me to get?" he said.
• Inside Steelers' 'play that never happened'
• Lamar Jackson learning risks of running
• Rams need Goff to return to MVP level
• 'Nutcracker' gives Josh Norman mental break
• Cowboys have good problem at linebacker
• NFL playoff picture: Who's in, who's out
The past several weeks have been filled with stories about devastating injuries and the waiver claim of linebacker Reuben Foster and players upset with one thing or another — their role, the coaches, teammates, fans. Wednesday provided perspective and respite.
"You always have to think positive," Norman said. "I deal with it by helping other people out. It's pretty cool when you can do that, give back to other people. Helps out a lot."
Norman said the people he was handing out items to did not recognize him.
"They finally found out," he said. "They were like, 'Oh, shoot, you come down to see us?' I was like, 'Yeah, man, I came down to chop it up with you guys.' Took a couple pictures, signed some autographs. It was just really cool and refreshing and rejuvenating. You ask why I come in and keep high spirits. It's because I can do things such as that. It's much bigger than football. It's just cool."
And "The Nutcracker" helps him out, too. The Loudoun Ballet Performing Arts Co. approached him earlier this year about performing as a special guest. His one and only appearance as the Arabian Prince is Friday night. Half the proceeds will go to his Starz24 Foundation. Norman was on "Dancing with the Stars" earlier this year. While training for the show, he met some of the dancers at the LBPA.
When he was on the ABC show, Norman flew across the country and would return in time for Redskins spring practices. For the ballet, he has practiced once a week (on his off day) for a little more than a month at a local high school, he said.
"It's cool; it's something to do," he said. "I've got to be doing something."
He also knows some fans will be upset that he has spent part of his off time in a non-football activity at a time when the Redskins are losing.
"How are we held to a higher standard than a doctor or a physician?" he said. "I do what I do anyway."