Biggest contender holes after run of major trades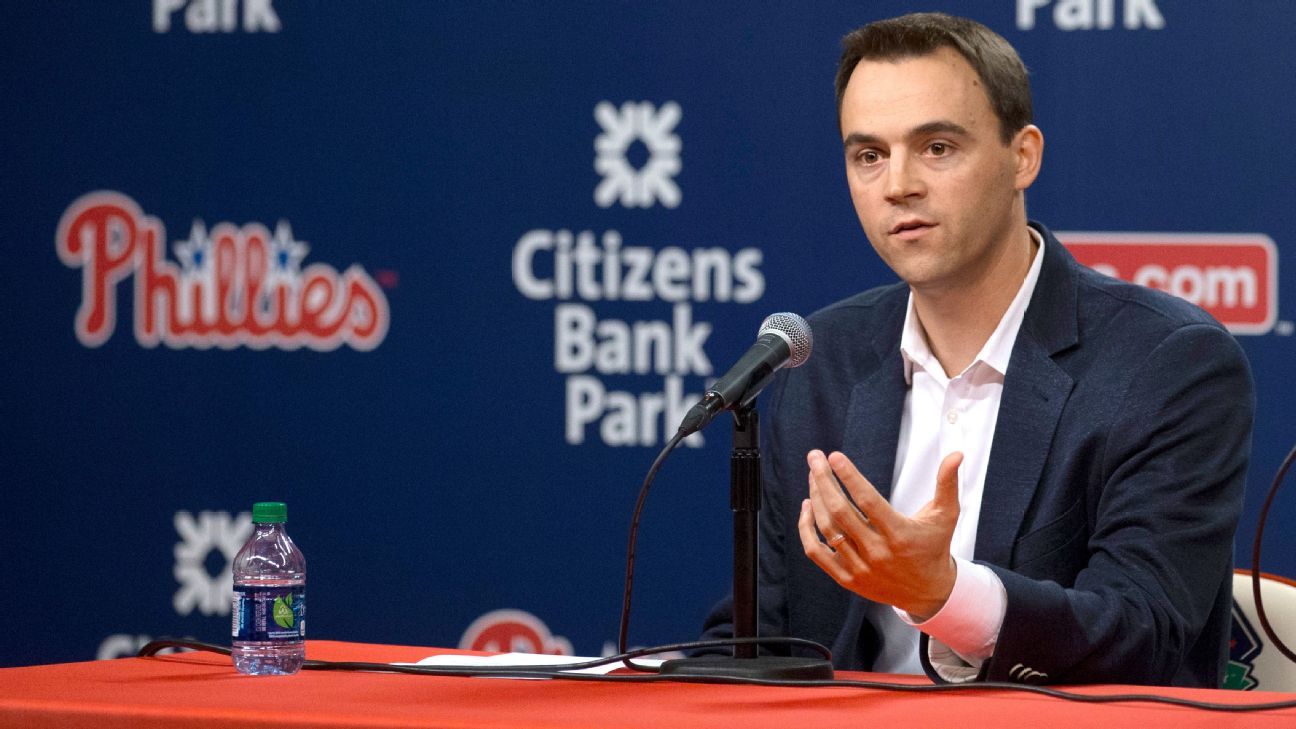 Agents and executives have noted a trend — a concerning trend, for the veteran players — that will soon manifest for the middle class of the free-agent market: Teams are filling some of their big needs through trades.
The St. Louis Cardinals just landed Paul Goldschmidt to play first base in a deal with the Arizona Diamondbacks. The New York Yankees filled their primary rotation hole by trading for the Mariners' James Paxton. The New York Mets traded for Robinson Cano to anchor their infield, and for Edwin Diaz to be their closer. The Philadelphia Phillies snagged Jean Segura to play shortstop or second base. The Chicago White Sox upgraded their bullpen by dealing for Alex Colome. The Washington Nationals filled their catching spot by trading for the Indians' Yan Gomes.
Patrick Corbin killed it in free agency with his six-year deal. Nathan Eovaldi appears poised to get a big deal, and Manny Machado and Bryce Harper will do really, really well. But there are close to 200 free agents right now, a group increased in volume last week through the contract tender decisions by clubs, and inevitably, a bunch of players are going to get left behind, scrambling for dollars or even jobs, in the way that Mark Reynolds and Matt Holliday did last winter.
And unless there is a significant adjustment negotiated soon, this ensures that the same problem could exist or grow next winter, after so many players have to take one-year offers this year and go back into the market next fall. An ugly situation is getting worse.
But it's still relatively early in the offseason, and contenders are working right now to improve their rosters for next year. The biggest holes yet to be filled by contenders:
1. Phillies: middle-of-the-order bat. Does that mean Harper? Does that mean Machado? Or both? The Phillies already have been aggressive this offseason, and there's more to come.
Kris Bryant of Chicago Cubs frustrated for unsigned Bryce Harper, Manny Machado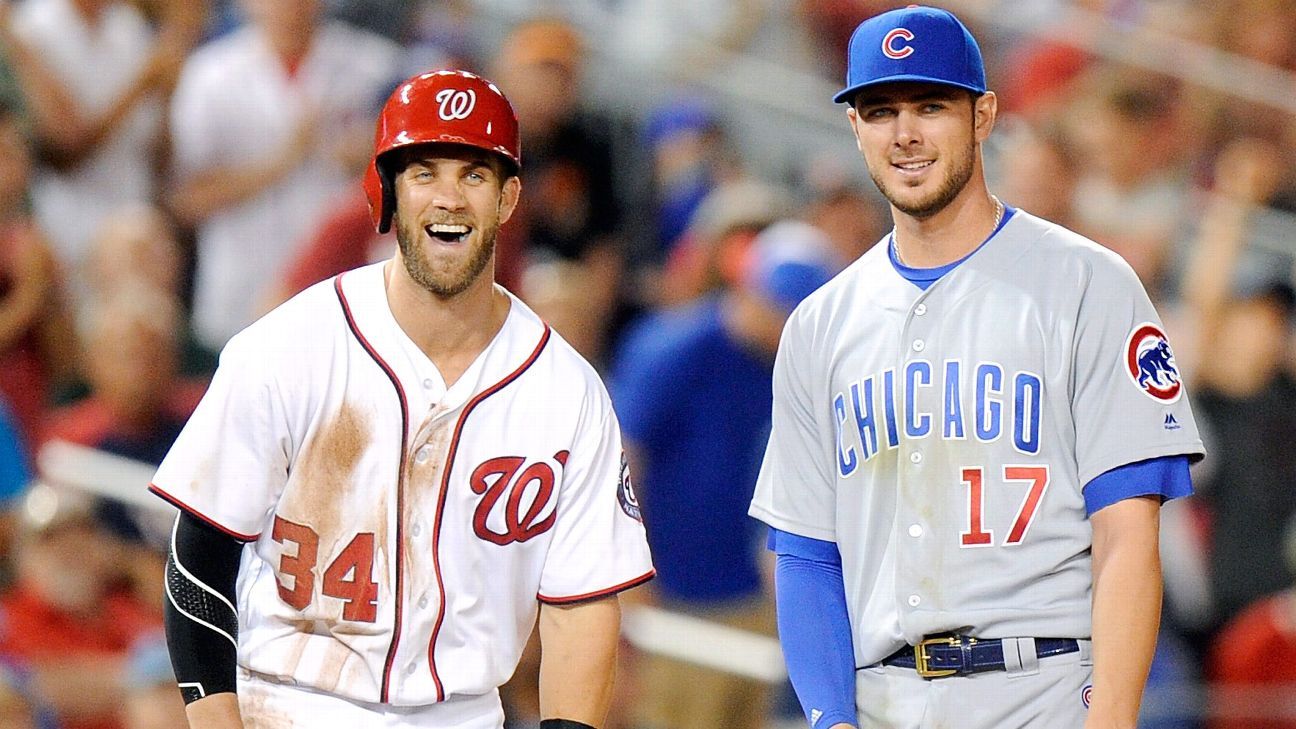 CHICAGO — Cubs star Kris Bryant expressed frustration for free agents Bryce Harper and Manny Machado, who remain unsigned with less than a month to go before spring training begins.
Harper and Machado, along with many other free agents, are still looking for jobs as February nears, marking the second consecutive winter in which free-agency signings have ground to a halt.
"It's really weird," Bryant said Friday from the Cubs' annual winter fan convention. "Two of the best players in the game, and they have very little interest in them, from just what I hear. It's not good. It's something that will have to change. I know a lot of the other players are pretty upset about it."
It's not just veteran free agents ages 30 and up who still are looking for fair contracts. Now it's the younger stars of the game.
On his Instagram account, San Francisco Giants third baseman Evan Longoria also expressed his dismay over the situation and urged the players to "stand strong for what we believe we are worth."
Cubs outfielder Albert Almora Jr., who is a friend of Machado's, called the free-agency situation "unfortunate."
"Right now we have to sit and wait," Almora said. "It's unfortunate, arguably, the best two guys in the league are taking this long to sign. The game is changing right before our eyes. It's a conversation we have to have with our player rep. A lot of us are eager to have those conversations."
Bryant said he is certain Harper won't be signing with the Cubs, who have squashed any talk of adding a high-priced player.
The Cubs have a payroll north of $200 million even without Harper, but that won't be the case for most teams.
Bryant was asked why he thinks free agency has slowed over the past two winters. He said he was unsure of the reason, but threw out the possibility it might be because "not enough teams [are] trying to be competitive."
"There's a lot of teams out there that have the money to spend, but they're not doing it," Bryant said. "It's very confusing to me. If I was an owner, president or GM, I'd love to have Bryce Harper or Manny Machado on my team."
Bryant and Almora indicated they hadn't spoken in-depth with Harper or Machado about where the free agents might sign; they said the timing of Harper's and Machado's availability in January is a good indication of where things stand.
"You work for that moment in your career," Bryant said. "You feel like every team should want you. For them to not have that, it could be disheartening for them. … It's not about the greed. They've put in the work to warrant contracts that are worthy of it."
Mariano Rivera, Lee Smith and what makes a Hall of Fame closer
With Mariano Rivera still tracking at 100 percent in the Baseball Hall of Fame balloting, it's clear that the Cooperstown electorate has settled on a couple of things. One is obviously that Rivera belongs in the Hall of Fame. But the possible unanimity in his selection also tells us that the once-hot debate about whether relievers belong in the Hall of Fame at all is now settled. The dissenters have all but disappeared.
There is still at least one out there, Boston-area sportswriter Bill Ballou, who wrote about why he couldn't bring himself to list Rivera on his ballot. As a result, rather than ruining Rivera's chances of becoming the first unanimous selection, Ballou decided not to submit a ballot this year. Now, I don't agree with Ballou, but he did have defensible reasons for his position: The save is a terrible statistic, and closers aren't used frequently enough to fully test their mettle. He likened closers to place-kickers in the NFL, like 23-year-veteran Adam Vinatieri.
The save statistic is indeed terribly flawed, but it's also unique in one respect. For years and years, its existence has had a profound impact on actual on-field strategy. Pitchers like Rivera weren't used like traditional relief aces, who were likely to enter a tie game, or even down a run or two, to wriggle a club out of a jam. Those relievers threw more innings, too, while Rivera, Trevor Hoffman, Dennis Eckersley and so many others were reserved for rarefied usage patterns defined by the parameters of the save rule — a statistic cobbled together by the great Chicago sportswriter Jerome Holtzman. In his book "Smart Baseball," my ESPN colleague Keith Law has a chapter on this titled "Holtzman's Folly: How the Save Rule Has Ruined Baseball."
The thing is, these days we have enough tools to work with that we can identify the best relief pitchers, of both the present and the past. Most of these measurements are much more telling than saves. By the way, I am intentionally trying to avoid the "closer" label here because these definitions are forever shifting. The National League reliever of the year last season was Milwaukee's Josh Hader, who finished tied for 20th in the NL with 12 saves. I don't recall there being any sort of uproar about this. Hader was very clearly the best reliever in the league and there was also little doubt that even though he didn't close many games relative to other premier short relievers, he was providing massive value to the playoff-bound Brewers.
The most common metrics tossed around when it comes to Hall of Fame debates are WAR and JAWS, the latter the brainchild of Jay Jaffe, a writer for FanGraphs.com, an ESPN contributor and author of the excellent "The Cooperstown Casebook." JAWS is built upon WAR methodology in an effort to balance career production with peak value.
With or without JAWS, one thing that everyone can agree on is that Rivera is the best closer of all time and most would argue that he's the best reliever, period. So if you can construct an argument that he doesn't belong in Cooperstown, you are constructing an argument that no pure reliever ought to be there. One thing you might point out is that Rivera's 56.2 career WAR ranks 227th all time, right between Orel Hershiser and Robin Ventura. His JAWS score (42.5) is the best of the pure relievers. It ranks behind Eckersley, who accrued a good chunk of WAR as a starting pitcher. But among starting pitchers, Rivera's JAWS score would be tied with David Wells for 124th in history.
Jaffe lists relievers separately, so you're comparing them only to each other. That's clearly the way to go, but it doesn't address the larger question of if relievers should be in the Hall at all. The fact that the bottom-line value of Rivera — the consensus best at his position — is roughly comparable to very good, but definitely not great, starters is at the heart of the argument that relievers aren't Hall-worthy in the first place. However, most analysts seem to have come around to where I'm at: For relievers, it's not about the quantity of their innings, and it's not really about saves, either, and it's not about WAR. It's about the impact they have on winning, and WAR captures only a sliver of the picture for that position.
Red Sox manager Alex Cora hedges on White House visit
BOSTON — Boston Red Sox manager Alex Cora, a Puerto Rico native who has been outspoken about its need for hurricane relief, indicated on Thursday that he may skip the World Series celebration at the White House over President Donald Trump's policies toward the island.
Cora previously said he would make the traditional champion's visit to Washington to argue for more help for the American island that was devastated by Hurricane Maria. But in the wake of reports this week that Trump tried to redirect funds from Puerto Rico to Florida and Texas, Cora repeatedly prefaced his comments on Thursday with, "If I go …."
"We'll see what happens," Cora said before the annual dinner of the Boston chapter of the Baseball Writers' Association of America. "There's a lot of stuff going on right now as far as the government and the shutdown and all that. If I go, I'll represent Puerto Rico the right way."
Once a routine, non-partisan perk of winning it all, the traditional champions' visit to Washington has become especially politicized lately, with some teams declining the invitation; in other cases, individual players stayed home.
The Red Sox have said they will go, while leaving it up to individual members of the organization.
And Cora wavered.
"Right now I can say yes. It might change tomorrow," he said. "It's not that I've changed my mind. But we'll see what happens in the upcoming days."
Cora said one issue is whether he can accomplish more by going or by staying home. He made it clear that he would not attend to "make a scene," but to "represent them the right way."
"I don't know what kind of platform I'm going to have if I go," he said. "Sometimes, if you walk the other way and you get your back to whatever is going on, is it positive? I don't know. Sometimes you've got to show your face."
Catcher Blake Swihart, infielder Brock Holt and pitcher Ryan Brasier all said on Thursday they were looking forward to a White House tour.
"It's not every day you can just walk into the White House," Swihart said. "So it's going to be a cool experience.
The most recent honoree was Clemson's football team, which won the college national championship this month and visited Trump on Monday. Because of the federal government shutdown, Trump ordered in and served the Tigers fast food: pizza, burgers and fries.
"That's all my favorite foods," Brasier said.