As Zach Ertz chases Jason Witten's record, respect comes into focus – Philadelphia Eagles Blog
PHILADELPHIA — City living has its advantages, but anybody who has done it knows that space is at a premium. As such, Philadelphia Eagles tight end Zach Ertz does not yet have a man cave.
But plans for one are already swirling around Ertz's brain for when he and his wife, Julie, eventually move into their forever home. When that time comes, Jason Witten's game-worn Dallas Cowboys jersey will be hung prominently on the wall. It is the only jersey that Witten gave out to an opposing player in his 15-year career.
You can tell it kind of kills Ertz that his idol played for "America's Team." He is very much like the city he represents in his clear-cut distaste for Philly rivals. And as a San Francisco Bay Area native who grew up watching the 49ers, the aversion to "the star" comes naturally — with one notable exception.
In 15 years, I gave away my jersey after a game one time. Zach Ertz earned my respect- not only one of the best all-around at the position in our game, but handles his business the right way. The impact we have on others- it matters. Best of luck to you @ZERTZ_86 https://t.co/VwCFRz0Hg1

— Jason Witten (@JasonWitten) May 19, 2018
"Since I was 16, he was the guy that was always on TV, unfortunately, back in California," Ertz said of Witten, "and he was the guy I was forced to watch. But at the same time, he was the perfect guy for me to watch because I was able to see at 16 years old how a tight end should play."
The years since have sewn their stories together. A relationship was forged, a significant gesture was made and now Ertz is on pace to track Witten down in the record books. Sitting at 93 catches with four games to go, he is on track to eclipse Witten's mark for most single-season receptions by a tight end at 110.
"He's having a great year," Witten said. "We all have points in our career where you just get in the zone. When I watch him on tape, I can tell he's doing things the right way. He's advanced as a route runner, using his stems, leverage, things like that to get open."
That skill set was developed in part by dissecting Witten's game. Ertz said that he really began honing in on the intricacies of Witten's route-running once he got to the NFL.
"He was the guy I was always watching because it seemed like third down, he was always getting his number called and he was always attacking leverage, and so I really just modeled my game after him," Ertz said.
Little did he know that Witten was combing over Ertz's tape, as well. Once a line of communication was established, Witten relayed to Ertz that he had been studying his film during the offseason ever since the Stanford product was selected by the Eagles in the second round in 2013.
From that mutual admiration came a one-of-a-kind gift. When Witten retired from the NFL in May, Ertz posted a photo of himself holding Witten's jersey along with a note of congratulations. Witten revealed not long after that it was the only jersey he had given to an opposing player over 247 career games.
"I just never got into that whole thing," Witten said of jersey swapping. But he made an exception for Ertz.
"He's told me in the past it wasn't because he was my favorite tight end growing up; he said it was because he really respected how I played the game and how I was always trying to get better," Ertz said. "Being the only guy he ever traded a jersey with is honestly special."
Ertz used that same term, "special," to describe having Witten as part of the crew calling Monday night's home win against the Washington Redskins. During that game, Ertz set a franchise record for single-season receptions, passing Brian Westbrook (90).
Next up is Witten's record. Ertz can take a another leap toward that mark on Sunday in the Eagles' biggest game of the year against — who else? — the Cowboys.
"Obviously, everyone knows how I feel about him," Ertz said of Witten as his mind seemed to shift back to the star. "And I'm excited for the game next week in Dallas."
Contributing: ESPN Cowboys reporter Todd Archer
Can Pittsburgh finally tame Steelers killer Rob Gronkowski? – Pittsburgh Steelers Blog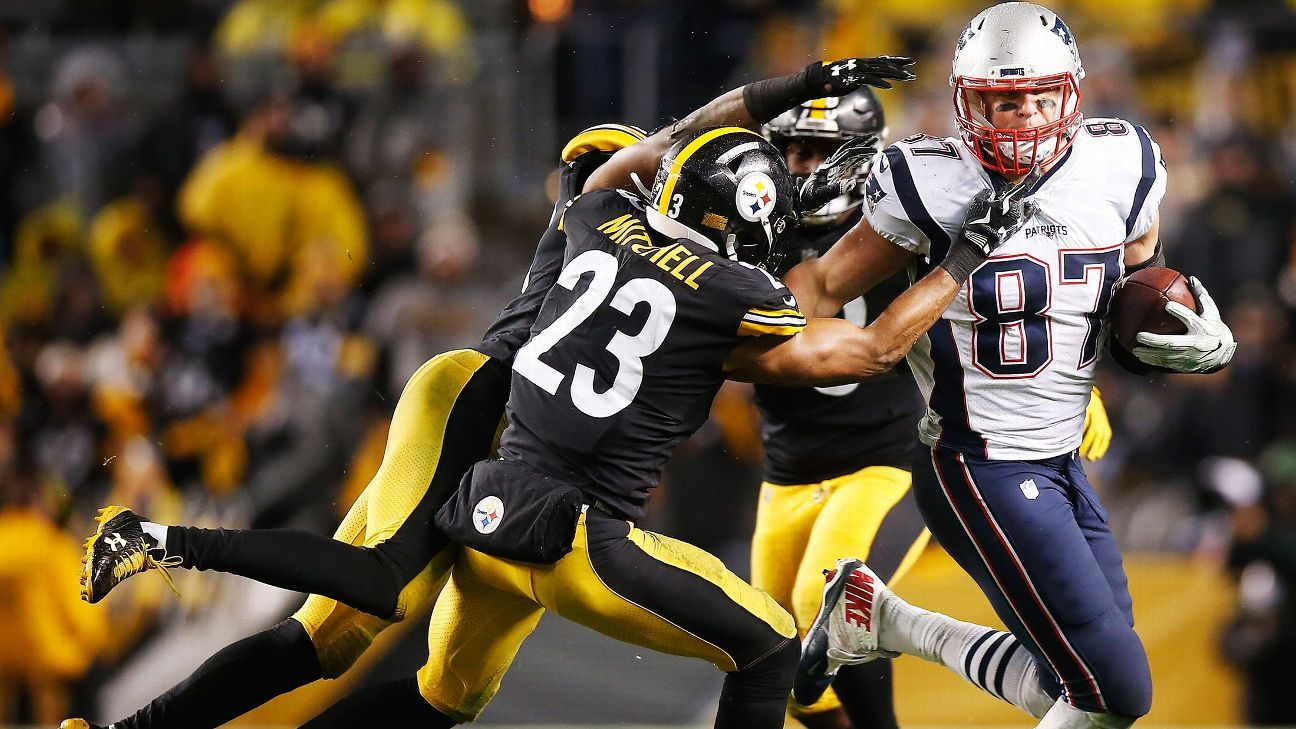 PITTSBURGH — Rob Gronkowski is known by more nicknames than the famed "Gronk" around the Pittsburgh Steelers locker room.
Steelers coaches and players have called Gronkowski everything from "freak" to "dangerous man" this week as they prepare for the tight end who's tortured their defense for years.
Coach Mike Tomlin has seen effective coverages against Gronkowski in the past.
• Inside Steelers' 'play that never happened'
• Lamar Jackson learning risks of running
• Rams need Goff to return to MVP level
• 'Nutcracker' gives Josh Norman mental break
• Cowboys have good problem at linebacker
• NFL playoff picture: Who's in, who's out
"But we haven't been a part of it," said Tomlin in preparation for Sunday's clash with New England (9-4). "We're looking to be."
The numbers validate Tomlin's point. In Gronkowski's past five games against Pittsburgh, he has 34 catches for 592 yards and five touchdowns. That's more yardage than all but eight NFL tight ends produced in the entire 2017 regular season.
The Steelers (7-5-1) have tried a bit of everything on Gronkowski, who last season was kept relatively in check before exploding for 69 yards on the final drive of the Patriots' 27-24 victory. Oh yeah, he also caught a two-point conversion after that drive.
Safety Sean Davis was covering Gronkowski for most of that game, and the performance still bothers him, though he's resigned to the fate that Gronkowski makes ridiculous catches through tight coverage.
Davis has moved from strong to free safety, so he won't match up with Gronkowski on Sunday. But he's got a promise on which to deliver.
"I'm just going to make sure those deep shots Gronk got on us last year, on me last year, you're not going to get it this year," Davis said.
Questions persist about whether Gronkowski's game is deteriorating due to mounting injuries over nine seasons. From 2010 to 2017, Gronkowski produced at least eight touchdowns in every season with 10 or more games played. This season, he has three touchdowns in 10 games, along with a modest 637 yards on 43 receptions.
But he still garners the same respect in the Steelers locker room. Defenders say his massive 6-foot-6, 268-pound frame makes contesting catches difficult for defensive backs, and Gronkowski is athletic enough to get past linebackers.
"Make sure we put a couple of bodies on him, make sure the safeties know where he is at all times," cornerback Joe Haden said. "One-on-one [coverage] — that's what they want."
The Patriots move Gronkowski around enough that everyone must be ready. Slot corner Cam Sutton doesn't expect just one player to shadow Gronkowski. "Everybody in the secondary" can get lined up with him on a given down, he said.
Mixing coverages can help, because as defensive coordinator Keith Butler points out, quarterback Tom Brady "will hurt you" if you stay in the same look all game. Brady has 23 touchdowns and one interception in his past eight games against Pittsburgh, with seven wins.
The Steelers' defense is not exactly brimming with confidence entering this crucial matchup. The unit hasn't picked off a pass since Week 10, and during this three-game losing streak, Pittsburgh has given up five drives of 60-plus yards in the fourth quarter.
But linebacker T.J. Watt likes his defense against any NFL team — as long as the Steelers do a few things.
"Just going out and getting some damn turnovers — make some splash plays and do our job and not try to do too much and we'll be just fine," Watt said. "We're getting so close. We have a lot of tipped passes, dropped interceptions. I think we know we're so close, and one of these games, it's going to all come together for us."
From streak to slump: What has happened to Adam Thielen? – Minnesota Vikings Blog
EAGAN, Minn. — The Monday Night Football audience didn't just sense Adam Thielen's frustrations, they heard them. Loud and clear.
After a 35-yard catch-and-run ahead of the two-minute warning in the second half of the Minnesota Vikings' 21-7 loss at the Seattle Seahawks, ESPN's field mics picked up a colorful outburst when the Pro Bowl wide receiver voiced his concern with what was transpiring on offense.
• Inside Steelers' 'play that never happened'
• Lamar Jackson learning risks of running
• Rams need Goff to return to MVP level
• 'Nutcracker' gives Josh Norman mental break
• Cowboys have good problem at linebacker
• NFL playoff picture: Who's in, who's out
Thielen leads the NFL in receptions, with 103, but his production has decreased considerably since he posted 100 yards receiving for eight straight weeks to open the season. In Seattle, Thielen wasn't targeted and didn't catch his first pass until 6:12 left in the third quarter. For the first time in the past two seasons, he didn't catch a pass in a half.
"A little bit frustration of not moving the ball," Thielen said of his outburst. "When you're an athlete and a competitor, you feel like you can win. So, you want the ball in your hand, you want opportunities. So that's probably where that came from."
It's not like he wasn't getting open. On Minnesota's second drive of the game, Thielen was free of defenders 20 yards downfield. Sensing pressure, quarterback Kirk Cousins dumped off a pass behind him to running back Latavius Murray that went for 2 yards. Instead of finding Thielen on fourth down from Seattle's 1-yard line with more than nine minutes to play in the game, Cousins targeted tight end Kyle Rudolph in double coverage in the back of the end zone. The pass was broken up, and the Vikings failed to score.
Thielen's production dip has been noticeable since Week 9, when his 100-yard streak was snapped by the Detroit Lions. With Stefon Diggs sidelined due to an injury to his ribs, the Lions zeroed in on Thielen, limiting him to four catches for 22 yards.
After averaging 115.6 yards receiving in the first eight games of the season while catching 76 percent of his targets, Thielen has caught 64 percent of his targets over the past five weeks while averaging 62.2 yards per game. Amid a rough stretch for Minnesota's offense, Thielen was back to his ways against the Green Bay Packers in Week 12 (eight catches for 125 yards and a touchdown), but he has been quiet outside of that.
Thielen isn't the only one whose numbers have decreased after a hot start. Diggs has gone three straight games without eclipsing 100 yards receiving, and he was visibly frustrated during a defeat at the New England Patriots as cameras caught him ripping off his helmet and screaming after being left wide open.
So what's happening?
"I think a lot of discussion, even talking to my own family after the game, that they noticed watching on TV of Adam and Stefon are being doubled and taken away," Cousins said following the tilt in Seattle. "That was true probably the first two third downs of the game, and then really the rest of the game I didn't notice it showing up. So, while that is happening — that happened against the Lions, that happened against the Patriots and it's going to happen. But it's not play in and play out all game long. So I don't want to overstate that. Certainly, from time to time they'll be doubled."
Teams typically utilize bracket coverage when putting two defenders on one player, but the way the Patriots and Seahawks chose to routinely double Thielen and Diggs with defenders playing man coverage is less common. But it's far from surprising that teams have begun to deploy this strategy to contain the prolific receiving duo.
"I didn't ever think I'd get triple-teamed," Diggs said. "That's something that I've never experienced in my life. For me, I can beat double-teams. I feel like I can still win. And if it's three guys, I've got to beat three guys. It don't really matter how it comes up. But more importantly, we've got guys on the outside that can win, and if I'm occupying three people, I know we've got some guys out there that can get involved."
Interim offensive coordinator Kevin Stefanski hopes to reignite Thielen and Diggs on Sunday at home against the Miami Dolphins in a game that could establish the tone offensively for what the Vikings aim to do the rest of the season.
"I think it's our job and we're charged with getting those guys the football in space," Stefanski said. "It changes, and it varies by game, because certain teams have a certain plan to take those two guys away. The nice part is we have a very unselfish group, so if it's going to be a big Stefon Diggs game, Adam's great about it. If there is going to be a big Kyle Rudolph game, those guys are great about it.
"So, I think the ball goes where the ball goes; but we as coaches, need to try to design plays to get the ball, obviously, to our playmakers."
Another way Stefanski could do that is by getting running back Dalvin Cook more involved in the passing game.
Cook has 50 yards receiving on just 13 catches over the past two games, and opportunities to get him involved in the passing game could help him evolve into the Vikings' No. 3 receiver. The two touchdowns he has scored this season have come as a pass-catcher.
The influences Stefanski pulls from the previous offensive coordinators he has worked under will start to become evident on Sunday. But judging by the success former Vikings offensive coordinator Pat Shurmur had utilizing running backs in the passing game, particularly with screens, Cook could get more involved.
Kobe Bryant gives Cleveland Browns pep talk before playing Denver Broncos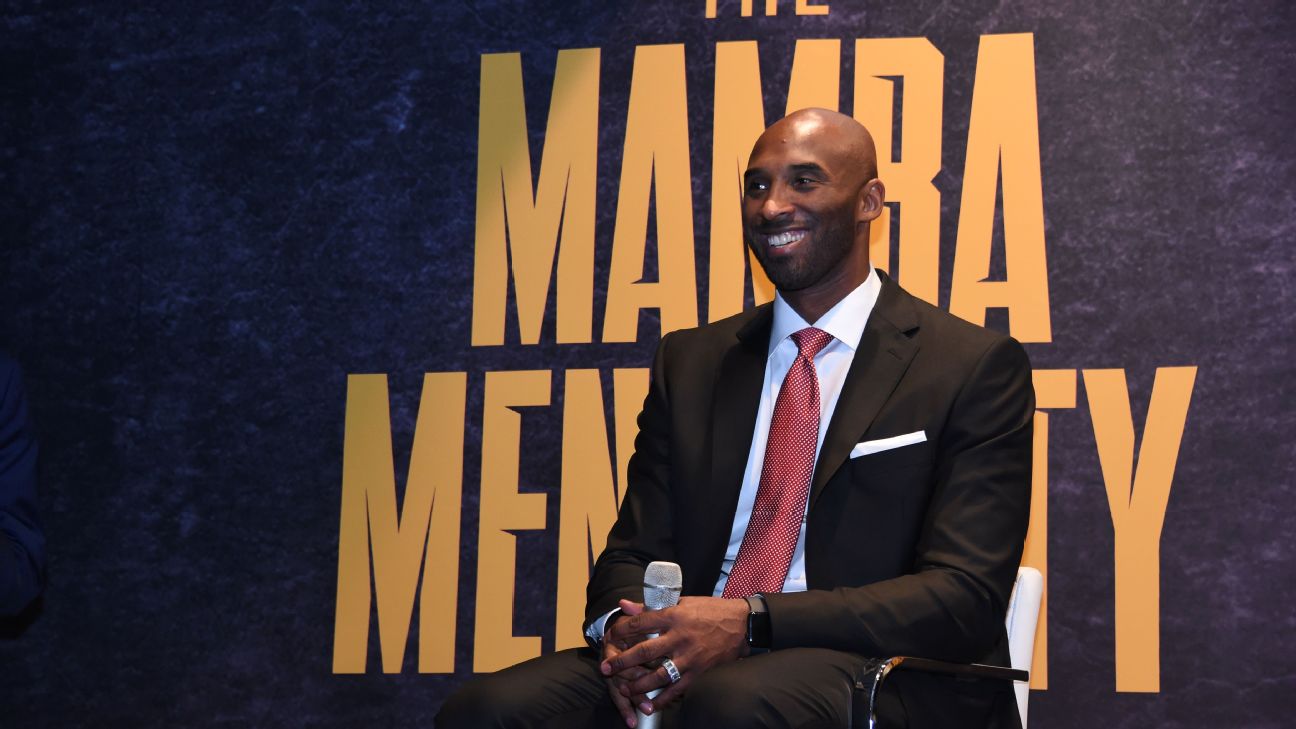 The Cleveland Browns, getting ready for a prime-time game in Denver, had a special guest at their team meeting Friday — one who knows a little bit about Showtime.
Former Lakers superstar Kobe Bryant spoke to the team for about an hour at its hotel, then took questions from the players.
S/O to @kobebryant for stopping by our team meeting today to talk about the #MambaMentality! pic.twitter.com/PMD7DmDbOW

— Cleveland Browns (@Browns) December 15, 2018
Bryant, whose relentlessness and competitive drive were hallmarks of his career, talked about the "Mamba Mentality," and what motivates him.
The Browns (5-7-1), have won three of their past four games and are coming off a 26-20 victory over the Carolina Panthers. They play the Broncos at 8:20 p.m. ET Saturday.