NFL Referees Association expects umpire Roy Ellison to be cleared after NFL review
The NFL Referees Association said Wednesday that it expects umpire Roy Ellison to be cleared after an NFL review of a confrontation between him and Buffalo Bills defensive end Jerry Hughes following Sunday's game against the Miami Dolphins.
"Video from last week's game shows [Ellison] was verbally threatened by a player who has a well-documented history of abusive language and inappropriate actions towards our officials," NFLRA executive director Scott Green said in a statement. "While we are disappointed that the NFL has yet to address that aspect of the incident, we look forward to working with the League during its review and will ensure that Roy's rights are protected during this process."
The NFL on Tuesday placed Ellison on administrative leave as it continued to review the matter. Hughes will not be suspended, a source told ESPN's Adam Schefter.
Video shows Hughes yelling at an official in the tunnel of Hard Rock Stadium after Buffalo's 21-17 loss to Miami. Hughes accused the official of calling him a "b—-." He was later restrained by a team staff member and a teammate as he continued to shout at the official, "I'll catch you."
Ellison, in his 16th year as an NFL official, was previously suspended one game without pay in 2013 for allegedly making a profane and derogatory statement to Washington Redskins offensive lineman Trent Williams.
Following that 2013 game against the Philadelphia Eagles, Williams said Ellison cussed him out during a Redskins drive late in the first half, an accusation teammates backed. Williams said Ellison walked by him after a play and called him a "garbage-ass, disrespectful m—–f—–."
Hughes denied Sunday's confrontation to reporters in the locker room shortly after. He also said he did "not recall" whether an official called him a "b—-" during the game.
"Who did? I did what?" Hughes said. "What did I say? If I did go up to the official, what did I say?" When told there was video of the confrontation, the ninth-year player repeated to reporters, "I would love to see the video."
Deshaun Watson, DeAndre Hopkins keep Texans in hunt for playoff bye – Houston Texans Blog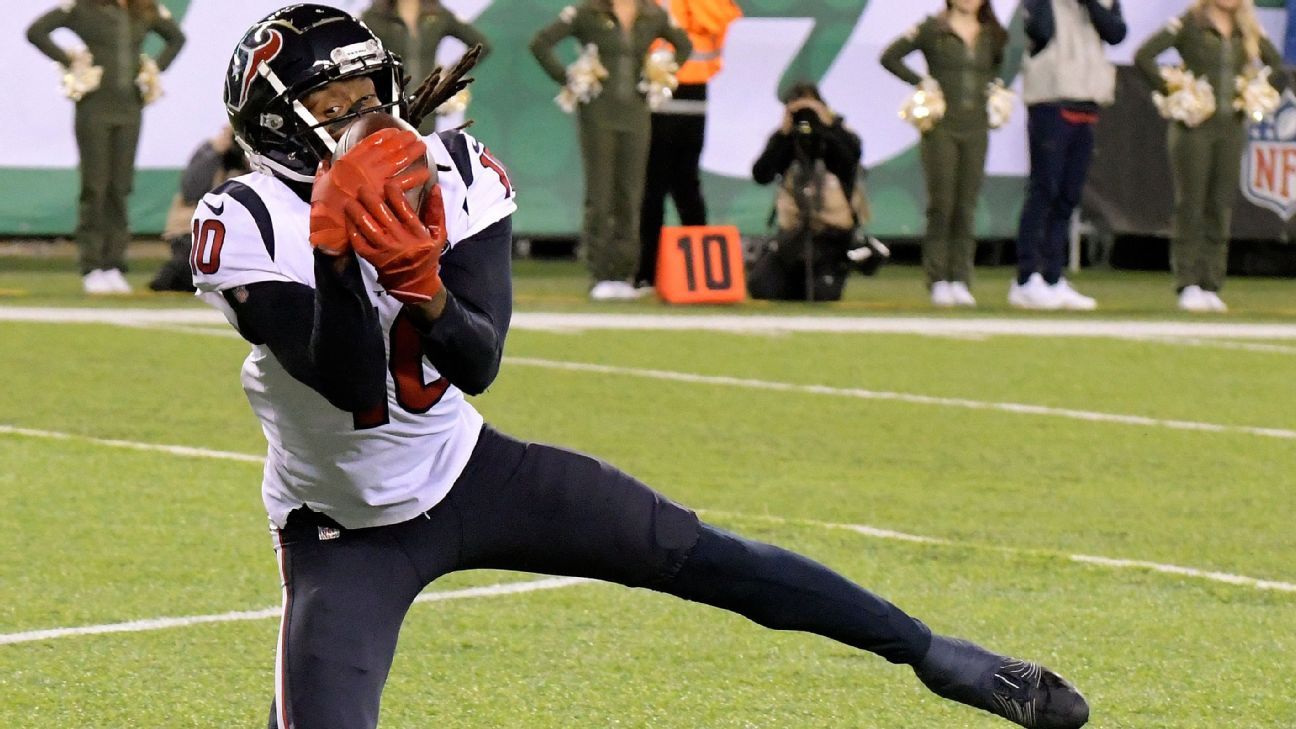 EAST RUTHERFORD, N.J. — The Houston Texans won't gain any style points for their 29-22 win against the New York Jets on Saturday at MetLife Stadium, but at 10-4, they are a step further in their quest for both an AFC South title and a first-round bye in the AFC.
After a strong first half in which he completed 9-14 passes for 145 yards — including a 45-yard touchdown strike to DeAndre Hopkins — Texans quarterback Deshaun Watson sputtered for much of the second half. With consistent pressure from the Jets' defensive line, Watson had a hard time maneuvering the pocket and avoiding the relentless rush. His six sacks were the fourth time this year he has been sacked at least five times, tying Dallas' Dak Prescott for the league-high.
Watson, who called last week's 24-21 home loss to Indianapolis "a good learning lesson," came up clutch to help Houston regain control late in the fourth quarter, after it relinquished a 16-3 lead. Trailing 22-19 late, the second-year pro engineered an efficient seven-play, 75-yard drive that lasted just 2:45 and resulted in a sensational sideline touchdown grab by DeAndre Hopkins.
In fact, Watson's only consistent success came when targeting Hopkins, who finished with 170 yards on 10 catches (11 targets), including the two scores. Well on his way to a third All-Pro selection, Hopkins also notched his 500th reception in his 93rd game, making him just the 10th player since the 1970 merger to reach the 500 mark that quickly.
With starting running back Lamar Miller unable to go after a first quarter ankle injury (he briefly returned in the second quarter), the Texans failed to register the type of run-pass balance they had hoped for after Miller and Alfred Blue totaled just 54 rush yards last week against the Colts. Despite beating the Jets, Houston once again struggled to convert on third-down, which was a point of emphasis after going just 5-15 last week.
Watson and company however, can worry about that problem the next two weeks against lesser opponents. Winners of 10 of their past 11, the Texans close out the regular season at Philadelphia and home against Jacksonville, who enter their games Sunday a combined 10-16 this season.
Texans vs. Jets – Game Summary – December 15, 2018
Jets final injury report for Saturday against the Texans: Without RB Isaiah Crowell, the Jets will lean on Eli McGuire and Trenton Cannon. This will be Crowell's first missed game, ending his streak at 77 games. Without Quincy Enunwa, they need to make Jermaine Kearse a bigger part of the offense. Another injury for CB Trumaine Johnson; this doesn't appear serious.
Pittsburgh Steelers downgrade RB James Conner to doubtful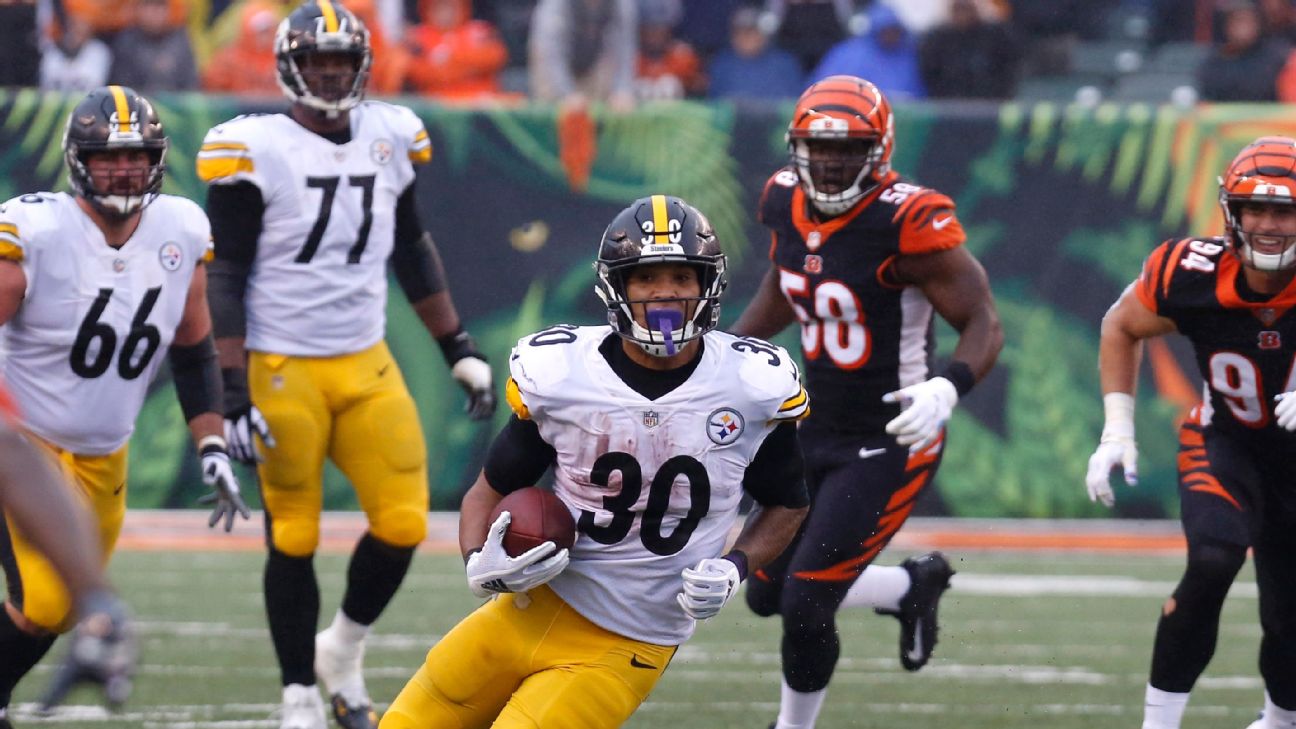 Pittsburgh Steelers running back James Conner has been downgraded to doubtful for Sunday's game against the New England Patriots, the team announced Saturday.
Conner sprained his ankle on Dec. 2 against the Chargers.
Conner, who missed last week's loss to the Oakland Raiders, practiced on a limited basis for the first time Friday.
He has rushed for 909 yards and 12 touchdowns, the second most in the NFL this season to Todd Gurley's 15.
He has also emerged as a weapon in Pittsburgh's passing game, hauling in 52 receptions — third most on the team — for 467 yards.
In Conner's absence, Jaylen Samuels and Stevan Ridley would take over at running back.
The Steelers also activated wide receiver Eli Rogers on Saturday, a source tells ESPN's Adam Schefter.
Rogers, who tore his ACL in the Steelers' playoff loss to the Jacksonville Jaguars in January, has been practicing for a few weeks, including some work with quarterback Ben Roethlisberger and the first-team offense.
In two seasons of play with the Steelers, he has 66 receptions for 743 yards and four touchdowns.