Does Corbin joining Nats signal end of Harper's time in D.C.?
Signing Patrick Corbin doesn't mean the Nationals are done with Bryce Harper. But it is one more sign that they're more than prepared for life without him.
To be perfectly clear, Corbin isn't a power-hitting outfielder like Harper. He's a starting pitcher, and a pretty darned good one at that. In fact, he's widely considered to be this offseason's premier free-agent starter. Or at least he was — until the Nats snapped him up, reportedly agreeing to terms on a six-year deal worth $140 million that will partner the 2018 All-Star with fellow filth-bringers Max Scherzer and Stephen Strasburg at the top of the rotation.
Leading up to this winter's much-anticipated Harper's Bazaar (perhaps you've heard that the former MVP is officially a free agent now), the thinking was that Washington had two choices: Either ante up history-making money to keep the face of the franchise in D.C., or let him walk away and instead earmark those gargantuan gobs of green for other areas of need. Like catcher. And the bullpen. And a starter or two. And maybe a first and/or second baseman while they're at it.
Since the end of the regular season, GM Mike Rizzo has been a busy man, as the Nationals have acquired catchers Yan Gomes and Kurt Suzuki, as well as relievers Trevor Rosenthal and Kyle Barraclough. Although each of those deals was suggestive of a team that wasn't about to wait around for Harper to make up his mind, the monetary magnitude of them — together, those four vets will earn around $20 million next season — didn't seem to preclude the Nats from making a legit run at Harper. But the Corbin signing somehow feels different. Way different.
Could the Lerner family still back up the Brinks truck to keep Harper in the nation's capital? Absolutely. But in order to do so, they'd have to go over the luxury tax threshold, and not by a little. Although the luxury tax is right up there with quarterback rating when it comes to esoteric sports math computations, it appears that by adding Corbin and his average annual contract value of around $23 million, the Nats' luxury taxable payroll is currently in the neighborhood of $190 million. Considering that Harper reportedly rejected an offer from Washington that would have paid him $30 million a season (10 years, $300M), it would cost more than $30 million annually and would likely push their payroll (again, for luxury tax purposes) into the $220-$230 million range, if the Nats end up re-signing their star right fielder. That's well above next year's luxury tax limit ($206M), and that doesn't even include any other roster additions that the Nats might make between now and Opening Day.
All that said, it's worth noting that the luxury tax isn't quite the big bad boogieman that folks make it out to be. The first year that a team goes over the threshold, they're taxed 20 percent, but only on the part of the payroll that exceeds the limit. If the same team goes over a second consecutive year, like the Nationals supposedly did last season, they're taxed 30 percent on the overage. If a club exceeds the threshold for a third straight season, the tax jumps to 50 percent — but again, it's only on the overage (easy for me to say "only"). So let's say the Nats do sign Harper and wind up with $230 million in effective payroll for the 2019 season. They'd have to fork over an extra $12 million on top of that (50 percent of the amount by which they exceeded the $206M limit).
Does $12 million sound like a lot of money? To me it does, and probably to you, too. To the Lerners, who knows? Maybe to them, $12 million is simply a surcharge — the cost of doing business to re-sign a superstar who's going to continue to put butts in seats for years to come. Of course, depending on what happens after next season, it might become more than a one-time surcharge. If the Nats sign Harper and continue to spend big after that, they'll be luxury tax regulars. If they plunk down big dollars to keep third baseman Anthony Rendon in town beyond his current contract, there's a decent chance they'll be getting surcharged year after year for the foreseeable future. If, on the other hand, they're able to pare down payroll and get below the luxury tax threshold in the near term, then retaining Harper won't be quite as costly.
In the meantime, as evidenced by the Corbin signing, the Nationals don't seem particularly concerned with saving up. Maybe that's because they're prepared to live with a very livable outfield that features youngsters Juan Soto and Victor Robles to go along with veteran sparkplug Adam Eaton. Because they're ready for life without Bryce Harper.
Then again, maybe it's because they're prepared to spend however much it takes to keep him.
Matt Adams returning to Washington Nationals on one-year deal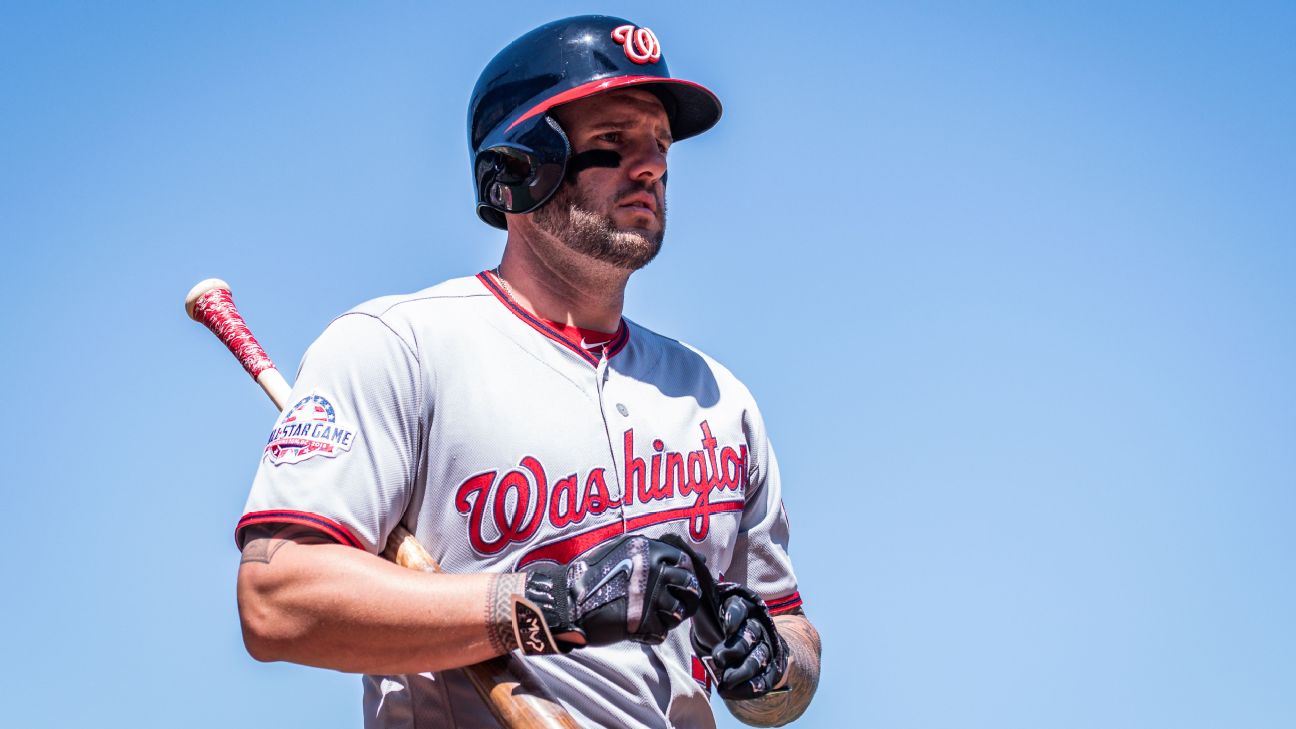 First baseman Matt Adams is returning to the Washington Nationals on a one-year, $4 million deal, according to multiple reports.
The left-handed slugger finished last season with the St. Louis Cardinals after being waived by the Nationals in a salary dump in August.
Adams, 30, hit .239 with 21 home runs for the season, averaging .257 with 18 home runs in 94 games with the Nationals.
He gives the Nationals some left-handed power off the bench and relief for Ryan Zimmerman at first.
In seven seasons with the Cardinals, Atlanta Braves and Nationals, he has 96 home runs, 332 RBIs and a .266 average.
Top spenders Red Sox owe nearly $12 million in luxury tax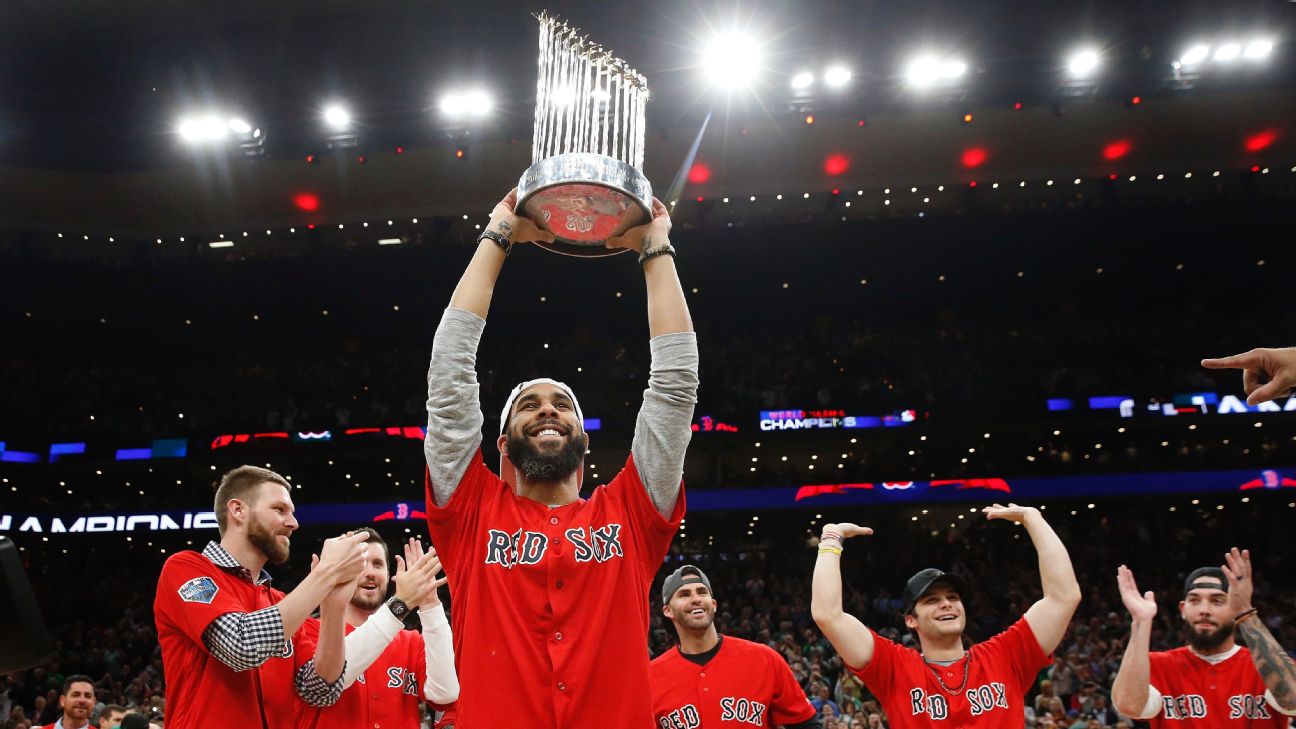 NEW YORK — The World Series champion Boston Red Sox owe $11.95 million in luxury tax for having baseball's top payroll.
That's according to final calculations by the commissioner's office obtained by The Associated Press. The only other team that owes is the Washington Nationals, who must pay $2.39 million.
Because Boston was more than $40 million over the tax threshold, it also became the first team to incur a new penalty put in place for the 2018 season: the top Red Sox selection in next June's amateur draft will be dropped 10 places.
Boston's top pick had been projected to be No. 33 overall before the penalty.
The New York Yankees dropped under the threshold for the first time, and the Los Angeles Dodgers fell below for the first time since 2012.
White Sox have limits on Manny Machado, Bryce Harper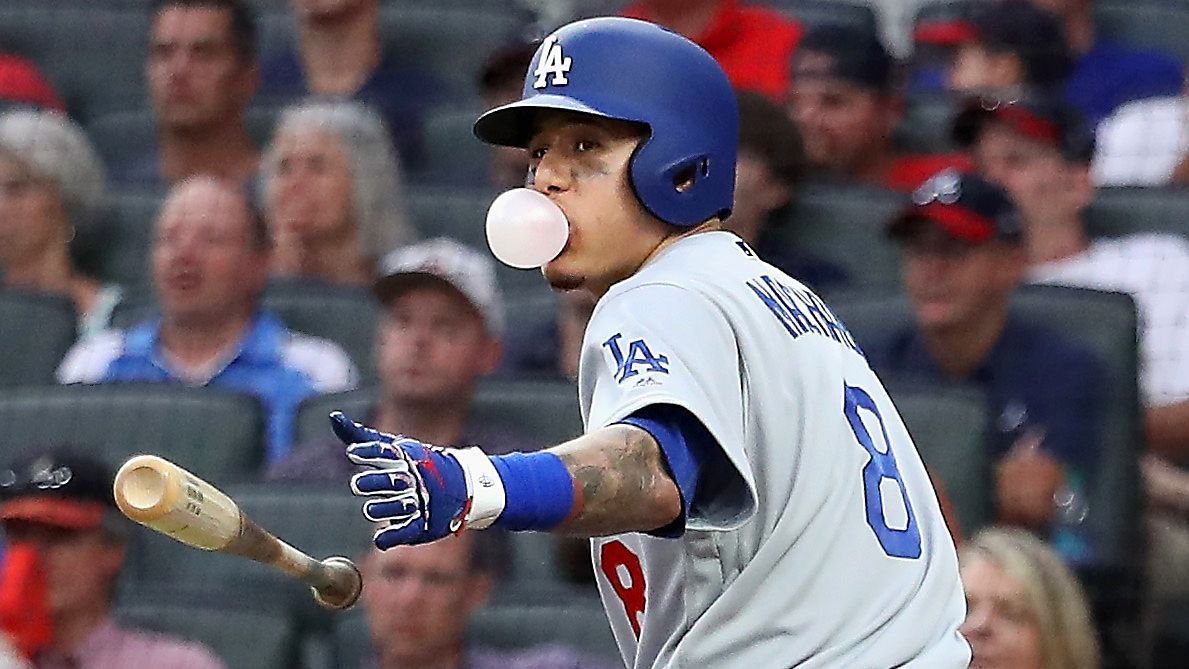 The White Sox slashed their payroll in recent seasons as they traded away players such as Chris Sale and Adam Eaton and went about the business of stockpiling prospects. This leaves them in perfect position to grow their payroll now, to make moves like the transaction they executed Friday, when they agreed to take on first baseman Yonder Alonso, a $9 million salary dump of the Cleveland Indians.
Alonso happens to be the brother-in-law of superstar free agent Manny Machado, and both players are represented by agent Dan Lozano. This move will feed industry theory that the White Sox are laying the groundwork for a significant, aggressive strike on either Machado or Bryce Harper, the two most prominent players available.