Chicago Bears Mitchell Trubisky says he expects to play against the Los Angeles Rams on Sunday
LAKE FOREST, Ill. — Chicago Bears quarterback Mitchell Trubisky expressed confidence on Wednesday that his right shoulder will be healthy enough for him to play against the Los Angeles Rams on Sunday night.
"I do [expect to play this week]," Trubisky said. "I just have to show Coach that I can play. I'm feeling good about where I'm at. As long as I can show them that I can go out there and do it and make all the throws and be the player that I know I am, I feel confident I'll be able to go.
"I feel really close, feel really close. Feel good. Hopefully, they will let me go because I feel I can."
The Bears exercised extreme caution in regards to the right shoulder injury Trubisky suffered late in the fourth quarter of Chicago's 25-20 victory over Minnesota in Week 11.
Bears head coach Matt Nagy declared almost immediately that Trubisky's injury was not of the long-term or serious variety, but Chicago nevertheless decided to sit Trubisky the past two weeks and turn the offense over to the journeyman backup Chase Daniel.
"It's different than any other injury because it's my throwing shoulder," Trubisky said. "It's something that I'm going to need for the rest of my career, obviously. Anytime there's any pain, I'm just communicating that and being smart about it.
"My pain tolerance has gone up over the years, just being able to know what you can play through and know when you just need to pull back a little bit. So it's being smart, communicating to the staff and all that, and just really not trying to be a superhero, because you don't want anything to linger the rest of this year, my career going forward."
The Bears cleared Trubisky to resume throwing late last week, and barring another setback, Trubisky will have a full week of practice leading up to the Rams game.
Trubisky's performance at practice will be an important barometer in determining his availability and effectiveness on Sunday night, according to Nagy.
"I feel strongly that he will play, but I got to see more," Nagy said on Wednesday. "I feel good about it. I hope so. Looking forward to it. I'm anxious to get him out there and throw the ball around with the guys and then be able to evaluate him after that."
Chicago's highly anticipated prime-time matchup with Los Angeles will pit Trubisky against another of the league's highly touted young quarterbacks: Jared Goff.
Trubisky and Goff, who share the same representation, lived and trained together in California in the offseason.
Trubisky believes there are parallels between himself and Goff, who initially struggled after the Rams picked him No. 1 overall in 2016 before hitting his stride the past two years.
After leading Los Angeles to the playoffs last season, Goff has passed for 3,754 yards, 27 touchdowns and 7 interceptions through 12 games in 2018.
Trubisky — the second overall choice of the 2017 NFL draft — has totaled 2,832 yards and accounted for 23 touchdowns in 10 games during his second professional season. Last year, Trubisky passed for just seven touchdowns and seven interceptions in an underwhelming rookie season.
"What I appreciate about Jared is that he has never really been shaken," Trubisky said. "A lot of people wrote him off after that first year. But watching him and how he handled himself, he's very composed. Never really rattled. He believed in himself and has had really two amazing years since then. So I know you just have to have confidence in yourself so that your teammates will believe in you as well. If you do that, you're able to do your job well. And that's something he has done really well these past two years."
Odell Beckham Jr. again ruled out for New York Giants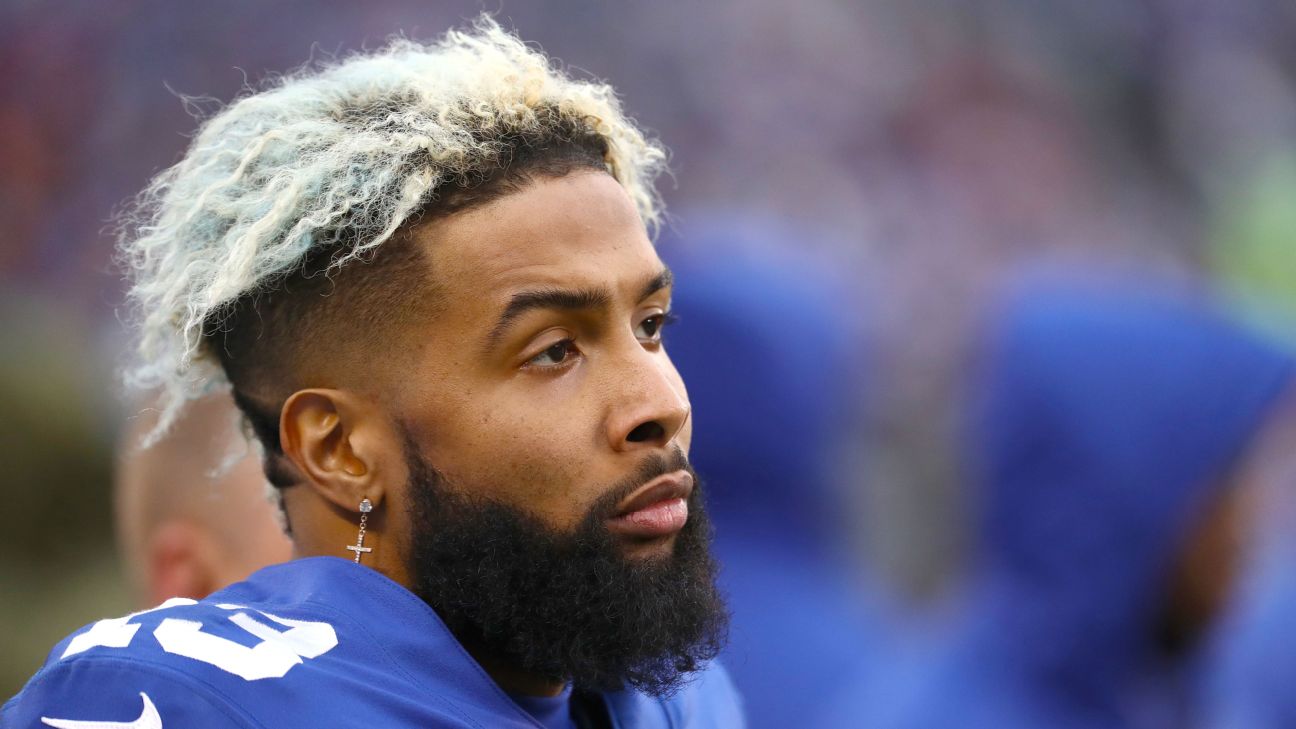 The New York Giants have again ruled out wide receiver Odell Beckham Jr. for Sunday's game against the Tennessee Titans, coach Pat Shurmur said Friday.
Beckham has been dealing with a quadriceps injury and missed Sunday's 40-16 win over the Washington Redskins.
Beckham didn't practice Thursday and went off-site for further evaluation, saying the tests were a double-check to make sure there had been progress more than anything else. He had participated in the individual portion of practice the previous day.
He sustained the injury on the final play of a Nov. 25 loss to the Philadelphia Eagles. He played the following week against the Chicago Bears and did not appear on the injury report until after practicing the following Friday.
When asked on Thursday if he was dealing with a bruised quad, he wasn't sure how to describe the injury. It had been mentioned as a bruise or even that he had blood buildup in the quad.
"I don't know. It's like saying I broke my leg, but you really fractured it. It's a choice of words," Beckham said Thursday. "Whatever you want to call it, s— ain't right."
Beckham has 77 catches for 1,052 yards and six touchdowns this season. He insists he'll be back whenever cleared. He mentioned playing injured and in pain against the Rams and Ravens during the 2016 season.
"Whenever it's better, I'll definitely be out there," Beckham said. "I don't even like missing practice. So whenever I can run, I'll be running."
ESPN's Jordan Raanan contributed to this report.
Isaiah Crowell placed on injured reserve by New York Jets
New York Jets running back Isaiah Crowell, who aggravated a toe injury last Sunday that left him in "excruciating" pain, was placed on injured reserve Friday the team announced. His season is over.
Crowell, who has rushed for a team-high 686 yards and six touchdowns, battled the injury for several weeks. On Thursday, coach Todd Bowles announced Crowell was ruled out for Saturday's game against the Houston Texans – the first missed game in his career. He had played in 77 straight.
Crowell's first, and perhaps last season with the Jets will be remembered for two games. On Oct. 7, he rushed for a franchise record 219 yards against the Denver Broncos. He needed only 15 carries, as he averaged 14.6 yards per rush.
Two weeks earlier, Crowell drew criticism and a stern rebuke from Bowles after celebrating a touchdown by pretending to wipe his rear end with the ball. He was fined by the NFL, but he parlayed the moment into an endorsement for a company that sells a toilet paper substitute for men.
Crowell is no lock to return in 2019. He signed a three-year, $12 million contract in free agency, but he can be released with minimal salary-cap implications. The Jets can save $3 million by cutting him, taking a $2 million cap hit for 2019.
Kansas City Chiefs cornerback Kendall Fuller having wrist surgery
KANSAS CITY, Mo. — Kansas City Chiefs cornerback Kendall Fuller was scheduled to undergo surgery on his wrist Friday morning, a source told ESPN's Adam Schefter.
The news was first reported by NFL Network.
It was not immediately clear how long Fuller would be out, but any absence would deprive the Chiefs of their top cornerback.
Without Fuller, Steven Nelson and Orlando Scandrick would become the top two cornerbacks. Scandrick has been the third corner this season.
If the Chiefs go with candidates on their roster for their third cornerback, they can choose from either of two rookies, Tremon Smith and Charvarius Ward. Smith is the Chiefs' sixth-round draft pick who has played just 15 snaps on defense this season. The Chiefs acquired Ward in a preseason trade with the Dallas Cowboys.
Ward joined the Cowboys as an undrafted free agent. Like Smith, he has mainly played on special teams. He has been in the lineup for 10 defensive plays.
Neither played in Thursday night's game against the Los Angeles Chargers.
Fuller played all 74 snaps against the Chargers. He has two interceptions this season, including one shortly before halftime against the Chargers.
Fuller was acquired last winter as part of the trade that sent quarterback Alex Smith to Washington.