Arizona Cardinals put D.J. Humphries on IR; down 5 offensive line starters
TEMPE, Ariz. — The Arizona Cardinals are down all five members of their projected offensive line after putting left tackle D.J. Humphries on injured reserve with a knee injury Wednesday.
Humphries has been dealing with a right knee injury since it swelled in Arizona's loss at the Kansas City Chiefs on Nov. 11. He then missed the past three games before going on IR. Last week, Cardinals coach Steve Wilks said he was "very hopeful" that Humphries would've been able to play Sunday in Green Bay, but Humphries suffered a setback that made him inactive against the Packers.
On Monday, Wilks reiterated his belief that Humphries would be ready to play this weekend against the Detroit Lions, saying, again, that he was "very hopeful."
And then Wednesday's announcement ended Humphries' fourth season. The 2015 first-round pick, who had his fifth-year option picked up by the Cardinals, has yet to play all 16 games in any season. He was redshirted his rookie year and played 13 games in 2016, five in 2017 and nine this season.
With Humphries on IR, the Cardinals have now put four projected starters on IR and cut the fifth — with four of the moves happening in the last three weeks.
Center A.Q. Shipley was the first to go on IR on Aug. 7 after suffering an ACL injury in training camp. Right guard Justin Pugh followed on Nov. 13 with an MCL injury. Arizona cut right tackle Andre Smith on Nov. 26 and put left guard Mike Iupati on IR on Tuesday followed by Humphries' announcement Wednesday.
Arizona has put two backup offensive linemen on IR, Jeremy Vujnovich and John Wetzel, both of whom started at various points this season.
In Sunday's win over Green Bay, the Cardinals started two rookies, left tackle Korey Cunningham and center Mason Cole; right tackle Will Holden, who they re-signed on Thursday; right guard Oday Aboushi, who they signed on Oct. 23; and Iupati. After Iupati went down with a knee injury early in the third quarter, Arizona played rookie Colby Gossett, who they signed on Oct. 30, at left guard.
The Cardinals have played eight different offensive line combinations thus far this season.
Denver Broncos coach Vance Joseph defends kicking field goal on fourth-and-1 vs. Cleveland Browns — 'I wanted points there'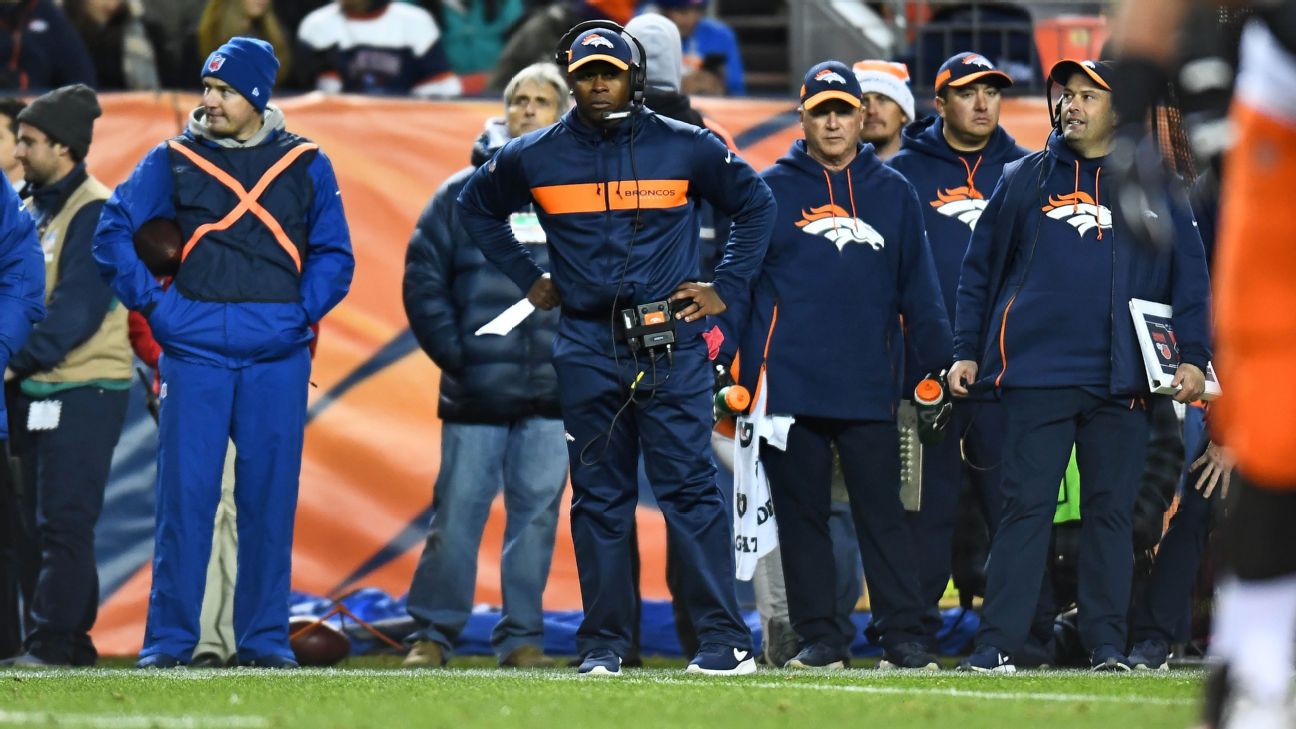 DENVER — The Denver Broncos went with math over a gut feel Saturday night, and many of their faithful left the 17-16 loss to the Cleveland Browns talking about a fourth-and-1 on which the team didn't go for it in the closing minutes as the Broncos dropped to 6-8 and the brink of postseason elimination.
With 4 minutes, 39 seconds remaining, trailing 17-13 and with a fourth-and-1 on the Cleveland 6-yard line, Broncos coach Vance Joseph sent kicker Brandon McManus out for a field goal as boos cascaded down from the stands.
"I wanted points there," Joseph said. "Had about 4:35 to go in the game. We had one timeout and the two-minute warning. I trust our defense to get a stop there, OK. If we don't get points there, a touchdown has to win it. It was my decision — take points."
McManus made the 29-yard field goal — after a delay of game penalty — and the Broncos did get the ball back after their defense stopped the Browns deep in Denver territory, but the Broncos couldn't move the ball past the 50-yard line to kick a game winner.
Broncos quarterback Case Keenum said he was confident that the Broncos could have converted the fourth-and-1, but he added that he was angry he didn't get the offense in position for the game winner after the team got the ball back.
"Yes, I felt confident [we would have converted the fourth down]," Keenum said. "I wanted to convert third down. That's what I wanted to do. [Joseph] felt like the defense would get a stop, and [we would] get the ball back, and they did. They got a stop, and we got the ball back. I can't complain. I had the ball in my hands with a chance to win the game. That's all you can ask for."
Joseph said "absolutely" the Broncos' back-to-back runs for just 2 yards and no gain on the two plays before the field goal influenced the decision.
"Absolutely, the third-down play didn't look great, and we had points," Joseph said. "Again, I trust our defense to get a stop the next drive, and we did … hoping we get a stop there and get the ball back."
While the Broncos' defense held on a Browns fourth-down play on the next Cleveland possession, that stand came at Denver's 13-yard line after Browns running back Nick Chubb gained 53 yards on six carries on the drive. That included a 40-yard run on the first play of Cleveland's drive.
"That last drive, what was it: 75 yards rushing?" Broncos linebacker Von Miller said. "We can't allow that."
In five plays, the Broncos were able to go from their own 13-yard line to earn a first-and-10 at the 50-yard line with 52 seconds to play. Joseph said he believed the Broncos needed to get to the Cleveland 42-yard line, at minimum, for McManus to have a chance at a game winner.
Keenum spiked the ball on first down and threw two incompletions to give the Broncos a fourth-and-10 from the 50. Keenum took a low snap in the shotgun and was swarmed under by the Browns' rush for a sack to end the Broncos' chances.
"I'm still pretty emotional about it," Keenum said. "Man, that's what I dream about. Man, that's what I want. I want the ball in my hands with a chance to win the game … to get that close, it pisses me off … Lot of anger at myself. There's some plays I could make that I didn't."
It wasn't pretty, but for at least one more night, the Browns are still in the playoff hunt – Cleveland Browns Blog
DENVER – The Cleveland Browns don't care how it happened, they just care that it did.
When Jabrill Peppers sacked Case Keenum on fourth down with the Broncos at midfield and down one, the visiting sideline erupted.
The Browns somehow had slogged through for a 17-16 win, their fourth in five games.
And they had somehow kept their flickering playoff hopes alive.
It was a struggle — for both teams, but the Browns now hope for help on Sunday and point to Cincinnati in a home game on Dec. 23. The team is 4-2 with Gregg Williams as interim coach and Freddie Kitchens as offensive coordinator.
The Browns got a fourth quarter touchdown pass from Baker Mayfield and some big runs from Nick Chubb as they beat the Broncos for the first time since 1990.
Mayfield was nowhere near as effective as he had been the previous four games, but when it mattered most he came through. After a T.J. Carrie fourth quarter interception, Mayfield hit Jarvis Landry for 12, Rashard Higgins for 16, Landry for six and then found Antonio Callaway for the touchdown that provided the winning points.
Denver would get a field goal to cut the lead to one, but Chubb broke a 40-yard run and the Browns were able to keep the ball until 1:49 remained.
Keenum got the Broncos to the 50, but a spike and two incomplete passes led to the fourth-and-10, when the Browns called blitz and Peppers came through up the middle to end the game.
Mayfield started strong, throwing a 31-yard touchdown pass to Breshad Perriman on the Browns first possession. He finished 18-for-31 for 188 yards, with two touchdowns, one interception and a lost fumble.
It wasn't a spectacular effort.
But it was a winning effort, and a Browns team that had won four games in the 2015, 2016 and 2017 seasons combined has won four of five to keep the postseason in view. At 6-7-1, the Browns trail five seven-win teams in the standings. If the Pittsburgh Steelers, Indianapolis Colts and Tennessee Titans all win Sunday, Cleveland would be eliminated from the race. But, still, at least for Saturday night, the Browns are still alive.
That's not a prediction many would have made when the Browns fell to 2-6-1 after Williams' first game, or even before the season.
But that's where the Browns are.
Believe it or not.
Von Miller eclipses Simon Fletcher as Broncos' all-time sacks leader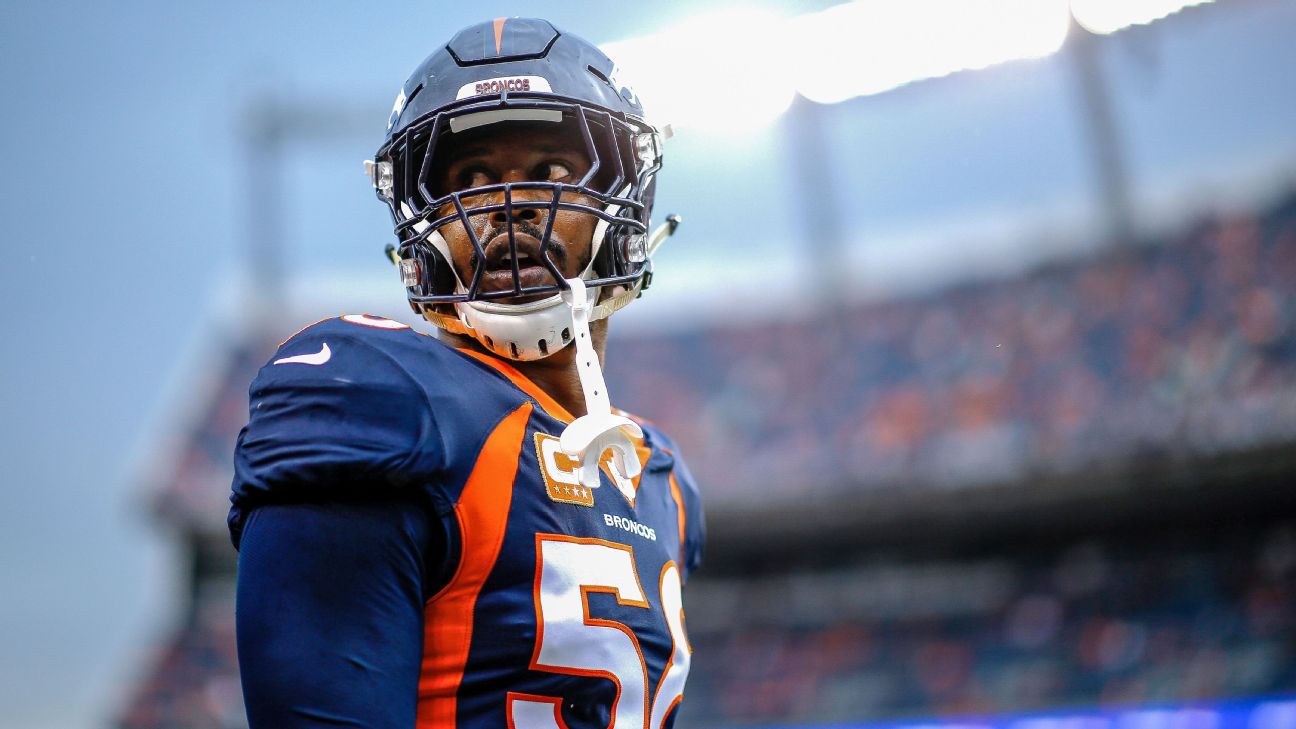 DENVER — Denver Broncos linebacker Von Miller has always said he considers the most important part of his job is "getting sacks and making game-changing plays," and he has now done that more than any other player in franchise history.
When Miller launched himself through the Cleveland Browns' offensive line on the last play of the third quarter Saturday night and pulled quarterback Baker Mayfield to the ground, he had his 98th career sack.
Miller passed Broncos Ring of Famer Simon Fletcher, who finished his career with 97.5 sacks.
The play came at an opportune time for the Broncos, as the Browns had driven into Denver territory against a Broncos defense depleted at cornerback by injury and Jamar Taylor's ejection. The sack also gave Miller 14.5 for the season, the second-highest single-season total of his career.
His career high is 18.5 in 2012.
Miller was asked this past week if he thinks about awards and records down the road.
"I don't really," he said. "Honestly, I don't. The thing about getting sacks, the sack race is so close right now. I'm three sacks away from [Rams defensive tackle] Aaron Donald, and the next guy behind me is just a sack away. So, it's a tight race and every sack could mean the difference. That's where my mindset is at right now."
The Browns beat the Broncos 17-16.