Raiders' Jon Gruden says his illegal challenge flag was message to NFL
ALAMEDA, Calif. — While it might have appeared that Jon Gruden did not know the rule for challenging a play late in the first half of the Oakland Raiders' 40-33 loss to the Kansas City Chiefs on Sunday, Gruden insisted he knew what he was doing when he threw the red flag on the field.
Call it a flag of dissent, then.
Because after replays seemed to show the football hitting the ground on a touchdown catch by Travis Kelce, the play had already been reviewed in the booth, as all scoring plays are, and ruled a score. Plus, the play happened with less than two minutes to play in a half, so it was reviewed for that reason, too. And upheld.
Gruden had been asked if he had "any sense" on whether injured receiver Martavis Bryant might play again this season, and off Gruden went on why he challenged the TD.
"I have no sense, common sense or sense on Bryant," Gruden said with a smile Monday in his weekly media conference. "I threw a challenge flag with seven seconds left yesterday. I knew exactly what I was doing, by the way.
"It wasn't a very sensible thing to do. I wanted to challenge (senior vice president of officiating) Al Riveron in New York City because I have people in the press box telling me that's not a catch. Seeing plays overturned by somebody you can't even see, I thought, with three timeouts and seven seconds left, I'd use one of my timeouts by giving Al a little extra time to look at that. But I knew exactly what I was doing."
Yes, the Raiders were docked a timeout for the "unchallengable" challenge, throwing the flag with under two minutes remaining in a half.
After spending the previous nine years in the broadcast booth for ESPN's "Monday Night Football," Gruden is 2-for-4 in challenges this season, a much higher percentage than his career 29-for-81 entering 2018.
Zack Martin, Dallas Cowboys OL, missing first game ever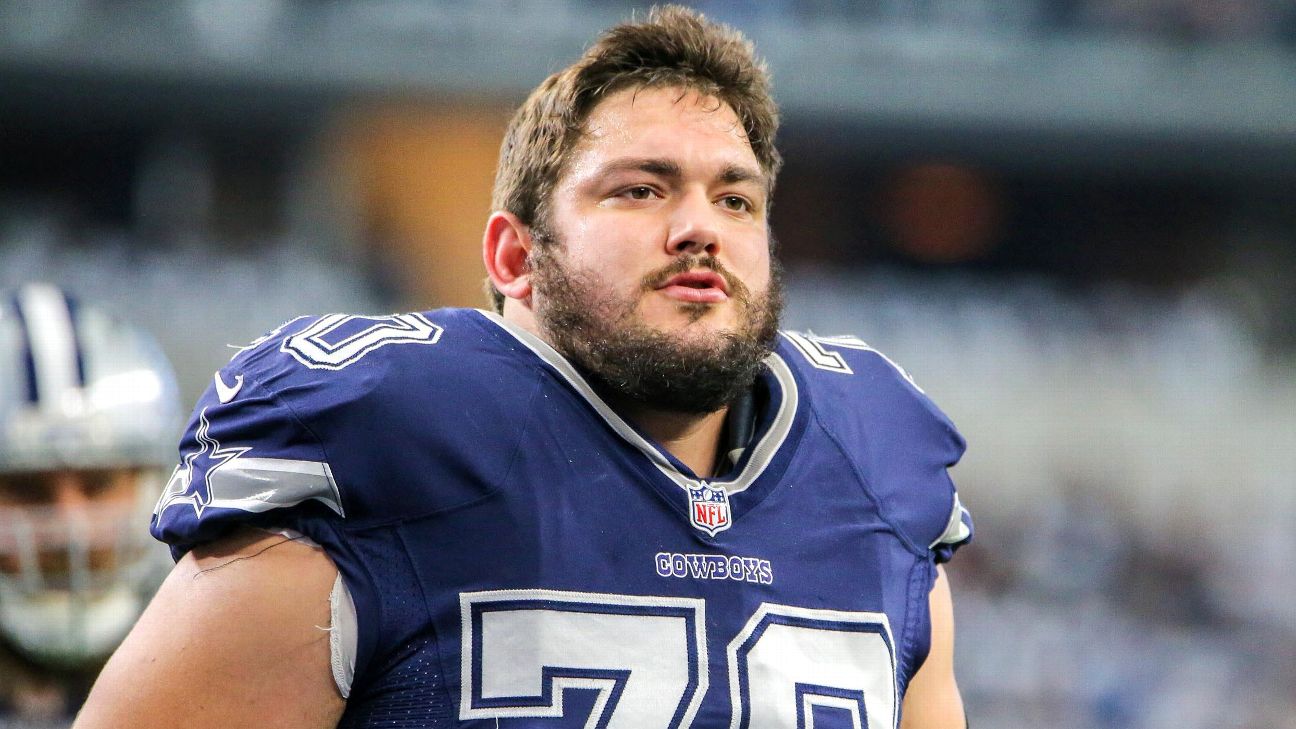 For the first time in his career, Dallas Cowboys Pro Bowl right guard Zack Martin is inactive as he deals with a sprained MCL in his left knee.
Martin, an Indianapolis native, will be out for the Cowboys' road game against the Indianapolis Colts in what will be his first missed game at any level — high school, at Notre Dame or in the NFL.
He will be replaced in the starting lineup by Connor Williams.
Martin suffered the knee injury last Sunday against the Eagles and doctors determined that he did not need surgery, but he does need rest to return later this season. Martin wanted to try to play, especially in Indianapolis, where he is from. But the Cowboys are taking the smart approach and now Martin will do something he never has before.
Martin played every game at Bishop Chatard High School in Indianapolis, then every game at Notre Dame, then every game with the Cowboys. But when Martin hobbled off the field last Sunday, it meant that he would not get to play in his hometown.
Fantasy football – NFL Week 15 inactive players for Sunday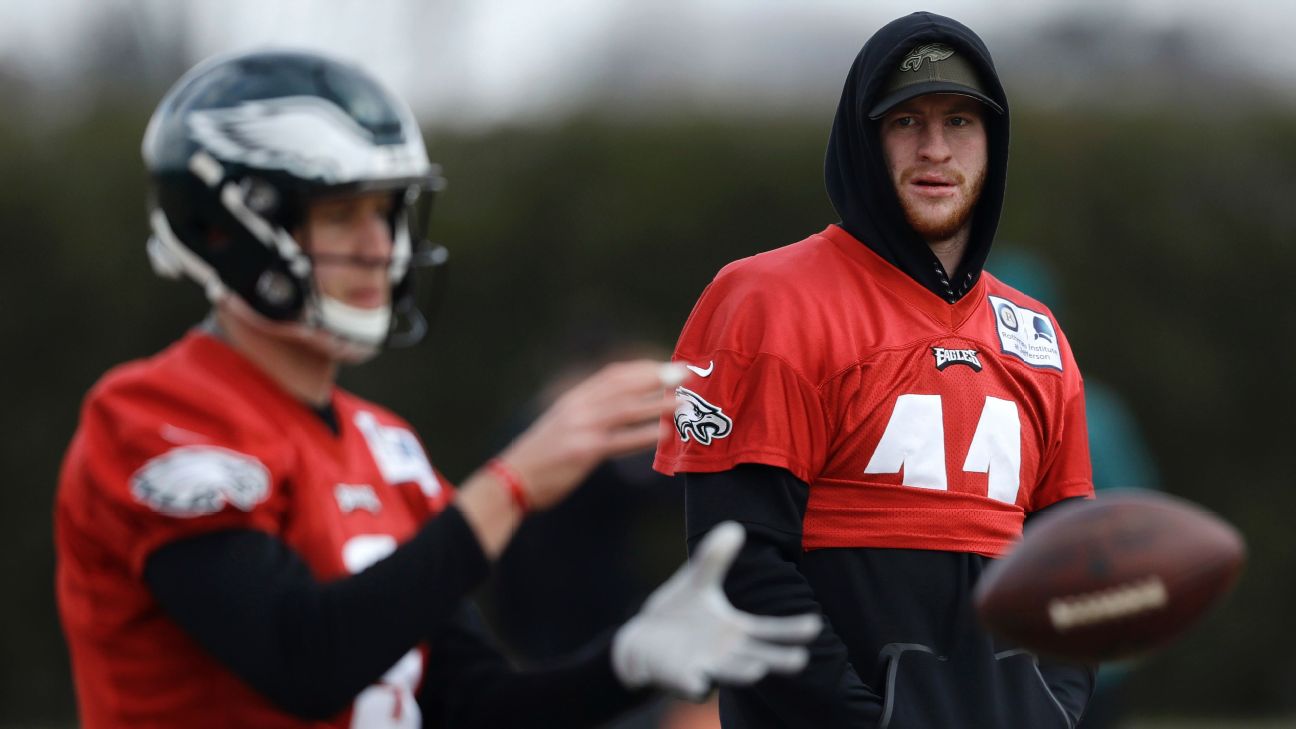 Denver Broncos coach Vance Joseph defends kicking field goal on fourth-and-1 vs. Cleveland Browns — 'I wanted points there'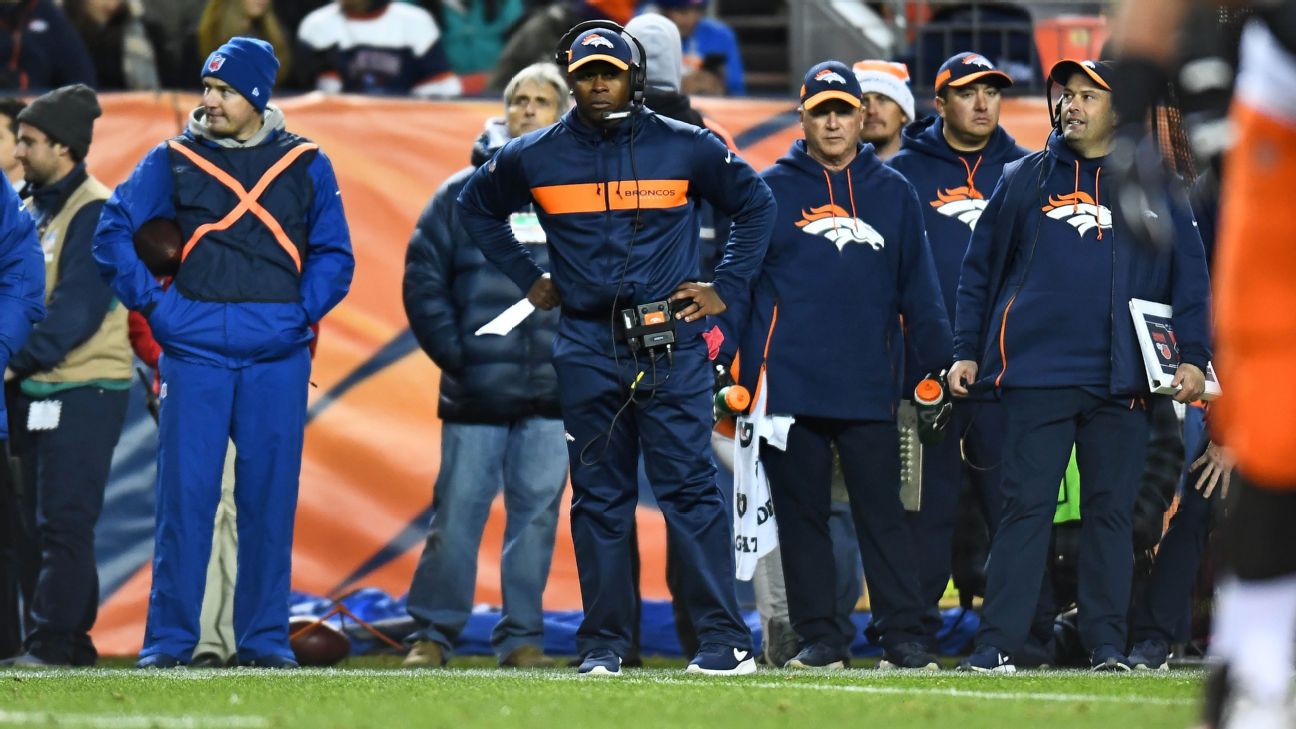 DENVER — The Denver Broncos went with math over a gut feel Saturday night, and many of their faithful left the 17-16 loss to the Cleveland Browns talking about a fourth-and-1 on which the team didn't go for it in the closing minutes as the Broncos dropped to 6-8 and the brink of postseason elimination.
With 4 minutes, 39 seconds remaining, trailing 17-13 and with a fourth-and-1 on the Cleveland 6-yard line, Broncos coach Vance Joseph sent kicker Brandon McManus out for a field goal as boos cascaded down from the stands.
"I wanted points there," Joseph said. "Had about 4:35 to go in the game. We had one timeout and the two-minute warning. I trust our defense to get a stop there, OK. If we don't get points there, a touchdown has to win it. It was my decision — take points."
McManus made the 29-yard field goal — after a delay of game penalty — and the Broncos did get the ball back after their defense stopped the Browns deep in Denver territory, but the Broncos couldn't move the ball past the 50-yard line to kick a game winner.
Broncos quarterback Case Keenum said he was confident that the Broncos could have converted the fourth-and-1, but he added that he was angry he didn't get the offense in position for the game winner after the team got the ball back.
"Yes, I felt confident [we would have converted the fourth down]," Keenum said. "I wanted to convert third down. That's what I wanted to do. [Joseph] felt like the defense would get a stop, and [we would] get the ball back, and they did. They got a stop, and we got the ball back. I can't complain. I had the ball in my hands with a chance to win the game. That's all you can ask for."
Joseph said "absolutely" the Broncos' back-to-back runs for just 2 yards and no gain on the two plays before the field goal influenced the decision.
"Absolutely, the third-down play didn't look great, and we had points," Joseph said. "Again, I trust our defense to get a stop the next drive, and we did … hoping we get a stop there and get the ball back."
While the Broncos' defense held on a Browns fourth-down play on the next Cleveland possession, that stand came at Denver's 13-yard line after Browns running back Nick Chubb gained 53 yards on six carries on the drive. That included a 40-yard run on the first play of Cleveland's drive.
"That last drive, what was it: 75 yards rushing?" Broncos linebacker Von Miller said. "We can't allow that."
In five plays, the Broncos were able to go from their own 13-yard line to earn a first-and-10 at the 50-yard line with 52 seconds to play. Joseph said he believed the Broncos needed to get to the Cleveland 42-yard line, at minimum, for McManus to have a chance at a game winner.
Keenum spiked the ball on first down and threw two incompletions to give the Broncos a fourth-and-10 from the 50. Keenum took a low snap in the shotgun and was swarmed under by the Browns' rush for a sack to end the Broncos' chances.
"I'm still pretty emotional about it," Keenum said. "Man, that's what I dream about. Man, that's what I want. I want the ball in my hands with a chance to win the game … to get that close, it pisses me off … Lot of anger at myself. There's some plays I could make that I didn't."