Patrick Corbin to Washington Nationals shows NL East teams are going for it
The first big free-agent pitcher is off the market: Left-hander Patrick Corbin has agreed to a six-year contract with the Washington Nationals, pending a physical, reportedly for $140 million, significantly more than the $126 million Yu Darvish received from the Cubs a year ago.
My first reaction: Welcome to the division of death.
The young, up-and-coming Atlanta Braves are the defending division champions, signed third baseman Josh Donaldson and maybe have two more big moves to make, adding a starting pitcher and a corner outfielder.
The New York Mets acquired Edwin Diaz and Robinson Cano from the Mariners, and new GM Brodie Van Wagenen said it's unlikely the team will deal Noah Syndergaard since the "chips are in" for 2019. They need to add a couple of bullpen pieces, sort out first base — maybe rookie Peter Alonso is the answer — and find a fifth starter.
The Philadelphia Phillies traded for Jean Segura — they had the worst shortstop production in the majors in 2018 –and are making a hard push for Manny Machado and/or Bryce Harper.
The Nationals have now signed Corbin, fixed their catching problem with Yan Gomes and Kurt Suzuki, added relievers Trevor Rosenthal and Kyle Barraclough, and could still bring Harper back.
The Marlins? Well, they tore down a sculpture.
These are the moves the Nationals should have made last offseason, when they had the same issues: concerns about the back of the rotation, no bullpen depth and no good solutions at catcher. The rotation aside from Max Scherzer and Stephen Strasburg went 27-39 with a 4.69 ERA. The bullpen ranked eighth in the NL with a 4.05 ERA. The catchers ranked 27th in the majors in WAR.
In Corbin, they add a 29-year-old lefty who was one of the best starters in the majors in 2018, going 11-7 with a 3.15 ERA and 246 strikeouts in 200 innings with the Arizona Diamondbacks. Corbin doesn't possess an overpowering fastball, but his overall swing-and-miss rate of 34.7 percent tied Blake Snell for highest in the majors thanks to an unhittable slider. Corbin was one of just seven qualified starters to whiff 30 percent of the batters he faced.
Still, it's a high-risk signing. Heck, all long-term contracts for pitchers are high risk, but this one feels even more so. Corbin had never come close to this level of dominance before. He struck out 30.8 percent of the batters he faced compared to a previous career best of 21.9 percent. His success relied largely on batters chasing that slider out of the strike zone and they may adapt and learn to lay off it. He has a Tommy John surgery in his past.
This is the price teams are willing to pay for a premium starting pitcher, however, even with the sordid history of so many of these deals blinking right back at them. The Nationals can perhaps take comfort in how well the Scherzer signing has worked out so far. On the other hand, they now have three pitchers signed to mega-contracts and the success of the franchise over the next few years will rest to a large extent on the ligaments and tendons for Scherzer, Strasburg and Corbin remaining intact.
The best part of the early offseason in the NL East is that you have four teams trying to improve. That's good! It's going to make for an exciting remainder of the offseason and an exciting division race. Compare that to the American League, where most of the league has conceded playoff spots to the Red Sox, Yankees and Astros and is focusing on long-term rebuilds.
In fact, you can argue that the Nationals are the favorites for the division title. Even before the Corbin signing, FanGraphs projected the Nationals as the best team in the NL East:
Nationals: 90-72
Mets: 84-78
Braves: 83-79
Phillies: 78-84
Marlins: 67-95
I think the Braves are better than that, but I agree that the Phillies still have work to do, which is why they need to add Manny Machado or Harper. One thing to remember about the Nationals is they arguably underachieved last season in finishing 82-80. Their run differential of plus-82 nearly mirrored the Braves' total of plus-102, so there wasn't really a big split in talent level between the clubs.
Yes, the Nationals roster doesn't include Harper, but Harper wasn't super valuable last season. They're also getting a full season of Juan Soto — conservatively projected to hit .291/.393/.515 — while likely improving at catcher and in the bullpen. While rookie outfielder Victor Robles won't replace Harper's power, he is projected to hit .273/.334/.416 with speed and good defense. Anthony Rendon is one of the best players in the league and Trea Turner is one of the best all-around shortstops.
Now they've added the top pitcher available in free agency. If they get 90 to 100 starts from the Big Three, they're going to be in the race.
Now let's see how the Braves, Mets and Phillies counter this move. Trying to win. It's fun.
Yonder Alonso of Cleveland Indians traded to Chicago White Sox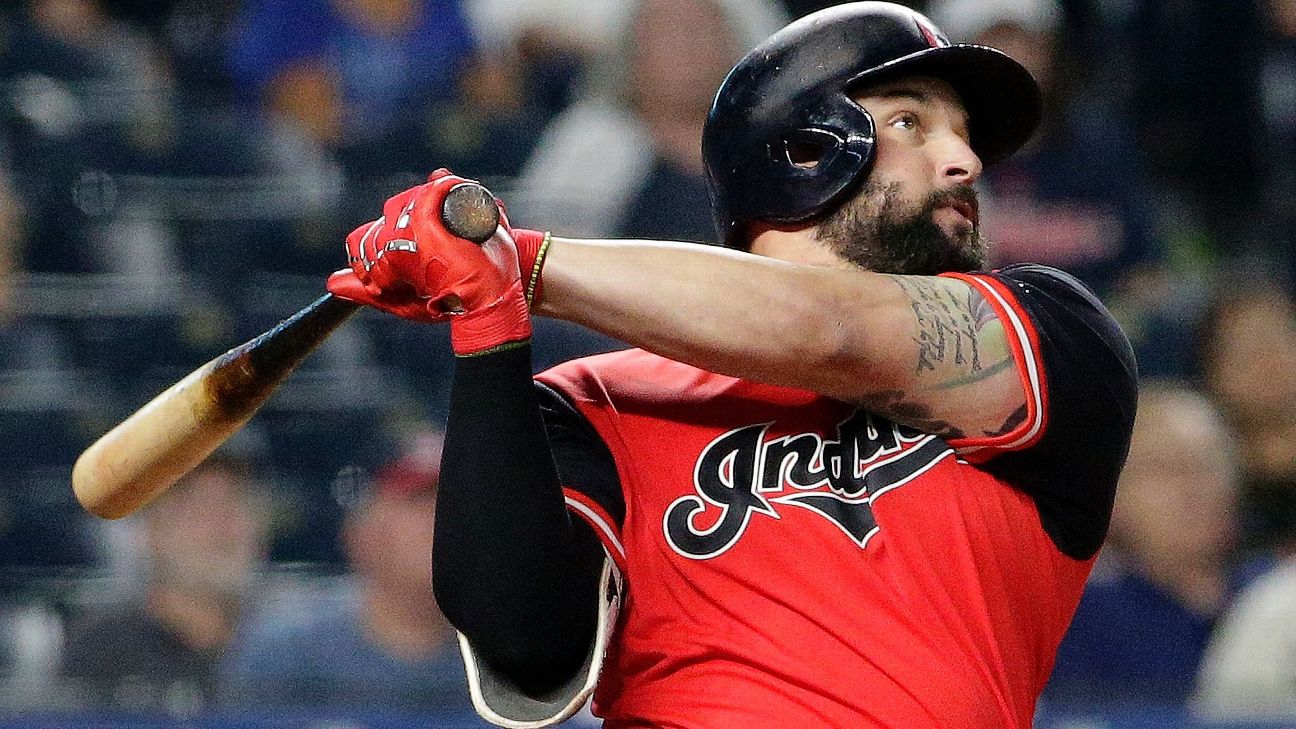 The Chicago White Sox have acquired first baseman Yonder Alonso in a trade with the Cleveland Indians, according to multiple reports.
It wasn't immediately known whom the Indians would receive in the trade.
Alonso, 31, hit .250 with 23 home runs and 83 RBIs last season for the Indians. A nine-year veteran, Alonso was an All-Star in 2017, when he hit 28 home runs and 67 RBIs for the Oakland A's and Seattle Mariners.
The White Sox have also expressed interest this offseason in slugger Manny Machado. Alonso is the brother-in-law of Machado.
News of Alonso's trade was first reported by Stadium.
Matt Chapman of Oakland A's has left shoulder surgery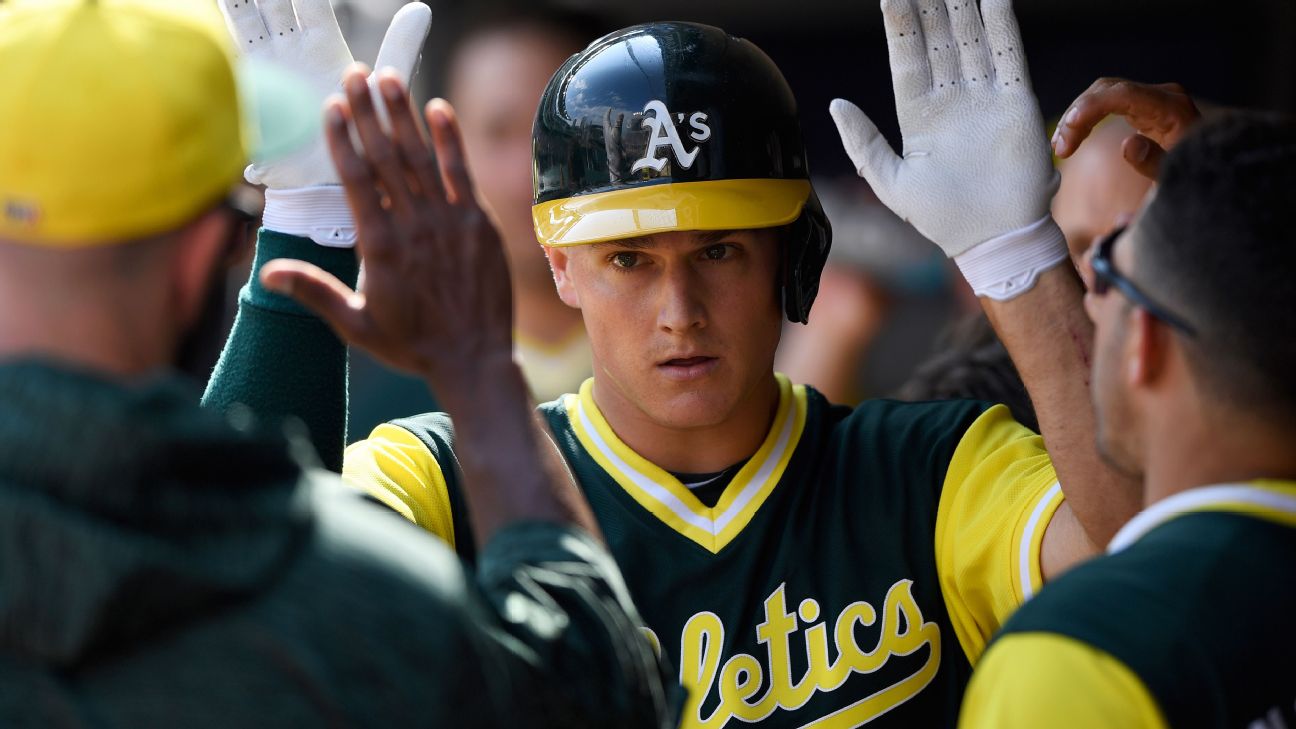 OAKLAND, Calif. — Athletics third baseman Matt Chapman had surgery Friday on his left shoulder, his second operation this offseason.
Dr. William Workman performed a distal clavicle resection procedure on Chapman's shoulder, the team said Friday. Chapman is expected to begin swinging a bat in six weeks.
The team said Chapman felt discomfort in the shoulder during offseason workouts. Chapman also had surgery on his right thumb Oct. 16 and was expected to recover fully from that operation by spring training.
Chapman batted .278 with 24 home runs in a breakout season. He won his first Gold Glove and finished seventh in American League MVP voting.
Brandon Hyde hired Baltimore Orioles new manager from Chicago Cubs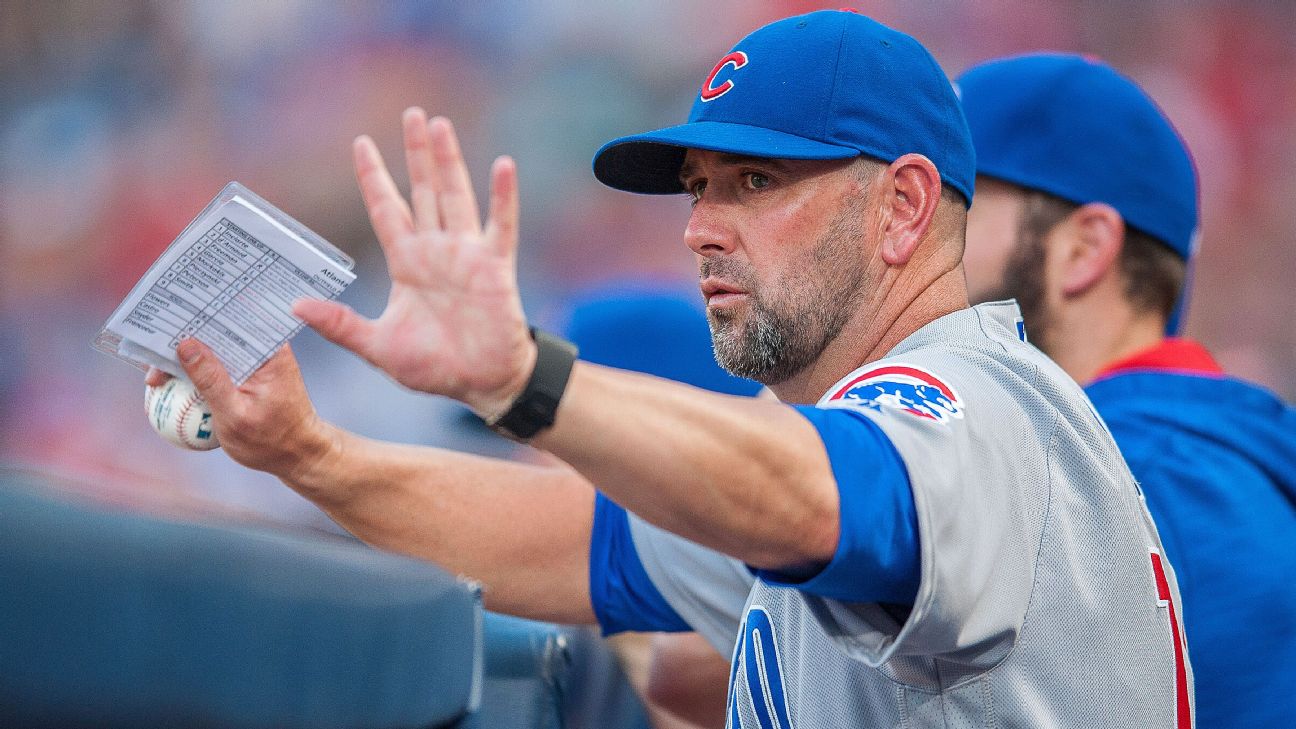 BALTIMORE — The Baltimore Orioles hired Brandon Hyde to be their new manager Friday, hoping his experience as Cubs bench coach will help the team move forward while in rebuilding mode.
Hyde takes over for Buck Showalter, who was fired after Baltimore finished 47-115 — the worst record in the majors. This will be Hyde's first stint as a major league manager.
Hyde, 45, was selected by general manager Mike Elias, who began an extensive search for Showalter's replacement after being hired last month to replace Dan Duquette.
"I believe that we have found the ideal leader for the next era of Orioles baseball," Elias said of Hyde.
Hyde worked as Chicago's bench coach this year under manager Joe Maddon. He was in the second of three seasons as Cubs first-base coach when the team won the World Series in 2016.
Before that, Hyde served as Rick Renteria's bench coach in Chicago in 2014. He previously served as Chicago's director of player development from August 2012 through 2013 after joining the Cubs in December 2011 as their minor league field coordinator.
Prior to joining the Cubs, Hyde spent nine seasons in the Miami Marlins organization. He was Miami's bench coach from June 2010 through the end of the 2011 season.
"Brandon's deep background in player development and major league coaching — most recently helping to shape the Cubs into a world champion — has thoroughly prepared him for this job and distinguished him throughout our interview process," Elias said.
Elias and Hyde will seek to develop a team that shifted into rebuild mode last July under Duquette, who traded away many of the team's stars — most notably Manny Machado, Zach Britton, Jonathan Schoop and Kevin Gausman — for 15 prospects and international bonus pool money in moves that cut payroll from $151 million to $136 million.
On the day he was introduced by Baltimore, Elias spoke about the significance of landing the right manager to shape the Orioles into a team that can be competitive in the AL East.
"This is an important hire," Elias said on Nov. 19. "… It's not something you rush. We want to get the right person for this time."
Hyde will be formally introduced as the 20th manager in Orioles history on Monday.