Ever-evolving Patriots defense coming together at the right time – New England Patriots Blog
FOXBOROUGH, Mass. – The New England Patriots defense is putting things together at just the right time.
The unit's performance in Sunday's 24-10 victory over the Minnesota Vikings — and how it limited NFL leading receiver Adam Thielen to five catches for 28 yards and one touchdown — has the players feeling good about what they're building toward entering the final four games of the season.
"When you look at our defense, one thing that we pride ourselves on is coming in and not letting your best guy beat us," said safety Devin McCourty, one of the team's captains. "The guy has [had] almost 100 yards in every game, so that's a win. I thought, as a group, just great execution against a guy that we knew was going to be tough all game."
This is the identity of the Patriots' defense.
Whereas other units around the NFL are known more for constant pressure, or blazing speed, the Patriots under Bill Belichick have always been a unit that morphs into different shapes on a weekly basis thanks to their versatile parts. They are also a fundamentally sound tackling group.
That doesn't necessarily create a "wow" factor like other teams, but it's smart football, reflective of one of the smartest coaches in the game who has overseen a seamless transition in 2018 with future-NFL-head-coach-in-waiting Brian Flores taking over the playcalling from Matt Patricia.
Take, for example, how differently the Patriots played over the past two weeks.
In a Nov. 25 win over the New York Jets, they focused on a bigger base defense that played a 3-4 alignment to take away the running game. The idea was to make the Jets go away from their strength, forcing them out of their comfort zone by throwing the football at an unusually high rate. It was successful.
Then in Sunday's win over the Vikings, there was was just one snap played in the base defense. It was all sub packages – a 3-3-5 nickel in which the fifth defensive back was either a safety (against multiple tight ends) or a cornerback (against three receivers) — with heavy attention paid to Thielen in coverage. In obvious passing situations, there were times with just one down lineman on the field, with some dynamic blitzes, and disguise that confused quarterback Kirk Cousins.
"It's just a lot of guys buying in and understanding that it's not just one position here or just one thing you're doing on this play," said lineman Trey Flowers, one of the unit's best players who played 3-technique (over the guard's outside shoulder) against the Jets, before returning to more of his natural end position against the Vikings "If they give us a different look, we can change it up. A lot of guys are just on top of the game plan and the playbook. When you have a lot of guys that are smart enough to learn different things, you can do things like that and be effective."
As Flowers said, the scheme doesn't mean much if there aren't talented players to execute it.
Along those lines, the secondary is playing well with cornerbacks Stephon Gilmore, Jason McCourty, J.C. Jackson and Jonathan Jones leading the way, while safeties McCourty, Patrick Chung, Duron Harmon and Obi Melifonwu are doing their part.
The linebackers are holding up their end of the bargain, with Elandon Roberts' hit on the opening play against the Vikings being credited by players as a tone-setter. The hard-hitting Roberts is joined by Dont'a Hightower and hybrid end/outside linebackers Kyle Van Noy and John Simon.
And up front, it's Flowers, Deatrich Wise Jr., Lawrence Guy, Malcom Brown, Adrian Clayborn and Adam Butler doing most of the damage.
"Our defense, the way they played yesterday, it's going to be tough for anyone to come to Foxborough and win," quarterback Tom Brady said Monday in his weekly interview on sports radio WEEI. "They really locked in. I could see it all week. They had a lot of different, confusing looks for the offense. They played their butts off."
With games against Miami, Pittsburgh, Buffalo and the New York Jets, the unit has a chance to continue to fine-tune things heading into what they hope will be a deep playoff run.
"We just have to stay on top of it and continue to climb," Flowers said. "I think a lot of guys are coming together and just want to get better. We understand the urgency we have now. Now it's time for real football and to be on our A-games."
Zack Martin, Dallas Cowboys OL, missing first game ever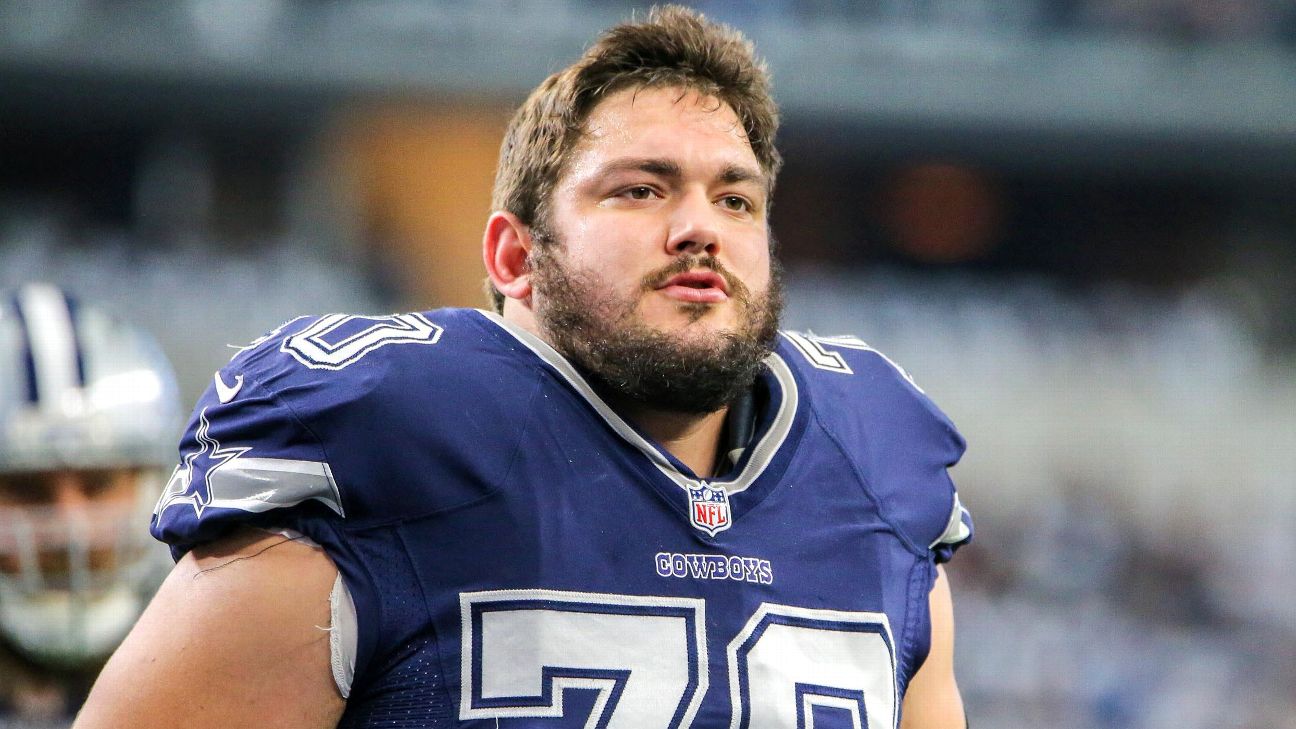 For the first time in his career, Dallas Cowboys Pro Bowl right guard Zack Martin is inactive as he deals with a sprained MCL in his left knee.
Martin, an Indianapolis native, will be out for the Cowboys' road game against the Indianapolis Colts in what will be his first missed game at any level — high school, at Notre Dame or in the NFL.
He will be replaced in the starting lineup by Connor Williams.
Martin suffered the knee injury last Sunday against the Eagles and doctors determined that he did not need surgery, but he does need rest to return later this season. Martin wanted to try to play, especially in Indianapolis, where he is from. But the Cowboys are taking the smart approach and now Martin will do something he never has before.
Martin played every game at Bishop Chatard High School in Indianapolis, then every game at Notre Dame, then every game with the Cowboys. But when Martin hobbled off the field last Sunday, it meant that he would not get to play in his hometown.
Fantasy football – NFL Week 15 inactive players for Sunday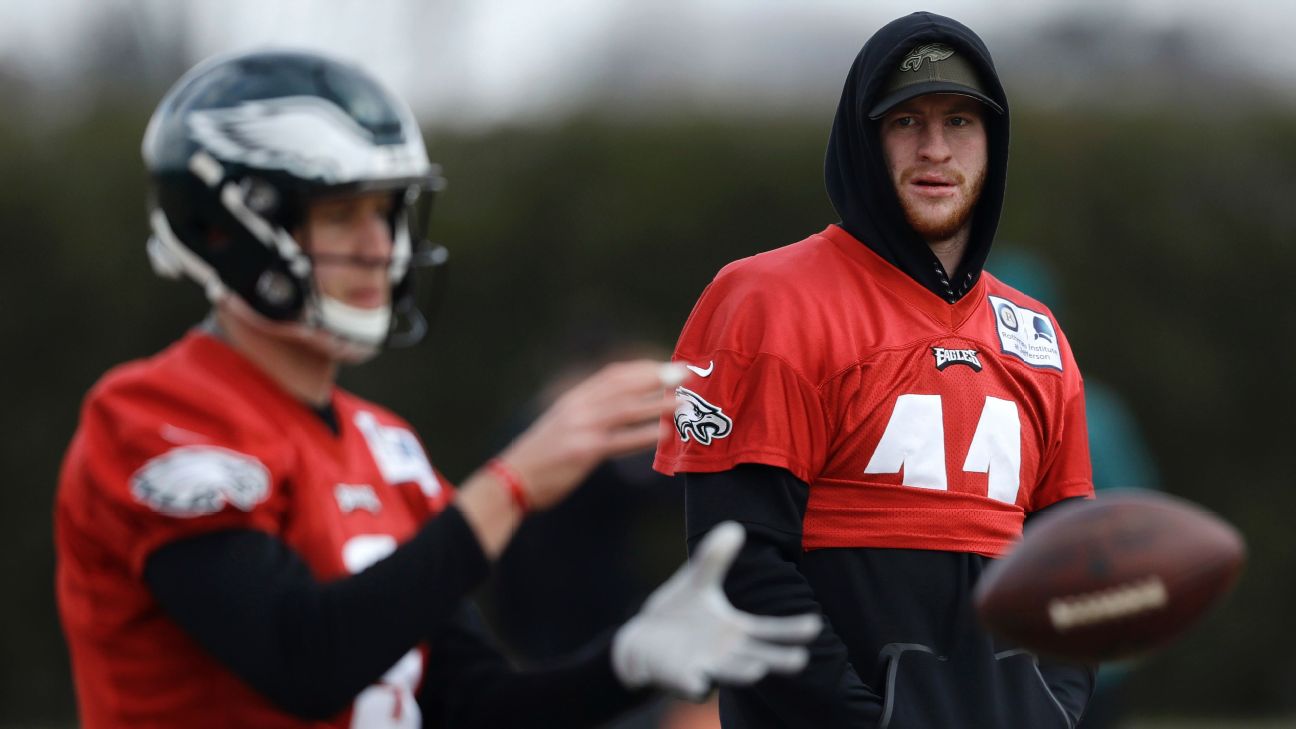 Denver Broncos coach Vance Joseph defends kicking field goal on fourth-and-1 vs. Cleveland Browns — 'I wanted points there'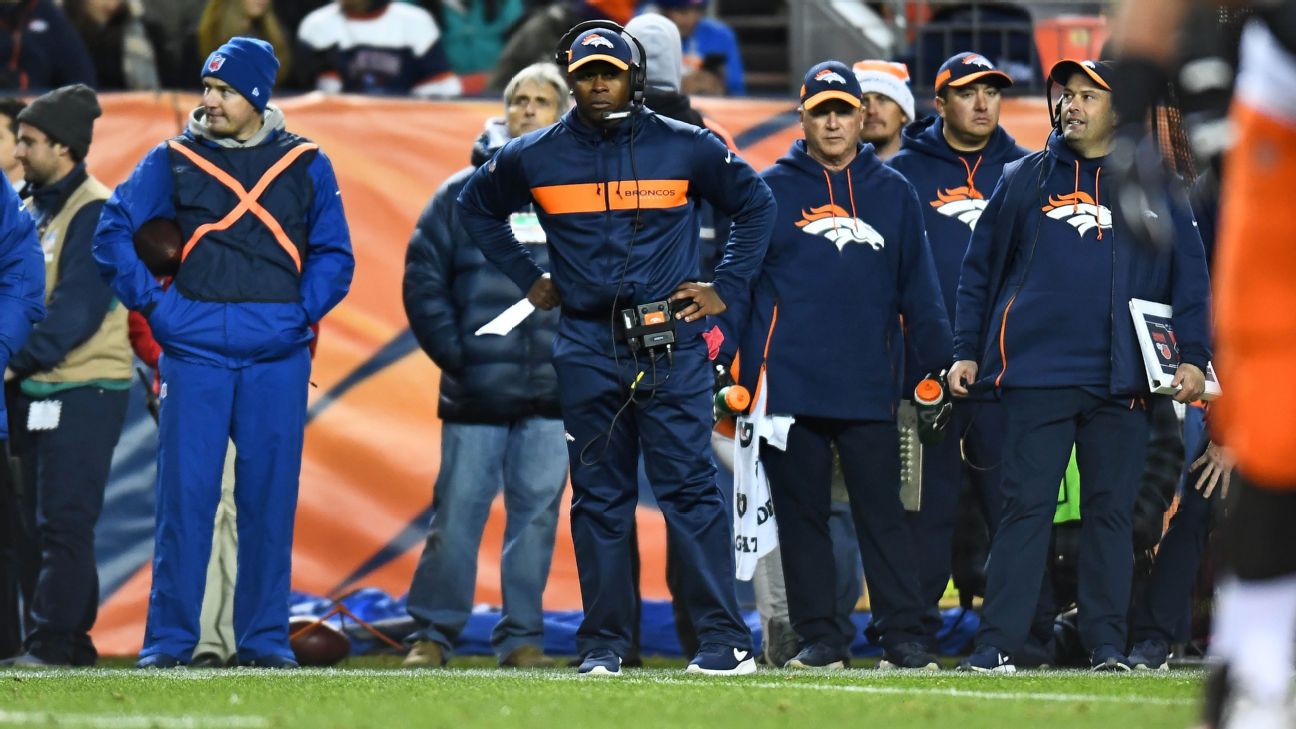 DENVER — The Denver Broncos went with math over a gut feel Saturday night, and many of their faithful left the 17-16 loss to the Cleveland Browns talking about a fourth-and-1 on which the team didn't go for it in the closing minutes as the Broncos dropped to 6-8 and the brink of postseason elimination.
With 4 minutes, 39 seconds remaining, trailing 17-13 and with a fourth-and-1 on the Cleveland 6-yard line, Broncos coach Vance Joseph sent kicker Brandon McManus out for a field goal as boos cascaded down from the stands.
"I wanted points there," Joseph said. "Had about 4:35 to go in the game. We had one timeout and the two-minute warning. I trust our defense to get a stop there, OK. If we don't get points there, a touchdown has to win it. It was my decision — take points."
McManus made the 29-yard field goal — after a delay of game penalty — and the Broncos did get the ball back after their defense stopped the Browns deep in Denver territory, but the Broncos couldn't move the ball past the 50-yard line to kick a game winner.
Broncos quarterback Case Keenum said he was confident that the Broncos could have converted the fourth-and-1, but he added that he was angry he didn't get the offense in position for the game winner after the team got the ball back.
"Yes, I felt confident [we would have converted the fourth down]," Keenum said. "I wanted to convert third down. That's what I wanted to do. [Joseph] felt like the defense would get a stop, and [we would] get the ball back, and they did. They got a stop, and we got the ball back. I can't complain. I had the ball in my hands with a chance to win the game. That's all you can ask for."
Joseph said "absolutely" the Broncos' back-to-back runs for just 2 yards and no gain on the two plays before the field goal influenced the decision.
"Absolutely, the third-down play didn't look great, and we had points," Joseph said. "Again, I trust our defense to get a stop the next drive, and we did … hoping we get a stop there and get the ball back."
While the Broncos' defense held on a Browns fourth-down play on the next Cleveland possession, that stand came at Denver's 13-yard line after Browns running back Nick Chubb gained 53 yards on six carries on the drive. That included a 40-yard run on the first play of Cleveland's drive.
"That last drive, what was it: 75 yards rushing?" Broncos linebacker Von Miller said. "We can't allow that."
In five plays, the Broncos were able to go from their own 13-yard line to earn a first-and-10 at the 50-yard line with 52 seconds to play. Joseph said he believed the Broncos needed to get to the Cleveland 42-yard line, at minimum, for McManus to have a chance at a game winner.
Keenum spiked the ball on first down and threw two incompletions to give the Broncos a fourth-and-10 from the 50. Keenum took a low snap in the shotgun and was swarmed under by the Browns' rush for a sack to end the Broncos' chances.
"I'm still pretty emotional about it," Keenum said. "Man, that's what I dream about. Man, that's what I want. I want the ball in my hands with a chance to win the game … to get that close, it pisses me off … Lot of anger at myself. There's some plays I could make that I didn't."