Bet on Carson Wentz long-term, even amid frustrating Eagles 2018 NFL season
PHILADELPHIA — Carson Wentz is not going to win the Super Bowl title this season that his backup won last season, and odds are he is not going to reach the postseason, either. ESPN's Football Power Index (FPI) gives the Philadelphia Eagles a 17.8 percent chance of making the playoffs, which means there is an 82.2 percent chance Wentz will be just as miserable sitting at home next month as he was last winter sitting on his team's bench.
Wait, didn't Wentz say all the right, team-centric things about Nick Foles and the historic run the Eagles made without their injured franchise player? Of course he did. What was he supposed to do, look and sound as thrilled about the season's final outcome as Bill Belichick did?
Let's face it, human nature is what it is. Once upon a time, Phil Simms watched his Giants backup, Jeff Hostetler, upset Buffalo in the Gulf War Super Bowl while he whispered to himself, "Oh my God, this (Buffalo) team was made for me to throw against." Out with a broken foot, Simms left the field before Bills kicker Scott Norwood went right in the final seconds, and left the Giants' locker room before the celebration began. He couldn't stomach the sights and sounds of his team winning it all with another man under center. "Pretty devastating," Simms called the experience.
And Simms had already won a Super Bowl, four years earlier, with a near flawless performance. So how do you think the young and restless and (at the time) ringless Carson Wentz really felt while watching Foles tear New England's defense to shreds with his offense?
Now here's the good news for Wentz and his legion of devoted fans, LeBron James included: Even in this 6-6 season, his comeback season from the serious knee injury suffered last December, Wentz has shown subtle signs that he will someday have a Super Bowl victory to call his own. And the smart money would be on sooner rather than later.
When the Eagles were humiliated a couple of weeks ago in New Orleans, left to the merciless designs of Sean Payton, they looked more than willing to call it a season. They lost by 41 points to fall to 4-6, and Wentz had thrown three interceptions and no touchdown passes. Nobody would've blamed the Eagles for effectively finishing with six consecutive bye weeks. This was supposed to be a free year, anyway, after finally gifting their city its long, lost title.
But instead of folding, the Eagles responded with their first winning streak of the season. They beat the Giants, and then Monday night beat Washington after the Redskins lost yet another quarterback, Colt McCoy, to a broken leg, forcing Jay Gruden to send onto the field the mummified remains of Mark Sanchez. Wentz threw for two touchdowns, a two-point conversion, and 306 yards in the 28-13 victory, surviving a brutal interception to advance to Sunday's road game against Dallas with an actual chance to land in first place in the NFC East.
"This group," Doug Pederson said, "doesn't let a lot bother them."
Philly's resilience is a testament to its most important player, Wentz, who was threatening to become the league MVP in 2017 before two Rams defenders sandwiched him and blew up the quarterback's knee on his head-first dive into the end zone. Wentz hasn't been the same athletic dynamo in his comeback, and it's probable that he won't have his legs completely underneath him until next September.
And yet Monday night Wentz delivered a forceful reminder of the whirling dervish he used to be. He was once again a master of improvisation, making play after play on the run. According to ESPN Stats & Info, Wentz completed six of seven attempts for a career-high 100 yards on throws outside the pocket, and also established a career-high with 163 passing yards on play action.
Carson Wentz says the Eagles' offensive line played great on Monday Night Football vs. the Redskins and looks ahead to Week 14 vs. the Cowboys.
"He's gifted at doing that," Pederson said, "and it's just something just happens naturally for him."
As naturally as he deflects questions about the individual mark he has already made at age 25. The Elias Sports Bureau reports that in 39 starts, Wentz has more passing games of at least 300 yards (13) than Ron Jaworski (12) and Randall Cunningham (12) managed for the Eagles, leaving him behind only Donovan McNabb (27 in 142 starts) on the all-time franchise list.
"Honestly," Wentz said, "I don't really know much about the numbers. I know that we left some yards out there. I know I missed a couple, so I really don't think too much about 300-yard games or this or that. All I know is at the end of the day we got a win and finally got some momentum going."
Wentz was a perfect five-for-five on the opening touchdown drive that set the promising tone. Golden Tate finally looked like Golden Tate, and Darren Sproles scored while playing for the first time since getting injured again in Week 1. The Eagles were good enough on this night to survive a 90-yard touchdown run from the ageless Adrian Peterson, good enough to suddenly think big things as they prepared to face the revived Dallas defense.
"I think we're really playing well together, meshing together," Wentz said.
Truth is, the division title remains something of a longshot. The Eagles have to play road games against the Cowboys, Rams, and Redskins, and a home game with the Texans, while the Cowboys follow Philly with games against the Colts, Buccaneers, and Giants.
Either way, against the odds, the Eagles should take something meaningful away from 2018. Namely, that Wentz compensated for his temporarily diminished athleticism with the kind of grit and leadership that will surely prove invaluable to his team in its next serious postseason run.
That run could happen next year, or the year after, or the year after that. But Wentz is too good and too tough for it to not happen at some point.
Meanwhile, Philly's franchise player will likely suffer next month while watching other teams face off in the playoffs. Deep down, Wentz will hurt as much as he did watching the 2017 Eagles shock the world without him.
Zack Martin, Dallas Cowboys OL, missing first game ever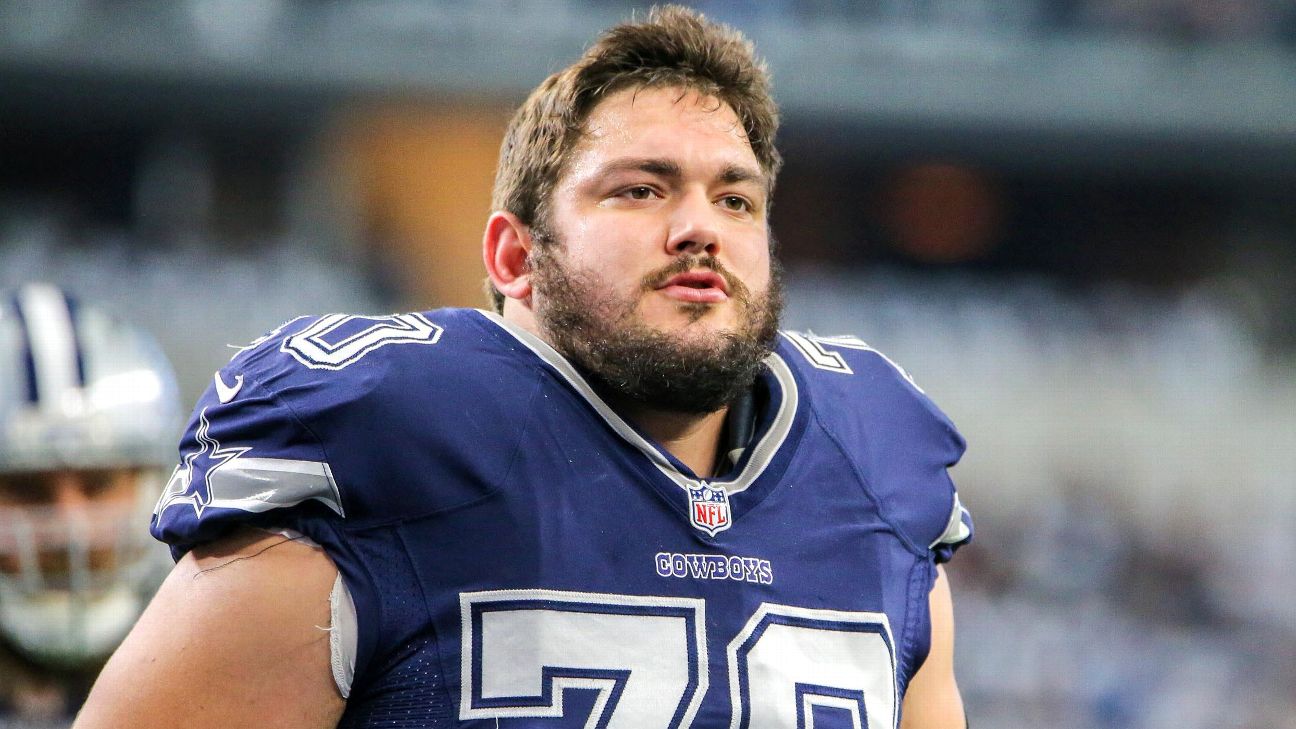 For the first time in his career, Dallas Cowboys Pro Bowl right guard Zack Martin is inactive as he deals with a sprained MCL in his left knee.
Martin, an Indianapolis native, will be out for the Cowboys' road game against the Indianapolis Colts in what will be his first missed game at any level — high school, at Notre Dame or in the NFL.
He will be replaced in the starting lineup by Connor Williams.
Martin suffered the knee injury last Sunday against the Eagles and doctors determined that he did not need surgery, but he does need rest to return later this season. Martin wanted to try to play, especially in Indianapolis, where he is from. But the Cowboys are taking the smart approach and now Martin will do something he never has before.
Martin played every game at Bishop Chatard High School in Indianapolis, then every game at Notre Dame, then every game with the Cowboys. But when Martin hobbled off the field last Sunday, it meant that he would not get to play in his hometown.
Fantasy football – NFL Week 15 inactive players for Sunday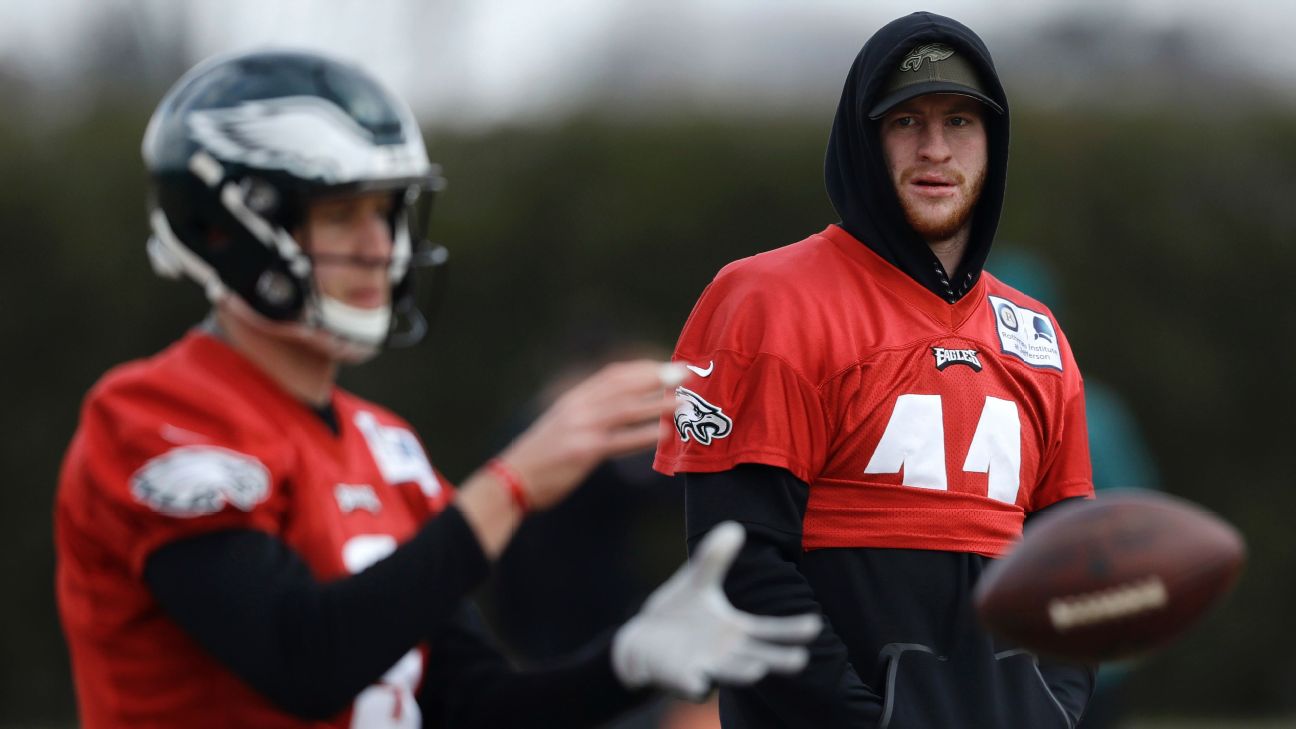 Denver Broncos coach Vance Joseph defends kicking field goal on fourth-and-1 vs. Cleveland Browns — 'I wanted points there'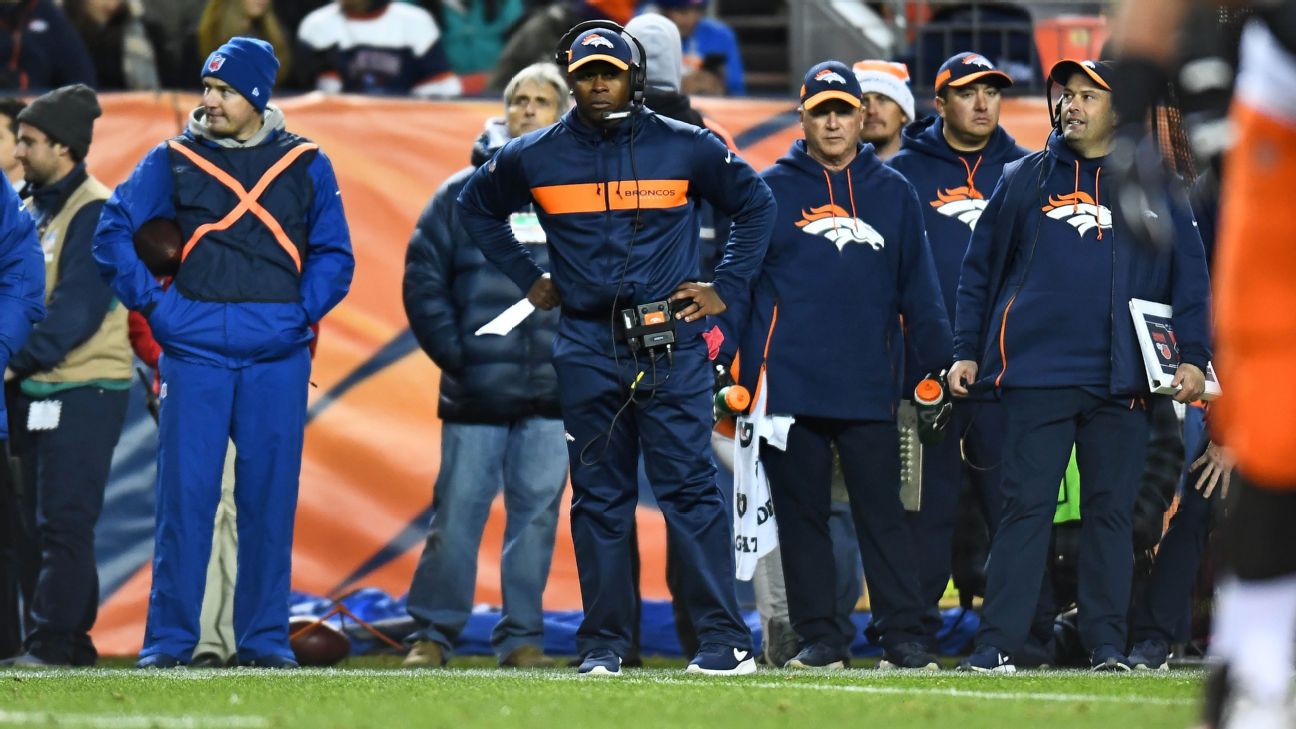 DENVER — The Denver Broncos went with math over a gut feel Saturday night, and many of their faithful left the 17-16 loss to the Cleveland Browns talking about a fourth-and-1 on which the team didn't go for it in the closing minutes as the Broncos dropped to 6-8 and the brink of postseason elimination.
With 4 minutes, 39 seconds remaining, trailing 17-13 and with a fourth-and-1 on the Cleveland 6-yard line, Broncos coach Vance Joseph sent kicker Brandon McManus out for a field goal as boos cascaded down from the stands.
"I wanted points there," Joseph said. "Had about 4:35 to go in the game. We had one timeout and the two-minute warning. I trust our defense to get a stop there, OK. If we don't get points there, a touchdown has to win it. It was my decision — take points."
McManus made the 29-yard field goal — after a delay of game penalty — and the Broncos did get the ball back after their defense stopped the Browns deep in Denver territory, but the Broncos couldn't move the ball past the 50-yard line to kick a game winner.
Broncos quarterback Case Keenum said he was confident that the Broncos could have converted the fourth-and-1, but he added that he was angry he didn't get the offense in position for the game winner after the team got the ball back.
"Yes, I felt confident [we would have converted the fourth down]," Keenum said. "I wanted to convert third down. That's what I wanted to do. [Joseph] felt like the defense would get a stop, and [we would] get the ball back, and they did. They got a stop, and we got the ball back. I can't complain. I had the ball in my hands with a chance to win the game. That's all you can ask for."
Joseph said "absolutely" the Broncos' back-to-back runs for just 2 yards and no gain on the two plays before the field goal influenced the decision.
"Absolutely, the third-down play didn't look great, and we had points," Joseph said. "Again, I trust our defense to get a stop the next drive, and we did … hoping we get a stop there and get the ball back."
While the Broncos' defense held on a Browns fourth-down play on the next Cleveland possession, that stand came at Denver's 13-yard line after Browns running back Nick Chubb gained 53 yards on six carries on the drive. That included a 40-yard run on the first play of Cleveland's drive.
"That last drive, what was it: 75 yards rushing?" Broncos linebacker Von Miller said. "We can't allow that."
In five plays, the Broncos were able to go from their own 13-yard line to earn a first-and-10 at the 50-yard line with 52 seconds to play. Joseph said he believed the Broncos needed to get to the Cleveland 42-yard line, at minimum, for McManus to have a chance at a game winner.
Keenum spiked the ball on first down and threw two incompletions to give the Broncos a fourth-and-10 from the 50. Keenum took a low snap in the shotgun and was swarmed under by the Browns' rush for a sack to end the Broncos' chances.
"I'm still pretty emotional about it," Keenum said. "Man, that's what I dream about. Man, that's what I want. I want the ball in my hands with a chance to win the game … to get that close, it pisses me off … Lot of anger at myself. There's some plays I could make that I didn't."