What Jean Segura trade says about Phillies' pursuit of Manny Machado
The Mariners-Phillies trade is finally official: The Mariners will send shortstop Jean Segura and relievers Juan Nicasio and James Pazos to the Phillies for first baseman Carlos Santana and shortstop J.P. Crawford.
As with so many trades, the money and contracts must be considered. Segura is signed for four more seasons at $59.4 million (there is a $17 million team option for 2023 with a $1 million buyout). Santana has two years remaining at $41.1 million, plus a $500,000 buyout or $17.5 million team option for 2021. Nicasio will make $9.25 million in 2019 while Pazos and Crawford and not arbitration-eligible.
So the Phillies add about $28 million in long-term commitments, but get a proven quality shortstop, two potentially useful relievers and can now move Rhys Hoskins back to first base after his adventures in left field in 2018. The Mariners get rid of another long-term contract and bet on Crawford to replace Segura while improving their long-term payroll flexibility.
My two immediate reactions to the deal:
(1) In no way should this affect the Phillies' pursuit of Manny Machado.
(2) The trade wasn't just about subtracting Santana, but a sign the Phillies didn't believe Crawford is the long-term answer at shortstop.
The first of those is most important. As USA Today's Bob Nightengale tweeted:
The #Phillies say they're still interested in signing Manny Machado to play third, as well as Bryce Harper in the outfield and Patrick Corbin on the mound. Hey, it's only money, right?

— Bob Nightengale (@BNightengale) December 3, 2018
While Machado has expressed the desire to stay at shortstop, where he played in 2018 with the Orioles and Dodgers, it's not like he has ruled out a return to third base either. His defense at shortstop was a mixed bag. With the Orioles, he was credited with minus-18 defensive runs saved; but in 49 starts there with the Dodgers he was credited with a plus-5 defensive runs saved, an improvement attributed to better positioning and perhaps simply getting more comfortable playing there (or maybe Dodgers' pitchers simply allowed fewer hard-hit rockets).
Signing Machado to play third base next to Segura would appear to be the perfect storm for Philadelphia. After finishing 80-82, the Phillies knew they had to upgrade their defense. They finished last in the majors with minus-146 DRS — 46 runs worse than the Blue Jays, the No. 29 team. They ranked below average at every position, and even if the metrics don't perfectly evaluate the Phillies' defense, everyone agrees it was putrid. With Machado at third, they should improve at three positions:
Third base: minus-14 DRS (Machado was plus-6 in 2017)
Shortstop: minus-23 DRS (Segura was plus-5 in 2018)
Left field: minus-27 DRS (almost anybody will be better than Hoskins)
On top of that, they should improve offensively at three positions:
Third base: .327 wOBA versus .386 for Machado
Shortstop: .288 wOBA versus .333 for Segura
First base: .340 wOBA for Santana versus .372 for Hoskins
Plus: You don't know if you're going to sign Machado, so if Matt Klentak and the front office believed an upgrade at shortstop was necessary, there is value in the urgency of acquiring Segura now — and still having the option to go after Machado. If Machado playing shortstop becomes a sticking point, you could always move Segura to second base, where he played with the Diamondbacks in 2016, and look to trade César Hernández.
While finding a taker for Santana's contract was a nice bonus to this deal, the fact that the Phillies took on more overall money in the deal is an indication — at least to me — that they were hesitant to hand shortstop to Crawford in 2019.
A former first-round pick, Crawford's minor league career had some ups and downs, but after a solid season at Triple-A in 2017 (he hit .243/.351/.405 with 79 walks and 15 home runs in 556 plate appearances) and a 23-game cameo with the Phillies, he entered 2018 as Keith Law's No. 10 overall prospect.
Crawford began the season as the Phillies' starting shortstop and was hitting .188 on April 28, when he landed on the DL with a forearm strain. He returned in June, started eight of 11 games at third base, and then suffered a broken hand when hit by a pitch. He returned in September and ended up hitting .214/.319/.393 in 138 PAs with the Phillies (and .208/.339/.317 in 29 games in the minors). It was mostly a lost season given the injuries, so it's hard to evaluate his progress. It's worth pointing out that the Phillies know him best of all and decided to trade him.
The basic scouting report: good glove, bats lefty, won't hit for much for average or power, good plate discipline.
There doesn't appear to be a lot of upside on offense, although if he draws enough walks at least he won't kill the offense with a poor OBP. If he's a .350 OBP guy with 10 home runs and good defense, that's a valuable player. If he's a .300 OBP guy with limited power, there's pressure on the defense to be elite, and that seems to be the overriding issue in evaluating him: Is he an elite defender?
His defense has always been scouted as a strength, with range, good hands and a strong arm. The metrics, however, were not kind to him in 2018, with minus-6 DRS in just 229 innings. Some of that was courtesy of a high error rate — he made eight errors, all on throws, for a poor .931 fielding percentage. Two of those came trying to complete double plays, one trying to double a runner off first and the other five came on grounders. The curious thing is when Crawford returned in June, Scott Kingery — who had played two games at shortstop in his minor league career — continued to get the majority of the starts at shortstop while Crawford played third base. Seems like a strange decision to move the player who is supposed to be the potentially elite defender.
Is that a telling statement on what the Phillies thought of him? Kingery wasn't doing anything at the time, so it's not like they had to keep him in the lineup.
Anyway, Crawford's potential is now Seattle's to develop. The Phillies get a good player in Segura, adding a contact hitter to the top of a lineup that struck out the second-most times in the National League. They can still pursue Machado.
Oh, and with Hoskins sliding back to first base, there's an opening in the outfield. You know, in case there's another big-name free agent who might fit in Philly.
Matt Adams returning to Washington Nationals on one-year deal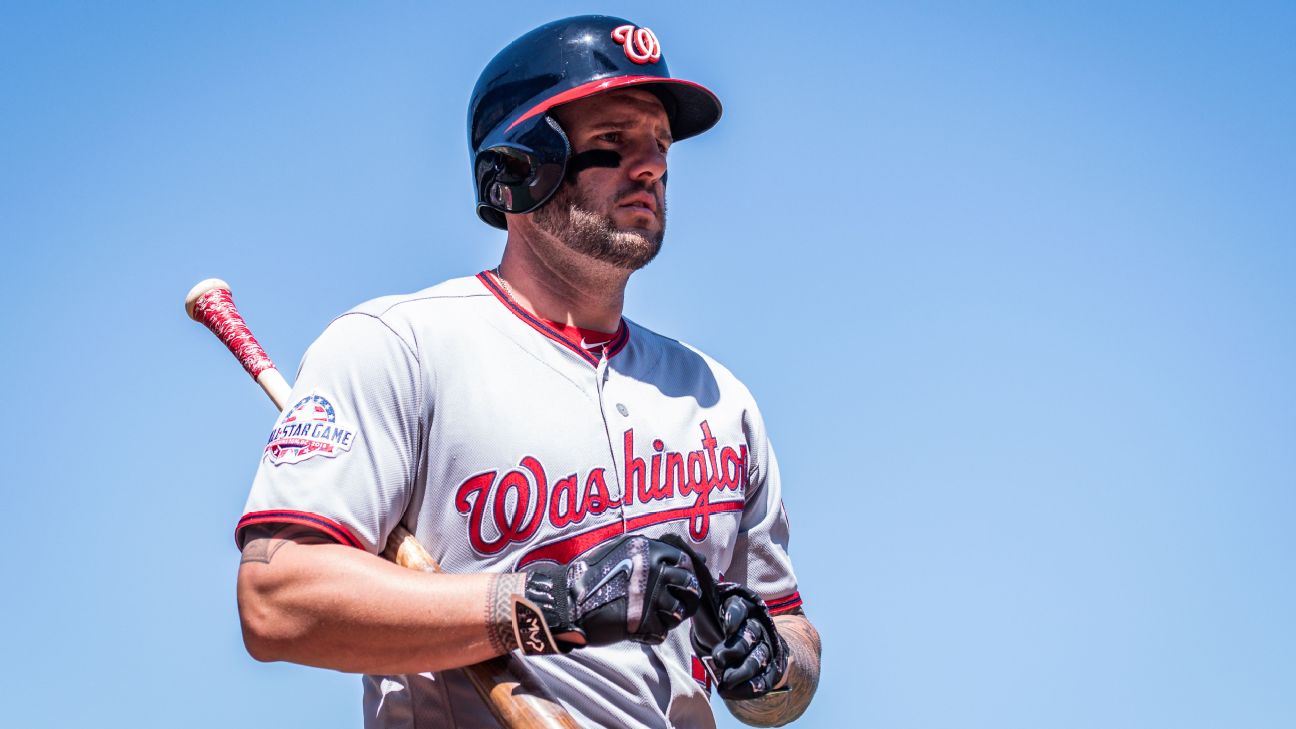 First baseman Matt Adams is returning to the Washington Nationals on a one-year, $4 million deal, according to multiple reports.
The left-handed slugger finished last season with the St. Louis Cardinals after being waived by the Nationals in a salary dump in August.
Adams, 30, hit .239 with 21 home runs for the season, averaging .257 with 18 home runs in 94 games with the Nationals.
He gives the Nationals some left-handed power off the bench and relief for Ryan Zimmerman at first.
In seven seasons with the Cardinals, Atlanta Braves and Nationals, he has 96 home runs, 332 RBIs and a .266 average.
Top spenders Red Sox owe nearly $12 million in luxury tax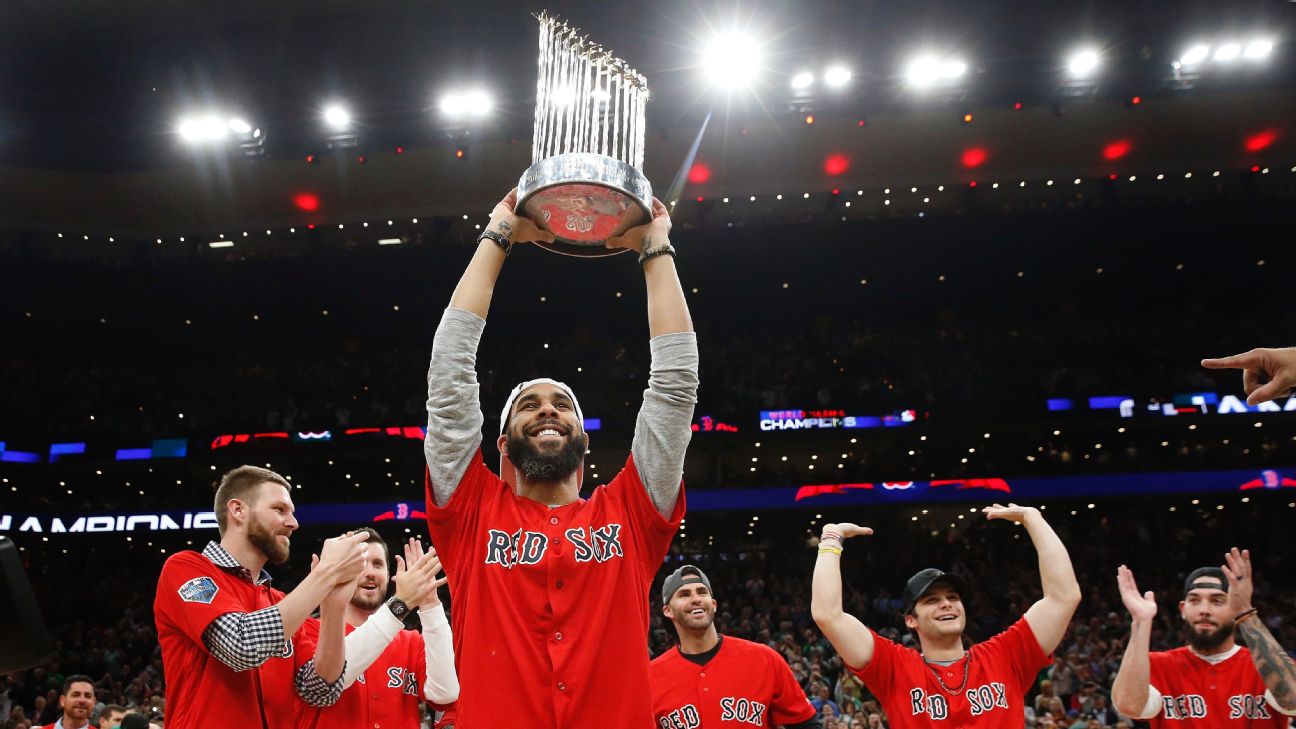 NEW YORK — The World Series champion Boston Red Sox owe $11.95 million in luxury tax for having baseball's top payroll.
That's according to final calculations by the commissioner's office obtained by The Associated Press. The only other team that owes is the Washington Nationals, who must pay $2.39 million.
Because Boston was more than $40 million over the tax threshold, it also became the first team to incur a new penalty put in place for the 2018 season: the top Red Sox selection in next June's amateur draft will be dropped 10 places.
Boston's top pick had been projected to be No. 33 overall before the penalty.
The New York Yankees dropped under the threshold for the first time, and the Los Angeles Dodgers fell below for the first time since 2012.
White Sox have limits on Manny Machado, Bryce Harper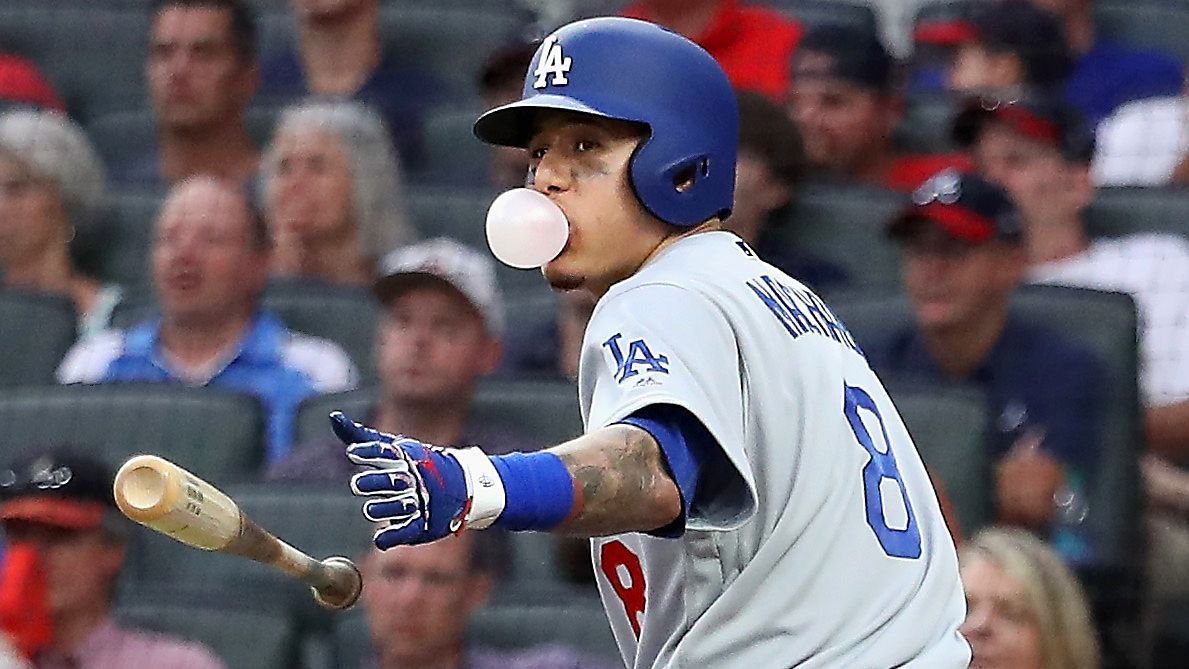 The White Sox slashed their payroll in recent seasons as they traded away players such as Chris Sale and Adam Eaton and went about the business of stockpiling prospects. This leaves them in perfect position to grow their payroll now, to make moves like the transaction they executed Friday, when they agreed to take on first baseman Yonder Alonso, a $9 million salary dump of the Cleveland Indians.
Alonso happens to be the brother-in-law of superstar free agent Manny Machado, and both players are represented by agent Dan Lozano. This move will feed industry theory that the White Sox are laying the groundwork for a significant, aggressive strike on either Machado or Bryce Harper, the two most prominent players available.