Doug Williams said Washington Redskins were unified in decision to claim Reuben Foster
ASHBURN, Va. — Washington Redskins senior vice president Doug Williams said the team's four key decision-makers were unanimous in wanting to claim linebacker Reuben Foster on Tuesday, and that he was comfortable with the research he did before the move.
The Redskins claimed Foster off waivers Tuesday, three days after he was arrested and charged with domestic violence and two days after he was released by the San Francisco 49ers. The Redskins were the only team to submit a waiver claim for Foster.
Foster, who was at the Redskins' facility Wednesday to get a physical and meet with team officials, is on the commissioner's exempt list, meaning he's ineligible to play or even practice.
"We got people who are in high, high, high, high places that have done far worse, if you look at it realistically. And they're still up there. This is small potatoes [compared to] a lot of things out there. But at the same time, it's a big issue in America today, whether or not it's in football, whether or not it's in everyday life, whether or not it's in politics, it's out there."

Doug Williams, Redskins senior VP, on team's move to claim Reuben Foster after his arrest for domestic violence
Williams issued a statement after the move, but spoke publicly for the first time about it during his weekly appearance on The Team 980. He echoed what coach Jay Gruden said Wednesday — that the team knew it would receive backlash for the move. "Rightfully so," Williams said.
"I've got six daughters, so it ain't something I would condone," Williams told The Team 980. "But at the same time, I think we are in the business of at least looking into [Foster's case]. I could sit here, and I won't, name a bunch of teams that took on players that got a lot of baggage that nobody's saying anything about.
"You can't get into nitpicking what they do and what you do. You gotta look at it from your standpoint. There was a lot of thought that went into it. It wasn't just a spur of the moment type of thing. We all gathered, we talked about it, we knew there was going to be some risk-reward involved in it."
There were multiple reports that not everyone in the franchise was on board with the move. But, as one source said, those who were against it weren't involved in the decision-making process.
The Redskins' key decision-makers are owner Dan Snyder, president Bruce Allen, coach Jay Gruden and Williams.
Gruden was high on Foster before the 2017 draft. There was strong debate in the room that spring about taking Foster over Jonathan Allen, who was higher on their board and was the eventual pick.
"Nobody that was in my room was thumbs-down," Williams said of Tuesday's decision.
Williams said the Redskins knew it would attract a lot of attention. They have been criticized for the move, with many wondering why they wouldn't wait until Foster's legal situation is resolved.
The police report stated Foster slapped the phone out of his girlfriend's hand and then pushed her in the chest and slapped her with an open hand. Earlier this year, Foster was issued a similar charge after an alleged incident with the same woman, who later recanted her testimony and the charges were dropped.
"We got people who are in high, high, high, high places that have done far worse, if you look at it realistically. And they're still up there," Williams said. "This is small potatoes [compared to] a lot of things out there. But at the same time, it's a big issue in America today, whether or not it's in football, whether or not it's in everyday life, whether or not it's in politics, it's out there."
In the statement released Tuesday, Williams said they had candid conversations with Foster's ex-Alabama teammates before claiming him. There are seven ex-Alabama players on the roster, including five on defense. Two of them — safety Ha Ha Clinton-Dix and Allen — said they weren't part of the discussions.
"Well, you know, we didn't hold a convention," Williams said. "… It wasn't like we gotta talk to all five. The two that we did talk to know him very well. Not that they make the decision on whether we make the move or not; we're just trying to get some insight into the young man."
Williams said he also spoke with Foster's high school coach. And when Williams talked with Foster on Wednesday, he let him know that some have written that he's a "con artist." Williams wanted him to make sure he was honest with him.
"This might be his last rodeo," Williams said. "… He has to get his business fixed and get things straight. Hopefully, things is not as bad as it's been reported. Like I said, everything's got an investigation. We gotta just wait and see where the shoe falls."
Williams said being in the NFL brings increased attention to this sort of move.
"I'm sure that if the young man had been in line to get a job at McDonald's or somewhere else, nobody [would] be talking about it," Williams said. "But it is the National Football League. That gets a lot of visibility.
"… The high risk was the beat-up that we're going to take from PR. We understood that from a PR standpoint, and we're taking it. The most important thing is, we're hoping that things come out and it wasn't the way that everything has been perceived. We don't know that. We have to wait and see. If things are as bad as it's made out to be, he might not get a chance to play for us. We don't know."
Zack Martin, Dallas Cowboys OL, missing first game ever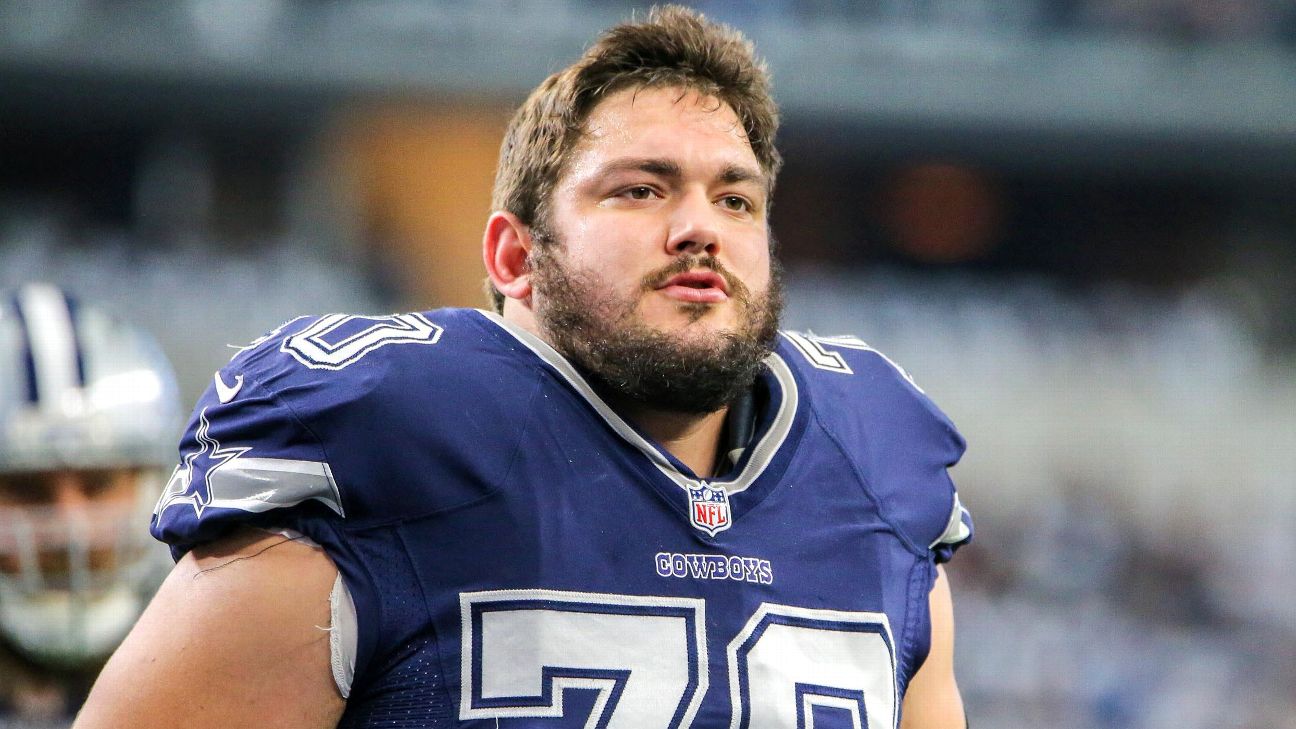 For the first time in his career, Dallas Cowboys Pro Bowl right guard Zack Martin is inactive as he deals with a sprained MCL in his left knee.
Martin, an Indianapolis native, will be out for the Cowboys' road game against the Indianapolis Colts in what will be his first missed game at any level — high school, at Notre Dame or in the NFL.
He will be replaced in the starting lineup by Connor Williams.
Martin suffered the knee injury last Sunday against the Eagles and doctors determined that he did not need surgery, but he does need rest to return later this season. Martin wanted to try to play, especially in Indianapolis, where he is from. But the Cowboys are taking the smart approach and now Martin will do something he never has before.
Martin played every game at Bishop Chatard High School in Indianapolis, then every game at Notre Dame, then every game with the Cowboys. But when Martin hobbled off the field last Sunday, it meant that he would not get to play in his hometown.
Fantasy football – NFL Week 15 inactive players for Sunday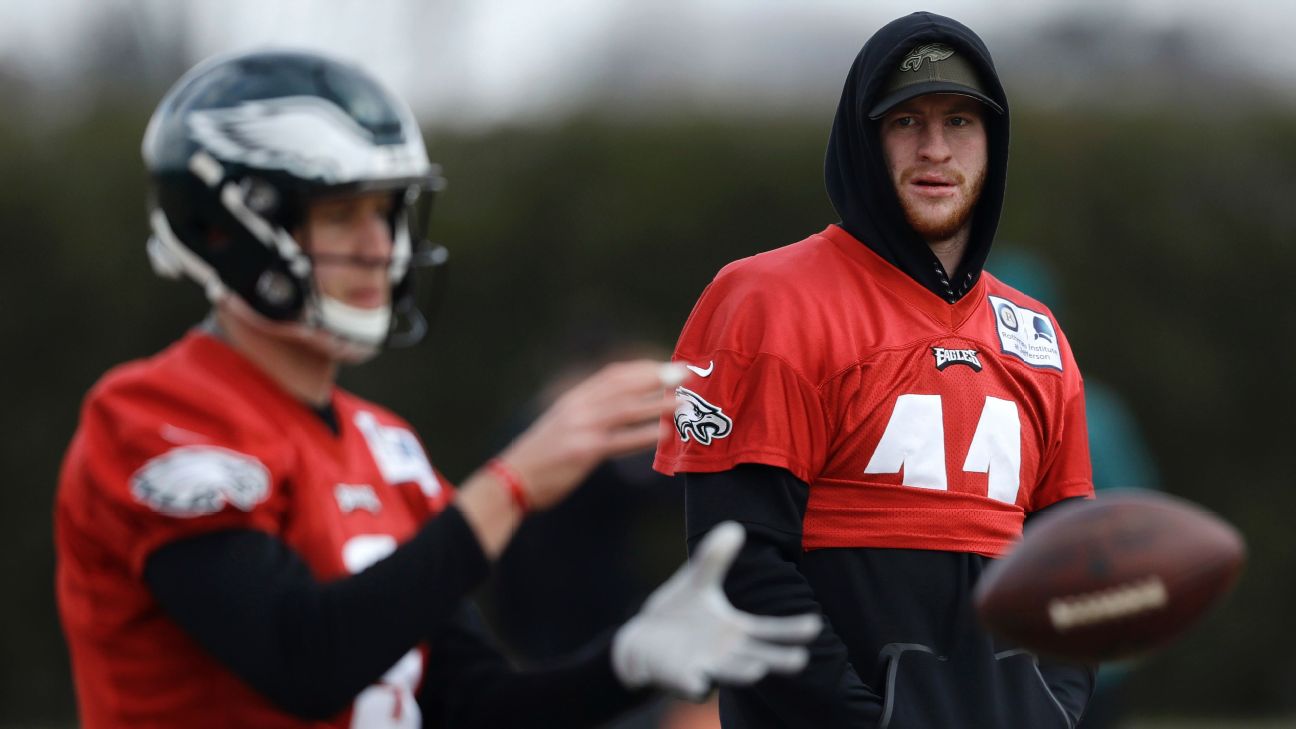 Denver Broncos coach Vance Joseph defends kicking field goal on fourth-and-1 vs. Cleveland Browns — 'I wanted points there'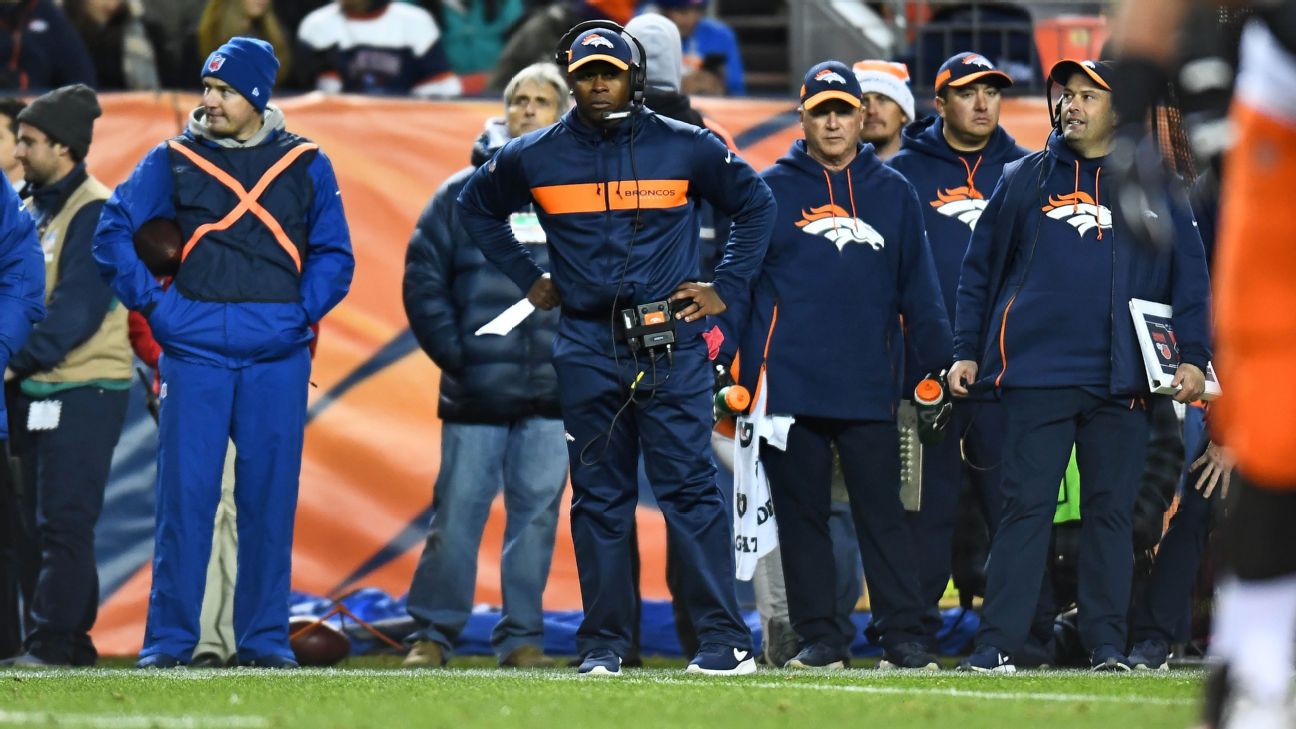 DENVER — The Denver Broncos went with math over a gut feel Saturday night, and many of their faithful left the 17-16 loss to the Cleveland Browns talking about a fourth-and-1 on which the team didn't go for it in the closing minutes as the Broncos dropped to 6-8 and the brink of postseason elimination.
With 4 minutes, 39 seconds remaining, trailing 17-13 and with a fourth-and-1 on the Cleveland 6-yard line, Broncos coach Vance Joseph sent kicker Brandon McManus out for a field goal as boos cascaded down from the stands.
"I wanted points there," Joseph said. "Had about 4:35 to go in the game. We had one timeout and the two-minute warning. I trust our defense to get a stop there, OK. If we don't get points there, a touchdown has to win it. It was my decision — take points."
McManus made the 29-yard field goal — after a delay of game penalty — and the Broncos did get the ball back after their defense stopped the Browns deep in Denver territory, but the Broncos couldn't move the ball past the 50-yard line to kick a game winner.
Broncos quarterback Case Keenum said he was confident that the Broncos could have converted the fourth-and-1, but he added that he was angry he didn't get the offense in position for the game winner after the team got the ball back.
"Yes, I felt confident [we would have converted the fourth down]," Keenum said. "I wanted to convert third down. That's what I wanted to do. [Joseph] felt like the defense would get a stop, and [we would] get the ball back, and they did. They got a stop, and we got the ball back. I can't complain. I had the ball in my hands with a chance to win the game. That's all you can ask for."
Joseph said "absolutely" the Broncos' back-to-back runs for just 2 yards and no gain on the two plays before the field goal influenced the decision.
"Absolutely, the third-down play didn't look great, and we had points," Joseph said. "Again, I trust our defense to get a stop the next drive, and we did … hoping we get a stop there and get the ball back."
While the Broncos' defense held on a Browns fourth-down play on the next Cleveland possession, that stand came at Denver's 13-yard line after Browns running back Nick Chubb gained 53 yards on six carries on the drive. That included a 40-yard run on the first play of Cleveland's drive.
"That last drive, what was it: 75 yards rushing?" Broncos linebacker Von Miller said. "We can't allow that."
In five plays, the Broncos were able to go from their own 13-yard line to earn a first-and-10 at the 50-yard line with 52 seconds to play. Joseph said he believed the Broncos needed to get to the Cleveland 42-yard line, at minimum, for McManus to have a chance at a game winner.
Keenum spiked the ball on first down and threw two incompletions to give the Broncos a fourth-and-10 from the 50. Keenum took a low snap in the shotgun and was swarmed under by the Browns' rush for a sack to end the Broncos' chances.
"I'm still pretty emotional about it," Keenum said. "Man, that's what I dream about. Man, that's what I want. I want the ball in my hands with a chance to win the game … to get that close, it pisses me off … Lot of anger at myself. There's some plays I could make that I didn't."