The free agent most likely to … — Superlatives for the 2018-19 class
What will happen this offseason? Nobody really knows. But while we wait to start finding out where the biggest available names will land, let's preview what might happen with this list of superlatives:
Guy most likely to sign the biggest deal: Bryce Harper. We know it's going to be Harper or Manny Machado, though the $500 million contract that once appeared possible for Harper will happen only in Scott Boras' most vivid daydreams. What's interesting is how closely their two careers have mapped so far, at least via FanGraphs WAR — Machado: 926 games, 175 home runs, 30.2 WAR; Harper: 927 games, 184 home runs, 30.7 WAR.
Machado has been the more consistent performer the past four seasons, averaging 36 home runs and 159 games, and he plays a premium defensive position, but the bet here is Harper gets the bigger deal. Boras is the expert at waiting out the market and getting his clients the big money, as he did last offseason, when Eric Hosmer and J.D. Martinez both waited until February to sign. Expect Machado to sign first and Boras to top that deal with even more guaranteed money.
Guy most likely to be the biggest steal: Josh Donaldson. The calf injury that wrecked his 2018 season — he hit .246 with eight home runs in 52 games — and his age (he turns 33 in December) will eat into his offers, but he's one season removed from hitting .270/.385/.559. True, he missed time in 2017 as well, but estimates of a three-year contract deal at around $55 million point to a player who could produce 4 to 5 WAR per season at the market rate for a 2-WAR player.
Guy most likely to be the biggest bust: A.J. Pollock. Because he's a plus defender in center field and, given Adam Jones' defensive decline, the only legit starting center fielder on the market, there is going to be a lot of interest in Pollock. He'll also be 31, an age when center fielders often lose a step, his durability is a concern, as he has reached 500 plate appearances just once in his career (back in 2015), and he has hit much better at home in his career. The past two seasons, he has hit .242/.310/.435 on the road compared to .280/.336/.517 in Arizona. I can see a team giving him the Lorenzo Cain deal (five years, $80 million) but ending up with an injury-prone player who struggles to hit in a new park.
Guy who most helped himself in October: Nathan Eovaldi. This is the pitcher every team will want — he isn't so good that he'll price out the small-market teams, plus he's had two Tommy John surgeries — but the cutter he broke out in 2018 to help complement his 100 mph fastball suggests that there is some untapped potential here. The ability and willingness to start or relieve like he did in the postseason only enhances his value.
You have to think the Red Sox have the inside edge to re-sign him, however, especially after his teammates gave him a standing ovation in the clubhouse after his magnificent — but ultimately losing — effort in the 18-inning game in the World Series.
The other guy who earned a lot of money in October: Joe Kelly. After his par-for-the-course, up-and-down regular season (4.39 ERA), Kelly dominated in the postseason with his 100 mph heater, as he finished with 13 strikeouts in 11.1 innings and just one earned run allowed. He appeared in all five World Series games and didn't allow a run. In fact, Kelly now owns a 2.49 ERA in 47 playoff innings. He hasn't been able to maintain that focus in the regular season, as he'll battle the strike zone at times, but he does have a 3.64 ERA the past two seasons after moving to the bullpen.
The guy who hurt himself the most in October: Yasmani Grandal. For the second straight postseason, Grandal found himself benched in the World Series — this time because of a sudden inability to catch the baseball in the earlier rounds. His career postseason average of .107 in 75 at-bats doesn't exactly scream "clutch," either.
The Dodgers offered Grandal the $17.9 million qualifying offer, and it will be interesting to see if he takes it or instead tests free agency for a multiyear offer. He's still one of the best-hitting catchers in a game currently lacking many of them (.241/.349/.466, 24 home runs), but those October yips behind the plate will make teams hesitate.
Guy most likely to put a team over the top: Patrick Corbin. Yeah, yeah, I know relievers are the popular kids these days, but ask the Red Sox if they win the World Series without David Price. Ask the Astros if they win last year without Justin Verlander. Good starting pitching is still valuable!
Corbin had a breakout season in 2018, with a 3.15 ERA and 246 strikeouts in 200 innings, and there's a clear reason to buy into it not being a fluke: his slider. He threw it more than ever — actually, he throws two sliders, a hard one and a softer one — and he threw sliders to the edges of the strike zone, inducing chase swings as the ball dipped below the knees. There might be concern about the long-term health of a guy who throws sliders 40 percent of the time, but Corbin has the ability to be the difference-maker for the Yankees, Nationals or Dodgers.
Best player likely to be involved in a blockbuster trade: Corey Kluber. The Indians have starting pitching depth to deal from, and with Kluber signed through 2021 (including two team options), he'd bring in a nice haul of young players and prospects as the Indians look to add depth elsewhere and trim payroll a bit. Nolan Arenado is in the final year before hitting free agency, but it seems the Rockies will keep him and make a run at a third straight postseason appearance.
Player most likely to be involved in the most trade rumors: J.T. Realmuto. He wants out of Miami, and with two years left until free agency, the Marlins should acquiesce and find him a new home. After all, there are about 25 teams that would be interested in adding a star catcher. Maybe the most intriguing possibility: the Astros. They declined their team option on Brian McCann, and Martin Maldonado is a free agent. Would Houston deal away prized prospect Kyle Tucker?
Guy most likely to be the player nobody noticed in December, but everyone will wish they had come summer: Jesse Chavez. The 11-year veteran has a 4.45 career ERA, but after going from the Rangers to the Cubs in July, Chavez pitched better than ever: 39 IP, 26 H, 3 HR, 5 BB, 42 SO, 1.15 ERA. Maybe it was just the best 39 innings of his life; maybe it's a new level of ability. The Rangers used him as a multi-inning reliever — he pitched 56 innings in 30 games with them — but Joe Maddon used him for shorter stints (39 innings in 32 games). His walk rate was easily the best of his career in 2018, and while he's always had a big repertoire of pitches, he threw fewer changeups and curveballs — less soft stuff, in other words.
Guy who looks like the perfect fit for the Yankees: Jed Lowrie. We know the Yankees will be going after starting pitching, but they also have a hole in the infield, at least until Didi Gregorius makes his return from Tommy John surgery sometime in late summer. In the meantime, the Yankees can slide Gleyber Torres to shortstop and sign Lowrie to play second. If Miguel Andujar struggles again defensively at third base, the Yankees can slide Lowrie to third base when Gregorius returns and use Andujar at DH (with Giancarlo Stanton moving to the outfield) or use Andujar as trade bait for pitching help. Lowrie turns 35 in April, but he's coming off his best season. He's the type of low-key veteran who won't be fazed playing in New York, and he won't break the payroll.
Guy most likely to be called most underrated: Marwin Gonzalez. He's hit .274/.349/.467 the past two seasons. That's not far off Machado's .278/.339/.505 line. And he'll cost about $250 million less, and he comes with positional versatility!
Guy most likely to be involved in a big deal by A.J. Preller that won't work out: Dallas Keuchel. Preller has done a nice job of stocking the farm system, but when he decides to go big, the results have been ugly:
–The Matt Kemp trade. The Padres are still feeling the pain from this one, as they'll pay Hector Olivera $16 million the next two seasons.
–Signing James Shields. At least Preller redeemed himself by trading Shields for Fernando Tatis Jr.
–Signing Wil Myers to an $83 million extension after 2016. It hasn't been a disaster, but he now looks like a guy without a position.
–Signing Eric Hosmer. Only $119 million left on that contract.
Anyway, rumors have the Padres going after a starting pitcher. That could mean Corbin or Keuchel or Japanese pitcher Yusei Kikuchi — or maybe Preller trades some of the minor league talent for Kluber (bringing Kluber back to the team that drafted him). Whatever the deal, I already feel bad for the player who comes to San Diego.
Yadier Molina of St. Louis Cardinals takes exception to comments by Kris Bryant, Ryan Dempster
CHICAGO — The Chicago Cubs and St. Louis Cardinals won't see each other until early May, but the heat has already been turned up on one of baseball's best rivalries.
Cubs third baseman Kris Bryant called St. Louis "boring" during a comedic moment at the team's annual fan convention this weekend. When he heard about the comment, Cardinals star catcher Yadier Molina responded by saying "only stupid players and losers" make fun of other cities.
Bryant was being interviewed on a stage by former pitcher Ryan Dempster on Friday night when the two joked about the possibility of playing for the Cardinals.
"Who would want to play in St. Louis?" Bryant asked. "Boring. So boring. I always get asked, 'Where would you like to play? Where would you not like to play?' St. Louis is on the list of places I don't like to play. It's rough."
Dempster piled on, adding that at one point in his career there was a chance he was going to be traded to St. Louis.
"I'm like, 'Zero chance in hell,'" Dempster said. "No way. Won't even go there as a free agent. Not happening."
The teams first square off next season on May 3-5 in Chicago. Bryant and the Cubs don't make their first appearance in St. Louis until May 31.
Kris Bryant of Chicago Cubs frustrated for unsigned Bryce Harper, Manny Machado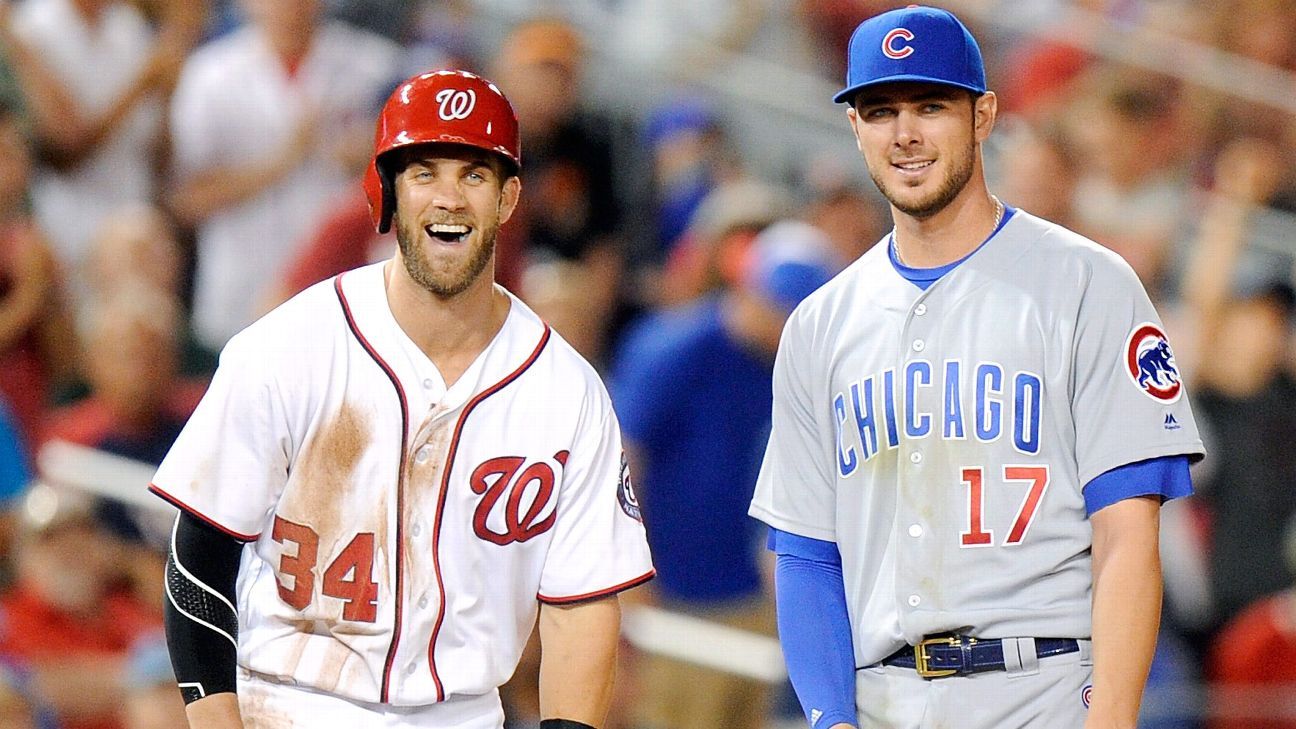 CHICAGO — Cubs star Kris Bryant expressed frustration for free agents Bryce Harper and Manny Machado, who remain unsigned with less than a month to go before spring training begins.
Harper and Machado, along with many other free agents, are still looking for jobs as February nears, marking the second consecutive winter in which free-agency signings have ground to a halt.
"It's really weird," Bryant said Friday from the Cubs' annual winter fan convention. "Two of the best players in the game, and they have very little interest in them, from just what I hear. It's not good. It's something that will have to change. I know a lot of the other players are pretty upset about it."
It's not just veteran free agents ages 30 and up who still are looking for fair contracts. Now it's the younger stars of the game.
On his Instagram account, San Francisco Giants third baseman Evan Longoria also expressed his dismay over the situation and urged the players to "stand strong for what we believe we are worth."
Cubs outfielder Albert Almora Jr., who is a friend of Machado's, called the free-agency situation "unfortunate."
"Right now we have to sit and wait," Almora said. "It's unfortunate, arguably, the best two guys in the league are taking this long to sign. The game is changing right before our eyes. It's a conversation we have to have with our player rep. A lot of us are eager to have those conversations."
Bryant said he is certain Harper won't be signing with the Cubs, who have squashed any talk of adding a high-priced player.
The Cubs have a payroll north of $200 million even without Harper, but that won't be the case for most teams.
Bryant was asked why he thinks free agency has slowed over the past two winters. He said he was unsure of the reason, but threw out the possibility it might be because "not enough teams [are] trying to be competitive."
"There's a lot of teams out there that have the money to spend, but they're not doing it," Bryant said. "It's very confusing to me. If I was an owner, president or GM, I'd love to have Bryce Harper or Manny Machado on my team."
Bryant and Almora indicated they hadn't spoken in-depth with Harper or Machado about where the free agents might sign; they said the timing of Harper's and Machado's availability in January is a good indication of where things stand.
"You work for that moment in your career," Bryant said. "You feel like every team should want you. For them to not have that, it could be disheartening for them. … It's not about the greed. They've put in the work to warrant contracts that are worthy of it."
Mariano Rivera, Lee Smith and what makes a Hall of Fame closer
With Mariano Rivera still tracking at 100 percent in the Baseball Hall of Fame balloting, it's clear that the Cooperstown electorate has settled on a couple of things. One is obviously that Rivera belongs in the Hall of Fame. But the possible unanimity in his selection also tells us that the once-hot debate about whether relievers belong in the Hall of Fame at all is now settled. The dissenters have all but disappeared.
There is still at least one out there, Boston-area sportswriter Bill Ballou, who wrote about why he couldn't bring himself to list Rivera on his ballot. As a result, rather than ruining Rivera's chances of becoming the first unanimous selection, Ballou decided not to submit a ballot this year. Now, I don't agree with Ballou, but he did have defensible reasons for his position: The save is a terrible statistic, and closers aren't used frequently enough to fully test their mettle. He likened closers to place-kickers in the NFL, like 23-year-veteran Adam Vinatieri.
The save statistic is indeed terribly flawed, but it's also unique in one respect. For years and years, its existence has had a profound impact on actual on-field strategy. Pitchers like Rivera weren't used like traditional relief aces, who were likely to enter a tie game, or even down a run or two, to wriggle a club out of a jam. Those relievers threw more innings, too, while Rivera, Trevor Hoffman, Dennis Eckersley and so many others were reserved for rarefied usage patterns defined by the parameters of the save rule — a statistic cobbled together by the great Chicago sportswriter Jerome Holtzman. In his book "Smart Baseball," my ESPN colleague Keith Law has a chapter on this titled "Holtzman's Folly: How the Save Rule Has Ruined Baseball."
The thing is, these days we have enough tools to work with that we can identify the best relief pitchers, of both the present and the past. Most of these measurements are much more telling than saves. By the way, I am intentionally trying to avoid the "closer" label here because these definitions are forever shifting. The National League reliever of the year last season was Milwaukee's Josh Hader, who finished tied for 20th in the NL with 12 saves. I don't recall there being any sort of uproar about this. Hader was very clearly the best reliever in the league and there was also little doubt that even though he didn't close many games relative to other premier short relievers, he was providing massive value to the playoff-bound Brewers.
The most common metrics tossed around when it comes to Hall of Fame debates are WAR and JAWS, the latter the brainchild of Jay Jaffe, a writer for FanGraphs.com, an ESPN contributor and author of the excellent "The Cooperstown Casebook." JAWS is built upon WAR methodology in an effort to balance career production with peak value.
With or without JAWS, one thing that everyone can agree on is that Rivera is the best closer of all time and most would argue that he's the best reliever, period. So if you can construct an argument that he doesn't belong in Cooperstown, you are constructing an argument that no pure reliever ought to be there. One thing you might point out is that Rivera's 56.2 career WAR ranks 227th all time, right between Orel Hershiser and Robin Ventura. His JAWS score (42.5) is the best of the pure relievers. It ranks behind Eckersley, who accrued a good chunk of WAR as a starting pitcher. But among starting pitchers, Rivera's JAWS score would be tied with David Wells for 124th in history.
Jaffe lists relievers separately, so you're comparing them only to each other. That's clearly the way to go, but it doesn't address the larger question of if relievers should be in the Hall at all. The fact that the bottom-line value of Rivera — the consensus best at his position — is roughly comparable to very good, but definitely not great, starters is at the heart of the argument that relievers aren't Hall-worthy in the first place. However, most analysts seem to have come around to where I'm at: For relievers, it's not about the quantity of their innings, and it's not really about saves, either, and it's not about WAR. It's about the impact they have on winning, and WAR captures only a sliver of the picture for that position.