Saints WR Cameron Meredith to have surgery, go on IR
New Orleans Saints wide receiver Cameron Meredith is being placed on injured reserve and will undergo arthroscopic knee surgery, coach Sean Payton confirmed Thursday.
The IR move could partially explain the Saints' decision to sign wide receiver Dez Bryant on Wednesday. Bryant's one-year contract will play him $600,000 based on a pro-rated $1.25 million base salary, a source told ESPN's Adam Schefter. Bryant can earn $500,000 in incentives.
Payton said Meredith will have an arthroscopic "clean-up" surgery on the knee because he had been battling through swelling each week. But he said Meredith is expected to make a "full recovery."
Meredith, 26, had been healthy for most of this season. But his knee was obviously a big enough concern this past offseason for the Chicago Bears to let him get away as a restricted free agent.
Meredith missed the entire 2017 season in Chicago after tearing his left ACL and suffering other knee ligament damage during the preseason. The Saints then signed him to a two-year, $10 million offer sheet in April, and the Bears declined to match it.
Before the injury, Meredith led the Bears with 66 receptions, 888 yards and four touchdowns in 2016. He remains under contract with the Saints through 2019.
The wide receiver was struggling after joining the Saints, however, with zero targets over the past three games.
Meredith is the second Saints wide receiver to go on injured reserve in the past month. Veteran Ted Ginn Jr. went on IR on Oct. 18 with a knee injury.
Meredith finishes the season with nine catches for 114 yards and one touchdown.
Payton said "we'll see" when asked if there is a chance Bryant could play Sunday at Cincinnati.
"It'd be hard for me to comment not having had a practice yet. But we'll take a peek and see how he does today and tomorrow and we'll fill you in on Sunday," Payton said. "We'll take it one day at a time and see how much he can digest and give him parts to the plan and there's a third-down element, a red-zone element, a lot of different things that he provides versatility for."
Payton said Bryant was probably about five pounds heavier than the Saints would like — "and that's probably common without having gone through a training camp." But Payton said there were a number of things the Saints liked from his workout.
Payton said he had conversations with Bryant even before the draft about possibly coming to New Orleans, but those talks "slowed up" after the Saints drafted receiver Tre'Quan Smith in the third round.
ESPN's Mike Triplett contributed to this report.
Atlanta Falcons defensive end Takkarist McKinley undergoes mental evaluation
ATLANTA — Falcons defensive end Takkarist McKinley was undergoing a mental evaluation after police were called to a hotel in Los Angeles.
TMZ Sports reported that a friend became concerned for McKinley's well-being and summoned police. The Falcons acknowledged the incident in a statement from coach Dan Quinn, who said the team will do "everything we possibly can to support and assist Takk."
No criminal charges were filed. TMZ Sports said McKinley was cooperative when detained by officers.
McKinley played collegiately at UCLA. He was a first-round pick by the Falcons in 2017, making headlines on draft night with an emotional tribute to the late grandmother who raised him.
This past season, McKinley played in 15 games with eight starts. He led the Falcons with seven sacks and ranked second with 15 hits on the quarterback.
Ex-Steelers OC Bruce Arians says Antonio Brown isn't same player Pittsburgh drafted
New Tampa Bay Buccaneers coach Bruce Arians was offensive coordinator for the Pittsburgh Steelers when Antonio Brown was a rookie.
And speaking from afar, Arians doesn't like what's happening with the Steelers' All-Pro wide receiver.
"There's too much miscommunication, too much … diva," Arians said Tuesday on The Adam Schefter Podcast. "I've heard so many stories — I like Antonio — he plays as hard as anybody on Sunday and he practices hard. He's just gotta make better decisions off the field, be on time, do some of those little things."
Arians told Schefter that the Brown he's seeing today is not who he saw when the team drafted the wide receiver in 2010.
"He was the hardest working," Arians said. "He and Emmanuel Sanders, boy they went after it because Mike Tomlin used to tell them, 'two dogs, one bone.' And at that time we had Mike Wallace, Hines Ward, I mean we had a pretty good run for one of them to get on the field. By the end of the season, they were both winning for us to go to the Super Bowl."
The Steelers lost to the Green Bay Packers in the Super Bowl that season. Arians stayed as offensive coordinator in Pittsburgh for another year but left after eight seasons with the team in 2011 to become offensive coordinator for the Indianapolis Colts. He became interim coach when head coach Chuck Pagano became ill and was named AP Coach of the Year for leading the team into the playoffs. He also won Coach of the Year with the Arizona Cardinals in 2014.
Brown's absence from Week 17 practices resulted in a benching for the Steelers' season finale against the Cincinnati Bengals, and during that week Brown had a flare-up in a team setting.
Last week, team president Art Rooney II told the Pittsburgh Post-Gazette that Brown would not be released but "all other options are on the table" regarding his future with the team. He also said that it would be "hard to envision" Brown as part of the team when it reports to training camp in late July.
Owner David Tepper says Carolina Panthers keeping 'options open' in light of QB Cam Newton's shoulder injury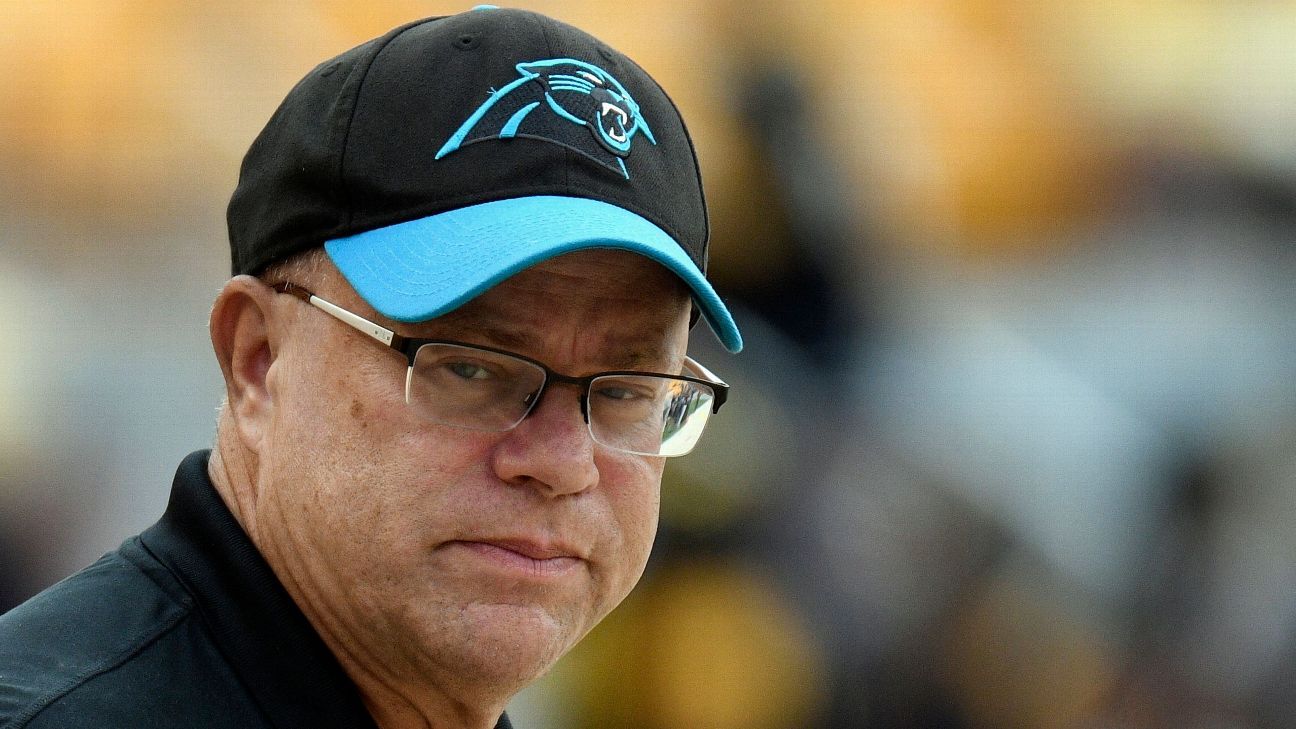 CHARLOTTE, N.C. — The Carolina Panthers are keeping all options open concerning the sore right shoulder of quarterback Cam Newton, including the possibility of not having the 2015 NFL MVP available for the 2019 season.
"If you told me he took a year off and could recover and be fully recovered and everything else, and that's what it took, an extra year, why wouldn't you do [that]?" owner David Tepper said on Tuesday. "Now we would have to do other things, right? We'd have to go out and get another quarterback. If you could find me some more cap space I'd appreciate that."
Newton was shut down the final two games when it became apparent the strength in his throwing shoulder, which was surgically repaired prior to the 2017 season, didn't give the Panthers the best chance to win.
The organization has been in discussions with medical personnel on the best plan to strengthen the shoulder, whether that's with rest or another surgery. A second surgery opens the possibility Newton could miss a season as Indianapolis quarterback Andrew Luck did in 2017 after undergoing surgery on his throwing shoulder.
Luck returned this season to throw 39 touchdowns, the second most of his career, during a 10-6 regular-season.
"When you make a decision, this gets into business or here . . . you want to keep your options open as much as possible," Tepper said in his first sit-down interview since finalizing in July the purchase of the team for $2.275 billion. "And you want to put yourself in a position to win. Not a position to lose, but a position to win.
"That means keep your options open and try to have as much [cap] space as you possibly can."
The Panthers, who lost seven of their final eight games to finish 7-9, currently have approximately $25 million in cap space. That ranks among the bottom half of the league.
They can clear another $7.2 million in space by releasing left tackle Matt Kalil, who missed the 2018 season with a knee injury, with a June 1 designation. They could recreate another $3.5 million in space by parting with nickel back Captain Munnerlyn.
Offensive coordinator Norv Turner and coach Ron Rivera have said the uncertainty around Newton's shoulder has created a "sense of urgency" at the quarterback position. Whether that means depending on an unproven talent such as Kyle Allen, an undrafted rookie who led Carolina to a 33-14 victory over New Orleans in the regular-season finale, signing a veteran, or using a high draft pick on a quarterback remains to be seen.
Signing a veteran could force the Panthers to cut costs at other positions.
Among the veteran options are Philadelphia's Nick Foles, New Orleans' Teddy Bridgewater, Tyrod Taylor and Ryan Fitzpatrick. Foles and Bridgewater are looking for starting jobs.
"Hopefully, Cam's shoulder is fantastic, right? And we're hunky dory, all fantastic," Tepper said. "If it's not, you may need more cap space. You may need to go out and find somebody. If you don't, you guys are going to be writing what a dope we are here. Why did we make these other moves?
"So think about that. You want to keep your options open, put yourself in best position as you can to win, and I'm talking again for the long term."
Tepper said Newton's shoulder, which became an issue after an Oct. 21 win at Philadelphia got the record to 4-2, was one of the several factors that convinced him to keep Rivera and general manager Marty Hurney after the second-half collapse.
"As Cam's shoulder got worse that made it much harder to win," Tepper said. "Don't know what coaches can do about that.
"People get injured in football and what we have to do is keep our options open just in case. Cam Newton is a guy we're going to be depending on. He's a talent. But it would be foolish to say you're not having an awareness of potential things that could happen during the year."