Chargers' Joe Barksdale uses guitar as therapy in battle with depression – Los Angeles Chargers Blog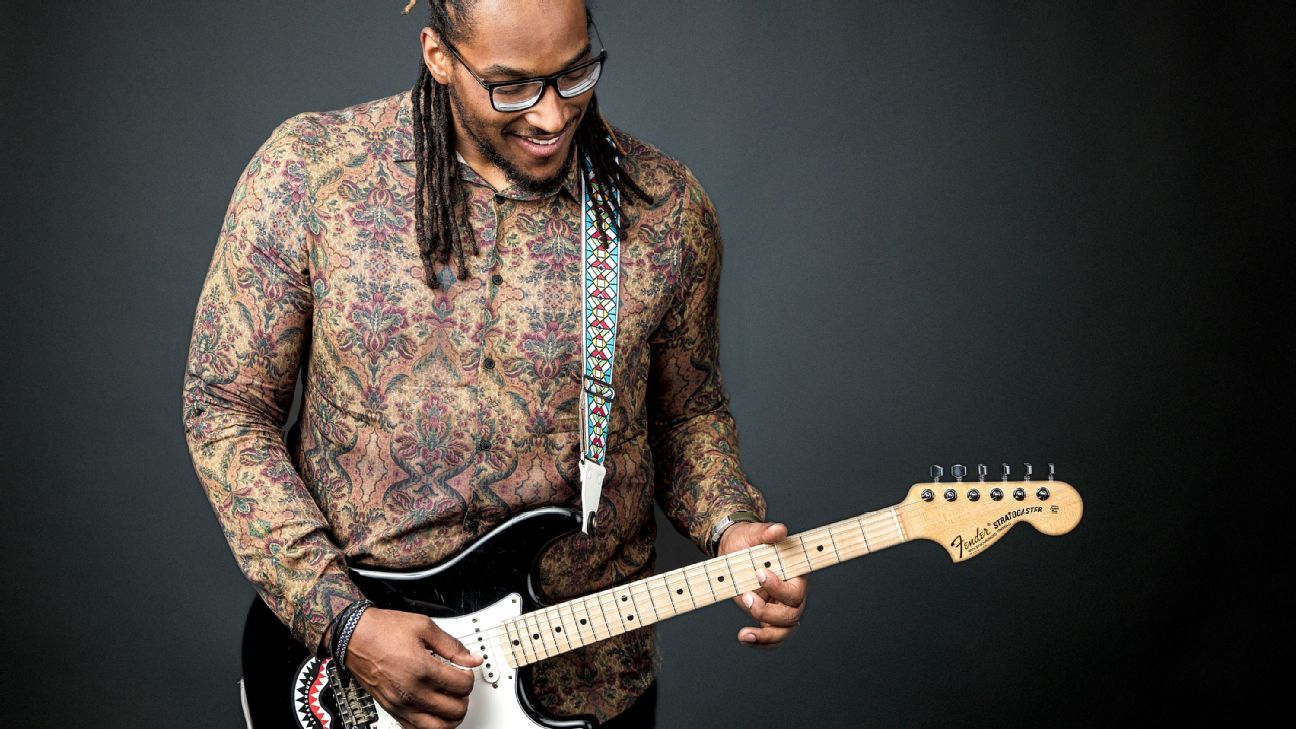 COSTA MESA, Calif. — Joe Barksdale considered taking his life midway through last season.
But when his mind meanders to a dark place, playing the guitar pulls him back into the light.
Barksdale, 30, said playing guitar serves as a form of therapy to help him deal with bouts of depression that have haunted him since childhood. Now in his eighth NFL season, Barksdale takes medication and is in therapy for depression.
"It helps from a mental health standpoint," said Barksdale, the Los Angeles Chargers right tackle. "I'm an introverted person, and it keeps me social because I'm always playing with new people.
"I would say playing guitar is like practicing for a game that you know you're going to win."
The Detroit native said he was physically, emotionally and sexually abused as a child. Since acknowledging his condition, Barksdale said he has received a flood of emails and letters from fans also dealing with depression and asking for help.
"I don't have the easiest time explaining myself to people, communicating how I feel and that kind of thing," Barksdale said. "And I feel like the guitar helps me communicate with people, first and foremost. But it also helps me process emotions — getting out things that maybe there aren't words for that you feel."
Dr. Daniel Levitin, a cognitive neuroscientist, said what Barksdale is going through — and how he's helping to cope with it — makes sense. For the past three decades, Levitin has studied connections between music and the brain.
Levitin and Barksdale participated in a study commissioned by Fender on the state of today's guitar players that partly focused on the health and wellness benefits of playing the guitar.
Levitin said playing a musical instrument is a great thing for football players to pick up because it gives them a sense of mastery of a different activity — stepping into the shoes of Buddy Guy, Muddy Waters or Prince — and helping to get them out of the doldrums of daily life while doing something that's physically demanding.
"Music is one of the reliable ways that anybody can get into this daydreaming mode, either by listening or playing," Levitin said. "It's a therapeutic mode for the brain that effectively pushes a reset button, and it resets tension and stress — a kind of cycle of negative thoughts."
Levitin said he interacts regularly with former NFL player Bart Oates, a three-time Super Bowl winner with the New York Giants and the San Francisco 49ers, on the connections between music and the brain. With the recent revelations of the long-term effects of brain injuries stemming from playing football, more former NFL players are reaching out to Levitin to understand how music therapy can help them deal with those issues.
"The idea is music effects a number of chemical systems in the body, including the immune system," Levitin said. "The potential for it is still being uncovered, but certainly there's a lot of evidence that music can help combat depression, and it can help combat feelings of sadness."
Levitin said the best way out of depression is distraction as an alternative to rumination, offering a limitless opportunity for players to explore another side of themselves.
"The distraction has to be meaningful and engaging enough that you don't fall back into the rumination," Levitin said. "And music is one of those things — like football or computer programming or a number of other things humans partake in, chess playing — there are a lot of layers and levels to it. You can start out as an amateur and enjoy playing, but you can go deeper and deeper and spend your whole life doing it."
• Irvin heads home to play with Falcons
• Jets face 'huge' game against Bills
• K.J. Wright has half a season to earn his spot
• Saints see Dez worth the risk
• When will we see Kyle Lauletta?
Barksdale said he took up the guitar at the end of the 2012 NFL season at the suggestion of Jeff Fisher, his former head coach with the St. Louis Rams. Fisher suggested Barksdale find something to do to help him deal with the loss of a close friend during the offseason.
Barksdale took to the guitar quickly, and now plays at least an hour a day. His favorite guitar players include Jimi Hendrix and Duane Allman.
Barksdale released his first album, "Butterflies, Rainbows & Moonbeams" in January of this year, and he has another mini-album due to release early next year. While both recordings are solo projects, Barksdale does sit in with bands on occasion.
"It just kept coming and coming," Barksdale said about learning the guitar. "Looking back on it, I kind of learned football the same way. Some things just click with you, and I think that's what it is. It's one of the reasons, for sure."
Barksdale fostered a relationship with Fender guitar after touring its facility following his first season with the Chargers, and he has been with the guitar company for four years.
Other athletes who represent Fender include former NBA player Chris Bosh and skateboarders Ray Barbee, Tony Alva and Don Nguyen.
"He's always struck me as someone who is committed to improving his technique and skills," said Andy Mooney, CEO of Fender, who added that it's rare for someone to pick up the guitar so quickly. "When he's on stage, he's not playing it behind his head, jumping up and down and being a showman.
"He's very much kind of concentrating on getting it right on stage, and kind of really applying what he's learned to contribute to the band that he's in."
Westgate SuperBook favors Tom Brady to win Super Bowl MVP award
Tom Brady is the only NFL player to have won four Super Bowl MVP awards, one more than his boyhood idol, Joe Montana.
With the New England Patriots in the Super Bowl for the third straight year, one Las Vegas sportsbook has Brady favored to win a fifth MVP.
The Westgate Las Vegas SuperBook opened Brady as the favorite at EVEN odds ($100 bet would win $100) to win MVP of Super Bowl LIII. Los Angeles Rams QB Jared Goff is the only other player with odds in single digits at 2-1.
"The quarterback for the team favored in the Super Bowl is almost always the MVP favorite," Ed Salmons, vice president of risk management and oddsmaking at the SuperBook, told ESPN. "Brady was actually minus money last year and against the Falcons."
Running backs Sony Michel and Todd Gurley have the next-best odds, at 16-1, with the field at 12-1. Aaron Donald has the best odds for any defensive player, at 25-1. Six players are tied with 100-1 odds, including Rams kicker Greg Zuerlein.
A quarterback has won MVP in seven of the past 10 Super Bowls. The Patriots are consensus two-point favorites at Las Vegas sportsbooks.
How unique is the Raiders' Jon Gruden-Mike Mayock dynamic? – Oakland Raiders Blog
ALAMEDA, Calif. — It wasn't like Mike Mayock dropped a bombshell in his interview with ESPN's Steve Levy before the College Football Playoff National Championship game earlier this month when he said, "In all honesty, Jon's got final say."
Of course Jon Gruden has the last word when it comes to which players the Oakland Raiders pick up. Anyone paying attention since Gruden signed that 10-year contract worth a reported $100 million to return to the sidelines last year knew this to be true, especially with general manager Reggie McKenzie being shown the door last month.
But for Mayock, hired as McKenzie's replacement on Dec. 31, to actually acknowledge the situation and add, "I've got zero problems with that," well, that was news. Because ever since Gruden returned to the Raiders (with McKenzie entering his seventh season), the key word was "collaborative," as in Gruden and McKenzie would work in a "collaborative" manner.
When: April 25-27
Where: Nashville, Tennessee
How to watch: ABC/ESPN/ESPN App
• Kiper's Mock Draft 1.0: Murray's options »
• Draft order: Picks 1-28 set »
• Tracking underclassman declarations »
• McShay's Mock Draft 1.0: Going 1-32 »
• Meet the 2019 quarterback class »
• Priorities for teams with top-10 picks »
• Kiper's Big Board » | McShay's Top 32 »
• More NFL draft coverage »
Even when Mayock, lured out of his role as a longtime draft analyst for NFL Network, was introduced, the coach stayed on message, saying, "We're going to work together on this."
Together.
They get their first chance to publicly show their synergy this week at the Senior Bowl in Mobile, Alabama, where Mayock and Gruden's staff will coach the North team.
"The last time I coached the Senior Bowl as the head coach of the Raiders, we drafted Eric Barton and Rod Coleman," Gruden said of the 1999 game. "It was a great tool for us, in Tampa and in Oakland. We have three picks in the first round. We also pick in every other round and we also have the potential to add [undrafted] players after the draft.
"It will give our coaches, I think, a chance to go to Mobile in front of the entire NFL and show what kind of coaching staff we have — show the energy and enthusiasm that we have as a staff. We are going to sell ourselves to the players."
And those players will try to sell themselves to the Raiders — and 31 other teams.
Which brings us back to Oakland's GM-coach dynamic. On a traditional team flow chart, a coach should answer to the general manager, so to speak, no? Or is that just baseball talk?
We asked ESPN's 32 NFL Nation reporters this question: Who answers to whom, coach or GM, when it comes to having final say on roster or personnel questions?
Twenty have a dynamic in which the GM, or his equivalent, has final say on such matters, while the Raiders, New England Patriots, San Francisco 49ers and Atlanta Falcons have dynamics in which the coach has final say.
So more power to Gruden, Bill Belichick, Kyle Shanahan and Dan Quinn, right?
Meanwhile, seven teams are seen to have that ubiquitous collaborative effort mindset, including three of the NFL's final four this year in the Kansas City Chiefs, New Orleans Saints and Los Angeles Rams.
One team reporter was not sure how the dynamic would play out since the coach was just hired.
A year after leaving Monday Night Football for the Raiders, Gruden is trying to build up a roster that — by the end of the season — featured 38 players on its 53-man roster who had not played a single snap for Oakland a year earlier. Plus, only eight of McKenzie's 50 pre-Gruden draft picks, from 2012 through 2017, remained on that 53-man roster.
Time, then, for Gruden (and, of course, Mayock) to hunt and gather.
"If we can eliminate two or three players by coaching the Senior Bowl, sometimes that is just as important as finding two or three guys that you really want," Gruden said. "We are really excited. It will be the fourth time that I have done it. We have to do a good job in this draft, and the best way to do it is to be as close as possible to the players."
Gruden also will need to come to an agreement with his GM, before Gruden has to use what amounts to executive authority.
"I like a little yelling," Mayock told Levy, "a little screaming, a little fighting for what player you believe in. But at the end of the day, I guarantee you, Jon Gruden and I are going to know what a Raider looks like and smells like. I don't think we're going to have any issues."
Dee Ford of Kansas City Chiefs takes the blame — 'Sloppy football'
KANSAS CITY, Mo. — Linebacker Dee Ford said he was at fault for lining up offside on a play late in the fourth quarter of the AFC Championship Game that could have cost the Kansas City Chiefs a berth in the Super Bowl.
"Sloppy football on my end at the end of the day," Ford said a day after the Chiefs lost 37-31 in overtime to the New England Patriots. "Whether it was 6 inches or however many inches, I was offside.
"I can't go back and change it. If I could I would, but at this point we can create a new narrative and that's what I'm all about. I'm going to get to work."
The penalty nullified an interception by Chiefs cornerback Charvarius Ward with 54 seconds remaining and Kansas City ahead 28-24. Had the interception stood, the Chiefs may have been able to run out the clock.
The Patriots instead retained the ball and two plays later scored the go-ahead touchdown.
A late Chiefs field goal sent the game into overtime. The Patriots then scored a touchdown to win the game.
Ford indicated he would usually get a warning or two from an official about lining up offside before a penalty is called. But he said this time that didn't happen.
"I can't expect that," Ford said. "I just have to line up onside at the end of the day. I'm not an excuse maker … I'm looking right at the ball. Honestly, it's just a critical mistake on my end."
Including the penalty against the Patriots, Ford had two offside and two neutral zone infractions this season. The four penalties of that type were tied for eighth most in the league.
"He was doing everything possible to try to get to the quarterback," Chiefs coach Andy Reid said. "It wasn't but by a few inches. But I thought it was legitimate."
Ford finished second on the Chiefs this season with 13 sacks plus one in the divisional round playoff win over the Indianapolis Colts. He will participate in Sunday's Pro Bowl.