Chargers' Joe Barksdale uses guitar as therapy in battle with depression – Los Angeles Chargers Blog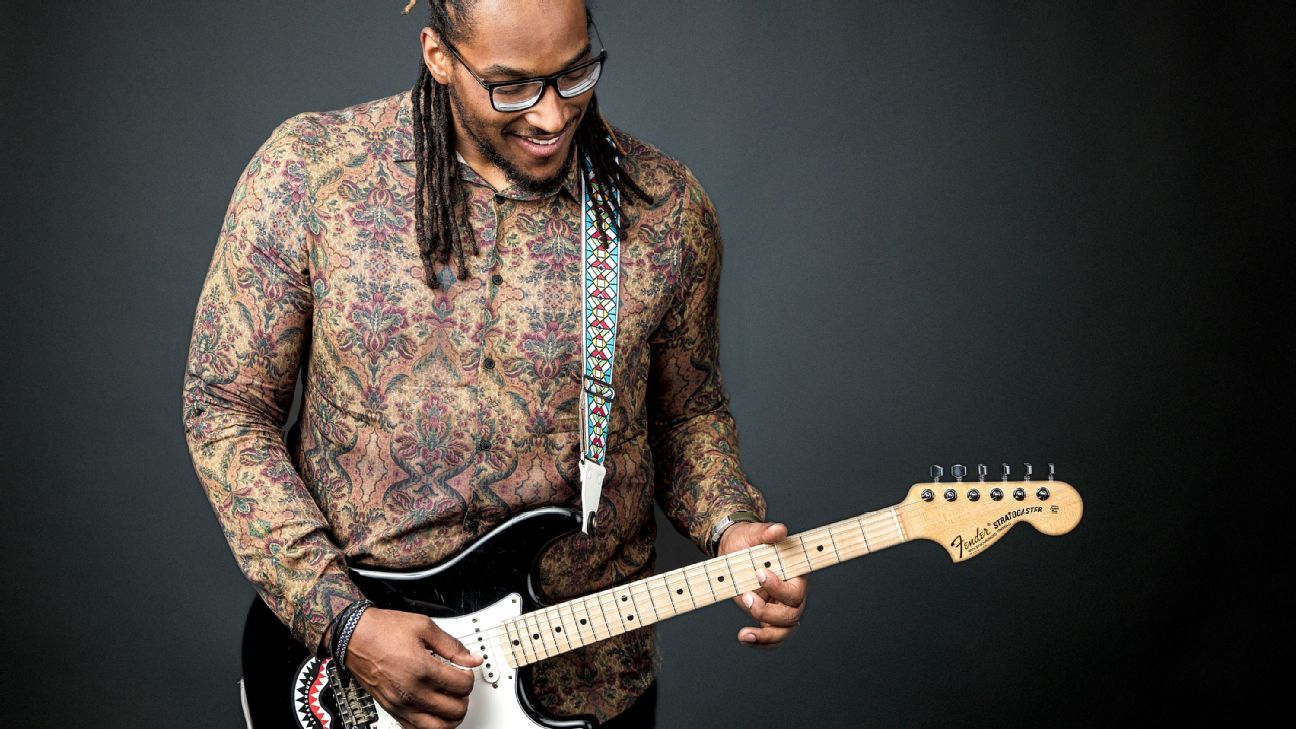 COSTA MESA, Calif. — Joe Barksdale considered taking his life midway through last season.
But when his mind meanders to a dark place, playing the guitar pulls him back into the light.
Barksdale, 30, said playing guitar serves as a form of therapy to help him deal with bouts of depression that have haunted him since childhood. Now in his eighth NFL season, Barksdale takes medication and is in therapy for depression.
"It helps from a mental health standpoint," said Barksdale, the Los Angeles Chargers right tackle. "I'm an introverted person, and it keeps me social because I'm always playing with new people.
"I would say playing guitar is like practicing for a game that you know you're going to win."
The Detroit native said he was physically, emotionally and sexually abused as a child. Since acknowledging his condition, Barksdale said he has received a flood of emails and letters from fans also dealing with depression and asking for help.
"I don't have the easiest time explaining myself to people, communicating how I feel and that kind of thing," Barksdale said. "And I feel like the guitar helps me communicate with people, first and foremost. But it also helps me process emotions — getting out things that maybe there aren't words for that you feel."
Dr. Daniel Levitin, a cognitive neuroscientist, said what Barksdale is going through — and how he's helping to cope with it — makes sense. For the past three decades, Levitin has studied connections between music and the brain.
Levitin and Barksdale participated in a study commissioned by Fender on the state of today's guitar players that partly focused on the health and wellness benefits of playing the guitar.
Levitin said playing a musical instrument is a great thing for football players to pick up because it gives them a sense of mastery of a different activity — stepping into the shoes of Buddy Guy, Muddy Waters or Prince — and helping to get them out of the doldrums of daily life while doing something that's physically demanding.
"Music is one of the reliable ways that anybody can get into this daydreaming mode, either by listening or playing," Levitin said. "It's a therapeutic mode for the brain that effectively pushes a reset button, and it resets tension and stress — a kind of cycle of negative thoughts."
Levitin said he interacts regularly with former NFL player Bart Oates, a three-time Super Bowl winner with the New York Giants and the San Francisco 49ers, on the connections between music and the brain. With the recent revelations of the long-term effects of brain injuries stemming from playing football, more former NFL players are reaching out to Levitin to understand how music therapy can help them deal with those issues.
"The idea is music effects a number of chemical systems in the body, including the immune system," Levitin said. "The potential for it is still being uncovered, but certainly there's a lot of evidence that music can help combat depression, and it can help combat feelings of sadness."
Levitin said the best way out of depression is distraction as an alternative to rumination, offering a limitless opportunity for players to explore another side of themselves.
"The distraction has to be meaningful and engaging enough that you don't fall back into the rumination," Levitin said. "And music is one of those things — like football or computer programming or a number of other things humans partake in, chess playing — there are a lot of layers and levels to it. You can start out as an amateur and enjoy playing, but you can go deeper and deeper and spend your whole life doing it."
• Irvin heads home to play with Falcons
• Jets face 'huge' game against Bills
• K.J. Wright has half a season to earn his spot
• Saints see Dez worth the risk
• When will we see Kyle Lauletta?
Barksdale said he took up the guitar at the end of the 2012 NFL season at the suggestion of Jeff Fisher, his former head coach with the St. Louis Rams. Fisher suggested Barksdale find something to do to help him deal with the loss of a close friend during the offseason.
Barksdale took to the guitar quickly, and now plays at least an hour a day. His favorite guitar players include Jimi Hendrix and Duane Allman.
Barksdale released his first album, "Butterflies, Rainbows & Moonbeams" in January of this year, and he has another mini-album due to release early next year. While both recordings are solo projects, Barksdale does sit in with bands on occasion.
"It just kept coming and coming," Barksdale said about learning the guitar. "Looking back on it, I kind of learned football the same way. Some things just click with you, and I think that's what it is. It's one of the reasons, for sure."
Barksdale fostered a relationship with Fender guitar after touring its facility following his first season with the Chargers, and he has been with the guitar company for four years.
Other athletes who represent Fender include former NBA player Chris Bosh and skateboarders Ray Barbee, Tony Alva and Don Nguyen.
"He's always struck me as someone who is committed to improving his technique and skills," said Andy Mooney, CEO of Fender, who added that it's rare for someone to pick up the guitar so quickly. "When he's on stage, he's not playing it behind his head, jumping up and down and being a showman.
"He's very much kind of concentrating on getting it right on stage, and kind of really applying what he's learned to contribute to the band that he's in."
TE Watson considering 16th season
Veteran tight end Benjamin Watson, who intended to retire after last season, is now considering a return to the NFL for a 16th season, league sources told ESPN's Adam Schefter on Saturday.
Watson, whose wife is due to give birth to twins next week, might be open to returning to the NFL under the right situation, the sources said.
The 38-year-old Watson, whose contract with the New Orleans Saints expired after the 2018 season, ranks 14th among tight ends in NFL history with 530 career receptions. Watson has amassed 5,885 yards and 44 touchdown catches.
He previously said that 2018 would be his final season in the NFL. A first-round pick of New England in 2004, the two-time finalist for the league's Walter Payton Man of the Year award has also played for the Browns and Ravens.
"I knew coming into this year that it probably would be the last year," Watson said at the end of last season. "And I think our approach was as a family that we were fortunate to come and play for another year, but you kind of know. It's been great to be a part of this team and have this sort of winning at this point of my career. But the injuries add up, the body struggles more and more. And it becomes evident that it's time."
Watson played in every game for the Saints last season, catching 35 passes for 400 yards and two touchdowns. It was his second stint with the Saints.
Lennon's 'Sgt. Pepper's' piano sold to Colts' Irsay
INDIANAPOLIS — An upright piano that John Lennon used to write Beatles' songs has been sold at auction to Jim Irsay. Just "A Day in the Life" of the owner of the Indianapolis Colts.
Irsay tweeted Saturday that he's "elated" to now own the instrument Lennon used to compose songs for The Beatles' "Sgt. Pepper's Lonely Hearts Club Band" album.
The Indianapolis Star reports the piano, made in the 1870s, was auctioned on the site GottaHaveRockandRoll.com, with a minimum required bid of $575,000. The site estimated it would sell for between $800,000 and $1.2 million. As of Saturday afternoon, the final price tag had not yet been announced.
Irsay called ownership of the piano a "responsibility I take seriously, with future generations in mind."
The Star reports Irsay previously bought guitars once owned by music legends Jerry Garcia, Prince and Bob Dylan.
The Associated Press contributed to this report.
Source — Seahawks want 1st-rounder for DE Clark
The Seattle Seahawks are still considering trading defensive end Frank Clark, a league source told ESPN's Adam Schefter on Saturday.
In return, the Seahawks would want any package to include at least a first-round pick in next week's NFL draft, the source said.
Clark, who has yet to sign his $17.128 million franchise tag, has been the subject of trade rumors. He led the Seahawks with 13 sacks and also had four forced fumbles and an interception last season, and he added another sack in a wild-card playoff loss to the Dallas Cowboys.
Earlier this week, Seahawks general manager John Schneider said trade rumors are common this time of year, but he didn't shoot down any involving Clark, who turns 26 in June.
"He's a franchised player. We love Frank," Schneider said. "He's an incredibly effective pass-rusher and we love him. … When you're getting close to the trade deadline and you get close to the draft, it's like major speculation, a ton of drama, all the news outlets and everything. I get it. It's what we're doing, it's entertainment.
"People around the league know that we're in every deal, that the people on my staff, we're always trying to understand the landscape around the National Football League. If we didn't, we wouldn't be doing our job. We can't ever have our head in the sand with anything, but we love Frank. Obviously that's why we franchised him."
ESPN's Brady Henderson contributed to this report.