Chargers' Joe Barksdale uses guitar as therapy in battle with depression – Los Angeles Chargers Blog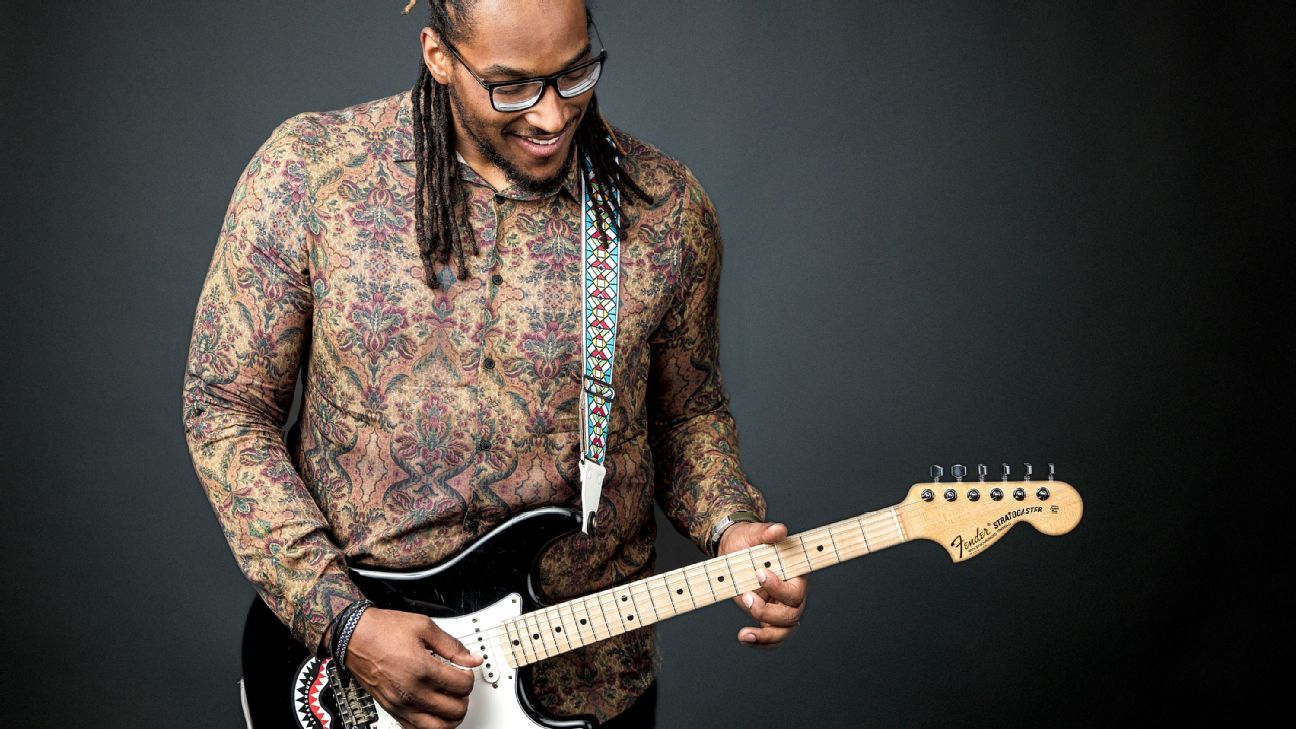 COSTA MESA, Calif. — Joe Barksdale considered taking his life midway through last season.
But when his mind meanders to a dark place, playing the guitar pulls him back into the light.
Barksdale, 30, said playing guitar serves as a form of therapy to help him deal with bouts of depression that have haunted him since childhood. Now in his eighth NFL season, Barksdale takes medication and is in therapy for depression.
"It helps from a mental health standpoint," said Barksdale, the Los Angeles Chargers right tackle. "I'm an introverted person, and it keeps me social because I'm always playing with new people.
"I would say playing guitar is like practicing for a game that you know you're going to win."
The Detroit native said he was physically, emotionally and sexually abused as a child. Since acknowledging his condition, Barksdale said he has received a flood of emails and letters from fans also dealing with depression and asking for help.
"I don't have the easiest time explaining myself to people, communicating how I feel and that kind of thing," Barksdale said. "And I feel like the guitar helps me communicate with people, first and foremost. But it also helps me process emotions — getting out things that maybe there aren't words for that you feel."
Dr. Daniel Levitin, a cognitive neuroscientist, said what Barksdale is going through — and how he's helping to cope with it — makes sense. For the past three decades, Levitin has studied connections between music and the brain.
Levitin and Barksdale participated in a study commissioned by Fender on the state of today's guitar players that partly focused on the health and wellness benefits of playing the guitar.
Levitin said playing a musical instrument is a great thing for football players to pick up because it gives them a sense of mastery of a different activity — stepping into the shoes of Buddy Guy, Muddy Waters or Prince — and helping to get them out of the doldrums of daily life while doing something that's physically demanding.
"Music is one of the reliable ways that anybody can get into this daydreaming mode, either by listening or playing," Levitin said. "It's a therapeutic mode for the brain that effectively pushes a reset button, and it resets tension and stress — a kind of cycle of negative thoughts."
Levitin said he interacts regularly with former NFL player Bart Oates, a three-time Super Bowl winner with the New York Giants and the San Francisco 49ers, on the connections between music and the brain. With the recent revelations of the long-term effects of brain injuries stemming from playing football, more former NFL players are reaching out to Levitin to understand how music therapy can help them deal with those issues.
"The idea is music effects a number of chemical systems in the body, including the immune system," Levitin said. "The potential for it is still being uncovered, but certainly there's a lot of evidence that music can help combat depression, and it can help combat feelings of sadness."
Levitin said the best way out of depression is distraction as an alternative to rumination, offering a limitless opportunity for players to explore another side of themselves.
"The distraction has to be meaningful and engaging enough that you don't fall back into the rumination," Levitin said. "And music is one of those things — like football or computer programming or a number of other things humans partake in, chess playing — there are a lot of layers and levels to it. You can start out as an amateur and enjoy playing, but you can go deeper and deeper and spend your whole life doing it."
• Irvin heads home to play with Falcons
• Jets face 'huge' game against Bills
• K.J. Wright has half a season to earn his spot
• Saints see Dez worth the risk
• When will we see Kyle Lauletta?
Barksdale said he took up the guitar at the end of the 2012 NFL season at the suggestion of Jeff Fisher, his former head coach with the St. Louis Rams. Fisher suggested Barksdale find something to do to help him deal with the loss of a close friend during the offseason.
Barksdale took to the guitar quickly, and now plays at least an hour a day. His favorite guitar players include Jimi Hendrix and Duane Allman.
Barksdale released his first album, "Butterflies, Rainbows & Moonbeams" in January of this year, and he has another mini-album due to release early next year. While both recordings are solo projects, Barksdale does sit in with bands on occasion.
"It just kept coming and coming," Barksdale said about learning the guitar. "Looking back on it, I kind of learned football the same way. Some things just click with you, and I think that's what it is. It's one of the reasons, for sure."
Barksdale fostered a relationship with Fender guitar after touring its facility following his first season with the Chargers, and he has been with the guitar company for four years.
Other athletes who represent Fender include former NBA player Chris Bosh and skateboarders Ray Barbee, Tony Alva and Don Nguyen.
"He's always struck me as someone who is committed to improving his technique and skills," said Andy Mooney, CEO of Fender, who added that it's rare for someone to pick up the guitar so quickly. "When he's on stage, he's not playing it behind his head, jumping up and down and being a showman.
"He's very much kind of concentrating on getting it right on stage, and kind of really applying what he's learned to contribute to the band that he's in."
Ereck Flowers to become fourth player to start at left tackle this year for Jacksonville Jaguars
JACKSONVILLE, Fla. – Ereck Flowers, the ninth overall pick in 2015 by the New York Giants who was cut last month, will start at left tackle for the Jacksonville Jaguars on Sunday.
Flowers becomes the fourth player to start at that spot for the Jaguars (3-6) because of injuries. Cam Robinson suffered a torn ACL in Week 2 and his replacement, Josh Wells, injured his groin in Week 5 and was placed on IR.
That forced the Jaguars to move reserve guard Josh Walker to left tackle, where he started the last four games. Walker injured his foot in last week's loss to Indianapolis and the team listed him as doubtful for Sunday's game against Pittsburgh at TIAA Bank Field.
Flowers started 49 of the 52 games in which he played for the Giants from 2015-18 at left tackle but never played at the high level expected of a top 10 pick. He lost his starting job in Week 3 to Chad Wheeler, who signed with the Giants as an undrafted free agent in 2017, and the team cut him on Oct. 10.
The Jaguars signed Flowers on Oct. 12 and he did not play in the team's next three games. He made his Jaguars debut last week, sharing time with Walker during the second and third quarters.
Quenton Nelson of Indianapolis Colts fined for leading with helmet on play that went viral
The NFL has fined Indianapolis Colts rookie guard Quenton Nelson $26,739 for leading with his helmet on a play that went viral on Twitter, a source told ESPN's Adam Schefter.
The viral video was actually a combination of multiple plays, a team spokesman said earlier this week.
The Colts had taken the audio of Nelson screaming from another play and added it to the play where the No. 6 pick in this year's draft pulled and flattened Jacksonville Jaguars safety Barry Church into the ground on a Marlon Mack run. The scream came from a play where Nelson was acting as a decoy on an Andrew Luck bootleg.
"I saw it got pretty viral on the internet, which was cool," Nelson said Tuesday. "… Yeah, I wasn't yelling, not on that play. I don't know how it got amped up like that."
The team has since taken down the tweet.
A source said Nelson is appealing the fine from the play on which no penalty was called.
ESPN's Mike Wells contributed to this report.
Mike McCarthy punted on Packers' chance for 'galvanizing moment' – Green Bay Packers Blog
SEATTLE — It would have been bold — one of the most daring decisions of his 13-year coaching tenure — but Mike McCarthy stared the moment in the face, pondered it and then punted.
• Best receivers on secret behind big play
• The David Johnson we've been waiting for
• Fournette's return gives Jags identity back
• Inside friendship of Brees and Jenkins
• Stafford's struggles are complicated
• Harbaugh not sweating on hot seat
The Green Bay Packers coach decided to give the ball back to the Seattle Seahawks with four minutes and 20 seconds left on Thursday night at CenturyLink Field. In his mind, one timeout plus the two-minute warning with a depleted defense gave his team a better chance to win than going for it on fourth-and-2 from his own 33-yard line.
His reasoning: "We played the numbers."
Those numbers came up: Seattle 27, Green Bay 24.
The scoreboard read the same when McCarthy's quarterback, Aaron Rodgers, inexplicably threw the ball into the turf, well short of receiver Marquez Valdes-Scantling on third-and-2. It was one of the worst throws Rodgers has ever made and he was under pressure often (he was sacked five times), but he did throw for 332 yards and two touchdowns on 21-of-30 passing and had a hot receiver in Davante Adams (10 catches for 166 yards).
By now, everyone knows that the Packers' defense — already without two starters in the secondary, Kevin King and Kentrell Brice, plus starting outside linebacker Nick Perry and ravaged by in-game injuries to Mike Daniels, Kenny Clark, Bashaud Breeland and Raven Greene — allowed the Seahawks to run out those last 260 seconds to keep the Packers winless in five road games and 4-5-1 overall.
Afterward, Rodgers obligatorily said there's still hope for this season but in the next breath said "it's going to take one galvanizing moment" to turn it around.
A game-winning drive sparked by a bold fourth-down call could have been that moment.
"If we had gotten the first down," Rodgers said. "If not, then it's a short field, and we've got to hold them to three and we're kind of in the same situation."
Even Seahawks coach Pete Carroll said he was "a little relieved" when McCarthy sent his punt team on the field at that moment.
"I really did like that they punted the ball back to us right there," Carroll said.
Not long after Rodgers and McCarthy completed their post-game podium interviews, veteran defensive back Tramon Williams — the last player in the locker room — spoke of ways to save a sinking season.
Though the question to Williams made no mention of the fourth-down decision, it's worth wondering if his answer spoke to the feeling in the locker room about McCarthy's call.
"When we're in games like this, we gotta go for it, man," Williams said. "We play to win, you know? We play to win. We've got the best quarterback behind center. We played well throughout the game on the defensive side of the field. We've gotta play to win. We've been in too many close games and not come out on that side. That's not a good feeling right now."
When asked if punting with 4:20 left in a three-point game is playing to win, Williams said: "You tell me."
To Williams, there's only one way out of this, only one way to save their season.
"We've got to win; that's the only thing," he said.
Mike McCarthy says Green Bay fought hard but it still has to figure out how to win on the road.
The question, however, is how?
"You've got to ask the people calling the shots," Williams said. "We're going out there, we're playing hard, we're just coming up short. Whatever that takes, we've got to get it done. We felt like we should've gotten it done tonight. Felt like we should've got it done in those other games. We just haven't. So if we had that answer we would've won already."
There's time, of course. A win next Sunday night at Minnesota would be a solid start leading into five winnable games to close the season.
But even McCarthy stopped himself when he started to say there's a lot of football left.
"There's enough football," he said.
This season, however, might not provide many moments that could have been more galvanizing than a game-winning drive fueled by a bold fourth-down call from an aggressive head coach.
"I think there's been opportunities," Rodgers said. "There can be galvanizing moments when you capitalize on them. We had some today. Jimmy [Graham] talked to us before the game and other guys were speaking up and talking. The first play of the game, we make a fumble and we go down there and [take an early lead]. We had many moments that could have been used as moments to gravitate toward, 'This is what it looks like. This is what it feels like. This is what we should be doing. This is how we should be playing.'
"But when you lose, all of that gets wiped away because you've got to move on to the next situation and hope that something sticks with somebody that can bring us together moving in the right direction."