Dolphins' Reshad Jones has no regrets about not re-entering Sunday's game
DAVIE, Fla. — Miami Dolphins Pro Bowl safety Reshad Jones is adamant that he has no regrets from Sunday when he decided against returning to his team's 13-6 win over the New York Jets despite playing just 10 first quarter snaps.
"I've never been a quitter," Jones said. "I've been here nine years, playing my ass off for this team, never been a quitter, never will."
The issue came after Jones was taken out by defensive coordinator Matt Burke before the Dolphins fourth defensive series. Burke was rotating starting defensive backs out of the game to make rookie Minkah Fitzpatrick a full-time player.
Burke put cornerback Bobby McCain on the bench for the first two drives, T.J. McDonald on the bench in the third drive and Jones in the fourth drive. Jones was the only one who didn't return after being taken out.
Adam Gase said he's not planning to suspend Jones, and that he'll play Sunday at Green Bay. He also said any discipline will be kept internal and warned the public to rush to judgment on Jones because they don't know all the facts.
"All of that stuff, that's between all of those guys and they're going to keep that in house," Gase said. "I don't think you're going to get anybody talking about that. We handled what we needed to handle and we're moving on."
Jones, who came to Gase's office Sunday after the game to explain himself, said he talked with teammates and coaches this week and that they're all "on the same page." He said that includes Burke, who has been referenced to by Gase as one of the factors of why Jones took himself out of the game.
One Dolphins player told ESPN on Sunday that those rotations were known during the week, but they weren't universally accepted. But this player also said, "Like it or not, you've got to do what the coaches ask."
But Jones, when asked if he had any regrets, said "no not at all."
Jones, 30, did say his partially torn right labrum had no impact in taking himself out of the game and he would be willing to rotate in-and-out on defense if needed going forward.
"Whatever the coaching staff says we have to do that's what we're willing to do," Jones said. "I've been one of the best safeties in the league for a long time and I'll continue to fight and play my ass off for this team."
Antonio Brown thanks Pittsburgh Steelers fans in social media post
Wide receiver Antonio Brown thanked Pittsburgh Steelers fans in an Instagram post Saturday but stressed his message wasn't "a goodbye."
In a post accompanying a video of fans at Heinz Field chanting "MVP" as he is being helped off the field with an injury, Brown wrote: "One thing I understand about this fan base and that I'll never forget and always appreciate is your passion. Know that it's all love this way and I am forever thankful for #steelernation ! (this is not a goodbye, just a thank u)."
The Steelers have not officially begun trade discussions on Brown, who was benched in Week 17 for skipping a walk-through the day before. Brown also had a flare-up with a teammate during the week.
Team president Art Rooney II had told the Pittsburgh Post-Gazette earlier this month that it was "hard to envision" Brown returning to the Steelers but seemed to soften his stance last week when he told reporters he was "not closing any doors" on the All-Pro wide receiver.
However, when asked by reporters whether Brown could return to the team if he shows contrition, Rooney said he's open to other options but added, "there aren't many signs out there that that's going to happen."
Rooney expressed disappointment that he hasn't spoken to Brown since the season ended. He predicted discussions about Brown's future to heat up around mid-March. The new league year opens March 13.
Also last week, San Francisco 49ers great Jerry Rice said that Brown wants to play for the 49ers "really bad." The Hall of Famer discussed a FaceTime conversation he had with Brown on Sunday with radio station 95.7 The Game.
ESPN's Jeremy Fowler contributed to this report.
Patrick Mahomes could land $200M deal when eligible for extension with Kansas City Chiefs in 2020
Kansas City Chiefs quarterback Patrick Mahomes has become the brightest young star in football, and he could be on the verge of pushing the financial limits of the sport as well.
The Chiefs are expected to extend Mahomes' contract after next season, the first time the MVP candidate is eligible for an extension, and he could land the NFL's first $200 million contract, league sources told ESPN.
Issues will have to be addressed — some surrounding the collective bargaining agreement that would have only two seasons remaining, and some involving the two years that Mahomes would have left on his current contract, including the fifth-year option that Kansas City undoubtedly would exercise.
But when Mahomes likely reworks his contract over a year from now, it is expected to be a record-breaking deal, dwarfing the one that Packers quarterback Aaron Rodgers signed last summer that pays him an annual average of $33.5 million.
Other big deals could get signed this offseason; the Eagles could approach quarterback Carson Wentz about re-signing, and the Rams could do the same with quarterback Jared Goff. But there are no assurances that either deal will get done, nor be as high as the one that Mahomes would be looking to sign in 2020.
Because Mahomes has showed great talent and the salary cap rises each year, sources believe that his deal will top $200 million in total, making him the first NFL player to reach such lofty financial heights. Of course, what will be more important to Mahomes and the Chiefs will be how the deal is structured and how much money is guaranteed.
Mahomes also is expected to become more visible this offseason, a year before he signs any record deal. During his first two years in the league, his agent, Leigh Steinberg, intentionally persuaded Mahomes to avoid being too visible before he had accomplished more on the football field.
"He's a fresh face," Steinberg told ESPN this weekend. "By holding him back, we haven't overexposed him."
Mahomes is about to be marketed in a way he wasn't during the first two years in the league, with marketing deals and television commercials, according to Steinberg. His visibility will rise tremendously this offseason, a similar strategy to the one Steinberg successfully deployed in the 1990s with both Troy Aikman and Steve Young.
Mahomes, 23, passed for 5,097 yards and a league-leading 50 touchdowns — tied for the second-highest single-season total in league history — while leading the Chiefs to a 12-4 record and the No. 1 seed in the AFC playoffs in his first full year as a starter. Mahomes and the Chiefs host Tom Brady and the New England Patriots on Sunday night in the AFC Championship Game.
Ex-NFL QB Jon Kitna to become Cowboys' QB coach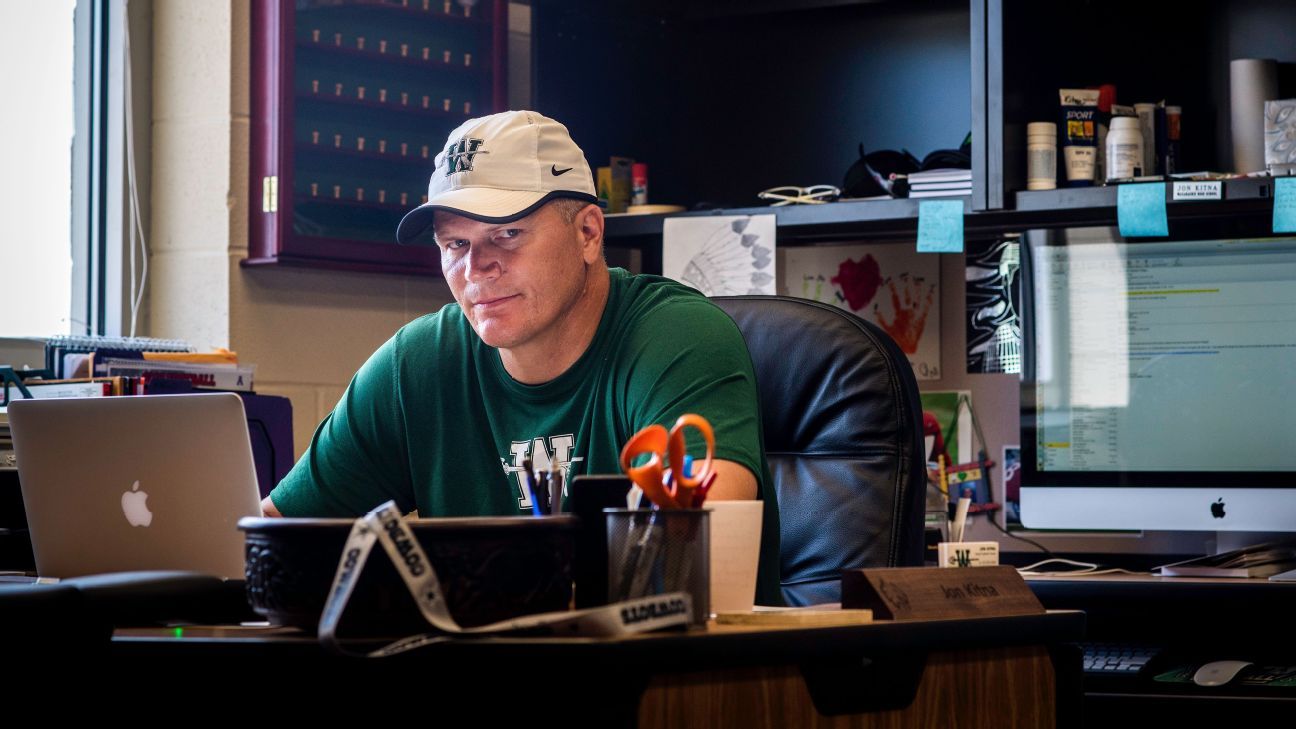 Former NFL veteran quarterback Jon Kitna, now the offensive coordinator for the San Diego Fleet in the Alliance of American Football, is expected to become the Dallas Cowboys' quarterbacks coach, a league source told ESPN's Adam Schefter.
Dallas' current QB coach, Kellen Moore, is a leading candidate to become the Cowboys' offensive coordinator, sources told Schefter.
Head coach Jason Garrett could take over as the playcaller in 2019, a role he handled from 2007 to 2012, first as the offensive coordinator and then for the first two years after becoming head coach.
The Cowboys and offensive coordinator Scott Linehan parted ways on Friday. He had been the team's offensive coordinator since 2015 and primary offensive playcaller since 2014.
Linehan was under fire for most of the 2018 season as the Cowboys struggled to a 3-5 start after an end to the 2017 season in which they scored more than 20 points just once in the final month.
In the first eight games of the 2018 season, the Cowboys scored more than 20 points just twice. They struggled in the passing game, going with a by-committee approach to replace receiver Dez Bryant and tight end Jason Witten. A trade for wide receiver Amari Cooper improved the offensive production, with Dak Prescott going from averaging 202 yards passing per game to 274.
Still, the Cowboys finished the season ranked 22nd in yards (343.8) and points (21.2) per game, even though they had the NFL's leading rusher, Ezekiel Elliott, who had 1,434 yards.
Kitna played 14 seasons in the NFL, including his final two with the Cowboys in 2010 and 2011.
ESPN's Todd Archer contributed to this report.