NEW YORK — The New York Yankees will call up Double-A right-hander Jonathan Loaisiga to replace the injured Masahiro Tanaka in their rotation.
Manager Aaron Boone made the announcement Tuesday, saying Loaisiga will start Friday against the Tampa Bay Rays. Rookie Domingo Germán will pitch Thursday, and ace Luis Severino will start Saturday.
Boone had earlier said that Loaisiga would start Thursday but clarified the order after the Yankees' 3-0 win against the Nationals.
"He's really talented, we think he has a very bright future," Boone said about Loaisiga. "His stuff is really good. He's a guy that pounds the strike zone."
Loaisiga is 6-1 with a 3.00 ERA and 58 strikeouts in 10 games combined for Double-A Trenton and Single-A Tampa this season. Other potential call-ups in Triple-A included Justus Sheffield and David Hale.
"Just getting to know [Loaisiga] a little bit this spring, we don't think he'll be overwhelmed pitching here at Yankee Stadium in the big leagues," Boone said. "We feel like his repertoire, his stuff will allow him to have a chance to be successful for us."
Boone said the 22-year-old Sheffield, one of the Yankees' highest rated prospects, remains in the mix for a call-up as he continues to develop in the minors.
The rotation replacement comes after Tanaka was hurt running the bases in Friday's win over the New York Mets at Citi Field. The right-hander strained both hamstrings tagging up from third and scoring a game-tying run in the sixth inning after batting at the NL ballpark.
Boone previously said Tanaka could be out for "weeks," although he mentioned Tuesday that the Yankees still aren't sure how many starts they would need Loaisiga to make. It could be one, two or even three, according to Boone.
Four hours before Tuesday's series opener against the Nationals, the right-handed Tanaka was out early playing catch for the first time since suffering the injury.
Judge rules Lorena Martin, Seattle Mariners must go to arbitration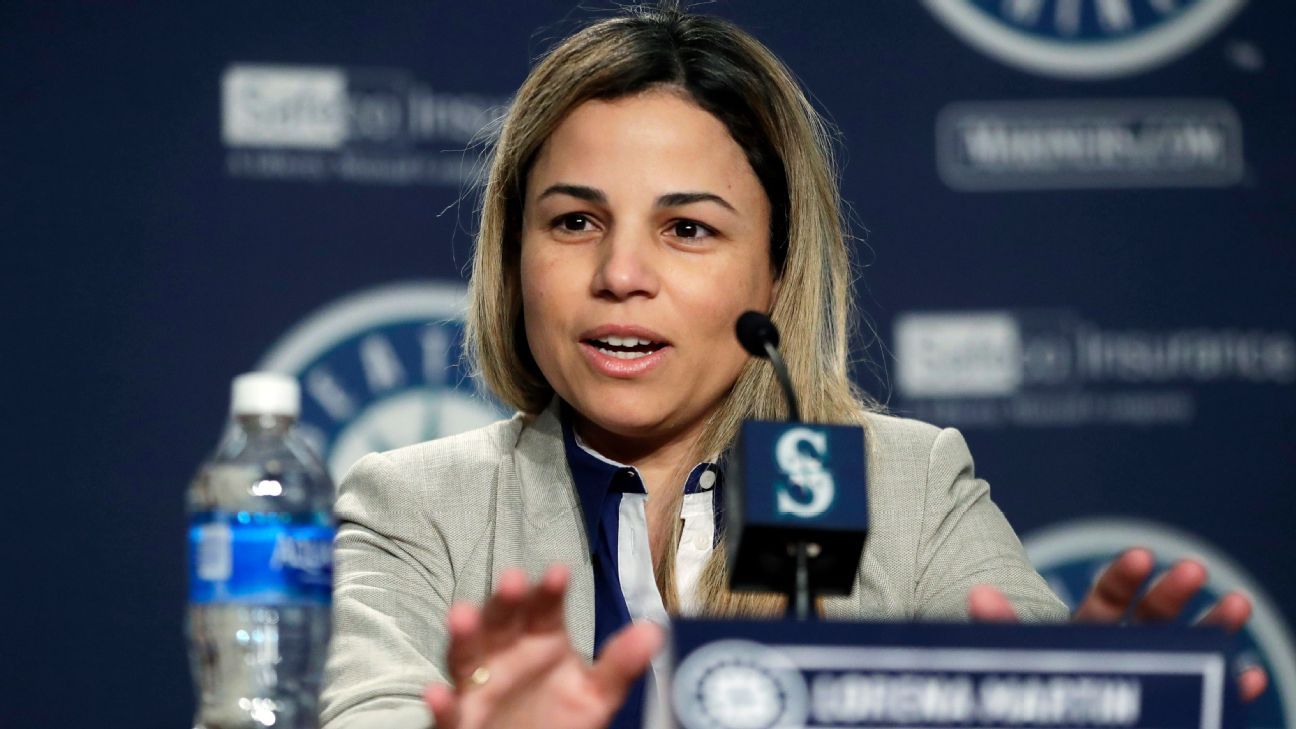 SEATTLE — A King County Superior Court judge has ruled that Lorena Martin's wrongful termination lawsuit against the Seattle Mariners must be resolved in private arbitration rather than in court.
Judge Regina Cahan ruled Friday that Martin had signed a contract with the team that called for any contract dispute to be resolved via arbitration, and that the contract was signed prior to a new state law that calls for cases of discrimination to be heard in open court.
Martin's lawyer had argued that the Mariners wanted arbitration as a way to keep the case out of the public spotlight, The Seattle Times reported. But Cahan said the new law, which went into effect last June, did not pre-empt the clauses in Martin's contract calling for arbitration.
Martin was fired as the Mariners' high-performance director last fall after one season on the job. She has claimed she was discriminated against by members of the organization and claimed that general manager Jerry Dipoto, director of player development Andy McKay and manager Scott Servais made disparaging comments against Latino players.
The Mariners have denied Martin's claims. An independent investigation by Major League Baseball found no credible evidence to support Martin's claims of disparaging comments and discriminatory treatment by members of the Mariners front office.
Martin had signed a three-year contract with the team after being hired away from the Los Angeles Lakers in the fall of 2017.
Regular season pitch clocks this year are a real possibility
Major League Baseball will implement a 20-second pitch clock for spring training games, and sources told ESPN that adding it for this regular season is a real possibility.
MLB announced the parameters for the clock in spring training Friday, outlining an easing-in period early in spring training during which the clock will operate without penalty for pitchers or hitters who run afoul.
"Later in spring training," the league said in a release, it could instruct umpires to assess ball-or-strike penalties for clock violations.
The league continues to negotiate with the MLB Players Association about the possibility of implementing the clock in the regular season this year, but commissioner Rob Manfred can unilaterally impose a clock should the talks fall apart.
A pitch clock, which the league hopes will shave significant time off the average game time of 3 hours, 4 minutes in 2018, has been used in the minor leagues since 2015.
The clock does not run on the first pitch of a plate appearance and starts when the pitcher receives the ball from the catcher. If the batter isn't in the box with five seconds left on the clock, umpires can assess him a strike. The pitcher must begin his windup or come to a set position before the expiration of the clock to avoid being penalized a ball.
Other details include:
The clock is reset to 20 seconds when the pitcher steps off the rubber or attempts a pickoff

The clock not being used on the pitch following a foul ball, a mound visit and an umpire calling timeout (except when replacing a ball in the dirt)

The pitcher must be in the dirt circle surrounding the bound and the catcher in the catcher's box for the clock to start
10 stars not named Bryce or Manny who changed teams this winter
While the wait for Manny Machado and Bryce Harper to sign dominated the offseason, some other big names made their way to new homes across the majors this winter. Need a refresher on who landed where as spring training action heats up? We've got you covered.

New team: St. Louis Cardinals
How they got him: On Dec. 5, St. Louis sent Luke Weaver, Carson Kelly, Andy Young and a draft pick to Arizona in a blockbuster trade for the star first baseman.
What to expect: A star in St. Louis. Goldschmidt's move might not have had the fanfare of the Bryce and Manny watch, but there is a case to be made that the six-time All-Star is the best player who changed teams this winter. The 31-year-old slugger has finished in the top three of NL MVP voting three times during his career, and another big season on a bigger stage in St. Louis could help Goldy win some hardware.
New team: New York Mets
How they got them: New Mets general manager Brodie Van Wagenen took advantage of Seattle's fire sale, netting the second baseman and closer from the Mariners in a win-now deal that cost New York prospects Jarred Kelenic and Justin Dunn.
What to expect: Cano posted a .303/.374/.471 slash line during a 2018 season cut in half by an 80-game suspension for a violation of MLB's performance-enhancing drugs policy. He batted .317 in 41 games after returning from the suspension and should give the Mets a needed offensive boost in the infield.
Diaz will undoubtedly bring electricity to the ninth inning at Citi Field. Armed with a high-90s fastball and a filthy hard slider, the closer struck out 124 batters in 73⅓ innings on his way to a 57-save 2018 and could be the best closer in his new league this year.
New team: Cincinnati Reds
How they got him: Cincinnati landed Puig along with Matt Kemp and Alex Wood from the Dodgers in a seven-player deal in which L.A. sought to change its salary structure and the Reds focused on bringing in veterans to help the team climb out of the NL Central cellar.
What to expect: Puig being Puig. Playing in a new home in a contract year will provide plenty of motivation for the outfielder, but the big question remains: Can Puig finally put it all together for an entire season?
New team: Washington Nationals
How they got him: The Nationals outbid a host of suitors for the most coveted starter on the free-agent market by handing out a six-year, $140 million deal that gives Washington a three-ace rotation featuring Corbin alongside Max Scherzer and Stephen Strasburg.
What to expect: The 29-year-old left-hander rode his devastating slider to a breakout 2018 that culminated with a top-five finish for NL Cy Young honors, and there's no reason to expect anything less in 2019. If Scherzer, Corbin and Strasburg all deliver, a bounce-back season is likely for the Nats — with or without Bryce Harper.

New team: Atlanta Braves
How they got him: A lifelong Braves fan growing up in Alabama, Donaldson bet on himself by taking a one-year, $23 million deal with Atlanta early in the offseason instead of searching for a multiyear offer.
What to expect: Injuries have limited Donaldson over the past two seasons, but he still has been effective when he's been able to take the field. Small sample size alert: In a short stint with the Indians last season, Donaldson put up a .280/.400/.507 slash line that topped his career marks in all three categories.
New team: Houston Astros
How they got him: The sweet-swinging outfielder inked a two-year, $32 million contract to join the Astros in December.
What to expect: Another potent bat in an already-deep Houston lineup. An All-Star each of the past two seasons, Brantley is a shoo-in to hit .300 with some pop as long as he can stay healthy after an injury-plagued finish to his time with the Indians.
New team: Philadelphia Phillies
How they got him: By including pitching prospect Sixto Sanchez in a package for Realmuto, the Phillies convinced the Marlins to trade the All-Star catcher within the NL East during an offseason that also saw Philadelphia add Andrew McCutchen and Jean Segura to its lineup.
What to expect: While getting a likely All-Star starter is certainly an upgrade, Philadelphia's offseason will be judged by whether adding Realmuto is the final big splash or the move before bringing a certain outfielder to Citizens Bank Park. Either way, Realmuto will provide a big boost at the catcher position with the potential to blow past his career high of 21 home runs now that he's playing in a much more hitter-friendly ballpark.
New team: Los Angeles Dodgers
How they got him: After clearing space in the outfield by trading away Puig and Kemp, the Dodgers brought in Pollock on a four-year, $55 million deal.
What to expect: When he plays, Pollock is an All-Star-caliber center fielder who contributes in every phase of the game. Staying healthy has been an issue, though, for a guy who hasn't played in more than 115 games since 2015 and has eclipsed 450 at-bats only once in his career.
New team: New York Yankees
How they got him: In need of a rotation upgrade, the Yankees parted with prospect Justus Sheffield and two other minor leaguers to land Paxton from the Mariners on Nov. 19.
What to expect: Best known for either his 2018 no-hitter or having a bald eagle land on him during the national anthem last season, Paxton will get a chance to show his stuff on the big stage at Yankee Stadium this year. The 30-year-old lefty has had injury troubles throughout his career but has the stuff to dominate in any park and has struck out more than a batter per inning over the course of his career.
New team: Los Angeles Angels
How they got him: Harvey signed a one-year, $11 million contract — with incentives that could push it to $14 million — on Dec. 21.
What to expect: After his time with the Mets came to an end last May, Harvey showed signs of bouncing back during a four-month stint with the Reds. His 4.50 ERA and 7.8 strikeouts per nine innings with Cincinnati provide a realistic expectation for Harvey going forward, even if it is a far cry from his Dark Knight production earlier in the decade.
Bonus name to know: Yusei Kikuchi
New team: Seattle Mariners
How they got him: After being posted by the Seibu Lions of Japan early in the offseason, Kikuchi signed an interesting contract with the Mariners that guarantees $56 million and could be worth as much as $109 million. His pact with Seattle starts with a base deal for $43 million over the next three seasons. Following the 2021 season, the team can trigger a four-year, $66 million extension. If the Mariners decline the extension, Kikuchi can either pick up a $13 million option for 2022 or become a free agent.
What to expect: We shall see. While Kikuchi doesn't have the hype Yu Darvish or Shohei Ohtani had when coming to the majors, he has shown an ability to dominate in the NBP but also battled shoulder problems. In 2017, the left-hander used a high-90s fastball to lead the Pacific League in ERA and finish second in strikeouts.