New York Mets pitcher Noah Syndergaard needs more rest for injured finger
ATLANTA — Mets right-hander Noah Syndergaard has been prescribed more rest after getting a second opinion on a strained ligament in his index finger.
Manager Mickey Callaway said Syndergaard's right finger is "tender to the touch." Syndergaard, on the disabled list retroactive to May 26, was examined Tuesday in New York. There is no immediate timetable for his return.
Callaway added that Syndergaard likely will need a rehab start. The Mets had hoped he could get back this week, but Syndergaard will miss his third straight turn in the rotation.
Seth Lugo again will take his place when New York begins a four-game series Thursday at Arizona.
Syndergaard is 4-1 with a 3.06 ERA and 76 strikeouts in 64⅔ innings as one of the Mets' aces, along with Jacob deGrom.
Japan confident about 2020 Olympics after exhibition series win over MLB All-Stars
NAGOYA, Japan — Coming off a strong showing against a team of Major League Baseball All-Stars, Japan manager Atsunori Inaba has every reason to be confident about his team's chances of winning a gold medal at the 2020 Tokyo Olympics.
Japan won the six-game exhibition series 5-1 against an MLB squad featuring National League Rookie of the Year Ronald Acuna Jr., fellow nominee Juan Soto and veteran catcher and nine-time gold glove winner Yadier Molina.
The tour was a chance for Inaba to gauge the progress of his young players ahead of the Olympics their capital will be hosting in less than two years. Players like 23-year-old Seiji Uebayashi and Sosuke Genda stepped up against the major leaguers and performed well.
"I told my players to play this series with Tokyo 2020 in mind," Inaba said. "We used a lot of young players and it was a valuable experience for them. I hope they continue making progress."
The host country has set an ambitious target of 30 gold medals at the 2020 Games and few would be more coveted than the top prize in baseball, the most popular sport in Japan.
Japan has never won gold in the Olympics but won the World Baseball Classic in 2006 and 2009, and has produced players the caliber of Ichiro Suzuki and Shohei Ohtani.
Miami Marlins manager Don Mattingly, who managed the MLB tour of Japan, said Japan has a good chance to win gold.
"The WBC is a pretty good indication," Mattingly said. "They've won it a couple of times and do a good job of doing what you have to do to win games. There are a number of countries that are going to put pretty good teams out there and in that type of format anything can happen, but (Japan) has a great chance because of the way they play the game."
Baseball will be returning to the Olympics for the first time since 2008, and part of the reason it was reinstated by the IOC was because of its popularity in Japan.
Some of the games will be held in Fukushima, an area devastated by the 2011 earthquake, tsunami and nuclear disaster.
Olympic organizers have been eager to use the games as a symbol of recovery from the disaster that hit Japan's northeastern region including Fukushima, 240 kilometers (150 miles) north of Tokyo, where entire communities fled after meltdowns at the nuclear plant.
More than 18,000 people died or went missing after the disaster.
The IOC approved the use of Fukushima Azuma Baseball Stadium as an additional venue for baseball and softball, although Yokohama Stadium will be the main venue.
Major league players won't take part as the games are scheduled for July 24-Aug. 9 — in the middle of the MLB season.
In 2008, players on major league 25-man rosters and disabled lists on June 26 were ineligible to play. The U.S. roster included 17 players from Triple-A, seven from Double-A and college pitcher Stephen Strasburg, now with the Washington Nationals.
Mitch Haniger, who was part of the MLB tour of Japan, said he'd like to be a part of the Olympics.
"One of my dreams has always been to put on a United States uniform and play for my country, but I don't know if it will happen during a season," he said. "I'm not the one making the calls, so we'll have to wait and see but hopefully at some point during my career, I'd love to play for my country."
In 2020, the main competition for Inaba's squad will likely come from traditional baseball powers like Cuba, the Dominican Republic and the U.S.
The Cubans have won three gold medals in the event since baseball became a medal event in Barcelona in 1992, and the U.S. and South Korea have each won a gold medal. Japan's previous best was a silver medal at Atlanta in '96.
Inaba's squad is hoping to take that next step in Tokyo.
"We did well against these great players from MLB," said Genda, who hit a bases-clearing triple in Thursday's 4-1 win at Nagoya. "I think that is the general feeling within the team. It has certainly given us a lot of motivation as we look forward to (the 2020 Olympics)."
Jeff Mathis, Texas Rangers agree on two-year contract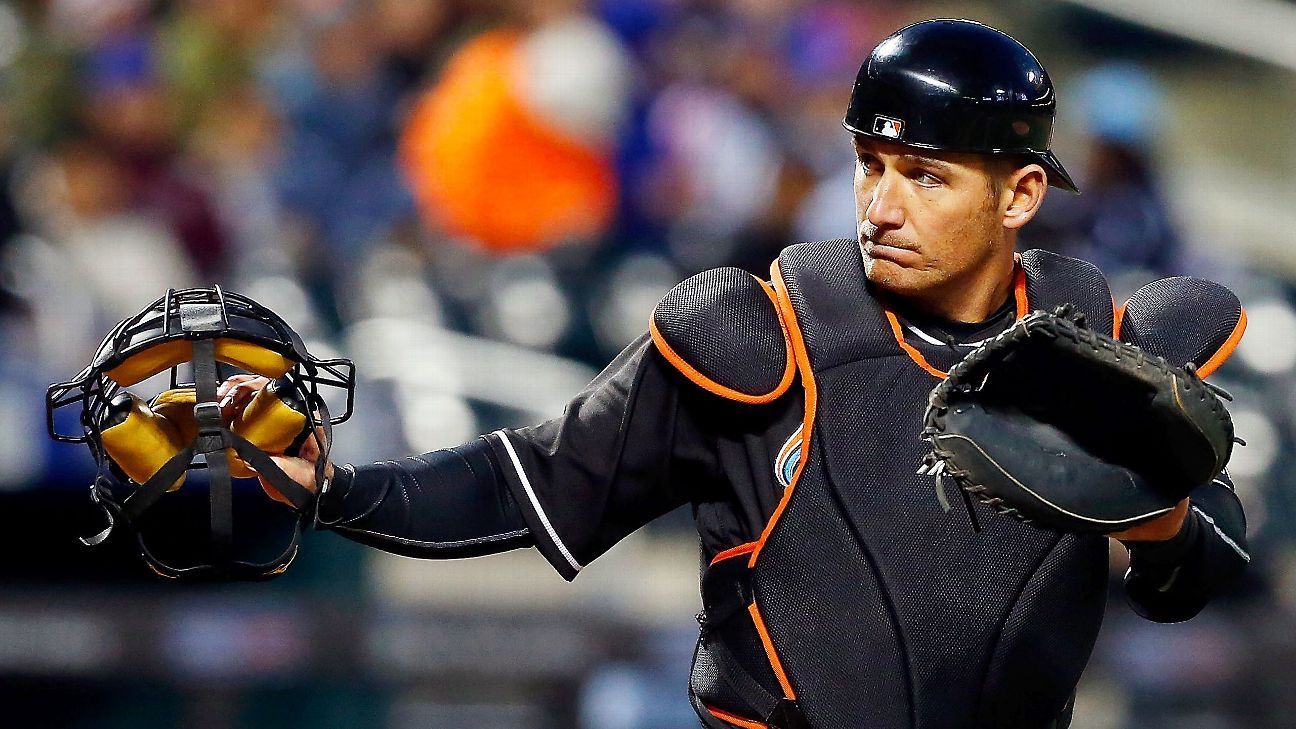 The Texas Rangers and veteran catcher Jeff Mathis have agreed to a two-year contract, The Athletic reported Thursday.
The deal is pending a physical.
Mathis, who turns 36 in March, is regarded as one of the game's top defensive catchers. That has made up for his shortcomings at the plate, where he's just a .198 career hitter.
The Rangers were in need of a catcher after declining the 2019 option for Robinson Chirinos. Their primary starting catcher had a $4.5 million option for the 2019 season with a $100,000 buyout.
Texas will be Mathis' fifth major league team. He previously spent seven seasons with the Angels (2005-11), one with the Blue Jays (2012), four with the Marlins (2013-16) and the past two with the Diamondbacks.
Newly crowned MVP Mookie Betts staking a claim as MLB's best player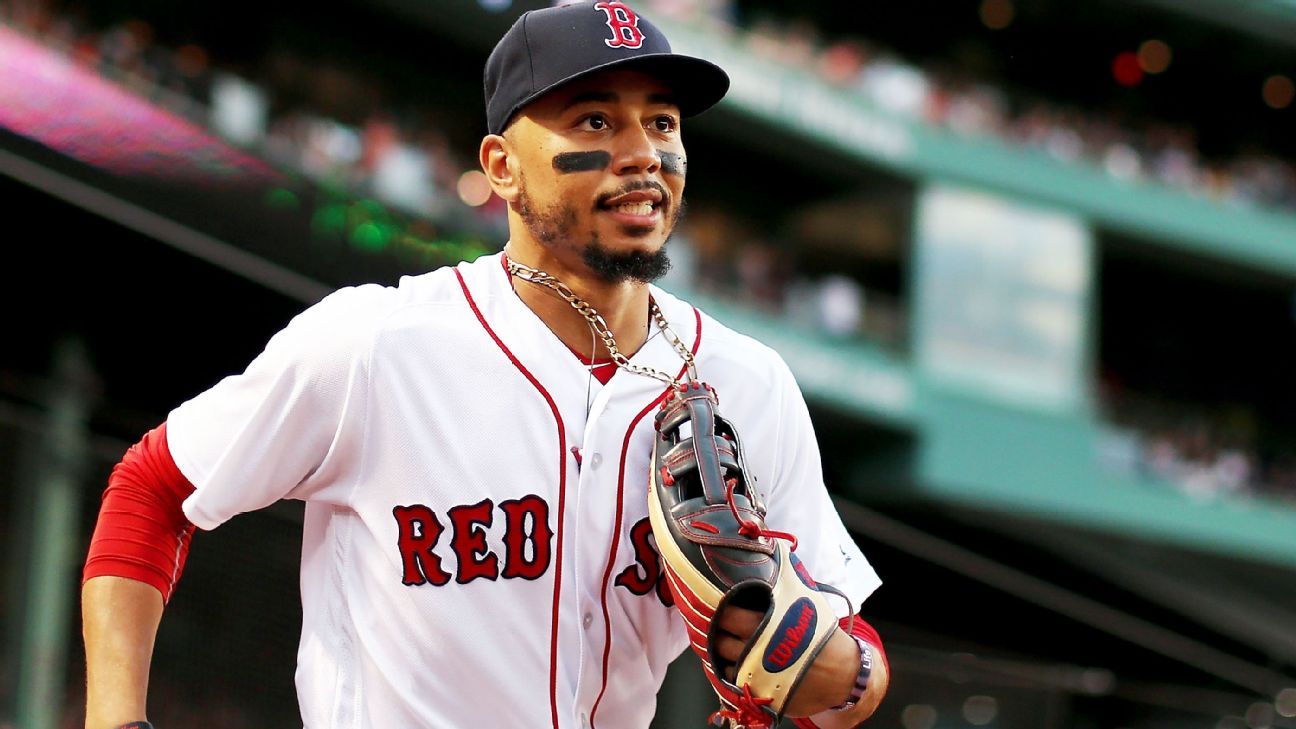 When you win a World Series, everybody remembers the big home runs and the clutch pitching performances, but the little plays can be just as important. Take Game 4 of the American League Championship Series. The Boston Red Sox beat the Houston Astros 8-6 to put them one win away from the World Series. One of the key plays came in the bottom of the eighth, with the Red Sox up 8-5 at the time. Tony Kemp led off with a base hit down the right-field line and the speedster burned around first, trying for a double, only to see Mookie Betts cut the ball off and fire a strike to second base to nail him.
It wasn't the best decision by Kemp with none out and his team down three runs at the time, but Betts also made a perfect play. The Astros would score one run in the inning, but if Betts doesn't make that throw, maybe it turns into a bigger, game-turning and series-turning inning.
Here's the thing about that play. The next day, prior to Game 5, Red Sox manager Alex Cora talked about two other throws Betts made in the game. In the third inning, with Jose Altuve on second, Betts made a great throw on a deep fly ball, holding Altuve there. In the seventh inning, with Marwin Gonzalez on first base and two out, Carlos Correa doubled down the right-field line, but Betts got to the ball quickly as it bounced off the wall and delivered a perfect relay throw to hold Gonzalez at third — where he would remain stranded.
"When Carlos hit that down the double line, [Betts] got to his spot, he got the ball, he got rid of it and they had to make a decision and they stopped Marwin at third base. So that's what it's all about, the little plays," Cora said.
Of course, Betts also made a lot of the big plays throughout the season, and that's why he was named the American League's MVP on Thursday, capping off a season in which he won a batting title, led the majors in slugging percentage, led the AL in extra-base hits and tied for the major league lead in runs scored. He also won his third consecutive Gold Glove and joined the 30/30 club with 32 home runs and 30 stolen bases. His 10.9 WAR was highest by a position player since Barry Bonds in 2002 and is tied for second-best in Red Sox history with Ted Williams' 1946 season, behind only Carl Yastrzemski's 12.5 in his Triple Crown year of 1967.
It's those little things, however, that help put a stamp on Betts' all-around brilliance.
After that ALCS game, Betts called his throw to get Kemp one of the three best of his career. "I kind of knew off the bat he was going to go to second. It was one of those plays that I practiced so many times in spring training and it just came in the game," he said.
That might sound like a cliché answer, but with Betts you can absolutely believe that he practiced that play in spring training. One of the things that makes Betts so good is the precision in everything he does on the field, like making that throw.
He's not the fastest guy in the league — via the Statcast sprint-speed leaderboard, he ranked tied for 143rd in the majors — yet he was 30-for-36 as base stealer, grounded into just five double plays and was credited with plus-20 defensive runs saved. Over the past three seasons, Baseball-Reference.com credits him as worth plus-24 runs above average on the basepaths (stealing bases and running the bases), the best mark in the majors — nearly five runs better than classic speedster Billy Hamilton.
The 26-year-old Betts is certainly not the biggest or strongest guy in the league, but there he is knocking out 84 extra-base hits (and don't forget he played just 136 games, missing a couple weeks with an abdominal strain). He rarely hits home runs in batting practice — he'll be the first one to tell you that you'll never see him in the Home Run Derby — but his hand-eye coordination is so good that he barrels up the ball so often his average exit velocity of 92.3 mph tied for 14th-best in the majors.
He doesn't get himself out because he rarely chases out of the strike zone. His chase rate of 16 percent was third-lowest in the majors, behind only Joey Votto and Brandon Nimmo. Obviously, Betts has lightning-quick hands and superb athleticism — he can dunk a basketball at 5-foot-9 — but that attention to detail is why he can bowl a 300 game or solve a Rubik's Cube in 1 minute, 53 seconds. I have no doubt that whatever profession Betts had chosen — computer programmer, astronaut, Wall Street banker — he would have been successful at it. It's just part of his makeup. Luckily for us, he chose baseball.
Indeed, I'm reminded of something David Price told me on the eve of the World Series. I asked him how often he had seen Betts show emotion on the field. He instantly recalled just two moments, including a grand slam Betts hit off J.A. Happ earlier in the 2018 season. Yes, Betts usually plays with a poker face, but that's a reflection not just of his personality, but of his entire approach to the game, as something to be mastered as much as enjoyed. That lack of out-loud swagger doesn't make him any less exciting, though.
Even though he's a pull hitter, Betts' stats are not merely a result of lofting short fly balls over or off the Green Monster. He hit .364/.461/.657 at home with 13 home runs, but hit .331/.418/.627 with 19 home runs on the road. In his career, he's hit more home runs on the road (62 to 48), although he has hit for a higher average at Fenway Park.
One of things I read, especially when Betts got off to a start hot, was that he had been too passive at the plate in 2017. After hitting .318 with 31 home runs and finishing second in the MVP voting to Mike Trout in 2016, he hit .264 last season. He needed to swing more.
He didn't swing more. His swing rate on the first pitch was lower than 2017 (he swung at the first pitch about 10 percent of the time). He swung at 1-0 pitches at the same rate as 2017. He swung at 1-1 pitches 1 percent less often. It's hard to find evidence that he changed his approach.
Some suggested J.D. Martinez had a big influence on the entire team, stressing the importance of launch angle and getting the ball in the air. There might be something here. Betts did reduce his ground-ball rate, and his average launch angle improved from 14.1 degrees to 18.4. That led to more line drives (more so than more fly balls) and more hard-hit balls. His average on balls in play improved from .268 to .368. It's also worth noting that Betts played through some nagging injuries in 2017 that might have affected his production.
Betts and Trout have now finished 1-2 in two of the past three MVP votes. Obviously, Trout's track record of dominance is much longer — he's finished in the top five of MVP voting in a record-tying seven consecutive seasons and has three 10-WAR seasons to Mookie's one. But Mookie's best season is now arguably better than Trout's best season.
Is Trout still the best player in the game? The man did hit .312/.460/.628 with 39 home runs, so he hardly did anything to dislodge himself from that No. 1 spot. But for the first time in his career, there's a reasonable argument to be made that he has competition in the debate. Mookie Betts is your 2018 AL MVP. Can he do it again in 2019? I wouldn't bet against him.