Lawsuit alleges Dallas Cowboys cheerleaders paid less than mascot
DALLAS — A former Cowboys cheerleader has filed a federal lawsuit against the team, alleging she wasn't paid for all her work and made less money than the team's male mascot.
Erica Wilkins, who worked for the Cowboys from 2014 to 2017, is seeking "unpaid overtime wages, minimum wages, and all other available damages," citing the Fair Labor Standards Act, according to court documents filed Tuesday. The lawsuit said female cheerleaders were paid at a rate less than "Rowdy," the mascot.
The lawsuit claims that Wilkins' usual pay rate was $8 per hour, but that payment was sometimes incomplete, and that the team's male mascot made $25 per hour and about $65,000 per year.
Earlier this month, five former cheerleaders sued the Houston Texans, alleging the team failed to fully compensate them as required by law and subjected them to a hostile work environment in which they were harassed, intimidated and forced to live in fear.
Marcus Peters still believes in Marcus Peters. Do the Rams? – Los Angeles Rams Blog
THOUSAND OAKS, Calif. — At least this time, it wasn't the official's flag, like the one he threw last season, that he chucked into the stands at MetLife Stadium.
Marcus Peters was looking to break out of a slump. Nine weeks had passed since the Los Angeles Rams cornerback intercepted a pass.
• The unreal arm of Patrick Mahomes
• Jared Goff: From rookie bust to MVP
• Chiefs growing their own Hispanic fanbase
• The eye-popping numbers for Chiefs-Rams
And Sunday against the Seattle Seahawks, Peters saw a chance to make it happen. Or so he thought.
Peters pressured Doug Baldwin as the Seahawks receiver burst off the line, but he held onto Baldwin just a little too long, before he turned and picked off a haphazard pass from Russell Wilson. An official threw a flag, and Peters appeared bewildered that he'd drawn a penalty.
Before the referee announced the ruling, Peters threw the football into the stands at the Los Angeles Memorial Coliseum, then turned to the field and readied himself for the next play.
This season, Peters hasn't been under any false impressions.
The fourth-year pro knows he's been getting beaten too much, and he'll be the first to tell you.
But Peters, who has a league-high 20 interceptions since 2015, said he's still "a top f—ing corner in the league."
The question is, as the Rams (9-1) prepare for a Monday night showdown (8:15 p.m. ET, ESPN) against Peters' former team — the Kansas City Chiefs (9-1) — what has to happen for the two-time Pro Bowl cornerback to play like it?
---
The Rams caught the attention of the NFL in the offseason when they traded for Peters, giving a fourth-round pick this year and a second-round pick in 2019 to the Chiefs. They were serious about upgrading their defense, and intent on making a Super Bowl run.
The Chiefs, perhaps, had a message of their own: Peters, for all his talent and playmaking ability, wasn't worth the headache before and after the whistle.
In Kansas City, chairman Clark Hunt was upset about Peters' protests during the national anthem. The two eventually compromised around midseason, and from that point, Peters stayed in the locker room until the anthem was finished.
More publicly, a camera caught Peters directing an expletive at a fan behind the Chiefs' bench. And later in the season, things got downright bizarre. In a game against the New York Jets, Peters was penalized after throwing an official's flag into the stands. Peters then retreated to the locker room even though he had not been ejected from the game, and later returned, not wearing his game socks.
When Peters arrived in L.A., he addressed a reputation that preceded him, and has not looked back.
Coaches and teammates have welcomed Peters for who he is, brutal honesty and all, no matter the time or setting. And unlike in Kansas City, Peters has kept the scenes to a minimum.
There was the ode to Marshawn Lynch in Oakland — when Peters leaped backward and grabbed his crotch as he returned an interception for a touchdown. The gesture earned him a $13,000 fine.
And, from his "s—, pay the man" analysis of Aaron Donald's contract dispute to the in-depth description of his "f— it syndrome," there has been the occasional curse-laden, viral-sensation media sessions.
Most recently, Peters was asked about Sean Payton's comments that the New Orleans Saints coach got the matchup he wanted on a 72-yard touchdown pass to Michael Thomas, on which Peters was the defender.
"Tell Sean Payton to keep talking that s—. We going to see him soon, you feel me?" Peters said. "Because I like what he was saying on the sidelines, too. So tell him to keep talking that s—. I hope he see me soon, you feel me? Then we going to have a good lil, nice lil bowl of gumbo together."
While the Chiefs had their fill of Peters, the Rams have not wavered publicly in their support.
Peters, to his credit, has boldly accepted one of head coach Sean McVay's biggest tenets: accountability. And his "get beat, move on" message has resounded through the organization, even if Peters' delivery and personality hasn't always jibed with the Rams' buttoned-up, football-first public persona.
"He isn't in the business of fluff," cornerback Nickell Robey-Coleman said.
---
Peters, 25, made his name with the Chiefs playing mostly off-man coverage in a scheme that allowed the 6-foot, 195-pound corner to rely on his instincts, ability to diagnose the quarterback and ball skills. In a word: freelancing. In three seasons, Peters was named the NFL's Defensive Rookie of the Year, earned first-team All-Pro honors and forced 24 turnovers, including a league-high 19 interceptions and five forced fumbles.
With the Rams, he has struggled to adjust to defensive coordinator Wade Phillips' 3-4 scheme designed for the corners to often play press coverage at the line of scrimmage. Peters' eyes too often have fixated on the quarterback, and too often, his receiver has taken advantage. It also hasn't helped that veteran Aqib Talib, who starred in Phillips' scheme when the Denver Broncos won the Super Bowl, has been on injured reserve since Week 4.
But Phillips said the Saints breakdown was his fault. There was Peters standing across from Thomas — who was on pace for a record day — as free safety Lamarcus Joyner crept closer to the box. Peters looked to his left, hollered at teammates and waved his arm. Before he knew it, Thomas sprinted past him.
Peters — about four yards off Thomas — jumped in a desperate attempt to break up the play, but with no safety help deep, Thomas took it in for a touchdown, busted out a cell phone and delivered a final dagger in the Rams' first loss of the season.
"I'm putting that on me," Phillips said. "Any time that it's third-and-7, it's the end of the game and you've got one-on-one with no help with their best player, then that's on the coaches."
It also proved to be a career day for Thomas, who caught 12 passes for a franchise-record 211 receiving yards. According to NFL Next Gen Stats, Peters was the nearest defender on eight of Thomas' targets; he caught six of them for 127 yards and a touchdown.
"Regardless of what Coach called, we've got to go out there and make plays," Peters said. "And we just didn't — I didn't execute."
Peters was also beaten deep for scores in games against the Chargers, Vikings, Packers and in the first meeting with the Seahawks.
Peters has been the nearest defender on seven touchdown passes, the most given up by a cornerback this season, according to NFL Next Gen Stats. His lone interception came in Week 1 against the Oakland Raiders, and his touchdown-to-interception ratio sits at 7-1 this season, compared to 4-3 in 2017. And targeted receivers are averaging 11.5 yards per target against him, the fifth-highest rate allowed by a cornerback with at least 25 such targets.
"In a lot of instances he's isolated one-on-one with the other team's best receiver and that's come up throughout various times this season," McVay said. "There's going to be an element of, those great players will make some of their plays. I think the standards that Marcus has for himself, that we have for him, we expect him to play and make some of those plays."
Despite a lack of results, Rams coaches have maintained their confidence in Peters' ability to thrive in their system. Peters realizes he hasn't lived up to the reputation he built with the Chiefs, and that his performance for the rest of the season will go a long way in determining his future.
"When you perform in this league as much as I did, and you come in and you are one of these players who makes those plays, and used to making those plays, and those plays not coming, it kind of frustrates you," Peters said. "But when you've got an offense and defense as talented as this is, it's just all about finding your groove and finding where you fit in through everything."
---
This offseason, a decision likely will need to be made about Peters' future. He is in the fourth year of his five-year rookie deal, and is scheduled to make $1.74 million this season and $9.06 million next.
But beyond 2019? The Rams don't have a recent history of giving long-term deals to defensive backs. Janoris Jenkins departed in free agency to sign with the New York Giants, and Trumaine Johnson signed with the Jets.
Peters doesn't want to leave L.A. He's happy with the coaching staff, the culture and environment with his teammates. But the question remains: Can he produce enough over the final six games and playoffs to keep the Rams happy and prove he's worth a long-term extension?
Peters hasn't addressed any contract talk, choosing to focus on the immediate future and playing to his standard.
After Sunday's victory, Peters posted a photo of himself on Twitter, clad in the Rams' yellow-and-blue throwback jersey, a smile plastered across his face.
"Back on track," Peters wrote.
For Peters, Monday night is another opportunity to show the Chiefs what they gave away, and a stage to prove to the Rams that they made the right decision.
"With me, I'm going to continue to fight," Peters said. "That's the type of player I am. Who gives a s—, you're going to get beat in football. But you go out there, you compete to the highest of your ability, and s— happens."
ESPN's Adam Teicher contributed to this report.
Panthers' Julius Peppers wants to be remembered for more than sacks – Carolina Panthers Blog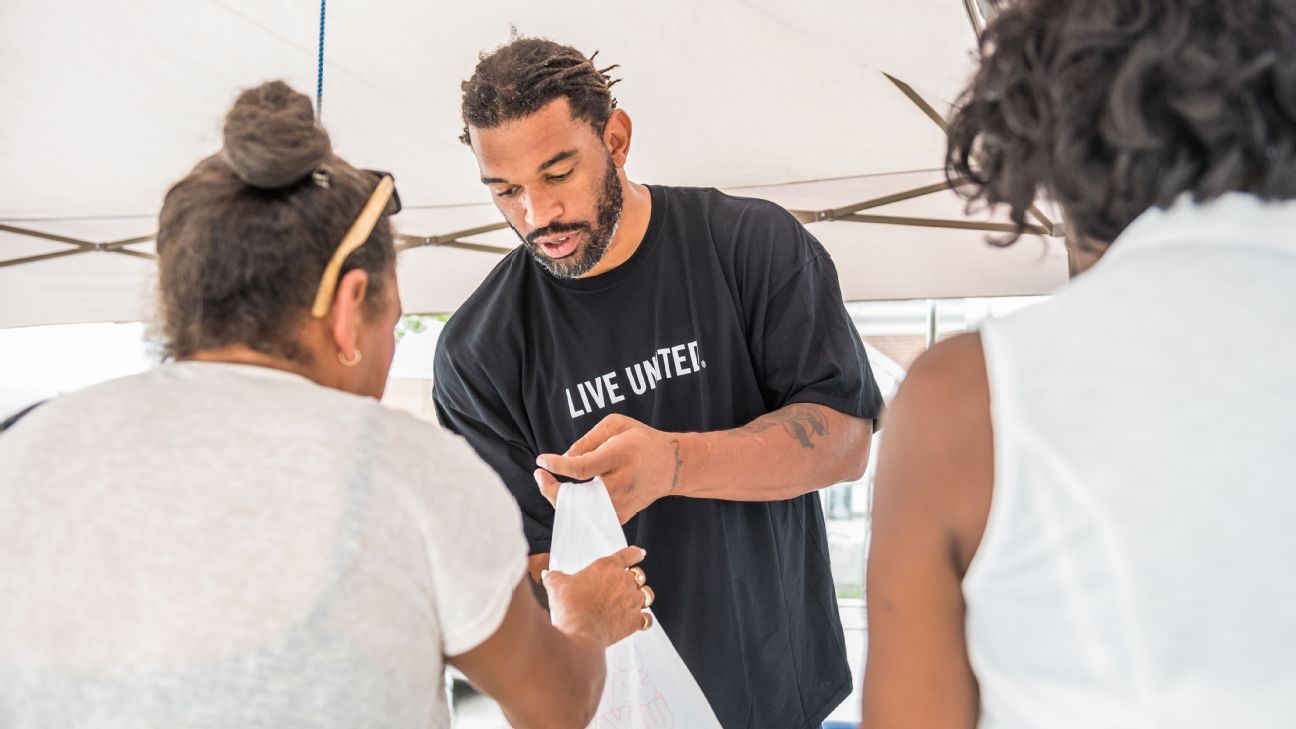 CHARLOTTE, N.C. — Julius Peppers flashed a sheepish smile when reminded that former Carolina Panthers coach John Fox was "murdered by the national media" for selecting him instead of a quarterback with the second overall pick of the 2002 draft.
The 38-year-old defensive end smiled again when recalling the quarterback the Panthers would have taken since David Carr went No. 1 to Houston.
"It turned out pretty good," said Peppers, still smiling.
The Panthers would have taken Oregon's Joey Harrington, who went No. 3 to the Detroit Lions, who play host to Carolina at 1 p.m. ET on Sunday. Harrington retired with a 26-50 record in six NFL seasons.
You might say it was a miserable fail.
• Danielle Hunter is back to hunting QBs
• Danger in Raiders having the top pick?
• How the Jaguars-Steelers rivalry started
• Anatomy of the Jets' tailspin
• Is FitzMagic Bucs' right move?
Peppers has 157.5 sacks and is 2.5 shy of Kevin Greene (160) for third place on the NFL's all-time sacks list, which is led by Bruce Smith (200) and Reggie White (198). He has been selected to nine Pro Bowls and is considered a future first-ballot Hall of Fame selection.
And 17 years after being drafted, this 6-foot-7, 295-pound giant of a man is playing at a high level as was evident in his last outing, when he knocked down a pass in coverage about 20 yards from the line of scrimmage in Thursday's 52-21 loss at Pittsburgh.
But it's not statistics Peppers wants to be remembered for when he hangs up his cleats, whether that's after this season or the next. He wants to be known for impacting lives — on and off the field.
That's why it was so important for him to return to his home state in 2017 after seven seasons in Chicago and Green Bay where "personal growth, reflection" changed his outlook on life.
That's why he has become more visibly involved in community affairs during his second stint with the Panthers as opposed to his more behind-the-scenes self during his first eight seasons.
His foundation has helped raise hundreds of thousands of dollars for the relief effort following Hurricane Florence. Peppers has visited several of the devastated areas in North and South Carolina.
He also went to a Charlotte precinct to encourage early voting for the most recent midterm election.
"You ask somebody right now who are the top two or three sack persons and they couldn't tell you," Peppers said. "You're a professional and you want to perform and you want to achieve those goals.
"But being out with the people and giving back to the community, it's going to be more impactful and long lasting."
Selfish to selfless
Terri Stowers ran into Peppers outside the Bette Rae Thomas Recreation Center, where the defensive end was encouraging early voting, and reminded him of the time in the early 2000s he performed the coin toss before a high school football game.
"He seems to be much more involved in the community stuff this time around," said Stowers, the director of the rec centers in Charlotte.
Peppers admits he was somewhat selfish with his time and money — but mostly his time — early in his career. He also was somewhat uncomfortable being out in public and voicing his opinion.
Not that he didn't do anything. He just had a lower profile, hiring motivational speakers to speak at programs geared toward empowering youth and making good decisions, donating money to churches and scholarship programs.
Now he's out front with programs such as the hurricane relief fund that he partnered with the Foundation for the Carolinas.
"When you're a young NFL player being 22, 23 years old and having wealth and notoriety, a lot of times you think about how that can benefit you," said Peppers' friend, agent and adviser, Carl Carey. "It's understandable because you're young.
"I have watched that process for him happen. He realizes it now and sees the importance to use his name for good."
Carey was entering the University of North Carolina as an academic adviser to Peppers before Peppers' freshman year at UNC. The two were introduced because Peppers had been dismissed from North Carolina's summer orientation program for missing curfew and ordering a pair of Air Jordans with his stipend money.
Peppers was so quiet at the time that Carey essentially became his spokesperson. That's not the case anymore.
"That has been the change," Carey said of Peppers' more outgoing personality. "When he was younger, it's been well-documented that he's a reserved guy. Now he's really found his voice."
Carey noticed the change when Peppers left the Panthers for Chicago after the 2009 season because a new deal couldn't be reached with Carolina. It was a change of address Peppers acknowledges was needed to help him grow, having spent his entire life in North Carolina.
"It took awhile for me to be conscious of my impact, not only on the team but in the community," Peppers said. "I'm a little bit regretful I didn't start doing these things earlier, but I guess it's better late than never."
Hall of Famer
Efe Obada, 26, never heard of Peppers growing up in Nigeria and England. When he was given the locker next to the player known by teammates simply as "Pep" he immediately did some research.
"I was amazed at all he had done," the defensive end said.
Peppers still does amazing things. There's no better example than the pass he broke up in the loss to Pittsburgh in which nothing seemed to go right.
"It was ridiculous," Obada said of seeing a man Peppers' size and age that far downfield in coverage.
"But being out with the people and giving back to the community, it's going to be more impactful and long lasting."

Julius Peppers, Panthers defensive end
Peppers has been making "ridiculous" plays almost since the day he entered the league. That's why Fox never blinked at making the player with freakish size his first pick as an NFL head coach even though the need at quarterback might have been greater.
"There were some that said we didn't get the best D-lineman on their team," said Fox, referring to North Carolina defensive tackle Ryan Sims, who went No. 6 to Kansas City. "Some people said [Julius'] motor didn't run all the time. What I saw was a guy that finished one sack behind the school sack record that happened to be held by Lawrence Taylor.
"He was a big reason I got to be a head coach as long as I got to. Decisions like that keep you around. There's no doubt in my mind he'll be a first-ballot Hall of Famer."
In the Panthers' locker room, Peppers is a first-ballot professional. His leadership has been as important as his performance, even though his performance has been above average with a 2018 grade of 78.2 by Pro Football Focus.
"At any given point he can still take over a game," Pro Bowl linebacker Thomas Davis said.
But the Hall of Fame or catching Greene in sacks are not things Peppers thinks about. He's more interested in getting the Panthers (6-3) back on track after an embarrassing loss, and already has spoken to teammates behind the scenes about regaining focus.
"I know a lot of people on the sack list are Hall of Famers, probably the top seven or eight guys," Peppers said. "And it's probably going to happen.
"But we've got other things to accomplish. And we've got other missions to settle. I'm more focused on that than anything post career."
Old man?
Quarterback Cam Newton recently had a little fun with Peppers, changing the music for practice to something he thought an "old man" like his defensive end might like.
"He'll be in my shoes one day," Peppers said. "I don't mind it. It's an honor to still be here at this age and still be around these young guys. They keep me young and I'm enjoying it."
Peppers still wants to win a Super Bowl ring, the biggest missing piece from his résumé. That's one of the reasons he returned to Carolina, because he wants to bring a title to his home state and there's talent here to do that.
"It's pretty obvious, but it was real important for Julius to get back to the Panthers," Carey said. "And he was really involved in making sure that it was known right from [when] free agency opened."
Peppers also saw an opportunity to make an impact off the field in his return to Carolina.
His involvement with hurricane relief has been most visible. But Peppers also has a desire to push for social justice that hasn't been nearly as visible as the efforts of safety Eric Reid, whose decision to kneel during the national anthem continues to put the spotlight on him.
Remember, Peppers stayed in the locker room during the national anthem last season when players across the league began showing their support for the awareness Reid and former San Francisco 49ers quarterback Colin Kaepernick were trying to bring.
Carey says he believes Peppers' interest in social justice and issues related to empowering youth will keep Peppers involved in community affairs long after football.
"Those are probably his two biggest areas of interests as it relates to how he plans to use his name going forward," Carey said. "Just because he's not saying anything doesn't mean he doesn't have an opinion."
Peppers hasn't made up his mind whether this will be his last season. He signed a one-year deal with the Panthers each of the past two seasons, so there aren't long-term plans.
"I can do it as long as I want to," Peppers said with a smile. "It's just a matter of who wants me to do it."
One thing is for sure. Peppers likes having the platform football offers him to be more active in the community.
"I've learned a lot," Peppers said. "Being more compassionate. Obviously, we know people aren't as fortunate and blessed as we are. I learned a little bit about the impact we have as professionals, and how we can help, how impactful it is for just your presence."
For Green Bay Packers, what can go wrong in Seattle usually does – Green Bay Packers Blog
SEATTLE — In the moments after Fail Mary, there was chaos at CenturyLink Field in 2012.
• Danielle Hunter is back to hunting QBs
• Danger in Raiders having the top pick?
• How the Jaguars-Steelers rivalry started
• Anatomy of the Jets' tailspin
• Is FitzMagic Bucs' right move?
Referee Lance Easley's signal of a touchdown turned Seattle Seahawks coach Pete Carroll into Jim Valvano, running around looking for a celebration to join, and left everyone on the Green Bay Packers somewhere between catatonic and outraged on their way back to the visitors' locker room.
And then one of the replacement officials popped his head into the room — where players and coaches alike were growing angrier as they watched the replay of the Golden Tate-M.D. Jennings so-called "simultaneous catch" — and told the Packers to return to the field for a meaningless extra point with no time left on the clock.
Many players refused, but the ones who went — just to get it over with — grabbed any helmet out of the equipment bin on their way back to the field. In that moment, veteran running back Cedric Benson looked at a member of the coaching staff and deadpanned: "I'm gonna go block that f—ing kick."
That's one of the few amusing moments the Packers have ever had in Seattle.
Since the Seahawks opened their stadium in 2002, the Packers have played there five times. Thursday night's game will be the sixth. They've won only once.
Among stadiums where the Packers have played at least five times since then, their 1-4 record at CenturyLink is tied with Arizona's University of Phoenix Stadium for their worst mark in a building, including playoffs.
They haven't just lost in Seattle; they've been gutted.
And Fail Mary looks like merely a flesh wound compared to the 2014 NFC Championship Game collapse.
Strange things indeed seem to happen to the Packers in Seattle.
"What are you getting into, the supernatural or something?" Clay Matthews said.
"Definitely, those were two games that didn't go our way when they definitely should have," Matthews added. "Well, s—, hopefully this becomes a story about how we bucked the trend on Thursday, on a short week, going all the way back to the West Coast again."
Compared to those two games, the 2006 snowstorm game (when Seahawks running back Shaun Alexander ran over the Packers for 201 yards on Monday Night Football) and the 2014 season opener (when the Packers got blown out 36-16) seem relatively painless. The Packers' only victory at Seattle's current stadium came in 2008 against a third-string quarterback named Charlie Frye.
A show of hands
Perhaps in an effort to demonstrate that past demons would not haunt the Packers on Thursday night, they took a poll in the locker room this week.
"We did a show of hands yesterday of who hasn't played in CenturyLink," Aaron Rodgers said Tuesday. "And there was a number of hands in the air."
Only 11 players remain from the Packers' 28-22 overtime loss at Seattle in the NFC title game less than four years ago — a game the Packers led by 12 points late in the fourth quarter.
"That's ancient history for a lot of us," Rodgers said.
Only seven are left from Fail Mary.
Receiver Davante Adams was in college then but was a Packers rookie in 2014. The season-opening blowout loss at Seattle was his first NFL game. The NFC title game was his first chance at a Super Bowl.
"We've played them a couple of times since then and beat them," Adams said, referring to the Packers' three victories over the Seahawks at Lambeau Field, one in each of the past three seasons. "But I feel like we owe them something just having lost that last game in Seattle like that. It will be the first time that we get to go back there as a club. It's definitely a big game. It's something that means a lot to all the guys who were here for that, so we've definitely got to bring it."
Some, like Rodgers, can rattle off the myriad things that went wrong in the NFC title game. Had any of one of them gone the other way — right down to the botched onside kick that made Brandon Bostick the undisputed goat of that game — and the Packers would have won in regulation.
"That game always has been frustrating, thinking about how it went down, some of the things that happened," Rodgers said. "The non-offsides call on the pick to [Richard] Sherman and then everything else that happened along the way, getting six points in two possessions inside the 5 and then obviously how well our defense played and us not being able to finish that game off there in the fourth quarter and give them a chance to come back, the onside kick. Yeah, that one, the sting's probably never going to go away from that one."
Reverse the curse
Even those who weren't part of the 11 from the NFC title game or the seven from Fail Mary have been initiated into the club of pain.
Much like players who came to Green Bay after the "fourth-and-26" game — the playoff loss at Philadelphia where a stop on that down and distance would've sent the Packers to the NFC Championship Game — even players who weren't part of those teams feel the hurt of their teammates.
"Man, those were some crazy games," said defensive tackle Kenny Clark, the Packers' 2016 first-round pick. "I watched both of them, the Fail Mary and [the NFC title game]. Those games came down to the wire. Just one of those things where you don't like to see it happen, but it happened. I was at a loss for words with it.
"You never want to see nothing like that happen. If I was in that situation, I wouldn't know what to say or do."
Still, Clark doesn't believe bad things happen to teams just because of locale.
"I mean I haven't played there, but it's one of those things, it's a tough place to play whether it's the crowd noise, the weather like here," Clark said. "I don't know. There's tough places to play all around the league. It's one of those things where you have to tough it out. It's one of those things where you just have to fight through it."
The Packers have tried different things in Seattle. They've changed hotels. They've traveled early; this week, they left on Tuesday and practiced on Wednesday in order to get the jet lag out of their system.
"I think it's a difficult place to play for everybody," coach Mike McCarthy said.
No one would dispute that it's the loudest outdoor stadium in the NFL.
"Their stereo system is the best in the league," McCarthy joked. "You see that in pregame. It's very clear. They've got great fans and the noise definitely fits their style of play, too. They're an athletic defense and it's definitely a challenge. It's a good atmosphere for the home team."
The noise in Seattle was one of the first things that came up after the Packers' 31-12 victory over the Dolphins on Sunday. As historic as Lambeau Field is, no one would confuse it for CenturyLink when it comes to noise.
"It's super-loud — it's the loudest environment in the NFL," Rodgers said. "And they're loud the entire time, not just once you break the huddle. They're loud when you're in the huddle. They're smart fans when it comes to noise."
That comment brought a chuckle from those in the room who have previously heard Rodgers ask Packers fans not to do the wave and make noise when he and the offense are on the field.
"That wasn't a shot at anything," Rodgers said. "It wasn't, it wasn't. I love our fans, they still do the wave when we're on offense. It's OK when it's 31-12, it's not that big of a deal. If it was 31-all maybe take it easy. I think they get a little bored maybe sometimes and they're like, 'What are we going to do here?' Because I was watching at one point from the sideline at one point, it was in the third quarter [Sunday against Miami], and I saw like four people right across from me — this would be about behind their bench from the 40-yard line — kind of stand up and do it. And I was thinking to myself, 'I bet you they're going to do it when we're on offense.' And they did, and we love 'em."
Unless something changes Thursday night, there's little Rodgers & Co. love about Seattle.